Best Tactical Pants Reviewed and Rated for Quality
In a Hurry? Editors choice: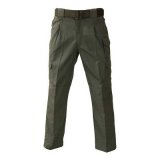 Test Winner: Propper

Tactical pants are handy to have in a wardrobe that needs
tough pants
with a lot of space. They are more durable than a regular pair of pants, and as a bonus, they usually have a built-in resistance to stains. Despite their ruggedness, they are usually comfortable, and in some cases even more comfortable than khakis. When they were first introduced to the market, color and size variations were limited. In the modern market that is no longer true, and now they have much better fitting guidelines. With the
current styles
ranging from casual to outdoors, there has never been a better time to purchase. We've compiled a list in order to help you find the perfect pair for you!
Standout Picks
Criteria Used for Evaluation
Durability
Doing a durability check, led us directly into how brands handled warranty claims. No company stood out and took charge in this area, and everything was pretty basic in its language. So customers that were hoping for a company to step up and deliver a lifetime warranty will be disappointed.
But the good news is that the basic warranties provided for all pants on the list are solid, and will cover the needs of most customers. Factory defects are covered by every company in the top ten, so there are no worries about getting a bad batch of pants.
Undoubtedly, if you are going to spend the money for tactical survival gear, you want it to last. Your pants should see you through as many days and nights that they need to in order to keep you protected and alive.
This topic goes pretty hand-in-hand with durability because the fabric is important to their longevity, but overall, it is an important factor to consider. Longevity spans a bit further than fabric simply because there are other components to the pants, such as weatherproofing technologies, etc.
Materials
The bulk of the materials used are a mixture of polyester and cotton, with a few different types thrown in based on the brands. Since most of the pants are lightweight, their comfort levels are almost the same across the board. Only a few pants that didn't make the list would qualify as uncomfortable, but it was based on them being heavy rather than their actual material.
For reference, nylon could be considered the most comfortable material if you're on the fence about the winner in that area. It is the most elastic, with the only downside being the weaker pockets compared to the polyester/cotton mixes.
Style
The style was the next thing we looked at, which had to do with the color options available for each product. This one was a little tricky since we had to factor in the availability of colors for each size. So even when tactical pants would feature seven available colors for their product, it would be limited based on the sizes they had available.
When customers decide they want a camo pair of pants and go to choose it in their current size, it's disappointing to find out it's not available. And it is absolutely infuriating when that same color is available in every other size but the one you need.
Another thing to consider is how much storage they offer you and how accessible that storage is. Specifically, this storage will be pockets or loops to hook tools onto. A well-prepared survivalist knows, though, that this is super important for having your must-have tools quickly accessible for any and all scenarios.
In a life or death situation, you do not want to be fumbling for items or missing them on your person completely. The ones with zipper or hook and loop closures are your strongest options. Overall, pockets are great to have, but you want to have a reliable closure more often than you want inlaid side pockets.
Value
The prices were usually midrange or high, as we found the bulk of the low priced pants to lack essential features. There were a few that stood out and made a mark, but the majority of the list is made from upper-tier products that meet industry standards. Things that hindered lower-priced pants were the comfort, size options and of course style choices. With a limited amount of customization throughout, the low priced choices were hard to include the rest.
Fit
The last thing we looked at was sizing, which was strictly based on how accurate a company's sizing chart was along with the availability of sizes. Are the pants bulky? If so, they will wear heavy, ultimately slowing you down. They will also take up too much room in your pack, too. Finding pants that are easy-to-wear, lightweight and easy to pack is undoubtedly the pair you want to go for.
More sizes meant a higher rating, which is great for customers that have a hard time finding the correct size for their body. Brands that didn't have a lot of sizes or had a bad sizing chart percentage were left off of the list. They were considered an unnecessary liability even if the warranty covered returns.
BEST TACTICAL PANTS REVIEWED AND RATED FOR QUALITY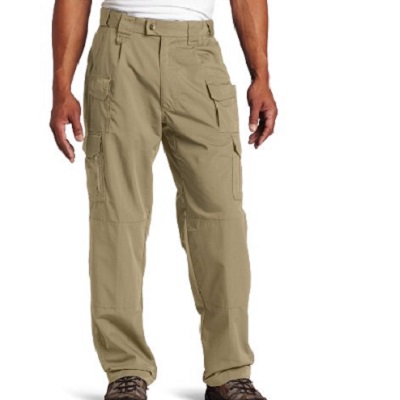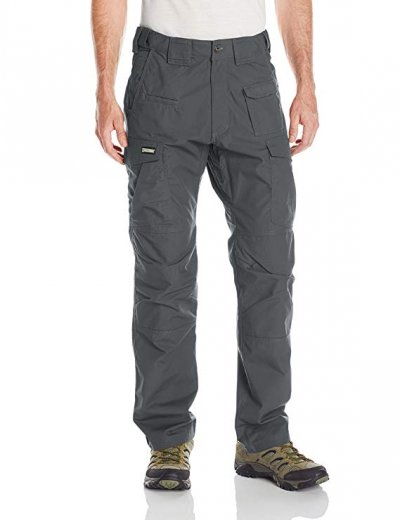 With traditional values as the driving force for their take, Blackhawk! landed firmly high on the list. The price may run a little high for some users but it is well worth the investment.
Great Mixture Of Materials
A mixture of polyester and cotton ripstop fabric makes up the bulk of their product. It's strong, lightweight and feels good against the skin.
Features and Specifications
The pants are very durable and feature a gusseted crotch to protect against wear. The large cargo pockets allow you to carry everything you need whenever your out exploring the land.
Cost and Value
This ranks as one of the expensive on the list, for all sizes. The value is still great if you look at the top materials they used to create the product.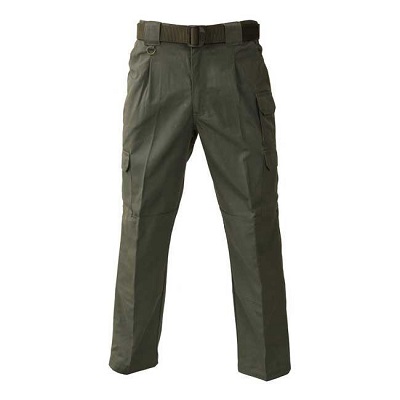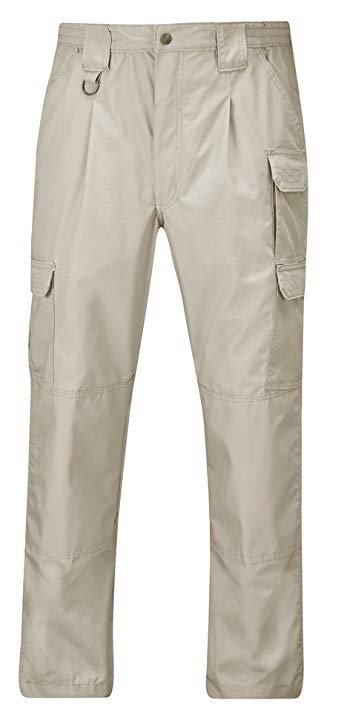 Here is another pair of lightweight pants, this time from Propper. There are enough extras here to keep even the pickiest customer happy, with a proven product based on customer satisfaction scores.
Strong Against Stains
The DuPont Teflon fabric protector keeps both stains and liquids off of the pants. So no matter where you wear them they'll stay in great shape.
Features and Specifications
These pants are made to resistant to fading, shrinking and wrinkles giving them a long life span and easy to wear. The matching belt included is a great extra that adds to the style while keeping them stable on your waist.
Cost and Value
You can purchase these at the average price based on size, with all versions included the belt and D-ring. Buyers should be aware this is one of the better values on the list even without the extras.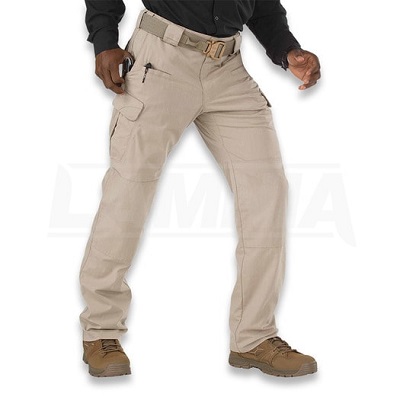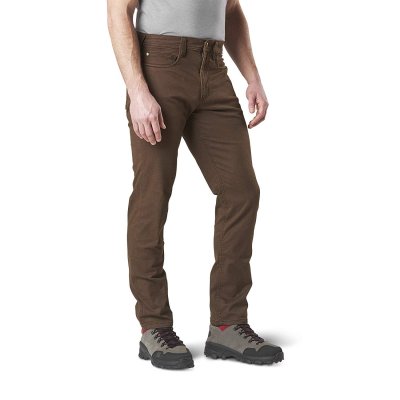 In #3 place, we have the 5.11 Men's Stryke Pant, which has appeared multiple times within the top ten. The Stryke has a lot more pros than cons to look at.
Patented Material
Made from their own in-house blend of polyester and ripstop cotton fabric, this is the best combination of materials on the list. It will last for years even when used in tough environments.
Features and Specifications
The fully gusseted crotch provides extra protection and durability where it counts. It also comes with an amazing 12 pockets, making sure that you have room to carry everything you need.
Cost and Value
Even at a high price point, you can't beat the overall value of these on the list. They are made for punishment yet remain the most comfortable pants on the list.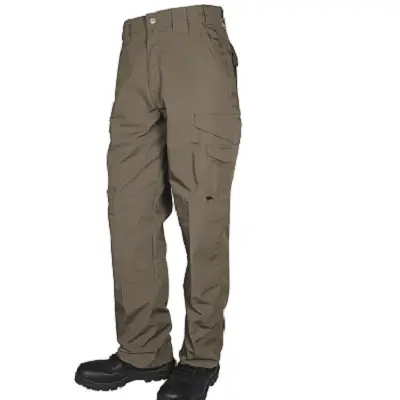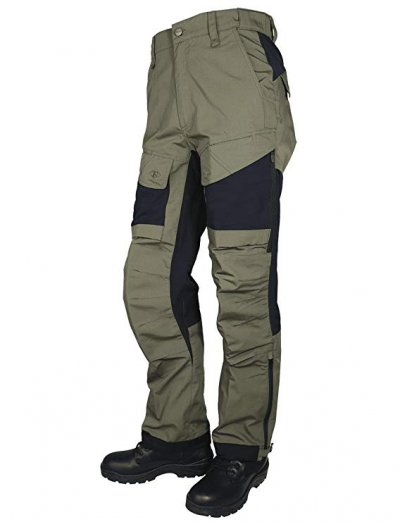 Having a lot of sizes available helps with the buying decision, but it also needs to fit as expected. This is one of the strengths of all True-Spec pants, and the biggest reason they are #4 on the list.
Good Size Choices
The vast amount of size choices also includes unhemmed options, so all flavors are included. You won't have any trouble finding the perfect fit if you use their compatible sizing chart.
Features and Specifications
These pants are made with a special Teflon coated polyester that allows it to fight off stains while providing you with tough and durable material. It is also wind-resistant and a big asset during really rough weather.
Cost and Value
The price starts at the midrange price point and then goes up based on size. With everything that's included, these pants pay for themselves within the first year.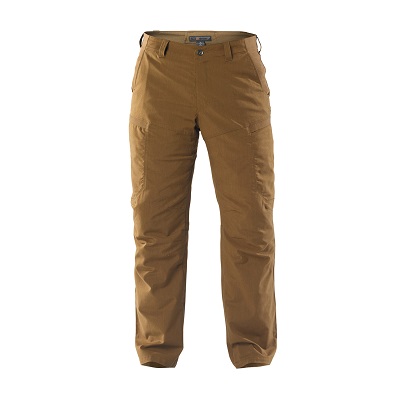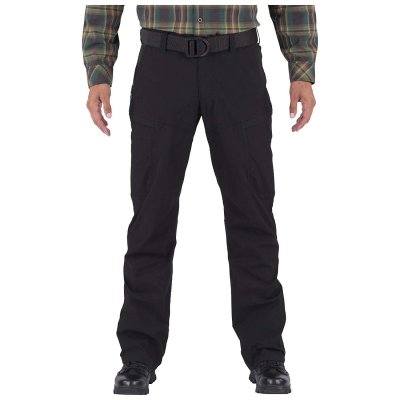 5.11 rounds out one of the three companies providing the remaining pairs of pants on the list. Some cool features separate these from the rest on the list, with a premium price tag being the only downside.
Reinforced Knife Clip Area
The inclusion of this feature isn't rare but is hard to find in a lot of the mainstream pants in the industry. This feature is especially handy for the handy for the hunter that need quick access to their knife. It's available on all seven of the style choices that 5.11 offers with this model.
Features and Specifications
The bar-tacked stress locations are designed to provide you with the most comfort and support while out on the move. It also features twin back yoke pockets so you can carry more important items like your wallet and cash.
Cost and Value
Ranking as a high priced model, the available colors and sizes make it worth the extra cost. Buyers will probably be interested in all of the extras space, pockets and low weight.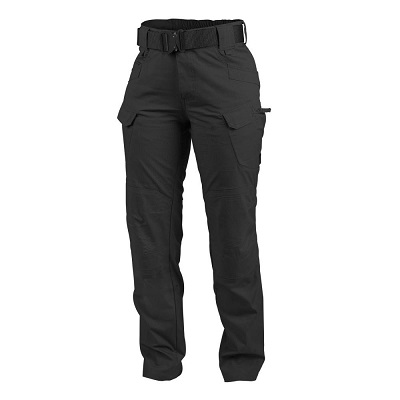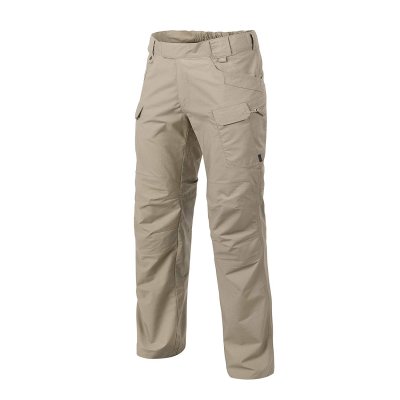 This is a true standout on the list from Helikon-Tex that takes advantage of alternate materials. The company concentrated on getting the best materials available and succeeded in making one of the best on the list.
Comfortable Materials
Made of 93% Nylon and 7% spandex, this is an ideal build for buyers that want pants made for comfort. It fits the body just right and feels good against the skin when the right size is chosen.
Features and Specifications
The material features a special DuPont Teflon coating that protects it from some of the toughest stains, including mud, grass stains, and even blood. The 4-way elastic fabric also allows for easy mobility and comfort.
Cost and Value
These are one of the higher-priced pants on the list, so may turn away customers that just want the bare essentials. With the nylon material and various colors, it holds good value when you want a top range pair of pants.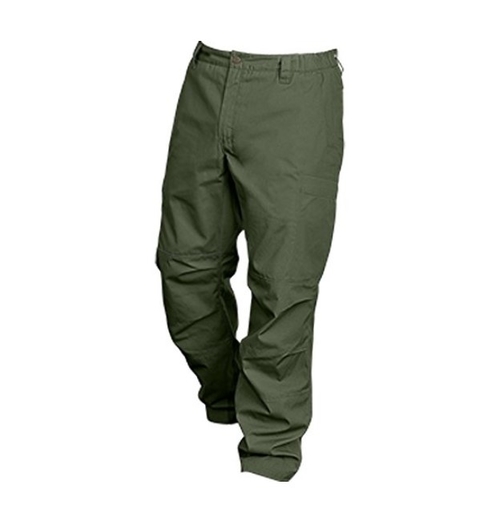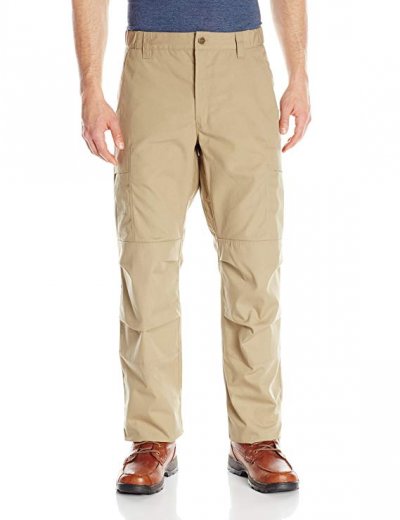 When seeking the perfect tactical pant sometimes you want something more casual that allows you to wear it for more than one event at a time. The Vertx Phantom LT is not only durable and sturdy, but it is also wearable. Having a wearable pair means you can wear them at any moment, look good and be prepared to jump, run or dodge as many difficulties that might come your way.
Intelligent Fabric
Maybe the most interesting aspect of these pants is the fabric. These pants are not only constructed out of 65% polyester and 35% cotton but the fabric itself has Intelligent Dri- an additive that allows your clothing to repel water and most liquids helping you avoid stains. Having this feature ensures no matter where you are and what you are doing you will remain dry the entire time. This is great for those that like to hunt or camp near lakes or any areas that have added moisture in the air or surrounding areas.
Grander Knees
When it comes to mobility these pants come prepared. Featuring articulated knees, you have a large range of motion, in all aspects. Furthermore, you can make large moves without having to worry about wear and tear along the way. This is all thanks to having mini-rip stop patterns weaved seamlessly into the fabric for that added extra security of durability.
Cost and Value
After reading all the great features and how durable the fabric is you might assume these pants are on the pricier side. However, that is not the case. These pants are quite affordable in the best way possible. What this means is you will not be breaking the bank, but you will be getting a quality product. Furthermore, they come in multiple colors allowing you to get as personal as possible.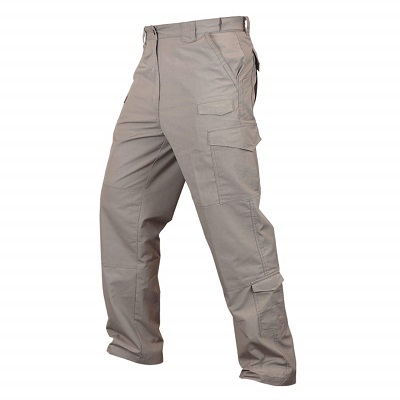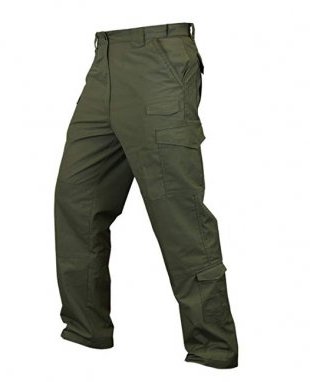 The Condor 608 Sentinel's blend in with all types of pants, looking more like everyday wear than tactical. Rather than conform to current industry standards, Condor focused on other areas with their product.
Color Choices
Having color choices is one of the main things that attracts consumers from buying clothes. Condor doesn't disappoint and provides seven total for their product.
Features and Specifications
The fabric on these is made with a polyester/cotton mix that provides both durability and breathability. The zipper fly with button keeps your pants fastened and you never have to worry about a stuck zipper.
Cost and Value
Price is based on size and is average across the board. Buyers that need a lot of choices in how their pants are customized will get a lot of value out of these.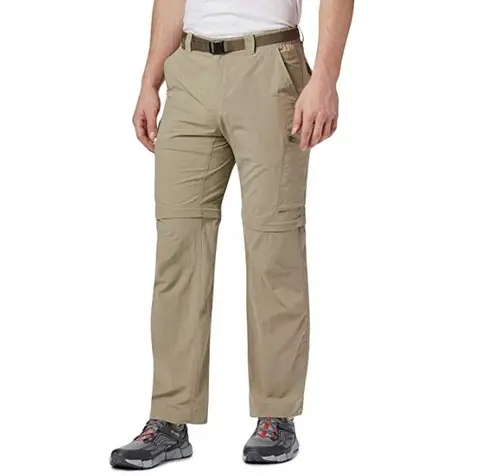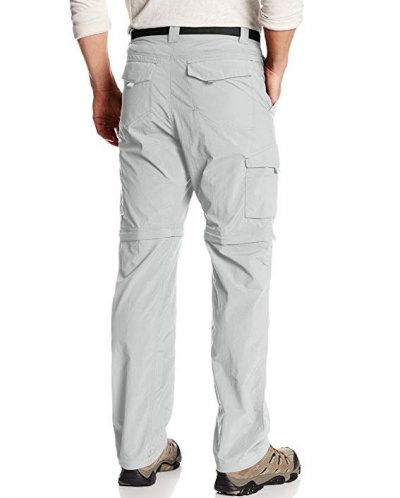 When it comes to finding a versatile pant that will work in any and every season look no further than the Columbia Men's Silver Ridge Convertible Pant. Built for versatility these pants allow you to have fun knowing you are secure. It's all about getting the most when you are out and about while feeling comfortable and chic. Consider these pants beyond versatility and more like casual wear that comes with support.
Advanced Technology
The beauty of wearing these pants is just that they come prepared to help you tackle any and every circumstance you might come across while hunting, camping or even everyday life. Featuring Omni-Shade UPF 50, these pants will not only keep you comfortable on your hike, but they will keep you away from the harmful rays of the sun. Furthermore, having that added dose of protection ensures you get the most out of your product. Additionally, the pants have Omni-Wick technology that helps pull moisture away from your pants to keep you cool and dry for a longer period.
Completely Adjustable
One of the best traits this pant has is its adjustability. These pants are completely adjustable, so much so, that you can wear them as shorts if you decide to do so. This is all thanks to the multiple zippers that are apart of this unit. You get deep pockets with zippers that allow you to put away what you need and have it kept safely. Having an adjustable feature helps you use your pants on multiple occasions without having to worry about changing them.
Cost and Value
When it comes to the cost and value of this product, it is a bit finicky due to the sizing. The larger the size the more expensive the pants will be. While you are getting an overall bargain due to the multifunctional ability in these pants, the pricing can be a bit tricky to figure out. However, you do have a selection of colors to choose from to help you make a better decision.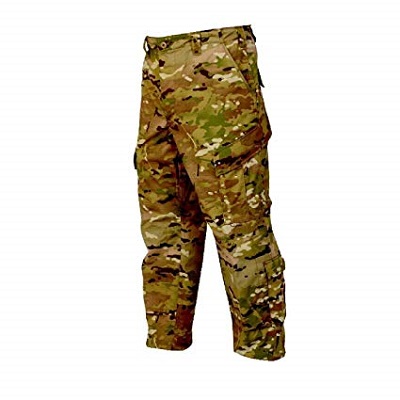 Atlanco won't be familiar to customers by name only but is a brand that is worth trusting. Their take is great and puts them among some of the best in the world.
Style
The multi-cam look is perfect for everyday use and especially useful for outdoor camouflage. There are other pants on the list with similar tactical styles, yet they don't pull it off so cleanly.
Features and Specifications
If you're looking for something that will help you blend in with your surroundings while still being practical and useful, these are it. It also features a 10 pocket design for maximum storage capacity.
Cost and Value
The price isn't high and is more in line with the medium-high price range. When you want a lot of pockets, this turns into a good value.

Subscribe to our Newsletter