Best Personal Safes Reviewed & Rated for Quality
last updated
Mar 24, 2019
When you are out and about hunting, you need to protect yourself but you also need to protect your personal items as well. Whether it be important documents, cash, or weapons, a personal safe is a great way to keep these items protected and out of the hands of others. Most of these drop boxes are small enough to travel with, allowing you to bring important items with you without the worry of something happening to them. They are especially important if you have children and want to keep dangerous or fragile items away from them. If are wondering which personal safes are best to bring for your hunting trips, you don't need to wonder anymore. Read on to discover the top ten best personal safes that money can buy.
In a Hurry? The test winner after 15 hrs of research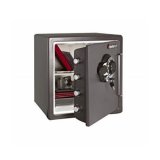 SentrySafe SFW123DSB
Why is it better?
Lots of room
Extremely fireproof and highly waterproof
Very resistant to dents, scratches, drops, and prying
Can be replaced by company in the event of fire damage
Can feature a combination lock or an electronic keypad
A professional can install it for you (for an extra price)
In a
Hurry? Editors choice: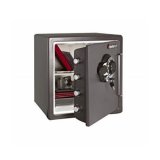 Test Winner: SentrySafe SFW123DSB

5
Researched Sources
12000
Reviews Considered
15
Hours Researching
10
Products Evaluated
Durability
Style
Size
Adjustability
Materials
By Default
In Depth Review Top 10
SentrySafe SFW123DSB
Fort Knox Handgun Safe
SentrySafe Medium CB-12
Stack-On PDS-1500
MMF Industries Steelmaster Security Box
Amazon Basics Security Safe
Master Lock Personal Safe 5900D
Stalwart Trademark Book Safe
SentrySafe Security X055
Safego Portable Indoor/Outdoor
Table of contents
Criteria Used for Evaluation
Frequently Asked Questions
Sources
Top 10 Picks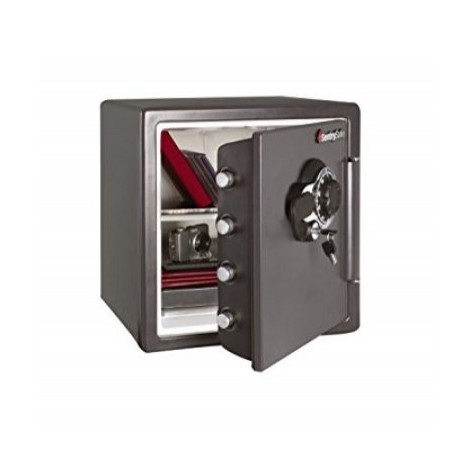 Lots of room
Extremely fireproof and highly waterproof
Very resistant to dents, scratches, drops, and prying
Can be replaced by company in the event of fire damage
Can feature a combination lock or an electronic keypad
A professional can install it for you (for an extra price)
Very heavy
Sentry is not particularly helpful if you have trouble with the lock
Want options? This safe will give you options. If you want the option of a safe that can survive damage from fire and water, this is the one. If you want the option of a safe that can store an above-average number of items, this is the one. If you want the option of a safe that can come with a combo lock or electronic lock, this is the one. If you want the option of a safe that can be professionally installed with no mistakes, this is the one. You can't go wrong.
Read more
Certified Strength
The UL says that it can emerge unscathed from a fire of up to 1,700 degrees Fahrenheit, and the ETL promises it can withstand floods of eight inches for 24 hours. If you need a new one after a fire, though, the company will provide one for you. Doesn't get much more dependable than that.
Choose Your Own Lock
There are pros and cons to combination locks and electronic keypad locks. If you hold a firm opinion as to which is the best, you can customize your safe to have it placed there.
Cost and Value
The thing is that this safe is keenly aware of its own value; it's definitely a big investment. However, if its reputation is any indication, it would be money well spent.
2

. Fort Knox Handgun Safe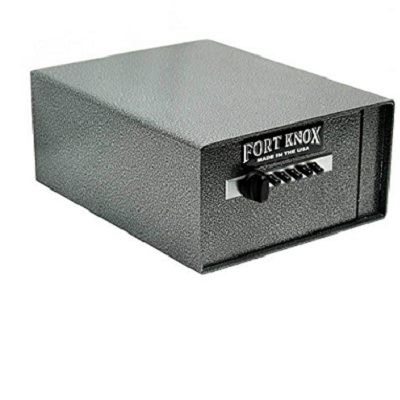 10 guage body
Features a durable textured finish
Can choose your own combination
The interior is lined with carpet.
Buttons and knob are made of plastic
Some found instructions difficult
Named for the impenetrable Fort Knox, this is perfect for keeping your handgun safe and out of reach from young ones. It's also great for storing other valuables. This product takes the concept of personal safes to a whole new level and features a mechanical lock which allows you to choose the desired combination. Moreover, it's coated with a durable antique silver powder. This material makes it almost indestructible in almost any situation.
Read more
Tamper-Resistant Door
The tamper-proof door is a big plus for a personal safe. Thanks to this modern system, you are able to see if anything has been changed, opened, removed, or damaged. Therefore, no one can steal or damage the content without you knowing it.
Carpet Lined
Unlike other products in its class, this handgun safe has a carpet lined interior with four down holes. This interior design is necessary in order to prevent your gun from getting damaged.
Cost and Value
Despite being a bit pricey, this personal safe is a great investment if you possess a handgun. It has some of the best reviews on the list and is backed with a lifetime warranty.
3

. SentrySafe Medium CB-12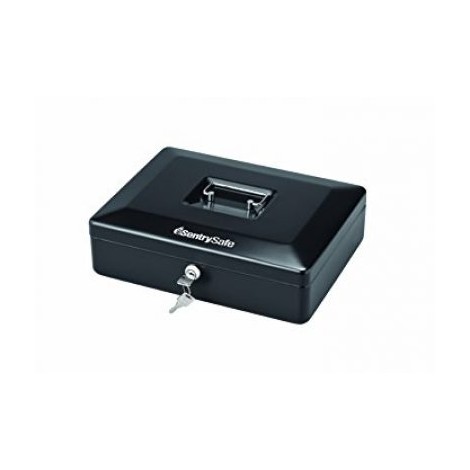 Tough steel construction
Interior tray lets you organize dollars and bills 
Tray can be removed so that you can use the safe for other things
Handle makes it easily portable
Low cost
Latch won't close without the key, and if you leave the key in it, the latch may come open
It's a good idea to bring cash with you when you go hunting in the middle of nowhere, right? You never know when you might need it. Well, here's the safe for that. With this, it's easy to keep your dollars and coins organized and guarded. The steel keeps it durable while the handle lets you carry it around with a cinch. Protect your money by spending some of it on this.
Read more
Flexible Use
Although the safe was created specifically for organizing money in mind, you can remove the tray and use the box to store other things, if that suits your fancy.
Strong as Steel
Of course, that's because it's made of steel. The metal is resistant to damage of all kinds, so you don't have to feel too worried taking the safe with you everywhere.
Cost and Value
It doesn't demand much for keeping your money out of the hands of anybody but yourself, really. Small price to pay for that peace of mind.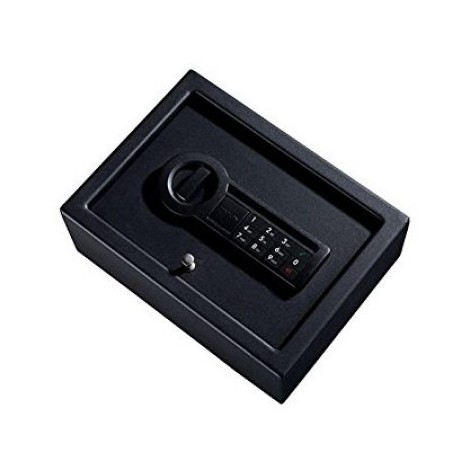 Needs a passcode, not a key
Keypad temporarily shuts down after three failed attempts
Can be placed or hung anywhere
Decent amount of space
Lock may be easy to pick with a paperclip (although the company can replace the lock with a better one if you ask)
Here's a personal safe that is all kinds of convenient. For one thing, it's small enough to be placed pretty much anywhere, and it doesn't require a key--one less little item for you to remember. Although the metal is firm and highly durable, it still swings on its hinges without much of a problem. Basically, it's all set to make your life easier.
Read more
No Key Required
All you need is a passcode that only you know and which you can change regularly. As long as the passcode is always something that you won't have to think too hard to remember, it's so much less stress than having to carry or hide a key.
Put It Anywhere
Inside drawers, inside cabinets, under beds, fastened to walls--wherever you think is the best place for this safe, you can leave it there.
Cost and Value
You probably wouldn't call it cheap, but it's not ludicrously expensive, either. It's a fairly reasonable price for a safe with so many advantages.
5

. MMF Industries Steelmaster Security Box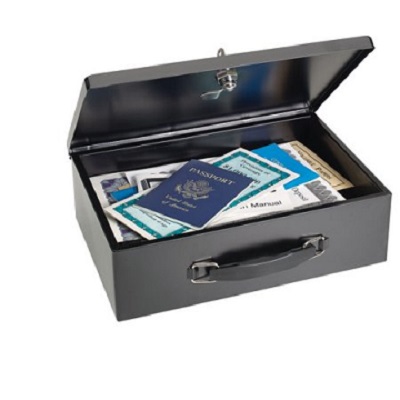 Made from fire retardant steel
Features double insulated walls
Resists 1550 degrees
Comes with two keys
Key is very thin
Some found the lock to be flimsy
To avoid some of the risks hunters usually face, MMF Industries Steelmaster Security Box gives you the security you need. This item is perfect if you want to keep your important documents safe while when traveling and at home. It is constructed from fire-retardant steel which makes it resistant and durable. It also comes with two keys, just in case you happen to lose one while out on your hunting expedition.
Read more
Lab Tested
The efficiency of this personal safe has been tested in the laboratory where experts exposed it to 1550 degrees Fahrenheit. It proved to be resistant while ensuring its contents were not harmed.
Steel Construction
Made of steel, you can count on the best security. This is an important feature to look for when buying these types of items. You never know when a disaster will happen and it's essential you keep your valuables intact.
Cost and Value
This personal safe has an accessible price. It is available in 3 sizes, depending on your needs. Each size comes in a different shade, which makes them unique and stylish.
6

. Amazon Basics Security Safe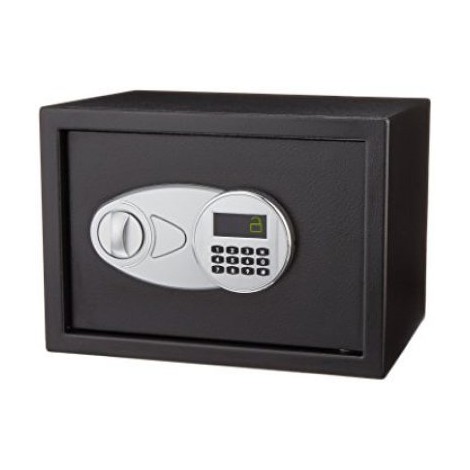 Electronic keypad
Emergency override keys
Built with durable steel that can withstand abuse
Shelves can be removed and adjusted
Can be fastened anywhere (by a professional, if you'd like)
Not fireproof or waterproof
May be opened with a pen
Tough to scratch, tough to bend, tough to break into--this safe is built to last against all kinds of wear and damage without compromising its integrity. Also, not only can you place it just about anywhere, but you can have a professional install it for you to ensure that it's done correctly. Amazon has proven that it's just as capable of protecting your things as it is helping you buy them conveniently.
Read more
Great in an Emergency
Although the electronic keypad is wonderful, there's the option to use two emergency override keys--just in case you really need them.
Resistant Yet Compliant
Made of steel, it's extremely difficult to pry apart, thank goodness, but it's open to some kinds of change. For example, the interior shelves can be rearranged according to your whims.
Cost and Value
Amazon definitely knows that it can command a higher price than some other safes, but it's not exorbitant. However, if you want the reprogrammable digital access feature, you'll need to buy your own AA batteries. Also, you can get it professionally installed, but it will cost you extra.
7

. Master Lock Personal Safe 5900D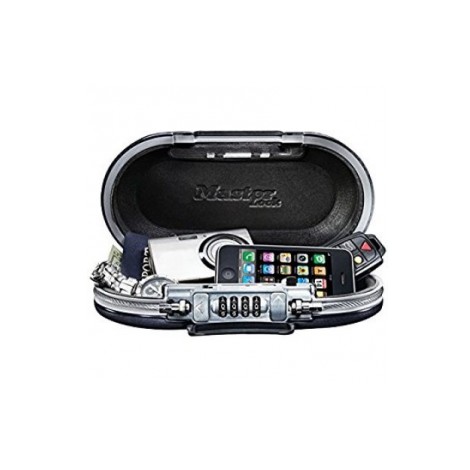 Electronic keypad that just needs a code
Small and compact--perfect for important items that can get lost easily
Ability to charge devices and support earphone use
Waterproof
Shock-absorbent interior lining
Are you a traveler, or do you just go out and about a lot? If so, this safe was made for you. It's ideal for fitting all your small items (especially electronics and cards), and it's strong enough to endure all the jostling that may go around with whatever you have to do all day. You can even continue to use it while it's busy guarding your things. Great deal.
Read more
It Thinks of Everything
Not only is it waterproof and shock-absorbent, it let you charge your device while it's inside and listen to music by including a port for earbuds.
Just Needs a Code
The fact that it can be accessed through an electronic keypad eliminates the need for you to carry a physical key, which is just another way that it improves your day-to-day life.
Cost and Value
The price is just about as small and convenient as the safe itself. Definitely worth it.
8

. Stalwart Trademark Book Safe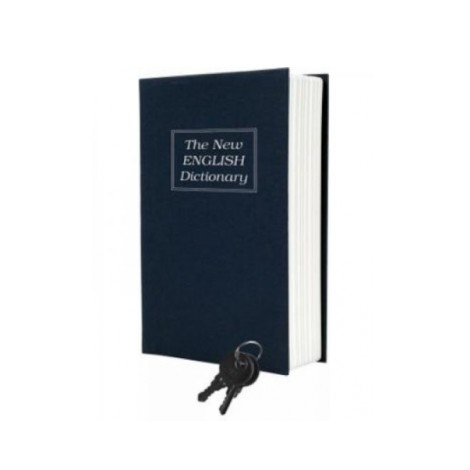 Lots of space
Comes with two keys
Inconspicuous appearance
Bargain price
Binding falls apart rather easily (although it can be glued back on)
Metal isn't sturdy; doesn't take much to smash it
If you're as avid about reading as you are about hunting, this is a clever and believable personal safe. It looks like an ordinary English dictionary, but it's actually capable of holding a number of objects. Keep a bunch of real books in your car to make it blend in even better. No one will suspect that the innocent little dictionary is more than it seems.
Read more
The Perfect Disguise
The fact that this safe looks like an everyday item that you could find in any house if partially wants to make it work so well. It doesn't look special, so it effectively hides special things.
Twice the Keys, Twice the Security
You might think that having an extra key may actually make it easier for someone to find one and get into the safe, but as long as you keep it concealed well, it's actually great to know that you have a backup--just in case.
Cost and Value
This well-designed safe comes at a very affordable price. It's a great investment even if you decide to get other safes as well.
9

. SentrySafe Security X055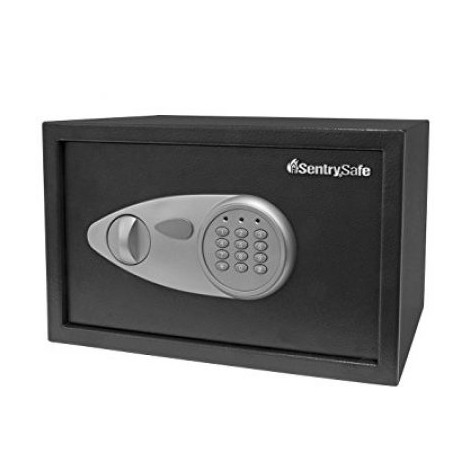 Digital keypad is easy to use
Large bolts for durability
Soldi steel for a long life
Carpeted interior protects valuables
Some reviews suggest to only use as a firebox, not a safe
Now, this is a personal safe that was clearly made for gun lovers. It's not just great for everyday life; it's also certified by the California Department of Justice to store handguns. It stands strong against would-be thieves who don't know the passcode to use for the electronic keypad. For extra security, you can bolt it to the floor, wall, or anywhere you'd like--and if you'd prefer to have a professional do it for you, that's an option here.
Read more
Approved for Guns
It's not specifically a gun safe, but you can certainly store any small guns alongside your other belongings in the safe. Multi-use objects are always great.
Safe in Every Situation
You can fasten it somewhere so that no one can just take it and leave. Its steel construction can withstand scratches, dents, and attempts to pry it open. But when you really need it, you can also override the keypad with two emergency keys.
Cost and Value
All this security is a bit expensive, but not overly so. It demands such a price for a reason--or a few of them.
10

. Safego Portable Indoor/Outdoor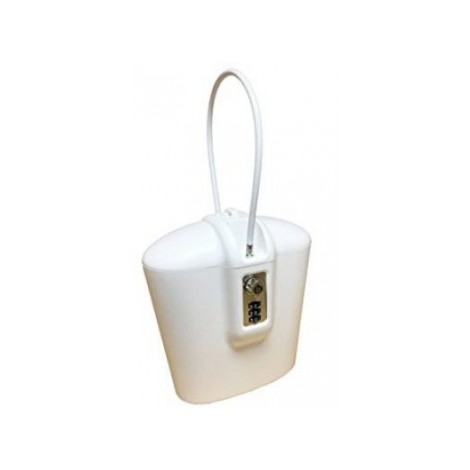 Comes with a 90-day warranty
Built to last, but it's still lightweight
Well guarded with a combination and key lock
Resistant to rust, water, and impact
Easily transportable
Made of plastic and therefore a bit flimsy
Finally--a personal safe that tries to mix functionality with style! Lightweight, easy to transport, resistant to rust, water, and cosmetic damage, and extra fortified with both key and combination code access, this safe is more than prepared to guard any of the items that you want to place in it. Maybe it would look out of place with all your camping and hunting gear, but you have to admit it would add a dash of brightness to your surroundings.
Read more
Twice the Protection
By requiring both a key and combination, this safe is especially certain to keep out any intruders.
All Kinds of Strong
Although it doesn't look like much, it's actually quite durable. It doesn't rust, it can survive water and impact, and the steel cable is flexible enough for you to take the safe anywhere easily.
Cost and Value
It's not really cheap, of course, but it's quite a good value for the quality and fun appearance.
Criteria Used for Evaluation


Durability
A couple of great traits to keep in mind are the certification by the UL or ETL (for fire resistance and water resistance, respectively) and steel construction (as steel is among the best metals for safes). Our top 10 list features safes that have proven themselves to be reliable in all kinds of circumstances.


Style
Whether you prefer traditional locks and keys, combinations, or electronic keypads, every type of lock has its advantages and disadvantages. For example, physical keys are generally not considered to be as safe as electronic pads, but the electronic pads may require more maintenance in the form of buying new batteries for them every year. The truth is that any of them can be overcome by someone who knows what they're doing; locks can be picked, combinations can be figured out, and keypads can be bypassed.
While it's important to take your personal preferences into consideration (for example, if you have an easier time remembering numbers than where you put your key, a combination or a keypad would probably be best for you), the most important thing is really to make sure that whatever lock type you get is high quality. The better it's made, the more would-be thieves will be deterred from your safe. In our top 10 list, we've included an array of different locks from which you can choose.


Size
Sometimes, you want a safe that can be used for multiple purposes. Sometimes, you want to have one that won't be a pain to take with you when you travel (which is especially true in the case of hunters and campers).


Adjustability
By adjustability, we mean a safe that can adjust to your situations. Sometimes you want to carry a safe on your person. Sometimes, you want something that can stay in one place without budging no matter what happens to it. Fortunately, our top 10 list displays a number of safes that can fit your situation, whatever it is. You might need to buy more than one safe to really cover all your needs, but the more you can do with a single safe, the better.


Materials
Whether they're made of steel, plastic, alloy, or something else, personal safes should be able to take some hits and live through elemental damage. After all, they're not much use if someone can break into them easily, or if a sudden disaster strikes and destroys everything that was inside of them, right?
Expert Interviews & Opinions
Most Important Criteria
(According to our experts opinion)
Experts Opinion
Editors Opinion
Users Opinion
By Default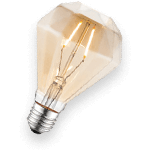 A Safe is Worth It
Fortunately, the options for personal safes are as diverse and varied as the game that you may be out hunting. Maybe multiple kinds would work for you, or perhaps you only need one that's top-quality. It's crucial to make a wise choice because when you're already stressing about keeping yourself in one piece, it's nice that you can go back to your vehicle or campsite at the end of the day and know that all of your belongings are safe from the ravages of both man and animal. Whatever personal safe you decide to get, make sure that it will fit everything you need, last through all kinds of unexpected situations (after all, nature can be unpredictable and harsh), and difficult for thieves to break. It's worth spending whatever money is necessary for the peace of mind that comes with knowing that all of your greatest valuables are protected while you're out.
Frequently Asked Questions
q:

What's the best kind of lock type to get?

a:

As mentioned in "Criteria Used for Evaluation," the best kind of lock type to get really depends on your needs and preferences. Some people may have an easier time keeping track of keys than they would remember a passcode, and vice versa. Electronic and digital keypads may be considered a bit more high-maintenance because they require battery replacement every year, but physical key locks and combinations are just as likely to need repair on occasion. Also, every kind of lock is susceptible to thievery. What's more important than the type of lock is whether it's decent quality so that it discourages people from breaking into the safe.
q:

What happens if I get locked out of my safe?

a:

This happens sometimes. A keypad may stop working, a lock may get damaged, or a key could become lost. In some cases, the company that designed the safe will help you get into it. If they gave you a warranty, you may be able to have the safe replaced altogether. More often, though, you may simply have to figure out to break into it or call a locksmith.
q:

Where's the best place to put my safe?

a:

Personal safes can be put anywhere you'd like. Obviously, if you want to take it hunting, you'll want it to be as portable as possible; small, light safes with handles are probably best. However, if you'll be staying somewhere long-term or simply want to make sure that your belongings are protected while you're away, rest assured that many safes can be fastened to walls, shelves, floors, etc. It also depends on what you're storing in the safe. For example, valuables that you use frequently should be more easily accessible than a safe you're using to guard things that you don't need very often, in which case you can simply put it somewhere out of the way. At any rate, it's best if you keep the safe concealed as well as possible, whether that means putting it behind something, covering it with something else, or making it indistinguishable from surrounding objects.
q:

Is there a specific way to clean my safe?

a:

You don't want to compromise the integrity of the materials used to construct the safe, so you have to be careful. Remove any dust or dirt with a small brush (or a broom, if your safe is large enough, but since we're focused on personal safes, you'll probably just need a brush). Then wash it with a warm cloth and maybe a little soap, but keep away from most industrial or standard/household cleaners.
q:

What can I do if it's easy to break into my safe?

a:

If you explain your problem to the manufacturer, they will sometimes replace your safe (or just your lock) with a better one. You can also try buying additional combination locks for extra fortification if they'll fit in your particular safe. But if a safe can be opened quickly with any common object, and the company won't do anything about it, you may simply want to return it and choose a different safe. That's the beauty of return policies, which you should always check before purchasing.