Best Hiking Boots Reviewed and Rated
In a
Hurry? Editors choice: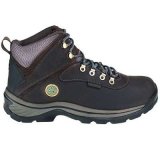 Test Winner: Timberland White Ledge

If you're a casual hiker, and finding that your
treks into the wilderness
are starting to get serious, well then it's time to invest in a solid pair of hiking boots. Here's why: a wide soled pair of jogging shoes are perfectly fine for those half-day hikes along a well-groomed trail.
But, if you're going farther than that, or if you start to head out to more challenging routes you're going to need the extra support, the extra shock absorption, and in the worst cases the extra warmth that a hiking boot is going to give you. And when we say invest we mean it a great pair won't come cheap, but we've done our best to give you a wide range of solid boots that are going to keep you walking in the woods for years.
Standout Picks
Criteria Used for Evaluation
Durability
Durability was up first, and it was something that really stood out when we started removing brands from the list. Durability was really important for this list to be accurate, so in one single category, there were a lot of top brands removed from the list. And even with the brands that remained, some of their other less notable models didn't make the cut.
We judge durability based on the average life of the boot, and how well it holds up in rough environments. The boots that made the cut were given a higher than average rating for being able to withstand the tough conditions on a normal hitchhiking trip. This included time spent past the break-in period, which could average from a week to a month. Overall, it was a very important criterion for us to focus on.
Value
When it came to judging the warranty and customer service practices of the brands on the list, none of them came close to Timberland or Sketchers. For the rest, we only kept brands that had a generous return policy for sizing issues and defects.
With the price of a lot of the hiking boots being medium to high, having a customer-friendly return policy goes a long way in ensuring both sides are happy. And if your boots fall apart less than a month after you buy them, there should be little reason to deny proper customer service.
Water Resistance
The last two things we looked at were waterproofing and comfort. Waterproofing was judged based on three levels; competent, good and great. We adjusted the list accordingly, which was really hard to do since waterproof boots vary in their resistance methods.
While some relied on both outer and inner materials to restrict moisture, other brands were just natural repellants to the unwanted moisture. It was very interesting to see how each company handled its touted waterproofing feature, and it is safe to say that only a few companies perfected it. Timberland was one of them, and Merrell was another.
Comfort
Comfort was the hardest thing to judge but became easier after we looked at built-in comfort features. Since comfort is based largely on getting the correct size and breaking in the boot, we rated comfort in several ways. Brands were rated on their size availability, average break-in time, mesh and other premium comfort features and weight.
All of these built an overall comfort rating for each remaining hiking boot on the list, which led to us reordering all ten based on their comfort levels. This was the main reason Salomon gained top honors and basically blew all the other hiking boots out of the water.
10 Best Hiking Boots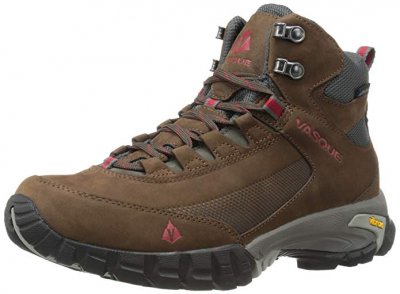 This is a solid hiking boot. We particularly like the raised toe which will help keep you on your feet no matter how rough or rocky the terrain gets. The Vibram outsole will also help keep you walking and help keep you dry, which is this shoe's calling card. It says it is completely waterproof, and it is but don't go surfing with them.
Thick Cushioned Collar
The injuries that you're going to get while hiking are almost always going to occur in the lower part of your leg, a sprained ankle from uneven terrain is the one that almost always gets us. We can't fix the terrain but we can make sure you're ankle has the support it needs to remain stable.
EVA Midsole
Everyone reads about this but not many people know why it's so important. Basically it's the material between the upper and the outsole. This is the place where you need to maximize cushioning and rebound. This will protect you from Plantar Fascitis and all kinds of other frustration injuries that come from the beating your feet take out in the world.
Cost and Value
Not bad. These shoes are about in the midrange when it comes to price. These are just simple workhorse hiking boots and they will serve you well if you're looking for a show that will really let you get out into the world.

2

. Timberland White Ledge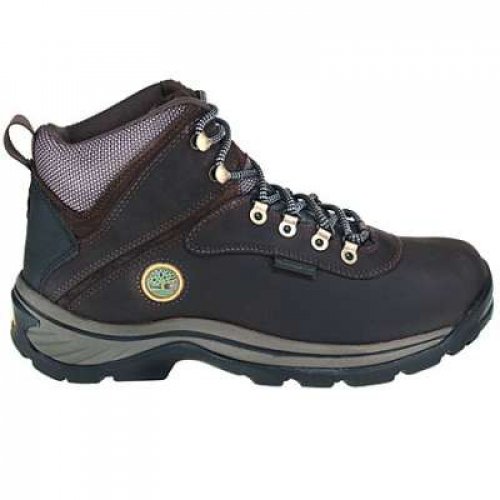 The first Timberland model to make the list is the White Ledge, a popular choice among many hiking boot enthusiasts. Besides the usual great rugged look and feel from a Timberland brand, it sports a unique styling that separates it from the pack.
Good Styling
There are three available styles for this product, and all of them are unique in appearance. The White Ledge is available in Dark Brown, Wheat, Gaucho, and Brown.
Ankle Height
Having support around your ankle while hiking is key to preventing injuries. But if you are like me, anything covering your ankle is just plain annoying. I need a little more room to move. Which is why I prefer the support of a boot that sits at my ankle. It gives me a more natural range of movement.
Cost And Value
Like all Timberland boots, this model clocks in at the high price range. For all sizes, it matches the price structure and quality of similar Timberland products.

3

. KEEN Men's Targhee II Mid WP
Keen may end up being a surprise brand on this list for some users that were expecting some of the bigger names. Their Targhee II Mid WP comes in strong at the #3 spot and may have started a trend or two in the industry.
Breathable Leather Lining
Comfort is important with hiking boots, but so is durability. Keen finds the correct balance between the two for the ultimate experience when walking or climbing over rough areas.
Waterproof
With the upper portion of these being waterproof you can avoid having wet socks and feet at the end of the day. The waterproofing technology keeps your feet dry at all times.
Cost And Value
Buyers will pay a high premium price, and it is worth every penny. This is the boot that can be depended on even when the trip is rough.

4

. Columbia Men's Newton Ridge Plus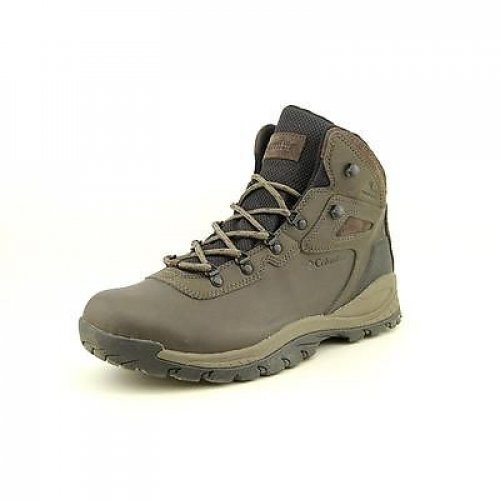 Columbia's only hiking boot on the list makes an appearance, almost cracking the top three. The company did a great job of marketing this towards users that valued toughness in their accessories
Great Middle Tier Solution
There are a lot of choices on the list that excel in specific areas, yet the Newton Ridge Plus li is known for having few weaknesses. It's the perfect boot to get a taste of all of the best features of high end hiking boots in one.
Breathable
For those with problems having both sweaty and stinky feet, breathability should be at the top of your list of qualities. After all, it is the reason air flows through the design of the boot. With these you get plenty of breathabilities, pair that with a great pair of socks for sweaty feet and you get perfection.
Cost And Value
For being one of the top shoes on the list, the price is really fair for what's offered. The primary features alone make it a valuable addition to any customer's accessory lineup.
5

. Merrell Men's Moab 2 Mid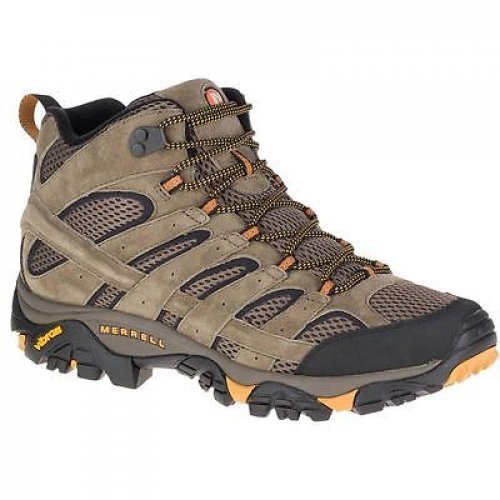 The first Merrell product to make it on the list comes in at a respectable #5. It's also another one of their mid-size boots that becomes an attention grabber, even among higher-profile choices.
Waterproof
Some people expect hiking boots to be waterproof out of the box, but that simply isn't true. Merrell takes boot toughness a step further by fully waterproofing their product, making it an incredible buy for any user.
Toe Protection
Tripping over logs, tree roots, and larger rocks all day can cause some aches and pains for your toes. Which is why these have a rubber cap over the toe box. Adding an extra layer of protection to your feet.
Cost And Value
This is the most expensive Merrell brand in their lineup, and for good reason. With the materials it's made out of, the boot is expected to last the longest of their products, thus enhancing its value.

One of the big reasons to consider these boots is the 5-inch shaft distance from the heel to the top of the shoe. The extra ankle support might just save your hike, and in a worst-case scenario save your life. We've pointed out before just how important ankle support is and these shoes have it in spades.
5-inch Shaft Height
It's a bit jargony but what it means is that this is a boot that's going to fit high up on your ankle. Now that's not for everybody but for anyone who has bad ankles or just feels like they need a bit more support on their hike the high shaft height is going to be your best friend.
Vibram Outsole
It's getting to the point where if you don't have Vibram outsole it's not quite clear if you can trust the boot. This isn't true of course but Vibram really does have quite the corner on the outsole market but for a good reason. These outsoles are sturdy, made well and are going to be a big part of the waterproof element of your boot.
Cost and Value
The cost for these can be all over the map but if you get them direct you will be able to get a reasonably affordable pair. It's true that when it comes to hiking boots you're going to have to shell out some dough, but that's what list is for to help you find a reasonable costing pair of boots that you can count on.

7

. Merrell Men's Moab 2 Vent
Merrell makes the list again, and it won't be their last appearance. The style isn't something that is the strong suit of Merrell, as they take a very traditional approach to their boots. But what they lack in flair they make up for in usefulness, sometimes to an incredible degree.
Built Like A Brick
These boots are reinforced well and will last for years without needing to be replaced. They were built from the ground up to take punishment and it shows in the details.
Dirt Protection
The design of the tongue helps keep dirt and debris from gaining entry into your boot. This is perfect for those pesky little rocks that have you stopping to empty your footwear time after time.
Cost And Value
The price is high, and it doesn't seem to be too affected by the size the customer is getting. For the amount of damage these boots can take, they are worth it, even when competing with Timberlands.

8

. Timberland Men's Chocorua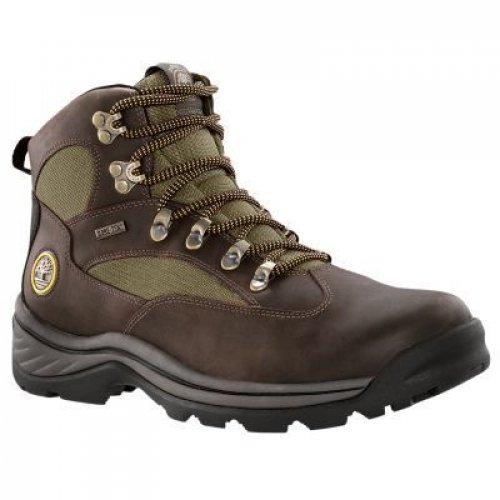 You can't have a boot list without listing more than ones one of the best in the business, Timberland. They have been making top quality boots for years, so it's no surprise to see them on the list.
Best Warranty In The Business
The one thing you can count on with Timberland boots is for them to last longer than the competition. From top to bottom they guarantee their product, and that leads to consistently high ratings from customers.
Thick Soled
These are a heavy-duty sole option for those who may have sensitive bottom portions of their feet. Even better for those who travel over tough terrain, as your feet won't feel every bump along the way.
Cost And Value
Depending on the size, the model can go from the midrange to the high priced category pretty quick. Because of the value of the Timberland products, this is an excusable expense for top quality.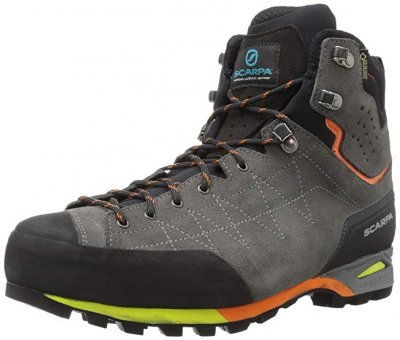 A great take on the traditional hiking book Scarpa is a great brand and it just looks cool. Instead of the go-to browns and Khakis, you actually have a little color thrown in on these shoes. It may not be traditional but we think it looks great and fresh.
100 Percent Suede
Brushed suede outers add an even cooler element to these shoes. This, of course, will require a bit of care to keep the suede looking good but we think it's worth the trouble.
GoreTex Performance
The GoreTex treatment will ensure that your feet stay dry. The GoreTex will also help keep the suede on your shoe looking good. Suede outers and waterproof, we like that combination and Scarpa is doing a lot to make a really unique shoe.
Cost and Value
The base price is a bit more than most of the others on our list but we think Scarpa is making a really good shoe and if you have a bit of extra cash this shoe will not let you down.

10

. Sketchers USA Men's Verdict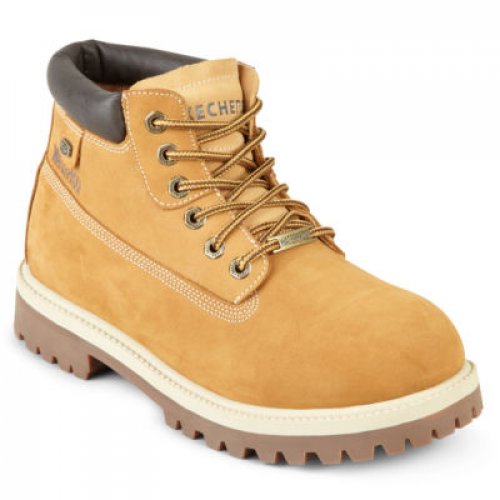 A Sketchers product is always a great product and this particular model has a lot of fans. The feel is genuine, the quality is superb, and for the price, it is a steal.
Great Pricing
Just because boots are low priced it doesn't automatically mean that their quality is suspect. No matter the size, this is one of the better deals in the industry for a high-quality hiking boot.
Fit
For those with wider feet, this brand suits you the best. Often manufacturers tend to stick to the narrow style upper. But Sketchers is known for catering to those who need a wider fit to accommodate their perfect fit.
Cost And Value
For such a low price it's hard to go wrong with Sketchers as a choice. Even with average durability, the value will grow if the customer takes care of the boots.

Subscribe to our Newsletter