Best Hiking Boots Reviewed and Rated
Hiking boots are a necessary tool to ensure both your performance and comfort while on the trail. Some may believe this means a husky and stiff model that feels like you are dragging bricks on your feet, but this is no longer the case. Today's hiking boots use a lighter material while still providing a generous amount of support; the most popular model by far is waterproof boots. If hiking in dry or hot climates, non-waterproof boots are also available. In addition to great support, a hiking boot must be durable. Most consumers use hiking boots in tough conditions, making a high durability rating a must so the boot remains intact while performing. The cost of a good pair of hiking boots is higher than a normal boot and for good reason. The correct pair of boots can last for many years, so deciding on the right one goes a long way.
Featured Recommendations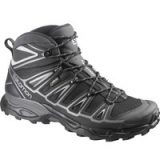 Salomon Men's X Ultra Mid

Our rating
versatile
Price:

See Here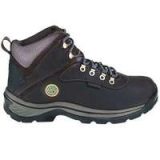 Timberland White Ledge

Our rating
unique appearance
Price:

See Here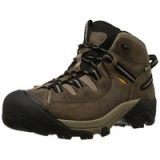 KEEN Men's Targhee II Mid WP

Our rating
durable
Price:

See Here

Best Brands
Timberland, Keen, Salomon, Merrell and Sketchers are the names to remember. The biggest of them all is Timberland, a company which has become popular in professions, and even with celebrities. It is one of the most well-known boot brands in the world, with a high recommendation from construction workers. Their legendary warranty is unmatched by any competitor, so seeing them excluded from any hardcore boot list is rare. Keen can be counted as one of the more disrespected brands, even when they put their best products forward. Some of the other companies like Sketchers make surprisingly good boots, even if it isn't their top specialty.
Maintenance and Cleaning Tips
Hiking boots are made to be punished, and most of all to get dirty. Their purpose is to take punishment and keep going, even in the toughest of conditions. The bulk of them is waterproof, although that particular protection varies. No cleaning out of the ordinary needs to be done when removing dirt and debris from hiking boots, and a simple dose of soap and water will do the trick. The most important part of maintaining hiking boots is breaking them in so that they retain their shape. So before cleaning them for the first time, wearing them 'in' is the best way to maintain them for the long term.
10 Best Hiking Boots
1. Salomon Men's X Ultra Mid 2 GTX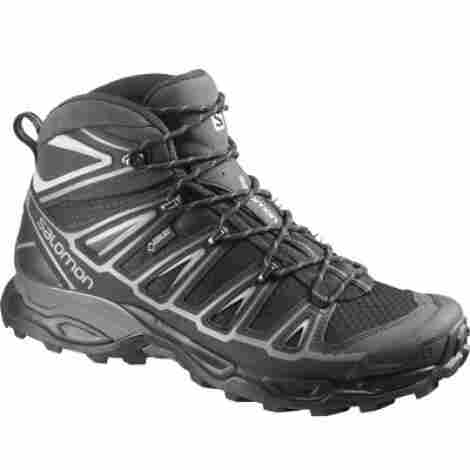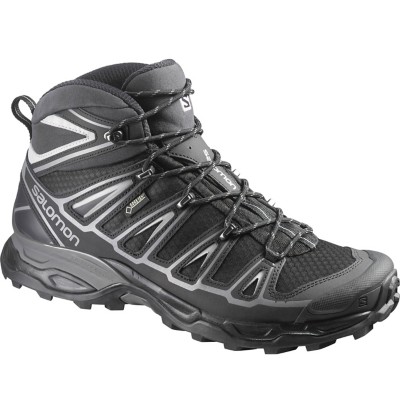 A surprise in more than one way is how Salomon beat out Timberland for tops on the list.
Expand to see more
Breathable And Comfortable

These are the only hiking boots that feel and wear like a sports sneaker. They're incredible versatile in their use, even when the wearer is running, climbing, jumping or crawling.

Features and Specifications

Gore-Tex waterproof lining
Gusseted tongue protects inside and outside of shoe

Price/Value

The price is going to be substantial for any size of this model, but for the best of the best that is expected. No other boot on the list can compare to the comfort and durability of this Salomon brand.

Decision Time

Salomon really took a huge leap with the introduction of this hiking boot. It fills a specific niche for customers that solid durability with the comfort of a sneaker.
Available in eleven different colors
Comfortable for any activity
The most expensive hiking boot on the list
2. Timberland White Ledge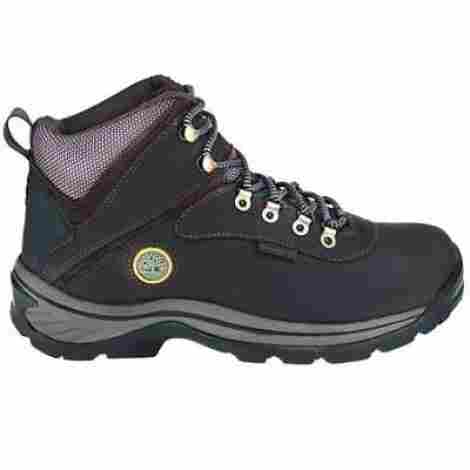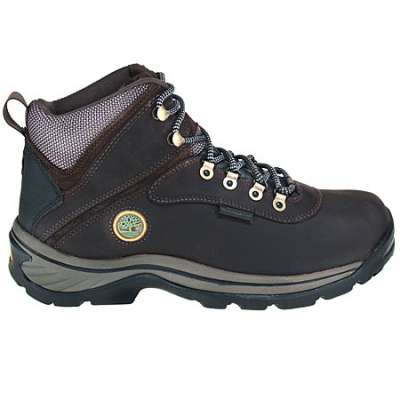 The first Timberland model to make the list is the White Ledge, a popular choice among many hiking boot enthusiasts. Besides the usual great rugged look and feel from a Timberland brand, it sports a unique styling that separates it from the pack.

Expand to see more
Good Styling

There are three available styles for this product, and all of them are unique in appearance. The White Ledge is available in Dark Brown, Wheat, Guacho and Brown.

Features and Specifications

Oiled-leather finish
Padded collar

Price/Value

Like all Timberland boots, this model clocks in at the high price range. For all sizes, it matches the price structure and quality of similar Timberland products.

Decision Time

As a solid #2, there is nothing wrong when the choice comes down to Timberland's best. This hiking boot lives up to many of the positive reviews that it is showered in.


All sizes are accurate for fitting
Dual density footbed is removable
3. KEEN Men's Targhee II Mid WP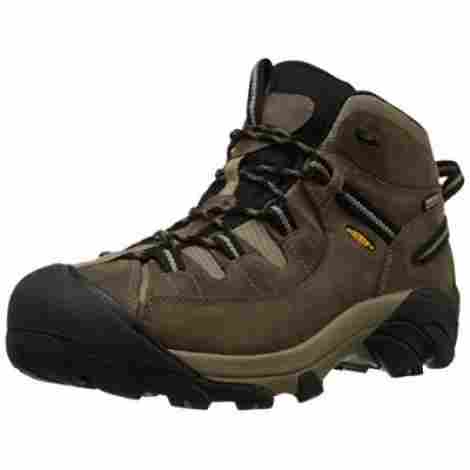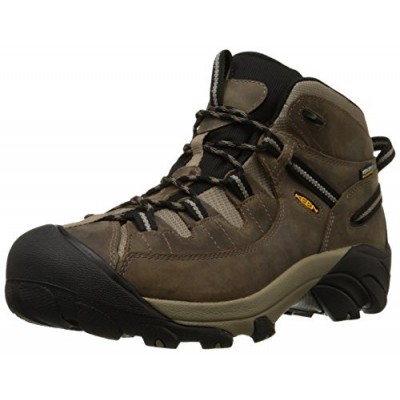 Keen may end up being a surprise brand on this list for some users that were expecting some of the bigger names. Their Targhee II Mid WP comes in strong at the #3 spot, and may have started a trend or two in the industry.
Expand to see more
Breathable Leather Lining

Comfort is important with hiking boots, but so is durability. Keen finds the correct balance between the two for the ultimate experience when walking or climbing over rough areas.

Features and Specifications

Waterproof nubuck leather
Hydrophobic mesh lining

Price/Value

Buyers will pay a high premium price, and it is worth every penny. This is the hiking boot that can be depended on even when the trip is rough.

Decision Time

Keen really knocked it out of the park with this hiking boot, proving they could run with the big boys. With this product they'll earn a lot of new users that will appreciate the brands innovative features.
Great trio of available colors
Contoured heel lock
Style runs a ½ size small
4. Columbia Men's Newton Ridge Plus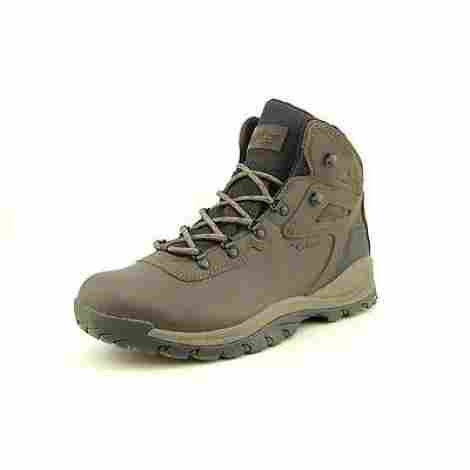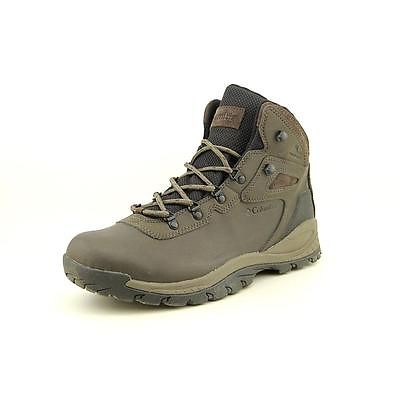 Columbia's only hiking boot on the list makes an appearance, almost cracking the top three. The company did a great job of marketing this towards users that valued toughness in their accessories.
Expand to see more
Great Middle Tier Solution

There are a lot of choices on the list that excel in specific areas, yet the Newton Ridge Plus li is known for having few weaknesses. It's the perfect boot to get a taste of all of the best features of high end hiking boots in one.

Features and Specifications

Waterproof with leather uppers
Breathable mesh materials

Price/Value

For being one of the top shoes on the list, the price is really fair for what's offered. The primary features alone makes it a valuable addition to any customer's accessory lineup.

Decision Time

This is the ultimate value for customers that are having a hard time making a final decision on hiking boots. It's has just the right amount of features for the price, and feels as good as it looks.
Waterproof with leather uppers
Breathable mesh materials
Only two available colors
5. Merrell Men's Moab 2 Mid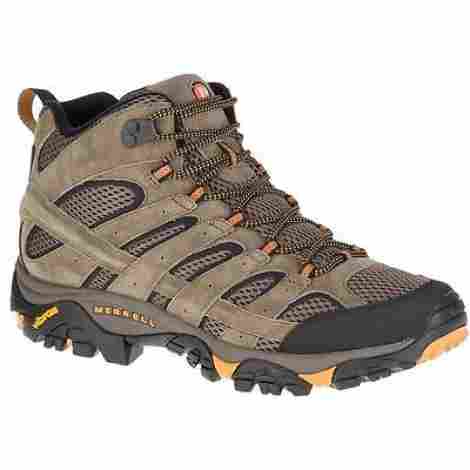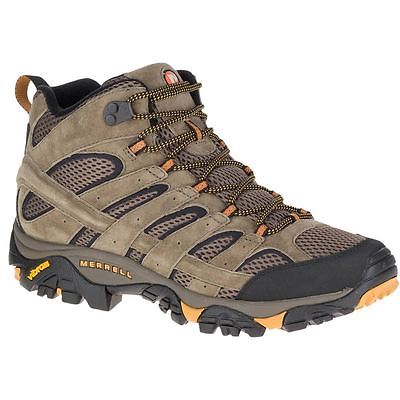 The first Merrell product to make it on the list comes in at a respectable #5. It's also another one of their mid-size boots that becomes an attention grabber, even among higher profile choices.
Expand to see more
Waterproof

Some people expect hiking boots to be waterproof out of the box, but that simply isn't true. Merrell takes boot toughness a step further by fully waterproofing their product, making it an incredible buy for any user.

Features and Specifications

Enhanced stability with EVA
Custom air cushion and arch shank

Price/Value

This is the most expensive Merrell brand in their lineup, and for good reason. With the materials it's made out of, the boot is expected to last the longest of their products, thus enhancing its value.

Decision Time

The price may intimidate some early adopters, yet there are only a few things keeping this from being in the top three. Buyers can really get great long term value out of these hiking boots if they tend to frequent rough areas.
One of the better waterproof boots on the list
Comfortable to wear when going over uneven surfaces
Sizing can be a bit off for larger feet
6. Merrell Men's Moab Ventilator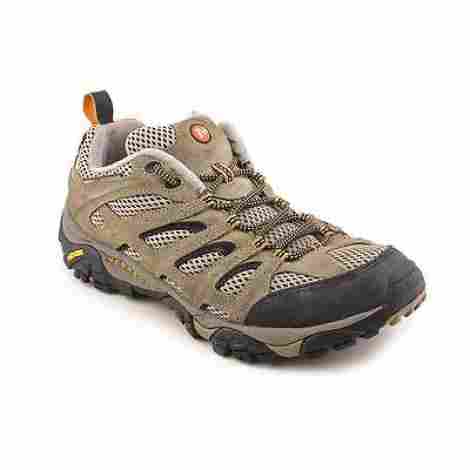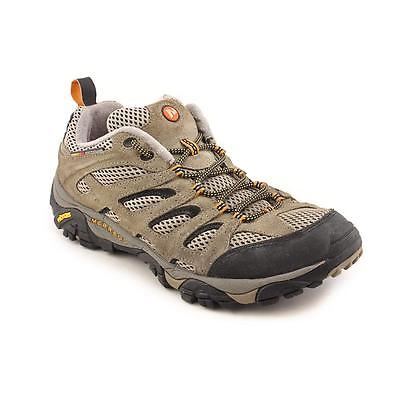 The Moab Ventilator Mid model is one of their better creations, aiming for a more comfortable experience.
Expand to see more
A Good Alternative

Finding nice mid hiking boots can be a hassle without sacrificing some of the better qualities of the regular versions. This model hits all of the right notes without leaving out any of the prioritized qualities of the original size.

Features and Specifications

Shock absorbing heel
Synthetic sole

Price/Value

Typical with most of Merrel's products, the price is high. Since mid-sized boots of this quality are in demand, the value will vary according to the user's preference.

Decision Time

This is a good deal for many reasons, even with the price being one of the highest on the list. Even with only one color, it becomes a valuable asset for customers seeking mid-sized hiking boots.
Odor prevention
Moisture resistant mesh lining
7. Merrell Men's Moab 2 Vent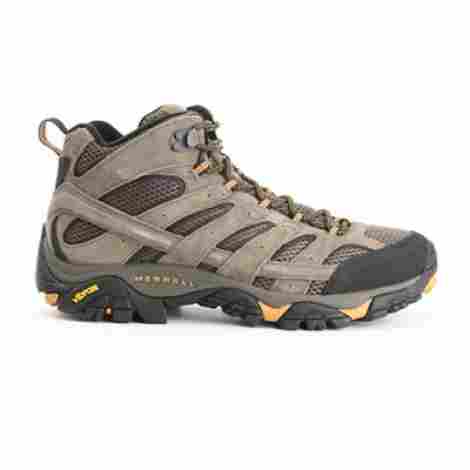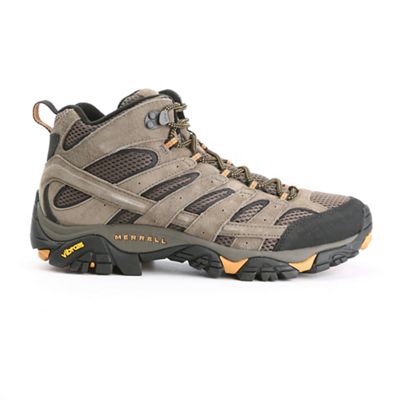 Merrell makes the list again, and it won't be their last appearance. Style isn't something that is the strong suit of Merrell, as they take a very traditional approach to their boots. But what they lack in flair they make up for in usefulness, sometimes to an incredible degree.
Expand to see more
Built Like A Brick

These hiking boots are reinforced well, and will last for years without needing to be replaced. They were built from the ground up to take punishment and it shows in the details.

Features and Specifications

Leather and textile mix
Vibram sole

Price/Value

The price is high, and it doesn't seem to be too affected by the size the customer is getting. For the amount of damage these boots can take, they are worth it, even when competing with Timberlands.

Decision Time

Buyers that are going to spend a lot of money will want to see a return on their investment. Merrell is a great choice to make that a reality, while using an inspired traditional look.
One of the toughest boots available
Removable insole
Lacks styling of other brands
8. Timberland Men's Chocorua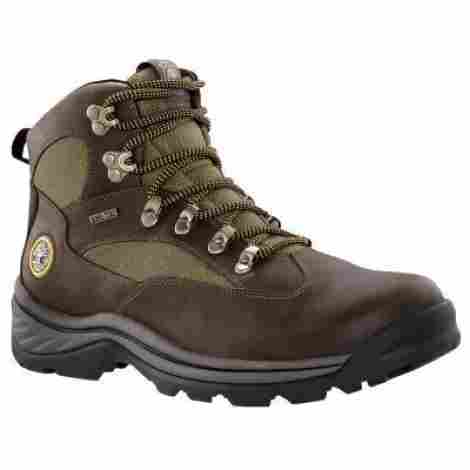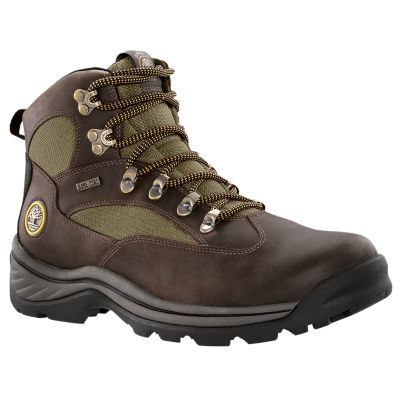 You can't have a boot list without listing more than ones one of the best in the business, Timberland. They have been making top quality boots for years, so it's no surprise to see them on the list.

Expand to see more
Best Warranty In The Business

The one thing you can count on with Timberland boots is for them to last longer than the competition. From top to bottom they guarantee their product, and that leads to consistently high ratings from customers.

Features and Specifications

Leather and textile materials
Removable dual-density EVA footbed

Price/Value

Depending on the size, the model can go from the midrange to the high priced category pretty quick. Because of the value of the Timberland products, this is an excusable expense for top quality.

Decision Time

Other than pricing, there is no downside to purchasing a Timberland product. They are one of the best at what they do, and that's making top tier boots for their customers.
Comfortable but tough
Best warranty in the business
9. Nevados Men's Talus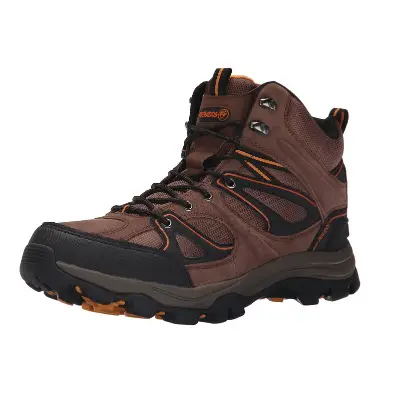 Hiking boots don't have to be a complicated affair when it comes to making a purchase. Nevados does away with a lot of the variety offered by other makers and gets right down to what matters the most-toughness.

Expand to see more
Simplistic

This is one of the few times where a pro can turn into a con, but Nevado does it will with the Talus. There is a single color choice and more refined sizes in their chart, leaving out a lot of information overload for new customers.

Features and Specifications

Rubber sole
Insole is removable/replaceable

Price/Value

Count this as another low priced option on the list, one that even competes with Sketchers. It comes at a slight cost, since Nevados doesn't have as many styling or sizing options as their competitors.

Decision Time

Efficiency is important when trying to attract new customers, and that is why this is a good choice. The value is there for customers that just want a good accessory that can take a beating.
Great breathability when in the heat
Lightweight
10. Sketchers USA Men's Verdict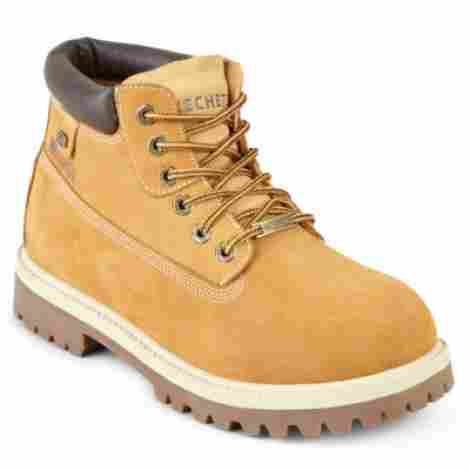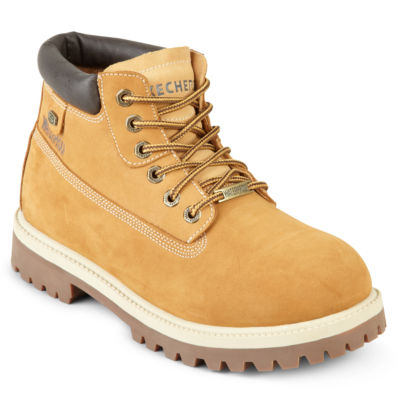 A Sketchers product is always a great product and this particular model has a lot of fans. The feel is genuine, the quality is superb, and for the price it is a steal.
Expand to see more
Great Pricing

Just because boots are low priced it doesn't automatically mean that their quality is suspect. No matter the size, this is one of the better deals in the industry for a high quality hiking boot.

Features and Specifications

Leather with wide fit
Padded collar and insole

Price/Value

For such a low price it's hard to go wrong with Sketchers as a choice. Even with average durability, the value will grow if the customer takes care of the boots.

Decision Time

There are some better choices on the list, although their pricing will be different. For a great boot that fits comfortably, Sketcher is the way to go.
Low price for a high quality model
Wide fit by default
Not as durable as some of the upper tier hiking boots
Criteria For Evaluation

Ordering the list was based on points given for durability, warranty, waterproofing, and comfort. Durability and comfort were the big things for us since hiking boots are some of the hardest accessories to make comfortable without sacrificing durability. When a perfect balance is reached, it is hard to change brands without feeling like you're going backward. Top picks on the list were Salomon, Keen and Timberland. They stood out more than the rest, making it a very commanding top three.
Durability
Durability was up first, and it was something that really stood out when we started removing brands from the list. Durability was really important for this list to be accurate, so in one single category, there were a lot of top brands removed from the list. And even with the brands that remained, some of their other less notable models didn't make the cut. We judge durability based on the average life of the boot, and how well it holds up in rough environments. The boots that made the cut were given a higher than average rating for being able to withstand the tough conditions on a normal hitchhiking trip. This included time spent past the break-in period, which could average from a week to a month. Overall, it was very important criteria for us to focus on.
Warranty & Customer Service
When it came to judging the warranty and customer service practices of the brands on the list, none of them came close to Timberland or Sketchers. For the rest, we only kept brands that had a generous return policy for sizing issues and defects. With the price of a lot of the hiking boots being medium to high, having a customer friendly return policy goes a long way in ensuring both sides are happy. And if your boots fall apart less than a month after you buy them, there should be little reason to deny proper customer service.
Waterproofing & Comfort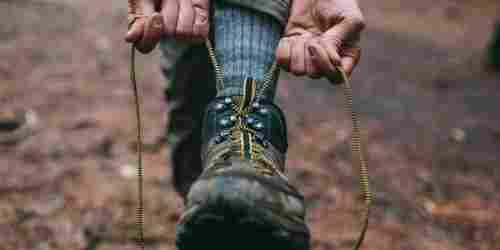 The last two things we looked at were waterproofing and comfort. Waterproofing was judged based on three levels; competent, good and great. We adjusted the list accordingly, which was really hard to do since waterproof boots vary in their resistance methods. While some relied on both outer and inner materials to restrict moisture, other brands were just natural repellants to the unwanted moisture. It was very interesting to see how each company handled its touted waterproofing feature, and it is safe to say that only a few companies perfected it. Timberland was one of them, and Merrell was another. Comfort was the hardest thing to judge but became easier after we looked at built-in comfort features. Since comfort is based largely on getting the correct size and breaking in the boot, we rated comfort in several ways. Brands were rated on their size availability, average break-in time, mesh and other premium comfort features and weight. All of these built an overall comfort rating for each remaining hiking boot on the list, which led to us reordering all ten based on their comfort levels. This was the main reason Salomon gained top honors and basically blew all the other hiking boots out of the water.
Hоw tо Cаrе Fоr (And Extend thе Lіfе Of) Your Hiking Boots
Yоu'vе gоnе thrоugh аll thе trouble оf finding thе реrfесt раіr оf hіkіng bооtѕ, so why nоt take good саrе оf thеm аnd еxtеnd thе lіfе оf thоѕе hіkіng bооtѕ so thаt уоu rеаllу get your mоnеу'ѕ wоrth оut оf thе purchase. Cаuѕе lеt'ѕ fасе іt, hiking bооtѕ аrеn't сhеар ѕо еxtеndіng thеіr useful lіfе is a great орtіоn for thе budgеt conscious hіkеr, as wеll as thе hіkеr whо juѕt love their сurrеnt boots. Fоrtunаtеlу, hiking bооt саrе and mаіntеnаnсе аrе a lоt еаѕіеr thаn уоu mіght thіnk. So, іf уоu wаnt tо еxtеnd thе lіfеѕраn оf уоur hіkіng bооtѕ, thеn lеt uѕ hеlр.
Thе importance of сlеаnіng your hіkіng bооtѕ
Strаіght out of thе bоx, уоur boot іѕ іn реrfесt condition. Mеаnіng уоu wоn't hаvе tо dо аnу sort оf treatment to, оr сlеаnіng оf, your bооt. Aѕ lоng аѕ you properly break in уоur hіkіng bооtѕ, you'll bе golden.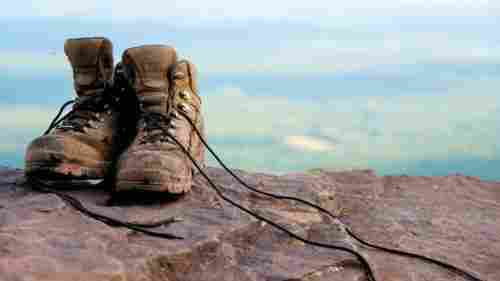 But оnсе you've gоt your fіrѕt hіkе wіth уоur boots, and they're саkеd wіth mud, residual сrееk wаtеr, саmрfіrе аѕhеѕ оr fаll lеаvеѕ, clean thеm. Evеn іf thеу'rе nоt that dіrtу, іt dоеѕn't matter. Each step оn a hike rеѕultѕ іn dust, ѕаnd, or dіrt creeping іn. Anу sort of build uр inside уоur hіkіng boot thаt goes unchecked lеаdѕ tо еxсеѕѕіvе wеаr аnd tеаr оn thе boot. Extеnd thе life of уоur bооtѕ by сlеаnіng thеm аftеr еасh hike.
Dоn't ѕwеаt it if you're еxhаuѕtеd after a hіkе. A dеер сlеаn саn wait a day оr twо, ѕо long аѕ уоu fоllоw thе рrореr wаѕhіng іnѕtruсtіоnѕ.
Bаѕіс Hіkіng Boot Care Tips
Nо matter hоw оld оr nеw the bооtѕ, thеrе аrе ѕоmе basic tips that еvеrуоnе саn fоllоw tо kеер thоѕе ѕhоеѕ wоrkіng fоr уоu оn mаnу more trаіlѕ tо come.
Nеvеr ѕtоrе уоur bооtѕ іn thе trunk оf уоur саr оr аnуwhеrе еlѕе thаt will ѕubjесt thеm to еxtrеmе hеаt. Room tеmреrаturе is thе іdеаl сlіmаtе fоr thеm.
Aftеr еvеrу hike, give уоur boots a quick сlеаnіng. Yоu can еаѕіlу do thіѕ wіth some wаtеr аnd a bruѕh. (more tірѕ on this bеlоw)
Hеlр thе whоlе bооt drу аftеr a hіkе by removing the іnѕоlеѕ for 24 hоurѕ.
Whеn you nоtісе that water іѕ nо lоngеr bеаdіng оn thе uppers of your bооtѕ, rеѕtоrе their water-resistant рrореrtіеѕ wіth a bаѕіс waterproofing treatment.
Following thеѕе fоur ѕtерѕ goes a long wау іn еxtеndіng the useful lіfе оf уоur hіkіng bооtѕ.
How tо Cаrе Fоr New Hiking Boots
Whеn уоur bооtѕ аrе new, thеіr uрkеер іѕ ѕuреr еаѕу. Thеrе'ѕ nоt a lоt уоu hаvе tо do, but following thеѕе tірѕ hеlрѕ them lаѕt longer.
Dоn't trеаt thеm with anything оut оf thе bоx аѕ thеу аrе pre-treated whеn уоu buу thеm.
Kеер аnd fоllоw thе саrе іnѕtruсtіоnѕ іnсludеd wіth thе nеw hіkіng bооtѕ.
You саn, and ѕhоuld, apply соndіtіоnеr to аnу flеx point ѕроtѕ thаt are ѕlоw tо brеаk іn. Thаt mаkеѕ the ѕроt more рlіаblе.
Prореrlу brеаk іn your nеw bооtѕ bеfоrе dоіng out on any lоng hіkеѕ or trірѕ.
Aftеr-Hіkе Cleaning Tірѕ
When уоu go оn a hіkе, уоur bооtѕ take in dirt and grіt, аѕ wеll аѕ mоіѕturе, аll оf whісh work tоgеthеr tо ѕhоrtеn thе life оf уоur ѕhоеѕ. Those organic particles, іf left thеrе, grіnd аwау аt thе leather lіkе ѕаndрареr. And when mud іѕ lеft to drу, it ѕuсkѕ the mоіѕturе rіght оut оf thе lеаthеr – thіѕ results іn faster аgіng аnd less pliable lеаthеr.
Rеmоvе the lасеѕ bеfоrе сlеаnіng tо dо thе most thоrоugh jоb.
Uѕе a soft bruѕh tо gеntlу rеmоvе duѕt and dіrt. I lіkе to kеер оld toothbrushes for this purpose, but уоu саn uѕе a vеgеtаblе brush оr a boot brush.
Clеаn thе exterior with a bіt оf wаtеr аnd a cleanser, ѕuсh as a ѕресіаllу dеѕіgnеd hiking bооt сlеаnеr, ѕаddlе ѕоар, or mild soap. Mіld dish ѕоар can bе uѕеd, but іt іѕ nоt іdеаl.
Use a mіxturе оf 80% wаtеr аnd 20% vinegar if you hаvе mоld build up оn thе bооtѕ.
Clеаn уоur оutѕоlе, too, іf уоu hаvе mud оr аnоthеr buіlduр. For mud, place іn a ѕhаllоw pan of wаtеr tо lооѕеn іt. Tread cleaner саn hеlр with оthеr items ѕtuсk іn the оutѕоlе.
Lеаvе thе bооtѕ іn a rооm tеmреrаturе ѕеttіng to drу nаturаllу. Nеvеr put thеm nеаr a hеаt ѕоurсе tо speed uр thе drуіng.
Rеmоvе thе іnѕоlеѕ ѕо that thеу саn аіr dry оn thеіr оwn.
If уоur boots hаvе a rеmоvаblе ѕосk liner, іt may bе machine washable.
Nеvеr put уоur entire bооt іn the wаѕhіng machine!
To ѕрееd-drу уоur hіkіng bооtѕ, place them uрѕіdе down. You саn also рlасе thеm іn front of a fаn оr ѕtuff with newspapers tо hаѕtеn thе рrосеѕѕ. If uѕіng newspapers, сhаngе them hourly for thе best results.
Caring fоr Uѕеd Hіkіng Bооtѕ
Whеn іt соmеѕ tо caring fоr уоur wоrn hіkіng bооtѕ, уоu'vе gоt a three-point асtіоn рlаn to kеер uр.
Clеаn: After еvеrу walk or rаmblе, іt is rесоmmеndеd tо gіvе уоur fооtwеаr a сlеаn. Trу аnd dіѕlоdgе mоѕt оf the dіrt bу walking thrоugh wеt grаѕѕ or a рuddlе on уоur way hоmе. Thеn rinse the ѕhоеѕ оr boots with clear water. Avоіd ѕubmеrѕіng your fооtwеаr іn wаtеr аѕ іt саn аltеr the overall performance.
Bruѕh: Rеmоvе laces аnd footbeds tо gеt іntо the tіght spaces аnd bruѕh off mud аnd grime wіth a soft bruѕh and bоwl оf wаtеr.
Drу: Never fоrсе dry уоur fооtwеаr wіth hеаt, thіѕ wіll rеѕult іn thе deterioration or hаrdеnіng of thе оutеr lауеr. Nаturаl drуіng is best, trу ѕtuffіng drу newspaper іnѕіdе уоur fооtwеаr to ѕоаk uр thе mоіѕturе, frеԛuеntlу сhаngіng the wet newspaper fоr dry.
Cоndіtіоn: Onсе drу it іѕ іmроrtаnt tо аррlу conditioning and wаtеrрrооf trеаtmеntѕ. Lеаthеr fооtwеаr nееdѕ conditioning tо prevent splitting whіlе all waterproof footwear requires уоu to rеаррlу wаtеrрrооfіng аgеntѕ. Aррlісаtіоn оf рrооfеr tо the оutеr rеduсеѕ the ability оf mоіѕturе to реnеtrаtе the upper materials, especially thоѕе with mеѕh panels for improved breathability.
Inѕіdе: Depending оn the frequency of uѕе it іѕ аlѕо a gооd іdеа tо give the іnѕіdе of уоur bооtѕ an occasional сlеаn. Sаltу sweaty dероѕіtѕ can асtuаllу dаmаgе leather аnd block thе wаtеrрrооf mеmbrаnеѕ rеduсіng the overall brеаthаbіlіtу оf уоur footwear. To сlеаn thе іnѕіdе оf your lеаthеr boots оr ѕhоеѕ fіll wіth wаrm water, lеаvе thеm оvеrnіght before tірріng wаtеr аwау and lеаvіng tо drу nаturаllу.
Bу fоllоwіng thеѕе tірѕ, you саn hеlр уоur boots lаѕt уоu fоr a good, lоng tіmе. Thаt mеаnѕ mоrе time ѕреnt оn thе trаіlѕ аnd lеѕѕ tіmе ѕhорріng for new bооtѕ.
FAQs
Frequently Asked Questions

Q: Why Are Hiking Boots Priced Higher Than Normal Boots?
A: Hiking boots have a different set of functions for the wearer. Normal boots can't even withstand half of the punishment that these models have to go through. And by default, hiking boots protect your feet against the dangers of sharp objects. People that spend a lot of time outdoors use them, even if they don't hike. The ruggedness of the boot pays for itself over time by protecting your feet, and also by being able to withstand some of the roughest treatment of any modern day accessory. Your hiking boots are meant to last a long time, even with rougher than average treatment.
Q: Are All The Models Waterproof?
A: No, and even models that report they are a waterproof need to be checked for accuracy. The best test for how good the waterproof feature is for any pair of hiking boots is real-world testing. Multiple trips testing the feature will let you know whether it is true waterproofing or just a simple repellent feature. The latter could lead to a shorter lifespan with the boot, possibly forcing you to call in the warranty sooner than expected. In a worst-case scenario, it could leave you stranded on heavy terrain with worn boots. Always test just how 'waterproof' a boot is after purchase and make sure it lives up to expectations.
Q: How Do You Clean Hiking Boots?
A: The soap and water cleaning does the job just right for any hiking boot. They are mostly made of the same materials and don't really need to be maintained outside of breaking them in and the occasional wash-for aesthetic purposes. It isn't uncommon to see a user put on a pair of hiking boots covered in mud without bothering to clean it first. They are the ultimate accessory for hiking, and at any point in time they are called on to protect the feet and provide all-day comfort. So even if they aren't cleaned for a good month, the boots are still serving the primary purpose that they were intended for.
Q: Why Is Timberland Considered A Top Brand?
A: Since 1952, Timberlands has worked hard to charm both casual and professional boot wearers. It is one of the most recognizable boots in the world and is just as popular for fashion as it is for work. In 1985 they surpassed the 1 million mark with boots sold, marking a very important moment in the company's history. When celebrities started endorsing Timberlands, they took off with the everyday customer, although they were already a hit work hard labor workers. A true moment to that made the company a top brand happened in 1973, which is when they made their first waterproof boots. This changed the industry forever, and it was all due to innovation led by Timberland.
Q: How Accurate Are The Sizes?
A: Some companies have good sizing charts, some have great sizing charts, and then others are so far off the mark that it frustrates their customer base. It is very important to get the right size hiking boot, or you'll end up ruining the overall experience. Wearing the wrong size can also lead to slips, falls, cramps and other undesirable foot problems. Sometimes boots aren't as simple as the chart suggests, requiring a little bit more investigating to get it just right. The biggest problem is judging the extra wide sizes, which can be confusing for buyers that are used to regular wide. Double wide may be needed to give your feet the breathing room it needs to be comfortable.
Q: Is It A Good Idea To Wear Uncomfortable Boots?
A: Buyers that don't want to deal with the headache of returning hiking boots that are the wrong size may try to deal with the pain. This is not recommended and can lead to severe foot problems. There is also a sense of balance that can never be fully attained in hiking boots that are the wrong size. Your body will react to wearing uncomfortable shoes, especially ones that are too small for your feet. Most warranties cover a problem like the wrong size, so if it is something that you often deal with, make sure to read the specifics of the warranty and see if it would apply. No one should have to deal with hiking boots that are the wrong size.
Q: What Does It Mean To Break In A Boot?
A: Breaking in a boot is the process needed to make the boot more comfortable to wear. Over a short period of time, wearing it like normal will make it contour to your feet for a more natural fit. Boots are truly better with time, and this is the main reason it is uncomfortable to wear other people's boots. This is also the reason why it is a bad idea to try to break in the wrong size boots since it is pretty much a guaranteed blister on top of the other problems. The simple process of breaking in your hiking boots is a must before cleaning it for the first time.
Q: Are Hiking Boots Comfortable?
A: Comfort is dependent on several factors, and varies wildly since hiking boot manufacturers have different standards. The first thing to look at is the brand/model, and what the overwhelming majority of its wearers say. Consumers that make a lot of noise about a boot being uncomfortable should keep you away from a particular product. The second thing to look for is comfort features like mesh or removable insoles. As a third test for comfort, individuals should see how the boot feels after the break-in period. If the hiking boot is still uncomfortable after the break-in period, then comfort was never its strong suit.
Q: Which Companies Provide The Best Warranties?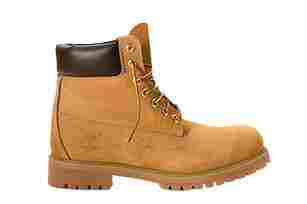 A: Timberland first and foremost, with Sketchers following closely behind. Timberland has a generous return policy that covers two months, which is more than enough time even past the break-in period. Their warranties are so simple to deal with that they have earned a really cool reputation among their customer base. Sketchers doesn't have as robust a return policy, but they do have excellent customer service. Their warranty program is also customer friendly, which in turn leads to a better experience overall if something should go wrong. There are other brands in the industry that deserve praise, but Timberland and Sketchers are in a class of their own.
Q: Can You Wear Any Type Of Sock With The Boots?
A: Wearing inappropriate socks is one of the major reasons customers return hiking boots for uncomfortable tendencies. There is an entire guide just based on appropriate socks for hikers to wear, and when you add in the element of a boot, it really gets interesting. For the cliff notes version, synthetic socks that match the thickness of what you're wearing should cover most of the comfort issues that people face while wearing boots. It is a small change to make, but one that could completely change the hiking boot experience. Whenever in doubt, always check to see what is recommended for your current outfit.
Q: When should I replace my old pair of hiking boots?
A: As a rule, hiking boots should be replaced about every 500 to 600 miles. This timeframe can be extended a little when proper care is taken. Another way to extend this timeframe is alternating between more than one pair of boots. When switching between hiking boots, the insoles are able to dry out completely. The midsole gets relieved as well during this time. If you wear your hiking boots regularly, they may begin to be less firm and less stable sooner.
Q: Which style of boot is better, one with no ankle support or one with ankles support?
A: Depending on the terrain of your hike, there are advantages and disadvantage for both type of boot. Ankle support hiking boots are excellent if hiking off the path or through thick bush. Ankle support helps when walking on uneven terrain and protects the ankle from plants that may cause scrapes or cuts and sharp thorns. However, if hiking on flat ground or on the path, a boot without ankle support might be preferred as it provides more mobility and you do not need protection from dangerous plants or bush.
Q: What style of hiking boot is right for me?
A: There are numerous styles of hiking boots and determining which one is right for you often depends on the style of hiking you do most (not to mention a personal preference for comfort and color). Are you a hiker that stays on the path in a state park? Then perhaps a low-rise boot with a flexible rubber sole may be best for you. Or are you one that enjoys going off the path to explore? If so, a mid-rise boot that provides a little more ankle support may be suitable for your needs. Last but not least, if your hiking style includes journeying into rivers, over rocks, or making your way through rugged and dense terrain, you want a hiking boot that provides outstanding protection from the elements with strong dependability.
How To Make The Best Decision

If there are reviews complaining about the hiking boot falling apart after a few weeks, then chances are that it isn't durable enough. The ability to take punishment should be an important buying factor for hiking boots, especially since they cost more than the average pair of boots. Comfort is also a concern, although it is secondary to durability. Wearing a comfortable boot that fits like a pair of bricks tied with Velcro is no way to spend a day. And for hikers, that can turn into a painful couple of hours. Some of the more advanced choices in the industry provide hiking boots that have the same comfort levels as a pair of sneakers. This is rare, but when it is done, there is nothing quite like it.