Best Hiking Boots Reviewed and Rated
Hiking in nature is so much more that a recreational activity. It is proven to have a positive effect on your health and is very efficient in the fight against stress. All things considered, hiking contributes to the overall health of the organism. Hiking is not an expensive sport, it doesn't take much time and the gear is getting more proficient with time. That is the reason, hiking is becoming more and more popular nowadays. There are different gear requirements for each type of hiking. And with different hiking types, there are different hiking boots suitable. There are no unique rules in order to choose the best hiking boots!
Our Top 3 Picks
In fact, it is a process that takes time, if you want to make a thorough research and choose the right pair for you. Make no mistake, hiking boots are very important, their choice is not to be taken lightly. Boots should keep you away from injuries and give you the sense of support and stability in the legs and the whole body. They should also be able to ease the impact and make every terrain easier to conquer!
Things to consider when looking for the best hiking boots
Below the ankle or above it:
Before starting with the research you should already have in mind whether you prefer short or long boots. Short hiking boots are suitable for walking on dry and easy terrains. This is only true if you do not have a problem with your ankles. Hiking in short boots is also more comfortable and easier. In ideal conditions, you would have both short, and above ankle hiking boots. However, if this is not affordable to you, then higher boots are recommended since they are more suitable for most hikers and backpackers, besides, they cover different terrain varieties and different weather conditions. This kind of pair would be slightly heavier, but they provide extra protection especially in the ankle area which is most exposed while hiking. Above ankle boots are also necessary on higher mountains, where you are more exposed to humidity and moisture.
Boots size
I suppose you have already determined your boots size that makes you feel comfortable. Hiking boots must be comfortable and they mustn't be too small. We recommend trying out boots at night when the leg is tired and slightly swallowed. This way, when hiking, you wouldn't have trouble with the shoe size and they would feel more comfortable for you. It is also recommended that you try on couple of shoes, from your nearest store, even though it is not your final choice, just to make sure of your size. You should always do the trying in the sock that you are planning to wear while hiking. In general, when you push your leg in the front of the boot, in the back there should be place for your small finger only. If your shoes are tied up, the tip of your toes mustn't touch the pointed part of your boot. Keep on mind that if you feel some tightness while trying them on, you would have bigger problems while hiking, so that is probably not your boot size. Every person's foot is also different. Some are wider, while others are long and thin. Keep this on your mind while choosing the right hiking boots for you. There are even some cases where females buy male hiking shoes because they have wider foot, this is more than okay. In our experience, when ordering online, it is better to buy one extra size, because most hiking boots are smaller than your actual shoe size.
Materials boots are made off
Waterproof: Boots made from thicker leather materials are extremely moisture resistant. Some synthetic materials are also waterproof, but they also have stitches and stitching might turn out to be a problem or an advantage, regarding waterproof feature. The only way to know it is by trying them. A sure choice when it comes to material is Gore-tex and leather as a natural material representative. All stitching in Gore-tex material are also glued, so even though the water penetrates through the stitches, the Gore-tex membrane would prevent it from entering the inside of your boot. Maintenance of these waterproof materials is also of essential importance. After a long trip, you must clean them, dry them and put suitable cream or fluid in order to increase their life. As for the maintenance, it is better to use many thin layers of cream than one thick layer on only one cream.
Manufacturing technologies
Every hiking boot has some features that are either written in the features list, or they have a small dot in different color, depending on their characteristics. They are either made from Gore-tex material, or they are waterproof, windproof, there are breathable technologies, ATS technologies, they are all explained in this buying guide. There are also boots that reduce the impact that are more suitable for hard surfaces.
Weight of the hiking boots
Don't be distracted by the outside design of the hiking boots, which will be least important in the mountains where they would spend most of their time. The most important features in hiking boots is comfortableness, appropriate weight, protection from mechanical and other environmental impacts, they should great on your foot, have good support, durability and so much more. Above everything, you must know what are your plans and where and how often would you use them. Lightweight shoes are for light hiking trips and heavier ones are for more harsh environmental conditions and long hiking trips.
Outsole type
In general, there are some boots with hard and soft outsole. It is important to emphasize the difference between different kinds of outsoles. Boots with soft outsoles are more suitable to be used on hard surfaces, like concrete. And there is hardly any concrete on most hiking trips and they are not suitable for the winter, where you need them most. On the other hand, boots with harder outsoles, give you more control and safety on in different satiations. However, the best ones are the multi layer outsoles. Sometimes there are different companies that have ordered outsoles from the same company; you could notice that by checking their manufacturing technologies. As for the material part of the boots, the harder it is, the less stress you are causing to your calves. Nevertheless, boots with softer materials are more comfortable which allow us to have better movement and stability, even in the most difficult terrains. So, they require less control on ruff terrains. From this information you can notice that it all depends on the terrain and hiking conditions.
Manufacturer's brand and features
Nowadays there are many brands and boots that you could choose from and it is extremely difficult to tell apart the quality ones from the others. Also, brands and models that are suitable for some people might not be suitable for you. Which is why, we have made this guide in which we are presenting to you their most important features, which ones are as the manufacturer claims, and which ones are a bit over estimated.
10 Best Hiking Boots
1. Timberland White Ledge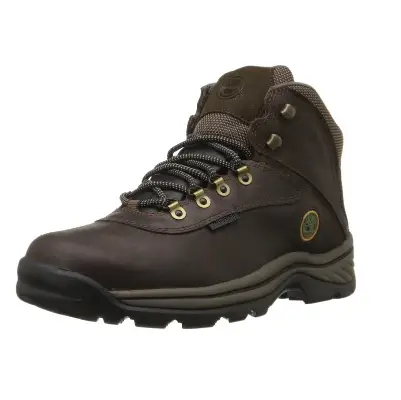 Timberland Company is known for its unique design and quality leather shoes. This product of theirs has padded collar and large tongue that protects ankles and prevents sand and mud from coming inside the boot.
Expand to see more
They also have breathable EVA footbed that offers extra comfortableness. Multidirectional lugs provide traction. The rubber outsole is designed in such a way that it helps you brake, accelerate and provides you ease of climbing. Their main downside is that they are not completely waterproof, if you step into water, some moisture will enter the inside of the boot.

Features:


Leather/Textile
Rubber sole
Shaft measures approximately 4.75″ from arch
Hiking boot with oiled-leather finish featuring lace-up vamp and rear pull loop
Padded collar
Removable dual-density EVA footbed
Gusseted tongue
Multidirectional traction lugs
Manufactured with high quality materials
Rubber sole
Comfortable
Extremely durable
2. Merrell Men's Moab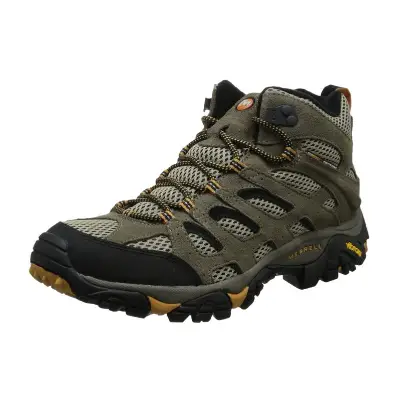 Vibram lugs means that these boots provide stability in all conditions, and they indeed allow your foot to flex more and gain more movement and greater
comfort while walking
. When walking with them, you feel that you have freedom of movement; they are not at all tight.
Expand to see more
They ensure traction on wet and dry surfaces and are provide equal quality in every weather condition and are suitable for extreme temperatures. They are breathable and allow the sweat moisture to escape while keeping you warm. They also have antimicrobial agents that penetrate deeply in to the boot leaving you with a nice boot odor and preventing the smell created by the microbes in the shoes.

Features:


Leather and Textile
Synthetic sole
Shaft measures approximately 4″ from arch
Mid-height hiking boot with mesh and leather upper featuring lace-up closure and shock-absorbing air cushion heel
M-Select DRY moisture-wicking mesh lining
M-select FRESH odor prevention
Ortholite anatomical footbed for support
Sticky Vibram outsole for traction
Odor resistant
Breathable
Comfortable
Offer support and stability
Not suitable for wide feet
3. Columbia Men's Newton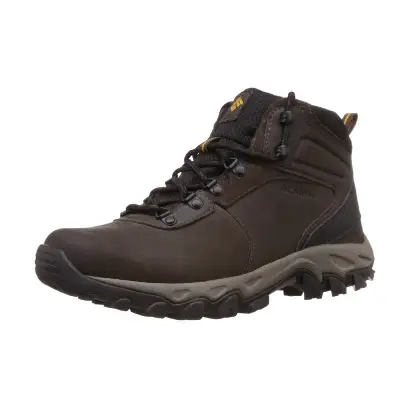 It is very surprising that these boots go into the light weighted boots, but they have the durability of heavy ones. They are super
comfortable and waterproof
. You can wear them on long hikes once they are delivered to you, they will not cause you blisters since they are perfectly soft on the impact sides of the boot.
Expand to see more
They are great for hard surfaces and they absorb impact perfectly. Their main downside is that in order for them to fit you, you must order smaller ones than your actual size.

Features:


Leather/Synthetic
Rubber sole
Shaft measures approximately 5″ from arch
Heel measures approximately 1.5″
Platform measures approximately 0.50″
Waterproof hiking boot featuring leather upper with breathable mesh tongue and lace-up vamp
Padded tongue and collar
Techlite cushioning midsole for comfort
Omni-Grip outsole
Lightweight and comfortable
Soft interior
Completely waterproof
4. Salomon Men's Quest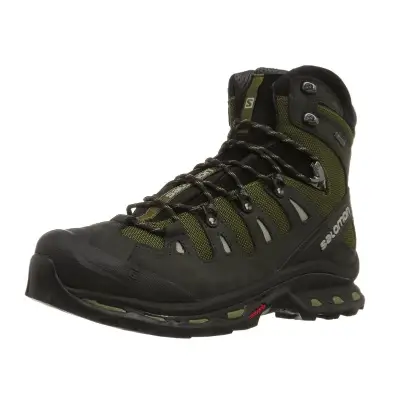 To start with the most important feature, this boots are made with Gore-tex material which means that they are completely waterproof and they are also breathable. They also have Contragrip technology which means you can rely on them on any weather conditions.
Expand to see more
They also protect your stability even though you are running or walking on uneven and unstable surfaces. They also have a specific Salomon geometry which is has different heel to toe offset depending on whether you need them for aggressive trails or less smoother surfaces. Salomon boots are made representing themselves as a company that produces quality gear for adventurers. Although they have few mistakes in their products, these boots aren't one of them. They are super durable, offer traction and will keep you comfortable during long hikes.

Features:


Leather/Textile/Synthetic
Synthetic sole
Shaft measures approximately 6.75″ from arch
High hiker featuring rugged lacing hardware and protective rubber toe cap
GORE-TEX waterproof protection
Salomon 4D Chassis for stability/protection
Molded EVA Ortholite removable footbed
Updated Salomon Contagrip Outsole
Great design
High quality materials
Super comfortable
Suitable for all weather conditions
Waterproof
5. Keen men's Targhee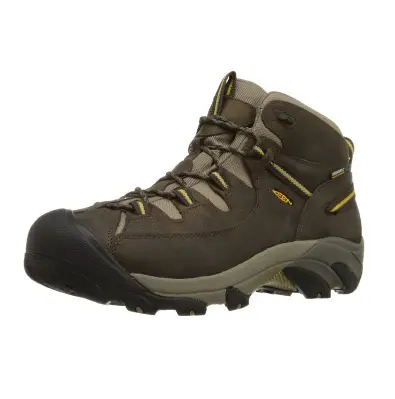 This a waterproof hiking boot that offers comfort and support to your foot. It manages to keep the feet dry and let them breathe but also keep them warm and comfortable at any terrain and weather conditions. If you have always been hard on footwear, and never been able to fit in boots suitable for you, give this one a try, it will surprise you.
Expand to see more
Its hydrophobic Mesh Lining means that they repel water and wick excess moisture away from the skin, and this is truly the case. They will also keep you stable with their 4mm multi directional lugs contoured heel lock. Their main downside is that they are a bit tight if you have a wide foot. This might be more of incompatibility than a downside, but it might help some people. All in all, they are offering more than they are taking, so they are highly recommended.

Features:


Leather and Textile
Made in the USA or Imported
Rubber sole
4mm multi directional lugs
Contoured heel lock
Dual density compression molded EVA midsole
Hydrophobic mesh lining
Hydrophobic mesh lining 
Breathable
Warm
6. Hi-tec Men's Altitude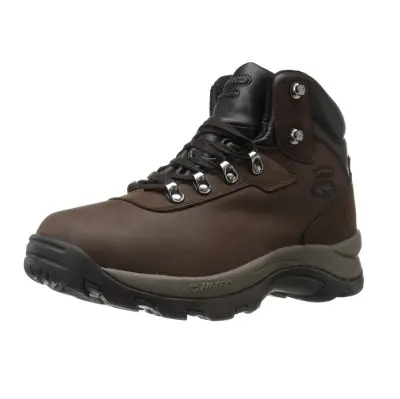 Their breathable technology is up to date and perfect for persons that get their feet sweaty. Its waterproof membrane keeps you dry, while allowing for the moisture to get out. The tongue of the boot is fully gusseted, so that no soil or water gets in, although they might have made it a bit longer.
Expand to see more
The outsole is composed of durable carbon rubber that provides stability and traction in any conditions. They are also very light and suitable for long hikes. Comparing to some other brands of boots, these are more durable and less expensive. This is Altitude's fourth version and each version is more advanced than the previous one. They produce quality boots and every feature mentioned is indeed true. Their main downside would be that they are not suitable for wet weather combined with concrete. They tend to get slippery when walking on wet concrete.

Features:


Leather/Synthetic
Rubber sole
Shaft measures approximately 6″ from arch
Select ½ Size up
Multi-Directional Traction (MDT) Rubber outsole
Waterproof upper and seam-sealed construction
Rust-proof brass hardware
Lightweight, injection-molded EVA midsole
Made with real leather
Waterproof
Great stability and support
Durable
May run a bit small, order ½ size up
7. Skechers USA Men's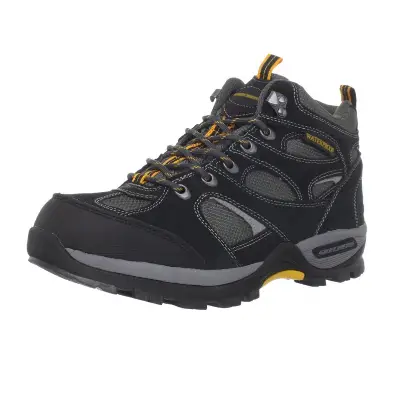 These Skechers boots are made from natural material- lather combined with synthetic fabric. They have removable cushioned comfort insole and a rubber outsole. This makes them comfortable and stable on different terrains. Although they claim to be waterproof, it is only the case if it rains, or you walk through some muddy terrains.
Expand to see more
If you accidentally out your foot in a pond, you will walk with wet socks all day. Although comfortable and warm, they are not made for hot weather; its breathable feature seems to be missing. However, if you are looking for boots for hiking on dry terrains and ergonomical support, this would be the right choice. The price is excellent for the features they are offering, and the Skechers brand is known or its quality products. If they turn out to be a good fit, they will last you twice as long as some other brands of boots or any other shoes.

Features:


Leather and synthetic
Rubber sole
Waterproof suede, synthetic, and mesh fabric upper
Removable cushioned comfort insole
Rubber outsole
Waterproof suede, synthetic and mesh exterior
Comfortable and stable
Great support
8. Vasque Men's Breeze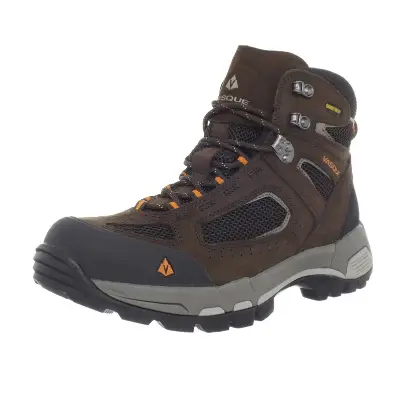 These Vasque boots are completely waterproof and are made with breathable protection. Its Gore-tex material makes them very durable and moisture free throughout the day. It is important to mention that the gore-tex material also makes them warm and comfortable during the winter and cold weather temperatures, but also not so suitable for hot weather since they are extremely warm.
Expand to see more
They are quality boots but not so lightweight, in fact they have a bit of heavy feeling wearing them. Nevertheless, they provide excellent ankle support, no matter the terrain; whether you are river bed hiking, high mountain hiking or some easy hiking. Make sure you check the sizing chart before ordering, they are shorter that the given size chart.

Features:


Leather
Synthetic sole
Vasque's most breathable hiking boot with abrasion-resistant air mesh panels
GORE-TEX with Extended Comfort Technology for breathable waterproof protection
Molded rubber toe cap
Reflective piping
Dual Density EVA footbed
Made with real leather and GORE-TEX
Extremely warm, perfect for cold weather hunting
Breathable
Too warm for warm weather
9. Ariat Men's Terrain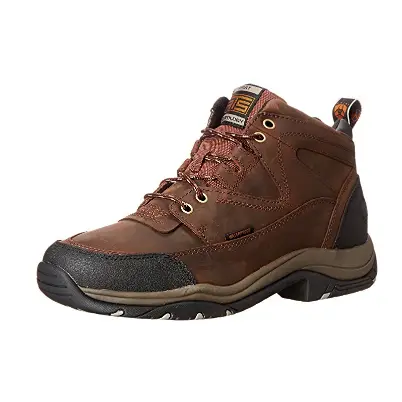 These are nice looking and durable boots made from natural material – leather. Although leather is harder to maintain then synthetic materials, it is more durable. The Duratread technology means that they are extremely durable and they can withstand weather shifting and variety of terrains.
Expand to see more
ATS technology means that is has a technology for stability, with leather lined multi layer pad that offer comfort and breathable structure. They also have a layer of gel forefoot pad that provides shock absorption. They are also very light on the feet and they have an extra shank for stability. Overall, this is a boot made for hard core walking. It is made for harsh terrains and conditions. Their only downside is that they are not waterproof. In case you decide to order, make sure to order a smaller number than usual if you want them to fit perfectly with thin socks. All in all, they are extremely comfortable shoes that will last you for a long time.

Features:


Leather
Duratread™ sole
Shaft measures approximately 5″ from arch
Waterproof oiled full grain leather upper
ATS® Advanced Torque Stability technology with composite forked shank
Round Toe Profile
Synthetic Lining
Shock absorbing EVA midsole
Made with real leather
Comfortable
Gel forefoot pad for extra support
10. Nevados Men's Talus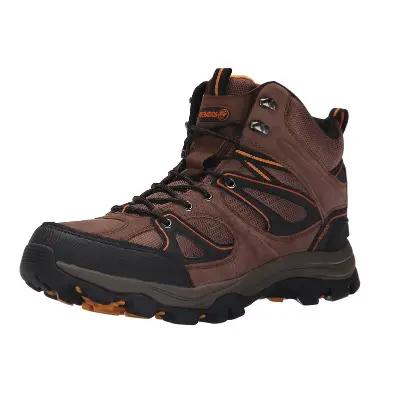 Nevados is a company that really makes durable products, this one is one of them. It is a waste that they are not also waterproof, but I guess that's asking too much for the price. They are extremely comfortable hiking shoes, which can handle any terrain.
Expand to see more
They are made for tired feet; they will support you all day and you won't have any problems at the end of the day. They are also very light weight and stylish. It is important to mention that if you are about to order, pick a smaller size then you usually would. The main downside is that the stitching on some places is with debatable quality, but they sure lasted couple of months without any damage, I hope they will continue to surprise. However, if you are looking for boots for a harsh environment and serious outdoor use, other than walking on soil, you might want to check out our other suggestions. This is more of a light hiking and backpacking boots instead of using them on rock surfaces.

Features:


Canvas
Rubber sole
Mid-cut hiking boot with breathable upper featuring reinforced toe and heel caps and padded tongue and collar
Removable contoured and supportive insole
Lug outsole
Breathable material
Lightweight
Comfortable
Decision Time
As we all know, hiking is a kind of sport that requires strong will, love for the nature and good hiking gear. Hiking boots are the most important part of the gear which keep you safe from injuries and give you stability. As you have already concluded, there is not one best hiking boot; instead there are many best hiking boots suitable for different persons and different conditions. You need to read this guide and decide which ones suit you better. If we missed some of your favorite hiking boots, feel free to remind us in the comments bellow. Have you already used some of our suggestions? Did you have positive experience with them?