Best Waterproof Boots Reviewed & Rated for Warmth
In a Hurry? Editors choice: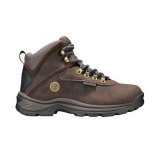 Test Winner: Timberland White Ledge

You know you need a good pair of waterproof boots, but where do you start? Functionality is key, but you also want a boot that is stylish and fits your personality. But while a bit of expression goes a long way let's also be cognizant of your surroundings and get something appropriate for your climate. So, without further ado, let's really dive into what you need to consider before making a potentially expensive - but well worth purchase.
Standout Picks
Criteria Used for Evaluation
Bottom Line
The first and biggest consideration is what do you want to get waterproof boots for? There is obviously a reason or you would never have found this list.
Are you looking to go hiking? If so you'll want waterproof boots with good tread for starters. They'll also need to be comfortable as you will likely plan on wearing them for miles or days or potentially weeks at a time depending on how hardcore you are.
Do you wear boots to work? That is an incredibly common thing - especially among Construction Workers, First Responders, any sort of manual labor, etc. You absolutely need a good, sturdy, boot that will hold up to all you require it - and it needs to keep your feet comfortable, the right temperature, and dry.
Perhaps you're just looking to do some gardening and need something that you can muck around in the mud in? There are good options there too. The good news is that you can get boots that are good for that but also function for other things like fashion on a rainy day (I'm looking at you Nomad and Hunter boots) or even hike/ walk in (Keen's, Columbia, etc).
Or, maybe, you just live somewhere that is wet or rainy or doesn't drain well. There are definitely good options for all the phases of your life in a rainy, wet environment. The Sam Edelman's Tinsley Boots can even function as shoes you wear with your business casual.
Waterproof, functional, and fashionable is definitely something you can accomplish.
Style
The style is similar to function because you are very likely to choose a style based on the function you want it to perform. However, it's worth having its own section because your sense of style will also influence what you end up buying. You're not going to be buying PVC work boots if you are looking to spend a week trekking through New York City in February. Similarly, you're not likely to buy a pair of boots rated for cold if you need boots to hike through the Grand Canyon in July.
A good place to start is this question: do you want boots that go up to your knee or are you happy with ones that stop at your ankle? You can find good functionality in either court but that will help narrow down what you're looking for. Do you want lots of colors and potentially a pattern or a solid, neutral color? Are you looking for boots that look like they can and will work hard right along with you or do you want your boots to look fashionable and pristine?
Whatever the style you are going for, there are options for functionality that allow you to fully express your personality in a variety of styles. The trick here is nailing down exactly the style that you are looking for.
Insulation
When you are talking about footwear, you need to consider what climate you'll be wearing your waterproof boots in. There are a number of reasons for you to want or need waterproof boots and not all of them fit into one nice, little climate box. Potentially the only climate in which you wouldn't benefit from having waterproof boots in is a dry desert. Anything other than that though could have a reason.
Do you live somewhere that your waterproof boots also need to be designed to handle the winter? If that is the case, you will either need boots that come with appropriate insulation (there are options listed here on this list!) or have the ability and space to add insulation of your own through socks. A good option here, especially if you live somewhere that it's cold in the winter and hot in the summer, is to get boots with a little more space so you can do just that. You'll get a lot of functionality out of your boots if you can climate adjust them through the use of good boot socks.
On the other end of the spectrum, do you live in a warm (hot??) and humid climate? The boots you want are going to be very different from the boots someone living in a cold climate might want. You'll be looking for something not as thick and definitely void of insulation - swimming in sweat is not a good option if you're trying to work or hike all day in your boots.  Breathability is also important. This is hard to do with waterproof boots as anything that lets the air out is likely to also let the water in but there are options. You may also be more interested in ankle high boots than knee-high boots. Socks will help here too, though, in that you can get some very good sweat wicking ones so that your feet stay dry from both internal and external elements.
Size
Sizing is very likely the most asked question when it comes to buying boots, which is why it got its own section here, in the criteria. It's so common it's worth dissecting in great detail.  
There are a couple of different options as far as the right size goes. The first and maybe easiest but less sure option is to go based on the size of your other shoes. This is easy because you likely know that size off the top of your head and if for some reason you don't you can very easily check the shoe right on your foot to find out. However; the downfall here is that all company sizes are just a little bit different. You're taking a chance of buying something without trying it on first. Which leads us to our second option.
The second option is to put on the socks you intend to wear with whatever boots you are going to buy. If you don't know what sock or thickness that is, it is suggested to use a medium thickness sock to allow for a little variation in either direction. Then put your foot on a blank piece of paper and mark at your heel and the longest toe. Then take a tape measure and measure the inches between the two marks. Of note, you can do the same thing for width and measure from the widest points. Some manufacturers will provide a sizing chart that will fit the inches you just measured, however, you can also compare to any industry standard sizing chart (one can be found in the sources links below).
Another consideration is how you like your boots to fit. Do you like them snug or roomy? Ultimately, you need to consider how you like things to fit, do your best to measure your foot and match it to the right size, as well as following manufacturer's recommendations and reading reviews as there are many that will help give you guidance on the off chance the particular boot you want has quirky sizing.
Top 10 Waterproof Boots
1

. Timberland White Ledge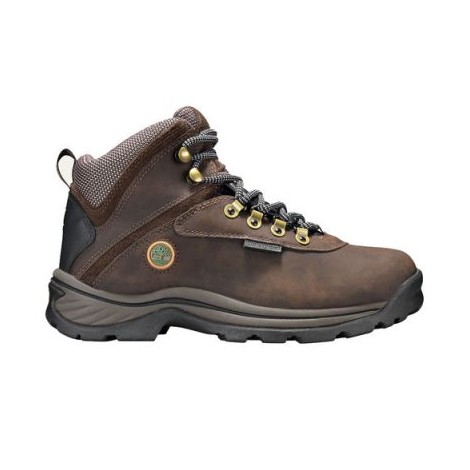 These leather boots are sturdy and well made. They are waterproof and will live up to all your hiking and walking needs. They may not be tough enough for jobs that demand a lot of a boot (ie construction) but will absolutely have you happy if you're looking to walk and hike, etc. They are comfortable and work even in very cold conditions.
Timberland's BSFP System
BSFP stands for brake, support, flex, and propel. What having this system means to you is that this shoe is designed to help enhance your walking experience. You'll get excellent traction, a rubber outsole that helps you speed up and slow down with ease, flex grooves in the ball and toe of the foot that follow the natural movement of your foot, and a gusseted tongue that keeps debris and excess pressure from the laces out.
Waterproof Leather
Waterproof leather expertly keeps water and moisture out while looking good at the same time. Because these are not only leather shoes but waterproof leather they do require some upkeep. However; with a little bit of mink oil your shoes will be in good shape for a long time and your feet will be happy you both purchased them and went through the effort to maintain them.
Cost and Value
Due to the leather and the name brand, these waterproof boots are fairly expensive. That's not always a bad thing though as it tends to indicate quality. If you're willing to spend a little more to get a solid boot, you won't be disappointed you did here. This boot is worth the extra money.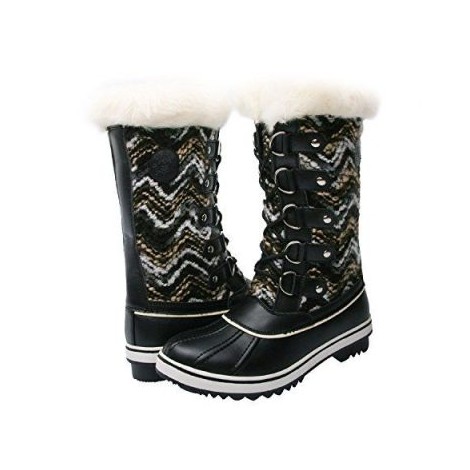 Having a good pair of waterproof boots that you can wear in the winter and look cute while doing so is a rare find indeed. Look no further than these Kingshow Boots though - they fit the bill! They are comfortable enough to wear all day long, warmly lined on the inside, and because they lace up all the way are easily adjustable for calf size.
Cute Details
These boots look like a much more expensive boot than they actually are and a lot of that goes to the details. They are fur lined, have quilted sides, patterned laces and nice contrast stitching on the toe area. That's just the icing on the cake on these very functional boots.
Outsole
The outsole delivers traction and durability so that you can walk, hike, shovel snow, or whatever it is you want to do in your boots without worrying about slipping. If you want to get waterproof boots, you'll need one that will prevent slippage as well and you'll find that in this boot.
Cost and Value
These boots are very inexpensive all things considered. They are one of the cheapest on this list and have made many, many buyers very happy. They are cute, comfortable and best of all functional. Odds are good that you would be willing to pay at least double what they actually cost because they are just that good and just that cheap.

3

. DailyShoes Military Lace Up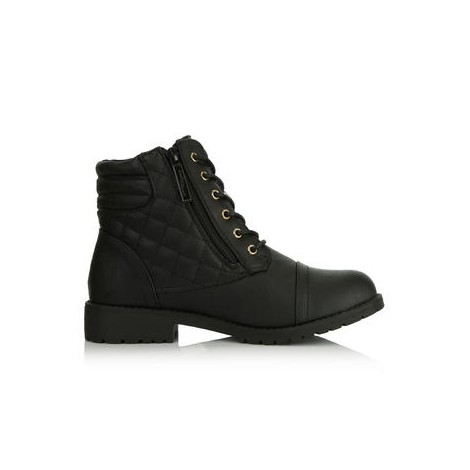 These waterproof boots seemingly have it all. They are stylish, waterproof, and have a secret pocket that is just the right size to hold your cards and keys. They are comfortable enough to wear around all day, dance in, work in, or trudge through the snow in.
Secret Credit Card Pocket
A neat feature in these boots is the credit card pocket. It is a zippered pocket (zipper is made ultra durable so it won't fail you where you need it the most) right along the lace of the shoe that simply looks like the zipper to put the boot on. It is 2.5 inches by 4 inches and will hold your keys and cards, protecting them, and allowing you to carry minimal items with you on your hike or day out.
Crafted for Durability
These boots are made to last. The soles are made of rubber and are slip resistant so that you can do whatever you want - walk on icy sidewalks, keep your balance in gravel, or kill it on the dance floor. They are made of Vegan leather that is heavy duty and won't wear out anytime soon.
Cost and Value
These boots are low-middle of the line as far as cost goes - which is kind of surprising considering all that they include. They are well constructed, have neat details, a pocket, and are leather. Overall, you are getting a good deal with these boots and will not regret spending the small amount of money you'll have to dish out to get them.

4

. CLC Custom Leathercraft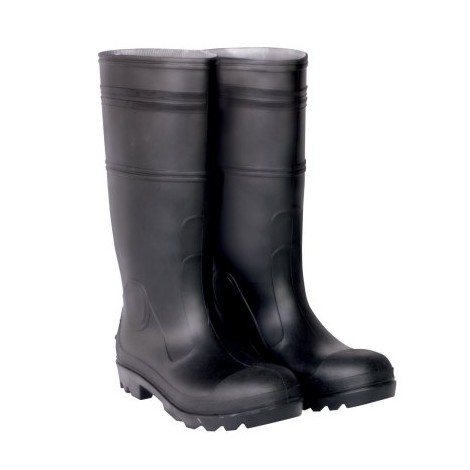 Some boots are built for work and that is a good thing if all you want or need to do in them is work. That is the case here. These are no frill, straight up work boots. They'll keep your feet dry in any situation and are comfortable and practical.
PVC Polyblend
Unlike other boots on this list, these 100% waterproof boots are made of a PVC Polyblend. This allows them to resist degradation from chemicals like those you might find in agriculture - fertilizers or animal waste. The PVC also allows them to be soft and flexible, bending more with your foot and allowing for reduced itchiness and irritation on your leg near the top of the boot.
Slip Resistant
These boots have a Trac10 outsole that allows you to have extra grip and consequently reduces slippage. In addition to that, there is a contoured heel cup that further reduces slippage. Not only that, but the outsole is also Electrical Hazard rated. These boots work hard to keep you safe as long as you are wearing them.
Cost and Value
These are among the cheapest boots on this list. They are simple and straightforward. What you see is what you get with these boots and that is absolutely not a bad thing. No extra features means no extra cost. But, what you do get here are very inexpensive, very functional, work boots that will help you get whatever job you need to do safely.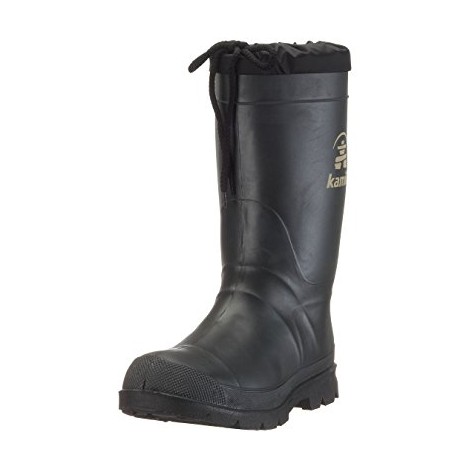 Another very practical waterproof boot, these have everything you need to do your job plus they come with insulation and a temperature rating of -40 degrees Fahrenheit. The liner is removable if it gets too hot for you and they also come with the option of a snow collar that helps them get such a cold rating.
Durability
These boots will last you a long time. You can wear them through snow, rain, rugged terrain, and not have to replace them for several years. The exterior is a synthetic material that is built to last a long time.
Cold Weather Rated
While a lot of boots on this list will work in the snow and cold as well as wet conditions, these ones are unique in that they are actually rated to do well in really cold temperatures. They are specially built to do so. There is no question here on whether these will serve your waterproof needs and you cold needs - they will. Period.
Cost and Value
All things considered, these are quality boots at a very reasonable price. They fall towards the less expensive side of the waterproof boots on this list but perform just as well as any of the others. They keep your feet dry and warm and last a long time without leaving too much of a dent in your bank account.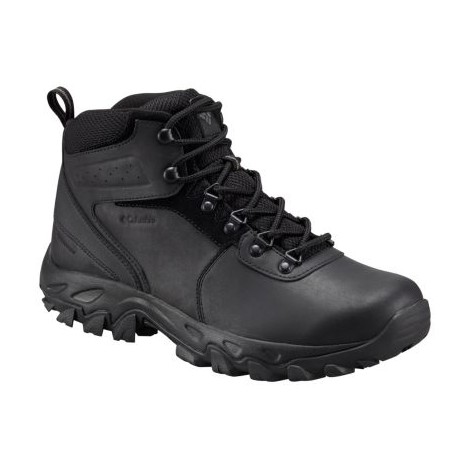 These waterproof Columbia Hiking boots are comfortable and supportive. They are made of leather with metal lace eyelets. They are light and comfortable and will keep your feet happy and moving no matter where your hike takes you!
Easy Break In
A big concern with any sort of boot or hiking shoe is breaking them in and these waterproof hiking boots are no exception to that rule. However; these do break in relatively easily and quickly. You won't have to go days and days and hundreds of miles before you feel comfortable wearing them. After a few days and a handful of miles, in these boots, you'll be ready to go! Much better than your typical boot.
Comfortable Tread
Not only are these easy to break in, they're comfortable to wear as well. They have a nice lightweight midsole that has superior cushioning and high energy return that results in your feet feeling great all day long. Work or play, these boots will keep your feet comfortable.
Cost and Value
As far as price goes, these waterproof boots fall right in the middle of the pack. They aren't too expensive, but they are far from the cheapest on the list. That goes for extras as well. They aren't the fanciest boot here nor the most simple. They are a good solid work or hiking boot that will keep the water out and your feet comfortable for a decent price that reflects their true value.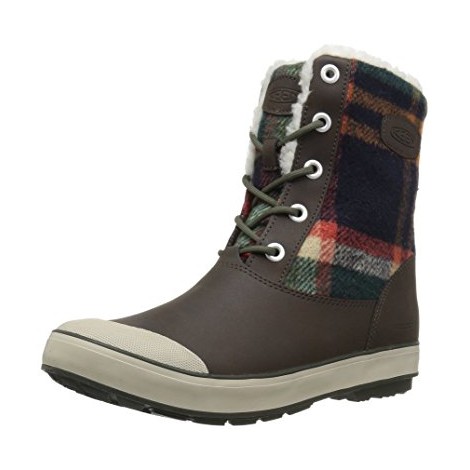 Keen has made a warm, cozy, and fashionable waterproof boot. These Elsa boots are perfect for keeping out the water, keeping your feet warm, and you'll look good while wearing them. They come in a variety of colors and materials to best suit your fancy.
Slip-on Tab
There is a slip on a tab on the top, back of the boot that makes taking these boots on and off super easy. It also adds a nice detail to the style. It is available in all colors and materials so rest assured that whatever you choose you'll have this cute and functional addition.
Spacious Toe
While most boots are fully lined, the lining here doesn't go into the foot. This can be both a pro and a con, but it does allow you to choose how much or little cushion and insulation you want, which adds a nice customization element. You can wear nice thick socks if it's cold but thinner ones when it is not quite so cold.
Cost and Value
Cost of these varies widely based on size and coloring/pattern you choose. That being said, all the varied prices still fall middle to high end of the boots listed here. They are well worth the money and will have you getting compliments while serving your waterproof boot needs in rain or snow.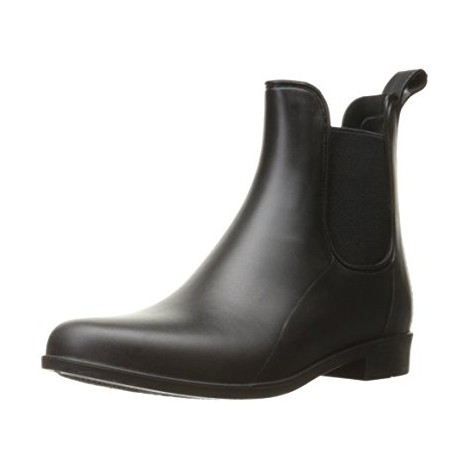 When a boot is touted as a rain boot you know that means it has to be waterproof. Not only are the Sam Edelman boots waterproof, but they are also chic and comfortable. You will feel fancy enough wearing these to work with your business casual attire and maintain your comfort all day in addition to staying dry. Giant puddles have met their match with these boots.
Shortened Rain Boots
Tall rain boots are adorable but only have so much function. They can be clunky and can't be worn for another purpose than simply very rainy days with big puddles. These shortened rain boots maintain the functionality of the taller ones but add in an element of style that will have you getting much more function out of them.
Deep Elastic Goring
The deep elastic goring present on both sides in addition to the pull on loop at the back make it very easy to get these boots on and off. No more fighting trying to get your foot in, it'll just slide right in. They also come in a variety of colors with some of them featuring contrasting colors if that's more your style.
Cost and Value
These boots are cheaper than your standard tall rain boot, but still, run the middle of the pack on this list. However; if you were to compare these boots to a pair of shoes that you typically wear with business casual they are on the cheaper end there too. This makes them doubly functional and still less of an expense. They are definitely worth their cost and will serve you well in all aspects of your life.



There are not many things more classic than a standard rain boot. That bright pop of color and the knee-high boots are as popular as they come and with good reason. They are multipurpose - great for gardening, walking through the mud, and of course, the rain and puddle jumping.
Size Buckle
One major problem with boots is that the sizing is so hard to get right. It makes sense, really, when you take into account the size of the foot height, and calf size. Those are a lot of variables. To counter that, the Nomad Rain boots feature a buckle to help adjust the size to exactly what you need it to be.
Array of Patterns
Forget having plain, boring, one colored styles. What if you could have that classic look with a pattern? Or even better, be able to choose from a variety of colors and Pittwater-resistant reality with this water-resistant boot.
Cost and Value
These boots are low to middle cost compared to other boots on this list, depending on size and pattern you need and choose. They're a solid boot though and will get you a lot of wear. There is only one other boot on this list that even has a similar look and style and this one is the cheaper between the two. If you're looking for this classic style, this one is a great option at a smaller price than it could be.



If you're looking for the classic rain boot, look no further than the classic brand: Hunter Original. This is the boot that has spanned a global trend and inspired so many other designers to make similar ones. These are definitely the gold standard though - fully waterproof, made from natural vulcanized rubber, and incredibly durable.
Durability
One thing that will make you happy you splurged and got the expensive name brand boots is their durability. They are built to last a long time and will happily claim a place in your closet and on your feet for years and years to come.
Easy to Clean
Because these are rubber boots, they are incredibly easy to clean. You simply wipe them down with a wet rag when you're done. There's also the option of rinsing them off with the hose. You can even do it while wearing them because they are fully waterproof all the way up to your knees!
Cost and Value
This is definitely a case of you get what you pay for. These boots rank right up with the most expensive on this list. They also rank right up at the top of the list as far as quality goes. You will be paying a good chunk of money if you want to call a pair of Hunter Original boots yours, but you will be happy that you did and they will last you for a very long time - which is not something some of the cheaper boots can claim.

Subscribe to our Newsletter