Top 10 Tactical Gear Bags Reviewed & Rated
In a Hurry? Editors choice: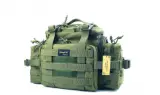 Test Winner: SHANGRI-LA Tactical

You can put on just about
any backpack
 and head out to enjoy the many aspects of nature; but if you're planning to head along where the wilderness takes a toll on you, you need something heavy-duty like a tactical gear bag to be able to do battle with the worst that the natural world might throw at you. We looked for low weight, tough enough to withstand thorns or sharp edges and stay together,  big enough to carry supplies, and strong enough not to pop a seam even when the most OCD hiker stuffs it with his "better bring this too" list. Add easy access and we're getting somewhere. We've set a high bar with this list and the packs we're suggesting aren't an accessory, they're a necessity; specifically designed to withstand the toughest and most difficult conditions while still being comfortable.
Standout Picks
Criteria Used for Evaluation
Size
Spacing was a big one when we ordered the list, and that is why a lot of the higher-priced items may have sneaked into the top five. More space means a higher price, and there is no disadvantage to having more space than you'll use, providing the company handled the ergonomics correctly.
The bigger bags on the list were also more likely to carry water bladders, guns, and more ammo. Any of the bags at the top of the list should provide more than you need when it comes to packing, even on longer trips. We felt that no one should have to go through picking and choosing which important accessory to bring on a trip. The one time you leave something important behind to make space, well that will be the one time you need it.
It's always a tough decision to make the choice on which supplies are more important, with a good chance that you'll get some of them wrong when needed. So extra space is a must and one of the most important features we looked at when organizing the tactical gear bags on the list. Buyers will always be prepared if they don't have to randomize the tools they work with.
As the second criteria, we looked at space again but expanded on that feature a bit. Plenty of bags in the industry provide a lot of space, but how well do they use it? Bags that didn't utilize their space properly were left completely off of the list and were often the choices that had the most bulk.
There were also large bags that provided average space but were large on the outside. That is a perfect example of a bag not utilizing its space and size properly. All of the bags on the list had to pass this check, which was based on the organization of pockets, ease of use with the pockets, and overall spacing. It's something that really shouldn't be taken lightly since it affects how well you travel with a full load. Speaking of carrying a lot of weight, durability was a special case with a lot of the bags.
While there are some that tend to be stronger than the others, the priority leaned towards how much punishment the bag could take. Bags that could take a lot of punishment but had short lifespans were dropped further down the list, while the higher ranking bags proved to be the better investment. They could take a lot of natural damage and still last for years without any rips, tears or problems with weight.
A good example of this is in the top three, and that is where you will find the toughest choices on the list. None of the bags in the top ten have bad or even average protection. It was vitally important that they all be above average grade, regardless of the materials they used.
Capacity
The capacity of a tactical backpack refers to the gear you wish to carry on your trip. The storage space also depends on the number and size of compartments and inner divisions. Remember, the bigger the better. The normal capacity for the best daypack hiking is around 30 liters.
This is enough for a tactical daypack gear as it can be able to carry all your essentials and personal accessories with ease. That being said bigger isn't always the better option when it comes to finding the best tactical backpack. The more volume a bag has, the heavier it gets when full. You need to consider beforehand how much volume you really want to carry with you while on-the-go.
Features
Your camping or hunting gear bag needs to meet your personal requirements – doesn't matter if you need one for a daypack hike or for long hunting trips.
Assess your needs and consider the things you need to carry and accordingly choose the compartments to match the gear. It's a good idea to buy a tactical backpack with multiple compartments of different sizes. In addition to the main compartment, a tactical backpack should have enough outer and inner pockets so that you can compartmentalize your gear easily and comfortably.
Materials
When materials came into play we didn't play favorites, although polyester and nylon types were the most reliable. This was the hardest part of the list since it tied in so closely to comfort. Buyers that are looking for comfort will find the polyester bags to always come through. Buyers that want higher durability will settle on nylon, although it is no slouch in the comfort department.
This is an interesting match between the two since there are a lot of mixed fabrics and variations of the originals. The way the list is ordered balances out the comfort and durability features, so materials weren't really at the forefront of this decision, but rather their intended effects were looked at. Rip-stop Nylon is great for long-term durability but may offer less comfort than a polyester mix.
10 Best Tactical Bags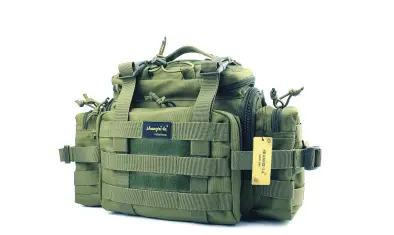 Made of heavy-duty Oxford nylon, which is stronger than most fabrics on the market, the SHANGRI-LA Tactical Assault Gear Sling Pack is the best tactical duffle bag with more interior and pocket space than others out there. It's a really good sturdy bag with quality material zippers, plus the snaps are heavy-duty, too.
Holds Everything You Need
This tactical bag features exterior PALS webbing strips for your smaller equipment, internal division with key retention, and cushioned hip support for extra protection. The pack rides comfortably on your hips, making it ideal for all-day hikes and hunting expeditions. It's also great for light day hikes when you need something to hold water, snacks, jacket, and other bare necessities.
Spacious Design
This sling pack is spacious to fit everything that you need. Its main compartment measures 10" x 7" x 4" so it has plenty of room. Even though it is spacious, it is not hard to carry. With an adjustable and removable shoulder strap, you'll find the best way to carry it for yourself.
Cost and Value
This tactical gear bag is heavy-duty and quality made. For the price, you cannot go wrong about the SHANGRI-LA.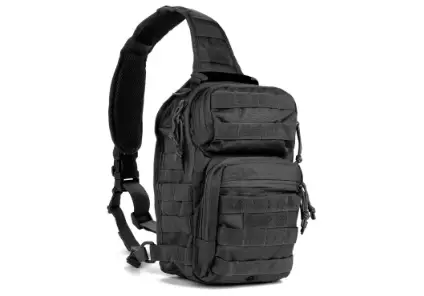 The Red Rock Outdoor Gear is one of the most popular concealed carry tactical gear backpacks and is equipped with a sling attachment which allows for quick, easy access. It is ideal for both right-handed and left-handed users. This tough, military-style backpack is very durable and sturdy. What makes it a great option for consumers is the amount of space on the inside and in the external pockets. Despite everything, this tactical pack still feels lightweight and comfortable.
Large Main Compartments
The main compartments on this Rover tactical gear bag are spacious enough to put basic survival gear in. You can easily fit a flashlight, ammo, smartphone, tablet, and even binoculars alongside your other essential survival kits such as food and clothing and even supplies for first aid.
Comfortable To Carry
This bag features an adjustable and padded sling shoulder strap. Not only does the padded strap help keep you comfortable carrying this bag, but the sling design keeps your hands free to go about your adventure.
Cost and Value
The Red Rock Outdoor Gear Rover is incredibly affordable and can fit everything that you need in order to survive your next adventure. Take it out camping, hunting or on whatever your journey calls for.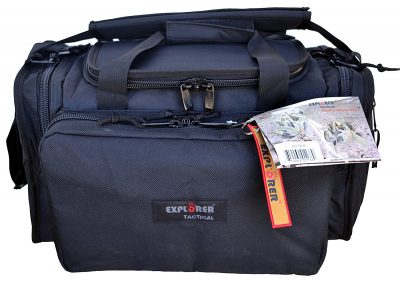 The Explorer Tactical Range Bag is the ultimate all-in-one tactical backpack that gives you exactly what you need when you head out for a day on the range. This tactical pack lets you carry multiple pistols to the range with all the necessary accessories and tools. It offers ample room for ammunition, magazines, pistols, cleaning supplies and other tools. This is specially designed to withstand the rigors of fully loaded range duty.
Long Lasting Material
This tactical range bag is made out of 600-denier heavy-duty polyester throughout to give you a long-lasting bag that can handle almost anything. The carrying handles and straps are heavy-duty nylon so that they don't fail under a heavy load. Plus the quality is top-notch, the best in its class.
Customizable Inner Partitions
Another great thing about this range bag is that you can customize it to your liking. The inner partitions are adjustable so that you can keep the main compartment organized the way that you want it.
Cost and Value
This Explorer Tactical Range Bag offers customizable organization, durable material, and comfortable straps to carry it with you to and from the range. For all of this, the price is completely reasonable.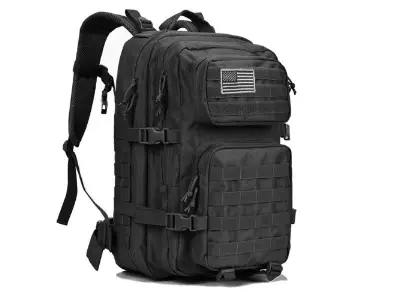 This military-style backpack from Reebow Tactical is a great tactical gear pack with a ton of nooks and crannies to put stuff. It's very versatile to use, with a lot of space and a lot of pockets that offer better organization for all of your tactical gear. Its use is virtually endless.
Features Built To Last
This backpack has a very sturdy and rugged build. It is made to go with you virtually everywhere, aid you and last a very long time. Plus, it has thick zippers and each pocket has two zipper pulls. The pocket for the water bladder is a bonus. The zippers for all compartments are all smooth and they don't get snagged.
Storage
This backpack is spacious. It has a large main compartment, tons of pockets and MOLLE webbing system for extra storage, too. You shouldn't ever feel like you are running out of room for your survival gear with this pack.
Cost and Value
Since this Reebow Tactical backpack has so many uses, it is highly valuable to the avid adventurer. The best part is that you can get it for the same price as any other standard backpack on the market, except this one, will blow them out of the water.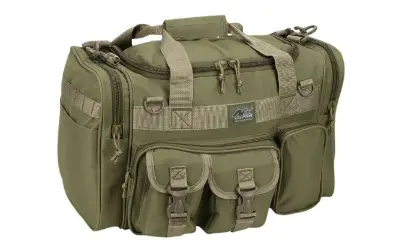 This NPUSA military MOLLE shoulder strap duffle bag is ideal. It's so small and portable that you can literally carry it anywhere you want. Storage is a big advantage with this tactical duffle bag and it is made of materials that allow for durability during daily use.
Water Repellent Pockets
This tactical duffle bag is all about keeping your gear organized and protected. Even the pockets have perks, which provide water repellent protection from the various conditions so that your gear stays dry in wet weather conditions.
Convenient Features
This duffle bag also has other convenient and easy-access features such as an adjustable flashlight keychain with an effective slide feature. Plus, it has a hook and loop closure which creates one handle for carrying.
Cost and Value
This duffle bag highlights practical and convenient organization, protection and handling. The best part is that you can get it for almost less than your average backpack on the market. The only exception is that this bag will outperform a standard backpack every time.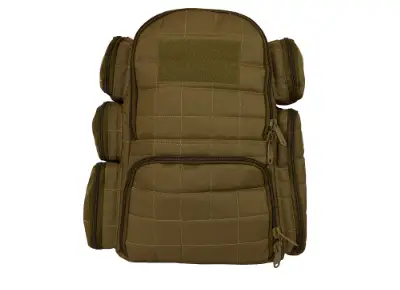 The Rangemaster Gear Bag Explorer has been in the bag game for a long time, so it could be the master. It has superb quality and storage solutions and is a bag for made for law enforcement personnel, military personnel, medical personnel, and explorers. This Rangemaster backpack is very versatile and offers an innovative, unexpected way to protect and transport your shooting equipment and tactical gear.
Dividers For Organization
The interior of the main compartment on this Rangemaster backpack is divided into two sections with separate access for both. Plus, there's a divider in between that you could leave out for even more space. In this backpack, you can easily fit survival gear, handguns, ammo, and a laptop.
Comfortable Straps
With everything that you can hold within the Rangemaster backpack, you'd hope for it to be comfortable to carry. It is! The straps are wider than normal to balance out the weight of the bag and they are padded to add even more comfort.
Cost and Value
The Rangemaster Gear Bag Backpack is very reasonably priced and the value is unquestionable. You definitely get what you pay for with this bag.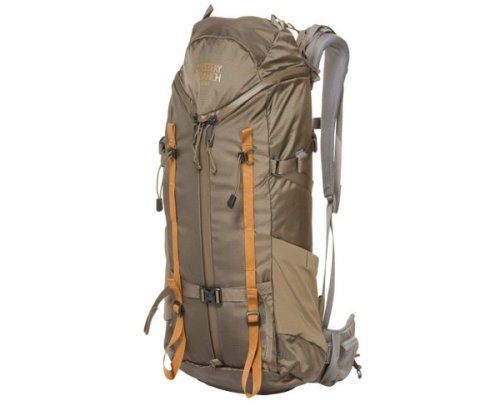 When seeking the perfect tactical gear bag one of the very first things you want to keep in mind is the quality. A quality product will have a longer lifespan making it a bargain in the long run. The MYSTERY RANCH Scree 32 Backpack was designed not only to be long-lasting, but versatile, rugged and versatile. It's all about bringing military quality to everyone at home.
Innovative 3-zip Design
Featuring a 3-zip design this backpack was created to help you access what you need when you need it most. It's all about having a quality zipper that gets the job done. By having a 3-zip design this backpack gives you access to all your belongings quickly and effectively without getting jammed or stuck. Everyone who has been in a hurry trying to open their bag for an item knows getting your zipper stuck is one of the worst things that can happen. It gets in the way and can be quite frustrating. This one removes all that by providing YKK zippers that never break or pinch the fabric surrounding it.
Multiple Compartments
If there is one thing you want from a tactical gear bag is space, especially if you will be traveling with your essentials. You want to have a bag that will allow you to carry everything you need without having to carry multiple bags. The MYSTERY RANCH Scree 32 Backpack offers just that and more. Offering multiple compartments paired with durable zippers and even a hydration reservoir that ensures you get the most out of every pocket and unit your bag provides. Furthermore, every pocket is deep and has space for everything.
Cost and Value
When it comes to the cost and value of this item, it is one of the priciest bags on our guide. However, as always you want to consider what you are getting and the quality of the product you are getting. It's all about getting the best and ensuring it will last you a long time. This tactical bag does just that thanks to the exceptional quality and material it is built from.

8

. 5.11 Tactical MIRA 2-in-1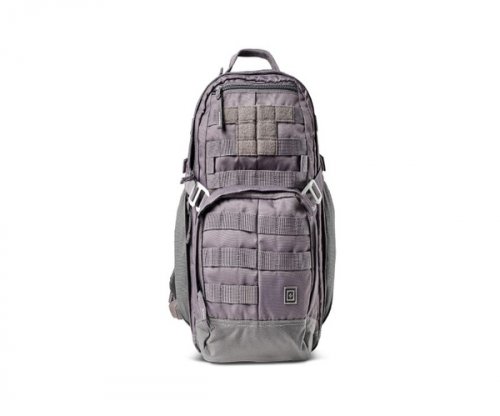 This low key, the chic backpack is the perfect easy all-around bag. Featuring a 25-liter capacity the 5.11 Tactical MIRA 2-in-1 bookbag takes outdoor events to the next level. Strategically built from premium material and exceptional water-proof exterior perfectly paired with a flexible and versatile design. It's one of those backpacks simple enough for everyday use and rugged enough for specific situations.
Expandable Storage
As previously stated above, this tactical gear backpack gives you a 25-liter capacity with an added dose of expandable storage. That expandable storage comes into play with a detachable crossbody bag for that extra bit that not only gives you more storage but can easily be taken off when you don't need it anymore or added on when you do need it. It's all about being versatile without creating bulk when it comes to the 5.11 Tactical MIRA 2-in-1 bag.
Multipurpose
When you purchase a bag that has features like this one its all about using it for multiple different reasons. The 5.11 Tactical MIRA 2-in-1 allows you to do just that. Thanks to its exceptional durability you can take this bag with you everywhere not have to worry about it breaking or the zippers getting jammed. Furthermore, the fabric is innovative with a functional appeal to it.
Cost and Value
If you are looking for an affordable backpack that gets the job done, with all the bells and whistles you need, this one should be on your list. The price is exceptional, and the features are as well. It's one of those items you can afford to have more than one of.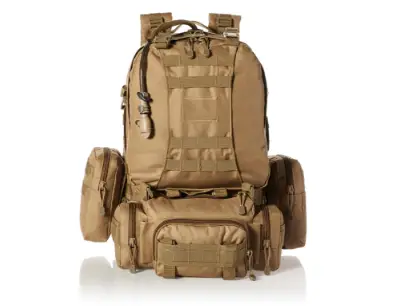 This Monkey Paks tactical backpack is a military-style backpack that combines the best form and function with the most affordable pricing available. If you are looking for a heavy-duty tactical backpack that will empower you when carrying your personal belongings, this is the one. It has tons of storage, is easy to carry and will last you many years.
Tough and Reliable
You obviously want your gear to be as tough and reliable as you are. This Monkey Paks tactical backpack is for sure. It is the one that outperforms any other in all types of weather conditions and terrain.
Equipped
The Monkey Paks tactical backpack ensures you have the perfect military backpack at your disposal for every mission, adventure, and unexpected journey. That is why it is equipped with a ton of storage and even comes with a high-quality water bladder features for hydration.
Cost and Value
The price of this Monkey Paks tactical backpack is so reasonable that it feels like a no-brainer to purchase. Especially because of all the storage, comfort, long-lasting material and features that come with it.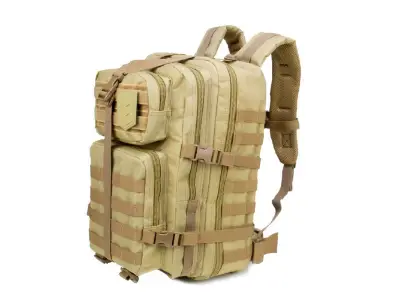 This 3V Gear Velox tactical backpack is specifically designed for the outdoor enthusiasts who live for the great outdoors. With plenty of storage space, several compartments and large self-healing zippers, these bags are definitely one of the most versatile tactical backpacks to get your stuff in and out of. You will feel fully prepared with this backpack on your back.
Compression Straps
While being spacious enough to carry your gear with ease, this versatile backpack settles effectively with the various compression straps that are precisely designed to pack any load for an optimal organization.
Strong Material
Additionally, this Velox tactical backpack makes for an effective storage solution for your outdoor needs while keeping it comfortable and less bulky. Also, the strong 600D PVC-assisted nylon that it is made out of withstands the daily wear and tear with ease.
Cost and Value
This tactical backpack is a little pricier than others on this list, but it is not outlandish. Since this bag provides so much, the price and value make sense with one another. If you are an avid outdoors person, gear up with this backpack.

Subscribe to our Newsletter