Best Tactical Gear Bags Reviewed and Rated
It's true you can put on any backpack if you just want to head out enjoying the many aspects of nature; but if you want to skip along where the sun blazes, the rain beat down, and frostbite in inevitable, you need a heavy-duty tactical backpack to keep you alive.
These bags are your bug out bag; your savior in crisis – they are meant to reduce weight, prevent snags, carry your supplies, and avoid popping out seams while keeping everything easily accessible. They are more than a mere accessory – they are specifically designed to withstand the toughest and most difficult conditions while still being comfortable that you'll hardly notice you're wearing them.
Our Top 3 Picks
The year 2017 starts a new era for most firearm enthusiasts. When thinking about all the new weaponry and ammunition that's coming out every now and then, a lot of concerned people often stop to think of how they are going to carry all this new age weaponry. Tactical bags and backpacks are definitely the solution to making sure you're all set to hit the range or arena with all your tactical gear in tow. After all, a tactical gear bag allows you to carry all the necessary equipment with ease.
Why Do You Need One?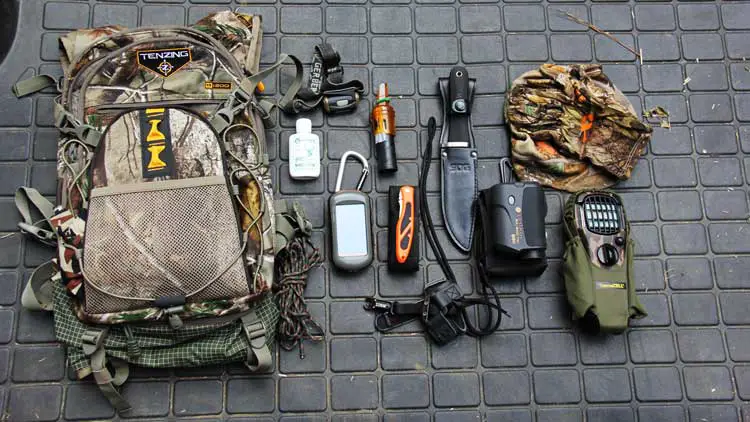 Tactical gear bags are not only popular among military personnel but also among other adventure enthusiasts such as backpackers, hikers, and mountaineers. What really makes these bags the best in their class is their rugged design, durability, and functionality. They are mostly designed to carry most of your stuff when traveling and are less bulky. Plus their compact design allows you to efficiently organize and compartmentalize all your personal stuff without any frustration. They also come with dedicated spaces where you can store additional items such as your surviving essentials, pens, first aid kits, pens, water bottles, sunglasses, or binoculars.
They are designed to provide comprehensive storage to any environment or setting. Unlike your regular backpacks, tactical bags usually come enhanced with several features such as wider shoulder straps, modular heavy-duty design, an internal frame, multiple compartments and inner divisions for efficient organization.  The compartments have enough room to accommodate your intricate items such as batteries, maps, radio equipment, flashlights, magazines, small weapons, food and water, and warm clothes for desperate times.
Things to Consider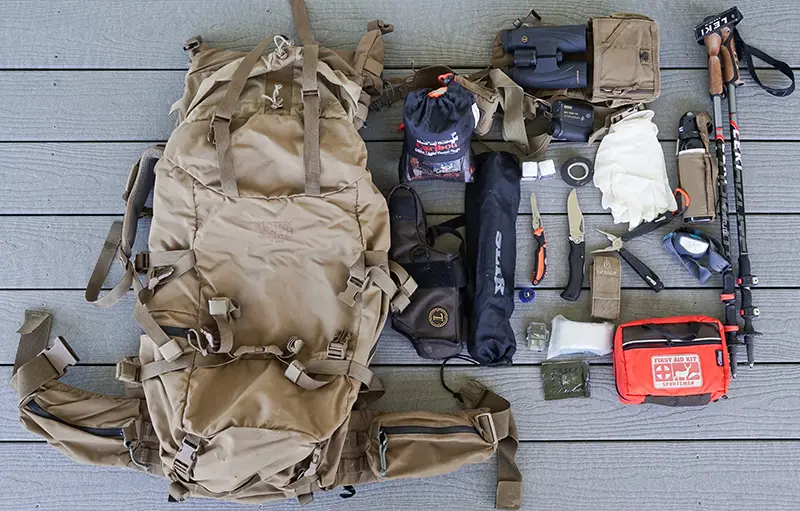 Size
The bags of today greatly differ from the earliest backpacks due to the heavy-duty materials that allow packs today to be much sturdier and comfortable than before. When choosing the best tactical backpack – whether for a day hike or long hunting expeditions – the most important thing to consider is the size. It's important to choose an option that best suits your needs. After all, there's no point buying a sold, high-volume backpack if you're never going to fill it or if you don't have the strength to carry it when full.
Capacity
The capacity of a tactical backpack refers to exactly how much gear you can carry. The storage space also depends on the number and size of compartments and inner divisions. Remember, the bigger the better. The normal capacity for the best daypack hiking is around 30 liters. This is enough for a tactical daypack gear since it can be able to carry all your essentials and personal accessories with ease. That being said bigger isn't always the better option when it comes to finding the best tactical backpack. The more volume a bag has, the heavier it gets when full. You need to consider beforehand how much volume you really want to carry with you while on-the-go.
Comfort
The best tactical backpacks are designed for heavy-duty use – but they need to be equally comfortable. In fact, when you're out on a hike or week-long expeditions, it's vital that your bag is comfortable to carry. Also, look for hip padding and straps, as they make it easier to carry a backpack for long distances. Other things to consider include wire straps and air channels. It always makes sense to go for the additional comfort despite everything else.
Compartments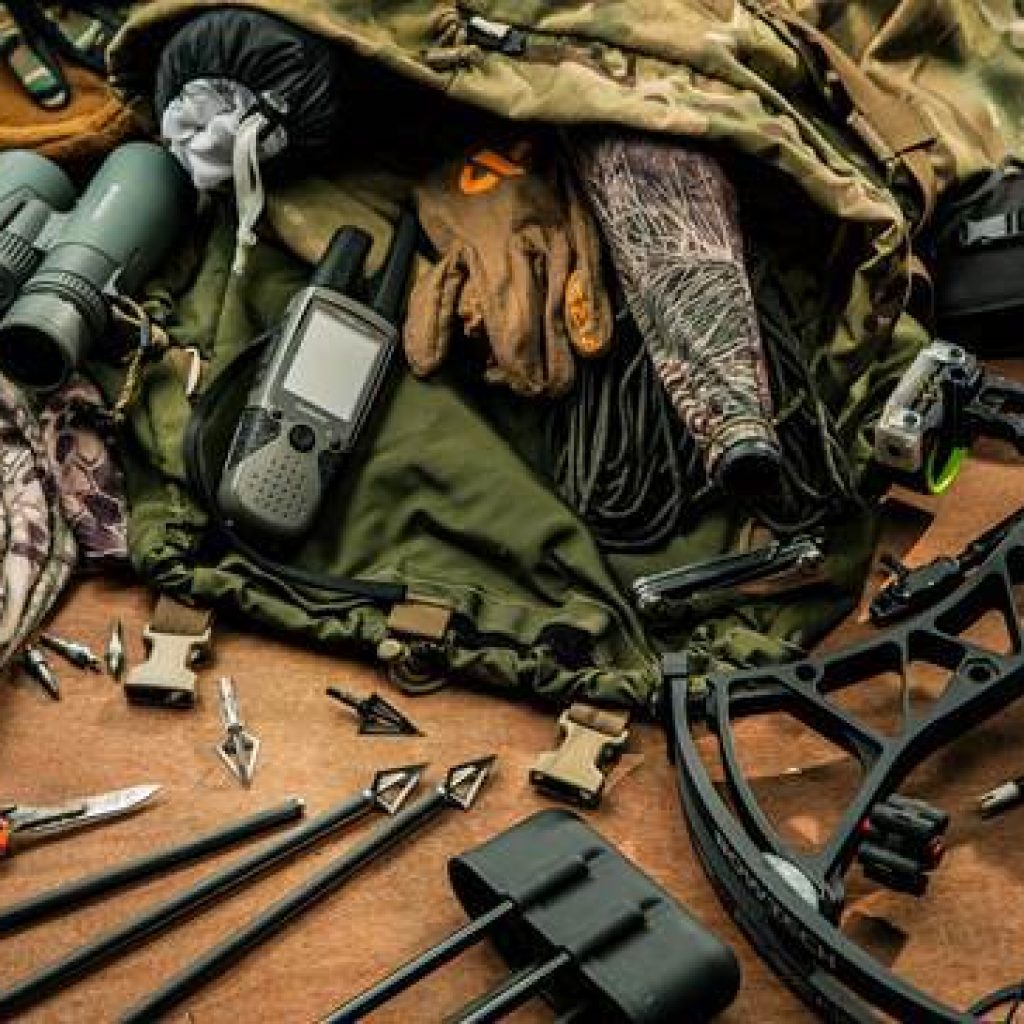 Your gear bag needs to meet your personal requirements – doesn't matter if you need one for a daypack hike or for long hunting trips. Assess your needs and consider the things you need to carry and accordingly choose the compartments to match the gear. It's a good idea to buy a tactical backpack with multiple compartments of different sizes. In addition to the main compartment, a tactical backpack should have enough outer and inner pockets so that you can compartmentalize your gear easily and comfortably.
Material and Durability
The fabric and materials used to make your tactical bag affect its durability and performance. It's equally important to check for fabrics that are lightweight, waterproof, sturdy, strong, and highly durable. Each fabric has advantages and disadvantages, making them suitable for different conditions and situations. Some of the most common and best materials include Nylon, Rip-Stop Nylon, Polyester, Cordura Nylon, and Canvas.
Budget
Your budget is always a factor, but it's advisable to go for a high-quality, heavy-duty tactical backpack that best meets your tactical requirements than to compromise on the quality. Note that it's not just the number of compartments you need the most in your tactical backpack, you have to factor in the quality of the material being used in the process too. And quality is never cheap. Just because you're on a budget, it doesn't mean you cannot get a good quality tactical backpack.
Ease of Reach
The most frequently used gear should be in the pockets and pouches, or even attached to the Molle stripes. But the inner compartments should also be easily accessible and reachable and are not supposed to be wrapped under a lot of zippers and buckles.
Best Tactical Gear Bags
1. SHANGRI-LA Tactical Assault Gear Sling Pack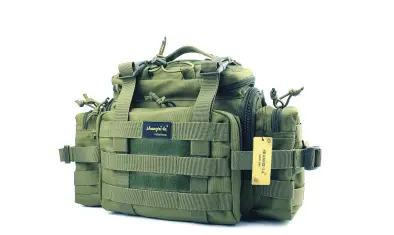 Made of high-density Oxford nylon fabric – stronger than any other in the market – the SHANGRI-LA Tactical Assault Gear Sling Pack is a great tactical gear backpack with 44% more interior compartment and pocket space.
Expand to see more
This tactical bag comes enhanced with more exterior PALS webbing, added loop field for patches, internal division with key retention, and padded hip support. The pack rides comfortably on your hips, making it ideal for all-day hikes and hunting expeditions. It's a really good sturdy bag with quality material zippers, plus the snaps are heavy-duty and for this price, it's your best tactical gear bags choice. It's also great for light day hikes when you need something to hold water, snacks, jacket, and other bare necessities.
Features
:


Made of high-density Oxford nylon fabric

3-way design – Ideal for shoulder bag, waist pouch or handbag

Molle system pouches can be attached freely

Padded hip support

Adjustable/Removable shoulder strap

Main Compartment Dimensions: 10" x 7" x 4"

Internal divisions with two 6" x 4" loop fields

Sides: 7" x 4.5" x 3" with mesh division

Top: 12" x 4" x 1" with elastic organizer, division, mesh pocket

Front internal division with key retention


Made of high-density Oxford nylon fabric
Comes enhanced with more exterior PALS webbing
Sturdy bag with quality material zippers
2. Red Rock Outdoor Gear Rover Sling Pack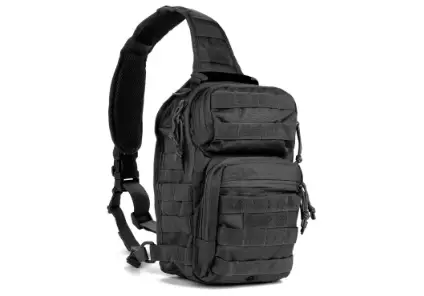 The Rover is one of the most popular concealed carry backpacks from Red Rock Outdoor Gear. The Rover is equipped with an ambidextrous sling which allows for quick, hands-free access. This tough, military-style backpack is very durable, sturdy, and it's surprisingly lightweight to carry around.
Expand to see more
The three main compartments are roomy enough to put basic survival gears such as a flashlight, first aid kits, ammo, and even binoculars, as well as other essential survival kits. Internal and external pockets contain admin dividers and organizers. Despite everything, this tactical pack still feels lightweight and comfortable.
Features
:


Ambidextrous shoulder strap

9 liters of total storage

Nylon with modular holders

Rugged zippers and padded back

Padded, adjustable shoulder sling

Sturdy 600D polyester construction with PVC lining

Large master compartment with internal Velcro closure sleeve

Molle webbing on front and strap for adding pouches and gear

Dimensions: 8 inch (W) x 5.5 inch (D) x 11.5 inch (H)


Very durable
Surprisingly lightweight
Padded, adjustable shoulder sling
3. Explorer Tactical Range Ready Bag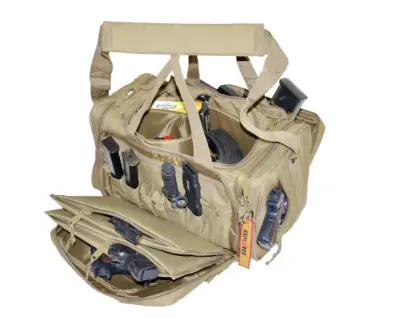 This tactical gear Range Bag is the ultimate all-in-one tactical backpack that gives you exactly what you need when you head out for a day on the range. This tactical pack lets you carry multiple pistols to the range with all the necessary accessories and tools.
Expand to see more
There is an ample room for ammunition, magazines, pistols, cleaning supplies and other tools. This is specially designed to withstand the rigors of fully loaded range duty. It is made with 600D heavy-duty polyester throughout to give you a long lasting bag that can handle almost anything. The carrying handles and straps are heavy-duty nylon so that they don't fail under a heavy load. Plus the quality is top notch, the best in its class.
Features
:


Made with 600-Denier polyester

7 magazine pouches in front compartment & 4 magazine pouches in rear compartment

Adjustable inner partitions to customize the main compartment to one's liking

2 zipper handgun pouches

Heavy-duty nylon carrying handles and shoulder strap

Padded pockets for extra protection

Triple-stitched handles to bear the weight of the ammo and gear

Range Bag Exterior Dimensions: 18" x 14" x 10"

Interior Main Compartment Dimensions: 12" x 12" x 9"


Ultimate all-in-one tactical backpack
Ample room for extras
Made with 600-Denier polyester
4. Reebow Tactical Military Day Assault Pack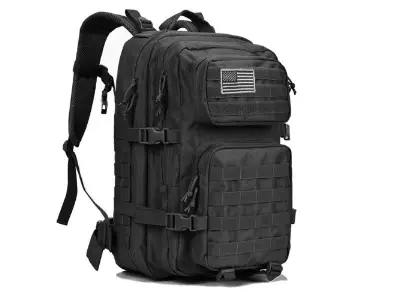 This military style backpack from Reebow Tactical is a great tactical gear pack with a ton of nooks and crannies to put stuff. It's very versatile to use, with a lot of space and a lot of pockets for better organization of our tactical stuff and gear.
Expand to see more
One good thing about this pack is it's very sturdy and rugged, plus it has thick zippers and each pocket has two zipper pulls. The pocket for the water bladder is a bonus. The zippers for all compartments are all smooth and they don't get snagged.
Features
:


Military Tactical Backpack 40L

Made of high-density fabric

Durable and waterproof design

Molle webbing system to attach additional tactical pouches

Double-stitched, heavy-duty zippers

Utility-style cord pulls

Side and front load compression system

Ventilated mesh-padded back area and shoulder strap

Hydration compatible – works great for hydration bladder

Use: 3-day assault backpack, bug out bug pack, range bag, hunting backpack, army backpack, trekking backpack

USA Flag patch included


Great tactical gear pack
Very sturdy and rugged
Made of high-density fabric
Side strips not well spaced
5. NPUSA 18" Duffel Molle Bag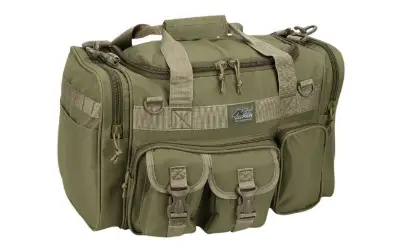 This shoulder strap duffel bag is ideal for tactical assault gear, military personnel, cargo, hiking, camping, and hunting. It's so small and portable that you can literally carry it anywhere you want. Storage is a big advantage with this tactical duffel and it is made of high-density polyester that provides durability and longevity under daily use.
Expand to see more
And the pockets are lined with PVC which provides water repellent protection from the various elements so that your gear stays dry in wet weather conditions. Also included with the bag is an adjustable flashlight keychain with effective slide feature. Plus, it has a Velcro wrap-around strap to form one main handle for easy handling.
Features
:


600D high-density polyester for durability

Interior waterproof PVC lining

2 front buckle strap pockets

2 zippered front pockets and 2 side zippered pockets

2 side Velcro pockets

Molle strap system on sides

2 front D-rings for mounting accessories

Dimensions: 18"L x 11"W x 9"D

Ideal for military, tactical assault gear, hiking, camping, and hunting


Interior waterproof PVC lining
2 side Velcro pockets
Molle strap system on side
6. Rangemaster Gear Bag Explorer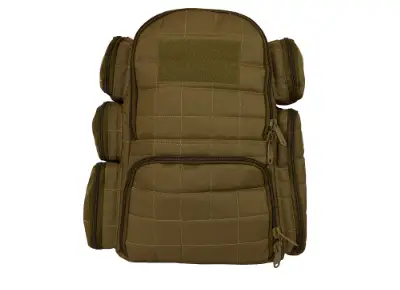 Explorer has been in the bag business since 1994. They have a superb line of quality storage solutions – there are bags for law enforcement personnel, military personnel, medical personnel, and explorers. One such popular product is the very versatile Rangemaster backpack that offers an innovative, unexpected way to protect and transport your shooting equipment and tactical gear.
Expand to see more
The best thing about the Explorer bags is that they use the best materials in order to produce the finest bags and packs in its class. The interior of the main compartment is divided into two sections with separate access for both, plus there's a divider in between that you could leave out for more space. They are very reasonably priced and the value is unquestionable. You get what you pay for!
Features
:


Modular design with 100% polyester

Made of 600D H.D heavy-duty nylon material

Wider backpack straps

Backside laptop compartment

Super large compartment at the right-hand side

5 internal handgun and magazine storage room with its own concealed compartment

Zippered exterior pockets for additional gear

Customizable section on top to support a lot of stacked ammo

Adjustable inner partitions

Adjustable soft padded shoulder straps

2 D-rings for mounting accessories

Rubber square support at bottom


Wider backpack straps
Zippered exterior pockets for additional gear
Customizable section on top to support a lot of stacked ammo
Some threads may come loose
7. G4Free® Tactical Assault Backpack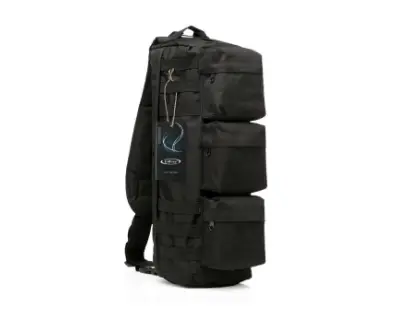 Double-stitched modular MOLLE and LICE Webbing system throughout the bag and shoulder strap to make for additional pouches and other tactical gear, 5 zippered compartments for organized storage, plus 1 hidden compartment ideal for storing documents and small items – the G4Free® Tactical Assault Messenger Bag is your all-in-one tactical backpack for all your outdoor expeditions such as hiking and camping.
Expand to see more
Other features include superior 600D nylon construction with heavy-duty dual zippers, slide buckles, and PVC coated lining pockets for water repellency. The padded and contour adjustable shoulder strap can be tactically worn over one shoulder or around the waist.
Features:


600D high-density nylon construction

Wide shoulder straps to relieve stress

Double stitched modular MOLLE and L.I.C.E Webbing System

Main Compartment: 7.1"L x 6.7"W x 20"H

Surprisingly lightweight and portable

5 Zippered compartments (3 outer compartments, 1 main double zipper entry compartment, 1 hidden flat compartment)

Ideal for camping, hiking, river trekking, cycling, etc.


600D high-density nylon construction
Features  5 zippered compartments for organized storage
Surprisingly lightweight and portable
Material is sturdy and the construction relatively high-quality
8. Red Rock Outdoor Gear Assault Pack
The Assault Pack is one of the most popular and reliable concealed-carry packs from the Red Rock Outdoor Gear. The Rover is equipped with an ambidextrous sling which allows for quick, hands-free access.
Expand to see more
A concealed carry sleeve on the back panel of the bag easily and comfortably conceals your pistol, plus the four storage compartments are spacious enough to tote a first aid kit, binoculars, ammunition, and even an iPad will fit in perfectly. Internal and external pockets also include admin dividers and organizers.
Features
:


Ambidextrous shoulder strap

On-the-go style carry handle

9 liters of total storage

Quick-release buckle on the main strap for rapid deployment

Snap-closure, concealed-carry sleeve on back panel

Two external pockets for quick and easy access

Main Compartment: 8"W x 5.5"D x 11.5"H<
Large master compartment with internal Velcro closure sleeve

Rugged 600 Denier polyester construction with PVC lining

MOLLE webbing on front and strap for pouches and gear

Main Compartment fits iPad and other popular tablets


Equipped with an ambidextrous sling
On-the-go style carry handle
Large master compartment with internal Velcro closure sleeve
Can't handle too much weight
9. Monkey Paks Tactical Backpack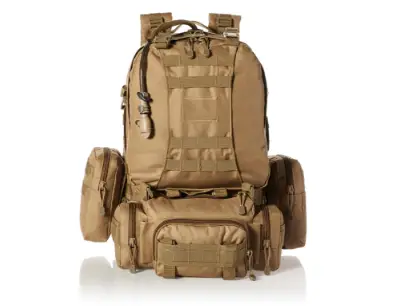 Monkey Paks make military style backpacks that combine the best form and function with the most affordable pricing available, and this heavy-duty tactical backpack from Monkey Paks is no exception. This US Army style backpack gives you complete control over your tactical gear in one easy-to-carry, ultra-durable design.
Expand to see more
You obviously want your gear to be as tough and reliable as you are, the one that outperforms any other on all types of weather conditions and terrain. The Monkey Paks ensure you have the perfect military backpack at your disposal for every mission, adventure, and unexpected journey.
Features
:


Hydration backpack water bladder lets you easily sip on the go

US Army style backpack with a ton of MOLLE webbing for all your gear requirements

Ultra-durable, easy-to-carry design

Modular design with a removable waist, fanny, or shoulder bag

Built-in organizer with 4 zippered pockets

Main Compartment: 20"H x 12"W x 5.5"D

3 MOLLE attachments included

Tactical backpack made of 600D strong nylon for the toughest of terrains

Heavy-duty big teeth zippers with paracord to allow for quiet operations


Affordable pricing available
Easy-to-carry
Ultra-durable design
Hydration backpack water bladder
Straps might seem problematic
10. 3V Gear Velox II Large Tactical Backpack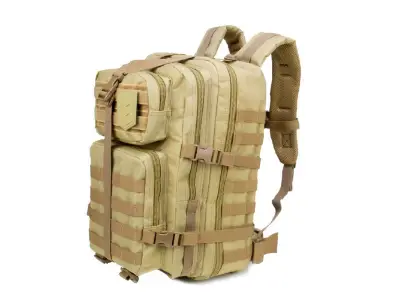 Velox – Latin for swift or rapid – as the name suggests, is specifically designed for the individuals on the move. With plenty of storage space, 1,628 cubic inches to be exact, several compartments and large self-healing zippers, this is one definitely one of the most versatile tactical backpacks to get your stuff in and out.
Expand to see more
While still being roomy, this pack also trims down and stabilizes easily with the multiple compression straps strategically placed to compress any load. In addition to the extra volume, the multiple compartments ensure that each and every stuff is adequately organized. Plus, it's made with 600D PVC-backed nylon which can take any brutal beating you throw at your pack.
Features:


Heavy-duty 600D PVC nylon

628 cubic inches of storage space

Large self-healing zippers provide easy access to compartments and sub-compartments

MOLLE compatible for pouches and attachments

Hydration bladder ready

Main compartment: 18" H x 12"W x 4.5"D (972 cubic inches) w/ internal organization

Secondary main compartment: 16" H x 9.5"W x 2.5"D (380 cubic inches) w/ internal organization

Top front: 5" H x 7" W x 3" D (105 cubic inches)

Lower front: 10" H x 8" W x 2" D (160 cubic inches) pleated w/ internal organization

Integrated nylon organizer for pen, day planner, or a digital device

Side and top-mounted compression straps

Easily adjustable contoured shoulder straps

Adjustable hip and sternum strap

Reinforced drag handle

Expandable external pockets


Plenty of storage space
Large self-healing zippers
Multiple compression straps strategically placed to compress any load
Criteria For Evaluation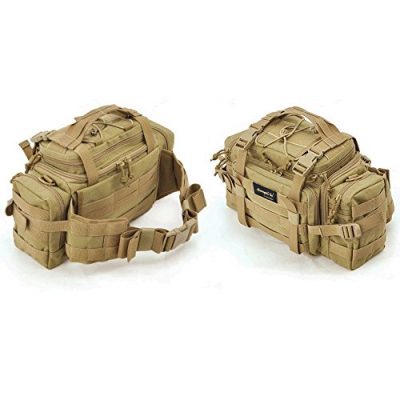 Our criteria for ordering the list was effective in finding the top models that were most likely to please the majority of customers. Since tactical gear bags have different uses depending on the buyer, organizing them in this way led to a better experience when looking for big time features. Some of these features can't be found in other products, and that is why they are higher up on the list. As the market gets filled with a lot of similar items, only the select few that differentiate themselves can rise to the top of the list and garner attention.
Size
Spacing was a big one when we ordered the list, and that is why a lot of the higher priced items may have sneaked into the top five. More space means a higher price, and there is no disadvantage to having more space than you'll use, providing the company handled the ergonomics correctly. The bigger bags on the list were also more likely to carry water bladders, guns, and more ammo. Any of the bags at the top of the list should provide more than you need when it comes to packing, even on longer trips. We felt that no one should have to go through picking and choosing which important accessory to bring on a trip. The one time you leave something important behind to make space, well that will be the one time you need it. It's always a tough decision to make the choice on which supplies are more important, with a good chance that you'll get some of them wrong when needed. So extra space is a must, and one of the most important features we looked at when organizing the tactical gear bags on the list. Buyers will always be prepared if they don't have to randomize the tools they work with.
As the second criteria, we looked at space again, but expanded on that feature a bit. Plenty of bags in the industry provide a lot of space, but how well do they use it? Bags that didn't utilize their space properly were left completely off of the list, and were often the choices that had the most bulk. There were also large bags that provided average space, but were large on the outside. That is a perfect example of a bag not utilizing its space and size properly. All of the bags on the list had to pass this check, which was based on organization of pockets, ease of use with the pockets, and overall spacing. It's something that really shouldn't be taken lightly since it affects how well you travel with a full load. Speaking of carrying a lot of weight, durability was a special case with a lot of the bags. While there are some that tend to be stronger than the others, the priority leaned towards how much punishment the bag could take. Bags that could take a lot of punishment but had short lifespans were dropped further down the list, while the higher ranking bags proved to be the better investment. They could take a lot of natural damage and still last for years without any rips, tears or problems with weight. A good example of this is in the top three, and that is where you will find the toughest choices on the list. None of the bags in the top ten have bad, or even average protection. It was vitally important that they all be above average grade, regardless of the materials they used.
Material Quality
When materials came into play we didn't play favorites, although polyester and nylon types were the most reliable. This was the hardest part of the list since it tied in so closely to comfort. Buyers that are looking for comfort will find the polyester bags to always come through. Buyers that want higher durability will settle on nylon, although it is no slouch in the comfort department. This is an interesting match between the two since there are a lot of mixed fabrics and variations of the originals. The way the list is ordered balances out the comfort and durability features, so materials weren't really at the forefront on this decision, but rather their intended affects were looked at. Rip-stop Nylon is great for long term durability but may offer less comfort than a polyester mix.
Brand Reputation
Brand effectiveness had a huge impact on the list, and the lack of exposure left a lot of lesser brands completely out of the top ten. That doesn't mean smaller companies aren't included, it just means companies with a bad reputation were not allowed to crack the top ten. This is important when dealing with tactical gear bags since they are made for punishment, so models that don't hold up to standards could very well damage all of your supplies. The end result could cost you more than the actual bag, and even cause a fatal injury if something sharp is dropped. A good tactic for ordering brands would have been to go with models in a proven line, yet we chose to avoid that based on the great new products that haven't established a name yet. There are too many bags on the market with must have features that would have been left off if we stuck to only a specific series, so instead we leaned towards brands that were the most effective with the specifications, quality control and customer support.
Price
The last thing we checked for when ordering the list was pricing, which was directly tied to the size of the bag. We evened things out a bit where needed, using a pricing structure that was the most fair to customers that were in the beginner to intermediate category. That meant bumping down some of the professional range gear that would have been out of the price range of the average consumer.
FAQs
What does denier stand for?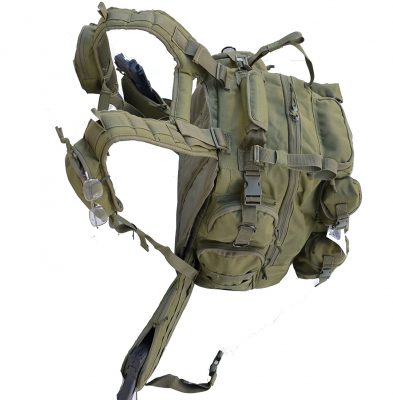 Denier is a measurement of the weight and therefore thickness of nylon or other synthetic thread used to make what is generally known as ballistic nylon, and are typically used for tactical packs, vests, and pouches. The larger the denier number, the heavier the thread. But the relationship is not linear. For example, a 1000 denier is not as twice as thick as a 500 denier thread, because the thread's denier is determined by its weight, not its thickness.
What is rip-stop?
Rip-stop refers to the type of fabric a pack is made out of. The way that the backpack material is woven affects its strength and durability. The rip-stop fabric has heavier double threads approximately every quarter inch, which prevents small tears from spreading. Rip-stop fabrics are woven in a way that makes a diamond or box pattern. This weave is very strong and resistant to tearing. Rip-stop fabrics can be made from nylon or polyester.
What does MOLLE stand for?
MOLLE or Molle is short for Modular Lightweight Load-carrying Equipment. The MOLLE packs are the current standard for most military units and have replaced the older ALICE gear in the military. MOLLE packs have PALS (Pocket Attachment Ladder Systems) that allow you to add multiple pieces of gear to your pack. The main components of MOLLE pack are: the tactical assault panel, the rucksack, a hydration bladder, and numerous modular pouches.
When was MOLLE Introduced?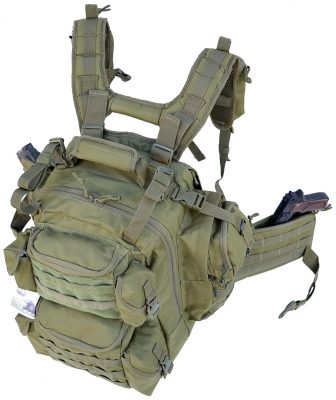 MOLLE was introduced in 1997, and gained significant market share after the 9/11 attacks. Troops began to use it on missions in Iraq and Afghanistan, and through years of feedback the system was improved to do away with the initial criticisms. Newer model MOLLE systems are much better equipped from top to bottom, and it has officially replaced ALICE as the best system for tactical gear. ALICE is still used in some professions like the police force, but even in those cases the sides are split between the two systems. With the yearly improvements on MOLLE, it will continue to increase its adoption rates.
Why should I choose MOLLE over ALICE?
Alice is considered old technology while MOLLE is considered the new kid on the block, one that has continually surpassed it for almost a decade. So newer features will always be found in MOLLE first, and it is currently the most widely used system by professionals. ALICE is still considered the more rugged of the two, and it took a couple of years of tinkering for MOLLE to shed its reputation of breaking easily. Even with improvements, ALICE is still superior on the durability side, especially when it comes to carrying large loads. In every other category, MOLLE wins, and over time it will even beat ALICE in durability.
What volume is ideal for everyday use?
The amount of gear that a tactical pack holds varies drastically, depending on the way that the pack is constructed. So for the same reason, it's important to look at the volume of the backpack rather than the dimensions to determine the amount of gear it can hold. Tactical packs usually list their volumes in cubic inches or liters. This measurement includes all the space in the backpack including inner compartments and pockets, but for tactical backpacks, it's important you take a note of whether the volume is listed with or without the pouches. Large tactical backpacks can hold up to 45 liters or more, which is more than enough for your heavy-duty military style use. For your everyday use, small tactical backpacks that hold less than 45 liters would be ideal.
How do I spot the best tactical backpack?
If you're looking for something perfect for a small 2-3 days trip, hikes, or weekend outings, the first thing you probably look at is what it's made of or how comfortable it's going to be while traveling. Getting the right tactical backpack for your small day trips use seems a bit out of reach for some, but the hard part actually comes when you need to pick one. You need a sturdy, not so heavy-duty tactical backpack that gives you up to 40 liters of capacity to fit your items. As the market is full of all kind of options, backpack manufacturers have managed to create good quality tactical backpacks that meet most of your demands, at a fair price.
Should all bags come with a bladder?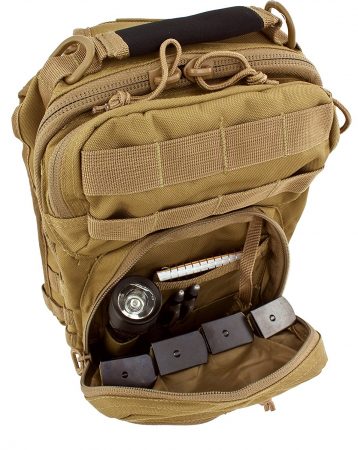 A water bottle holder or a bladder are essential parts of a tactical gear bag, and it should always include one of these. The bladder isn't going to always be included for reasons of space, but shouldn't be a huge knock on the bags sales numbers unless a customer is specifically looking for that feature. Think of the bladder as an optional feature that is great if included, but not entirely necessary for all users. There are plenty of bags on the market that omit the bladder and still maintain a healthy amount of sales.
Are natural or in-house materials better?
Natural materials are good if you have a specific material that you tend to go with. Purchasing a tactical gear bag with natural materials will give you a sense of comfort if you are familiar with the quality and plan on using it often. In-house materials are common, and shouldn't be overlooked when they are done right. Some of these materials only make up a portion of the bag rather than the entire thing, so always check to see what the major and minor bag materials are. You may already have a mixture of both and not even realize it.
How do you clean a tactical gear bag?
Thankfully the cleaning instructions for a tactical gear bag are pretty straightforward, lacking the sometimes complicated cleaning instructions for other bags. When you have a lot of dirt and other outside materials sticking to your bag, the safe way to clean it is with a brush to get rid of any debris. If the debris is tough to get off, use a dull tool to do the trick. That means staying away from sharp things that could puncture the bag like a knife. Buff it clean with a microfiber cloth, then finish it off with warm soapy water or even a mild detergent.
What are the feature differences with the price ranges?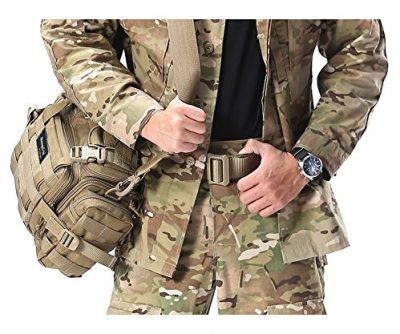 You'll notice that bags with a bladder attached will be more expensive by default, so if that is a must have feature, then prepare to pay a little bit more for it. Other than the bladder, the only differences in the bags if you go by price is space and toughness of the materials. Tougher materials will cost you more since they are usually upgraded versions, and even when they are first generation, durable materials will still run a bit more. In some cases you can get away with getting a lot of space in your bag at a lower price, but at the cost of lower durability.
Are shooting bags the same as tactical bags?
Shooting bags are in a completely different field than tactical bags, which are meant for overall supplies. Although some tactical bags are equipped to carry guns and ammo, their true nature is being a jack of all trades for supplies. They carry your essential and non-essential items and protects them from the harshest environments. Shooting bags are more straightforward, and are meant for carrying guns like rifles and ammo. They protect to a certain extent, but are not meant to handle harsh weather and climates. Shooting bags also don't concentrate on the comfort features of tactical gear bags, which for many is a high priority feature when you're carrying that much weight.
Do tactical gear bags have separate accessories?
There are plenty of optional accessories that can be purchased for a tactical gear bag. Their function falls into additional or backup accessories. Backups will replace worn out parts on your bag, or lost parts. On some bags they can even be considered an improvement, which is the case for a pack of D rings. This multipurpose add-on is usually included with bags, so having a reinforced option when your original breaks is a smart choice. Additional accessories include decorate pins, pouches, bags and anything else that adds to the functionality of the bag you purchase. Even a small style add on is good for adding a little personality to your tactical gear bag.
Do larger bags have an advantage?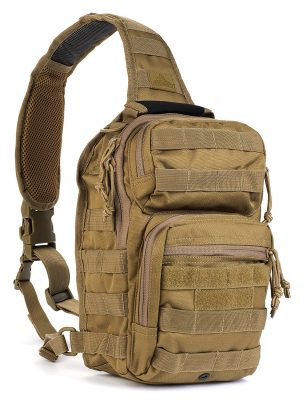 Larger bags only have an advantage for individuals that run out of space often and have to carefully choose what to pack. When you find you have to leave a lot of important items behind, a larger bag is the better choice. No one should have to leave important supplies behind due to their tactical gear bag being too small, and it defeats the purpose of having one. Try to do a good estimation of all the supplies you bring on your trips and look at the size of the bag, including all of the pockets. Brands are really good about listing size specifications accurately online, so there won't be any surprises once you make a final purchase.
Decision Time
Whether you choose a casual daypack hike backpack or a full-fledged tactical gear bag, it comes down to your personal preference. Once you determine what you need your tactical backpack for,  you're on the right path. It's obvious to get confused over the multitude of options when buying your first tactical backpack. However, your hunt for the best options to choose from starts with your basic needs, your budget, your tactical requirements, and so on. Once you know exactly what you need in your backpack, then you would be able to best determine what brand and price will best suit your needs. Fortunately, we've narrowed down the list to a best few to help you with your hunt.