Best Military Sunglasses Reviewed and Rated
In a Hurry? Editors choice: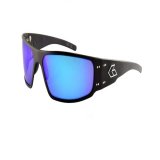 Test Winner: Gatorz Magnum

Anytime you are out hunting, there are many variables which come into play as you set yourself up for
the perfect shot
.  Between the weapon you are using, the weather outside, how far away you are from your target and the prevailing wind, you have a lot of things to consider when
aiming your shot
.  One thing which you may not think of until it happens is making sure there is nothing which obstructs your vision.  Well, you should think about it, but until you suddenly can't see and derailed all your prep work you have no idea just how frustrating a moment this can be.  To help avoid the idea of something bothering your eyes, you can invest in a pair of the best military sunglasses which are going to keep your eyes steady and strain-free as you do battle with the elements.
Standout Picks
Criteria Used for Evaluation
Durability
The entire point of military sunglasses is to have them so hardened that they can withstand impact from foreign objects. With this ranking, we looked at how well they held up in individual ballistic tests. All of the listed glasses had eyewear protection tests to pull information from, and it was thorough enough that there was no dispute about how to reorder for this criterion.
Good glasses are also high performance in strong weather conditions with strong winds, where dirt and other small particles need to be blocked from the eyes. Any of the models that literally cracked under a small amount of pressure were knocked off of the list immediately.
Brand
Branding wasn't as important but did play a role in how some products lived up to expectations. The top picks were Oakley, American Optical, and Sports Sunglasses. We measured branding differently this time around by putting the focus on how clear the language was for the customer.
Brands that had clear and concise features were put to the top of the list since they would help out customers that weren't familiar with the product. It's important for customers to be able to find what they want without needing to reference alternate materials. Bloated and confusing products were left off of the list, but in some cases, they just lost a couple of spots in the top ten.
Advanced Features
Around this time was perfect for looking at the extra features that the premium set of sunglasses provided. These features were sometimes brand specific but were explained clearly enough so that it was easy to understand. A removable lens is something that gained a lot of favor on the list since not all of the products on the list have it.
The select few that did were considered to be in a special class and were ranked accordingly. With only a few that offered this out of the package, there was less shift here than there was with any other criterion listed. It was still significant as it showed off some of the unique options on the list.
Compatibility
Although this next criterion won't affect everyone, it's still one that needed to get its own space. Some wearers are also prescription eyeglass wearers. If they're lucky enough, they can use contacts in place of their glasses when needed.
When this isn't an option, the lenses have to be replaced with prescription ordered parts. Not all choices on the list are supported, so this criterion focused on brands that had the most widely spread frame use by prescription wearers. Their compatibility was key in getting an optimal experience, and especially useful when a user's eyesight was below average.
Accessories
Accessories were also another limited criteria with only lanyards, replacement lens and carrying cases being available for the majority. Because of this, we gave points to models that had higher availability of accessories. Products that made their extras easier to find than the competition were considered better choices for all levels of users.
10 Best Military Sunglasses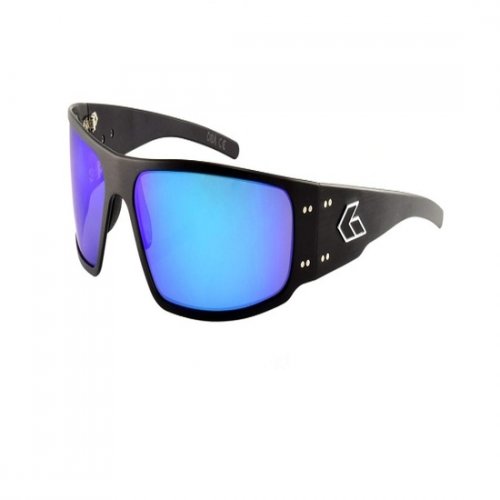 When it comes to finding a pair of military sunglasses, it can be extremely difficult due to having so many options on the market. However, Gatotz took it upon themselves to create one of the very best military glasses on the market. Featuring top of the line quality materials, these glasses were created to get the job done. They deliver everything they promise, with just the right number of extras.
Construction
If you are constantly on the go and doing activities, then you know how important it is to have an item that not only fits your lifestyle but enhances it. To have that ability you want to get a pair of sunglasses that were constructed to withstand a boatload of situations, from falling to maybe being stepped on. The Gatorz Magnum Tactical are as durable as it gets. Showcasing an aircraft-grade aluminum frame effortlessly paired with stainless steel dual 5-barrel hinges. These glasses are as tough and secure as it gets. They can take projectiles moving up to 250 feet per second, its eyewear made for adventure.
Superior Lens
While the construction is great, the lenses are even better. Created out of Tru-ray optics the lens on these glasses get the job done. Featuring 100% UV protection, 3-4 layers of coatings of anti-scratch and anti-fog, these glasses are all about comfort and clarity when and where you need it most. Furthermore, you can add polarized and transition lenses as well. Its all about having a pair of glasses that feel as customized to you as possible.
Cost and Value
As for the cost and value of these glasses, you want to keep in mind everything you are getting, and the quality. Due to these exceptional features and even better construction, these are on the pricier side. However, they are worth every penny and more. You are getting your money's worth and can choose from 3 different sizes.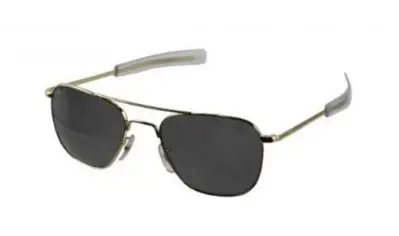 American Optical is available in five different colors, to help match up your style needs with your personality. They are stylish while also incredibly functional. They are first and foremost made to protect your eyes. Style is a bonus. The frames are made out of a metal material and are ideal for those with a medium-sized face.
Clear vision
The lenses have a very clean look and are distortion-free, so you can rest assured your eyesight will always be true while you are out hunting. Nothing is worse than clouded vision because of poorly tinted lenses. These sunglasses provide clear vision every time.
Full protection
These sunglasses are very stylish, but that doesn't mean you have to sacrifice eye protection for a nice style. With these, you get both. The lenses offer a full 100% UV protection, so your eyes will be protected from all of the harmful UV rays.
Cost and Value
These American optical sunglasses are in a mid to high range price point, but you are paying for high style and great quality. If style and protection are both important to you, then these sunglasses will deliver.

Oakley has a line of glasses which are available in seven different colors. Each color of frames is made from a hard plastic material, to ensure they stay durable in any weather conditions. All of the colors and styles protect your eyes, stay put on your head and offer the classic Oakley style you are after. So choosing the pair that is right for you is a breeze.
Strong lenses
These Oakleys' feature lenses that have been forged out of a polycarbonate material, which means they will not crack under pressure. You can put them to the test without fear of breaking them easily.
Solid UV ray protection
The lenses have a UV protective coating on them, which is what keeps your eyes completely protected. They are also polarized to cut out sun glare and help ensure your eyes are as safe as possible at all times.
Cost and Value
If you know Oakley, then you know these are not your cheapo sunglasses. However, they are not outlandish in price. Especially for all of their protective qualities, durability, and style. Additionally, you get a Microfiber pouch that you receive is also valuable for keeping your sunglasses stored safely.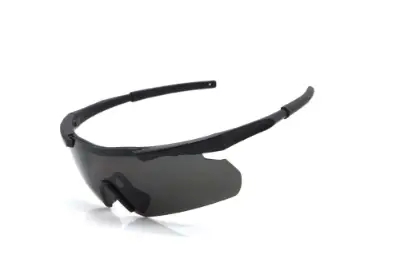 These Elemart Tactical sunglasses come in black, yellow and clear styles, so you can always make sure you have the right color lenses that you love but also that help you see the most clearly. These are made to last in any type of weather environment you are in. Each pair of lenses is made from a polycarbonate material while the frame is very flexible to help ensure they will fit around any size head.
Full UV ray coverage
The lenses are coated with a UV protection material, which is standard to keep your eyes protected from harmful sun rays. They are made to protect you from UVA and UVB rays.
Scratch-free lenses
The lenses are free of scratches and blemishes from the start and intend to stay that way for years to come. They feature a scratch-resistant material on them, to ensure they stay clear and scratch-free. The wide lenses also help protect you from any unexpected debris or sun rays coming in from the side.
Cost and Value
These Elemart Tactical sunglasses almost seem too affordable, but that's a great thing. They are completely solid and protective with full-coverage. Add these to your outdoor gear for sure.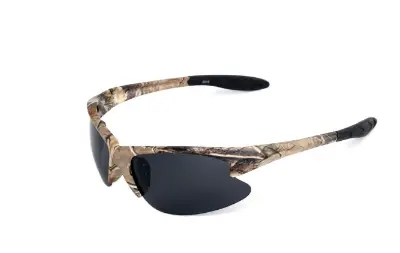 MOTELAN has a line of camouflage glasses, which are made with a soft rubberized coated. This keeps the frames solid but flexible. Solid frames are great for all activities, and added flexibility helps their longevity as you take them on and off. The lenses are made out of a polycarbonate material that is super solid, shatterproof and scratch-resistant.
Wraparound protection
The lenses stick out a little bit on the sides, which gives a wraparound effect to give you full coverage and protection. They combat any sun glare or debris from sneaking in through the sides. Protecting your peripheral vision is important, too.
Protects against all UV rays
These MOTELAN also feature UV protection that helps prevent UVA and UVB rays from penetrating into your eyes. They offer full coverage and protection.
Cost and Value
These are affordable, offering completely solid protection and coverage. Add these to your outdoor gear for sure. Additionally, you get a Microfiber pouch that you receive is also valuable for keeping your sunglasses stored safely.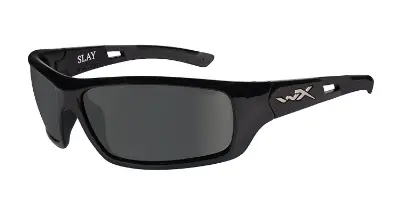 Wiley has a gloss black frame that is sleek. They also come with smokey gray lenses. These dark lenses help provide glare protection from the sun, so your eyes won't feel strained or need to squint while looking for your shot. They offer style and overall function. You won't regret having these out in the field.
Protect your eyes
These feature lenses that have been coated to help protect your eyes from any type of UV rays out there. Specifically speaking, they protect from UVA, UVB, and UVC sun rays. If there are UV rays out there, consider your eyes protected while wearing these.
Shatterproof lenses
These sunglasses do not need to be babied, which is great because you don't have time for that. If you need a reliable pair of sunglasses that will go as hard as you do out in the field, these are a great choice.
Cost and Value
These glasses are a pricier option than some of the previous. But, that being said, they are also higher quality. Though all of the options on this list are a solid choice, the Wiley's take it up a notch. If you have the extra money to spend, much like Oakley, these are a great option.

7

. Under Armour Igniter P MR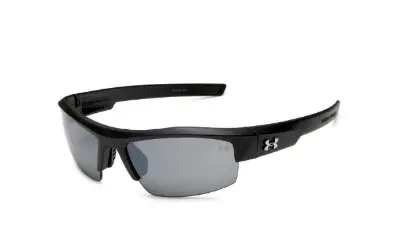 Under Armour presents the Igniter as a great pair to consider. Their sunglasses come in three different color combinations, including a black frame with gray lenses, white frames with blue lenses or white frames with orange lenses. Each offers a cool look that you will love. Also, no matter which color you choose, these Under Armour military sunglasses offer full protection that you need and want.
Titanium, strong frames
No matter which color combination you go with, each pair of these sunglasses has a titanium frame and ArmourSight polymer lenses. This means that they are strong, scratch-resistant and offer clear vision.
Full protection
These Under Armour sunglasses do not have polarized lenses, however, they still feature a coating that helps protect your eyes from all UVA, UVB, and UVC sun rays.
Cost and Value
Under Armour offers quality sunglasses, so these are a bit pricier than others on the list. However, they are not unreasonable. With a solid titanium frame, tough lenses and UV protection, you won't mind paying a little more for the quality.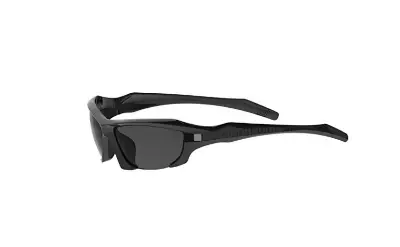 These sunglasses from 5.11 come with three different lenses for you to put into the frame, so you can use the right color of lenses for any setting. These colors are Smoke, Ballistic Orange and Clear. The frames come in a sharp black and all three lenses are made from solid polycarbonate material. These sunglasses are made to be durable throughout their long lifetime.
Full coverage and protection
These provide full coverage and protection from the sun. They are treated to deflect harmful UVA and UVB sun rays as well as unwanted sun glare.
Strong lenses
The lenses on these sunglasses are also treated with a coating made out of a T-shell material. This protective coating prevents the lenses from scratching or cracking. This ensures a long lifetime of wear.
Cost and Value
Due to these having a long lifespan, tough build and cool look, the value is pretty decent. There are definitely less expensive pairs on this list, however, these are not priced unreasonably at all. Especially speaking, because these sunglasses come with additional lenses to switch in and out for color.



These are tough and cool. They feature lenses that are made from an optical-grade and high-impact polycarbonate that is 2.2-mm thick, so they should not crack or break easily. They also come with a microfiber cleaning cloth and durable storage case, so nothing accidental should happen to your sunglasses.
Front and side protection
It is obvious that sunglasses should protect your eyes straight-on from the sun, but also offer side protection. This ensures that your eyes are protected from anything that might side-swiping you, such as additional sun rays or debris.
Exceptionally rated protection
These glasses exceed the standard ANSI Z87.1-2010 rating and provide full protection from all UVA, UVB and UVC rays. These sunglasses come with nine different lenses colors and every one of them offers the same high-rated protection.
Cost and Value
The price of these is moderate considering that you get such high-rated protection with them. That, and they come with a protective cloth and case, too.



Not only are they fashionable and look great with anything you wear but the ESS Eyewear Crossbow Suppressor are ready to conquer the world when you are. Constructed out of thick plastic, paired with thin hinges these glasses can take a beating without becoming damaged. The rugged effect comes from the exterior of the military glasses being a bit thicker allowing you to truly embrace the military-style.
Comfort
One of the features that stands out the most from these is how comfortable they truly are. Due to having thin hinges, you won't come across any thick discomfort that can happen from your hinges being too big for the shape of the frame. Besides, this allows you to wear earmuffs or any other ear accessory without discomfort. Though they are not adjustable they are easy to keep in place thanks to the provided head strap.
High-quality Lens
After taking note of how well constructed your glasses are you want to look at the quality of the lens. Keep in mind, this is one of the most important aspects as it will determine just how well you can see with them on. Featuring high definition copper lens, paired with excellent anti-scratch resistant, and anti-fog these lenses are ready for any adventure you decide to take them on. Likewise, you have 100 UV protection for those long days under the sun. It's a full package that gets the job done.
Cost and Value
When you read about all the perks and features these glasses have you might think you will be paying a hefty price, but its quite the contrary. These are quite the bargain. Additionally, they are one of the most cost-effective items on our guide. We wanted to bring you a lens that gets the job done without breaking the bank, these do just that and more.

Subscribe to our Newsletter