Best Bipods & Shooting Sticks for Rifles Reviewed for Quality
Apart from the rifle and ammunition, there's one indispensable item that every shooter is accustomed to having in his go-to inventory – a bipod. You'd rarely find a seasoned hunter or an avid shooter without their on-field inventory of all kinds of stuff which also include a bipod. It's not just a mere gun accessory; it's a vital asset of a shooter to obtain a proper shooting position and facilitate a balanced firing each and every time. It's a two-legged stand that creates a steady rest for your rifles to make consistently accurate and balanced shots. It's more than just an attachment; in fact, it's a part of your rifle which helps you achieve consistent accuracy.
Featured Recommendations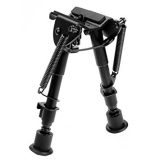 Avawo Hunting

Our rating
Compact
Price:

See Here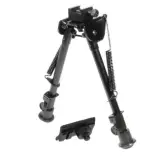 UTG Tactical OP

Our rating
Adjustable
Price:

See Here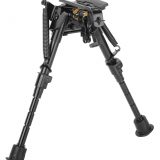 Caldwell XLA

Our rating
Stable Support
Price:

See Here

The bipods have been a convenient and efficient staple accessory for military and law enforcement activities for quite some time now. The use of bipods in the hunting scene has grown exponentially over the past decade and the rate at which they are populating the market with no signs of slowing down, you might be obligated to use one. Not only a bipod aids in your shooting adventures but also do so with increased accuracy and stability. So the next time you plan on hunting a big game, try a bipod for more accurate shots because in the woods, you won't get a second chance.
A bipod primary function is to provide a support for your weapon, thereby reducing the chances of being fatigued while at the same time increases your accuracy and stability while shooting. It allows you to hold a better ground from a distance while you keep eyes on your target. It makes you feel steady when you're out hunting your next big game, thanks to the adjustable legs which facilitate a comfortable shooting position so you can take out your target in one shot. It's your most valuable asset in the field to ensure better support and stability.
10 Best Bipods for Rifles
1. AVAWO Hunting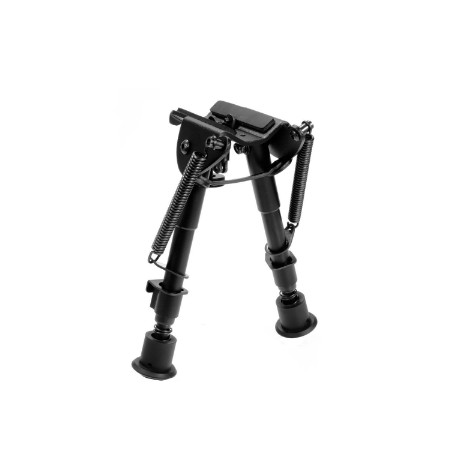 Take your shooting to the next level with the very sturdy and versatile AVAWO Rifle Bipod. Made out of heavy duty aluminum with hardened steel tops, it delivers an ultimate shooting experience with utmost precision. The swivel stud mount makes it easy to attach and detach in no time while adjustable legs help you hold a better ground. There's no swivel mount at the top which makes sure it won't compromise with settings.
Expand to see more
The bipod conforms to the ground quite well so that the rifle won't move from side to side to help you get the comfortable shooting position you desire. You can also adjust the heights for differential shooting positions to get a better hold of your target from a distance without compromising your position. Plus the easy release button helps you get fire-ready in seconds and when done it can be fully closed to fit in your backpack.
Insanely compact and durable
Adjustable legs with spring control
Non-rusting black anodized finish
Quality for money product
Easy carry design
Might lack setting up instructions
2. UTG Tactical OP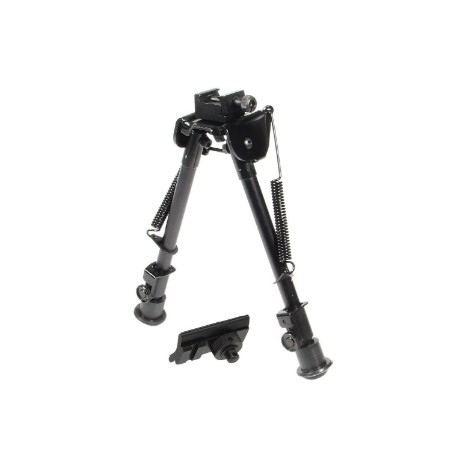 The UTG Tactical is arguably one of the most versatile and most favored bipods among the hunting circle. With swivel mount and a panning head, it's an absolute delight in the field. It's a great performance enhancing go-to accessory that works like a wonder when attached to your rifle.

Expand to see more
The lightweight and heavy-duty aluminum make it an ideal gun accessory on-the-go and a great fit for the woods. The sturdy design and robust features make sure you get the best out of your hunting rifle. Foldable arms provide a steady shooting position to improve accuracy while the Posi-Lock mechanism helps you steady your rifle even on uneven grounds for a stable position.
Made of sturdy lightweight aluminum
Posi-Lock mechanism for stability
Ease of use
Foldable arms with spring tension control
It weighs less than a pound
Might be difficult to adjust
3. Caldwell XLA Pivot Model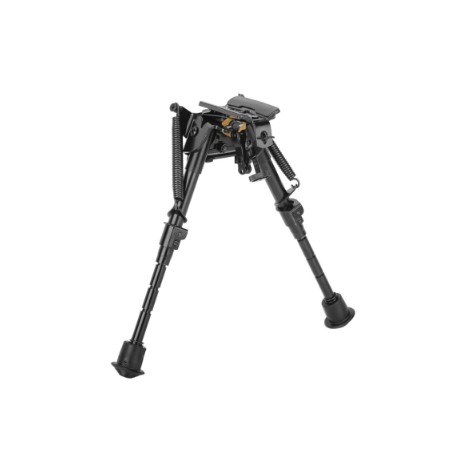 The Caldwell XLA Bipod is precision engineered with state-of-the-art design and robust features to provide a superior shooting experience. Thanks to the sling swivel mount, it effortlessly mounts on just any firearm to best suits your shooting needs. The lightweight design with heavy duty aluminum makes it a perfect choice for long-range shooting while the legs are easily adjusted for a better shooting position. The sling attachment makes carrying the bipod a breeze.
Expand to see more
The legs can be extended for easy indexing to a desired height so that you get a perfect shooting position while the rubberized bottom enhances stability while shooting. The pivot feature allows you to get a steady shooting position even on uneven terrains by keeping the crosshairs leveled. Adjustable height settings help you get the best out of your shooting while the tension knob controls the pivot motion for precision shots while hunting.
Lightweight aluminum construction
Padded bipod base
Adjustable legs with spring control
Sling attachment
Deploys quickly
4. Ohuhu 6-9 Inch Sniper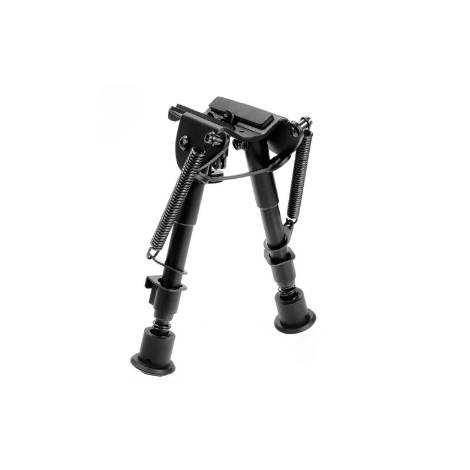 This tactical rifle bipod is insanely lightweight and made with heavy-duty aluminum and hardened steel to help you make the best out of your shooting. The streamlined design makes it an easy carry in the woods and the black anodized layer ensures it won't rust under harsh conditions.
Expand to see more
The easy retraction switch makes it easy to attach and detach with just a press of the button. The base is fitted with rubber caps to help you achieve that desired shooting position and ensure stability while allowing you to take out your target with ease. Adjustable legs make it easy to take consistently accurate shots while the differential height settings allow you to achieve a perfect shooting position.
Lightweight and compact 
Easy to use
Adjustable legs for better stability
Great quality and worth the price
Might need additional padding
5. Siensync Tactical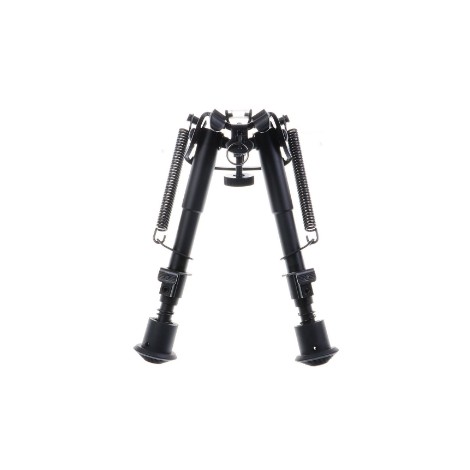 For an avid outdoorsman or a seasoned hunter, a steady precision shot makes all the difference to their hunting experience. And a bipod is your perfect hunting aid in the woods. But why settle for anything less than a precision engineered bipod made exclusively for the most discriminating hunters? Say goodbye to positioning woes during hunting, thanks to the Siensync Tactical Bipod.
Expand to see more
It easily attaches to your rifle and the picatinny mount makes its assembly a breeze. Multi-position adjustability helps you get a steady shooting position and acquire targets with ease. The legs are spring loaded so that you don't have to worry about manually adjusting the height - it automatically loads them to the desired height with just a simple press of a button. The extra rubber padding on the bottom ensures a stable position for the best shooting experience without compromising on performance. It's a solid piece of equipment that provides a steady shooting position even from uneven grounds making it an ideal choice for long range shooting.
Heavy duty hardened steel and aluminum
Adjustable legs with spring loaded function
Picatinny mount for increased stability
Precisely adjustable and equipped
Rubber padding on the bottom
The bipods don't lock-in in the downward position
6. Caldwell XLA Fixed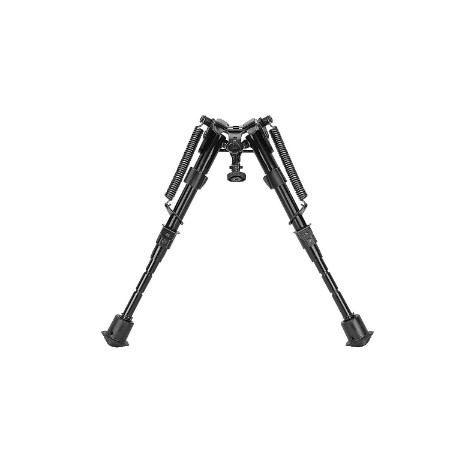 If you're looking for a versatile bipod for your rifle for a budget friendly price tag without compromising on performance, the Caldwell XLA Fixed Blade is your best bet. As the name suggests, it conveniently attaches to any firearm providing a stable shooting platform for a superior performance in the woods. It is a fixed bipod which means you cannot adjust the height yet still make consistently accurate shots.
Expand to see more
The heavy duty hardened steel makes it last a lifetime while the lightweight aluminum construction makes it a great fit for the hands. The sturdy design adds minimal weight which makes carrying your firearm a breeze. The legs fold easily when not in use and the external springs keep it together for easy storage. The rubber padding on the mounting surface helps you maintain a steady position while hunting even on uneven surfaces for enhanced accuracy. This is a perfect go-to accessory for the seasoned hunters and casual range shooters alike.
Ideal for long-range shooting
Lightweight and sturdy design
Rubberized bottom for better stability
Includes connection point for sling attachment
7. Vokul 6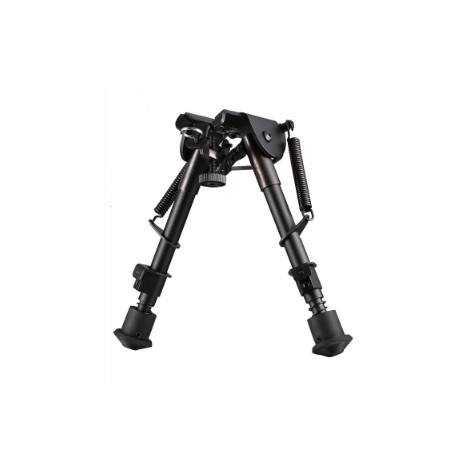 If you're looking for a stable shooting platform made of heavy-duty aluminum for consistent accuracy while shooting, the Vokul Rifle Bipod won't disappoint. It offers an optimal weight for a budget friendly price without compromising on performance. It deploys effortlessly with pivot legs that that spring out in a matter of seconds for your desired shooting position with a simple press of a button.
Expand to see more
The multi-positioning legs make positioning your firearm a breeze and the sling attachment makes it an easy carry. The rubberized surfaces help keep the firearm steady without compromising your position to enhance stability while shooting. The black anodized finish protects it from dust and corrosion making it last a lifetime of abuse. It's the best bang for your bucks that make even the best of bipods run of their money.
Provides a stable shooting platform
Adjustable legs for stability
Sling attachment for easy carry
Padded base for protection
Deploys pretty quickly
Perfect value for money
8. CVLIFE 6-9 Inches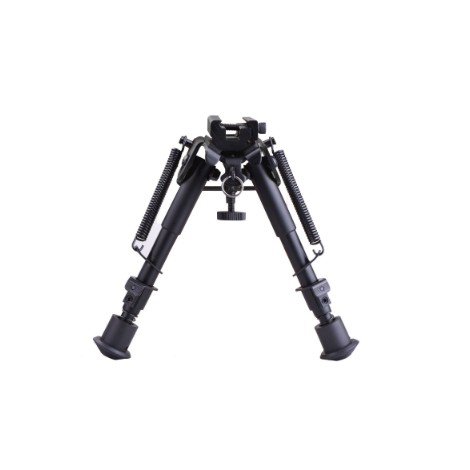 A bipod designed to give you a never-ending series of the best shooting experience, the CVLIFE bipod is made of heavy-duty hardened steel and aluminum for maximum durability.It features a leg release button and return springs. The smart leg design allows you to adjust your bipod height to multiple lengths which result in a very accurate shooting. The fact that the bipod is made of durable materials, which helps meet your shooting needs for as long as you want it to.
Expand to see more
The rubberized pads and arms that can be folded ensure that your gun remains protected from all possible damages. Not only it's reasonably priced but it also lasts for long years because of the heavy duty materials used. It can be folded and unfolded without exerting any extra effort at all. The entire folds up very flat to take it along with you and weighs less than a pound. Through the various height adjustments, change of positions and the shooting activity, the rubber padded top guarantees the utmost safety of your gun forend.
Maximum durability
Smart leg design
Reasonably priced
Made of heavy-duty hardened steel and aluminum
Lacks setting up instructions
9. Ade Advanced Optics
Quality manufactured with cold forged hardened steel and 7075 T7 alloys, the Ade Advanced Optics Bipod is the heavy-duty version with thicker and stronger reinforced legs which can be adjusted and you can pull the leg from 13" to23". The hinged bases have tension adjustment to eliminate tremor, plus the heavy-duty black anodized finish ensures an all-weather operation, even in harsh environments. Spring loaded foldable legs are notched to extend to multiple lengths and the soft rubber feet provides enhanced stability while the padded bipod base protects your firearm's forend.
Expand to see more
Ade Advanced Optics first made its appearance in the firearms accessory regime by doing private level productions for several major manufacturers and retailers. They suddenly started picking up the pace, when it began receiving requests from numerous customers for access to their affordable, high-quality products that they were capable of producing at a larger scale. The Ade Advanced Optics managed to overcome the challenges faced when entering a global market, especially one as competitive as the shooting, hunting, and outdoor industry.
Quality manufactured
Soft rubber feet provide enhanced stability
Affordable, high-quality product
10. TipTop EZ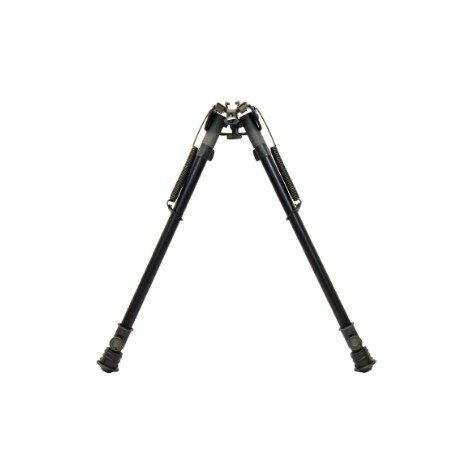 Ideal for use on uneven terrain, the TipTop EZ Rifle Bipod provides intuitive adjustments up to a range of 34 degrees. Its pivotal and scanning motions are accomplished simultaneously from its one-tension lever. The Tip Top EZ is a stud mount bipod with patent pending quick snap sling stud mount for easy and fast mounting. This heavy-duty bipod that also extends from 6-9 inches is extremely easy to set up. It's constructed with lightweight aircraft grade alloy for maximum durability, plus the black anodized finish deters rust formation. It weighs less than a pound and lays parallel to the gun barrel when folded.
Expand to see more
It features telescopic legs that are strong thus making it sturdy, plus the legs have robust springs attached to them which enable them to retract fully once they're released from their current positions. The screws have a knurled knob for easy and smooth operation and the rubberized leg caps prevent slippage. This bipod does not swivel, which makes it sturdy when firing without any rattle. Overall, it's a great product worth your every single penny. It looks great and feels good on the hands. And it will last longer due to the strong, durable materials used in its construction.
Ideal for use on uneven terrain
Extremely easy to set up
Features telescopic legs
Constructed with lightweight aircraft grade alloy for maximum durability
Producing materials not specified
History of Bipods
The word 'bipod' derives from Greek and Latin roots 'bi' and 'pod' – Bi means two while pod means foot/feet. Previously, bipods were only known for being used as a camera accessory, which the photographers used to leverage to take high-quality terrestrial shots for drawing maps and scales. It wasn't until the Second World War that the bipods entered the battle scene as intertwined sticks to provide soldiers with a platform to support their weapons which eventually helped them make more accurate shots with utmost precision. The bipods went global in the 20th century and served as a necessary attachment for both bolt action and auto-fire rifles. From simple hinged legs to custom made adjustable legs, bipods triggered a new revolution and are set out to create history.
Criteria Used in Choosing the Best Bipods for Rifles
Compatibility
Bipod compatibility isn't something that should be looked over if you want a good experience. We looked at the top brands along with their track record for causing the fewest headaches. Compatibility is not a huge issue with bipods, and it is more about finding models that had accommodating features for multiple guns. So bipods with the swivel mechanic were placed high up on the list since they would provide better usefulness for bigger guns without sacrificing features for small guns. Using this formula we were able to find the top go-to brands, with a couple of surprises at the beginning of the list.
Size
Bipods are great for left or right-handed users, so you don't have to be specific about which model you go for. Things may get complicated when deciding on the actual size of the bipod, which can be an issue for users that want the best of both worlds. On one hand, you want one that is great while you're in a crouched position. Then there are days where you want it to be big enough to use while in a sitting position. The balancing act associated with the classification of bipods is something that made the list a little more difficult to compile than most. We had to pay special attention to the minimum and maximum inches of a bipod, without showing too much favoritism for one size over the other. So the largest sized bipod on the list won't have any advantage over the smallest on the list. It's all about the inches in-between that makes for a much more flexible bipod in an everyday situation.
Weight
Buyers that move a lot will want a bipod that has low weight, all without sacrificing durability. This is easier to accomplish than you think and shortened the list considerably as the heaviest products were left off completely. Some companies even offer carrying bags for their products so that you can pack it up and move on foot comfortably. Including a bag didn't change the order of the list, but in truth, it is a great move for a company to include it even if the user doesn't plan on using it daily. Even when a bipod is a low weight, it can be a hassle to constantly set it up and move without an adequate storage space. And this is also where the minimum and maximum height comes in once again since the small to medium bipods are more likely to have a bag than the larger ones. Low weight should also be a priority for buyers that have their own bags and don't want to add too much wear and tear on them. Having a bipod at a specific weight can protect your investment in more ways than one.
Overall
With the only major variation in the bipods being size, we had an easier time adjusting the list. At the upper half of the list are the products that are balanced for hobbyists, professionals, and outdoorsmen. The bottom half has more specific types of bipods, which leans towards a particular field of interest. So the drop off from number 5 on the list might seem large, yet it really isn't once you realize the audience bipods from 6-10 serve. And all of the bipods on the list are high in durability, which was a must. The amount of friction that will be put on the products on this list was taken into account. About the last thing, a customer would want is for their recoil to cause a bipod to crumble underneath the shock, causing not only a missed shot but a damaged weapon. It is a nightmare that a lot of shooters would like to avoid if possible. So consider recoil a big part of the equation with weight in determining the amount of punishment a bipod can take under pressure. Products that didn't have above average durability weren't included on the list since they would eventually buckle under heavy use when you needed them the most. Bipods have to be built tough if they're going to survive for more than a year in different outdoor conditions.
How to Use Rifle Bipods
Rifle bipods, as they are known today, may have been available for just the last few decades but the idea has been there since ancient times. The cavemen may not have called the crossed sticks they used to support their spears bipods, but they still had an idea that this is an essential technique to ensure an accurate shot. Contemporary bipods are more advanced than the crossed sticks of the past but they still do almost the same job: ensure that you do not only get accurate shots but also that your shooting position is comfortable.
The past decades have witnessed the rise in the popularity of bipods to the extent that some hunters can no longer imagine what life would be like without it. In fact, if someone calls themselves an experienced shooter they would usually have this accessory. However, it can only be useful to you if you know how to use it.
Do You Need One?
Using an accessory correctly starts with answering the question whether you actually need one. To determine if you really do, you will need to ask yourself if you have a better way to support your weapon while you are shooting.
You also need one if you always struggle to confirm zero when your weapon is not on a bench rest. If it is your intention to be accurate on every shot you take, then you need the bipod.
Install the Bipod Correctly
The stability which your rifle bipod is able to deliver depends on how you install it. Apart from ensuring stability, proper installation will also deliver consistent accuracy. If the one you buy has a user manual, you should follow the instructions on it. However, we know that user manuals can be a bit difficult to understand, especially those translated from other languages. Also, the manual may not have taken the specific needs of users in different contexts into consideration.
In summary, the installation process should start by removing the sling swivel from the rifle. The tension from the bipod's clamp can be loosened using the screws on it. This will be followed by joining the clamp and the stud. To do this successfully, you will need to ensure that the retention pins that are located in the interior of the clamp insert into the dual holes of the stud opening. Your next task is to tighten the screw on the lower side of the bipod so that the bipod's clamp secures properly to the stud of the rifle. Once you have done this, you need to place the sling swivel you removed at the beginning of the whole installation process back on the weapon. Even with the bipod in place, you can still use the sling on your weapon.
Once you have done the above, you have just completed the process of installing the bipod. That's how simple the process is.
We invite you to check the following video by Southern Shooters:
The reason why you need bipods in the first place is that you are looking for a steady rest. It is the secret to a rifle shot that is accurate. A rifle that is placed in contact with an object that is hard and then permitted to recoil freely on the shot will shoot away from that particular object.
In practice, this means that once a bipod is attached to the rifle, it becomes a part of the firearm. When you then go ahead to place the bipod on a hard surface and permit it to recoil freely, you get a result which is different from the one which you would have gotten if the contact was between the hard surface and the rifle forend. The result is that the shoots will be sent high.
If you want to get a shot which is consistent, you will always need to ensure that the surface on which the bipod is sitting is not hard. To get the accurate shots you are after, place the bipod on soft dirt. If there is no soft dirt, you can always make your own. This will help you manipulate the bipod according to your needs.
The word 'bipod' derives from Greek and Latin roots 'bi' and 'pod' – Bi means two while pod means foot/feet. Previously, bipods were only known for being used as a camera accessory, which the photographers used to leverage to take high-quality terrestrial shots for drawing maps and scales. It wasn't until the Second World War that the bipods entered the battle scene as intertwined sticks to provide soldiers with a platform to support their weapons which eventually helped them make more accurate shots with utmost precision. The bipods went global in the 20th century and served as a necessary attachment for both bolt action and auto-fire rifles. From simply hinged legs to custom made adjustable legs, bipods triggered a new revolution and are set out to create history.
Other Things to Consider
The evolution of bipods from simple hinged to adjustable supports has made the whole hunting scene an easy business and if you're an avid shooter, chances are you'll want to have one for yourself too. And now that you're totally aware of what wonders you can do with a bipod at your disposal while hunting, it's time you find the right selection for your requirements. The market is currently flooded with quality models and great brands, so with this many options, it's hard to find the right one. Consider a few factors first before making a decision.
As with many pieces of equipment, a shooter's intended purpose will often determine the type of bipod he/she is going to use. The basic rules of a game are such that weight may well be the most concerning factor of all but comes tactical shooting experience, the speed, and the size may be worth considering. With that being said, let's take a look at other features that might impact your decision.
Adjustable Height – This is one of the most deciding features worth considering when looking for the right bipod as it allows for ease of movement and better flexibility in the field. You can make necessary adjustments to place your weapon in different positions so that to make consistently precise shots. If you want to make your shot count, you must be used to different field conditions and that includes holding a better position to keep eyes on your target. And with adjustable legs, you can move freely with complete control over your target even on uneven grounds.
Durability – Materials used in the making process play a much greater role in how well a bipod performs under any circumstances. Only a shooter understands the importance of high-quality materials making a difference to his shooting endeavors. Aluminum is the most favored material of choice among hunters because of the simple fact that it's lightweight and durable enough to stand the test of weather.
Flexibility – If you're looking for long range shooting, you'd want a better control over your firearm to make accurate shots. So a bipod with improved flexibility will go a long way whether you're up for your next big game or some casual shooting practice. Better control means easy alignment and better alignment results in consistently accurate shots. Flexibility is the key to better results.
Rotating/Swivel Feature – A rotating or swivel feature helps you acquire your target quickly while providing better control and accuracy over your shots. Any universal bipod with a swivel feature helps you hold a stable position even on uneven terrains allowing you to take your targets precisely and efficiently without much of the hassles. With a wide rotating angle, you can cover a much wider area to make the best out of your precision shooting.
Rifle Sling Compatibility – A sling attachment comes in extremely handy on-the-go which makes it convenient to carry your firearms with ease without damaging your rifle or bipod while hunting. You can go for the bipods that come with a sling swivel stud which dramatically reduces the time you need to attach and detach your firearm making it easy to carry around.
FAQ
Frequently Asked Questions
Q: Why do you need a bipod?
A: A bipod is used to steady your weapon of choice so that you can get off a clean shot. It takes the weight of the gun out of your hands and lets you concentrate on the mechanics of shooting. This can also be a great benefit for anyone with shoulder, wrist or back problems. And in all cases, it improves accuracy for long distance shooting, so if that is your main goal, then a bipod can be the answer. Bipods aren't simple stationary legs, and many can be moved in a variety of positions before you get off a shot that you're comfortable with.
Q: What are the best brands?
A: Ohuhu, Caldwell, and UTG deserve special mention when discussing the best brands on the list. Caldwell is of particular interest to many and is under the larger Battenfeld Technologies, Inc. umbrella. The company holds some of the biggest names in outdoor equipment and has made a name for itself as the go-to place for bipods and more. When looking for an all in one company that goes beyond what is offered on the list, then Battenfeld Technologies, Inc. should be in your top three.
Q: Why does bipod height matter?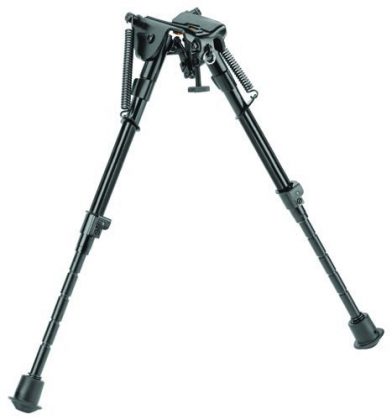 A: Without adjustable height then a bipod offers very little over placing it on a flat surface. Being able to center your gun and then move it freely is important, with the minimal requirement being vertical adjustments. There are plenty of cheap products that can accomplish this, but the quality ones set themselves apart by offering materials that are high end. Balancing a heavy weapon on a single spot and rotating it can wear into cheap materials quickly, and in turn, can damage your weapon. Investing in quality brands like the one on the list will make a big difference in satisfaction.
Q: Where does leg length come into play?
A: Just like height, leg length is something that should be looked at when deciding on a bipod. In fact, bipods can be classified based on that and how far they extend. They are usually grouped in inches like this; 6-9, 9-13, 13-24 and 25-62. Shooters that want to sit and shoot will need to pay special attention to these numbers. The last category of 25-62 inches is the longest and can be the most useful to shooters that want to sit. If you switch positions a lot while out, then getting a large bipod can become a small hassle without the right accessory to carry it around.
Q: Is it always necessary to use a bipod?
A: A bipod isn't a necessity, but it is an improvement. With that in mind, you can only get gains by using it to steady your shot. Accuracy will dramatically improve, and you'll also spend less energy on handling a large weapon for hours at a time. Gun support is important if you want to get off a clean shot, especially during times where a single miss could cost you a perfect opportunity. Overall they are an inexpensive accessory that's good to have, even if you just use it as a backup.
Q: What are some things to look for in a bipod?
A: The first and most obvious thing is adjustable height. Without this feature then a bipod is largely worthless and could cause you frustration when trying to use it on uneven terrain. After that, you want to make a note of how durable it is, with bonus points going to bipods that are weather resistant. The last thing you want to look for is the weight. This is an important piece of knowledge for buyers that will be carrying their bipods around.
Decision Time
The last thing you'd want while selecting a right bipod is your poor choice ruining the fun and putting an end to your shooting activities. It makes it all the more important to find the right one for your style and intended use. With so many options to choose from, finding the right one becomes a daunting affair but it's important you consider all the above-mentioned factors before making the final decision. You don't want to ruin a perfect shooting moment because of poor choices and bad judgment. That being said, we advise you to choose the best for your needs and style based on the factors from the list above. To make it easier for you, we also compiled a list of top rifle bipods based on features and ease of use that's worth a look.
Sources