Best Bipods & Shooting Sticks for Rifles Reviewed for Quality
In a Hurry? Editors choice: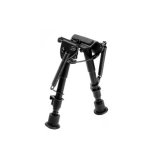 Test Winner: AVAWO Hunting

Apart from the rifle and ammunition, there's one indispensable item that most shooters are accustomed to having in their go-to inventory: a bipod. Most seasoned hunters at some point will add bipods to their
gear bag
of tricks. That's because it's not just a mere gun accessory; it's going to help any shooter obtain a proper position and get a balanced firing each and every time. A bipod is just what it says: a two-legged stand that creates a steady rest for your rifles allowing consistently accurate and balanced shots. It's more than just an attachment, you should think of it as the part of your rifle which will allow consistent accuracy.
Standout Picks
Criteria Used for Evaluation
Compatibility
Bipod compatibility isn't something that should be looked over if you want a good experience. We looked at the top brands along with their track record for causing the fewest headaches. Compatibility is not a huge issue with bipods, and it is more about finding models that had accommodating features for multiple guns. So bipods with the swivel mechanic were placed high up on the list since they would provide better usefulness for bigger guns without sacrificing features for small guns. Using this formula we were able to find the top go-to brands, with a couple of surprises at the beginning of the list.
Size
Bipods are great for left or right-handed users, so you don't have to be specific about which model you go for. Things may get complicated when deciding on the actual size of the bipod, which can be an issue for users that want the best of both worlds. On one hand, you want one that is great while you're in a crouched position. Then there are days where you want it to be big enough to use while in a sitting position.
The balancing act associated with the classification of bipods is something that made the list a little more difficult to compile than most. We had to pay special attention to the minimum and maximum inches of a bipod, without showing too much favoritism for one size over the other. So the largest-sized bipod on the list won't have any advantage over the smallest on the list. It's all about the inches in-between that makes for a much more flexible bipod in an everyday situation.
Weight
Buyers that move a lot will want a bipod that has low weight, all without sacrificing durability. This is easier to accomplish than you think and shortened the list considerably as the heaviest products were left off completely. Some companies even offer carrying bags for their products so that you can pack it up and move on foot comfortably. Including a bag didn't change the order of the list, but in truth, it is a great move for a company to include it even if the user doesn't plan on using it daily.
Even when a bipod is a low weight, it can be a hassle to constantly set it up and move without adequate storage space. And this is also where the minimum and maximum height comes in once again since the small to medium bipods are more likely to have a bag than the larger ones. Low weight should also be a priority for buyers that have their own bags and don't want to add too much wear and tear on them. Having a bipod at a specific weight can protect your investment in more ways than one.
Materials
Generally, bipods are manufactured using aluminum, but there are some that use polymer materials. While polymer material can be used, the main body and legs must be made with aluminum if it will be attached to a firearm.
Bipod must support not only the weight of the rifle, but they must be able to handle recoil as well. With aluminum bipods, it is important to look for a corrosion-resistant finish, such as anodized aluminum.
Durability
Materials used in the making process play a much greater role in how well a bipod performs under any circumstances. Only a shooter understands the importance of high-quality materials making a difference to his shooting endeavors. Aluminum is the most favored material of choice among hunters because of the simple fact that it's lightweight and durable enough to stand the test of weather.
10 Best Bipods for Rifles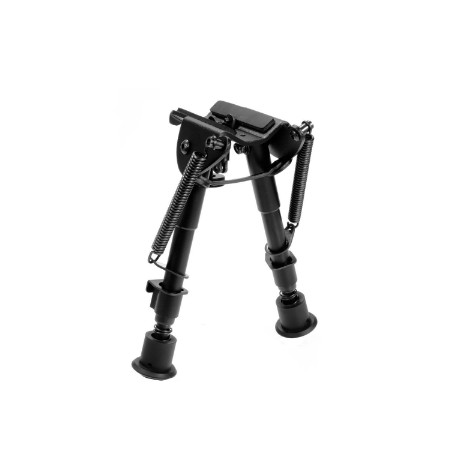 Take your shooting to the next level with the very sturdy and versatile AVAWO Rifle Bipod. Made out of heavy-duty aluminum with hardened steel tops, it delivers an ultimate shooting experience with utmost precision.
Specifications
The bipod conforms to the ground quite well so that the rifle won't move from side to side to help you get the comfortable shooting position you desire. You can also adjust the heights for differential shooting positions to get a better hold of your target from a distance without compromising your position. Plus the easy release button helps you get fire-ready in seconds and when done it can be fully closed to fit in your backpack.
Features
The swivel stud mount makes it easy to attach and detach in no time while adjustable legs help you hold a better ground. There's no swivel mount at the top which makes sure it won't compromise with settings.
Cost and Value
Easy to maneuver from one place to the next this stand makes a great addition to your firearm practice. Making your shot steadier for a reasonable price.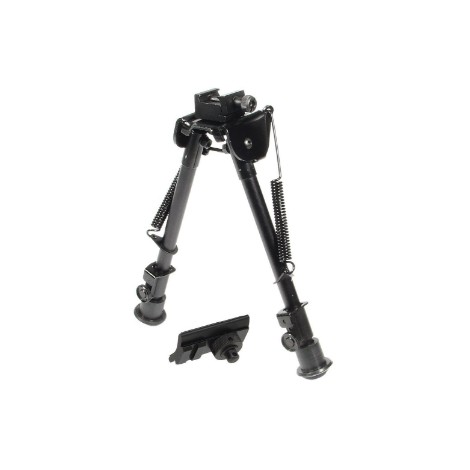 The UTG Tactical is arguably one of the most versatile and most favored bipods among the hunting circle. With swivel mount and a panning head, it's an absolute delight in the field. It's a great performance enhancing go-to accessory that works like a wonder when attached to your rifle.
Durable
The lightweight and heavy-duty aluminum make it an ideal gun accessory on-the-go and a great fit for the woods. The sturdy design and robust features make sure you get the best out of your hunting rifle.
Steady
Foldable arms provide a steady shooting position to improve accuracy while the Posi-Lock mechanism helps you steady your rifle even on uneven grounds for a stable position.
Cost and Value
This one is not only light to carry but will be light on your pocketbook as well. Materials used in creation add no extra weight, making it valuable to your hunting or target practice gear.

3

. Caldwell XLA Pivot Model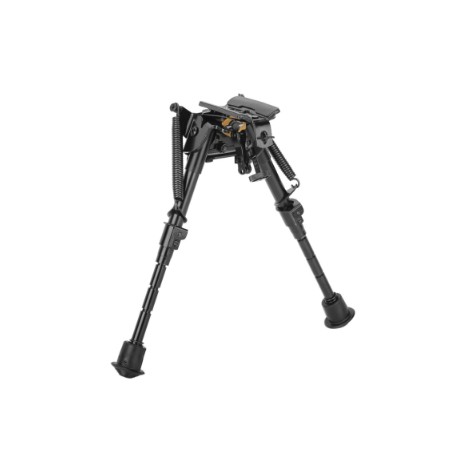 The Caldwell XLA Bipod is precision engineered with state-of-the-art design and robust features to provide a superior shooting experience. Thanks to the sling swivel mount, it effortlessly mounts on just any firearm to best suits your shooting needs.
Easy Extending Legs
The legs can be extended for easy indexing to a desired height so that you get a perfect shooting position while the rubberized bottom enhances stability while shooting. The pivot feature allows you to get a steady shooting position even on uneven terrains by keeping the crosshairs leveled. Adjustable height settings help you get the best out of your shooting while the tension knob controls the pivot motion for precision shots while hunting.
Long Range
The lightweight design with heavy-duty aluminum makes it a perfect choice for long-range shooting while the legs are easily adjusted for a better shooting position. The sling attachment makes carrying the bipod a breeze.
Cost and Value
The quick and easy set up gives this selection great value. No more fumbling to get set for practice with equipment like this. That perk alone will justify the higher price range.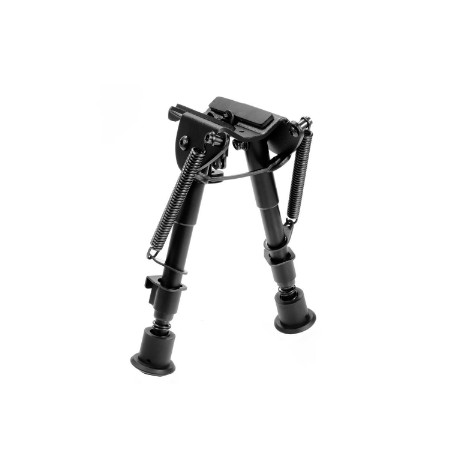 This tactical rifle bipod is insanely lightweight and made with heavy-duty aluminum and hardened steel to help you make the best out of your shooting. The streamlined design makes it an easy carry in the woods and the black anodized layer ensures it won't rust under harsh conditions.
Easy Attach
The easy retraction switch makes it easy to attach and detach with just a press of the button. The base is fitted with rubber caps to help you achieve that desired shooting position and ensure stability while allowing you to take out your target with ease.
Adjustable
Adjustable legs make it easy to take consistently accurate shots while the differential height settings allow you to achieve a perfect shooting position.
Cost and Value
A choice that is known for offering durability and stability all in one use. Materials used to craft this selection give it the durability it needs to withstand exposure to the outdoors. The rubber on the bottom offers a more stable shot. What more can one ask for?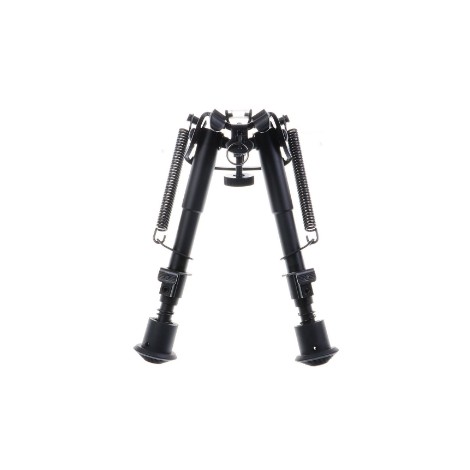 For an avid outdoorsman or a seasoned hunter, a steady precision shot makes all the difference to their hunting experience. And a bipod is your perfect hunting aid in the woods. But why settle for anything less than a precision-engineered bipod made exclusively for the most discriminating hunters? Say goodbye to positioning woes during hunting, thanks to the Siensync Tactical Bipod.
Multi-Position Attachability
It easily attaches to your rifle and the Picatinny mount makes its assembly a breeze. Multi-position adjustability helps you get a steady shooting position and acquire targets with ease. The legs are spring-loaded so that you don't have to worry about manually adjusting the height - it automatically loads them to the desired height with just a simple press of a button.
Steady
The extra rubber padding on the bottom ensures a stable position for the best shooting experience without compromising on performance. It's a solid piece of equipment that provides a steady shooting position even from uneven grounds making it an ideal choice for long-range shooting.
Cost and Value
Here is a selection that even a novice can operate. One button push sets the legs to the correct height each and every time. Eliminating the frustration of obtaining the best shot possible. That seems to be a valuable benefit even for a seasoned pro.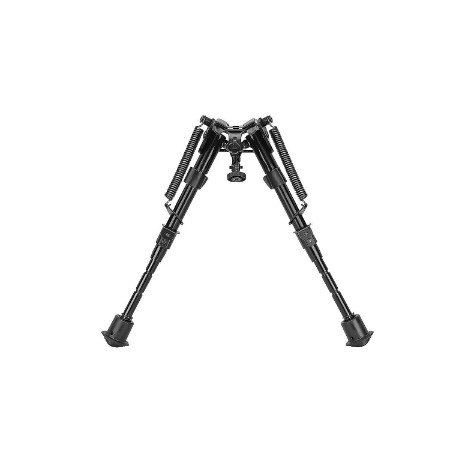 If you're looking for a versatile bipod for your rifle for a budget-friendly price tag without compromising on performance, the Caldwell XLA Fixed Blade is your best bet. As the name suggests, it conveniently attaches to any firearm providing a stable shooting platform for more superior performance in the woods. It is a fixed bipod which means you cannot adjust the height yet still make consistently accurate shots.
Hardened Steel Construction
The heavy-duty hardened steel makes it last a lifetime while the lightweight aluminum construction makes it a great fit for the hands. The sturdy design adds minimal weight which makes carrying your firearm a breeze.
Features
The legs fold easily when not in use and the external springs keep it together for easy storage. The rubber padding on the mounting surface helps you maintain a steady position while hunting even on uneven surfaces for enhanced accuracy. This is a perfect go-to accessory for the seasoned hunters and casual range shooters alike.
Cost and Value
The design of this piece makes it not only easy to handle, but the storage space needed is minimal. No one can complain that your gear is taking up too much space in the closet. Seems like a win for both sides.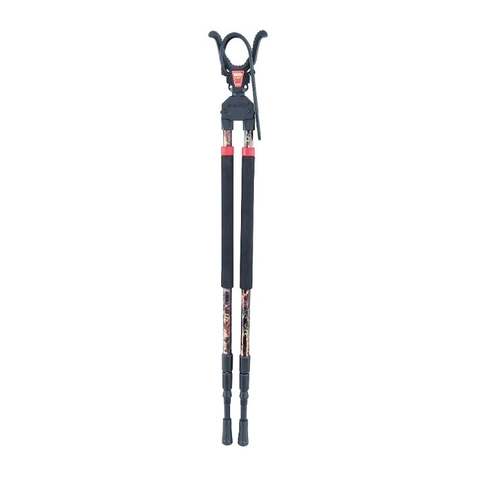 If you are on the market for something unique, yet sturdy and functional the Bog-Pod SB Series provides just that and more. Measuring 21 by 40 inches in measurable height, this bipod is sturdy and dependable while only weighing 19oz once the legs are spread. Thanks to the combination of lightweight aluminum legs perfectly paired with matte camo pattern finish, and a high-strength ABS plastic head. All these combined make for a durable stand that has a 360-degree swivel.
Ease of Use
When you are seeking to purchase a bipod for your rifle one of the very first things you want to keep in mind is just how easy to use it is. This bipod, in particular, is extremely easy to use. Featuring telescoping leg sections, allowing you to quickly your desired height at any given moment. Furthermore, thanks to the integrated leg stops there will not be an overextension when you place your bipod in the desired position.
Versatility
Just like you want a product that is easy to use you also want a versatile item. The Bog-Pod SB Series has ensured to showcase just that. Instead of having a bipod that won't allow you to move around or use it in multiple positions this one can be used in sitting, kneeling or standing positions without missing a beat. Additionally, the legs adjust out to a 60-degree angle with personal adjustable tension to ensure sturdy adjustability.
Cost and Value
As for the cost and value, this bipod is quite cost-effective, particularly when you take into consideration how easy and versatile this product truly is. Think of it as the perfect additional hunting gear to have. It's one of those products that allow you to work around without being too heavy or overbearing.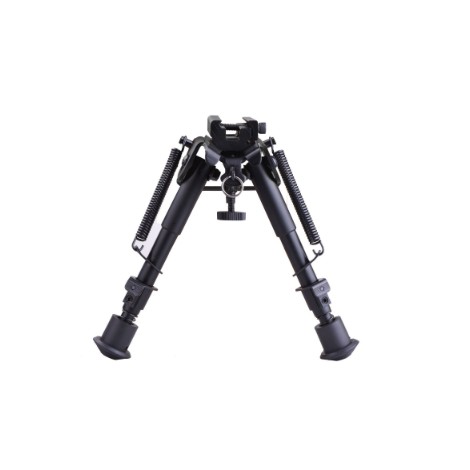 A bipod designed to give you a never-ending series of the best shooting experience, the CVLIFE bipod is made of heavy-duty hardened steel and aluminum for maximum durability. It features a leg release button and a return spring. The fact that the bipod is made of durable materials, which helps meet your shooting needs for as long as you want it to.
Rubberized Pads
The rubberized pads and arms that can be folded ensure that your gun remains protected from all possible damages. Not only it's reasonably priced but it also lasts for long years because of the heavy-duty materials used. It can be folded and unfolded without exerting any extra effort at all. The entire folds up very flat to take it along with you and weighs less than a pound.
Adjusting
The smart leg design allows you to adjust your bipod height to multiple lengths which result in a very accurate shot. Through the various height adjustments, change of positions and the shooting activity, the rubber padded top guarantees the utmost safety of your gun forend.
Cost and Value
Accuracy is the key aspect of this choice. Most hunting enthusiasts will agree that accuracy is a valuable thing. Even at a higher cost from their wallet. Here you get the best of both worlds, accuracy without breaking the bank.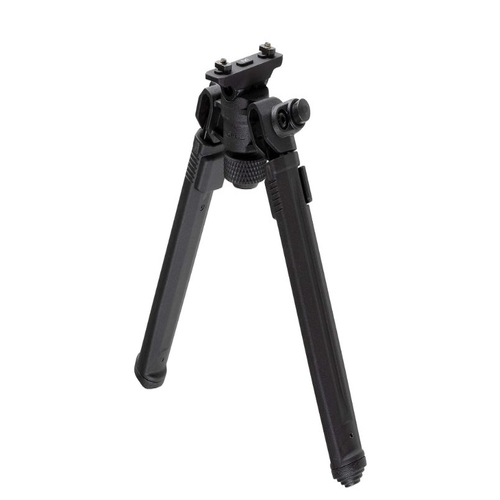 Constructed out of lightweight Mil-spec hard anodized 6061 T-6 aluminum, perfectly harmonized with an injection-molded polymer. Having injected polymer ensures you are getting a reliable product that will get the job done effectively every time you need it most.
Lightweight
When carrying around your hunting bag and rifle the last thing you want to do is add an additional heavy product, even if it will help you along the way. Due to its smaller frame and being one of the most lightweight bipods on the market by weighing only 11oz in total. Though it is smaller in frame and extremely lightweight it is exceptionally sturdy and durable.
Spring-Tensioned Legs
Thanks to having durable spring-tensioned legs that stow forward and snap back into place with one single hand, this item helps you move quickly while providing additional stability right where you need it best. The legs were created to be exceptionally sturdy to help you get the most out of your bipod but with exceptional balance.
Cost and Value
When it comes to the cost of this item, it is one of the priciest items on our guide. However, do not be afraid as you are getting a quality product that will help you make an accurate estimate of where you are shooting. Think of this item as the perfect addition to your hunting gear. Furthermore, it's an excellent value helping you get the most for what you are spending.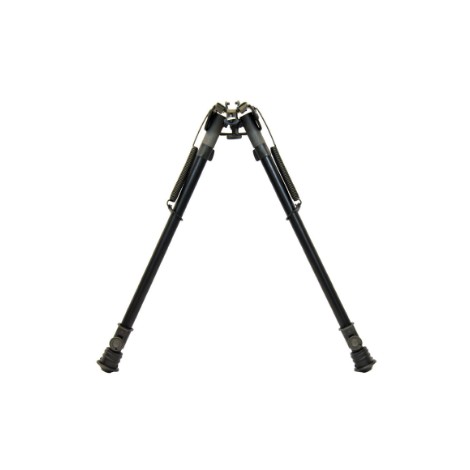 Ideal for use on uneven terrain, the TriRock Rifle Bipod provides intuitive adjustments up to a range of 34 degrees. Its pivotal and scanning motions are accomplished simultaneously from its one-tension lever. It's a stud mount bipod with patent-pending quick snap sling stud mount for easy and fast mounting. This heavy-duty bipod that also extends from 6-9 inches is extremely easy to set up. It's constructed with lightweight aircraft grade alloy for maximum durability, plus the black anodized finish deters rust formation. It weighs less than a pound and lays parallel to the gun barrel when folded.
Telescopic Legs
It features telescopic legs that are strong thus making it sturdy, plus the legs have robust springs attached to them which enable them to retract fully once they're released from their current positions. The screws have a knurled knob for easy and smooth operation and the rubberized leg caps prevent slippage. This bipod does not swivel, which makes it sturdy when firing without any rattle. Overall, it's a great product worth your every single penny. It looks great and feels good on the hands. And it will last longer due to the strong, durable materials used in its construction.
Sturdy
This bipod does not swivel, which makes it sturdy when firing without any rattle. Overall, it's a great product worth your every single penny. It looks great and feels good on the hands. And it will last longer due to the strong, durable materials used in its construction.
Cost and Value
The final selection is lower in the cost area while remaining high on the quality scale. Constructed to be lightweight as well as durable. This will be worth every dime you save and spend on it.

Subscribe to our Newsletter