Best Home Safes Reviewed & Rated for Quality
In a
Hurry? Editors choice: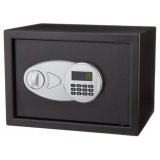 Test Winner: AmazonBasics

There are many things in your home that you probably want to keep safe. A home safe is a good choice for any home. It is nice to know that you have things that will remain protected no matter what happens. They are good for if you ever have intruders when you are not around, and they are also good for other things, like protecting sensitive documents from mother nature. This list has ten of the best options that you can find, and each of them will have a slightly different use for you to enjoy. There are many different sizes, and then there are other things to consider, like the different ways of getting into it, and the sort of things that it will protect against.
Standout Picks
Criteria Used for Evaluation
Durability
The durability category for a home safe refers to its ability to maintain its shape when someone tries to breach it. This could be with a pry bar, or it could be just getting smacked around a little bit. It is important that the materials that make up the safe will do a good job of keeping their shape when they are threatened. Look for materials that are known for being strong. Look for steel walls and doors. They should be as thick as possible, as well. Many of the safes on this list are designed for home use, and thus, they do not have the thickest materials. You usually need a safe that will do a good job at keeping people out. Another good feature to look for is some strong bars keeping the door in place.
Protection
Having a strong outside is important so that people cannot get into the safe, but it is also important that the inside of the safe is designed so that the things inside are protected from damage, as well. There a re a few features that a safe can have that makes it a good home for any items that you might put into it. This means something like having a carpeted bottom. This will make it a much softer place for fragile items to rest, and you won't have to worry about any glass breaking, or something getting dented or ruffled. There is also nonscratching material that the walls can be made of so that nothing gets smudges or damaged when it rubs against the walls.
Weather Resistance
The other big thing that a home safe is good for, beyond home security, is the ability to keep your precious items protected from the elements. This category is an indication of how well your materials will be protected from things like water and rain. Two of the biggest threats to a home are natural disasters and accidents. Both of these things have the potential to get rid of your most prized possessions. Not just in the sense of monetary worth, there are precious mementos that cannot be replaced. Some safes have been designed to be able to withstand the heat of a blaze. The amount of heat that a safe can take and the length of time it can take it for is different from safe to safe, so these are numbers worth looking into. Another thing to look out for is a safe that is designed to be watertight. This is good for any kind of flooding that might happen in your home. This is especially important when you are leaving your home safe in the basement or ground floor of your home.
Size
Not everyone needs a large safe, but in general, a large safe means that you can keep more of your things safe. A large safe will give you more security of mind because you can leave more of your precious things inside of it. A good safe will have a shelf inside of it so that you have even more room to put your things. That means it is also a good idea to look for a safe that is smart about being economical about the amount of space that it has. This category is not just an indicator of how large a safe is, however. It is more an indication of how well the safe uses the space. If you live in a smaller apartment, it might be better to find a smaller safe. A smaller safe is also much easier to store away from prying eyes, as well.
Value
This is more just a general indication of how much you are getting for your dollar. The safes on this list run a wide variety of prices and uses. There are large safes meant for keeping out thieves, and then there are safes that have the sole purpose of keeping out the weather. The large safes generally cost more. The safes that are designed specifically for the weather are usually a bit cheaper, but that is mostly because they are not very heavy-duty when it comes to protecting from any kind of theft attempt. These safes will all do a good job at giving you good value for your money. The most important thing is to make sure that you find one that is in the right style for you.
Subscribe to our Newsletter