Top 10 Fireproof Safes Reviewed & Rated
In a
Hurry? Editors choice: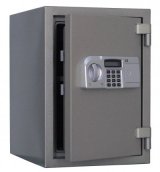 Test Winner: Steelwater 2 Hour

Okay, what does adulting mean? Well, it means not putting off the things that are a bit unpleasant but that you just have to get done. That can mean anything from going ahead and signing up for your 401k to taking extra classes at night instead of going out so you can advance your career. And as life gets more and more complicated it's going to mean filling out a will, and getting life and car insurance, and maybe even buying stock and getting stock certificates. Now, this is the stuff that you cannot afford to lose and that's why you might ask yourself "what is the best fireproof safe for home use and do I need it?". You really do need one of these because in case the worst happens you're going to need the things in this safe so you can start over if you lose everything else
Standout Picks
Criteria Used for Evaluation
Protection
One of the main purposes of purchasing the best fireproof document safe is to protect your valuables from a fire. According to Consumer Reports, almost one in four people in the United States will experience a fire incident that is serious enough to make a call to the fire department. In other words, a fire is a real risk and you should always make sure that your valuables are protected in the event of a fire. Not all safes are fireproof, so you will need to make sure that your safe has protection against fire prior to purchasing it.
If the safe is not rated to protect against fire, then you should not expect it to keep your belongings safe in the event of a fire. One of the factors to consider when you are checking these out is how long the safe will be exposed to a fire. In most house settings, you will need a safe that offers you at least thirty minutes of protection from a fire but you can also find safes that are able to keep your items protected for hours at a time if you are willing to pay more for the safe. You should consider the time rating based on what you are putting into the safe and how long the safe could be exposed to a fire.
The internal temperature rating is the other factor that you should think about when you are picking out a safe. Safes are rated to not exceed a certain temperature when exposed to fire over a period of time. In other words, a 350F degree safe for 30 minutes will not exceed 350F for 30 minutes but the temperature may start to climb when the safe is exposed to a fire for longer than 30 minutes. You should keep in mind that most people cook their food at 350F so anything that would not survive the oven should not be stored in this sort of safe.
Features
Protection against burglary is a reason why many people store valuables in a safe. If you are planning on storing important documents or other valuables in your safe, then you should think about how easy it would be for someone to steal the safe or break into it. Safes have ratings for burglary resistances so you can use this information when it is available to you.
Otherwise, you can make some observations about the safe to get a feel for how difficult it would be for someone to either steal or break into the safe. Protection against theft is important so you should always consider how safe your items will be when they are stored inside of your safe. When you are picking out a safe, you may see security ratings on the safe. Security ratings offer some guidelines as to how difficult it would be for someone to either steal or break into the safe. In other words, the higher the security rating, the harder it will be for someone to steal and break into the safe.
One of the things that you will want to look at is how much the safe weighs since a heavier safe is much harder to steal than a safe that doesn't weigh much. A heavy safe will also have thicker walls and doors so you should start by making sure that the safe weights too much for a single person to carry it on their own if you are concerned about theft protection. You should also see if the safe bolts to the floor. Safes that can bolt to the floor are harder to steal because a thief will need to deal with the bolts prior to taking the safe. You may also see safes that bolt to the wall studs that blend in with your walls.
You should also consider the door of the safe when you are determining how easy it is to break into the safe. A safe that has a thick and heavy door with a strong lock and hinges will be much easier to break into than a safe that has a weak door. The combination of the safe should be hard for people to guess so that people do not get access to the safe simply by guessing the combination or the lock code. You should also place the safe in a non-obvious place as well and avoid places such as your office or master bedroom where burglars are going to look for valuables first.
Water Resistance
You should stop and think about how well it will protect your items from the water. This is because water is the main item that is used to put out a fire. Many houses and office buildings have fire sprinklers in them and it will not be very helpful if your important documents are protected from burning only to have them ruined by water.
Some safes are sold as water-resistant safes and they may even have a verification system that proves that the safe will meet their level of water resistance. Such safes have been put into conditions that would similar a flood, a fire sprinkler, or even a broken water pipe. This will be your best bet to making sure that your items are safe from water since you can trust that the safe has gone through the proper testing and has been proven to protect its contents from water damage. If you are going to be storing items such as important papers or electronic devices inside of the safe, then you should consider looking for a safe that has been proven to resist water for some amount of time.
Size
The internal storage capacity inside of the safe is also important. You will always want to make sure that your safe is large enough for your items otherwise the safe will not be useful. Safes come in all different shapes and sizes however a larger safe will cost more than a smaller safe. You may also want a smaller safe if you are trying to hide or conceal the safe in the event of a burglary. For these reasons, you will want to think about the size and the capacity of the safe prior to purchasing a safe for your dwelling or office.
When you are picking out a safe, you will want to think about its size in terms of where you are putting the safe in your house. A wall safe will need to be on the smaller size because it has to fit between the wall studs in your building. Such a safe cannot be too large or too heavy since it will bring down your wall or require you to modify your wall in order to accommodate the safe. However, wall safes can be concealed easily which is why they are useful. If you plan on concealing a safe, then you might want a small safe that you can hide in an area such as cabinets or in a basement.
Style
The lock on the safe is one of the most important features found in a safe. Without a lock, you would be able to easily open and close the safe just as if it were any other cabinet or storage unit. It is the lock that prevents unauthorized access to the safe so you will need to look for a safe that has a lock that you can trust and are comfortable with using. The lock should be designed well enough that it cannot be easily bypassed by someone who is trying to break into the safe and it should be easy enough for you enter the combination or change it as required.
Whenever you are looking at purchasing a fireproof safe, you will want to take a look at the lock to make sure that it is something that you will be satisfied with using. Most combination safes come with either a dial lock or an electronic lock. Both styles of locks offer an almost infinite number of combinations so it is nearly impossible for someone to open the safe by guessing.
Dial locks are not difficult to use and they do not rely on having a source of electricity either which can offer an advantage. However, some people find that it can be harder to enter the combination into a dial lock and it can also be more difficult to set and change a dial lock's combination as well. For this reason, some people prefer a digital combination lock. Digital combination locks have a keypad where you enter a code. Upon the successful entry of the code, the lock will open and grant access to the safe.
You will need to decide what is best for your needs. Since the lock of a safe is the crux of its security, you will need to make sure that you have picked a safe that has a lock that you like. Most safes have a combination lock where you enter a code or a password to access the safe. Generally speaking, combination locks are either dial locks or they have a keypad for you to access the safe. You should always make sure that you have a secure combination when using this sort of lock. Of course, if remembering a combination isn't your thing, there are plenty of other choices for you to pick from as well.
Best Fireproof Safe for Cash and Documents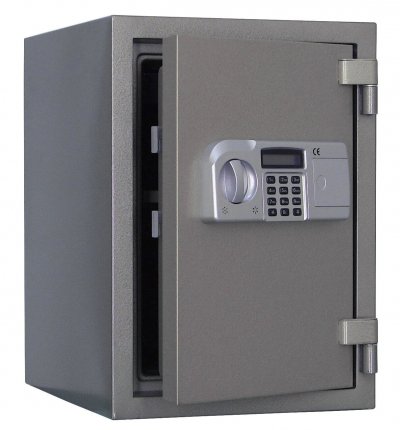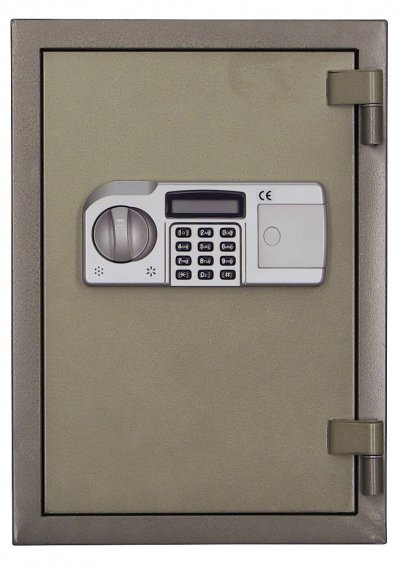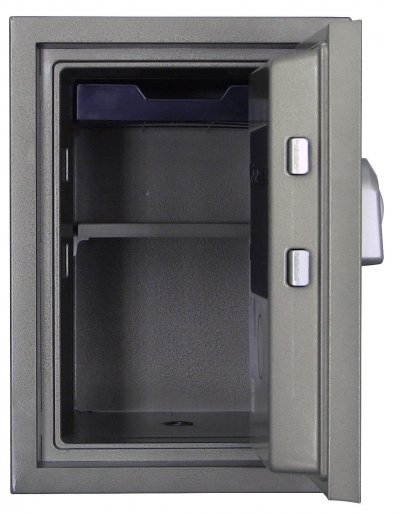 What does 2 hour mean? It means that this firebox safe will keep everything inside it safe even if the hottest flames last up to 2 hours. While that may not seem like a lot it's not that common for a full-fledged fire to blasé for longer than 2 hours, especially if you put this safe in a safe place (bad pun). This has layers of steel and a reprogrammable lock so you can change it as often as you like with no worries.
Anchoring Hole
You don't really think about this too much but an anchoring hole is kind of a big deal because, at the end of the day, a safe is only as good as its ability to keep your stuff safe and its ability to stay where you need it to stay. Now for this to be most effective you're going to need a concrete floor but at the end of the day, there are all kinds of ways to get creative and make sure your safe stays where it's supposed to stay.
2 Hour Fire Rated
This safe is guaranteed to keep whatever you have in it protected for at least 2 hours in heat up to nearly 1900 degrees Fahrenheit. That's a lot of heat because most house fires burn at about 1100 Fahrenheit, not nearly hot enough to melt metal. So barring some kind of accelerant that superheats the flames around your safe you can rest easy knowing your stuff is protected.
Cost and Value
Not a bad price at all for peace of mind. At the end of the day, that's what you're paying for, the ability to rest easy knowing the documents you need to keep safe, that ensure you and your kids are taken care of in the worst-case scenario remain safe when the worst happens. And this safe is going to give you that in spades, and at a great price.

2

. SereneLife Fireproof Lock Box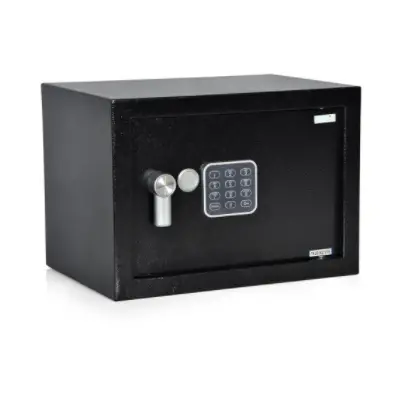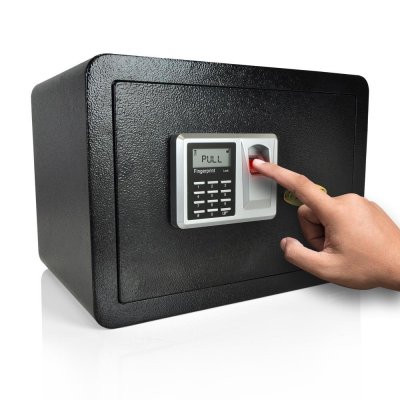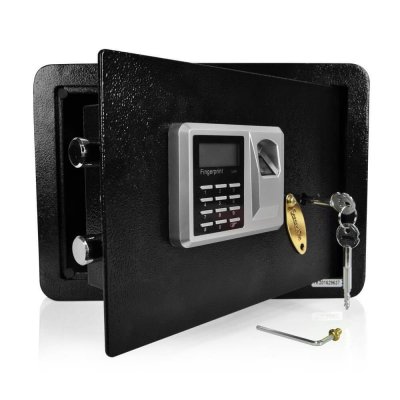 The second best fire safe on our list allows you to place it where you have the extra room. This is the best fireproof box for those with limited space. Made to be simple yet effective, even a novice can figure this option out.
Put it anywhere
You can easily hang this safe on a wall, or mount it to the floor. How? Because of the pre-drilled holes, that's how. It's a nice option when you don't want it just lying around your house.
Easy to get into(When you want it to be)
It's a combination safe. With a touchscreen control panel. Plus a mechanical override, you know, just in case. If you need to get in, you will get in.
Cost and Value
For what this safe offers for security, setup, and convenience, this safe is extremely well priced. Strong, stain-resistant, easy to set up, and cost-effective make this safe very accessible in more ways than one.

3

. SentrySafe Fire and Water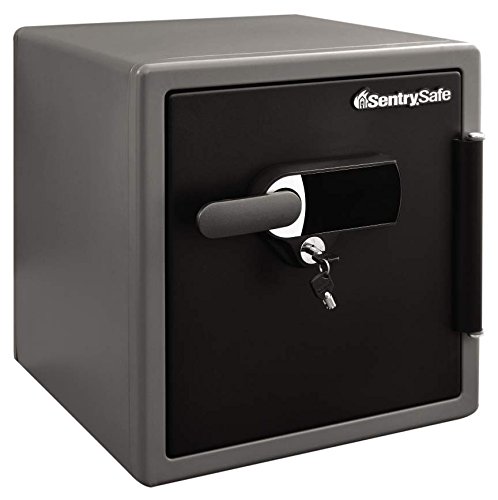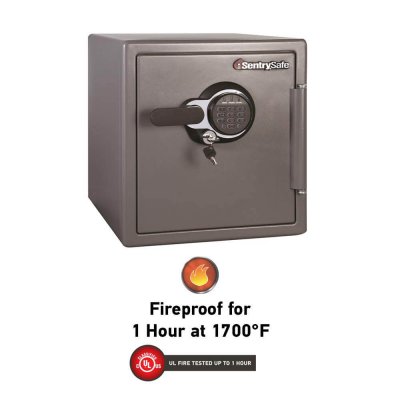 Giant steel fireproof box. Nothing fancy or shiny, just a big heavy square. Given the fact that this safe was built to protect its contents from pretty much everything, what more do you want? Fireproof for up to one hour at 1700 degrees, waterproof for up to 24 hours, ETL Verified for impact at up to fifteen feet, and, if you're not mean to get into it, this beast will scream at you, alerting its owners that you are up to no good.
Burn, baby!
1700 degrees. That's hot. But this safe likes it hot, and it can handle the heat for up to one hour, meaning you don't have to worry about losing your belongings in a fire. That's a lot of peace of mind provided by this safe.
Baby burned too much. Now what?
Get a new one. Sounds simple, but how many products offer free replacement for life? Don't answer that. This one definitely does, and that's all that matters.
Cost and Value
At first glance, this safe is not cheap. Compared to the best home safes on this list, it's really not cheap. Do you know what else it is? Safe. This is the safe you choose when you need unmatched security, and that is pretty invaluable.

4

. First Alert 2011F Fire Chest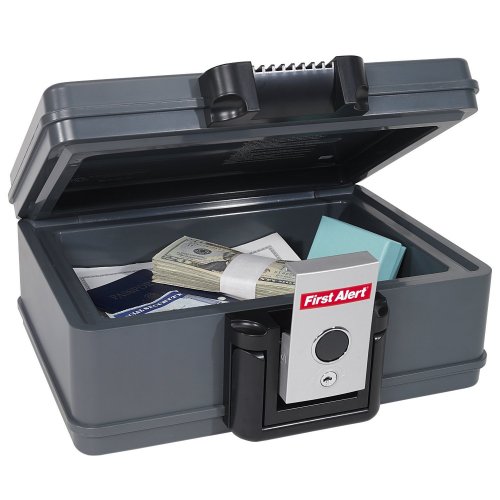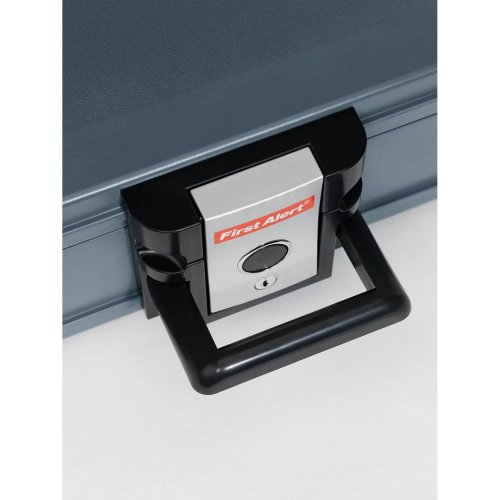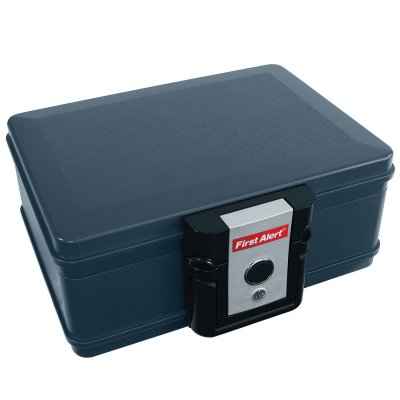 Maybe you're a spy or some other secret agent. It sounds silly, but humor me for a second. You've acquired incriminating files you need to keep safe, but they're after you. What do you do? Well, first you hide. Then, you store the memory stick in this safe. Or, just don't take things that aren't yours.
So many features!
I'll talk about this a bit further down, but in this case, it bears repetition. For what this safe offers in security and fire protection, you get great value for your dollar.
Great for digital media
This is a smaller safe, so it is meant more for cash and other small contents, making it perfect for storing media files, discs, or anything else you need to be kept safe. Plus it's portable, meaning you'll never be without them.
Cost and Value
For what this safe offers in security and fire protection, you get great value for your do...wait, this seems familiar. Oh yeah, I've said this before. On top of the value, it's also not all that costly, so it's a win-win.

5

. SentrySafe Fire and Water XL Dual Lock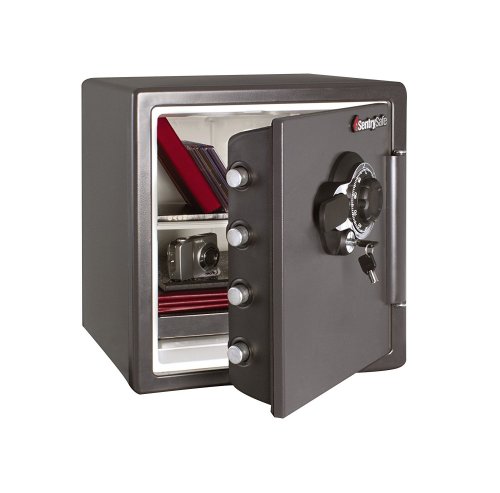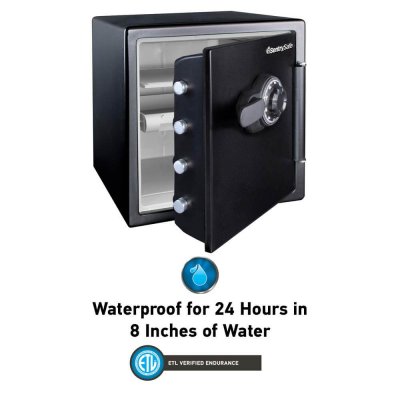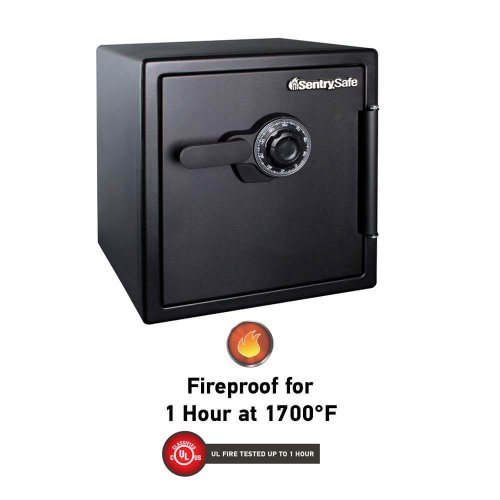 This thing looks tough, heavy, and well built. That's because it is. It's the prototype of what safes are supposed to look like. It gives peace of mind with excellent security, fire protection, and waterproofing. The SentrySafe Security Safe is one of the bigger safes here, and it's meant for more heavy-duty protection.
How do you open this thing?
Well, if you're the owner, pretty easily. But, if you're up to no good, not so fast. Four live-locking steel bolts, pry-resistant hinge bar, and bolt down hardware means it isn't going anywhere.
Ouch!
No, not this time. Sure, it's big with a heavy steel door. Slam your fingers in there and it will hurt. A lot. It would, if not for hydraulic hinges that prevent it from slamming shut, and keeps your precious little digits intact.
Cost and Value
I find myself saying this often in this review article, but that's because it's true. This safe is well priced on its own before you even factor in the most insane security features that you would expect in a much higher priced product.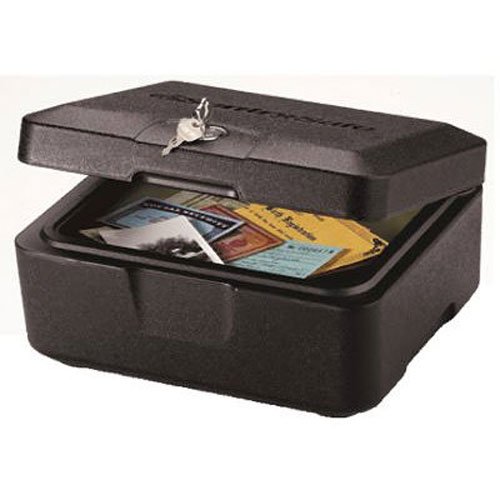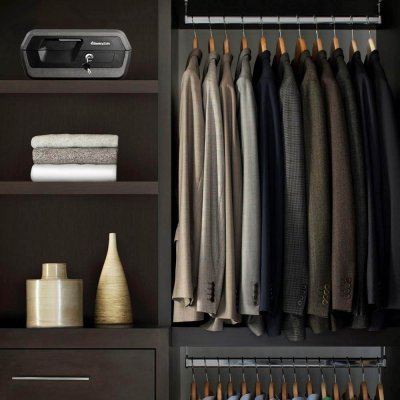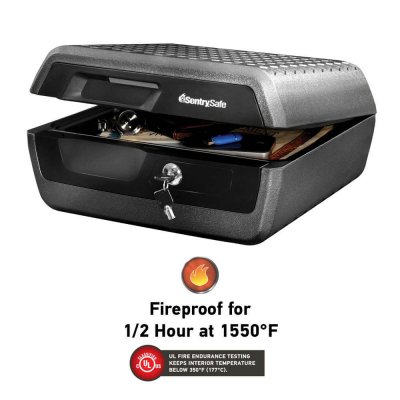 Easily the smallest safe on this list. That's a good thing. Not everybody needs a big, hulking, Looney Toons type-safe. This one is almost dainty. In appearance only. It will hold files, documents, cash, and more, standing up to tampering and fire with ease.
The key to this safe is...
The keys, honestly. It doesn't have a keypad or touchpad and it won't beep at you whenever a breeze hits it. It's a small firebox chest, you didn't buy it for such bells and whistles. You need it, use the key. Simple.
Important aspect 2
Have a lot of jewelry just hanging out, all willy-nilly, getting in the way? Stash it away in this safe, and then tuck it away for safekeeping, and all will be well.
Cost and Value
The SentrySafe Extra Small Fire Safe, Fire Resistant Chest will cost you less than a meal at your favorite fast food place, and won't leave you with lingering heartburn, and that right there offers great value. Oh yeah, it also protects your possessions from fire or something.

7

. Honeywell 6104 Security Box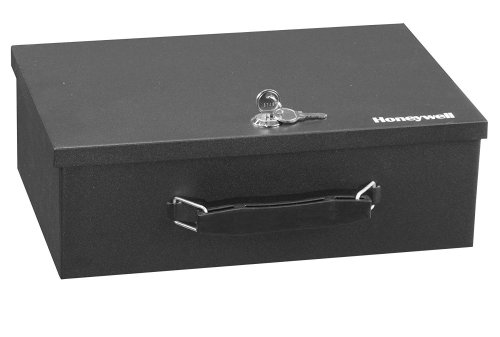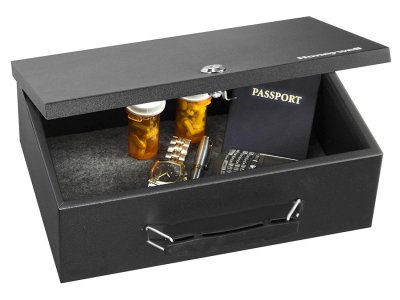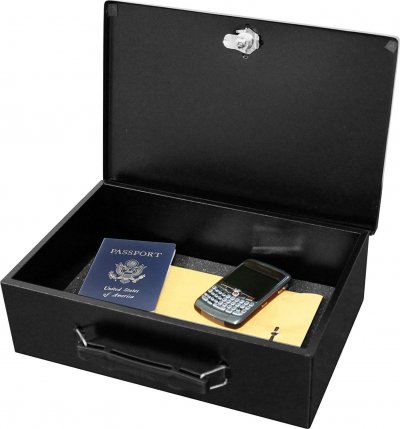 Honeywell is a trusted name in security. With good reason too. The 6104 Fireproof Steel Security Safe Box is another prime example of their dedication to protecting your goods. It comes in a small package, which is ideal because sometimes the most important, priceless valuables are the smallest.
Like going to your bank, without leaving your house!
It's an age-old concern. It's a holiday and all you want to do is go hang out at your bank, but it's closed. With this safe, it's just like having your safe deposit box at your fingertips.
Did it cost too much? Did you steal it?
This point isn't about the cost and value of the safe, though it does go hand in hand with those factors. This about the solid steel construction that you'd expect from pricier safes. Hmm, maybe this about value.
Cost and Value
Not the cheapest fire chest on the list, but it is a very good choice. It's made well and it's sturdy. It won't hold many documents, but for small personal belongings, you can't go wrong.

8

. SentrySafe 0.28 CF Medium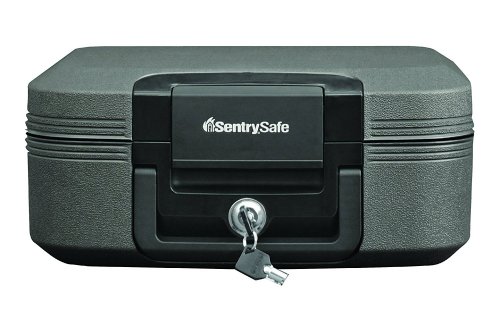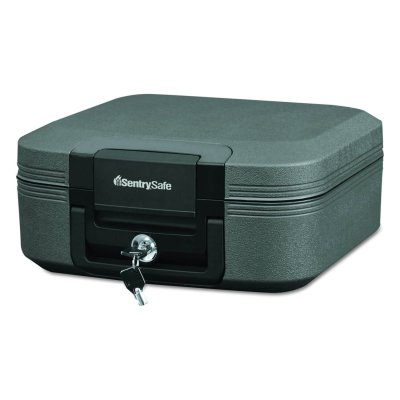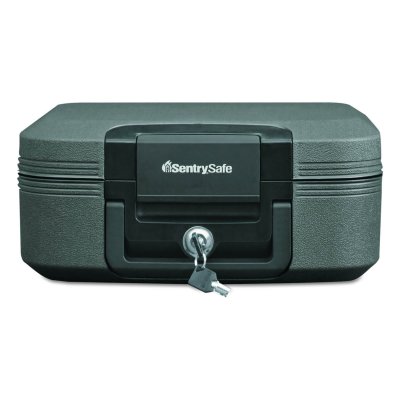 The SentrySafe Fire-Safe, Waterproof Fire Resistant Chest, 0.28 Cubic Feet, Medium, CHW20221 is described as a fire-resistant waterproof box. That's it. Simple, eloquent, and true. Also, while I may mention it a bit further on, I'll state it here first: This fire safe has a handle. Epic.
Nice build.
Hey there. Looking good. Do you work out? No, you're a safe, and safes can't work out. Oh well, either way, it's built like a tank and holds up well.
Really, Handles!
As trivial as it seems, research fireboxes for yourself. Go ahead. What do you see? Good fire rating? Check. Strong lock? Sure. Handles? No, I didn't think so. Not so common. Super useful when you want to carry your safe around. This one's got 'em.
Cost and Value
Yes, this safe is great and cheap. Buy it. It has a nice price point compared to other safes in its category, and yet it boasts the security and features of pricier models. So yeah, why haven't you bought it yet?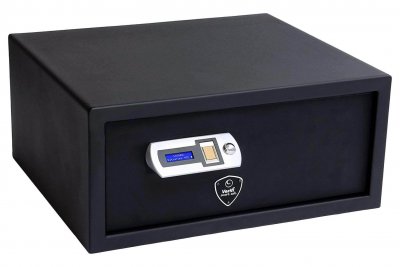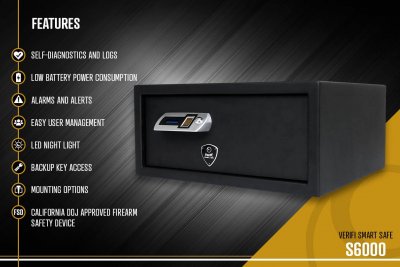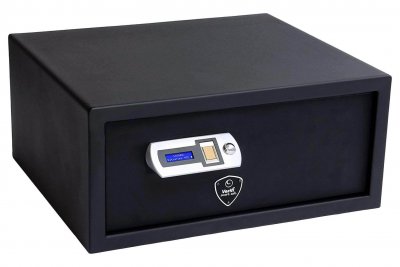 This little safe that can impress us with its unique use of fingerprint technology and it's old fashioned strength that's going to keep all your stuff protected and away from prying eyes. This will hold whatever you need and will operate for years on a single AA battery. This safe is so good it's one of the only fingerprint censor safes endorsed by the FBI. It also tracks anyone who tries to tamper with it and that's also a pretty cool piece of tech.
Fingerprint Technology
This safe is opened and closed based on your fingerprint. That's a really cool bit of tech but it does make it impossible for anyone else to open your safe. Still, if you want to be the only person in the house who can get to your stuff than this is a great option.
Tamperproof Technology
This safe will mark the time anyone other than the main user tries to open the safe. The safe will remember the time so you can track down the would-be thief.
Cost and Value
This comes in at a nice price, about mid-range for all the safes we've dug through. And considering the fingerprint tech, we think that's a steal.

10

. Stalwart Digital Safe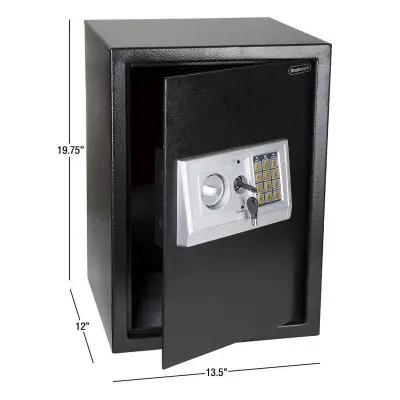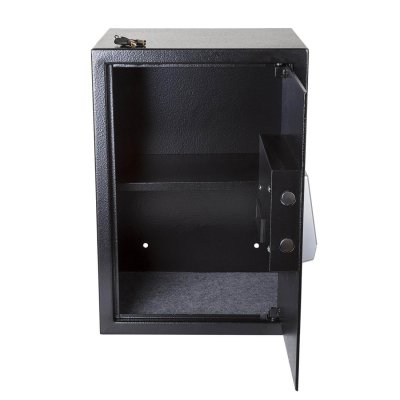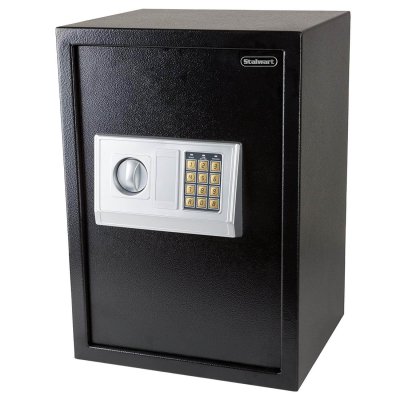 This is a big, old school digital safe that you can program by hand. It comes with anchor mounts and an auto-lock feature that makes sure only you can get into it. It's made of rolled steel sheets so no one is getting into this safe but you.
Safety Lock
This is a double-edged sword but the safe will lock up permanently if the password is entered incorrectly three times in a row. This can be a real pain in the neck if you're having a clumsy day but in general, we think it's a great feature.
Programmable lock
Make it 3 numbers or make it 8 numbers based on your comfort level. But please don't tape the combination to the back of the safe.
Cost and Value
This is a steal of a safe. It's big, strong and comes in at one of the lowest price points on our list. If you're looking for a safe with some room and some heft at a cheap price, this one works great.

Subscribe to our Newsletter