Best Waterproof Running Shoes Reviewed & Rated for Quality
In a Hurry? Editors choice: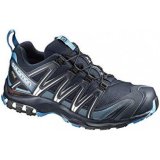 Test Winner: Salomon XA Pro 3D GTX

Running shoes are a staple in both our
workout gear closets
as well as our regular, day-to-day wear. Waterproof running shoes might sound unnecessary, but they truly are a game changer for anyone who has to leave the house in
inclement weather
. We might be looking at a storm outside, but that doesn't mean we have to go out unprotected! Waterproof shoes keep the wetness out, while keeping your toes warm inside. Let's dive into the puddles and forget about the repercussions on our socks.
Standout Picks
Criteria Used for Evaluation
Support
It's no surprise that support is the top of our criteria list. This feature is very important in a running shoe, and can be the difference between a perfect shoe and a ho-hum foot slipper. Support is a no brainer in the world of running shoes, but what exactly do we mean when we look for support? How do we tell the difference between a truly supportive shoe and a shoe that just says it's supportive? The answer is in the reviews. We can't personally try on every shoe that we add to our buying guide list. We can, however, research the heck out of the reviews that discuss fit, form, and support.
Foot health is the basis for the rest of your proper alignment. A strong, straight back makes for a happier, taller person. Good foot support is where that posture begins. By having your arches supported and your ankles protected you'll find that walking, running, hiking, and kicking it with friends is automatically more comfortable. You'll likely feel less soreness as well as less stress on your joints. Overall investing in a good pair of shoes is important.
Proper support is the difference that means the shoes go from being something on your feet to being a part of your feet. This is why we looked at shoes that featured comfortable cushioning, air pods, high arch support, and laces that tighten and lift all at once. These features set a standard for the support of the shoe. After checking for these features we would look at the reviews to ensure that all the support is actually doing what it says it is. It's a lot of work, but it ensures a proper fit and a healthy backline.
All of the shoes we've looked at feature good support, and reviews that support that support. While we haven't tried them on personally, we trust our reviewers to offer an honest account of fit. The support features are listed in the product descriptions of every shoe, proving that these companies know just how important it is. Why settle for anything less?
Materials
We've talking about the feature that's most important for you and your backline. But what about the feature that makes for the healthiest shoe? It's not fair to think of the shoe as part of our bodies without thinking of what's making up the body of the shoe. In the same way that we wish to have our feet feel supported and protected, the shoe needs to be given support and protection on the creation end. We need to know that we're dealing with companies that only put the absolute best into their products.
Materials can make or break a shoe. Running and hiking shoes especially put up with a lot of abuse, which is why we need to be sure that the materials will be able to hold up to whatever they get put through. The waterproofing of these shoes also takes material integrity to a whole new level, which we'll get into a little more deeply in the next section. Construction and production can impact material wellness, which is why we've only chosen shoes that come from reputable brands that use high quality materials.
It's not just the Goretex, though. Everything from the sole to the laces needs to feature a high quality material. That's the only way that we can be sure they won't fall apart in the middle of a race! By allowing us to ensure that all the materials are durable and well constructed we're able to trust the integrity of the shoes. This way we know that no matter what we're recommending, we can be sure that it'll have a high enough quality of materials to ensure the longevity of the shoes.
Water Resistance
This just had to a whole separate section. Seriously. Water resistance is a big thing in the running shoe and hiking shoe market. All terrain shoes are only nice if they're also all weather. Being able to wear the shoes for exercising in all weathers was probably why you were looking up these products in the first place. Right? We've got you. We've spent some time looking at the water resistance of all these shoes, and let us just say that they're all fantastic options.
Water resistance means how well the shoes repel water. Water might still seep in if they're submerged for a long period of time, but on the whole water resistant shoes can be considered waterproof. The difference is subtle, but it's there. For most exercise junkies that live in metropolitan rainforests like Portland or Vancouver, many of these shoes will do the trick for keeping feet dry. The materials used to craft these shoes are almost exclusively Goretex, a material that's been the front runner of dryness for ages now.
Judging water resistance is just an extension of judging material quality and durability. We need to be sure that we can do everything we want with these shoes; why risk wet, cold feet due to a lack of research? We've read many reviews and looked at many product descriptions to ensure that all the reports match up with the claims of these shoes' water resistance.
Value
One thing that we need to be sure of when purchasing a product is that we're going to be getting the proper value for the cost. It's in every product description we write up; is the value worth the cost? What we're really asking is, "is this worth spending my hard-earned money on?" The answer for many of these products is, "yes"!
By ensuring that our material standards are high, we're able to ensure that there's a standard that all the shoes need to meet. If a shoe has reports of bad manufacturing or materials, it's out. That might sound harsh, but it's all because of the value standard that we're aiming for. High standards are not a bad thing. By ensuring that we're looking for the best quality at a range of price points, we know that we're getting value no matter what we're paying.
We're always trying to get the best deals at the grocery store. Dollar Days, coupons, and super saving points cards all increase the value of our dollar. While we don't have the same kind of sales or loyalty programs on Amazon, it's certainly important to keep looking for a high ratio of value to whatever cost we're paying. All of these products are valued at par, or higher than, the cost that we're putting out.
10 Best Waterproof Running Shoes
1

. Adidas Terrex CMTK GTX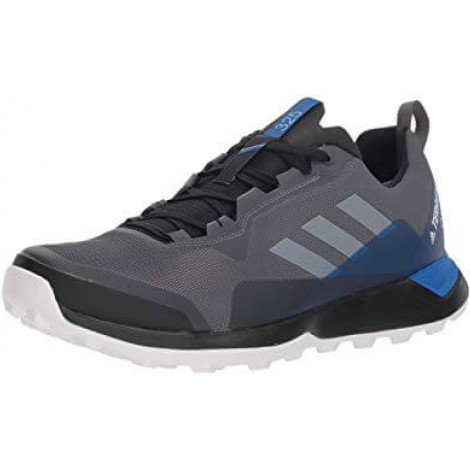 One of the most popular athletic brands, Adidas has been a big name in the sportswear world for a long time. With durability and fair pricing at the forefront of their philosophy, it's no surprise that so many people swear by their talent. It's about time that they're breaking into the waterproof shoe market. Now Adidas sneakers are pretty much perfect! We're very proud to offer them the top spot on our list.
Flexibility
Between rough terrain and ankle problems, there's a whole slew of reasons as to why we might want to invest in a good pair of running shoes. Many of us, when searching, tend to overlook one of the most important features, though: flexibility. Flexibility can allow your ankle to have full range of motion while still being supported. Luckily for us, Adidas offers an incredibly flexible shoe that gives us a full motion range.
Goretex
Sure, we can buy waterproof sprays and oils. We can rub, coat, and polish our way into having waterproof shoes. But the best system for waterproofing a pair of sneakers? Making them out of Goretex. Goretex is an incredibly strong, waterproof fabric that kind of reminds us of scuba suits. Adidas knew that making shoes out of Goretex would essentially turn them into an impenetrable fortress against wet. And they were right.
Cost and Value
Part of the discussion as to whether or not these shoes are worth it definitely has to be the weather. Location, location, location, after all. One reviewer mentioned that they live in Portland, making waterproof shoes a necessity. The fact that they can now run every other day, regardless of the rain? Definitely worth the price. However, if you live in a dry climate, these might not be the best shoes to invest in. The durability is awesome, and they're breathable. Overall they're a great shoe. The value really comes from how dry your feet stay, though.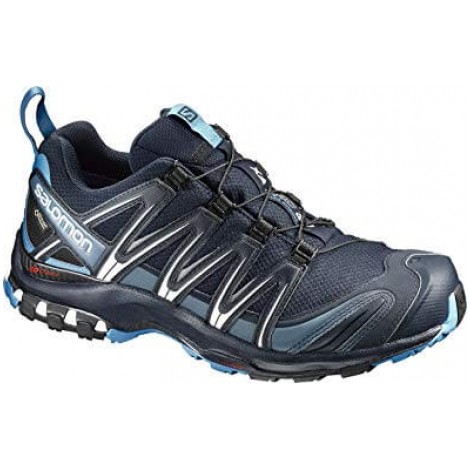 The first of the trail runners on our list, Salomon is a name that we've come across before. This brand offers durability at great prices, and doesn't compromise or slack on the product quality. These trail running shoes are a great choice for anyone looking for an alternative to hiking boots, or even just a good all-purpose outdoor activity shoe. They're very stylish and feature a strong arch support, which means even those who might not have the best feet are able to feel comfortable cradled inside of these great shoes.
Great Grip
We love a versatile shoe as much as the next person, but things get a little funky when it comes to using runners for regular hiking. Oftentimes loose ground and debris make it a challenge to work our way up or down a trail. We need a great grip in order to do it safely. Not only are these shoes waterproof, but they feature a trail-worthy grip that won't cause us to slip or slide on the dirt. Safety first, after all.
Quick lacing
Imagine: you're halfway through a marathon when your shoe comes untied. You're so tired that if you get down, you might not get back up. Not only do the Salomon trail shoes not require you to stop and thread them, but they're quick lacing when needing to tighten them. Just give a pull and you're good to go! No more stopping and squatting to eat up your marathon time.
Cost and Value
As one of the more expensive options, you know that we would only have included it if it really and truly had a value that was matched to the cost. These shoes do everything. In fact, they are everything. They've got excellent grip, a quick lace, Goretex fabric, and protected panels. All these features go together to create one awesome shoe. Pricey, but definitely worth it.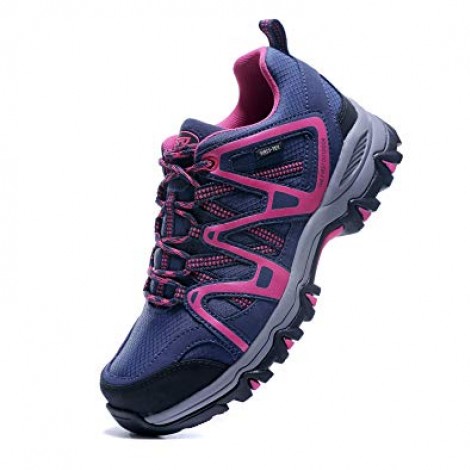 You're trekking amongst the stars now with these fantastic shoes. Not only do they have amazing grip, but they're perfect for all those mid-fall hikes. The sneakers that come from The First Outdoor definitely get the first spot in our hearts. While they've been beaten out on our guide for the top spot, they're still an excellent option for those looking for durable, reliable, top of the line shoes.
Lightweight
It's right there in the name: these Lightweight First-Tex Waterproof Hiking Running Shoes are the best option for anyone who's wanting to get more bang for their buck; or at least a better running time. Oftentimes we find that hiking shoes are heavy. While it's great for those almost-vertically-uphill hikes, it's not great for regular trail walking. These lightweight sneakers are perfect for the casual trail runner.
Shock Absorbing
What a shock! These shoes include a shock absorbing layer right in the middle of them. Not only do they have a fantastically durable, reliable sole, but they also have the benefit of shock absorption. This means that your knees, ankles, hips, and back are ultimately going to be much happier. A long day on the trails doesn't mean a long recovery time when you're using these shoes!
Cost and Value
One of the cheapest options on our list, we think that this is a great option for those that live in a place where rain is often, but not constant or heavy. The waterproof netting of the shoes offers a lot of protection from the elements, while the laces are thick and strong. The reviews are mixed, though. People have reported them as being a little stiff. If you're willing to go through the breaking in process, these are a cheap, elementally safe pair of shoes.

4

. La Sportiva Crossover 2.0 GTX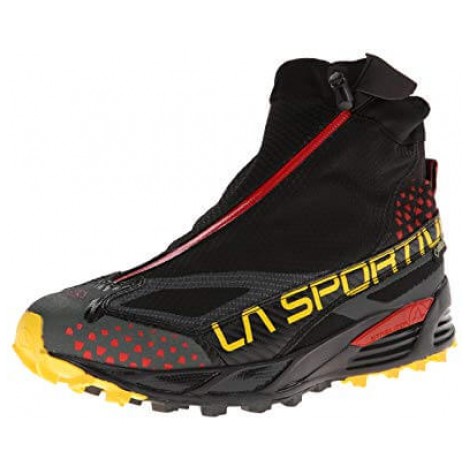 These sporty shoes might be on the higher end of the price spectrum, but trust us when we say that La Sportiva is worth the cost. These shoes look like high quality kicks, and that's because they definitely are. Not only do they have the traction, support, and waterproofing, but they just look like race cars. The red and yellow is a zippy touch that really puts these shoes over and above the others.
Ankle Protection
On top of looking like every kid's favorite sports car, these shoes have a few other features that really sets them over and above the rest. One of the biggest positives is the fact that there's a built-in gaiter. This means that ankle support and protection are definitely present in this shoe. Perfect for those intense hikers out there.
Can be a Snowshoe
Yes, you read that right. The product description on these shoes mentions the fact that the grip and waterproofing are so good that you can use them for impromptu snowshoes. While we don't know if they'd keep you from sinking in when it's two feet deep, the grip on the bottoms definitely helps keep you protected on snowy, icy ground.
Cost and Value
One of the most expensive on our list, but definitely worth it, these shoes are everything great about the other waterproof sneakers we've looked at and then some. Their built-in ankle support makes them a great option for anyone who off-road runs on unstable or uneven ground, while the grip makes it possible to use them all year long. Is the value worth the cost? Absolutely, in our opinion.

5

. Columbia ATS Trail Lite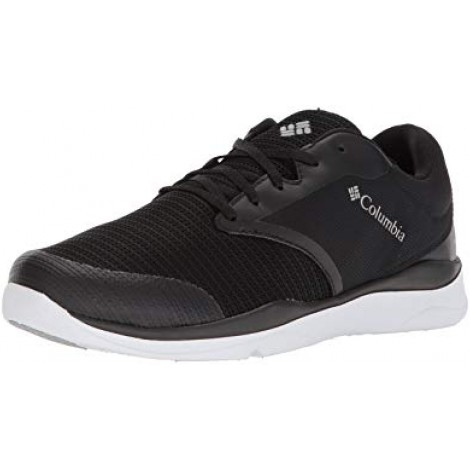 Okay, okay, it's time to look at a few of the more casual options. We know that we've gone through quite extensively some of the heaviest duty waterproof running shoes. We've looked at ones that are meant for hiking, trailblazing, snowshoeing, and even long distance running. But what about shoes for the average joe? Where are our shoes, those of us that would rather think about running than actually going out and doing it? The answer, friends, is right here. The Columbia Women's ATS Trail Lite Waterproof Running Shoe is the answer.
Casually Stylish
Ever take a look at some of these waterproof sneakers and go "Nope"? Fair. Some of the color combinations are a little too sporty to wear day-to-day, which is why we had to look for something that we could get away with wearing casually. Forget about red and yellow racing stripes; these black and white babies are the new standard in cool. Yeezy, eat your heart out!
Omni-Pods
The product description lists these shoes as having "strategically placed Omni-GRIP rubber pods". What does this mean? Honestly, we're not sure what it means for our feet, personally. What we do know is that these pods are amazing for increasing grip and comfort, without tacking on any extra weight or bulk to the shoes. If you want a set of sneakers that practice comfort as well as grip and form, go for these.
Cost and Value
Closer to the lower end of average, these shoes are perfect for anyone who's looking for a set of practical, yet casual, sneakers. These running shoes offer total protection from the wetness of the outside world, while still managing to fit with even the coolest of outfits. White and black are easy to coordinate, making these shoes a better purchase than some of the less practical sneakers we've seen. Waterproof, supportive, and lightweight. Definitely worth the cost in our opinion!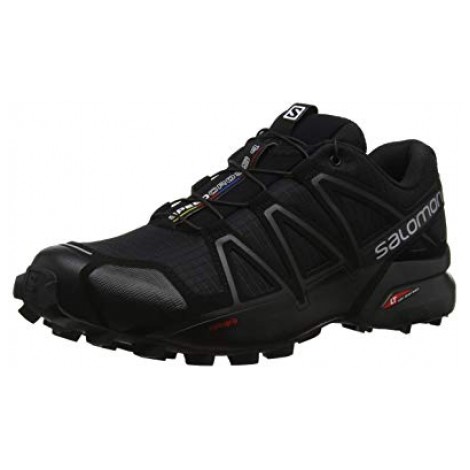 Salomon knows what they're doing. It's because of this that we couldn't help but add several of their waterproof options to our list. Not only are we looking at these, but there's another pair of Salomon shoes coming up too. These are an excellent option for the serious runners amongst us. A far cry from the Columbia style we looked at above, these shoes are sporty and spectacular.
Intense Grip
Out of all the shoes that we've seen so far, we wouldn't be surprised if this shoe was the one that people decided to look up after reading them all. The intense grip is reason enough to seriously consider purchasing a set of these running shoes. Looking at the bottom of the shoe we can see that it almost looks like a cleat. The treads are raised remarkably high, giving us the traction that we need for safety no matter how muddy the trail might be.
Anti-Debris
How many times have we had to stop because of a rock in our shoe? If you're anything like us, the answer is SO MANY TIMES. The feeling of rocks and grit in our shoes makes for an incredibly unpleasant experience. That feeling is non-existent when wearing these shoes, though, as they feature an anti-debris shielding mesh. It keeps the rocks out so you can keep your feet moving.
Cost and Value
With one of the widest ranges of price in any of the shoes we've seen so far, it's a little bit of a question mark as to how we should rank these. The price varies depending on size and style, making it possible to get these shoes for a great price. For example, our totally average size 8 feet work out to just under a hundred dollars. That's a great price for this kind of durability, waterproofing, and great company support. Is it worth the cost? We'll hesitate and say "yes".

7

. adidas Terrex Agravic GTX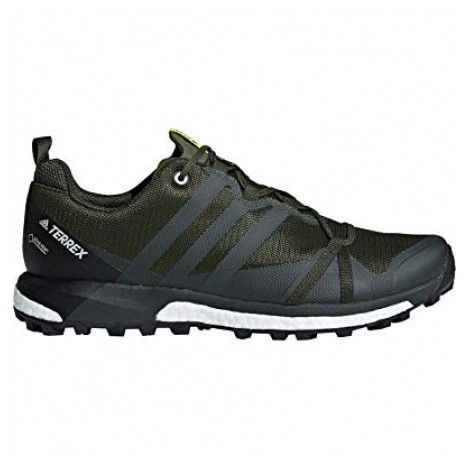 Yet another Adidas option, this shoe is incredibly similar to one of the first ones we looked at. There are a few differences, though, which we will get into. Firstly, this shoe looks much more versatile than some of the other sportier options. Reminiscent of the Columbia shoe that could totally be rocked with jeans and a button up, these shoes are also appropriate on a casual date night. They could even hold up on the hiking trail thanks to their grip and waterproofing. Dinner and a hike, maybe?
Truly All Terrain
Sometimes we take a look at these shoes and see the disclaimers "not meant for sand" or "not meant for trails". For those of us that do a variety of outdoor activities, this doesn't make us want to purchase them anymore than a fish wants to purchase attractant for itself. It just doesn't make sense. If we do all terrain activities, we want an all terrain shoe! That's what we get with this running shoe. It's got the grip to handle loose ground, while the lightness to not tire you out on a hike. While the support might not be strong enough for long distance running, it's certainly appropriate for wherever you want to try it.
Adaptable
Part of what goes along with the all terrain thing is the fact that the shoes have to be adaptable. All terrain shoes need to be able to switch back and forth at the drop of a hat. This is why the adaptability is huge. Not only is it possible to wear these comfortably from day one, but they tend to almost mould around your foot in order to adapt to your specific movement. Not to mention the fact that the grip makes it possible to run on grass as well as rocky beach pebbles without switching your shoes.
Cost and Value
Adidas is a trusted brand. They treat their customers with respect, and never expect them to settle for anything less than great. This is true for these shoes as well as all their others. The waterproofing is strong, while the grip is able to keep you safe on any and all terrains. At such an average price, this makes it a budget friendly option compared to some of the other shoes we've seen. The value is definitely worth the cost in this case.

8

. Salomon Women's XA Pro 3D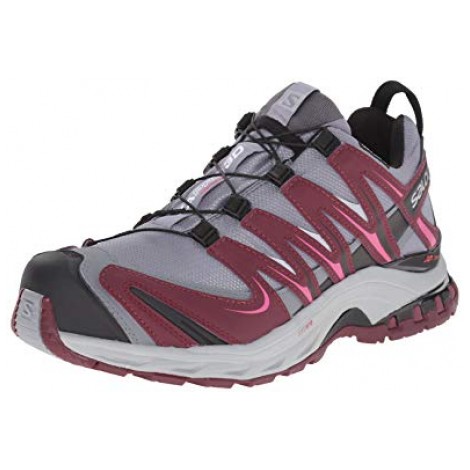 We've discussed the benefits of Salomon before. In fact, the counterpart to this shoe made it up to the second spot of our buying guide. The brand has a lot of experience in making strong, high quality shoes for every runner, walker, and trotter that's out there. This shoe has a similar kind of protective quality has the other Salomon on this list, but there are a few differences as well.
Lace Pocket
Did they sew a doily on to hide our keys in? Not quite. We mean lace pocket as in a pocket for the laces. Yes, those pesky things that pick up dirt and wetness, come undone, and generally cause annoyance, can now be tucked away. This pocket keeps the laces controlled and contained, while still allowing you easy access when you need to tighten things up.
OrthoLiter
This is a type of insole that many people want. And those that don't want them really should, in our opinion. The OrthoLiter insole is an option that Salomon offers with their waterproof shoes, among others. The biggest benefit? Whatever they've made the insole out of is antibacterial and moisture-wicking. The insole makes it so that any gross foot odors are reduced, while maintaining a breathable climate inside the shoe. Pretty great, right?
Cost and Value
Similarly priced to the first set we looked at, these shoes are a great option for those that happen to live in a rainy climate. While these shoes have a mesh netting on the top, they're still considered pretty waterproof. We certainly are big fans of the colors as well, and the durability. Are they worth the cost? Honestly, we're not sure. We wouldn't purchase them for any heavy duty usage, but if we're just looking at jogging around the neighborhood in the rain? These would be a great pick.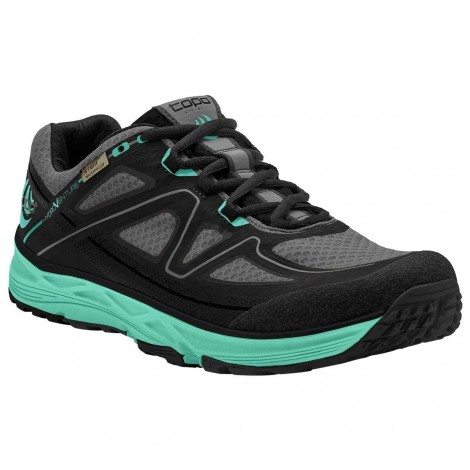 We're almost at the end of our list, but that doesn't mean we have to start scraping the bottom of the barrel for shoe options! Topo Athletic have crafted these running shoes and we're thankful that they did. These shoes really encompass what we were looking for when going into this buying guide. Not only do they have a waterproof shell, but they also have all the capacities of a normal running shoe. Truly the best of both worlds!
Rock Plate
No, not like what the Flintstones ate off of. This rock plate is a feature that is rare to see in a shoe, but makes total sense. It might even be a game changer. For those that like to run on trails and beaches, you know how much hurt it can be to land the wrong way on a grouping of rocks. The rock plate that Topo Athletic has developed is one that protects the runner from landing too roughly on a spiky patch of trail. With the rock plate, you won't even feel it.
Versatile Sizing
The fit is important when it comes to running shoes. While many brands tend to play it safe with the sizes, offering average width and a regularly-sized open top, these shoes are different. They break the mould by molding to our personal feet. Wide feet? No problem. Narrow feet? That's okay too! The fabric offers a flexible fit, making their versatility huge. Some reviewers mentioned they had to move up a size, though, depending on the shape of their feet.
Cost and Value
Landing in our low/below average range, these shoes are great for anyone who's looking for a purpose-built set of shoes. Not only do we have a protective rock plate, but we also have a flexibility and a durability that's comparable to some of the more expensive runners on this list. If you're wanting something that's going to give you the comfort and protection when running, but isn't going to break the bank, this is the pair of shoes for you.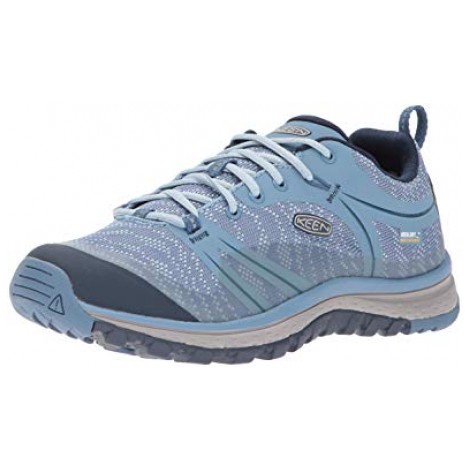 KEEN to buy a new pair of shoes? Try this set, which is holding steady at the number 10 spot on our list. Last, but certainly not least, these trail runners are exactly the kind of shoe that can make a big difference to our workout game. No longer do we have to worry about blisters forming due to wet socks. The waterproofing makes any rainy day hike possible.
No Breaking In
Sometimes we'll hear people talking about how they need to break in their shoes. "These are a little tight, but I'll break them in!" Then they go through two weeks of blisters and cursing about the tight, awkwardly-rubbing shoes. This is why it's a huge benefit that these trail runners don't need to go through any of that. The softer, flexible fabric makes it possible to put these on and hit the trails the very same day.
Leather Liner
Are you stuck dealing with sweaty feet? Worried that "waterproof" doesn't mean "breathable"? We've got you. Or, rather, KEEN has you. The product description states that these shoes have a leather liner built in, making it possible to get a little bit of air between your sweaty, hard working toes. This can keep the moisture accumulation down, as well as ensuring that they stay a little fresher when on the feet too.
Cost and Value
The one thing we've come to realize throughout this list is the fact that many of these shoes are priced in a range. It's hard to judge where they fall on the range against each other, as many of them are around the same price point. These shoes, however, are still one of the cheaper option. They might be priced on a range as well, but generally the cost is coming in lower than the other options we've looked at. While they're more single-use than the other running shoes we've looked at, they make for great everyday shoes. Durable and reliable, these will get you where you need to go.

Subscribe to our Newsletter