Best Snowshoes Reviewed & Rated for Quality
In a Hurry? Editors choice: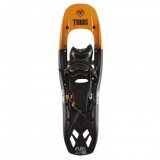 Test Winner: Tubbs Flex

Feel like a
hiking trip
, but fear that those plans are squandered before they can even begin because your favorite hiking trails are covered in the frozen liquid particles we call "snow"? Well, don't count out your hiking chances just yet, because there is still hope for your favorite camping trip! And this hope comes in the form of the venerable snowshoe. Yes, the humble yet versatile snowshoe will get you through even the direst of snowy circumstance
safely
. However, it goes without saying that not all snowshoes are created equal. So, if you're in search of a good pair of snowshoes, consider the following 10 for your first choices on where to start.
Standout Picks
Criteria Used for Evaluation
Features
If there's anything that confuses the outsider when it comes to the very idea of snowshoes, it is the question of how they manage to keep the wearer above the snow even as they walk, and presumably put their weight upon it. Simple, through flotation, the word used to describe how a snowshoe keeps you above the snow. Refer to the FAQ for more info on that, but what's important here is that not every snowshoe is able to do this as well as some others. It requires a lot of precise planning in the design phase, including accounting for the very complicated physics that go into this whole song and dance, to begin with.
The deck is the spot of the snowshoe where you put your feet. And so the deck needs to balance a few plates all at once. It needs to be strong, but not stiff, flexible, but not flimsy, it needs to be able to support your weight, but it can't do too much to do. Otherwise, it'll become too heavy. It's a mess, is what is trying to be conveyed here. So when a snowshoe manages to find the perfect balance between all of those different spinning plates, it's something worthy of note. Decking not only helps to determine the weight of the snowshoe, which is important when you're walking in the things, it also helps to determine the comfort of the foot that's in the snowshoe. While yes, you should always be wearing boots when wearing a snowshoe, how that snowshoe attaches itself to your boot and holds on can really affect the comfort of your feet, and thus how well and how long you can keep walking.
It doesn't matter how good anything in the snowshoes themselves are if the thing can't even keep your feet in place for more than 5 seconds. This is where good bracing and strapping comes into play. You need these things in order to keep your boot battened down to the snowshoe. Why do you need both straps and bracers? Because snow is a lot tighter than most people realize, especially when there's a lot of it. Snow can get tight, constrictive, and basically, you are going to need every bit of security you can get with your snowshoes because it won't take a lot for them to be taken off you by the snow otherwise if you aren't careful.
The suspension is usually something you hear for cars or other vehicles, not for things you are expected to wear yourself. Well, there's a very good reason for this: snowshoes are a pain to wear. They really are, and everyone who has worn them knows it. They are necessary, vital even, but the things that make them practical, easy to use, and what has helped them endure as technology all this time is the same thing that kills your hips, ankles, and knees whenever you use them. Suspension, however, will at least take the pressure off your joints. Particularly the ones in your hips, ankles, and knees.
Materials
It should be fairly obvious as to why this is important: good materials means that the snowshoe will last long against the elements and the pressure of having to hold you up for hours on end. The materials most often used to make snowshoes are some kind of steel (occasionally stainless) and a stronger blend of aluminum.
Most commercial aluminum is used to make cans or aluminum foil. So the average person underestimates just how strong aluminum can be if you treat it properly. The aluminum used to make snowshoes is not the same kind of aluminum that you are most often aware of, it is stiff, tough, and does not back down from the cold. So be sure to make sure that these two materials are included somewhere in the equipment. Because the inclusion of those materials is going to be a major factor that plays into the next part.
Durability
Of course, you want to make sure that the snowshoes you're using will actually stand up to the intense physical scrutiny of the cold, the pressure from your feet, and the outside natural pressure from the world around it. This is why snowshoe manufacturers go so far out of their way to make sure only the best, strongest materials go into making these snowshoes. That includes steel, aluminum, high-grade plastics, and anything else sturdy enough to be added in.
Value
With some exceptions, the average snowshoe, if it's of any quality at all, will cost you upwards of about $100 at the very least, with some going double, or even triple that number. However, do not be discouraged, as there are plenty of affordable options for snowshoes that are still of high quality. These are referred to as "budget snowshoes" for obvious reasons.
10 Best Snowshoes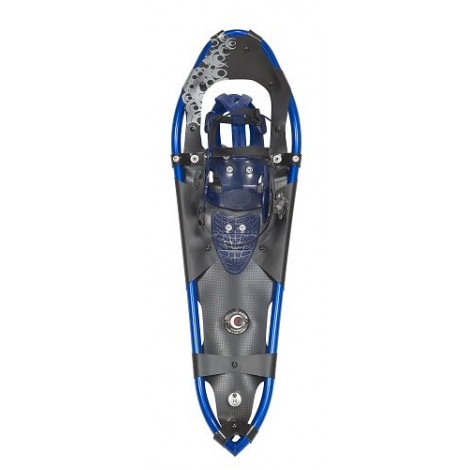 While MSR may be better known for their camping equipment, it doesn't change the fact that their snowshoes are some of the best in the business. And nowhere is that more exemplified than with their Evo line, with the Evo 22, in particular, is a standout.
Unibody traction
There are a lot of different things that can adversely affect the grip of a snowshoe. There are also just as many ways to improve the grip. Evo 22 does the latter via a pair of steel traction rails and brake bars that are molded directly into the structure of the shoe. This provides, in turn, a lasting, secure grip for the shoe.
Essential security
These snowshoes are fitted with special DuoFit bindings which help to deliver ample, glove-friendly, freezeproof security, which also very naturally accommodate a wide array of footwear.
Cost and Value
On the retail market, the Evo 22 is actually fairly reasonably priced for what it is. While the price does jump up if you go after the modular add-ons, in terms of the base snowshoes, the price is fairly low.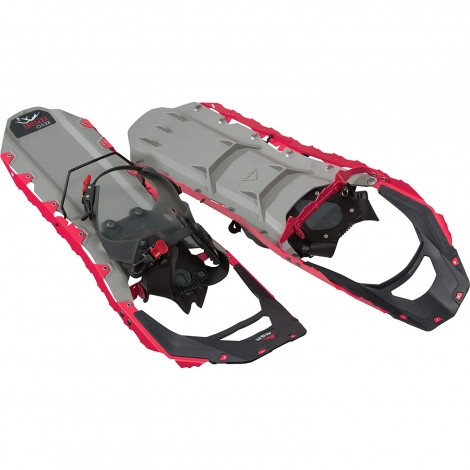 The last MSR product on this list, the explorer isn't as high quality as the Lightning Ascent, per se, but that's not to say it doesn't deserve its place on the list. In fact, it remains one of the best products that MSR have ever put out.
Perimeter teeth
It's important that the perimeter teeth of your snowshoes be as tough and aggressive as possible since those will be the only things keeping you moving and locked to the ground during those particularly steep inclines. Which is why the Revo Explorer uses specialized Extract and Pivot crampon teeth, which provide advanced traction that puts it well ahead of its peers.
Durable deck
If there is any part of the snowshoe that needs to stay together, it's the deck. It is, after all, the part of the shoe that your foot is in, and thus needs to keep securing your foot. So thankfully, the Revo Explorer uses an injection-molded plastic deck to form the deck of this snowshoe, making it durable against a wide variety of abusive conditions that would break most other snowshoes.
Cost and Value
You'll actually find the Revo Explorer for a pretty fair price. Depending on the retailer you're working with, you could end up paying more.



A favorite among mountaineers, backcountry skiers, and pretty much everyone else who lives on the extreme fringe of hardcore winter exploring, the MSR Lightning Ascent is one of the most famous snowshoes out there, and if you ask anyone who's used it so much as once, you're bound to find out why.
Edge to Edge Grip
The Ascent's 360-degree frames deliver its famous edge to edge grip on both your feet and the snow around you. This combined with the shoes famous Torsion 2 split teeth leaves you with more continuous contact as well as overall tighter contact.
Modular flotation add-on
Included with the snowshoe is an add-on known as a modular flotation tail. This add-on gives you that extra maneuverability that you may not have in heavier snowy weather, giving your snowshoe the maneuverability of a smaller shoe along with the added flotation of a larger shoe.
Cost and Value
The Lightning Ascent may come off as very expensive to some. However, while expensive to the average person, this price is considered fairly normal as snowshoes go, and should thus be judged as such.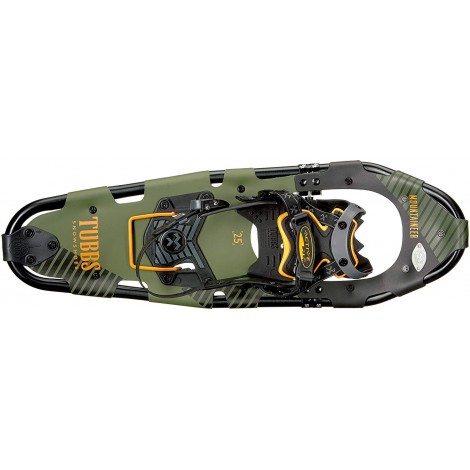 Got a brand new trail that you've never been on before? Better yet, got one that no one has ever been on before? Then what you need is the Tubbs Mountaineer. The last entry from our friends at Tubbs for this list, the Mountaineer may be pulling second to last, but there are still plenty of ways that this snowshoe is second to none.
Anaconda Crampons
Upon the first impression, the crampons that you find may not seem like much, but closer inspection will yield much more fantastic results. The anaconda crampons are not a show-off kind of crampon; they're utilitarian and functional. Their deep and strong design features upwards of 8 teeth, with special attention given to the areas under the ball of your foot and your toes. And if you opt for the 36-inch version, the crampons you get with that version can handle upwards of 300 pounds.
Great flotation
But all that grip doesn't mean a thing if it doesn't have the flotation to back it up. Which is why the Mountaineer made sure to have special shock absorbers to not only keep the stress off your joints but to add to the flotation of the device.
Cost and Value
You'll find the mountaineer for a fairly reasonable price depending on the dealer you go to. Retailers generally sell it for less than more specific brands, but then, they have more of the item they can replace it with.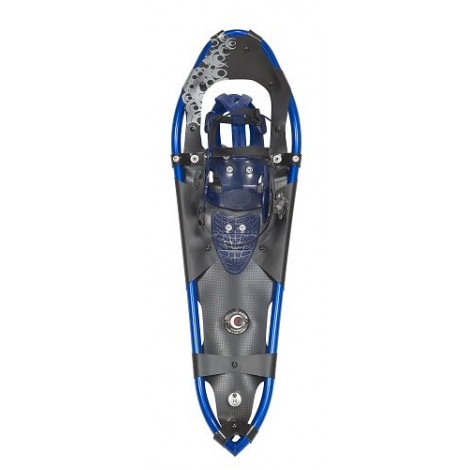 Crescent Moon has carved out an interesting little niche for themselves in the snowshoe business, mostly because the snowshoe business is their only business. Other companies like MSR have other things to offer and fall back on, but Crescent Moon only offers snowshoes, going all in on the business. What results is a line of expensive snowshoes, which are easily some of the best snowshoes you will ever wear.
Extra claws
One of the main deciding factors you should look for in your snowshoes is grip, always grip. Because if you don't have a good grip, then the line of averages between you and a life-threatening fall off a mountain becomes all the thinner. Which is why it's important that Crescent Moon's Gold 10 gives you an extra claw situated at the ball of the foot which significantly adds to the traction you can get in these shoes.
Gold Bindings
Not literally made of gold. Obviously, that would be insane, not to mention gaudy, but rather it's Crescent Moon's trademarked Gold bindings. Made from stainless steel as well as a blend of other high-quality metals, these bindings allow for high amounts of traction before showing even the slightest sign of giving way.
Cost and Value
Because snowshoes are the only products that Crescent Moon sells, whereas other companies have other products that they can use to even things out, Crescent Moon's products are incredibly expensive. However, the value of these snowshoes more than makes up for the insane cost.



Next on the list is another Tubbs product, the Tubbs Wilderness. While primarily seen as a brand for women, that doesn't change these snowshoes from being one of the most versatile snowshoes out there, and definitely, a must-have if you love hiking.
SoftTec Decking
Tubbs' original design for the decking of their snowshoes is one of the key aspects of their work, and one of the things that makes their snowshoes such a hit with consumers. SoftTec provides the snowshoes into which it's implemented with durable, lightweight flotation that make it a must-have among pro hikers.
Cobra crampon
This specialized carbon steel crampon provides the snowshoes with constant penetrating contact with the snow, allowing this pair of snowshoes to thrive in a variety of snow conditions.
Cost and Value
These snowshoes can range from a reasonable range to a more pricey range depending on the retailer you visit and whether or not you want the various add-ons.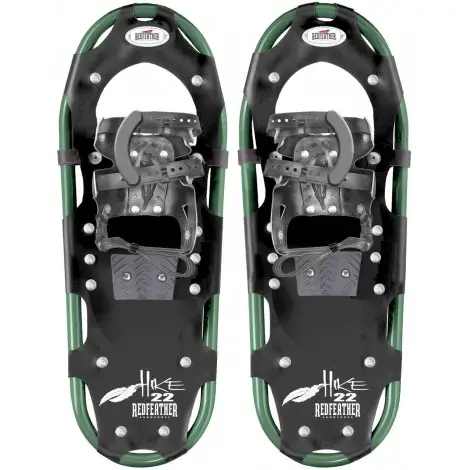 Redfeather is not nearly as well known as Tubbs or MSR, but that doesn't mean they can't turn out a quality product. In fact, Redfeather shoes have many key features in them that make them a worthy addition to your collection.
Strong but lightweight
Not a lot of confidence is likely stirred in you when you read that these snowshoes are made from aluminum. However, worry not, as this is not just any kind of aluminum. The material that makes up this brand of snowshoe is known as series 7200 aluminum, a lightweight but nonetheless powerful form of the metal that is significantly stronger than its foil counterpart you're likely more familiar with.
Stainless steel grip
The crampons that make up this type of snowshoe are made from pure stainless steel, the toughest metal on the commercial market. This means the crampons have a tighter, firmer, and generally tougher grip than most of its peers.
Cost and Value
The biggest drawback of this snowshoe is the price. So as high quality as this type of snowshoe is, points must be docked because it isn't high quality enough to justify such a high price tag.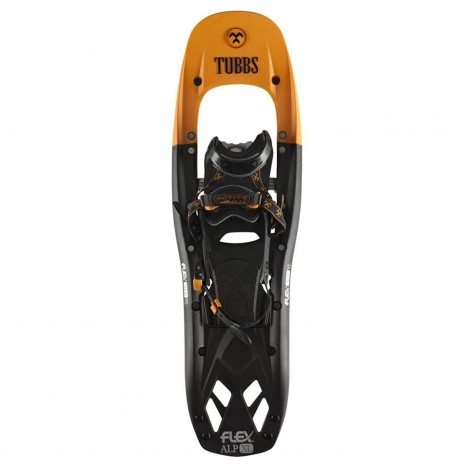 At #8, we have one of the longest lasting snowshoe companies in the business, with the century-lasting Tubbs, and their Flex line of snowshoes. Being one of, if not the first, snowshoe company to specifically make snowshoes for women, there's a lot of expectation placed on their lines when they release. Luckily, the Flex line not only meets expectations, but it also surpasses them.
Ingenious heel design
This may not be something you think about, but being the part of the foot that hits the ground first when walking normally, the heel is one of the foot's most vital and important areas, and a crucial design point for any footwear, not just snowshoes. Which is why so much effort was put into making sure the tail of the Tubbs Flex was as well crafted as possible. Sporting a tail design meant to absorb heel shock on your ankles and knees, this tail makes walking in these snowshoes a breeze.
Perfect for backcountry trekking
While not the best snowshoe anywhere else, when it comes to backcountry roads and hillsides, the Flex has no equal. Armed with light carbon steel crampons and teeth meant to give as much traction as possible, this pair is meant for long walks in the snow-blanketed backcountry.
Cost and Value
Standing at a general retail price depending on whom you're shopping with, the price of this snowshoe is rather average given its pedigree.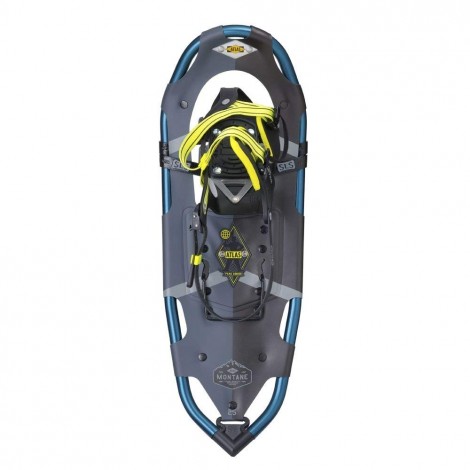 Atlas is a very storied brand when it comes to snowshoes, but when it comes to those snowshoes specifically, other brands have simply outpaced it. However, the Montane has proven a very stubborn snowshoe, which just cannot be ignored.
Flexible decking
Everyone loves a good, strong decking, but no one loves a stiff decking, and yes, there's a difference. Case in point, The Montane's flexible Nytex Deck, lightweight, forgiving, and flexible enough to help you keep moving and keep your feet from freezing up from lack of movement inside the snowshoes. While it won't let you do a lot that you can do unimpeded outside of the snowshoe, it's still much more forgiving than other brands.
Suspension
Like with any kind of footwear, you need some kind of suspension in order to move around in the snowshoes with any kind of ease. Luckily, the Montane utilizes Atlas' patented spring-loaded suspension in order to provide you with the suspension you need to keep going for days.
Cost and Value
Depending on what size you get these snowshoes in, you could either be looking at a large price range, also depending on whether or not you want the various add-ons sold separately.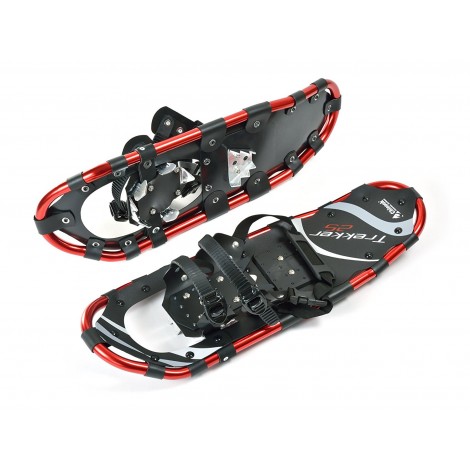 But maybe you don't want to spend over $200 on a pair of snowshoes but are still interested in getting the same amount of quality out of them. That's where the Chinook Trekkers come into play. These budget snowshoes still retain all of the practicality and ability offered by the big brand name snowshoes.
Easy walk
Which is a very important feature to look for in your snowshoes. It doesn't matter, after all, how good the hardware is if it hurts to walk around in the things. But the Trekker's lightweight build combined with its strong aluminum frame means you're unlikely to face much resistance when using these snowshoes, making them a breeze to walk in.
Aluminum crampons
Not only are the aluminum crampons used by these snowshoes of high quality, heavy duty material, but they're also freely rotating, meaning that these snowshoes can more easily bite into the snow.
Cost and Value
These are one of the cheapest brands of snowshoe that you can find on the market right now. This snowshoe is not only of high quality, but it's also very fairly priced.

Subscribe to our Newsletter