Best Socks for Sweaty Feet Reviewed for Moisture Wicking
Everyone has had that one day where their sweaty feet soak the socks in which they contain them. Some of us have sweaty feet simply because it is extra warm outside that day. Others have active workouts that cause the feet to sweat. If we are lucky, this does not happen very often. However, for some individuals, this is a struggle they deal with every day. This phenomenon is called plantar hyperhidrosis, or more simply, sweaty feet.
Featured Recommendations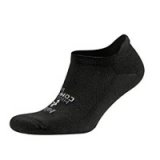 Balega Hidden Comfort

Our rating
Mesh construction
Price:

See Here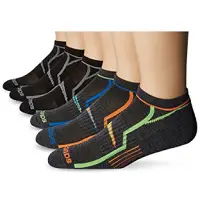 Saucony Performance

Our rating
Airmesh Venting
Price:

See Here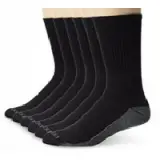 Dickies Dri-Tech

Our rating
Arch Compression Support
Price:

See Here

Sweaty feet can be a bigger problem than people realize. Not only are excessively sweaty feet uncomfortable for the foot owner, but they can also cause things like rancid foot odor, blisters, and even fungus. Cotton used to be the go-to material as it was marketed as lightweight, comfortable and absorbent. However, while cotton is a better material for socks than socks that are 100 percent synthetic material like nylon and polyester they can still leave your feet wet and uncomfortable. Cotton, while absorbent, collects the sweat and keeps it close to the body instead of letting it evaporate away from the foot. This makes the ideal environment for odor-causing bacteria and harmful fungus to be produced. But fear no more hyperhydrotic friends! New advances in sock technology have brought forth materials that can keep your feet both cool and dry.
10 Best Socks for Sweaty Feet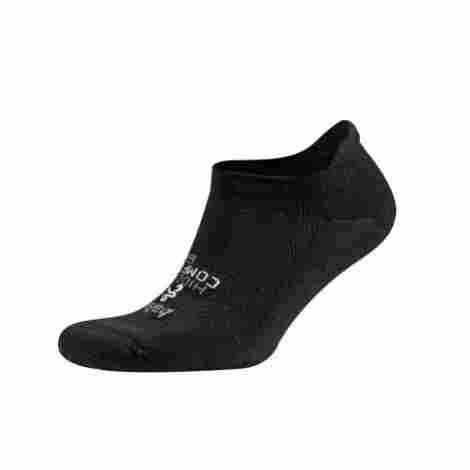 Balega is a company that produces a variety of athletic style socks. Balega incorporates a material they call Drynaix polyester into the socks moisture wicking system. The Athletic No Show also features elastic which ads to the socks comfort and durability. This combined with hand linked seams makes for a very well designed athletic sock that will not bunch in your shoe.
Expand to see more
Heel Tabs

Most socks have a pretty simple design. However, the Balega Hidden Comfort's take things a bit further and incorporate reinforced heels and toes. Also, the heel tabs on the back of the sock eliminate the issue of bunching that may be seen in other no-show socks.

Drynamix Technology

Drynamix is Balegas patented yarn that they use to create socks that keep feet cool and dry. Drynamix creates free airflow to and from your feet with what Balega describes as "air-conditioning" material. However, with a padded sole the Balega Hidden Comfort Athletic No Shows offer more support than other socks for sweaty feet might.

Cost and Value

These Balega socks sit at a price range that can be described as slightly above average. You do not get as many pairs per order as other options. But it is a well-designed sock.
Reinforced heel and toe
sole cushioning
DryNamix moisture technology
Heel tab keeps socks from slipping and bunching
Logo is stitched on in some colors which may cause irritation
2. Saucony Performance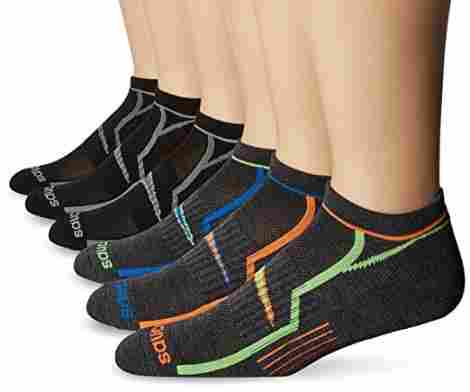 Coming highly recommended by a variety of running and outdoor enthusiasts are the Saucony Performance Socks. Available in a variety of colors the Saucony is designed with the runner in mind as it features shock absorption, well-designed arch support and a moisture management system to keep your feet cool and dry. The enhanced moisture management system provides all-day comfort and dry feet while running in any condition.
Expand to see more
Cushioned Sole

Constant impact from running can cause injuries from overtraining such as hair fractures in bones or aching in the knees. The Saucony Performance socks help combat this by providing shock absorbing heels. They also have compressed arches to give your feet more support and keep the socks from bunching.

RunDry Moisture Management

Saucony has created the RunDry moisture management system. This system combines ultra moisture wicking material and ventilated designs to keep your feet dry no matter what the occasion.

Cost and Value

The Saucony Performance socks sit at a medium price range. While some people say the durability of these socks leave something to be desired you won't be to upset if this is true as you won't have to spend an insane amount of money for socks made for sweaty feet.

Airmesh Venting

Arch Support System

Impact Protection

Moisture Management
Durability of these socks have come into question
3. Dickies Dri-Tech Moisture Control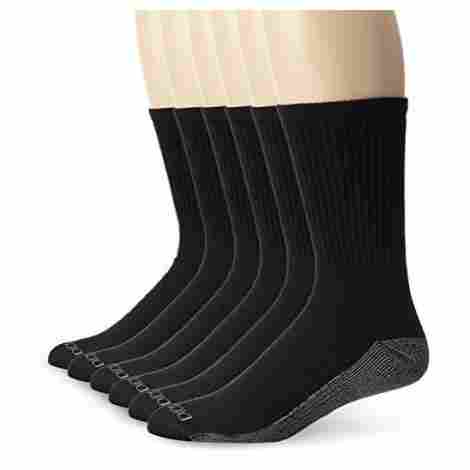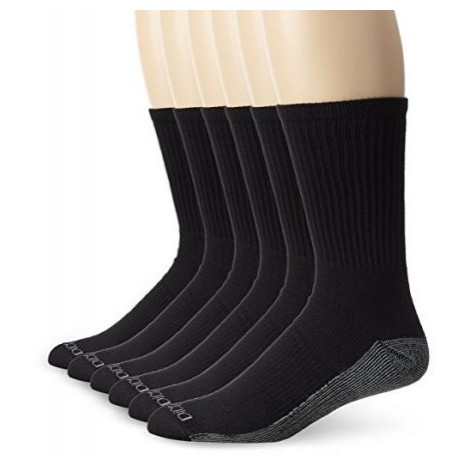 Dickies is a well-known brand of durable, work-friendly clothing. Since the company first started manufacturing products almost 100 years ago they have produced quality products. They even produced uniforms for military services during World War II! After noticing the need for quality work clothes in the civilian sector, Dickies began producing pants, jackets, and shirts that were highly sought after by working Americans. The Dri- Tech Moisture Control socks continue the Dickies tradition of quality.
Expand to see more
Arch Compression
This cotton, polyester and spandex sock is designed with arch support and reinforced heels and toes. This design feature along with the materials used makes for a durable sock that will work as hard as you do.
Moisture Vents
As I have said before, cotton is great for
absorbing moisture
but not so much at getting rid of it. However, this evaporation issue not a problem with these socks. The incorporated vent channels helps the socks get rid of moisture and therefore creating a dry and comfortable sock.
Cost and Value
These socks run at a fairly average price. Depending on your size, the socks are priced below many other socks of the same quality. There are also different color options available. These socks take both spots of editors choice for the high recommendations and raise with owners and the spot for best value as they are the best you can get for the dollar.
4. Wigwam Comfort Hiker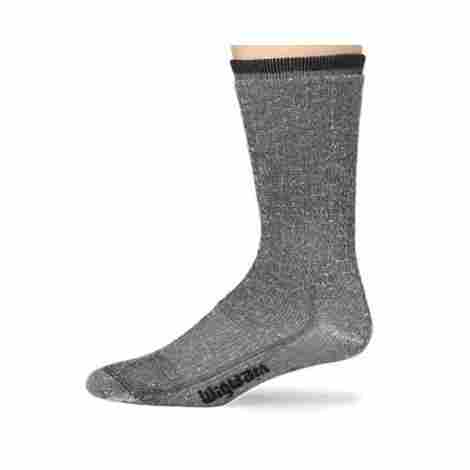 WigWam is a company that has been in business in the United States for over 100 years. They have always sought to produce great apparel and have not been afraid to think outside of the box even if it doesn't work out for them sometimes. When they started manufacturing clothing in 1905 they did so by hand knitting most of their products. Today, WigWam has become a brand known for the comfort and function of the socks that they produce. These WigWams are specifically designed with the hiker's sweaty foot in mind.
Expand to see more
Merino Wool

I have talked a little bit about why wool is superior to other fabrics when it comes to being used for socks. Merino wool comes from a specific breed of sheep. Wool can absorb around 30% of its weight in fluids. What puts wool above materials like cotton, is that once it can not absorb any more, the wool begins to mechanically move the fluid away from its source letting it evaporate. This, in turn, keeps feet dry.

Cushioned Comfort

Hiking can do some serious damage to socks that are not built for such strenuous and repetitive motions. Often times one of the first things to go is the support hat a sock may offer. This is not an issue with The Wool Comfort Hiker. The sock is padded throughout and extra support is placed where a foot may need it.

Cost and Value

Wool socks tend to run a little higher on the price scale than other synthetic socks. WigWam socks are no exception. While they are not too terribly expensive there are other cheaper options available. However, merino wool is unrivaled in socks when it comes to activities such as hiking or working so maybe spending a little extra is worth it.
67% Merino Wool
Elasticized arch
Seamless Toe
Variety of color options
These socks are bulky and built for hiking
5. PowerSox CoolMax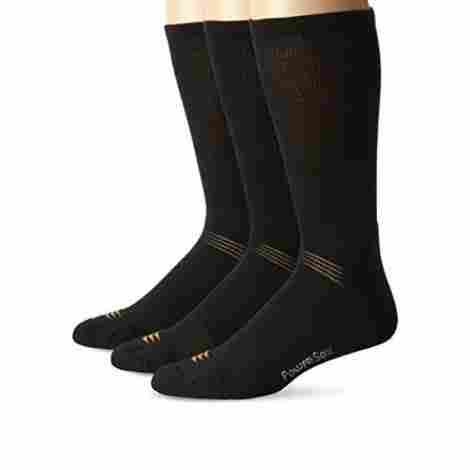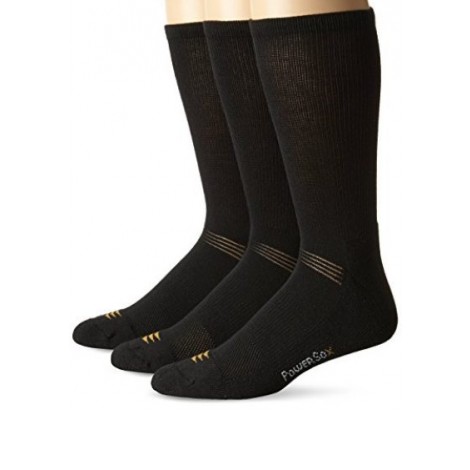 Combining the benefits from materials such as CoolMax, cotton, polyester, and spandex are the PowerSox CoolMax series. These socks offer
superb moisture wicking capabilities
as well as a comfort level above a lot of their competitors. The design features a vented portion at the top to allow increased airflow to and from the foot.
Expand to see more
Form and Function

The PowerSox CoolMax socks are some of the most comfortable socks available at their price range. AY- fit heel keeps socks from bunching inside your shoes. Deeper heel cups and padded arch support keep you feeling supported. Also, these socks are 63% CoolMax fibers which give them incredible moisture managing abilities.

Dress to Impress

PowerSox Cool Max's are available in different lengths and styles. These socks can be used for any function including athletics, casual wear, or even occasions calling for formal dress.

Cost and Value

These socks are very cost effective. They offer versatility that the socks for sweaty feet may lack. Given that they are comprised of mostly Coolmax fibers, their price point is very reasonable.
Y-Heel Fit
Deep heel cup
Braced arches
Reinforced toes and heel
Inconsistencies in sock fit
6. Wigwam At Work DuraSole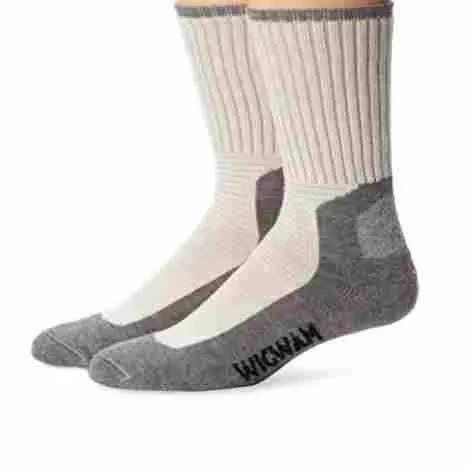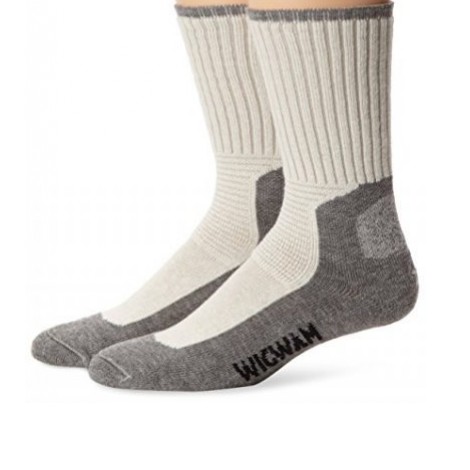 WigWam makes another appearance on this list with the very affordable and highly functional At Work Durasole socks. These socks are very popular working socks. People who buy these socks are often hooked by the WigWam brand and make repeat purchases. These socks are made to last and will stand up to a lot of abuse you may put on them. The fabric is treated with an
odor blocker
. This automatically helps combat one of the problems caused by sweaty feet.
Expand to see more
Hard Working

The WigWam company boasts the fact that their products are made in America by American Labor Unions. This literally makes this a sock made by the working man for the working man. Not only do these socks last but they will give you comfort and dry feet while they do.

Odor Treated Materials

One of the symptoms of sweaty feet is the smell that may develop as a result of bacteria growing in the sock or even in the shoe. This unfortunate effect does not only affect you but the poor people around you who smell it too. The At Work Durasole socks are treated with Odor Guard. This along with the fibers of the sock make them antimicrobial.

Cost and Value

The WigWam At Work Durasole socks are very affordable. Their comfort levels and durability will make you want to order more if the ones you have ever wear out.
Odor Guard treated
Lifetime Guarantee
Made to last
Antimicrobial protection
7. Thorlos Experia Thin Padded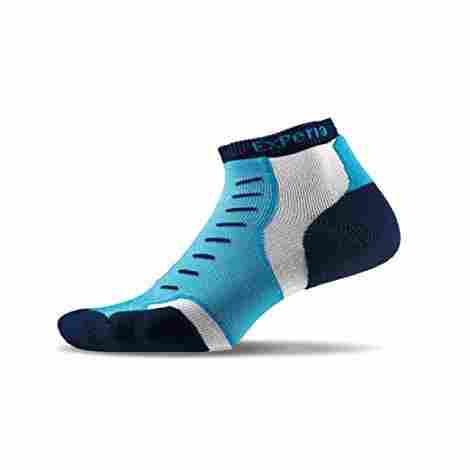 Voted "the best of both worlds" by Runner's world are the Thorlos Experia. Available in multiple lengths colors and sizes, the Experias are designed specifically for running and keeping your feet cool and dry. Comprised mainly of CoolMax material the Thorlos Experia socks will keep even the sweatiest feet dry. The Experias also have areas of support that other socks for
sweaty feet
might not have, such as, in the Achilles tendon.
Expand to see more
Guaranteed Better Feeling Feet

Thorlos is a third generation family-owned company. With their success and faith in their products, they offer a money back guarantee. If you don't absolutely like these socks send them back.

Enhanced Sock Design

Thorlos Experia's feature vented designs that enhance moisture control. The socks are constructed from 66% CoolMax fibers. CoolMax or olefin is known for being resistant to mildew and other things that may cause odor-causing bacteria to stick around. Padded heels, toes, and arch support make these socks some of the most comfortable.

Cost and Value

Thorlos Experia sits at a bit of a higher price point than a lot of the other socks on this list. That being said, these socks come highly recommended for their moisture wicking capabilities. But special washing instructions usually means that you have to be careful in how you treat them and therefore may not be very durable.
66% Coolmax
Runner's World Gear Award Winner
Multiple color options
Lightweight padding
Require special washing instructions
8. Feetures Elite Light Cushion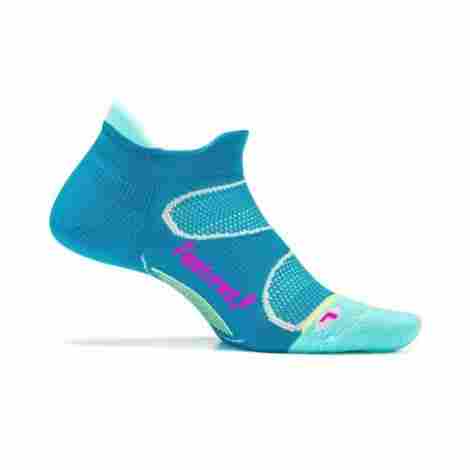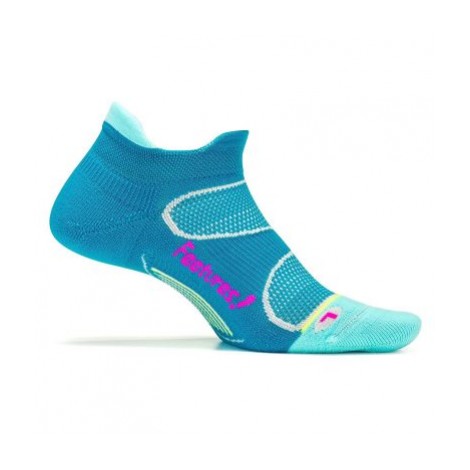 The Elite light Cushion is the slimmer version of the Feetures! cushioned sock. While less cushion means a tad less shock absorption the Elite lights make up for it in breathability. iWick fibers help to manage moisture while targeted compression areas help to offer ankle and heel support. Feetures! Elite Light Cushion socks are a good choice if you experience pain from plantar fasciitis and have typically sweaty feet.
Expand to see more
Ergonomic Design

Feetures! has done their homework on foot anatomy. The results have been put into the design of many of their quality products. Elite Light Cushion socks are designed to help keep feet healthy and supported. Compression areas are evident in the dorsal area of the foot as well as the arch and heel.

Unique Aesthetics

From the design of the sock to the variety of colors available, Feetures! socks will stick out above the rest in terms of aesthetics and function.

Cost and Value

Feetures! Elite Light Cushion socks are higher priced than other socks on this list. But the unique anatomical design enhanced support, and breathability these socks offer are some reasons to give them a try.
Targeted Compression
iWick fibers keep feet dry
Protects feet from blisters
Variety of colors
9. Darn Tough Solid Basic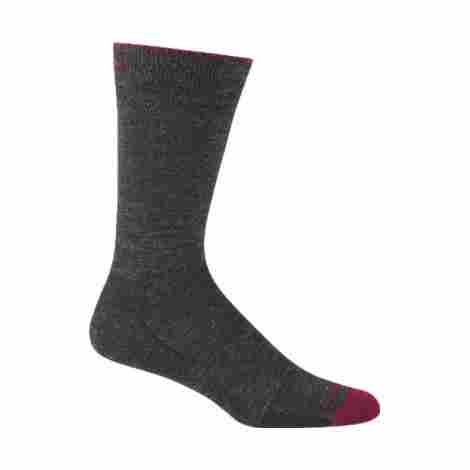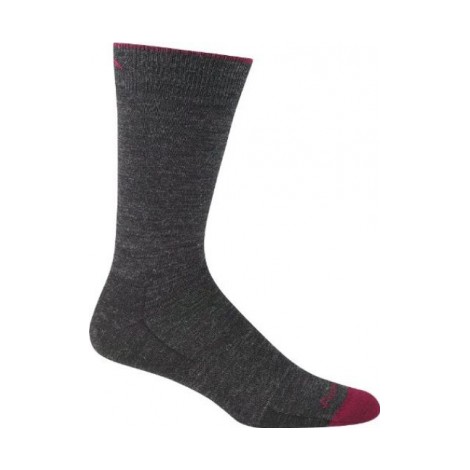 Looking for a dependable, hardworking, moisture-wicking sock? Look no further than the top of the line Darn Tough Solid Basic sock. Products with words like "basic" in them usually mean bare bones. However, Darn Tough took the fundamentals of socks and created a nearly indestructible moisture managing monster. While other wool socks may be considered bulky, these socks are thinner by comparison but do not sacrifice comfort.
Expand to see more
Versatile Everyday Use

The Darn Tough Solid Basics are a great fit whether you are hiking, running, working, or just doing regular everyday tasks. They are designed to be true to fit. Marino Wool and Lycra components give this sock amazing ability to keep your feet dry and comfortable.

Lifetime Guarantee

While these socks are a bit pricey, the company has a lot of faith that you will not be disappointed. If you hate these socks or if anything happens to them, Darn Tough offers an unconditional warranty.

Cost and Value

These are easily the most expensive sock listed. As with anything in life, you usually get what you pay for. The Darn Tough Solid Basic's are no exception. People who buy these socks love them and often buy more. Not because they get worn out, but because they just want more of what these high-end socks offer.
Performance fit

62% Marino Wool

Unconditional Lifetime Guarantee

Different Color Options
Price may make some people look elsewhere
10. CloudLine Merino Wool 1/4 Top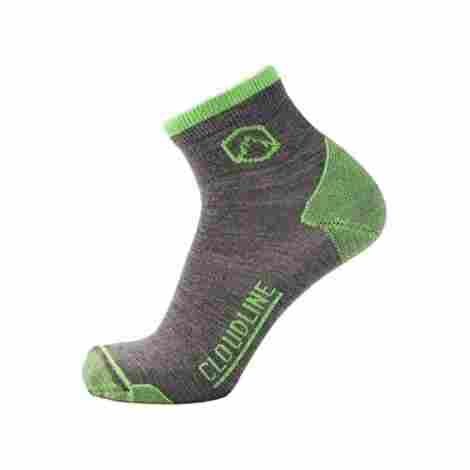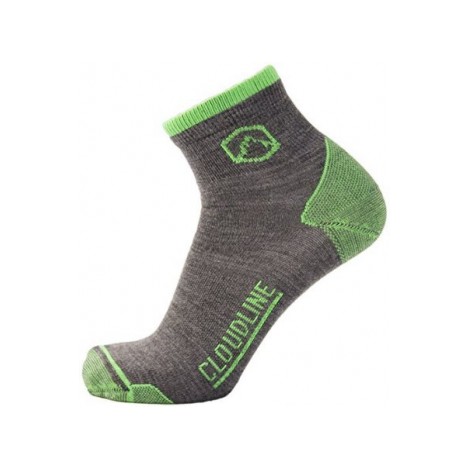 Closing out the Top Ten Best Socks for Sweaty Feet are the CloudLine Merino Wool 1/4 Tops. Comprised mostly of ultra-soft merino wool, these CloudLine Socks are durable, comfortable and great for moisture managing. The mix of fabrics is antimicrobial to combat stinky feet and helps prevent foot fungus. With five different color schemes available you are sure to find the right one to fit your style.
Expand to see more
Athletic Foot Protection

Merino wool offers a very comfortable experience for your feet. If you run or live an active lifestyle, these socks are a great choice for keeping your feet cool in the summer, warm in the winter, and dry all year round.

Healthy Feet are Happy Feet

CloudLine Merino Wool socks keep feet happy and healthy by offering antimicrobial fabrics that are easy to wash. They are also blister resistant and do not bunch up.

Cost and Value

As far as "high end" socks go, the Cloudline's are up near the range of the Darn Tough socks listed above. While not the most expensive on the list they come at a close second. However, with Cloudlines warranty and reputation for high-quality products, you can rest assured these socks will not disappoint.
59% Ultra soft merino wool
Machine Washable
Five color options
Anti-microbial
Reported to shrink in the dryer
The best materials for socks with sweaty feet are:
Wool
Most people think of wool socks as thick and hot. So how can wool socks be good for sweaty feet? Unlike cotton, wool actually draws perspiration away from the foot and allows it to evaporate instead of collecting. Wool socks are ideal for workboots or casual sock wearing. Not only are they good for wicking moisture but they are often times padded and comfortable.
Olefin
This synthetic material is also known as CoolMax combines nylon and polyester, which by themselves make your feet sweat, and other synthetic material such as spandex and lycra. Coolmax is often found in athletic socks but casual Coolmax socks are also available.
DryMax
Drymax is the preferred material for athletic socks. It combines olefin with elastane which makes for a great moisture wicking sock that is also durable.
There are also other methods you may try to keep foot sweat and odor under control. Things such as moisture absorbent powder or creams can help immensely.
Now that you know a little bit about what to look for in socks for sweaty feet, let us take a look at some of the best items that can be found on the subject. This list is the conglomeration of a magnitude of reviews for socks for sweaty feet. Each item has been examined and analyzed before earning a spot on this definitive top ten list.
Sweaty feet can be an embarrassing problem that causes a multitude of other symptoms. Luckily there are socks for sweaty feet specifically designed for keeping your feet, and the feet of your loved ones, dry healthy and comfortable. We've looked at many amazing socks so why not buy a pair today and feel the relief of no more sweaty feet?
Criteria Used to Evaluate the Best Socks for Sweaty Feet
Moisture-wicking
The material is the most important factor in how well your socks remove the moisture from your feet. Together your feet contain roughly 250,000 sweat glands and typically produce about a half a pint of perspiration a day. However, for those with conditions such as hyperhidrosis (excessive sweating), or during periods of intense physical activity, that figure can become multiple liters of perspiration per hour. When not managed properly, excessively sweating feet can lead to many problems like embarrassing odors, bacterial infections, fungal infections, blisters and in some more extreme cases, even immersion foot syndromes. These problems can be generally avoided by simply choosing a good moisture-wicking material when selecting your socks. Moisture-wicking fabrics pull the moisture from the surface of your skin to the outside surface of the fabric where it can then evaporate, leaving your skin cool and dry. Materials like Merino wool, Coolmax, Olefin, and Drymax are all great choices.
Breathability & Insulation
Breathability and insulation are also very important to preventing sweaty or stinky feet. Generally, you will always want to avoid materials like cotton, nylon, polyester and non-technical versions of plastic as these materials are not breathable and not only trap heat and moisture, but can also cause you to sweat more profusely. Air being able to circulate through the material allows heat to escape and fresh air to cool and dry the feet while also aiding in the wicking process by evaporating the moisture.
Insulation helps by regulating a comfortable temperature for your feet, keeping them cool in warm temperatures and warm in cool temperatures. Some materials are more breathable and/or insulated than others. For example, the Merino wool is both very breathable and insulated; capable of keeping your feet warm and dry in wet and cold conditions. Synthetic materials such as the Coolmax and Drymax however, can be far more breathable than the wool but, it can also be far less insulated depending on the weight of the sock. Breathability and insulation are important but, the degree of breathability and insulation needed will depend on factors like weather, environment, activity, footwear or the extent of your moisture problem.
Odor Control
While foot odors can be terrible, uncomfortable and extremely embarrassing, new advances in odor control fabrics can put those problems to rest. Typically, body odor is caused by naturally occurring skin bacteria that feed on your sweat and release gases. When left unchecked for too long, harmful bacteria and/or fungus can be introduced and as they grow the odor becomes much worse. This can also cause issues like redness, itchiness, inflammation, swelling, blisters or even infection. In some cases a breathable, moisture-wicking material is quite efficient at controlling odor, however, others may want to choose a material with antimicrobial properties to inhibit bacteria and/or fungus growth and tackle tough odors. Some materials, like the Merino wool, have naturally occurring antimicrobial properties and are an excellent choice. Some of the synthetics, however, were scientifically engineered to be antimicrobial. Drymax fibers, for example, are infused with a long lasting and non-toxic antimicrobial treatment on the molecular level. Choose wisely, based on your needs, and those stinky feet and room-clearing shoes/boots will be a thing of the past.
Comfort & Durability
In addition to keeping your feet cool, dry and odor free, a good pair of socks should also be comfortable and durable. This is where other features come into play like arch support, blister protection, ankle support, seamless toes and high density cushioning in high impact areas such as the heel and toes. Choose the features best for your personal comfort, lifestyle, and footwear. If you're someone who needs thick padding in the impact areas, for example, just be sure the socks are not too thick for your shoes, which can cause them to be too tight and will lead to blisters. Also, consider the quality and durability of the socks. How long will they last? Will the padding wear down quickly? Sometimes spending more on higher quality socks will actually save you money in the long run, as you won't have to replace them as often. However, this is not always the case depending on what is best for you; it pays to shop around and try things out before you decide.
FAQs
Frequently Asked Questions
Q: How do I know which socks are best for a certain activity?
A: It's best to just read the entire product description when making a decision and take note of sock size and weight. Everyone has a different preference but generally speaking, you want a properly fitting sock that works with your footwear and has features to aid comfortability during your selected activity. Some socks are made specifically for a certain activity and are knit with features designed to support that activity. Just be sure to check the fit of your footwear.
Q: Why is sock fit so important?
A: It is important for your socks to fit both your feet and your shoes. Ill-fitting socks can bunch or rub causing many problems. These problems can range in severity from just being slightly uncomfortable to painful blisters and inflammation. These problems can easily be avoided by simply checking to be sure your socks properly fit both your feet and your footwear.
Q: Aren't wool socks itchy?
A: Actually no, most of today's wool socks are quite soft and very pleasant to wear even in hot weather. Wool is an excellent choice for many reasons. It is capable of absorbing up to 30% of its own weight in moisture without feeling wet making it the most hydrophilic of all the natural fibers. It also has naturally occurring anti-static and antimicrobial properties meaning it doesn't attract dust or dirt, while also inhibiting bacteria growth. In addition, wool is also very breathable and insulating, making it an all-around great choice for a wide variety of situations.
Q: What socks should I wear in hot weather?
A: Well, your choice of footwear will be the biggest factor with this. Pick a properly fitting sock that wicks moisture and insulates your feet. Midweight wool socks are a great choice. They may seem a little thick for hot weather, but in fact, the extra weight is great for absorbing excess moisture. It also insulates a bit better than synthetics which will keep your feet cooler in the warmer temperatures.
Q: Which socks should I wear with boots?
A: The type of boots you are wearing and the activity you are doing in them should determine this. For instance, if you are going on a short day hike you might want a mid weight sock that breathes and wicks moisture well. If you are working on your feet for long periods of time, however, you might want something thicker with arch support and high-density padding in the toe and heel for added long-term comfort. The most important aspect is that it fits right. If your socks are too tight or too loose for your boots they can bunch, rub and even cut off circulation causing problems like blisters and pain.
Q: Does wearing a liner sock under my regular sock help with moisture or preventing blisters?
A: It can in some situations but, the short answer is no, not really. The first and most important thing to consider when trying to prevent blisters is your socks fit. Ill-fitting socks are one of the biggest causes of blisters. As far as moisture control goes, you just need good moisture-wicking material.
Q: Is it possible to find socks that will provide comfort with sweaty feet that are different colors than your normal athletic sock colors?
A: Absolutely! Many people may think of sports when they think of a sock with moisture wicking qualities, however there are many companies that make dress socks that provide this comfort. Many of the options on our page will be able to assist you with this request.
Sources
1. www.rei.com/learn/expert-advice/socks
2. www.outdoorgearlab.com/topics/shoes-and-boots/best-hiking-socks/buying-advice
3. https://www.socksaddict.com/blog/best-socks-sweaty-feet/
4. https://www.foxsox.com/pages/faqs
5. https://patient.info/health/excessive-sweating-hyperhidrosis/sweaty-feet
6. http://www.smellyfeetcures.com/best-socks-sweaty-feet/
See the best no-show socks here (link).