Top 11 Waterproof Sprays Reviewed & Rated
In a Hurry? Editors choice: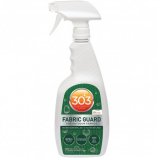 Test Winner: Fabric Guard

With a good waterproof spray, you can transform your traditional gear to be all-weather with a quick coating. Instead of investing in all new (and expensive) waterproof gear, a simple bottle of spray can help to wick away water and protect your coat, pants, and even shoes from the elements. We love these sprays because they are generally affordable, and work on most fabrics. Don't worry, while they work to wick away water, they won't affect the breathability of your gear.

Plus, they only last a few weeks so your clothing will revert back to their natural state in a few weeks. In this guide, we have compiled a list of some of our favorite waterproof sprays to keep you high and dry when the rain comes.
Standout Picks
Criteria Used for Evaluation
Protection
In the world of waterproofing, there is an array of products available for every kind of protection needed.
Whether you simply want to keep your feet from getting wet if you get caught in the rain, or whether you intend to go hiking, it is vital that you select a product that offers adequate protection for your personal needs.
Also worth reading waterproof running shoes
There are a variety of products available that are tailored to giving protection to a certain kind of surface. Some may specialize in protecting footwear, where others would be more aimed towards heavy-duty outerwear or camping gear. These products are certainly not interchangeable and you should select your ideal product with caution.
Experts recommend that you always purchase an option specifically for its use as this will give you a much more protective layer. Therefore, it is vital that you carefully consider which item you'd like to waterproof and what kind of protection this item requires.
Everyday items such as shoes or jackets that simply require protection for the occasional drizzle of rain will require a product that will not affect the color or breathability of the fabric. However, it will not need a harsh spray.
Conversely, camping gear that is frequently subject to storms or rainy weather will need a much stronger product to ensure that it is adequately protected against the elements.
Potency
Waterproofing products have come a long way since their inception.
Over the years, research and new scientific techniques have allowed us to eliminate harmful toxic chemicals from these sprays such as perfluorinated acids.
Most modern formulas have a chemical composition that is based on a fluoropolymer. This compound in conjunction with several other minerals and substances are combined to provide a protective layer that repels water and dirt while still protecting the integrity of the fabric itself.
Also worth reading waterproof running jackets
However, some ingredients, especially in harsher and more heavy-duty formulas can still cause irritation and allergies among its wearers. This is why the ingredients in your chosen product are such a major consideration.
When selecting a product of choice, always check the list of ingredients to make sure that there are no listed ingredients that you or a family member may be allergic to. If you are applying the product to garments, coat a small section first to see how you react to it to ensure that it does not cause skin irritation.
Experts recommend that you select a product that is biodegradable. Especially if you are coating surfaces that are specifically used in the outdoors. Lastly, always make sure that you use the product in an extremely well-ventilated area. Most products emit a toxic scent that dies down shortly after application. In addition, you should take care to coat your surface away from small pets or children who could become affected by the scent.
Value
While a good-quality spray can definitely enhance your product and make it last longer, there is no reason why this product should break the bank.
At face value, these products do not seem expensive, especially not when you compare it to other pieces of outdoor equipment. A couple of dollars for a single can seems reasonable and even like a bargain to some.
Also worth reading waterproof fitness trackers
What you should bear in mind, however, is that a single bottle of a specific product may not necessarily give you the results you want. In some cases, you may need several bottles before you get the kind of protective layer that you want.
So before you fork out the few dollars needed for a single can, first think about the size of the object that you want to cover and how many coatings you'd ideally like to give. Most bottles provide a handy indication of how many feet of coverage a single can provides. This can easily help you determine how many cans of a specific product you need for this purpose. This quick calculation will be a much more realistic price estimate and will help you to budget your waterproofing needs more accurately.
11 Best Waterproofing Sprays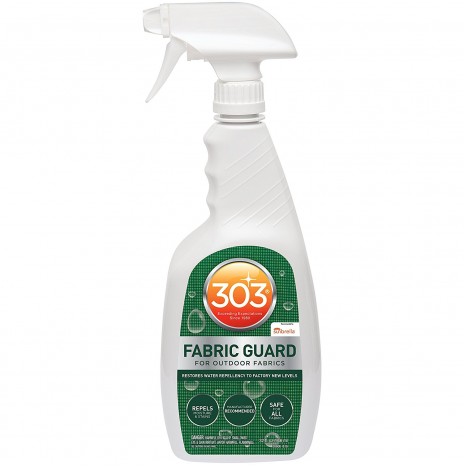 303 Fabric Guard is the best DWR spray on our list, and one of the most unique products available on the market. Not only does this powerful spray protect a wide variety of textiles and fabrics against water saturation, but it also works to restore vibrancy to the fabric itself. Thanks to its excellent performance, this is one of the only products that is actively recommended to customers by the trusted manufacturer Sunbrella.
Restores Vibrancy
Anything object or fabric left in rainy conditions for an extended period of time loses some of its shine or vibrancy in the process. This leaves you with a dull and damaged garment. 303 Fabric Guard not only works to protect your garments, but it also restores vibrancy and color back to damaged garments.
Increases Water and Oil Resistance
Due to its unique chemical composition, 303 Fabric Guard manages to work on various levels to protect your fabric against a multitude of water and oil-based liquids. This spray can successfully repel a huge variety of liquids, giving you more protection against the elements and everyday spills.
Cost and Value
This opyion may be somewhat higher priced than other similar products currently available. However, considering its incredible performance and trusted brand name it still offers incredible value for money. A single bottle lasts for a long time and a single garment does not require frequent coatings.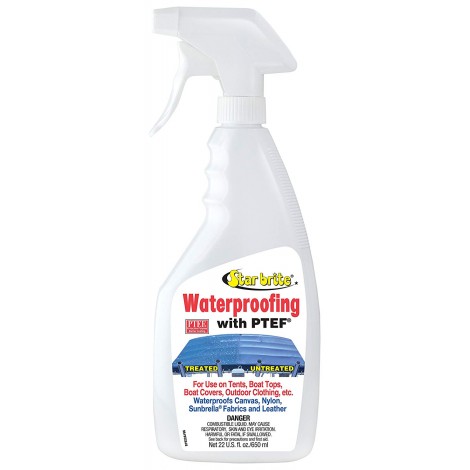 Enhance your outdoor textiles' water-repelling capabilities with this powerful water repellant that includes UV protection. Star Brite increases a textile's water repellency as well as adding protection against a wide variety of stains and UV rays.
UV Ray Protection
Star Brite is a truly unique product that protects any textile against any harmful UV ray exposure. Frequent exposure to the sun manages to dull any fabric over time. However, Star Brite operates by protecting a fabric against it while also restoring some vibrancy to the fabric itself.
Ideal for Outdoors Use
Thanks to its powerful performance and dedication to making any fabric weatherproof, Star Brite is the ideal solution for outdoor junkies. A single coating can help you protect a wide variety of outdoor materials such as tents, sail covers, backpacks, patio covers, etc.
Cost and Value
Star Brite comes at a moderate price that is definitely in line with market expectations. Despite its low price, this liquid works well to create a powerful protective barrier. What's more, it lasts longer than the average spray. One gallon of Star Brite can cover up to 465 feet of fabric.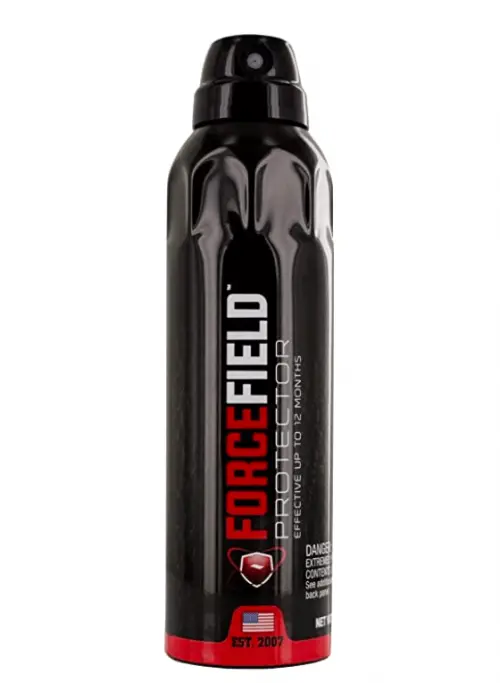 As the name suggests, this bottle from ForceField creates an invisible shield around your gear to keep you protected from the elements. What we liked most about this option is that it comes in at an affordable price point, and it is able to work on a wide variety of fabrics. With this option, you can protect your shoes as well as your pants and jackets.
Prevents Fading
Not only does this option helps protect your gear against water, but it also provides a layer of UV protection as well. By protecting your gear from UV light, it prevents the colors from fading when the raincloud part and the sun finally decides to reappear. The best part is the one spray protects your gear from the elements for up to 12 months!
Little Odor
We also love that this bottle has an effective spray nozzle that helps you create a thin and even coating on all of your gear. Users find that this open has very little odor and is completely safe you use on a wide variety of fabrics. One applied to your gear, it only takes a little over 20 minutes to set completely!
Cost and Value
If you are in the market for something that works on more than just shoes and boots, this design is a great option. It comes in at an affordable price point and dries quickly and evenly. We also like that it not only protects your gear from the rain but the sun as well! Plus, it lasts an impressive 12 months once applied.

4

. Atsko Silicone Water-Guard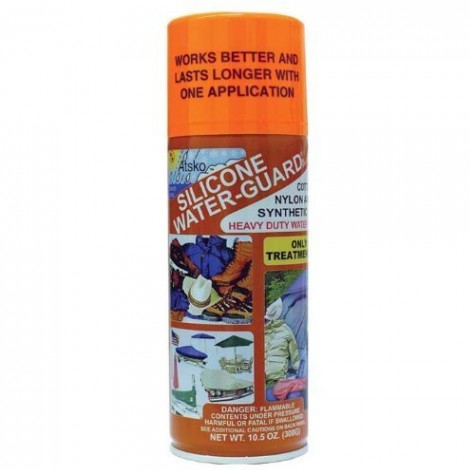 Atsko Water-Guard is perhaps one of the most versatile water-repelling products currently on the market. Its unique formula can successfully create a protective barrier around a wide variety of items including footwear, outerwear, camping gear, and sports equipment. Water simply beads on the coated surface and glides off, which prevents any water saturation. Due to its versatility, this product works ideally in almost any circumstances.
Versatile
This silicone formula is unique since it can be safely used on a wide variety of garments and products. It can protect footwear, outerwear, backpacks, camping equipment, sporting gear, etc.
Protects Material
Unlike other similar products, Atsko Water-Guard can be applied to any garment or object without it compromising the integrity of the garment or object itself. This waterproof spray for clothes will not be altered in any way following an application and can be used frequently.
Cost and Value
This is perhaps one of the most cost-effective solutions to waterproofing currently available on the market. This formula's low price, versatility, and powerful performance has made it a staple in any outdoors junkie's toolkit.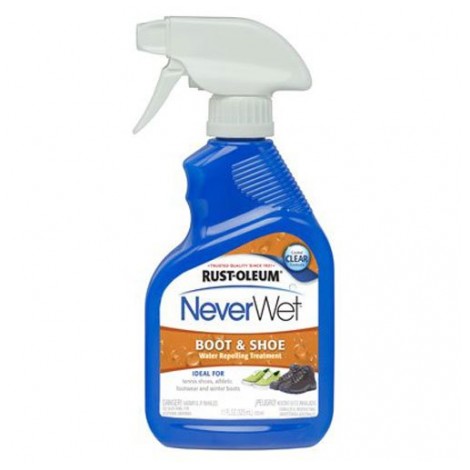 This option is more geared towards protecting shoes and boots against water. Thanks to its unique superhydrophobic technology, Rust-Oleum's NeverWet is ideal to apply on any kind of shoe or boot to repel water and prevent water saturation. The formula itself is free of all silicones and any other harmful substances to protect the integrity of your shoes' material. It can be safely applied to a variety of textiles such as suede, leather, canvas waterproofing, etc.
Preserves Footwear
It was specifically designed with shoes in mind. It can be safely applied to any kind of shoe to protect it against water, mud, ice, and general everyday stains. A regular coat of NeverWet can greatly extend the life of your footwear.
Invisible Formula
The actual formula has a crystal clear look and is completely free of silicones or any other harmful chemicals. The liquid is scent-free and will not alter the look or feel of your shoes in any way after application.
Cost and Value
This product is very competitively priced compared to most other water-repelling products currently available. The lower price can perhaps be attributed to the fact that this product is specifically geared towards protecting footwear.



This powerful liquid is effective enough to be used on a wide variety of outdoor gear and equipment to give it that added layer of protection against the elements. The improved formula has been enhanced to be used on a wider variety of materials and to make a single coat last for longer. This versatile spray can be used on whatever fabric to help it brave the elements.
Versatile
Thanks to the gentle nature of this formula, this option is suited to be used on a wide variety of garments and equipment. From footwear, outerwear, luggage, or camping and sports gear, this formula can be safely applied to several materials including suede, polyester, leather, nylon, cotton, polypropylene, etc.
Improved Formula
This formula has been recently enhanced to last longer. This means that additional coatings can only be reapplied seasonally. This saves the user a tremendous amount of time and money.
Cost and Value
Scotchguard's Heavy Duty Shield is one of the more cost-effective options when it comes to water repellant sprays. In addition, it has been formulated to last for a long time. A single 10.5-ounce bottle can provide up to 60 feet of coverage and only needs to be re-applied seasonally.

7

. Nikwax TX Direct Spray-On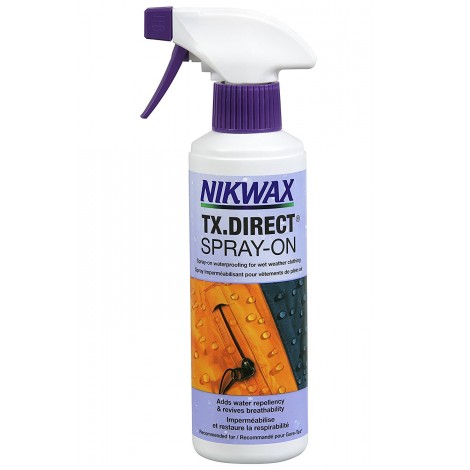 Specifically directed at outerwear, Nikwax TX Direct Spray-On works to restore your favorite raincoat to its former glory. Over time, it is inevitable that your jacket or coat's Durable Water Repellency (DWR) wear off, especially after washing it. Nikwax helps to restore this capability without compromising the garment's breathability or color. It's a very versatile product that can be applied both inside and outside of garments.
Durable Water Repellancy
This formula's unique chemical composure allows it to directly treat every single fiber of your garment with durable water repellancy. This translates into a much more comprehensive protective layer that effectively prevents water from penetrating the fabric itself.
Easy Application
This spray can be easily applied either on the outside or inside of garments for protection. In addition, this product does not require to be tumble dried after application in order to cure. Simply air dry your garment after applying to seal the product.
Cost and Value
Despite its impressive performance and underlying technology, Nikwax's TX Direct Spray-On is very competitively priced. You only need a single application per garment for long-lasting protection which makes the bottle last a long time.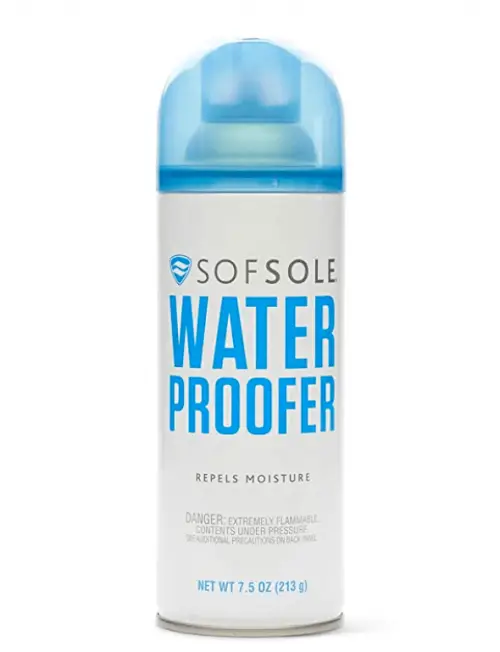 Don't let the name fool you, this formula is designed for more than just shoes. We love that this option is incredibly versatile, and is designed for garments such as jackets, pants, shoes, as well as many other materials. It has a smart spray nozzle that allows you to create a nice even coat quickly and easily. Plus, it comes in at a price point that won't break the bank.
Versatile
The most notable feature of this bottle is that it is incredibly versatile. Previous users find that it works well not only on shoes and boots, but also on jackets, hats, and pants. One application is able to wick away water for up to 2 months of continued exposure to the elements (however, it will wash away in the washing machine!)
Easy to Use
We found that one coating is able to wick away water and snow when out in the elements for extended periods of time. It hosts a wide nozzle that makes it just a tad easier to spray an even coating on your gear. Some find that this formula has a slight chemical smell, but it isn't too overpowering.
Cost and Value
If you are in the market for something that works on a wide variety of fabrics, this option from Sof Sole is an excellent choice. Users like that it is easy to spray to create an even coat, and it works incredibly well to keep you dry when outside in the elements for long periods of time.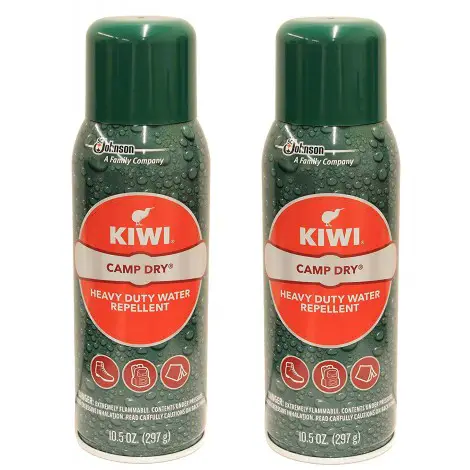 The Camp Dry water-repelling spray is already well known and loved among outdoor enthusiasts. The unique silicone formula makes it the best waterproofing spray for outdoor to protect a variety of outdoor equipment and outerwear. While it may not be the best option to simply add some protection to an old jacket, it definitely gives some long-lasting and robust protection to heavy outdoors materials.
Extremely Tough
This formula was designed for heavy-duty use. Thanks to its unique combination of silicone and other ingredients, the formula can bond more effectively with a variety of surfaces. In turn, this creates a much more comprehensive and long-lasting protective layer.
Made for Outdoors Use
Kiwi's Camp Dry has been formulated with outdoor enthusiasts in mind. Their unique water-repelling formula is tough enough to be used on a variety of outdoor gear such as patio furniture, tents, protective coverings, hunting equipment, etc. This formula provides long-lasting protection without compromising any expensive outdoor equipment.
Cost and Value
This product is very competitively priced and is definitely one of the cheaper top-rated products for repelling water. You can often buy 2, 3, or 6 bottles in a multi-pack at a fraction of the price. While the bottle does not specify how many feet of coverage a single bottle gives, a single coating of Kiwi Camp Dry is significantly longer lasting than most other products.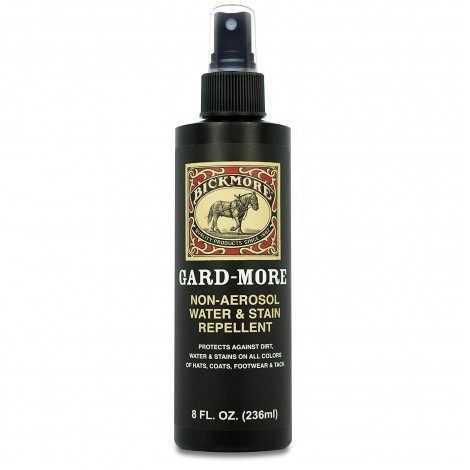 Bickmore's Gard-More water-repelling spray is sure to catch your eye due to its fun, retro packaging as well as for the heavy-duty protection that it offers. This formula has been designed to protect all your most valuable goods and items against a wide variety of water, dirt, and other stains. It can be safely used on an array of fabrics and materials without affecting its look or feel.
Multi-Functional
What makes Gard-More stand out is its multi-functional approach to water-repelling. This waterproof spray for fabric can be safely used on any kind of garment, item, or fabric without ruining the integrity of the material.
Heavy-Duty Protection
Gard-More promises to protect your most valued goods against much more than just water. This formula also protects against dirt, mud, and almost any other stain. In turn, this will ensure the longevity of your favorite garments.
Cost and Value
Gard-More is somewhat more expensive than other top-rated products featured on our list. However, the price discrepancy is not significant and can perhaps be attributed to the fact that this product is much more versatile than the majority of water-repelling products currently available.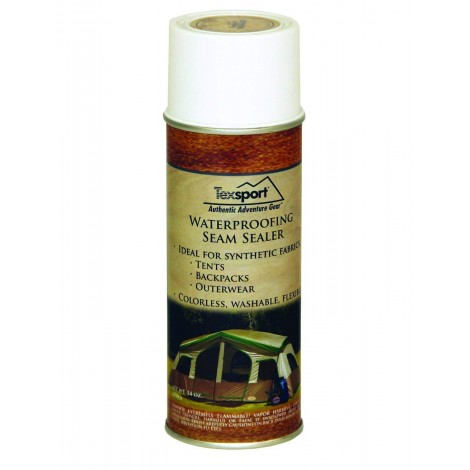 Texsport's Polyurethane Waterproof Seam Sealer is ideal for anyone that is looking to give their outdoors gear a little extra layer of protection against the elements. It can be used on any synthetic fabric and operates mostly as a seam sealer for outdoor equipment rather than to waterproof an item. The comprehensive formula also offers protection against fading caused by UV rays.
Seam Sealant
When you purchase a new tent, you'll find that more often than not the seams of the tent are not sealed. This will leave your tent vulnerable to become saturated by water during rain or even in the event of morning dew. A seam sealant enforces any untreated seams and ensures that your entire tent is water repellant.
User-Friendly
The majority of seam sealants are notoriously finicky and difficult when it comes to applying and maintaining the protective layer. However, Texsport allows you to wash and use your tent as per usual despite the added seam sealant.
Cost and Value
Despite the fact that a seam sealant is considered a specialized piece of outdoor equipment, it comes at a very affordable price. The aerosol can ensure that you make frugal use of your product and a single coat lasts significantly longer than the average seam sealant.

Subscribe to our Newsletter