Best Windbreaker Jackets Reviewed & Rated for Quality
In a Hurry? Editors choice: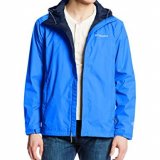 Test Winner: Columbia Watertight II

When the weather gets a little chilly outside, having the right apparel can protect you from the elements. Spring and autumn are known for damp and windy days, so you'll want something that can keep you dry and comfortable during times like these. But you also want something that looks good also. A windbreaker will not only do the job but they very comfortable and come in a variety of different colors and styles.
Standout Picks
Criteria Used for Evaluation
Insulation
To Line or Not To Line
This is the million dollar question and there are good reasons for both side's opinions. When you have a liner, you can have a more breathable jacket. It seems a little counterintuitive but is true. The liner allows the exterior to be a little more permeable because it has an extra layer for the wind to go through. Where something can get in, it can also get out.
There is also the fact that a liner can absorb moisture. This becomes more important when your windbreaker gets wet or you get sweaty underneath. If it gets wet beyond the point of where it can handle the moisture, then the liner will help troubleshoot that issue just a little bit longer until you can hopefully find cover. It is that one extra barrier that can help keep your shirt just a little bit drier. Conversely, if you get sweaty underneath because it's warm outside or you are just working hard, then a liner can absorb the moisture and much like any other athletic material, wick sweat to help keep you more comfortable. This ability, of course, largely depends on what type of material the liner is.
The obvious perk of having a liner is that it will keep you just that much warmer. A standard unlined windbreaker isn't going to provide any real warmth at all. A liner changes that and allows you to wear your windbreaker a little bit early in the spring and a little bit later in the fall.
However, there are also perks to not having a liner. The very first one worth mentioning is that lack of a liner makes the jacket much smaller. Small enough, in fact, that it can very likely fit into its own pocket. That makes it very easy to transport and carry with you wherever you go. It will fit in your purse, a backpack, suitcase, or can simply be kept in your car just in case you run into weather that calls for it. This is an ability not many jackets have. They still keep their wind and water resistance but do so all while taking up less space.
When you are only talking about a single layer, it will typically dry more quickly than multiple layers will. In addition to that, many are made with a special quick dry fabric so if you get a little wet, the material will dry faster and keep you going on your way.
Flexibility
Layering Options
Do you like to layer? It's a popular thing and allows for more personalization. A windbreaker is the perfect layering accessory because it can be worn all by itself in the warmer months, but can serve as a great wind resistant top layer when it starts to cool off. This will extend the use you are able to get out of your favorite jacket and help you to have more say in how heavy duty you want to go. That is a big advantage if you are starting in the early morning hours where it is really cold and ending in the middle of the day when it is much hotter. Or when you start and end in different climates. It is easy to shed one layer at a time or add one layer at a time depending on what the weather calls for.
Ease of Use
Full or Half Zip?
One big thing is whether you want to have a jacket that only zips halfway, and is really more of a pullover, or a jacket that zips all the way. We have included both on this list as both are functional and will make a good windbreaker.
It really comes down to your fashion preference and what seems more functional to you. Some people are not on board with pulling a jacket over their head everytime they go in or outside. It can really be a buzzkill on a hairstyle and even makeup has the possibility of getting ruined or smudged. This is a big no go for a lot of people, but to others, it doesn't matter at all.
A full zip (or button) option does give a little bit more flexibility as you can choose how closed or open you want it to be. It also allows for easy on and off. Though, the more openings a jacket has the more likely it is to let the wind blow right through. Ultimately, both are great options and it really boils down to personal preference here.
10 Best Windbreaker Jackets
1

. Columbia Watertight II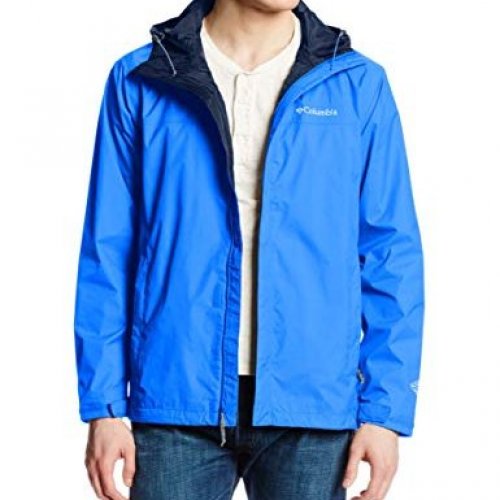 This jacket from Columbia has everything you need in a windbreaker jacket. It is lightweight, waterproof, and has zippered and drawstring everything. The lining is a mesh polyester and the entire thing is machine washable. In addition, Columbia is a well known and respected brand that makes quality products.
Zippers and Drawstrings
One of the best ways to ensure that nothing you don't want inside of your jacket - like wind or water - gets there is to make sure it seals tight. This jacket does just that. The front and pockets are zippered. The hemline at the bottom of the jacket and hoodie for your head feature drawstrings so that every entrance is as snug as it can be and heat stays in while water and wind stay out.
Options!
This comes in a variety of flavors. You can get it in many sizes, obviously, but there are far more color options available than size options. This is great because you can really choose a color that matches your wardrobe, get the jacket in a couple different colors if you really end up loving it, or get it in that bright, outlandish color that you just love. Any way you choose, you're good to go.
Cost and Value
The price varies widely on this jacket depending on size and color. That gives you the option to go for a cheaper one if that is what you are looking for or pay a little more and get exactly the color that you want. Whichever way you end up going, you will be getting your money's worth. Columbia makes a quality product that will serve you well on top of a volcano in the Pacific Northwest or in the middle of a cold and windy desert.

2

. Columbia Switchback II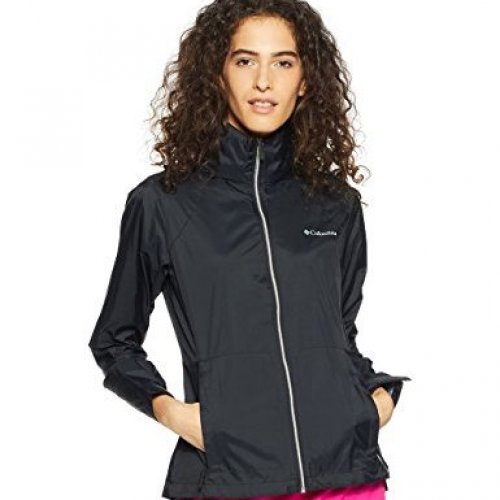 This jacket is everything that you love and need in a windbreaker. It is simply a shell which means it won't overheat you but can be worn over a sweater or fleece jacket with ease. It folds up into its own pocket for easy travel and storage. The hood also has a pocket so that you can use it or not depending on the weather. It zippers up the front and is machine washable.
Fit Type
In this jacket, you get a nice Modern Classic fit. It isn't too tight, but it also isn't overly baggy. It will hang just as you want it to where you want it to. Your range of motion will be superb and unhindered when you wear this out.
Small Details
Often times it is the details that sell us on an item and that is the case here. There are several little things included that just make enough difference to sell us here. First off, there is back venting. Remember this jacket isn't meant to keep you warm? If for some reason it is doing that, just vent out the back. No problem. Next, adjustable cuffs. Some of us just have really small wrists but still want a good seal around them. Others include the fact that the material is both stain and water repellent and the pockets have zippers too.
Cost and Value
Unfortunately, this is another one that's prices are just about as varied as the color options. While this does allow you to choose a cheaper color, it may also prohibit you from getting the color you actually want. However; it is an awesome jacket and even at the most expensive price if is worth every penny.

3

. Columbia Glennaker Lake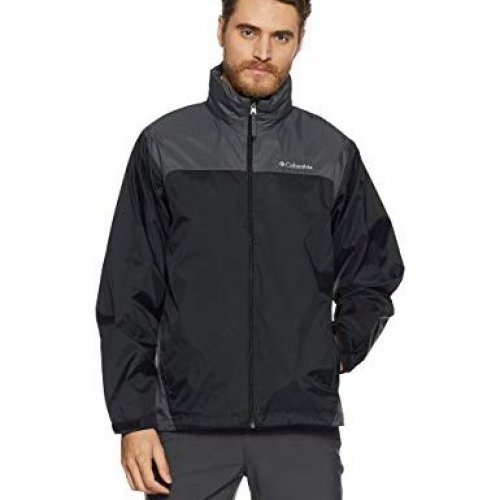 This two-tone jacket will keep you warm and well protected from both wind and showers. It comes in a variety of different color options so you are sure to find one that suits your needs. It is 100% nylon, machine washable, and has a hood that you can hide away if you don't need it or prefer that look.
Seal It In - Or Out!
This jacket allows you to seal out the elements you don't want getting inside your jacket. It has a zippered front that goes all the way up and down the jacket. The side pockets are also zippered as well as good sized because we all know that's a critical part of a good jacket. In addition, there is an internal drawcord at the hem to make it tight without anyone else knowing and adjustable cuffs.
Quality You Can Trust
Do you think it is mere coincidence that three of our top ten windbreakers are made by Columbia? Hint: it is not. They make a high quality, affordable product that comes in a lot of different colors so that everyone can find exactly what they're looking for. You know that this jacket will be well made because of the company it's coming from.
Cost and Value
Like the other Columbia's listed here, the price of this jacket varies widely based on color and size. That also means that there is a good chance you can get it on sale, or at the very least, get a color that is cheaper if need be. The jacket itself is high quality and will serve you well, even if you do end up paying top dollar for it.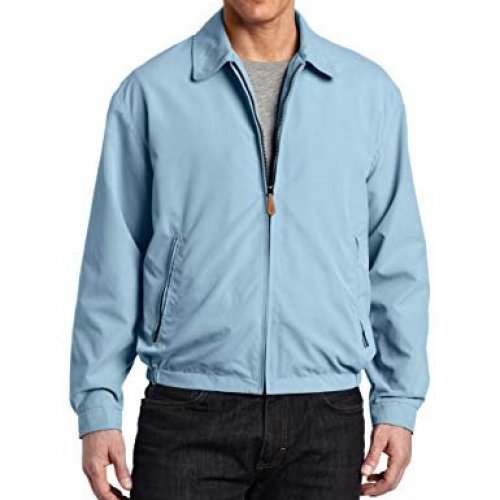 Have you ever been to London? While beautiful and rich with history, it can definitely get drizzly, cold, and windy. When that happens you need a good jacket to break the wind and keep the wet out. A jacket made by a company called London Fog should be able to do that job well. This one absolutely does that while also looking good and being easy to maintain.
All The Pockets
Are pockets a priority in your life? If so, this may be the jacket for you. It has double pockets on the outside which means there are two pockets on each side, one sitting on top of the other. The top one also has a zipper to secure your things. There are also interior, top open, pockets. Two on one side, one on the other. No need to bring any sort of bags with you when you're wearing this jacket, it has you covered.
Dress It Up
A big advantage found in this jacket is that you can wear it with nice business casual clothes if you want or need to. It looks good enough to fill the part and pairs well with a good pair of slacks. In addition, the material resists wrinkling which is very helpful when you need to travel with it but still want to look professional when you arrive.
Cost and Value
Ultimately, you don't spend very much money here. It is a quality windbreaker jacket that can also resist water to an extent and looks good with professional clothing which means it does come with a cost. But, that cost is minimal and much smaller than you'd likely expect. You will get a lot of miles out of this jacket and may even be tempted to purchase a second.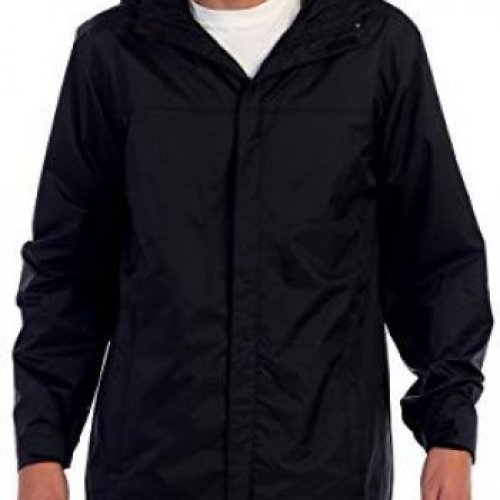 This windbreaker will live up to any expectation that you have for it and likely surpass them. It is made of 100% polyester and is fully lined. It has two zippered pockets that also have an overlapping flat velcro sealing cuffs and a hood that features an adjustable pull string with a lock to keep it in place.
Fully Lined
If you want to really stay dry underneath, you need to get a fully lined jacket like this one here. With the proper material, it allows for sweat wicking and breathability that will help allow any heat or vapor to escape instead of accumulating underneath your water and windproof front. You will feel the difference when you buy this jacket.
Velcro Seal Flap
When you are dealing with wind and water, no angle is off limits. This jacket will help you secure dryness and lack of biting wind with the velcro seal flap featured along the front zipper. One of the worst feelings is when the wind cuts right through your zipper, but that is a problem no more with this Gioberti jacket.
Cost and Value
You get a lot of bang for your buck with this windbreaker. It feels and looks like a much more expensive jacket should. Even better is that it functions like you would expect a much more expensive jacket to function. In fact, this may replace those expensive ones you have hanging in your closet. No one needs to know that you paid next to nothing to own what may very well be your favorite wind and water breaker.

6

. Charles River Pack-N-Go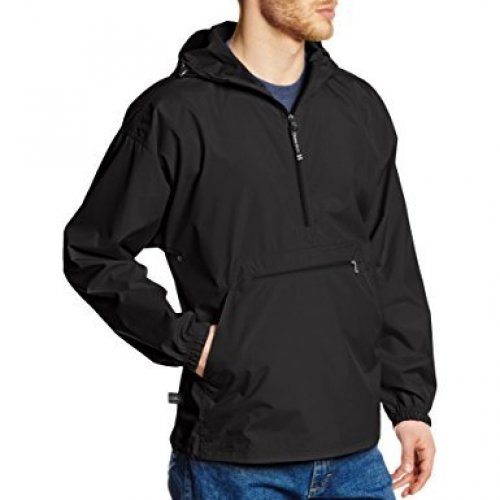 This pullover is made of 100% polyester, is soft and comfortable, and stores into its own front pocket. It has elastic cuffs and the hem stays open, but there is a shock cord drawstring to help seal it. It has underarm ventilation so you don't too hot and sweaty inside and also features a hood.
Half-Zip
As a pullover, this jacket does not zip all the way. It zips down the front halfway, at which point you run into a couple pockets. There is a large kangaroo pocket that you can put both hands into from their respective sides. On top of that pocket is a zippered pocket for any other storage you may need.
Easy Storage
Some of the best-designed windbreakers and water resistant or proof jackets can fit into their own pocket for easy storage. That is the case here, with this Charles River water and wind resistant one. It stores in the large front pocket and will barely take up any space at all when you are looking to take it with you, whether that be in a suitcase, bag, or in your car.
Value
This jacket comes to you at a very small price, one of the smallest on our lists. It is a single layer of fabric pullover that is only meant to protect you from the rain or wind so the price fits.

7

. Charles River Pullover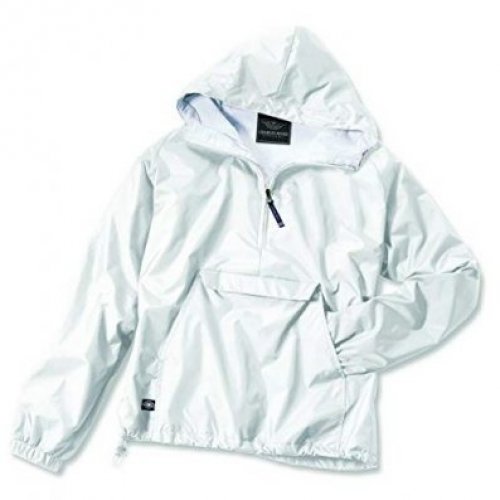 This jacket is made of Rivertec Nylon that is both wind and water resistant. In addition, it is lined with a soft cotton flannel. It is a pullover and the zipper comes halfway down where it meets the large front pocket that is perfect for keeping both hands warm.
Wind and Water Protectors
In an effort to help keep both the wind and the water at bay, the exterior found here is made of Rivertec Nylon. It has a shock cord hem at the bottom to prevent any upward seepage and the cuffs on the bottom of the sleeves are elastic. All of these elements combine to give you excellent wind protection and water resistance.
Flannel Lined
Not all windbreakers have a lining, because sometimes all you need is a layer to protect you from the biting wind. This one is lined, however. That means that it gives just enough inside to keep you warmer and cozier when it is cool outside. That being said, it is still lightweight and easy to transport. The flannel is soft and comfortable.
Cost and Value
This jacket comes at a very reasonable price. It is towards the lower end of cost on our list and easily lives up to its price tag. It will protect you and many an extra layer from getting cold or wet and you will get a lot of use out of it. In addition, it makes a great option for group jackets - sports teams, work groups, etc., and comes at a price that is perfect for that.



Another company that is well known for quality products in a variety of settings is Dickies. This lightweight windbreaker jacket is no exception. It has a snap front, comes in several different colors, and is machine washable. It is made of a polyester nylon blend and is both a windbreaker and water resistant.
Snap Front
Sometimes it is nice to have a jacket that stands out from the crowd. In a sea of windbreakers that have zippers, which can sometimes be problematic, this one offers a snap front. It snaps all the way up and doesn't come with any of the breakage issues you see with zippers or even buttons.
Water Resistance
Often times windbreaker and water resistant go hand in hand, which is a very handy feature. This nylon material of this windbreaker is covered with a Polyurethane coating and also has a DWR finish. The combination here offers a nice, lightweight, wind and water resistant jacket.
Cost and Value
This jacket falls right about mid-range price wise. You aren't getting much more than water and wind resistance, but often times you don't need anything more than that. If that is the type of jacket you are looking for, this is a great place to spend your money. This jacket will serve you well and long.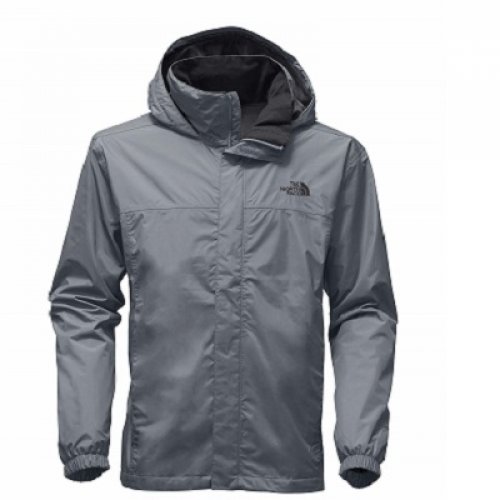 North Face has been leading the outdoor apparel industry for over fifty years and continues to the brand outdoors adventurers and sports lovers turn to. Their innovative products have helped protect mountaineers, explorers, and extreme skiers warm and protected from some of the harshest environments. The Resolve 2 windbreaker is just another in a long line of amazing products! This breathable jacket is waterproof and uses the latest technology to keep you warm while wicking away moisture.
Multi-Layer Formula
In order to provide you with the ultimate water protection, it features a polyurethane coating that is not only waterproof but also allows breathability and increases durability.
100% Windproof
Although windbreakers were designed to protect against the wind, not many products can claim they are 100% windproof. Other features that help ensure this includes elastic cuffs and a Velcro flap that goes over the front zipper.
Cost and Value
North Face is known for their high-grade products, and the price reflects that. Although it may cost more than others on the list, the features and quality you get are unmatched.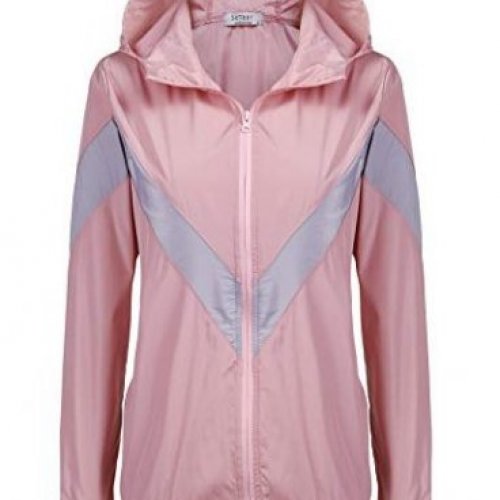 This is technically meant for wet weather, however, water resistance typically also means wind resistance and that would be why it is found on this list. It is cute and comfortable and may have you tempted to buy more than one. The material is breathable and the jacket is easy to store and travel with.
Options upon Options
The options on this windbreaker are as varied as the weather it is meant to be worn in. There are different colors, patterns, and even styles. You can go with black, pink, camo, bright yellow, and choose from short or long - the sky is almost the limit here. All are made with the same material and meant to serve the same purpose.
Lining
Both the hood and the jacket are lined here. That provides a nice added bit of warmth for when it is chilly out and also helps with keeping you dry. Adding lining in the hood is a nice touch that you will appreciate - especially on those really chilly fall days that are breezy and drizzly.
Cost and Value
The price of this jacket varies largely based on the exact style that you choose, which is a little irritating but absolutely understandable. There is such wide variety there is no way you could pay the same price for one as the other. That being said, the price is more than fair for the product you are getting and it won't be a purchase you regret.

Subscribe to our Newsletter