Best Outdoor Cat Enclosures Reviewed & Rated for Quality
In a Hurry? Editors choice: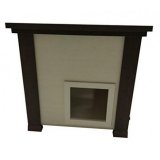 Test Winner: New Age Pet

Do you want your cats to enjoy spending time outdoors? We know you do!
However, you are more concerned about their safety and security, right? We all know that cats are free animals, and they love to
explore their surroundings.
You cannot always keep them confined indoors. Fresh air and scenery are always good to keep this delicate animal active.
But be very conscious that their surroundings may not always be safe. An outdoor cat enclosure helps to protect your pet from accidents and mishaps.
One of the many
benefits of being outdoors
is that your pet can exercise and feel free. It is the best protection while keeping them safe and sheltered.
To help you in your search, we have sorted out some of the best high-quality models which can provide your pet cat the perfect outdoor experience.
Standout Picks
Criteria Used for Evaluation
Breathability
The breathability factor is significant to keep your pet happy and prevent it from suffocating. The best materials that allow natural breathability and ventilation are the mesh and net. Both allow air to pass through effortlessly and does not suffocate the pet. They help to keep it active and lively.
Mostly, good brands use iron netting for their enclosures. Iron netting is both durable and versatile. It does not wear off under harsh weather conditions. Moreover, it is highly sturdy and keeps the pet safe in the outdoors.
Breathability is especially crucial in the case of cats. These animals fear dark and enclosed places. If you keep them confined in compartments without ventilation, they will risk getting sick. Additionally, it is not healthy for kittens either. Open and breathable cat enclosures allow them to enjoy their surroundings while staying safe inside.
That is why it is highly essential that you look at outdoor shelters that are breathable, open, and allows aeration. Only then will your pet stay rejuvenated and active. Moreover, airy and spacious accommodations are also crucial for you as an owner as they make cleaning and maintenance easy and smooth.
Capacity
These pets love to run and jump around. They are playful animals, and you will not find them sitting peacefully in one place like rabbits or dogs. They are always moving around and trying to explore new things within their surroundings.
Keeping them locked in a non-spacious area isn't a good thing in the first place. However, there are many ways through which you can keep them safe and secure while giving them all the room they need.
One such way is to look for a unit that is highly spacious. Having enough capacity means lots of room for your furry little friend to jump and run around. Therefore, the key is not to limit their activities - even when they are inside their shelters or cages houses.
Moreover, it is highly influential that you keep them happy by providing them with enough space to play around. There are even outdoor cat enclosures that are so large, you can go inside and play with them. Thus, when searching for an outdoor unit, keep in mind the factor of space. Do not only factor in the width, but the height also matters a lot too!
Comfort
Your pets need a comfortable place to lounge when they are outdoors. Felines love food and cozy places to relax. If you happen to be an owner of one, you already know about their mood swings when you fail to provide what they desire.
Keeping that in mind, it is vital to choose a shelter with maximum comfort. You can provide this support to your pet by looking for something spacious with thick padding and flooring. It should also be soft enough so that your pet can sleep peacefully inside it. However, if you prefer something with a play area, there should be enough space so that your pet doesn't get bored inside it.
Also, keep in mind the weather conditions your cat can face while staying outdoors in its unit. There are many models out there that come with a canopy and protection to minimize the effect of UV rays. Such units can also be considered when you want to maximize the comfort feature of your cat shelter.
Thus, by taking care of the above aspects while shopping, you can provide a comfortable and cozy place for your pet.
Durability
Since these cat enclosures are mostly for outdoors purposes, that is why their strength is of immense importance. Materials such as plastic or weak steel, which are prone to rotting, are not the best materials for such units. They are not weather resistant and will tend to wear over time. Furthermore, they are not long-lasting, and you will end up wasting your money on them.
The best models are those that are comprised of wood, asphalt, or quality iron material. They are weather-resistant and are not prone to rotting and catching environmental factors over a short period of time. That is why it is essential to look for durable material as they will hold up over a more extended period.
Other than their longevity and withstanding the weather conditions, durable material also provides maximum protection for your pet. Often, bigger animals will find a place to escape to if their enclosures aren't made up of the right materials. They can even break it.
Therefore, looking for a durable material is highly crucial when you have plans of keeping your pet in a shelter outside. You will not only get the best return of your money this way, but it will also ensure the maximum protection and security of your pet.
Portability
You may wish to move your pet enclosures to another location. You might take your cat with you when traveling. You may even need to take your pet to a vet. This is where you will need a unit to carry them safely.
That is why when you are looking for a model, it is essential to keep in mind how portable they are. If your unit is light in weight and comes with secure folding options, then you can easily transport it from one place to another.
If it comes in a medium-size, the cat enclosure still may be easy to port around. However, keep in mind here that portability doesn't mean that you overlook the significant elements. It needs to be roomy enough to keep your pet comfortable inside. But you can always choose lightweight materials if you have plans to take your pet with you on long journeys.
There are many models that come in larger sizes with durable materials. These may require more time for assembly. In such cases, it is always good to keep an extra unit; as they are portable and don't require much of your effort and time in putting it together.
10 Best Outdoor Cat Enclosures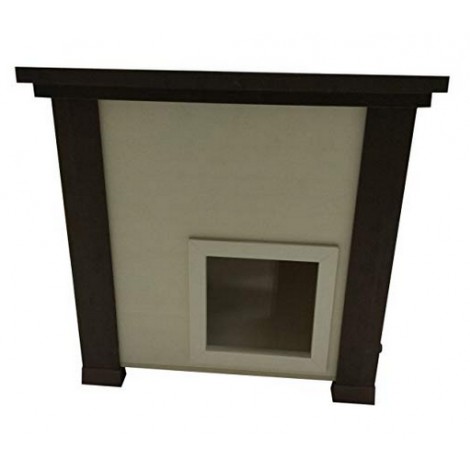 The first enclosure on our list is the Albany Outdoor Feral cat house which is made with ecoFLEX. It is a unique material that is a blend of plastic and wood. This house has the specialty of both of these materials, which makes it durable.
Moreover, this model is easy to set up too. You can assemble it by following a few simple steps. It helps to protect your pet from extreme weather conditions such as harsh temperatures and rain. Furthermore, it will keep bugs away and is resistant to rotting and deteriorating.
Weatherproof
The weatherproof feature makes it very unique and worth investing in. When you keep your pets outside, then it is necessary to have a cat enclosure that can resist harsh weather conditions.
Using this shelter will make sure that not only your kids will stay away from germs and parasites, but your little kitties will also stay safe from the rain and extremely hot temperatures.
Simple Assembly
Assembling this shelter is easy and straightforward. You don't need to buy any extra tools to join it together. Just pull the pieces out and join them together by reading the instruction menu that comes with it.
The secure assembly method also allows you to carry this outdoor cat encloser anywhere you want. You can easily detach it and reassemble it back. Thus, it is a highly portable unit that can move with you.
Cost and Value
You would be surprised to know that this model comes with a 10-year warranty! You won't be able to find such long-term protection with other enclosures.
Moreover, it comes at a reasonable price as well, which further justifies its worth. With such a fair price and a considerable warranty, you won't find any other manufacturer where you can invest your money and get the best value out of it.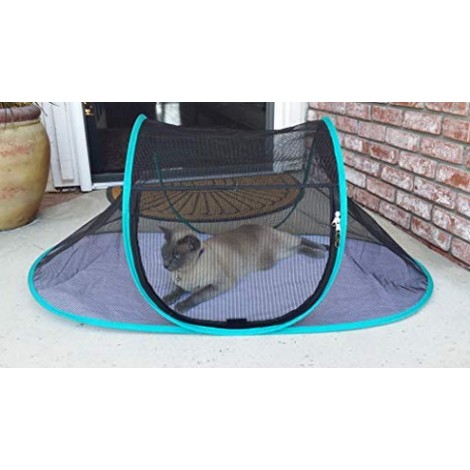 Nala company is known for their affordable and straightforward units. Their style and design are a lot different from other brands. They instead, design pet tents which are more comfortable to carry around and are also lightweight. This tent also comes with a zipper to easily open and close it. Moreover, your pet can enjoy their surroundings due to its open design and netted material.
By using this outdoor cat enclosure you can quickly move your pet anywhere without the fear that they will run away. It will guarantee you the safety of your pet. Moreover, it is not heavy on the pockets, as it comes with a pretty nice price tag.
360-Degree View
Worried that your kitten might get bored inside the enclosed shelter? You got a solution here!
This tent unit is open from all sides, and it allows your pet to have a 360-degree view of their surroundings. Moreover, it is highly spacious, and your pet will have a lot of room to move around. Even if your cat is large, that won't be a problem because this tent is spacious.
Lightweight
What's the use of a unit if it isn't lightweight and portable? To make things easier, this handy outdoor cat encloser is constructed with a smart design which makes it lightweight and much easier to handle.
It isn't made up of hard and heavy wood materials. This increases its usability. Moreover, to make it even handier, it comes with a double zipper so you can easily slide your pet in and carry it anywhere you want.
Cost and Value
This tent is the most affordable option you can get! Due to its mesh material and unique design, the price is more affordable than the heavier model units. It is specially made to provide ease and comfort to the user. We say it is one of the best in terms of features as well as cost.
It provides the best value for your hard-earned money. You don't only get a great product, but you can protect your pet just the way it deserves.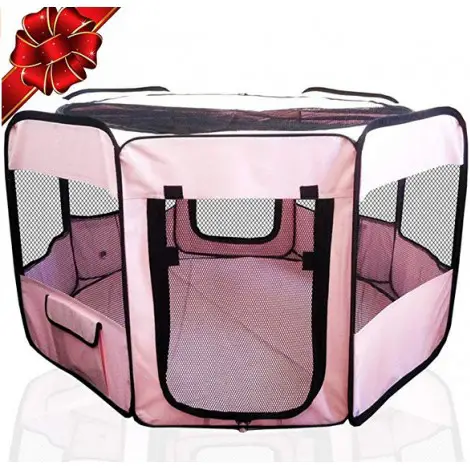 No matter if you are a fan of cats, rabbits, puppies, or Guinea pigs, this pet cage has got it all covered! This model of an outdoor cat encloser is one of the premium brands and ToysOpoly is well-known for its pet cages.
Their units are portable and spacious, just like this pet cage. It is built with a height of up to 25 inches and a width of around 45 inches. Thus, it is even suitable for bigger animals. Moreover, it comes with a zipper, and the mesh material provides enough ventilation to keep your pet happy and active.
Highly Spacious
This model is so vast that your pets can play inside it. You can even have more than one pet. With a width of up to 45 inches, your pet won't get bored inside it.
Other than the dimensions, the design of this model is set in such a way that your pet won't feel cramped. It has a roomy interior with a specific place for the playpen. So your cat can enjoy their activities inside it.
Furthermore, this cage is also suitable for breeding. It will keep your pet safe, sound, and away from environmental stress.
Construction Material
The construction of this cat encloser makes it highly usable. It comprises of mesh material which is not only suitable for ventilation, but also for preventing your pet from suffocating.
This material is highly breathable and allows natural ventilation at all times. The mesh material also allows your pet to visualize their surroundings while staying inside the enclosure. Furthermore, this material is easy to clean, and its lightweightness makes the unit highly portable.
Cost and Value
If you want the best return for your money, consider buying this pet enclosure.
It is not only a good outdoor cat encloser, but it is also long-lasting and made from durable material. It will not wear down in a short period. You will not have the fear of buying a new unit every year.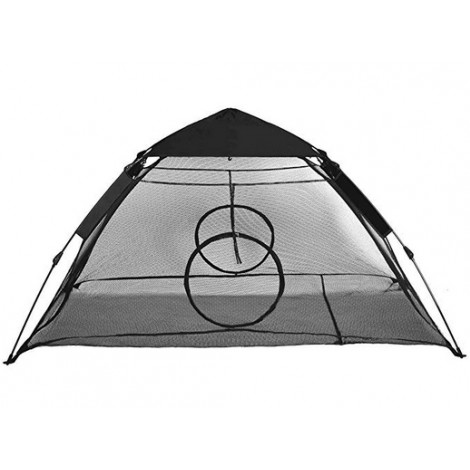 If you are a cat lover, you may be already aware of Outback Jack. This tent is highly roomy, and it allows your pet to enjoy an area of around 30 square feet for activities and fun.
The design and construction also allows natural movement not only for the pet, but also for you. This is so that you can watch your pet without worry. Your cat will be visible to you from all sides, which adds to its safety and protection.
Moreover, it is foldable, which makes it is portable and easy to hold. It also includes a cat tunnel to makes more room; however, it is detachable, and you can use it as desired.
Design and Construction
Let's start with the essential feature of any product, which is the design and construction. This tent is not only spacious; but due to its breathable material, it allows a 360-degree view. Your cat will get a clear view of the surroundings, which is healthy for it. Furthermore, the mesh material is also easy to clean and easy to manage.
Portable
The lightweight feature of this unit makes it highly portable. The mesh material is not only light, but it also allows you to easily fold it without the fear of breaking. You can carry it along wherever you go. All you have to do is to fold it, keep it in your bag and assemble it back whenever you want.
Cost and Value
This perfect outdoor cat encloser is not expensive at all. Due to the mesh construction material and highly smart design, you can get a much affordable option for your pet.
It fulfills the demand of every feature you want at a fantastic cost. Thus, you get the best value for your money in the form of space, shelter, and highly portable design.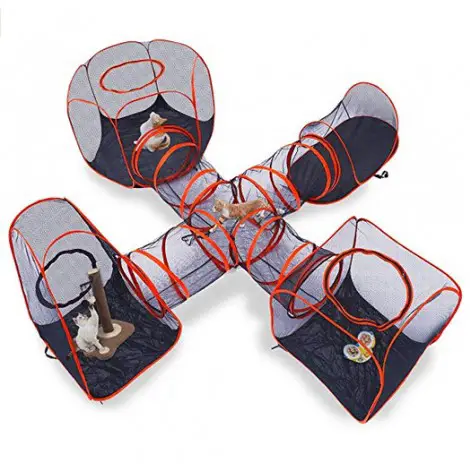 This enclosure unit by DAPU is a whole playground for your pets. They can move around, play around, and carry out their activities inside it. It's a large tent in a square shape with a lot of space.
It comes with three spacious tunnels. At the end of each tunnel is a separate colossal tent made up of mesh material. Your pet doesn't only get to run around, but also get a chance to view the environment in a space which doesn't make them feel like they are inside a closure.
Unique Design
It has a unique design that you will hardly find in other cat enclosers. It consists of three roomy tents with tunnels in between them. The material of the whole setup is breathable and is made up of mesh. It doesn't only provide ventilation, it also provides a 360-degree angle room for the pet inside it.
Your pet can freely move around. Furthermore, you can keep more than one pet inside it - which is a pretty huge deal!
Is Portable
Looking at the considerable setup might make you feel that it isn't portable. After all, who can carry this broad and massive set up with them? However, this is not the case at all!
The good news is that this model is foldable. You get to fold it and pop it up again whenever required. Thus, it makes the perfect shelter for your pets when you are camping or on picnics. Furthermore, it also comes with a zipper on all sides to easily slide your pet in or take out.
Cost and Value
This outdoor cat encloser is so popular that you will mostly find it out of stock. It comes with a pretty nice price range, which is another reason you won't find it easily. This vast space and lots of areas to play and run will keep your pet active.
You will not find any other model as spacious as this one for such a smart price! It is a great value for your money. This item is readily available. Get yours now while they are in stock!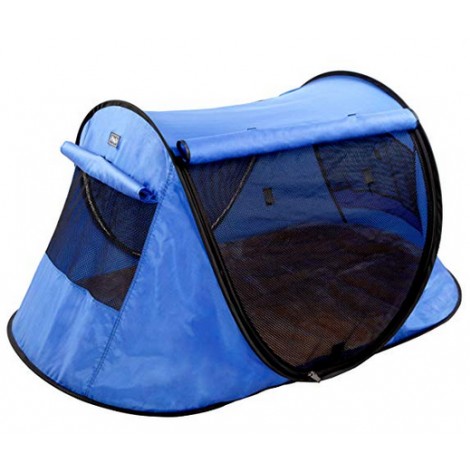 This outdoor cat encloser is another great option if you want to keep your pet outside or take it camping with you. It is a water-resistant tent. You can take your cat out without the fear of the weather or wildlife affecting it.
It is padded from the inside so that your pet can have a warm and cozy place to rest. Moreover, it also comes with windows on all three sides and a large door for ventilation.
Thick Floor
You won't find this dense and soft padded floor in many units out there. This one has got everything you need to provide the greatest comfort to your pet.
It specifically comes with a mat that is thick and soft. It is removable and very easy to clean. Your pet will not only stay safe inside, they will enjoy restful sleep whenever they become tired from playing.
Easy to Maintain
Due to its moderate size, lightweight, and comfortable folding option, this tent is easy to maintain and is convenient to carry around. Furthermore, the design of it makes it easier to handle.
You will help to maintain a healthier lifestyle for your pet due to the unit's design, as it is easily washable. The ventilation options and see-through material will keep your pet happy and comfortable inside it.
Cost and Value
This model of cat encloser comes with a moderate price range. If you compare the pricing with the features to similar models, then it seems like a really fair deal.
Getting a lot of features in terms of space, ventilation, breathability, and portability isn't common to find in similar models out there. Thus, the cost and features of this cat tent are highly justified. You will get the best return for your money when you select this practical unit for your pet.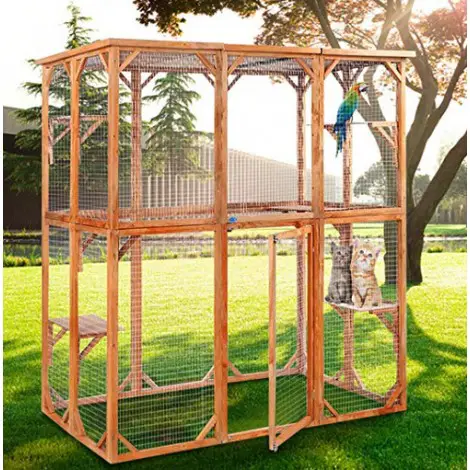 If you are looking to provide a safe outdoor place to your cats, then this wooden cat house is a great option.
It consists of a vast fire wooden setup with a lot of space and a much higher height so that your pet can jump around. It is covered with iron wire, which is open from all sides to allow your cat to breathe and stay relaxed. Due to the inclusion of firewood, it is the safest and the most eco-friendly option.
Breeding Space
This wooden house provides the best breeding space for your cats. There is so much room that little kittens can easily survive inside. The easy ventilation option is an additional advantage.
Rather than sending your cat outside and it comes back full of kittens, it is better to let it breed inside the house and allow the kittens to have a safe space.
Safe and Secure
This outdoor cat encloser is a reliable place to keep your pets. The iron wire and wooden setup are highly sturdy and robust without any chance of breakage. As a result, your cat stays protected from animals such as hawks, eagles, and environmental effects.
Moreover, you can also use this unit for keeping other pets you may have, as it is spacious and suitable for other types of animals or birds.
Cost and Value
Due to the inclusion of highly durable firewood and solid iron wires, this model comes with a higher price tag. However, the level of protection it provides is justifiable.
Furthermore, it is a durable product that will stay solid for a lifetime. It will not wear off due to environmental factors or weather conditions. Thus, it is a great return for your hard-earned money!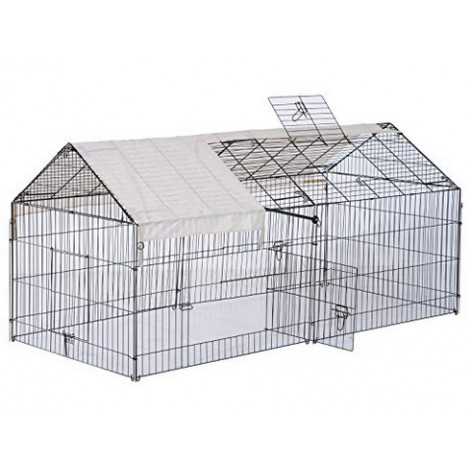 This highly spacious and uniquely designed unit is another excellent option for your pets. It consists of durable steel, which ensures the longevity of this steel cage. Moreover, it is also lightweight, which offers easier portability.
The steel material also allows your pet to stay safely inside. A water-resistant covering is also included. Your pet stays protected from weather conditions such as rain and hot, sunny days.
Durable Construction
This cage cat encloser is one of the safest options for your pet. The construction material is weather-resistant and will not wither from harsh environmental conditions. The UV resistant protective canopy on the top ensures that your pet stays safe.
Moreover, this model includes multiple doors, which allows you to place your pet inside and feed it conveniently and easily.
Spacious
This unit is highly spacious. It is made from iron and steel framing with UV protection fabric. Moreover, it measures 86.5 x 40.5 x 40.5, ( of length, width, and height) respectively.
Thus, it ensures maximum space for your pet to carry out its activities. Moreover, the door is also abundant with a length and width of 16 x 12.5 inches, respectively. You can even put a larger animal inside it. Furthermore, it comes with a weight of around 43 pounds and is easier to assemble.
Cost and Value
Due to the high-quality construction and durable materials, this model if offered at a competitive price. However, the material is long-lasting and doesn't put you through the trouble of fixing it or looking for another model.
That is why the PawHut enclosure is a good investment. Spare yourself the fear of hurting your pet due to poor construction or watching your unit wear off. Moreover, its large size allows you to keep different pets inside it.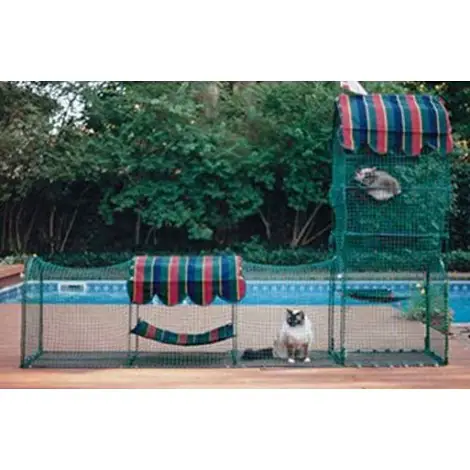 Let's talk about this multi-unit enclosure where you can keep your cats or multiple pets! There is a lot of space where your cat can roam freely and happily. It is easy to assemble and is constructed with a water-resistant material.
It has zippers on all sides for allowing you to easily maintain the enclosure and feed your pet. The high-quality mesh and net material allows your cat to visualize their surroundings and ensure natural ventilation.
Multi-Unit Enclosure
If you have multiple pets, then this is the perfect model for you. It doesn't only have space for many pets, it also has separate compartments where your pets can stay comfortable.
It comes with four separate areas for your pet which are interconnected. It comes with around 30 cubic feet (total width of 18 inches) of an area where your pets can play and jump around easily and freely.
Weather-Resistant
This model has a canopy on the top, which provides an excellent form of shelter for pets. It serves as an additional protective layer of refuge for keeping them safe from UV rays and extreme weather conditions like rain and hail. As a result, you can keep this cat encloser outside on the lawn without the fear of losing your pet.
Cost and Value
This unit comes at a competitive price. The highly spacious feature is difficult to find at this price range.
Thus, your cat can reap the benefits after spending your hard-earned dollars to buy it. The netting, UV protection, and the spacious foundation is the perfect deal. Thus, you shouldn't miss out on such a beautiful unit piece for your pet.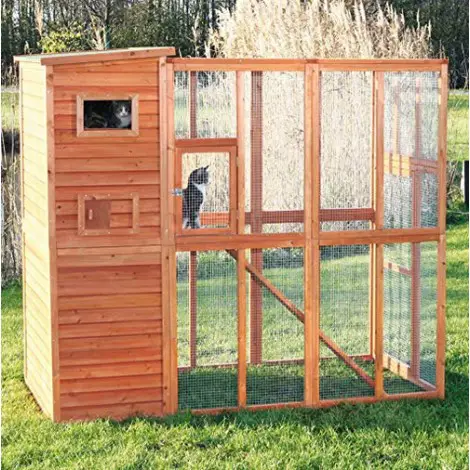 This unit by Trixie is a fir wood house that contains metal and asphalt in the construction. The natural fir wood has a reputation for longevity and strength.
This outdoor cat encloser is highly spacious, comprehensive, and tall. Other than the inclusion of iron netting, it contains separate wooden compartments where your kittens can peacefully rest and sleep. Moreover, the material is weather-resistant so that you can easily keep it outside.
Spacious
With the dimensions of 76.5 x 37.25 x 68.75 inches, this model is one of the tallest and widest on our list. Due to its space and design, you can keep multiple pets inside it.
Your pets and kittens will not only enjoy a large space for playing and other activities; they will also have a nice and cozy compartment to sleep. Moreover, the natural wood finish also keeps the house safe from physical factors.
Fir Wood Construction
Due to the fir wood construction, this model is highly durable. It is resistant to rotting and extreme weather conditions.
You can keep it without the fear of wearing out. Moreover, it comes with a complete assembly manual. It will hardly take 30 minutes to put it together. Furthermore, it also has a large door for easy maintenance and cleaning.
Cost and Value
Due to this model being constructed with fir wood and glazed pine, it is offered at a relatively higher price than the other models on our list. This cost covers the warranty, and you will get a great outdoor cat enclosure in return for your money. This unit is readily available for purchase and ships quickly.

Subscribe to our Newsletter