Best Cat Toys Reviewed & Rated for Quality
Are you tired of constant vocalizing in your home? Meows that clearly communicate the boredom that your pet is currently facing? Loud, constant vocalizations are a common complaint of people who share their home with felines. However, did you know that often this is a direct result of boredom? It's true! But, have no fear. Kitty lovers everywhere rejoice! We've dug deep into the realm of feline psychology, and consumer opinions, to compile a list of products that are purrrrfect for your furry friends. It can be hard to nail down exactly what makes your kitty tick, but we're pretty close to finding the answer. No matter what your feline friend prefers we're sure you'll find a winner in this list below.
Featured Recommendations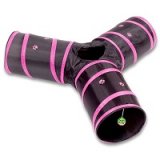 Prosper Tunnel

Our rating
Multiple Color Options
Price:

See Here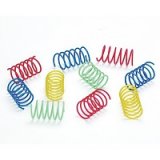 Ethical Products Colorful Springs

Our rating
Many Different Sizes
Price:

See Here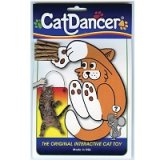 Dancer 101

Our rating
Made In The USA
Price:

See Here

Not only is having ample entertainment important for keeping felines quiet, it's also vital for their mental health. Having nothing to do all day can really be draining for anybody. It's especially bad for kitties since they have no option to find their own entertainment. Or, rather, they do, and that's the problem. When your pet has nothing else to do they will find ways to play, which is the reason behind a lot of annoying feline behaviors. So, skip the salty attitude that these annoying quirks can bring out in you, and start shopping!
10 Best Cat Toys
1. Prosper Tunnel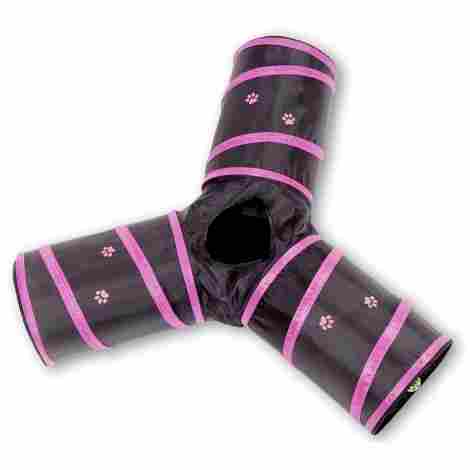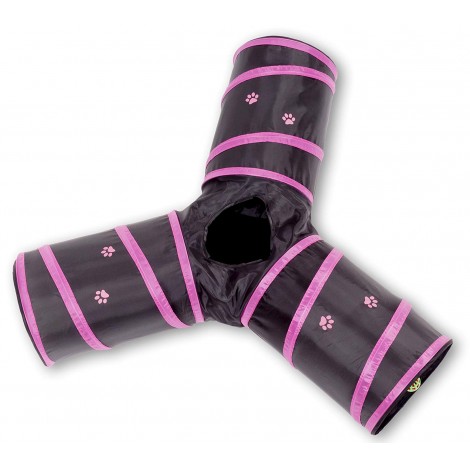 Every kitty loves a good tunnel! It's kind of like the box rule. Y'know, how they simply can't resist popping into any box they come across? However, Prosper offers a few more features in their tunnel than other brands do. They've really cranked up the volume on this design and crafted a product that stands up to even the toughest reviewers. The high-quality material makes it durable against whatever your kitties can throw at it. It also features a little bell ball which hangs from one of the tunnel entrances. It's like an extra product altogether! The possibilities are endless: both for your kitties while they play, and for you, while they're finally occupied.
Expand to see more
So Many Ways To Play
Your feline friend will absolutely love the different ways they're able to play. Not only does this system come with three tunnels total, but it also features a hanging bell ball. This is great for felines since many of their behaviors are caused by their attraction to movement. Being able to self-stimulate is incredibly important, and can solve a host of bad behavior your pet might be displaying. This tunnel is also great for homes with multiple kitties! They can chase each other through this system which bolsters bonding, and keeps them out of your hair.

Offers A Place To Hide
There is little more that kitties love than finding a little hidey hole to tuck themselves into. As with everybody, their behavior is dictated by feline psychology. Because of their place in the prey/predator totem pole, having a quiet, dark, hidden place to go gives them better security. If you don't already have a specific product that gives them the option to hole up, then this tunnel is a great choice. Again, many behaviors are caused by not having the right supplies. A hidey-hole is absolutely one of those essentials.


Cost and Value
You might expect this product to come at a premium. You would be wrong! We absolutely rate this as one of the best values in our line up. It comes ith rave reviews, and is the top pick across the board. Even with all of this you can expect to pay a very reasonable amount for it. Having a tunnel is essential for mental health because of the play it provides and their ability to hide. So, we think that this product has great value to anybody who buys it. If you're at all interested in getting this, then take the leap! We think you'll find that you don't regret it.
Wide variety of colors

Money back guarantee

Stores easily

Tear-resistant Polyester

Multiple pet friendly
2. Ethical Products Springs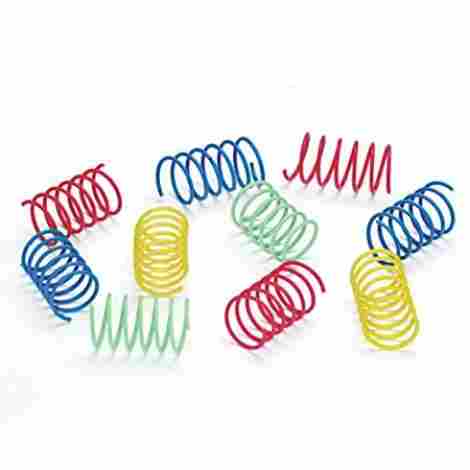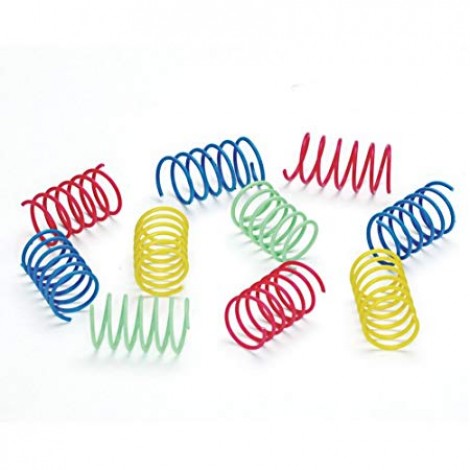 With such a soothing name, you can be sure that their products are plenty good! This is absolutely the case. Ethical Products has crafted these simple springs out of bright colors, taking their size into account. This is important because some similar products are hazardous to your pet's health. Small pieces can be swallowed and present a threat of choking. If material is too thin, your kitty could
chew it apart
. This isn't just another choking hazard! It also means splintered pieces poking their tender palettes, or any number of other injuries. Ethical Products is big on safety, and a big fan of fun. Keep reading to find out how they scored the number two spot!
Expand to see more
A Simple Solution
Are you tired of expensive pet products that take forever to put together? We know that sometimes manufacturers seem to overcomplicate things. Multiple parts, confusing bluegraphs, and more can cause excess confusion and make your head spin. These springs are ready to use right out of the package, and offer a simple form of entertainment for your animal. Now, that's a pretty great feature! Just dump them on the floor, maybe toss them around a little, and watch the fun begin for your feline friend.

Bright And Noticeable
How many little mice have gotten lost under a small gap, never to be found again? It can get expensive replacing item after item after your kitty manages to lose them. Wouldn't it be nice to find a simple, fun-filled object that is ready out of the package, and you would have a hard time losing? Look no further. That's exactly what Ethical Products is offering to you with their colorful spring toy. Because of the neon colors they're easy to spot even in dark places. Their size also means your kitty will have a harder time finding a space big enough for them to get stuck in.

Cost and Value
There is little better value out there than what you find in this little package! Springs are a great option for fur parents everywhere. They offer an easy alternative to bad behavior by giving your kitty something to play with that isn't your pens, cups, or, well, you get the idea. On top of this they ring at a very reasonable price, so even if they aren't a good match for your pet, you aren't really out that much money. At the very least these springs are worth a try. We think you'll find that your kitty finds them irresistible!
The springs roll and bounce unpredictably, perfect for that curious cat.
They won't get tangled
They don't hurt if the humans in the house step on them
Inexpensive
The springs won't bounce that great on carpet
They are quite small and easy to lose
3. Dancer 101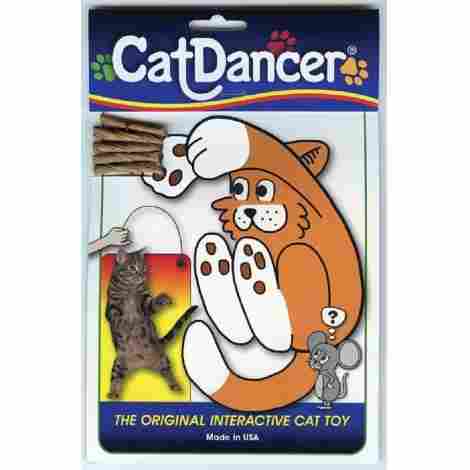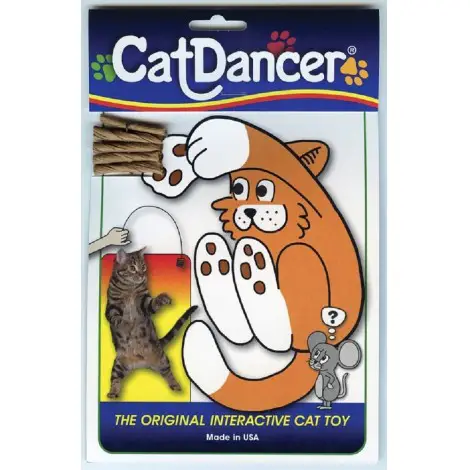 This is definitely the brand of the day! We have found few products which match the extreme value the Dancer 101 offers. This is quite possibly the cheapest product we've ever researched, and yet it has a phenomenal build. There is a lot of science that went into the process of creating these magical, bendy… things. Honestly, we aren't really sure what to call it. Is it a stick? Is it a string? As it turns out, the answer to that is "both". It's a weird concept, but it really does work out beautifully. This is one of the best sellers out there, and the reasons why are clear.
Expand to see more
Made In The USA
Tired of cheap products being shipped in en masse? Well, we have your solution. The Dancer 101 is manufactured with care right here in the USA. This means better materials, an easier time contacting customer support, and quicker shipping overall! Not only will you find incredible value with this product, but you also find multiple benefits from the place of its production. Not only is it great to support these businesses, but you also find your experience as a customer bolstered. With so many reasons to buy, we're wondering why you haven't yet!

The Best "Boing" Action Around!
Honestly, this is probably the most fun you'll have with a tool for your kitty's entertainment. We actually tried one of these out (why not?) and found the up and down action kind of mesmerizing. This makes it just as fun for the owner as it does for the kitty in question. It also means that the Dancer 101 is just irresistible to your favorite feline! The quick, whipping action this product easily provides triggers a reaction in their brain that causes their pouncing reflex to engage. You wouldn't think such a simple product would have such a scientific reason for it's design, but there you have it!

Cost and Value
This is our number one pick for value. Unsurprisingly, this means it blows the rest of the products out of the water in this arena. In fact, this might be one of the best values we've ever seen! No matter your budget this is an option you can easily afford. Cat Dancer has sold such a high volume of these products that it's easy to see why they can lower the price so much. It's a huge hit among felines everywhere and provides hours of interactive stimulation. The materials are simple, but they're durable and long lasting. Not only is the price super low, but the life of this product is surprisingly long! Please note that some find the general design frustrating, however, since it's flicks around so easily and quickly. Figuring out how to use it might take a little more time than you think!
Simple product

Multi-pack option

Over 8 Million Sold

Interactive for owner

Lasts forever
4. Charmer Wand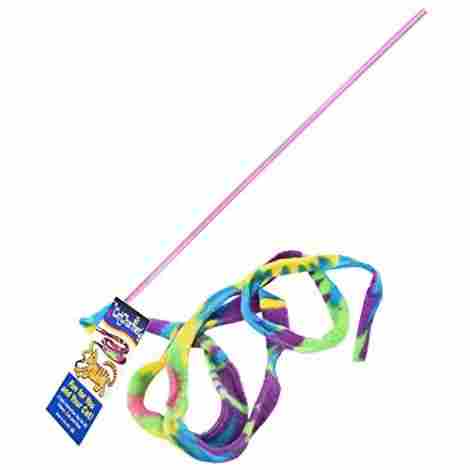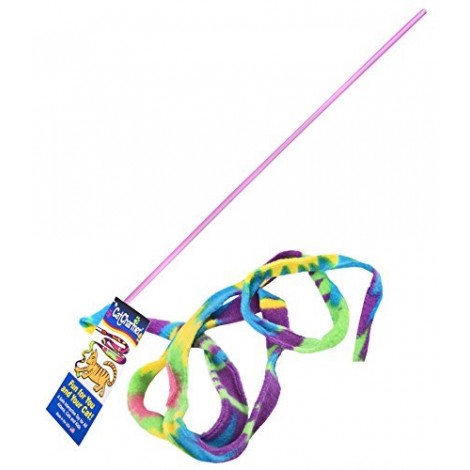 The next product on our list is a flashy, fun interactive model that will leave your kitty exhausted! If you're looking for a better bonding experience then we can't recommend this Charmer Wand enough. It allows the pet parent to play more directly with their kitty, and you know your fur baby will both notice this and appreciate it. It's no shock that your pet needs exercise for their betterment. You can make leaps and bounds toward their emotional and physical wellbeing by simply taking twenty minutes a day to interact with them. The Charmer Wand allows you to do just that!
Expand to see more
The Funniest Fun Around
Alright, so maybe the title is a tad awkward. It rings true, however! There is nothing more entertaining than watching your kitty twist through the air trying to catch a ribbon. You can get your kitty to jump around, and really get their head in the game. Some toys don't offer the owner interaction with their fur baby. The Charmer Wand, on the other hand, is designed to strengthen your bond and give you a chance to play right along with your pet!
Excellent Source Of Exercise
Is your kitty
not so skinny
? Are they beginning to turn "fuzzball" into less of a cute nickname and more of a description of their body type? Obesity is a growing epidemic across the world, and that is absolutely no different for our pets. There is a large number of animals who are also suffering under excess weight they could do without. This Charmer Wand lets you exercise your kitty with ease. You'll be able to keep them healthy, happy, and hoppin' around!
Cost and Value
The Charmer Wand is actually another high-value item on this guide. We definitely appreciate the low cost that it provides. There are a couple points to pay attention to, however. Unlike the Dancer 101 this is an item that requires some serious, constant movement on the pet parent's part. Interaction is awesome, but sometimes you just don't have the time to spend. It's definitely not a self-soothing option! The wand is also a little flimsy according to some reviews, but even so, it seems to still have a rather long lifespan.
Multi-pack available

Aerobic work out

Effective exerciser

Polycarbonate wand

Fun colors
Requires constant movement
5. Bergan Turbo Scratcher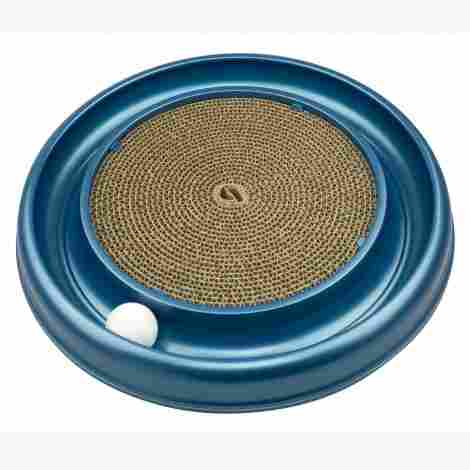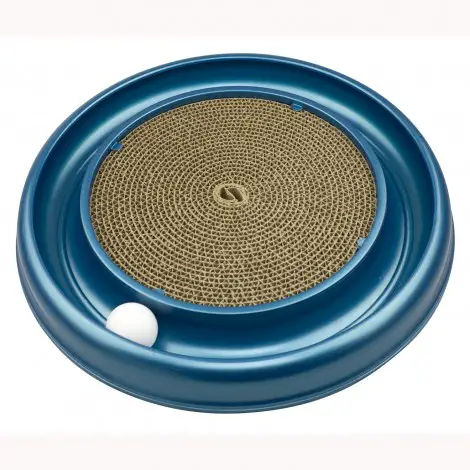 As we've said before, it is incredibly important for your pet to have self-soothing options in your home. This can help solve many negative behaviors and create a stress-free environment for both you and your companion. A self-soothing toy is one that can be used without the help of a person. The Bergan Turbo Scratcher is exactly that! It features a circular track with a
ball
which your pet can bat around to their heart's content. The middle of the product is covered in a scratch pad to encourage your pet to get out this natural, healthy behavior in an appropriate way. The rave reviews we found just add to the value of this product, and pretty much convinced us that we need to buy them ourselves (and some of us don't even have kitties!).
Expand to see more
A Self-Soothing Solution
Sometimes you simply don't have the time for interactive play. In those times your kitty still needs a way to expend excess energy and entertain themselves. The Bergan Turbo Scratcher provides both in a neat, little package! This circular device has a little ball that for your kitty to bat around at their leisure. While this may sound endlessly boring to people, we promise you that your pet will find hours of endless entertainment,

A Scratching Post… And More!
The handiest feature that the Bergan Turbo Scratcher has to offer is it's dual-purpose nature. Not only will your pet have ample play time, and a way to distract themselves when they're home alone, but they also have an outlet for natural urges. Scratching is a huge complaint among many pet parents. There are definitely ways around this behavior, and going to route of least resistance is best. Giving your kitty a healthy alternative to your furniture will boost your bond and give you less to stress about.

Cost and Value
This multi-use product is just as valuable as it is useful. Between the small design, potential hours of play, and relatively inexpensive price, we've really found a winner! Of course, every product we feature is put to the test and all of them are highly valuable. However, in some cases the more valuable a product is, the pricier it becomes. This is why we love finding products like this one that pack in a great value in both versatility and price! The Bergan Turbo Scratcher is a timeless classic that you simply need for a healthier, happier animal.
Allows self-soothing

Replaceable scratch pad

Promotes activity

Great for kittens

Rave reviews online
6. Petstages Tower Of Tracks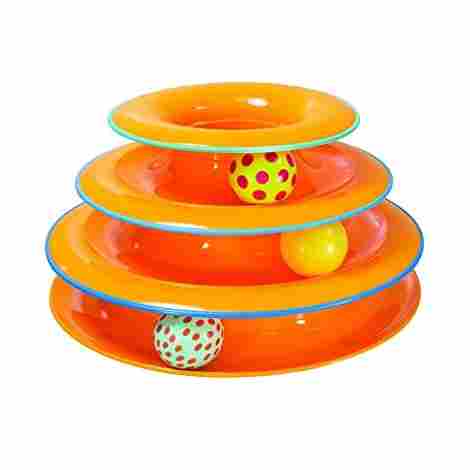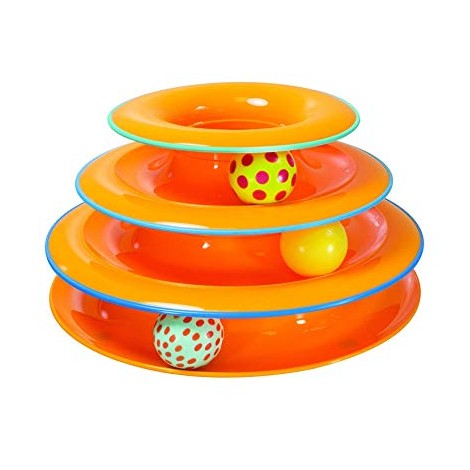 Petstages has blown us away with this cute, little product that has won the hearts of pet parents everywhere. The pastel pink color and patterned balls give this design a flair unmatched by most others. It's adorable! On top of this, the colors of both the tower and the balls provide visual stimulation for your feline that is so very necessary for their mental health. As with any of these specific styles of product you may have to teach your cat to use it first. Some of them just don't understand the concept! This is easily remedied, however, by simply batting the balls around yourself a little bit. Buy it, try it, and then come back to tell us how right we were!
Expand to see more
Makes Multiples Happy
Do you have multiple
furry companions
running around? Then purchase this product, and watch hilarity ensue. Just imagine this: all three kitties trying to play at once, falling over each other, and tussling. It's enough to make us swoon and hoot, honestly! On a more serious note, this is a great feature because it allows for all of the pets to play together. Of course, it works perfectly fine for a single kitty, but it's all the more fun with friends! So, if you have one kitty or three, keep the Tower of Tracks in mind!
Bright And Fun
Half of the fun you have while shopping for your pet is picking out fun products! Sometimes we get more excited about new play things than our pets do. This might be the case with the Petstatges Tower of Tracks! Except, y'know, your pet will actually be just as excited as you are. It comes in a bright, vibrant pink with patterned balls for increased visual stimulation. While this might clash with some of your decor, we think it's a cute addition to any family room.
Cost and Value
While this is a relatively inexpensive product, it isn't actually as high on our list of "values" as you might expect. It's true that it's the ultimate in ball-and-track designs, but there are a few key elements to watch out for. First of all, it's important to remember that this is a product mainly targeted at kittens rather than adults. You can definitely buy it for a full grown animal, but you may be better off purchasing something like the Bergan Turbo Scratcher instead. If you have a kitten then this is definitely a great choice! It provides a fun, interactive style of play at a fraction of the cost of some other brands.
3 different levels

Non-slip bottom

Vibrant design

Visual stimulation

Allows for self-soothing
Better for kittens

Made of plastic
7. Yeowww! Catnip Banana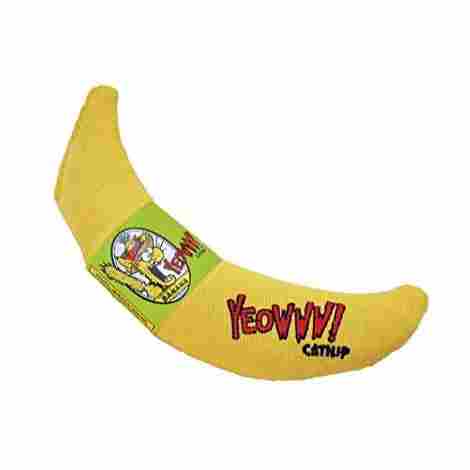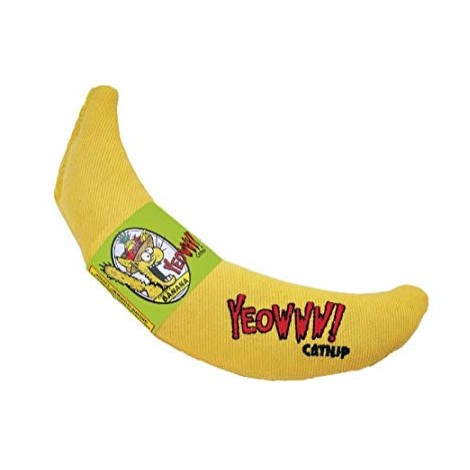 The name says it all!
Kitties
go crazy for this Yeowww! Catnip Banana is sure to please even the pickiest pets around. Not only is it stuffed with irresistable cat crack, but it also has a soft cloth shell which allows your kitty to safely play with it. The bright, vibrant yellow of the banana will lure your little fur baby in, and the catnip will hold them captive! On top of this, it's just a hilarious product. I mean, come on. If you don't want to buy this solely based on the fact that it's a banana for kitties then we don't know what to say! Actually, we do. Keep reading, and we're sure you'll be sold by the end regardless.
Expand to see more
A Mouthwatering Treat
No, we're not insinuating that your kitty has some inner desire to munch on bananas. Unless they do (we don't judge). Nonetheless, regardless of your feline's inner desires, this banana will certainly appeal to their outer ones. It's filled with that glorious, frenzy inducing substance that we love breaking out whenever our kitties have been extra good. Catnip is known for its ability to make kitties go absolutely crazy! That's part of the reason why this banana is such a great option for pet parents everywhere.

A Sight To Behold
Okay, seriously, guys. Just picture it. Just picture your pet wrestling with a banana, and running around like a lunatic clutching it in their mouth. This might not be necessarily an "interactive" toy, but it sure does feel like it! We have furry companions because of the stress relief they provide. Whenever you're feeling down and out you can always count on your furry friends to come through for you. Having hilarious toys laying around can really pile on the comic relief, which is a welcome benefit to most.

Cost and Value
Honestly, we don't even care how much this product costs. We just want one! In all seriousness, however, this is a SUPER affordable option as far as pet products go. It packs in a lot of play time for your kitty, both on their own and with you. This alone makes the Yeowww! Catnip Banana appealing. On top of this you don't have to pay a premium for pet play. The durable cloth design and the ability to refill
USA made

Perfect for picky pets

Fully handmade

Hilarious fun

Irresistible to kitties
8. Trixie 5-in-1 Activity Center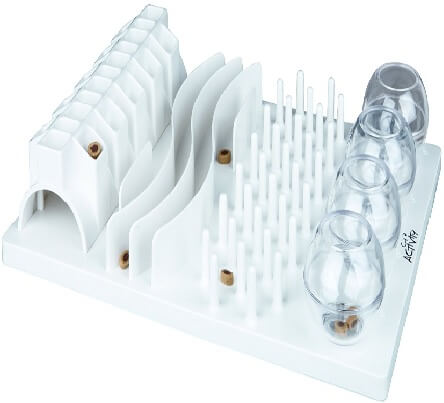 Cats are clever, they love getting into everything as much as they can, especially if it's a bit tricky to get into. That is where this Trixie 5-in-1 activity center will come in handy. Offering 5 different activities that were designed to stimulate your cats 5 senses, this simple game is the perfect form of getting your cat active while not having to lay out multiple different toys.
Expand to see more
5-in-1

Measuring at 12 by 16 inches and weighing 3 pounds this multifunctional toy offers 5 different sensory games. Featuring a globe that resembles a fish bowl to create a sense of digging for a treat with their paw, a row of pegs that give the cat visual access to the treat, without actually having access to it. There's also an alley that allows the cat to lay down and begin poking around creating a strategy to get to the treat as quickly as possible. Additionally, there is a tongue that is suitable for liquid treats since the slides prevent the cat from using their paw to retrieve it. And last but not least there is a row of tunnels that mimic mouse holes, ideal for hiding treats inside for further stimulation.

Suitable for multiple Cats

If you have more then one cat, do not be afraid to purchase this toy as it is perfect for multiple cats to play at once. Due to it offering multiple different sensory games this toy is great for those that want to create a bit of fun competition or bonding time between their beloved felines.

Cost and Value

Taking into regard how much you are getting from this toy, it's quite affordable. You are receiving a 5 in 1 tool that will provoke your cat to want to do more with its senses.

5-in-1 toy
Easy to use
Entertaining to cats
Heavy Duty
Can be dangerous to cat's eyes
9. Munchiecat Sushi Toys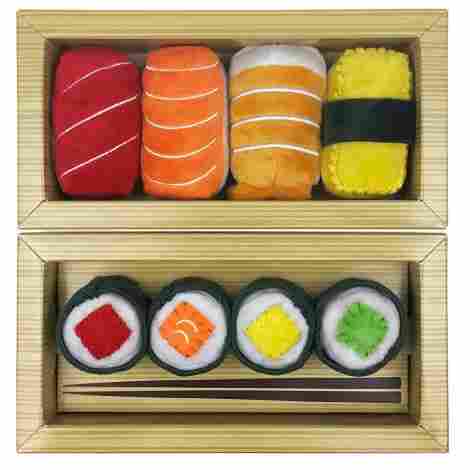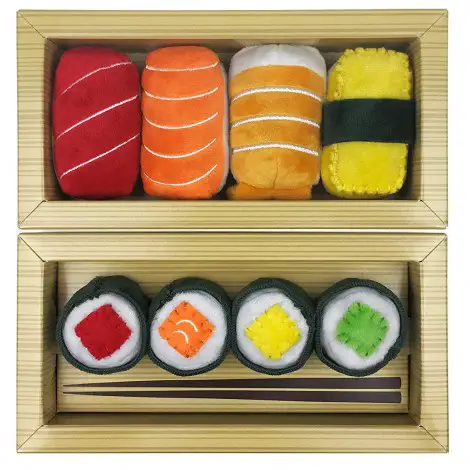 We really just could not help ourselves with this one. Obviously, this is probably one of the cutest kitty playthings on the market. The unique design of this product is what makes it so fun to have around! You'll absolutely adore how much thought Munchiecat put into crafting these themed plushies. They aren't just a treat for the eyes, however! Munchecat made sure to include crinkly paper in their center which is an excellent addition. Kitties can't resist the fun sensation and stimulating
noises
provided by this material. Are you looking for a gift for your feline loving friend? You just found your perfect match! The elegant packaging makes this a great option as a gift set.
Expand to see more
Safe For Chewers
Do you have a naughty kitty that tears apart anything you throw their way? This is a serious problem when it comes down to playtime products. Anything with attachments can pose a threat to your pet's safety. If they manage to chew off small, plastic parts, for example, they can easily get caught in a kitty's throat. Munchiecat crafted chew-friendly plushies that will entertain your kitty for hours, and remain safe the whole time. Don't worry about whether or not a product has become hazardous, or could become hazardous, due to chewing! Munchiecat has you covered.

A Unique Gift Option
If the holidays are on the horizon (let's face it, they always are), or there is a birthday coming up, then give Munchiecat a try! These adorable, little plush playthings are a big win just based on their cute factor. Any pet parent will appreciate the level of craftsmanship put into each and every one, as well as the obvious thought put forth regarding their design. These are safe for all kitties, so you don't have to worry about gifting a potential hazard. Regardless of whether your friend's felines are enamoured with this product as much as we are, your friend will definitely appreciate the thought you put into picking their present out!

Cost and Value
As you can imagine this is definitely an expensive item. In fact, it's one of the most expensive ones on the list by a long shot. That's to be expected because of the themed nature of these Munchecat designs. Anything that is a specialty item and isn't mass produced will cost more than the average product. That's just a cold, hard truth! But, even so, we still think these are a clear winner on the market. They have a lot of happy customers, rave reviews, and definitely deserve a spot on this list. Whether or not you're willing to shell out the cash is completely up to you, but we can promise that if you take the leap you won't be dissatisfied.
Fun packaging

Simulates hunting

Crinkle paper filling

Fantastic gift

Unique design
10. AroPaw Cat Interactive Toy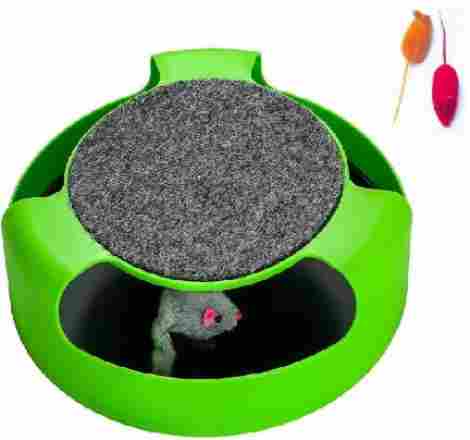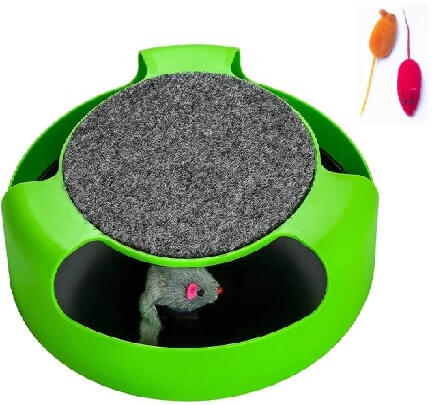 What cat doesn't love an interactive toy that also stimulates their mind at the same time? This toy does just that in the simplest manner. Made with safety in mind this toy is constructed out of non-toxic hard plastic, rounded edges to ensure safety at all time. Additionally, the mouse is tightly secured on to the rotator, creating a unique fun game for your beloved pet to enjoy.
Expand to see more
Healthy Fun

Due to the rotating mouse, this toy evokes healthy interactive movement on a constant basis. This allows your cat to get as much exercise as possible. Furthermore, your cat will be getting mental stimulation as well. The game of mouse and cat is not only traditional, but it's great to stimulate both areas with ease at the same time.

2-in-1

Not only are you getting a fun game for your cat, but the toy comes with a felt pad at the top. This can be used as a scratch space to create healthy scratching habits and clean claws, thus resulting in less scratching on furniture.

Cost and Value

While this is an inexpensively priced cat toy, it is priced highly on our value list because of the elements that it offers. You are getting a two in one feature while having a toy that is excellent for kittens and cats of all ages. Additionally, you have a toy that is excellent for exercising the body and the brain, a win-win situation.

2-in-1 element
Excellent for exercising the body and mind
You will notice less scratching on furniture thanks to the scratch pad
Easy to use
No need for batteries
Only one cat can play at a time
So, there you have it! This is a complete list of the best play products on the market right now. If you're looking for some fun for your feline then we're sure you'll find something here that you'll both enjoy. Whether you want timeless, practical products, or something a little more fun, we made sure to include designs across the board. Playtime is, of course, crucial to the well being of your companion. Kitties require just as much activity as dogs! Most people don't realize this because of the lazy feline stereotype. It's true, though! Vets recommend you spend at least twenty minutes a day with your kitty dedicated to interactive play. So, make sure you have products at home that can help you make this happen!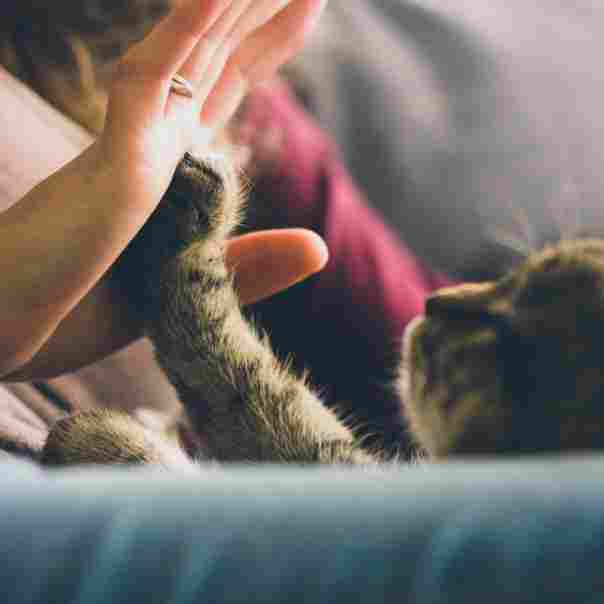 Criteria Used For Evaluating The Best Cat Toys
Durability
First and foremost we looked at the durability of each product. It's no secret that pets can be destructive at the best of times, and this can be deadly in some cases. If a play product comes with attachments or small parts you may want to steer clear. At the very least, always keep a close eye on your companion and keep possibly dangerous items out of their reach when not in use. There are a few questions you should ask yourself when looking at a product to determine its durability:

Is it a choking hazard?

Will it stand up to my pet?

How destructive is my kitty?

Am I willing to replace it if it breaks?

Does it come with a warranty?

What materials is it made of?



The answer to all of these will help you build a quick pros and cons list. This is helpful especially when you're looking at an expensive item that you need to be critical of. It'll also help you determine how safe a product is for your cat, and gives you some food for thought.

Let's go over some of the criteria that make these questions so valuable:

Attachments
Almost all products will come with an "attachment" of some sort. This general term includes anything that is sewn or glued onto the item itself. Tails on mice, lures on wands, and more are all considered attachments you should be wary of. The general rule of thumb in this area is to never let your pet use products with these attachments unless you're watching them. Interactive playthings are an easy fix since your pet won't use them without you, anyway. For products that aren't interactive, it might be a better idea to steer clear. Of course, some attachments are actually fine, but we'll go over this more in the criteria to come.
Materials


What is the product made with? Playtime products generally aren't made of one piece of material. Normally there are parts sewn or glued on. For example, if a mouse has plastic eyes, this might pose a threat. Durability is generally lessened by poor stitching, too. Keep an eye out for parts that come loose early on so that you can return a product if it proves to be poorly made.

Reviews




This is the most powerful tool you have (aside from our buying guides, of course). Make sure you're giving the reviews a good, thorough look before you decide to press that "buy" button. People are more likely to put in the effort of reviewing if they're unhappy with a product. Those who leave rave reviews generally do so because they're so incredibly ecstatic with their purchase. This means that reviews provide some vital clues as to the durability of a product. They are also a critical lens that lets you see through the nonsense and get right to the true nature of a product.

Manufacturer




Who makes the item, and where? Some playtime products might be made of less durable materials because they're mass produced out of the country. While there is a time and a place for these resources and some products truly benefit from this kind of production, you need to make sure they aren't sacrificing quality. There are certain big name brands, too, that you should be looking for. These brands consistently put out high-quality, durable toys that will last a lifetime.
So, there you have it! An easy way to determine the durability of a product before you purchase it. If you follow these steps and ask yourself some questions, you should be able to get down to the bottom of things.
Style of Play
What kind of play does the product provide? Is it made for interactive play, or can your kitty go solo? How does it function? Does it properly stimulate the hunting reflex? Make sure you hit all of these points before you commit to any product. If you have little time on your hands then interactive items may prove useless to you in most cases.
Interactive: This category includes products like wands, which require the constant interaction between pet parent and fur baby. Interactive play products are great for building a bond and encouraging better exercise. Interactive products should be used for around 20 minutes a day for best results.
Self-Soothing: Anything which can be described as "self-soothing" allows a pet to have solo playtime. This is great for animals while you're at work, or out and about. Catnip mice, bell balls, springs, and more all fall under this umbrella. There should always be an abundance of ways in which kitties can entertain themselves. This helps curb negative behaviors, improves mental health, and more!
Of course, you should definitely work in at least a little time (perhaps before bed?) for interactive play. Some days, however, this isn't possible. Because of this, you should probably invest in self-soothing products first so that your kitty has a place to start, and a way to entertain themselves!
Stimulation Provided
The next question we asked ourselves was: "How many uses does this have?" Essentially, we're looking for products which have a dual-purpose and are able to provide multiple points of stimulation.

For example, let's say we're talking about toy mice. If they're laced with catnip we consider that multiple points of stimulation. Adding in a crinkling paper is another point of stimulation! Essentially, you're looking for products that have the most amount features offered. You want your pet to have plenty of options for fun! Here are some of our favorite features to see in toys for kitties
These are some great ways in which a product can provide extra stimulation:
Bright colors
Crinkling paper
Different textures
Lures
Catnip lacing
Extra attachments
Dual-purpose, as mentioned above, is a highly valuable piece of criteria. By this, we mean any product which allows a kitty to play in multiple ways. The Prosper Tunnel, for example, has three connected tunnels with a hanging ball. This allows for playing or hiding in the tunnel, and for the kitty to bat around the ball when they're feeling frisky. Or, the Bergan Turbo Scratcher. This allows for the animal to bat around the ball on the track, or use the center portion for scratching stimulation.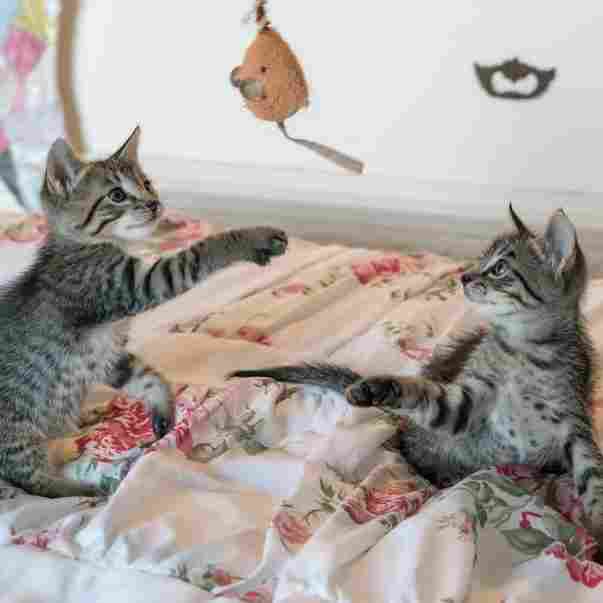 FAQ
Frequently Asked Questions
Q: Are certain products harmful?
A: Unfortunately, there are some products on the market that can be harmful to our pets. It's always a good idea to do a little research into the materials that make up the product. Always read the reviews, as well, and check to see if any new science has come out on the topic!

Q: What materials work best?
A: Generally speaking you want cloth-based products. This might seem a little strange, but they provide a soft surface safe for your pet's teeth. They can chew on them if they'd like to, and also carry them around with ease.

Q: What is catnip?
A: Catnip is a member of the mint family. Its scientific name is "Nepeta Cataria". Catnip grows wild in many places! The plant is actually a beautiful white flower with purple spots. It has a pungent smell that is highly attractive to cats.
Q: Are laser pointers bad for kitties?
A: The general consensus is "yes". Unfortunately, they cause a lot of neuroticism in felines since they are constantly chasing a target they can't ever catch. It's much better to use a physical means of play that won't stress your kitty out.
Q: How long should I play with my pet a day?
A: For best results, we recommend 20 minutes of interactive playtime a day. This gives your kitty ample time to unwind and expend any excess energy they have pent up. It also increases bonding between you and can be a great source of relaxation on both ends.
Q: Can I incorporate any kind of treats inside of the toys?
A: Yes, you can use any kind of treats your cats love inside of the toys. However, we would recommend sticking to dry cat treats for easy cleaning after your cat is finished playing and enjoying their treat.
Q: How do I get my cat to want to play with its new toy?
A: Many cats are not receptive towards new toys because they don't know what "they are getting into" in order to get your cat to play with its new toy you might want to try adding in treats. Having a few treats in the toy is an excellent way to create a fun atmosphere for your cat to want to play and find a way to take the treat out.
Q: How often should I clean my cat's toys?
A: While it's not exactly necessary for you to clean your cat's toys on a regular basis, it is a good idea to do so once in a while. Doing so will remove any dust or even dirt that may become stuck in any areas of the toy, particularly if the toy comes with a few nooks and crannies.
Sources
The Conscious Cat, Are laser toys safe for cats?
Animal Wellness Magazine, How to safely satisfy your cat's hunting instincts
Pet Care RX, Is Catnip Safe? 5 Things You Should Know