Best Outside Thermometers Reviewed & Rated for Quality
In a Hurry? Editors choice:
Test Winner: Thermo Pro TP60S

We all love to be outdoors, and there is no better way to enjoy it more than when you know what's in store. If you are going out on a shorter trip, the weather and temperature may have a reduced level of importance for you.

Outdoor thermometers are useful in many respects, and they come in many forms for different uses. For example, sometimes we need to keep a check on different areas of our external space like a greenhouse. Choosing the right outside thermometer can mean the difference between a good crop and a bad one.

This review is intended to give you a broader overview of ten of the best available today, all have different qualities, and some have specific uses, as well as a simpler outside thermometer for your glorious garden. Hopefully, this list will take some of the legwork out for you when you are choosing your ideal outside thermometer.
Standout Picks
Criteria Used for Evaluation
Use
Uses
Probably one of the most fundamentally important considerations you need to think on is what you where you will be using the thermometer. You can get such a wide range of multi-use thermometers that profess to be more than adequate to work both inside and outside. However, if you want an indoor thermometer there will probably not much cause for you to choose an expensive all weatherproof version. A basic indoor thermometer can not only be practical if you need to maintain a constant temperature indoors; for instance in a child's nursery, or plant nursery – there are many indoor applications where temperature regulation is important so you should check first if this type will be adequate enough to fulfill your requirements.
Multi-purpose thermometers are useful and versatile because they can be used either indoors or outdoors, it can be cost effective if you want to check the temperature in both areas and can save you money. Some of these types have one main display unit, and remote units that you can place anywhere you need them – this can increase their overall functionality because you could have one display unit, and extra units both inside the house and outside; great for super convenience. If this is your chosen thermometer for practical purposes, just have a quick check to make sure it can be used in both conditions with the accuracy you will expect.
For a specific outside thermometer, you should bear in mind a few things. Of course, it will need to be robust enough to withstand weather fluctuations; water and ice can be a real problem if left unchecked and any outside thermometer will need to be protected against these. Proper casings that are waterproof and weather protected to prevent water damage, mildew, and rust.
Style
Types of Outside Thermometer
A serious type of thermometer is a K-type thermocouple. These are generally industry designed and built and are able to cope with extreme weather and fluctuations. These have probes that can specifically target air, liquid, penetration and surface probes. They can offer comparable readings which give you a broader overview of an area's ambient temperature over periods of time.
Dual sensor thermometers are sometimes useful too because they record both inside and outside temperatures together. These work on a probing basis similar to the thermocouple thermometer but are not necessarily industry based. They can be really practical when communal areas need to have temperature monitored but are not intended for outside use.
A basic analog thermometer is easily available and very reasonably priced, they are simple, practical and can be used outside. They cannot record or compare data, however, and they are not as accurate as digital thermometers as the readings are offered by a simple line gauge. Bimetal thermometers are produced to react to temperature changes through expansion and contraction of metal. They are offered so you can see the readings on a dial and record them but are basic and cannot record fluctuations or patterns.
The widest range, however, is a digital outside thermometer, these can be powered either by battery, electricity or solar power and come in many forms. Some have max-min readings which give an overview of all max and min measurements as well as a current reading. Wall thermometers are handy because you can have one close to your house entry/exit point.
How they are made
A basic thermometer will have three elements that allow the tool to work, a spirit-filled liquid that reacts to changes between heat and cold, usually within a glass casing and measuring marks to the exterior. Digital thermometers are made without liquid for measuring temperature, instead, they rely on thermistors within them that can gauge the temperature and record it on a digital screen. The different thermometers available today is vast, but the fundamental basics are very similar unless they are for specific industry use such as freezers and hothouses/furnaces.
Top 10 Picks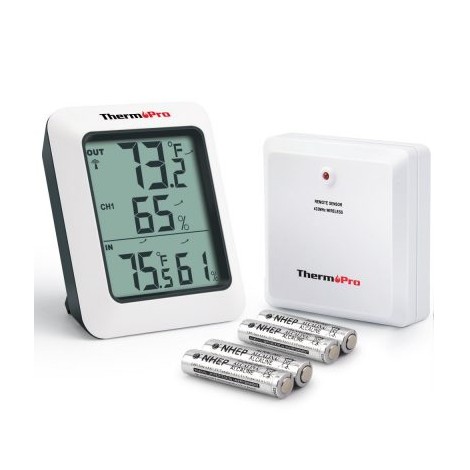 ThermoPro TP60S Digital Hygrometer Indoor Outdoor Thermometer Humidity Monitor with Temperature Gauge Humidity Meter, Wireless Outdoor Hygrometer, 200ft/60m Range.
Practical
The TP60S, covers indoor/outdoor temperatures and humidity percentages all in one unit. The unit can communicate with up to 3 outdoor sensors which allow you to monitor conditions in multiple locations. This unit is equipped with a trend indicator for the temperature.
Functional
The unit has a range of 200ft/60m with strong signal penetration of 433 Mhz. It can be wall mounted or table top. The indoor temperature range is -4 F to 158 F (-20 C to 70 C). The outdoor range is -58 F to 158 F (-50 C to 70 C). The unit is powered by 4 AAA batteries which are included.
Cost and Value
This package includes one transmitter and one receiver, as well as 4 AAA batteries and a screwdriver. Additional sensors are available to monitor up to three areas at once.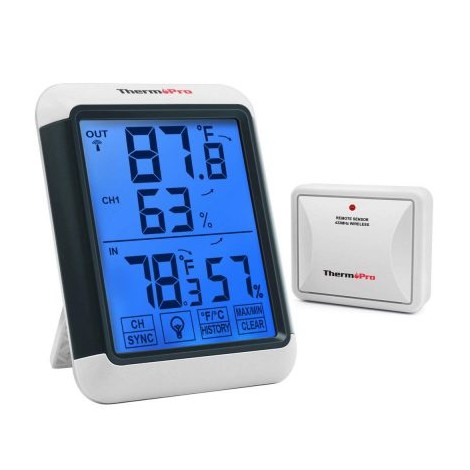 This Thermo Pro TP65 boasts not only being able to give accurate temperature readings but can also measure and display humidity inside the home and outside. The LCD display is an impressive four inches and this enables easy to read darker coordinated digits. The humidity monitors benefits from having up to sixty feet in range, which makes it ideal to check differences and fluctuations from most corners inside and out. The rear has a handy stand so the thermometer can be placed practically anywhere without the need for tools, it also has a magnetic strip and a hole if hanging is preferred.
Versatile
The hygrometer thermometer gauge can be set as either Fahrenheit or Celsius depending on personal preferences, and the wireless technology of the product allows it to be utilized in a variety of places inside and outside, so vital temperature movements are readily and easily monitored.
Tolerance
The Thermp Pro TP65 has a combined temperature tolerance of +/- 2.0 °F (+/- 1.1 °C), a humidity range of 10 % to 99% with humidity tolerance +2% from 30% to 80%; +3% below 30% and above 80%. The indoor temperature range is -4 °F - 158°F (-20 °C - 70 °C), and the overall outdoor temperature range is -58°F - 158°F (-50 °C - 70 °C).
Cost and Value
When considering the balance between both cost and value, this hygrometer thermometer has some great features such as the easy to adjust and read display, and the range offered by the wireless function – maintains that both are equal and value is great for this product.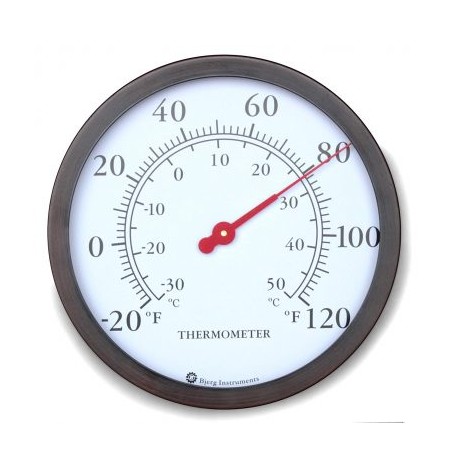 This decorative round thermometer is available in three striking colored bands around the edges; black, bronze and stainless steel. They are a decent twelve inches in diameter and have an impressive six-inch diameter face so reading the temperature is easy. They are dual gauge display on the face, both Fahrenheit and Celsius are easy to differentiate between and compare with large, clear digits, visually pleasing and adequate markers enable accurate temperature reading in an instant.
Tough
The steel construction allows this thermometer to be used both inside a weatherproof is weatherproof for external hanging, and has a handy mounting hole on the rear. With a baseline set at minus twenty Fahrenheit and minus thirty Celsius, this thermometer will be able to keep accuracy in most harsh conditions.
User Friendly
The larger than average digits, clearly marked gradient scale, and these alone make the thermometer user-friendly, but this is boosted with a bright red pointer so there is no mistaking the temperature. It is adjustable so can be personalised to personal preference settings.

Cost and Value
This Bjerg twelve inch thermometer is by no means the cheapest available on the market, but to compensate the steel construction and pure versatile use makes this well balanced when comparing against its cost and value, this is tough and well worth the money paid.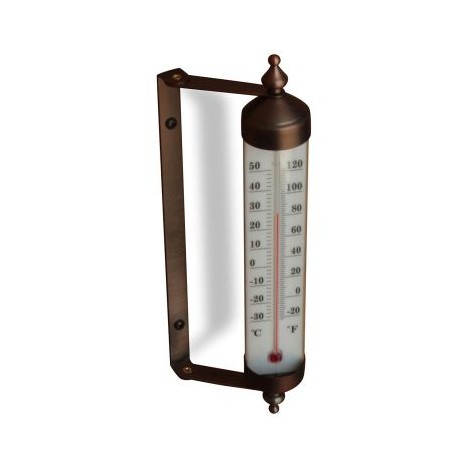 This steel construction thermometer is offered in varying finishes; antique brass, antique copper, bronze, copper finish, and satin nickel finish - styles that will look good anywhere and compliment any theme. It measures a healthy ten inches in total and the optical part is six and three-quarter inches so is plenty big enough to enable a glance reading. The whole back unit is attached firmly to a bracket that enables a secure fitting to most walls and surfaces.
Practical
The angle of the whole thermometer is fully adjustable and is boosted with special shatter resistant PS optical plastic that ensures a sound finish that won't break as a glass alternative may, and it is filled with a mercury substitute – an alcohol-based liquid that is just as sensitive to temperature as mercury is.
Functional
The temperature readings are set out in both Fahrenheit and Celsius for individual preferences, it is a mere .32 oz so won't drag on the screws or bracket in temperamental weather conditions. The top, bottom, and frame are all made with steel for hardiness and longevity.
Cost and Value
This practical Bjerg 10 inch thermometer is a useful addition for anybody who wants to accurately check ambient temperature. The solid construction mixes steel and tough plastic for a durable thermometer. This product is good for the money paid.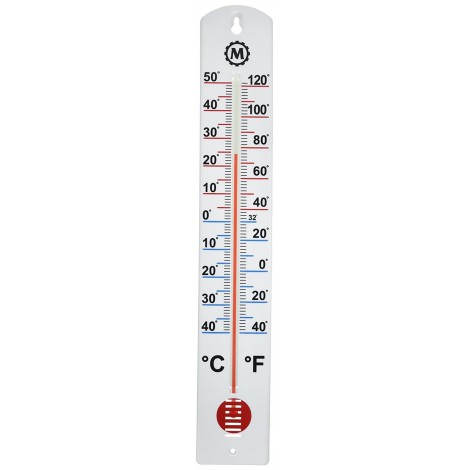 The Marathon BAO3001 measures in at a generous sixteen inches and offers both Fahrenheit and Celsius gauges to read, it also benefits from larger than average digits and so can be read from further distances. It boasts being simplistic both in its design and its use, being ready to read practically as soon as it arrives. It has two really handy holes well placed and comes with two mounting screws, and it can be hung without a hitch.
Useful
It benefits from having a wide range; varying from minus forty degrees Celsius/minus forty degrees Fahrenheit to fifty degrees Celsius / one hundred twenty degrees Fahrenheit. This gives it a better range of uses and it is used both inside and outside for convenience.
Lightweight
The overall weight of this handy thermometer is 3.84 oz so is robust enough to cope with most inclement weather conditions. The tough plastic is durable and won't flex when it is placed outside properly in suitable shade and protection.
Cost and Value
This handy thermometer is versatile enough to be placed inside and outside, and it is simplistic and ready to use immediately. The balance between both cost and value is equally measurable and makes this good value for money.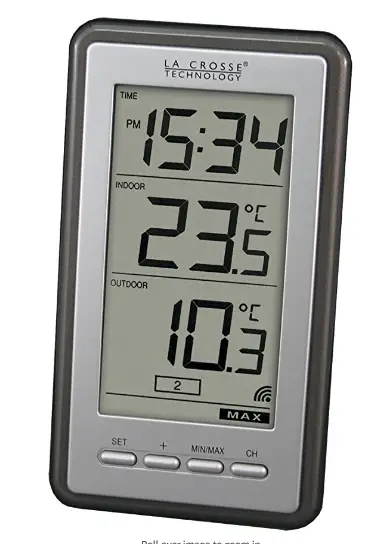 The WS-9160U-IT-INT La Crosse digital thermometer displays indoor/outdoor temperature as well the current time. The unit records the daily high and low temperatures. The unit comes with one sensor with the option to purchase two additional sensors.
Range
The wireless thermometer is capable of receiving inputs from up to 3 sensors at a range of up to 330 feet away. Outdoor temperature range is -40 F to 140 F, indoor range is 14 F to 140 F.
Adjustable
The thermometer is adjustable from Fahrenheit to Celsius as well as from 12 hour to 24 hour clock display.
Cost and Value
This thermometer operates on 2 AA batteries in the sensor and 2 AAA batteries in the receiver, which makes this portable and usable at facilities without electricity.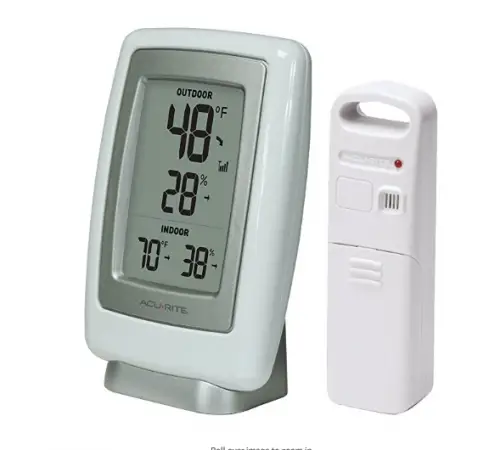 The AcuRite 00611A3 Wireless Indoor/Outdoor thermometer displays indoor and outdoor temperatures as well as indoor and outdoor humidity. This unit displays an arrow indicating if the temperature is rising or falling.
Range/Humidity
The unit has a reported range of 165 feet with updates reported every 30 seconds. all-time records all time high and low readings. The humidity display will help with problem areas such as basements and crawl spaces to assist with maintaining property humidity levels to prevent the growth of mold.
Adjustable
The AcuRite can display both Fahrenheit and Celsius.
Cost and Value
The AcuRite measures temperature as well as humidity, both indoors and outdoors.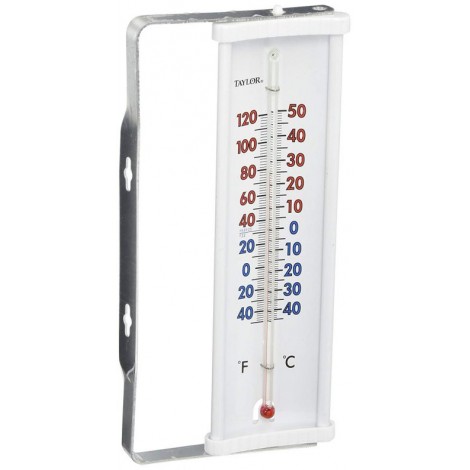 This neat thermometer is mounted on an offset bracket so it is easy to place and be viewed from many angles, inside or outside. The color-coded display digits are conveniently in blue for minus temperatures and red for minus temperatures, it also shows both gauges of Fahrenheit and Celsius. Its ranges are from minus forty-five to one hundred twenty in Fahrenheit and from minus forty-five to plus fifty in Celsius so is suitable for a wide range of locations. It boasts being both weatherproof and rust-proof, with a bonus of having fade resistant digits.
Functional
The display size is over eight inches in length and two and a half inches wide, so the ranges are easy to see and read. The weatherproof design and lightweight frame only weigh 3.2 oz so won't require heavy duty tools or equipment for convenient mounting.
No fuss
The practical and easy to use thermometer offers a no-fuss remedy to over-complicated technology. The red liquid in the center makes it simple to read, and the measurement gauges are clear enough to enable a quick reading from any angle.
Cost and Value
The Taylor Precision window thermometer is practical and a functional no-fuss way to read the temperature, the mounting bracket allows easy placement in an ideal spot for convenience. Overall, the cost and value of this practical thermometer are well balanced and justified.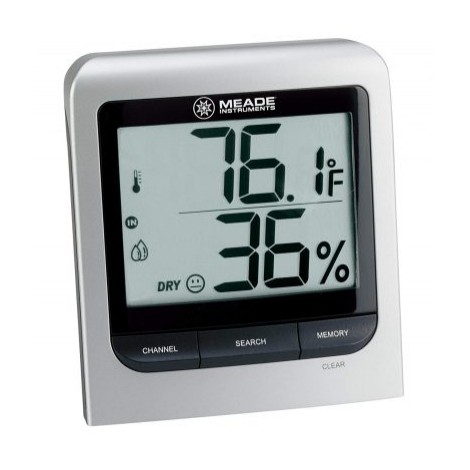 This wireless inside and outside hygrometer thermometer is practically designed and the main unit is capable of receiving data from up to three sensors (extras are available as another purchase). It boasts being capable of receiving temperature and humidity data from a distance of up to one hundred feet. The large LCD display makes reading the information a breeze, and it is simple to distinguish between temperature and humidity; this is enabled with the stylish design that doesn't overcomplicate the information that is displayed.
Versatile
The unit is practical enough to be used either inside or outside, so if there are more than one areas that need temperature regulation – this is covered well. It benefits from having memory storage; so fluctuations and patterns can be recorded and monitored when obtaining and maintaining a constant temperature is imperative.
Practical
The display unit has been designed to either be freestanding and completely portable or placed at a fixed point to the wall. This thermo-hygrometer is further useful because it operates using two AA lithium batteries that means it is not restricted to wall sockets or extensions for use.
Cost and Value
The full functionality and easy thermometer enables the balance between cost and value to be equal; the portability and memory capabilities, along with the neat design and large display digits mean that money spent on this is definitely money well spent.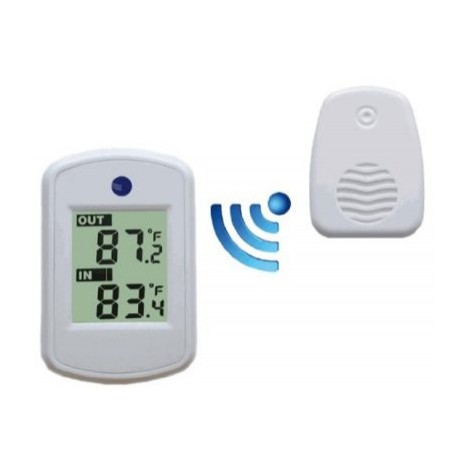 The Ambient weather WS-04-White thermometer benefits from being practical and useful, it has a simple to use, a no-nonsense design that is suitable for both inside and outside use for great convenience. The wireless design makes it versatile and functional to use almost anywhere, and as a bonus, it is available in various pack sizes ranging from one to three units in either black or white, so there is plenty of scope to keep a check on the temperature variations and fluctuations where ever it is required. This gives peace of mind especially when there is more than one area or room that needs temperature regulation.
No Fuss
The unit requires no programming and is simple to use, once the batteries are placed within the unit – it is ready to go where ever it is required. The display from the outside units or others within the home are all automatically transmitted and displayed on the one console.
Versatile
The display unit can either be fixed permanently to any wall or for ultimate portability – it has a handy stand on the rear so it can be taken from room to room with no fuss, giving instant access to vital temperature checks from anywhere.
Cost and Value
The Ambient weather WS-04 varies in price depending which sized pack is purchased, but when taking into consideration no nonsense-use, and the ready to go straight away practicality – this is very good value for the cost.

Subscribe to our Newsletter