Best Construction Tools Reviewed & Rated for Quality
In a Hurry? Editors choice: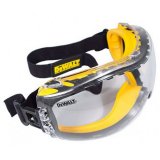 Test Winner: DEWALT DPG82-11

The construction industry is a high-intensity labor industry that requires strong and reliable professional commercial grade building and construction tools to help get the job done right the first time. The time spent on the construction site is valuable and should not be wasted working with faulty
tools
. Therefore, these tools should be able to work every time without fail. Below are the best construction tools that every construction worker must have to help accomplish some of the most basic and even complex construction works within the industry.
Standout Picks
Criteria Used for Evaluation
Use
To begin with, the user must determine the medium with which he or she intends to work. The two most popular trades in the construction industry include carpentry and masonry. In this regard, masons work with concrete and stone while carpenters handle wood. Each of these has a wide range of tools to work with. Therefore, masons should select concrete and stone tools while carpenters need to stick to tools that work well on wood. Regardless, some tools are general and work well with both concrete and wood and can be used universally. Knowing these tools is as important as the work you intend to do with them.
Every expert mason or carpenter knows the importance of having one or more good tools to help perform minor and complex home repair jobs. For a drilling job, for instance, one would need a high-quality power drill to help accomplish the demanding tasks that come with it. The best drills on the market can be able to drill virtually any surface – from wood and metal to concrete, brick and even plaster. However, some drills are designed for wooden surfaces while others work best on concrete, plaster, and brick. While a good basic item can perform various tasks around the house, it is still important to choose the right drill for the right medium.
The importance of medium becomes even more apparent when shopping for a power drill. Many homeowners seem impressed by the versatility offered by a cordless drill. However, corded drills have proven to deliver more power and performance and continue to perform for longer without any interruptions. Unlike cordless drills, corded drills will continue to work when cordless drills run out of power. On the other hand, some saws cut circular patterns better than straight ones. Others can make curved patterns in hard and soft woods. In this regard, some power tool models have more versatility than others. It is also important to consider jigsaws and power tools that allow for easy change of blades.
Portability
This particular criterion is vital when determining convenience and period one would take to complete a task. Of course not all construction tools need to be light but portability would ensure that they could be easily moved to and from the location. No matter the weight of the tool under consideration, they should also not be vulnerable to damage and the process of moving them should ensure uttermost convenience. That is why it is critical to determine how a handler or an amateurs use their tool and when selecting a tool to work with, it is important to determine the portability of that particular tool. Some tools are easy to carry around and use while others can be too cumbersome to handle in the work environment. When selecting a hammer, for example, it is important to consider how portable it is, especially when one intends to use an apron to hold it during work. Highly portable tools can be very useful on site. While big tools may have an advantage over small ones, they are hectic to carry around and may not be very useful in some situations. Users are better off investing in tools that serve a range of needs, as this can be very cost-effective.
It is always important to choose a tool depending on what it will be used for. Choosing a tool with a longer warranty over portability may prove disastrous when working on site. A bulky tool may pose a challenge for novice and professional tradesmen alike in certain situations and jeopardize the outcome. On the other hand, light and easy-to-use tool satisfy the user's needs every time. When selecting a hand tool, it is always advisable to inquire from a specialist if unsure of what to look for. Depending on the task to be done and work environment in which the tool is to be used, the specialist will recommend the best tool for the job. This can save much time and frustrations later on.
Ease of Use
This might sound like a cliché property but it is crucial to know what it is you want to do during the construction process. Although some tools may seem pretty straightforward to handle, they may not deliver the right result let alone complete the task properly. In order to ascertain that a tool is of use, it is important to not only look at the manual but also ask an expert. Mostly, an expert advisor may not be easily available and one has to refer to reviews on whether someone else has used the tool before or not.
Some tools look fancy and expensive but are not very useful when it comes to accomplishing specific tasks. The usefulness of a construction tool is another important aspect to consider when selecting from a range of tools to work with. There are several tasks that carpenters and masons find themselves performing repeatedly. Therefore, the tools for these particular tasks should be on top of the list. In addition, they should be of the best quality to be able to perform repetitive tasks without fail. In contrast, tools designed for more specialized tasks should be given lower priority or considered only by highly skilled masons and carpenters. Regardless, carpenters and masons are more likely to find themselves using specific tools in diverse situations, and such tools should be considered more useful.
One of the most important things for individual masons, carpenters, property owners, or do-it-yourselfers is to ensure they get the right education or information about what task each tool performs. Some tools are very useful when it comes to driving screws into wooden or metallic surfaces but would do a poor job hammering nails into wooden surfaces. If a user clearly understands what his or her tool does, he or she can use it better to perform or accomplish specific tasks. In addition, having a clear understanding of the various brands on the market, including their quality and durability, can help when selecting the right tool. Note that attributes like quality and durability tend to vary from one brand to another. Each brand has one or more added features and advantages over another and can help perform more specialized tasks in a way that other brands cannot.
Effectiveness
Perhaps this is a very important factor to consider especially when purchasing power tools because they have varying output. Battery voltage tends to affect the performance or output of a power tool and is important to consider when shopping for cordless tools. Ideally, tools with relatively higher voltage tend to perform better and more effectively and are better suited for heavy duty applications. This means that if the power tool is to be used on a daily basis and for long periods of time, then the tool with higher voltage would be a good fit. However, if the homeowner would like to perform occasional repair and maintenance around the home, then a lower voltage tool would still be appropriate. Regardless, the property owner may still purchase a higher voltage tool if he or she needs the tool to deliver more performance during use.
When using cordless power tools, users also need to understand the battery technology used in the design and manufacture. Lithium-ion batteries use some of the latest battery technologies to store power for future use. They also use a more formidable technology, unlike the preceding battery technologies. Their usage has become widespread among top brands and best cordless tools. In this regard, they are preferred over previous models because they store energy more efficiently than the earlier technology batteries. In addition, they do not need power cycling to enable them to retain power and sustain performance over a period of time. They also discharge slowly when in their storage phase. While most batteries today use the lithium-ion technology, it is still important to ascertain that the cordless tool uses the said technology prior to purchase. The higher the storage capacity the better the power storage. Recharging them after a short period of usage will also not harm the performance of the battery cells.
Materials
This factor is very important when shopping for a tool apron or pouch to help hold your tools together when working on a project. The apron will often be overloaded with several different tools to provide convenient access to hand tools whenever there is a need. Every carpenter, mason or home remodeler needs his or her tools within reach when working on a home improvement project. While some styles may be very basic, others provide several pockets, sleeves, slots, and loops to help hold hammers, screwdrivers, and nails in place for easy access. The type of material used to make the apron is very important because they vary in toughness. In addition, some are waterproof and may be suitable for use in water-prone work environments. If you are more likely to have access to water when working on a project, then a waterproof apron may be a good choice. Belts and aprons are also made of different materials, including leather, canvas, and nylon. They vary widely in toughness and proneness to dirt. If the work involves a lot of dirt, it may be advisable to consider an apron made of hand- or machine-washable fabric. In addition, some forms of fabric can be cleaned by simply wiping off dirt using a damp cloth.
There is also the element consideration when purchasing a tool that needs to be strong as some are not made of a pure material concentration. Generally steel and iron are some of the metals that are commonly used in manufacturing high impact tools. However, some reviews are not up to standard and a user may actually feel 'ripped off' after purchase, especially when the tool does not perform 100 %. Again, there is no easier way of telling whether a tool is of high quality or not but to rely on positive feedback from other clients. The material should also be long lasting and conveniently help the user complete the task set without much complications.
10 Best Construction Tools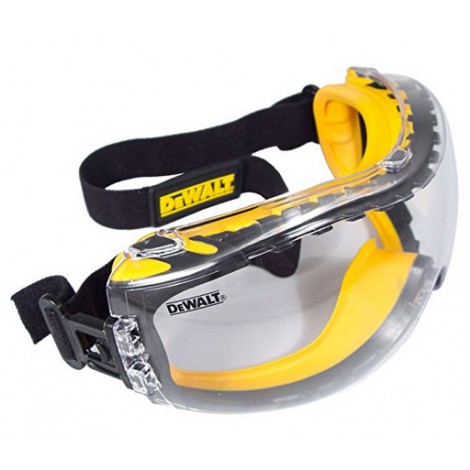 The DEWALT DPG82-11 concealer is a dual mold safety goggle that offers protection against debris and dust. The hard-coated lens is resistant to scratches. The anti-fog lens coating also provides protection against fogging. In addition, the cloth head strap is both elastic and adjustable to fit various head sizes.
Fog Control Channel
The concealer features built-in ventilation channel for enhanced ventilation and fog control. Ventilation channels allow for breathing with ease.
Hard Coated Lens
The clear anti-fog lens provides protection against fogging. The tough-coated lens also features anti-scratch properties and 99.9 percent UVA/ UVB protection.
Cost and Value
With an elastic headband, a tough coated lens with anti-scratch and anti-fog properties, and dual injected rubber that is soft and conforms to the user's face, all for an affordable price, the safety goggle is the real deal.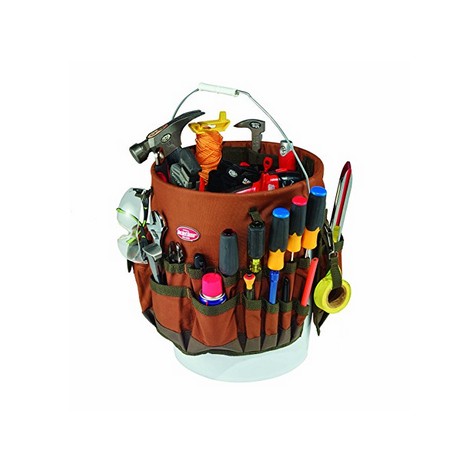 The Bucketeer BTO represents the perfect bucket tool organizer that is capable of holding plenty of hand tools, all in an ordinary 5-gallon bucket. Apparently, the tool is made of a 600D poly material, with 30 pockets to hold several hand tools at once. It also features 3 interior loops for various tools, including drills, pry bars, hammers, and even long tools.
Bucket Compatibility
The product is compatible with most standard 5 gallon buckets. It can be fitted onto a 5-gallon bucket to help hold a wide range of tools.
Strong Rip-Stop Material
The product is made of a strong poly ripstop material to make it highly durable. With 20 percent poly, 55 percent PVC, 22 percent PP, and 3 percent ferric material composition, the product is tough enough to withstand tear.
Cost and Value
With 30 assorted tough pockets for storage of various tools and a price that virtually all users can afford, the product guarantees value for money.



The simple look of the BoWrench can be deceiving. Both amateur do-it-yourself enthusiasts and professional deck builders can reap maximum benefits from this tool. It straightens deck boards fast. The tool is suitable for heavy-gauge steel construction. In addition, it is easy to fit and operate, whether the user is pulling or pushing boards into streamlined alignment.
Joins Tongue and Groove
The 24-inch handle effectively closes 2-inch gaps. It can also push and pull to align joints. The tool is effective for straightening of deck boards without necessarily requiring help.
Adjustable Grippers
The decking tool has adjustable size grippers that can also be custom-made from the manufacturer. It locks tightly in place, leaving the user free to drive screws and nails.
Cost and Value
The tool can be effectively used to hold cedar, redwood or other more exotic types of wood. It is also easy to operate on a joist and suitable for pulling and pushing boards to align together.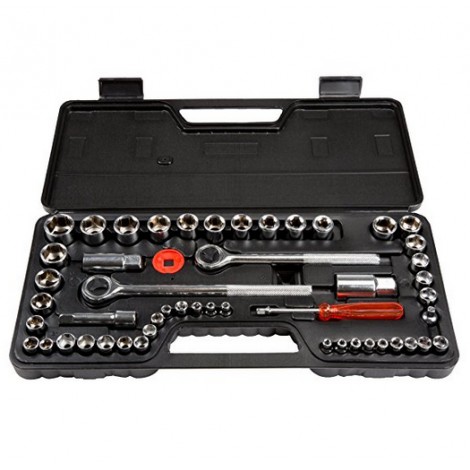 The 52-piece socket set comes in metric and SAE sizes and is ideal for craftsmen, homeowners, as well as mechanics. Contained in the set is a pair of ratchet drivers, a pair of spark plug sockets, a spanner handle and extensions. These drop-forged steel tools have a Chrome Vanadium finish to protect them from corrosion and ensure durability.
SAE and Metric Sets
The product includes metric and SAE drive sets in 1/4", 1/2" and 3/8" sets. It also contains 1/4 drive spanner handle, 3/8 spark plug socket, and extension bar 3/8" drive.
Sturdy Carry Case
The sturdy carry case allows for easy organization and retrieval of tools. The case is medium-sized, with the following dimensions: L x W x H: 16-inch x 2-inch x 7.5 inches.
Cost and Value
With 52 pieces in the entire set, the product offers real value for money. The compact case also makes it easy to carry around and locate each socket with relative ease.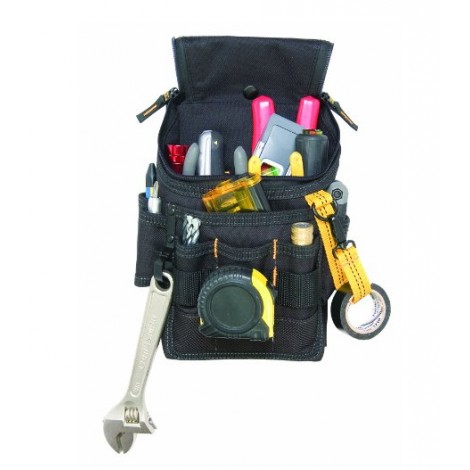 The CLC 1524 utility pouch is highly organized to allow the user to carry just about any small tool. A belt loop helps to secure the pouch, which can carry favorite tools like pliers, side cutters, a crescent wrench and more. The quick clip and tape spool allow one to hand additional tools and access them whenever there is a need.
Sleeves, Slots, and Straps for Easy Organization
Sleeves, slots, and straps provide small and medium pockets to help accommodate a wide range of hand tools. There is a large panel pocket on the front to carry large hand tools.
Snap-back Feature
The apron feature snap-back properties to help keep the pouch's cover out of the user's way. The user can easily access tools without worrying about obstruction.
Cost and Value
For a modest price, the customer gets to use sleeves, slots, and snaps designed to accommodate various hand tools. The snap-back feature is also helpful in keeping the cover from distracting the user.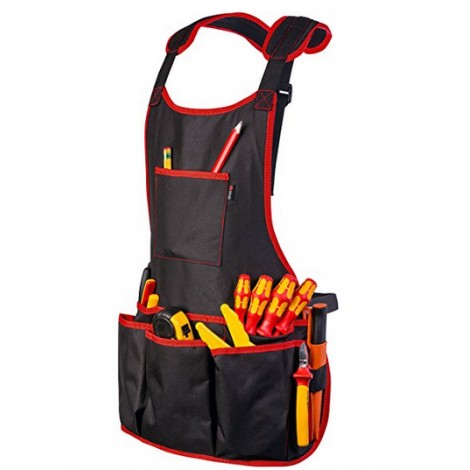 This work apron contains 16 pockets of different sizes, with two strong hammer loops to help organize hand tools such as pliers, screws, bolts, tape measures, brushes, nails, bolts, and more. In fact, there is a place for the user's cell phone. Made from tough 600D Oxford canvas, the apron is strong enough to resist tear and abrasion.
Effective Tool Organiser
With 16 strong pockets to hold a wide range of tools, the canvas apron helps the user to get organized. It can help to safely organize screws, screwdrivers, hammers, pliers, nails, and just about any small tool found in the toolbox.
Ergonomic Design
The ergonomic design helps to distribute weight equally across the user's shoulders. The apron protects clothing from spills. In addition, it is very comfortable to wear in a construction environment.
Cost and Value
Made of top quality and tough canvas material, the apron is designed to last longer and provide real value for money. NoCry money back guarantee ensures that customers can return aprons that have a problem with free repair, replacement, or refund.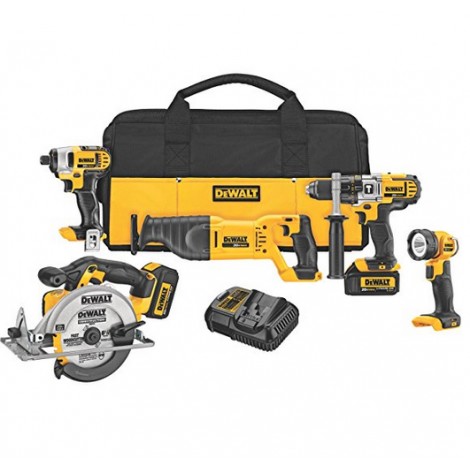 The DEWALT DCK590L2 features a 20-volt max lithium-ion five-tool combo kit of 3.0 Ah with a circular saw, a premium hammer drill, a reciprocating saw, a 1/4-inch impact driver and a work light. The high-performance power tools form a well-rounded arsenal and are every carpenter, electrician, contractor and remodeler's dream toolkit that can be used in various building and construction applications.
Easy to Use
With slim handles that fit easily into the hands of the user, the tool is very comfortable during use and can be used for a long time to perform time-consuming jobs.
Enhanced Endurance
DEWALT design and build their electronics to withstand overheating deep discharge and overloading. The 20-volt lithium-ion batteries can deliver up to 35% more battery runtime than the preceding 18-volt battery.
Cost and Value
For a humble price, the user can enjoy all of the combo kit's features to accomplish various cutting and hammering needs. The comfortable handle and enhanced endurance enable the tool to withstand long hours of work.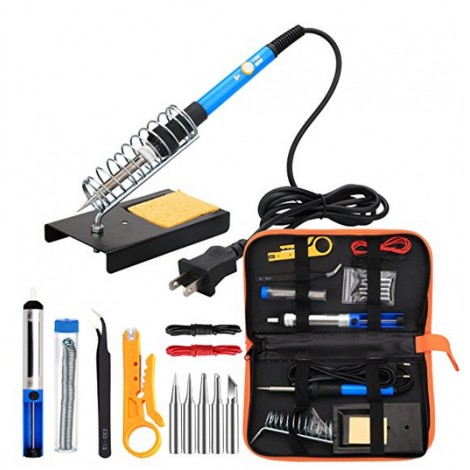 The soldering kit includes soldering iron holder with dual spring and sponge. With a secure base, the soldering holder is much safer than most standard stands. It has a high-quality soldering iron with 5 tips replacement. It heats up quickly and temperature can be adjusted from 200℃ to 450℃. The tool also allows for easy one-handed use during the desoldering process.
Standard Iron Holder
The standard iron holder has a dual-spring and sponge, with a secure base to make it safer than most other thin soldering holders and to prevent the user from getting burned.
High-Quality Professional Soldering Iron
The superior soldering iron contains 5 tips replacement and is made to withstand impact and heat. The temperature can be adjusted from 200℃ to 450℃. Moreover, it heats up fast and delivers great results.
Cost and Value
The soldering kit contains the professional soldering iron and spring stand, 5-multiple soldering tips, 2 electronic wires, tin wire tube, and tweezers, all at an affordable price.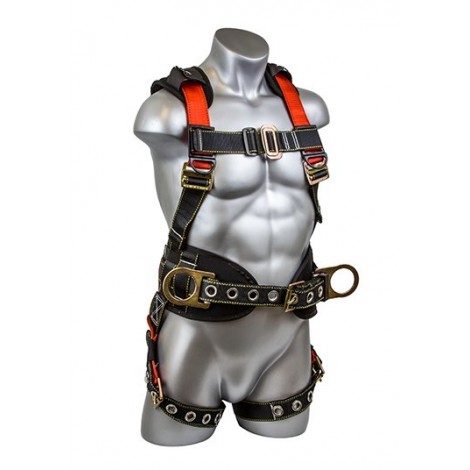 This mechanism features adjustable shoulder straps, with six adjustment points. It also includes cradle seat, impact indicator, shoulder pads, fast-adjust torso buckles, hammer loops, padded waist belt, tongue-buckle leg straps and D-ring lanyard keepers (retrieval hoists). The shoulder pads are quite stretchable for easy adjustment.
Six-Point Adjustment
The product is designed to fit the user, with six adjustment points and reliably stretchable shoulder straps. It fits individuals with a wide range of body sizes.
Stretchable Shoulder Straps
This fall protection item comes with stretchable shoulder pads for easy adjustment to attain a tighter fit. With tongue-buckle leg straps, quick-adjust torso buckles, and shoulder pads, the fall protection is designed to fit well and feel comfortable.
Cost and Value
This product comes with hammer loops, padded waist belt, impact indicator, and more. In addition, it is designed for a wide range of individuals with different body height and weight. Therefore, it is worth giving a try.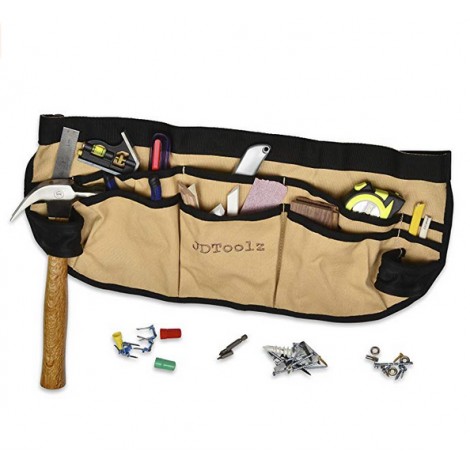 This canvas tool apron can hold a range of tools for easy accessibility during use. It is a reliable tool for both professional craftsmen and amateur do-it-yourselfers. The hammer holder is reinforced and non-collapsing, making it easy to secure various tools using one hand and switch between using the hammer and freeing both hands.
Reinforced Hammer Holder
The tool apron is considered the best in the world because the hammer holder is reinforced and non-collapsing. The user can easily secure various tools using one hand.
Premium Material
The canvas used to make the apron is soft, comfortable to wear and quite durable. The buckle is also heavy duty and of high quality to last a lifetime.
Cost and Value
Designed by an accomplished carpenter with over 30 years of experience, the apron meets the needs of carpenters, gardeners, do-it-yourselfers, and any other handyman. Moreover, the price is quite modest.

Subscribe to our Newsletter