Best Pop Up Tents Reviewed & Rated For Quality and Usability
last updated:
Sep 22, 2019
We all know the drill, you've been hiking all day, you're tired, you're annoyed, you're low blood sugar and you finally hit the campsite. But now you have to set up your tent and make dinner and do all the other things that are going to guarantee a safe and restful night's sleep out in the wild. But guess what, we can't make dinner for you or hang your gear to keep the bears away, but we do have an idea about how to get some shelter quickly. The pop-up tent! It's a tent that comes pre-set in its carrying case. Simply pull it out and it pops up into place without you having to do much work at all. Here's our list of favorites that are sure to have you resting and relaxing in no time.
In a Hurry? The test winner after 14 hrs of research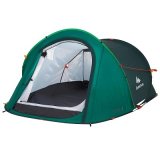 Quechua 2
Why is it better?
Very dark interior
Durable
Waterproof
In a
Hurry? Editors choice: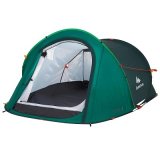 Test Winner: Quechua 2

18
Researched Sources
12500
Reviews Considered
14
Hours Researching
15
Products Evaluated
Materials
Size
Features
Portability
Value
By Default
BEST POP UP TENTS REVIEWED & RATED FOR QUALITY AND USABILITY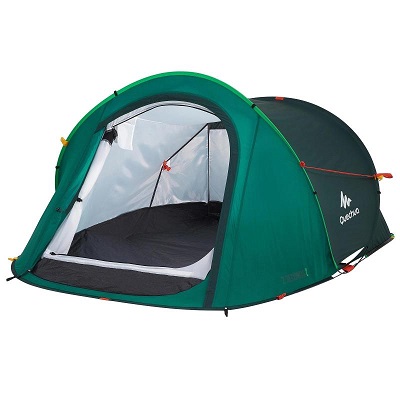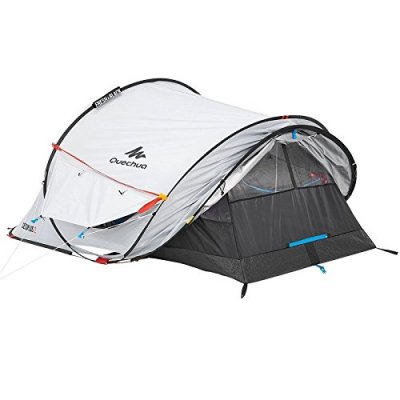 Very dark interior
Durable
Waterproof
Quechua 2 Second Pop Up sets up easily and features an Easy Guide System that makes taking it down fast and simple. Storing this pop-up tent in most vehicles is simple as it folds down to a disc shape when taken down.
Blackout Interior
One of the features that make this popular is the darkness inside. The blackout coating can help to keep the inside cooler during the hot summer days. It can also encourage children to sleep longer in the morning, providing parents with some quiet time before starting their long day.
Inside Storage
The Quechua 2 has several small pockets available for storing small items such as toothbrush, glasses, or iPad. You are also able to hang a light or torch in the middle above the head area.
Cost and Value
The quality of materials used makes the price reasonable for the Quechua 2. This would be great for camping or hunting trips where only limited space is needed. If you are in the market for a smaller sized option, the Quechua is an ideal choice for someone that takes short trips. It can also be great for a child while on longer trips.
2

. CORE 9 Person Instant Cabin Tent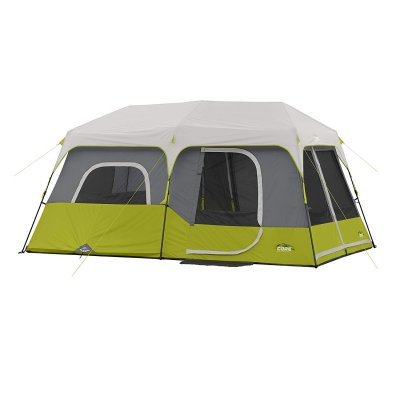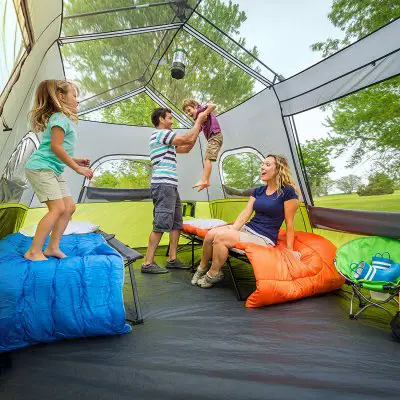 9 person
CORE H20 Block Technology
Up in 60 seconds
Cord Access Port
It's hard to believe one this big is a pop-up tent but there you go. This giant fits two queen size air mattresses and can set up in as little as 60 seconds. This thing is so big it comes with a room divider, and yet it's up in no time. We will give you that breakdown takes some doing but if you're looking for an easy set up than this is the way to go.
CORE H20 Block Technology
This is a fancy way of saying that this comes pre-treated to resist any and all of the wet stuff that can turn a nice camping day into the most miserable night of your life. The Core Block Technology resists water and snow and ice and will keep you warm and dry inside. It also comes with an adjustable ground vent just in case any water finds it's way inside.
Cord Access Port
In case you're car camping this comes with a port to let your adapter into the ten without having to open it to the elements. Simple slide the cord in through the access port and you can power whatever you need as long as your batteries hold out. So go ahead and comfort camp, we don't judge.
Cost and Value
Not a bad price at all. This can go up in 60 seconds but it won't take a huge bite out of your budget, once you have this thing in the trunk the world is your oyster, so go on, go camping, and invite 9 friends! Don't worry they'll all fit.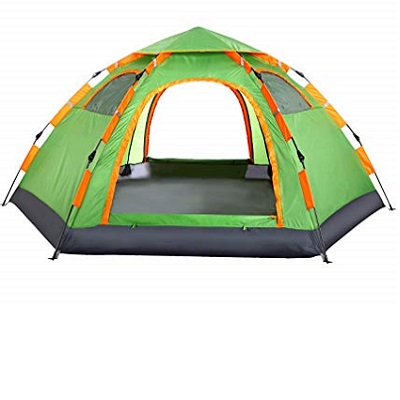 Very spacious
Easy to use
UV-protection
Weather-resistant
If you need space, this is where you're going to want to look. If you're going out in a big hunting party but want to carry as little gear as possible, this can hold up to 6 people easily with its massive area. And it still boasts easy setup and waterproof features.
Spacious Size
4-6 people can fit easily in this which measures 6 x 6.2 x 323.2 inches all the way around. It's great for sleeping several members of your hunting party without anyone getting lugged down with carrying gear.
Take on the Weather
For warmer climates, this features 6 mesh panels that allow for breathability while keeping bugs out. That being said, there's also rain-resistant polyester coating along the outer shell to keep out the rain and any other precipitation.
Cost and Value
For the size of this, the price and value are pretty great. While it's heavy, it does feature a lot and can hold a lot for only a little bit more than what you'd pay for some of the others on this list.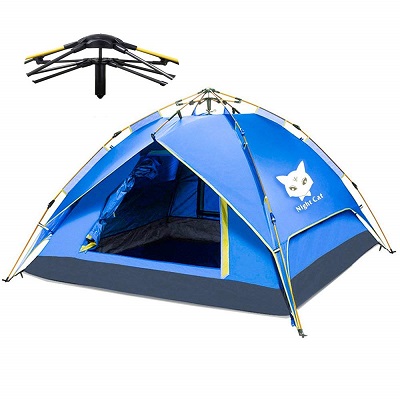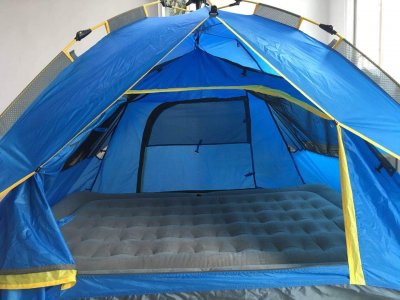 Easy to use
Lightweight
Ventilation
Fairly spacious
Can be difficult to repackage
This is another that boasts itself as a pop-up that you can toss into the air and call it a day on. It's meant to set up quick and easy and features interior pockets and double door entrances as well as insect screens on the windows to keep out pesky intruders but let in some air.
Material
The tent is made of lightweight polyester material. However, don't let that fool you. It's waterproof and anti-UV. It can also comfortably hold 3 adults or 2 adults and 2 children with leftover room for storage purposes.
Easy to Use
This "pops up" when you toss it into the air and let it rise. It comes with a convenient carrying case for the easiest portability and storage options. It's easy to move around and lightweight to carry.
Cost and Value
This is right in the middle of our price spectrum so far. And while it does come with some nice amenities, it's not really a good option for anyone looking for something highly durable to last long periods at a time.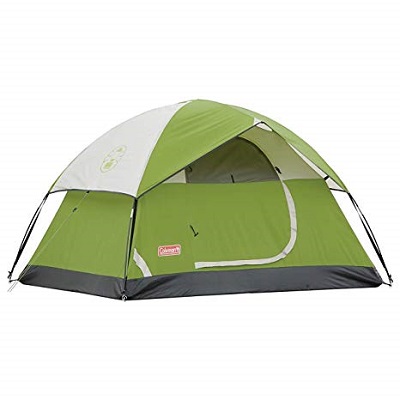 Lightweight
Portable design
Easy setup
Star-gazing
Ventilated
Bug-proof
Difficult to fit 2 adults
Not easily brought on a hiking trip with round pack shape when folded down
Set up of the Coleman 2-person pop-up tent is easy and can be done in less than a minute. Among many of the outdoor brands, this pop-up tent is lightweight and very durable.
Quick and Easy Set-Up
No poles to put together, just toss it in the air and it is done. The takedown is easy as well after you get used to it. There is a bag with a strap included for storage and can be thrown over the shoulder to transport.
Features and Specifications
When set up this tent is 7 feet 6 inches x 4 feet 5 inches, with a center height of 2 feet 11 inches. There is room enough for 2 sleep pads. The top is removable to allow for more ventilation or star gazing.
Cost and Value
When compared to most of this size it is affordable. It would be more affordable if was a little bit bigger. This is ideal for those looking to solo, an adult with one child or for a child.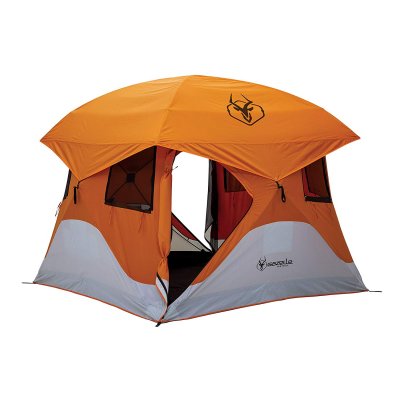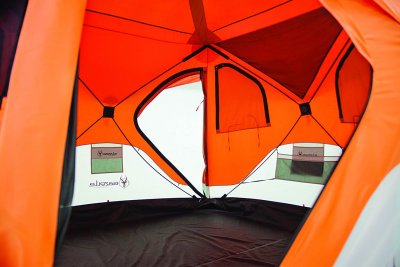 Removable Floor
62 square Feet of Space
Pops up in 90 Seconds
Rain Fly Included
Too Big To Carry in Backpack
The Gazelle is a great entry in our list with a nice included weather hood and room for four people in a simple pop up tent that will never feel crowded. The rainfly and the strong industrial zippers are one way the Gazelle lets you know it's ready for the wildlife but understands that you also want to do whatever it takes to make it a little easy on yourself.
Removable Floor
This is a great little feature that makes life out in the wild that much simpler. When the floor gets filthy (and it will get filthy) simply take it out and shake it out and then simply hook it back inside. Honestly, we love this little extra, because we like a comfortable, clean tent.
90 Second Set up
Pretty good set up time that has a rain fly and a removable floor and 61 square feet of living space. And all this packs into a 67-inch duffle bag.
Cost and Value
A bit pricey but you get a lot of extras that larger tents don't give you like the removable floor and the rain fly. It's a superior product that is worth the extra cost if you want what Gazelle is offering.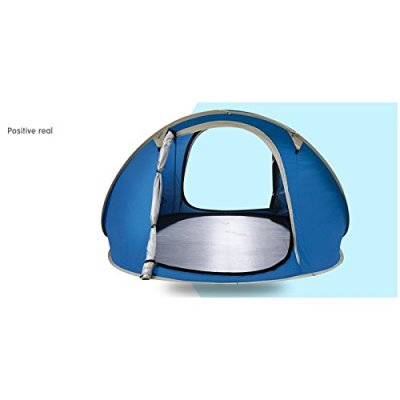 Incredibly spacious
Maximum ventilation options
Quick fold up
Good carrying size
Durable fabric and materials
Best for daily use as opposed to overnight
First of all, this is made out of K-Oxford waterproof fabric across the tent, which is a great way to start out this review. It's got 4 doors for maximum space to move around and ventilation. It holds up to 4 people comfortably which could be your entire hiking party if you need it. The inner structure is made of durable fiberglass poles and has one over top window for stargazing or sunbathing.
Maximum Space
Not only does this hold as many as 4 adults, but it also has the option of having anywhere between 1 and 4 doors to create the most mobility within and as much ventilation as you could need. It can be used as a spacious sleepingarea or a place to escape the sun and get some cool air during the day.
Ventilation
Instead of having vent holes throughout, this can open from all four sides and even has a window overhead. This means maximum airflow depending on your needs and prevents any sort of claustrophobia within while being used.
Cost and Value
You get a lot out of this and a lot of ways to use it. The price is fair and matches well so just know your money is going to a good place when you buy this one.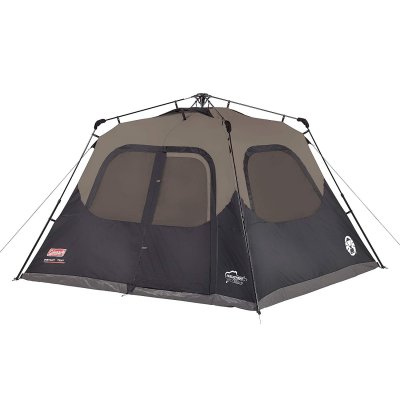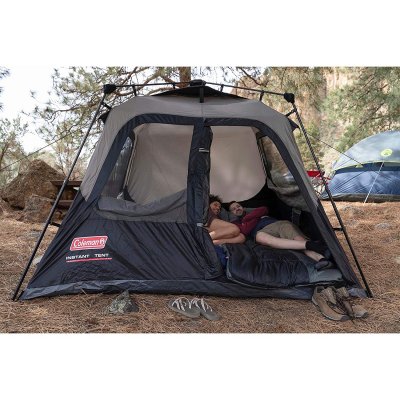 Big Tent
Easy Set up
Vented Rain Fly
Seamed Floors
Good Old Coleman, we love the name and we love this. This 4 person pop has lots of room and lots of windows and if you give Coleman a minute well then they'll give you a tent. A solid entry in our list with its air vents, inverted air fly and inside pockets.
Big Tent
When this is fully set up you've got a 10x9 foot tent with 6-foot ceilings. This is an incredible roomy space for four folks. The only trouble you'll have is finding your tent mates.
Vented Rainfly
It's all about airflow with Coleman and that's why they give you the vented rainfly so you can maximize the cool air and stay dry at the same time.
Cost and Value
This tent comes in at the solid mid-range of price. But you get a lot with the Coleman name so we think it's well worth the price.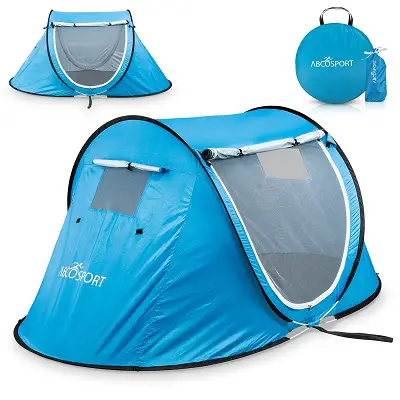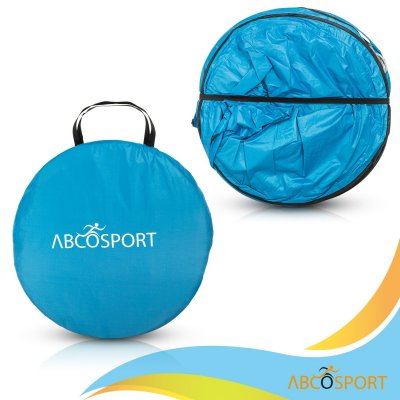 Room for two
Ventilation
Quick set up and clean up
Carrying case included
Does not come with any padded sleepers
This is a two-person mobile shelter with collapsibility and easy carrying in a storage bag. It folds up in seconds and opens just as easy to create a great space for you to lay your head at night without having to worry about a long clean up in the morning when you need to move camp. It also comes with room for two sleeping pads for comfort from the rough ground.
Quick Setup
This can open and close easily and can be taken from place to place with ease. It comes in a custom traveling bag that keeps it compact and easy to manage during the day. When you decide to rest for the night, it opens within seconds for a comfortable mobile shelter and closes just as easy when you want to clean up camp.
Tons of Comfort
Designed for two sleepers and, as such, has room for two padded sleepers to put some nice, comfy distance between you and the hard ground. On top of that, it also has three ventilation holes so you don't have to worry about waking up too hot or stuffy.
Cost and Value
For a one that holds two with as much amenities as it comes with, this is a well priced mobile shelter for your hunting trips. It can be used both in the hotter months and when the air gets chillier which makes it excellent for any time of year.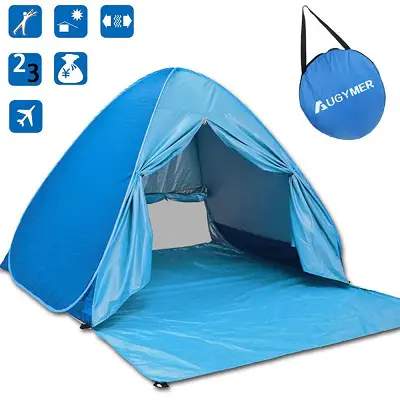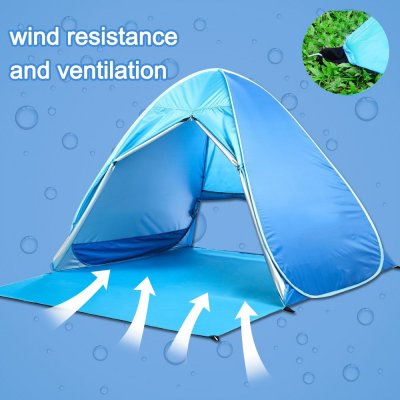 Spacious
Durable material for weather
This is a sturdy and spacious option for your hiking needs and it can hold up to 2 adults comfortably within its area. It's lightweight, takes less than 5 seconds to fold up, and features durable and water-resistant fabric. This is truly made for the elements.
Taking on the Elements
This is made out of Oxford fabric. This means that not only does it feature UV coating to protect you from the sun's rays when it's beating down in the summer or reflecting off the snow during the winter. It's also got nice water-resistant features to keep out snow or rain.
Easy Use
This is lightweight at 5lbs and has a fold up time of 3.1 seconds, making it very easy to use and transport during your outdoor hikes or hunting.
Cost and Value
This is a little bit up there but it is spacious and has a lot of durability in the material. Even for the slightly higher price, this tent's price-value ratio is still in your favor.
Criteria Used for Evaluation

Materials
We understand that even though pop-up tents all have a similar setup, they are certainly not the same. What sets the good ones from the rest is the materials from which they are made. This is also what separates the durable ones from the ones that are not so strong. We know that for them to be good, it has to combine the right materials.
For instance, we think that ones made from a material that offers UV protection are better. Most people who buy these want them to be lightweight because they would want to travel with them. When one is lightweight, it also means that setting it up is easier.
We love ones that set up easily because we think that the days of working hard are well behind us. This is the reason why we prefer aluminum for camping tents. Rainflies and the higher-denier fabric are more rugged than ones that have lower-denier. Also, the chance of leakage is reduced with high-denier fabric or seam tape is used on tent floors.

Size
Your experience starts with buying the right tent for your needs. The first thing you want to consider when buying is its size. This should start with determining the number of people you want to fit inside. Of course, this number will change from time to time but you should have an idea of the average number of people that will use this.
Even though an average one can accommodate about 4 people, you can get some that accommodate between 1 and 6 people. It's important that you are comfortable, otherwise, you will wake up sore and aching which will make it hard to enjoy the outdoors.

Features
While some are pretty basic, there are many, including most on this list, that have some great features that make sleeping outdoors more comfortable and convenient. Here are some of the top features you should look for:
Rainfly:
A separate waterproof cover made to fit on side windows and/or the roof. There are two common rain flies. One is roof-only and the other is full-coverage where maximum protection from both the wind and rain is provided.
Tent Materials:
Rainflies and the higher-denier fabric are more rugged than ones that have lower-denier. Also, the chance of leakage is reduced with high-denier fabric or seam tape is used on floors.
Ventilation:
For ventilation, mesh panels are frequently used in the windows, doors, and ceiling. The mesh panels allow for enhanced cross-ventilation and views. If using them in a humid climate, consider using one with large mesh panels.
Interior Pockets or Loops:
Interior pockets allow for better organization. Loops at the top-center of the tent are to hang a light or lantern.
Tent Accessories
While out in the woods at a state campsite, you may come across needing a certain item to make your trip easier. Consider the following:
Utility Cord
Broom and dustpan
Tent repair kit
Seam Sealer
Battery operated ventilation fan

Portability
When going out camping, odds are that you will be some distance away from your home and maybe even your vehicle. This means that you will have to carry all your equipment, food, and supplies with you. This being said, you should make sure that the model you choose is lightweight and easy to carry, especially if you really like going deep into the woods.
Check to see how small it can be folded into and if it comes with a carry bag or has a handle attached. If you are someone who likes to stay close to your vehicle just in case, this may not be that big of an issue, but remember, it still has to fit in your car.

Value
We do not necessarily remove products from our lists because they are either expensive or cheap; otherwise, the list ends up with either cheap or expensive products only. Tents are grouped into their classes according to their cost. Once we have done this, we then look at how it compares to others in its own class.
If one is really good but still too expensive for its class, we remove it from the list. Also, if it is cheap, but provides better value for the price you pay, it easily gets into our list. Affordable ones that come with lots of accessories and features will always be high on our lists.
Warranties and great product support are the hallmarks of a good product. When we evaluate these products, we listen carefully when buyers talk about their experiences when something goes wrong with the products. If the manufacturer wants nothing to do with the customer once the product is in the hand of the customer, we do not think this reflects well on the product, so we take it off our list.
Expert Interviews & Opinions
Most Important Criteria
(According to our experts opinion)
Experts Opinion
Editors Opinion
Users Opinion
By Default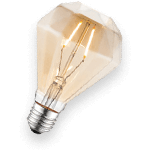 Use an Emergency Blanket to Keep Away the Heat
Sometimes you will find yourself camping in an area that does not have shade. If you feel that there is too much heat, just throw a reflective blanket on top of the pop-up tent. This should deflect the heat while also providing shade. it's important that you avoid getting heatstroke while out in the wilderness, especially if you are very far from help.
Keep the Tent from Flying Away
When setting up, take extra care to ensure that there is a windshield to reduce the power of the wind before it gets to your tent. This windshield could be trees or rocks. Steer clear of open spaces. Always travel with someone when you go out camping. Apart from helping you set up, they will also provide the extra weight you need to keep it in place no matter how powerful the winds are.
Rub Wax Candle on Tent Zippers
We all hate it when the zippers get stuck. To mitigate this problem, rub the zippers with a wax candle. You don't need to buy the candles specifically for this; just use the ones you will use on a normal basis.
Frequently Asked Questions
q:

What is the most important consideration that I need to make when buying a pop-up tent?

a:

The short answer is that when you buy a pop-up tent, you need to determine your needs. Answering the question about the reason why you need a pop-up tent will answer a lot of other questions such as the size you need.

When we talk about needs we are asking whether you are going to use them when you are out on a hunting excursion, a weekend barbeque, or at the market to display products that you are selling. Once this question has been answered, then you can look at the rest of the questions that follow.
q:

How do I determine the size that is right for me?

a:

Decide the number of people that will be using the tent you want to buy. Also, ask yourself how much additional space you will need for your gear and pets if you camp with them. However, you will need to remember that there is no standard measure regarding dimension per person. The manufacturers are able to give you an idea of the approximate number of people that can fit comfortably inside.
q:

What other important features do I need to consider?

a:

It's called a pop-up tent. For that reason, we believe that it should be easy to set up. You are not on a camping trip to spend the day trying to figure out how to set up.

If there are many of you camping, you may want to consider whether it offers you some form of privacy. Some bigger ones can be divided into rooms where people can get some privacy when they need it. Remember, even when you are camping, you will still need to change clothes.

Consider the fabric from which it is made. If you notice that it is cheap and the material is of low quality, it will not last. Even though you will be advised not to set up if you know that there will be a downpour, ask yourself whether the tent is water-resistant. It could start raining while you are out camping.
q:

Are there any safety considerations I should observe when using a pop-up tent in the rain?

a:

The main reason why we advise against setting up in the rain is that occupants are exposed to the dangers of lightning. Lightning strikes can be fatal. Even if lightning does not leave you dead, you could suffer memory loss, chronic pain, and sleep disorders. This is why it is advisable for campers to find a safe place to hide during a storm. If there is nowhere to hide, your car could be a better alternative; that is if it's properly earthed.

So before planning a camping trip, ensure that you have checked the weather forecast. A weather radio that can be purchased from big retailers like Amazon can be quite helpful for campers who use pop up tents.

Lightning usually strikes isolated objects. So, when you have to camp in the rain, ensure that you camp in a depression where something else is taller than your tent. Lightning usually strikes the tallest objects.

If you are camping in the rain, also ensure that you stay away from the tallest trees. While the storm is in progress, stay away from any good conductors of electricity such as metal poles and bodies of water. However, you need to remember that the tips we give here will only reduce your risk. The best way to keep yourself safe in a storm is to heed the signs and find a more stable place to hide while the storm is raging.
Subscribe to our Newsletter