Best Outdoor Dog Houses Reviewed & Rated for Quality
last updated:
Nov 13, 2019
Much like other dog accessories, you may not always think beyond the pet store when deciding what home to purchase for your pet. However, it's very important to put yourself in your pets' paws and find out what it is that they are going through when you're not around. When you leave for work, and they are left to their own device in their kennel, are they staying warm enough? Do they have enough room to move around in their outdoor dog house? Oftentimes, you won't know unless you research what kind of home you have for them, and decide whether or not it is a good fit for where you live. This review will not only provide you with the best models on the market but also why they made it on the list!
This is the best product on our list that is currently in stock: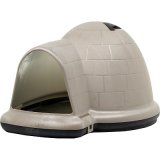 Petmate Indigo
Why is it better?
Can be taken apart for easy cleaning
Great shape to protect from bad weather
No assembly needed
Light enough for one person to move
Vent on top provides airflow
In a
Hurry? Editors choice: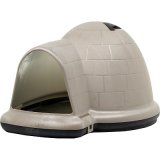 Test Winner: Petmate Indigo

17
Researched Sources
13500
Reviews Considered
13
Hours Researching
18
Products Evaluated
Durability
Size
Weather Resistance
Materials
Value
By Default
BEST OUTDOOR DOG HOUSES REVIEWED & RATED FOR QUALITY
1

. ASL Solutions Dog Palace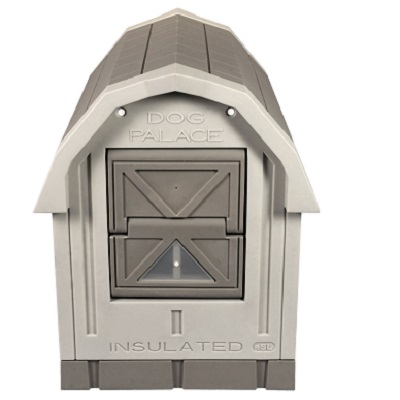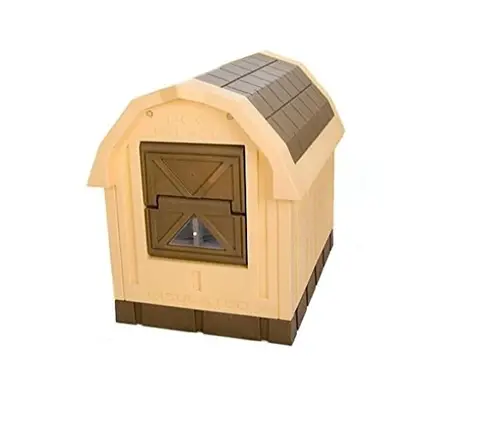 Truly weatherproof
Insulated walls great for any temperature
Can purchase a separate heater
Raised and sloped floor
Lifetime warranty
Can make some dogs claustrophobic
Expensive
"Palace" is a fitting term for this model deemed acceptable for any spoiled pooch. While it may be too small for the larger dog breeds, the spacious inside gives your dog plenty of room to move around and can provide a haven for them in detrimental weather. With foam-insulated walls and a port in the bottom of the backside of the house to string through a heater, there is nothing keeping your dog from having a warm bed to lay in. The swinging door provides a tighter seal to block from wind, rain, and sun. To top it all off, ASL Solutions offers a lifetime warranty against cracking and breaking.
Foam Insulation in Walls
The additional foam insulation in the walls keeps this house toasty warm in the worst of winter weather, while simultaneously keeping the cold in during the hottest of summers.
Self-Closing Door
The unique design of the door allows easy two-way entry and offers a thicker barrier between your dog and the elements. The design keeps most air out while still allowing ventilation.
Cost and Value
The ASL Solutions dog palace is the most expensive outlined, shown by the insulated walls, heated floor, unique thick swinging door, and thick plastic construction.
2

. Pet Zone Tuff-N-Rugged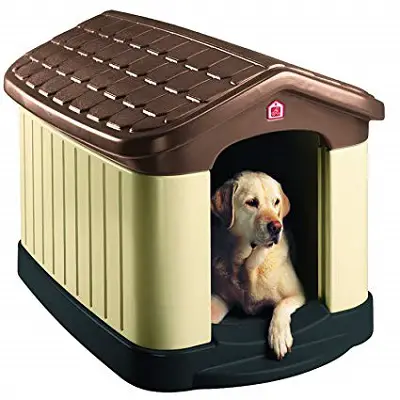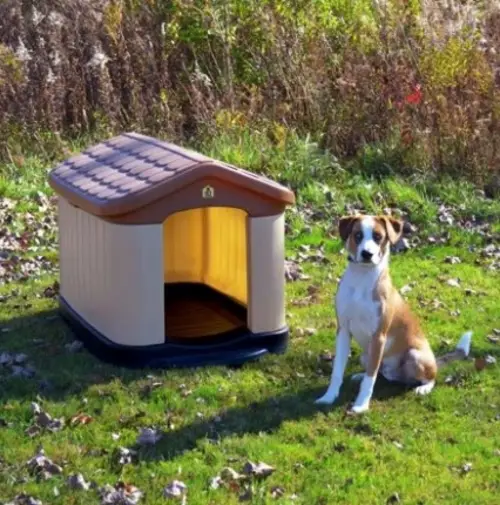 Can purchase additional vinyl door flap
Very heavy-duty plastic
Made in the USA
Assembles in seconds
Inside holds warmth
Not elevated off the ground
Roof lifts off easily
Offering a great solution for those who live in extreme climates, the Tuff-N-Rugged is the only house outlined that boasts double walls without breaking the bank. Made in the USA, the thick plastic can hold up to a beating, and the spacious interior is large enough to hold dogs up to 125 pounds. A removable roof makes it easy to clean, and as added protection, you can purchase a separate vinyl door flap specifically designed for this house to keep your dog safe and dry.
Double-Wall Construction
The thick construction of this heavy plastic, coupled with two wall layers, gives an extra layer of airspace to hold in heat in the winter and hold in cold in the summer.
Fade-Resistant Plastic
A common complaint of those that live in hot climates is that some plastic models can fade or warp at high temperatures. The fade-resistant plastic used in this house generally does not have this issue.
Cost and Value
While the Pet Zone does hold a higher price tag than other plastic houses outlined, it is the only one that boasts double-walled construction, making it a great buy for those who live in extreme climates.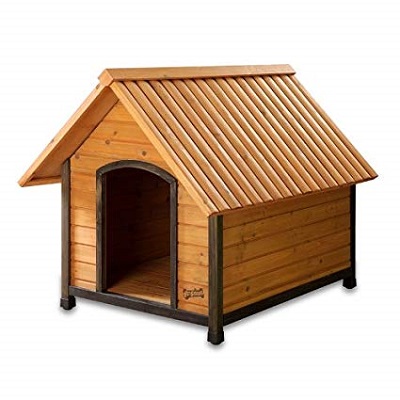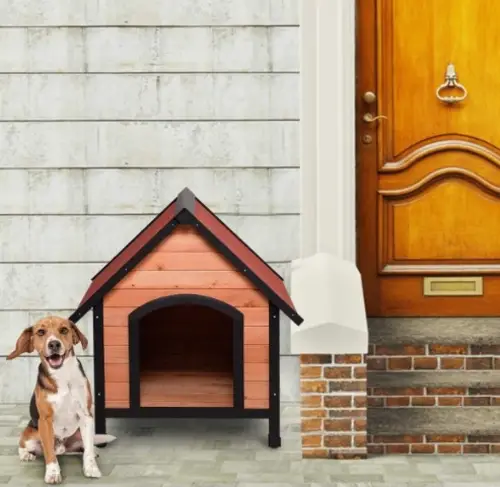 High-quality wood
Raised floor
Weatherproof
The inner roof has added weather lining
Lightweight
Thin floor
Strong odor upon receiving
The Pet Squeek Arf Frame brings a well-built, good-looking design to a classic, reliable dog house. Featuring a raised floor to add an extra air layer between your pet and the ground, and added sheet lining inside the roof to create an extra waterproof layer, your pet will stay dry through rain and wind. The high-quality white cedar wood used in construction offers a natural odor-eliminating quality, starting off very strong when you receive the house but diminishing fast. Over time, you can sand and re-seal the house to get it back to looking brand new.
High-Quality Wood
Made of White Cedar, this high-quality wood naturally eliminates odors. While it does arrive with a strong smell that puts some people off, this strong smell does fade fairly fast.
Raised Floor
The raised floor helps put an extra layer of air between the house and the ground, adding a little extra warmth and also keeping the ground from getting gross underneath the house.
Cost and Value
The Arf Frame is one of the more expensive houses outlined, shown through choosing wood over plastic, and creating a look that will look good in anyone's yard.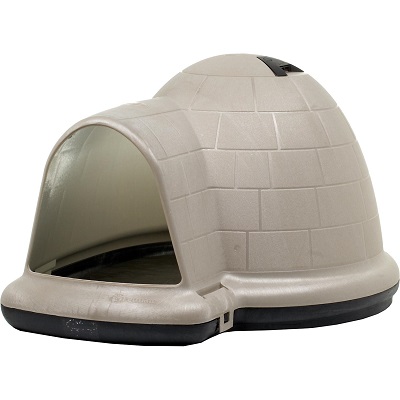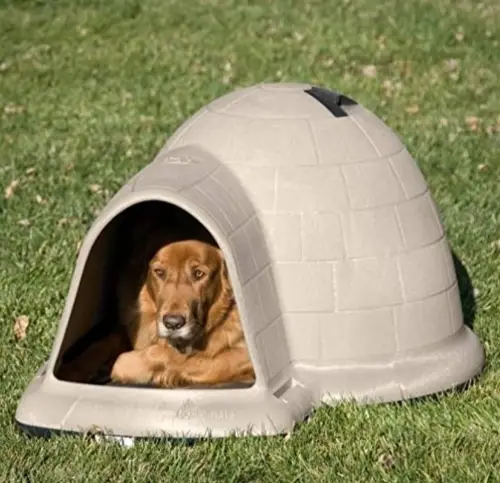 Can be taken apart for easy cleaning
Great shape to protect from bad weather
No assembly needed
Light enough for one person to move
Vent on top provides airflow
Dogs can chew up plastic construction
The smaller opening can be too small for some very large breeds
The Petmate Indigo has won many dog owners' hearts due to the unbeatable design taking a note from our northern ancestors. The shape helps keep heat in, and moisture, wind or sun out. The vent on top along with a microban coating keeps bacteria out and allows fresh air in. Coming in two parts, it's easy to assemble, and just as easy to disassemble to clean. Beware that if you have an extra-large breed, take note of the entrance specifications, as some may not fit.
Igloo-Shaped
While a smaller opening can be an issue for certain larger breeds, this smart design keeps heat trapped in the main sleeping quarters, and better protects from wind, rain, and sun.
Microban-coated
Microban is an antimicrobial agent that protects this from bacteria, mold, and mildew, keeping it smelling better for longer even with a stinky, wet dog.
Cost and Value
While the Petmate Indigo is one of the more expensive outlined, its design built to last in tough weather is well worth the price for those who live in harsh environments.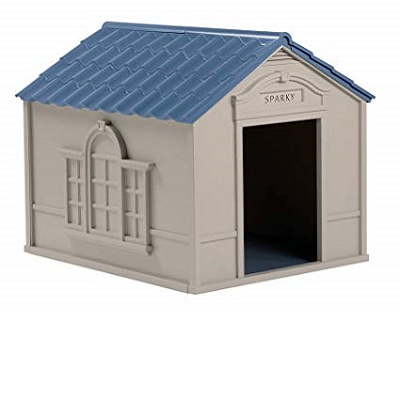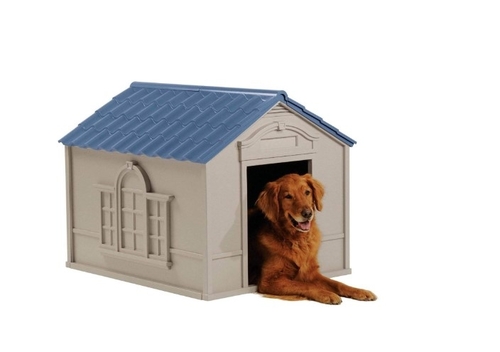 Removable roof for easy cleaning
Comes with letters to personalize the house
Large opening great for large breeds
Weather-resistant plastic
Comes with a plastic flap to cover the door
Not great for destructive dogs
Slightly frustrating assembly
If you're looking for a no-nonsense design without breaking the bank, the Suncast DH350 is a good option. Fitting dogs up to 100 pounds, the durable resin construction will hold up to dogs who get rowdy when left alone with their house. The bulky design will stay put through bad weather, and the rear air vent will keep the air fresh. Personalize it with your dogs' name using the provided letters.
Personalized Letters
Suncast sends letters to the house so you can add your pet's name above the door and personalize their own living space. This is a unique, added quality that many do not provide.
Plastic Door Flaps
Another added feature is the provided plastic door flaps. While the entrance is quite large, in cold, windy or rainy weather, it is a simple installation to attach and protect your pooch from the elements.
Cost and Value
As one of the cheaper models, this simple design is well worth the money for a weather-resistant, sturdy build that will hold up to your dog, no matter the temperament.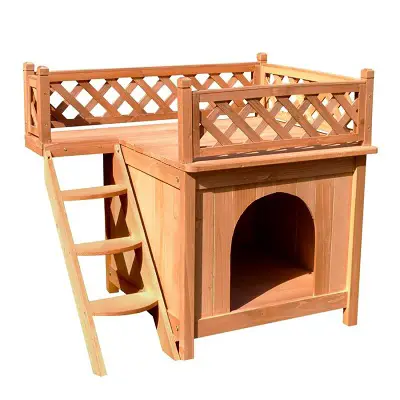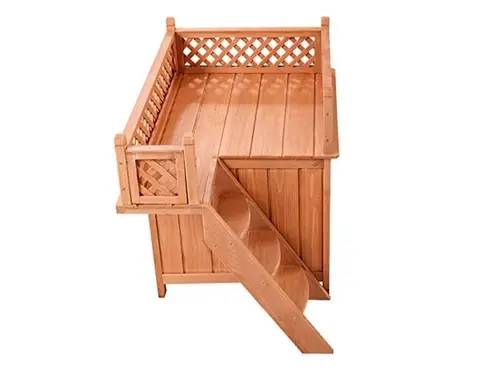 Good for both indoor and outdoor use
Raised lower floor
Gives dog option to be covered or lounge above
Light enough for one person to carry
Removable rooftop for easy cleaning
Many pets ignore the shallowly built stairs
The top is flat so it doesn't drain water as effectively
Before diving into this product, it's important to mention that this is designed specifically for smaller breeds. With that said, if you DO own a small breed, this dog palace could be just the right thing for you. Designed to be used either inside or outdoors, the versatile design gives your pooch the option to either hunker down underneath in bad weather, or lounge in the sun up top. Kiln-dried wood makes it extra durable, and as with any other wood, over time you can sand and refinish it to make it brand new again. A raised bottom keeps your house up off the ground, and the lattice trim up top gives this a sleek look that's sure to spruce up your yard and keep your pooch happy.
Two-Tiered
Dogs are creatures of many moods, sometimes wanting to crawl into their own little space and sleep, and sometimes wanting to perch up and watch their owners go about their business. This Merry Products model gives your pet the option to do both.
Kiln-dried wood
The benefit of wood structures is that it is easier to modify to fit your personal liking and easy to refinish after a few years of hard use.
Cost and Value
Compared to other wood-constructed designs outlined, the Merry Products palace comes in at a lower price point, given there is only one small size available. However, for those with small dogs, the quality of construction is well worth the money.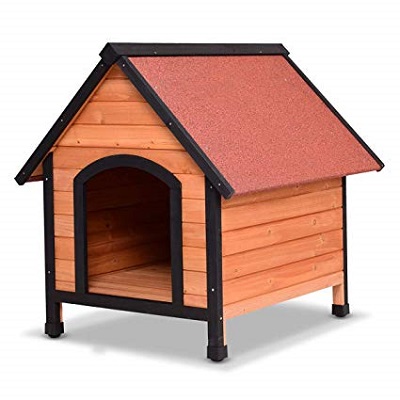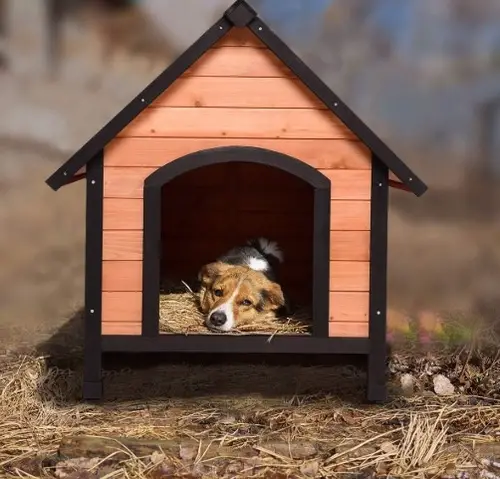 Adjustable feet
Shingled Roof
Heavy construction
Easy to assemble
Sleek design
The floor has gaps between planks
Walls are thin
The Tangkula offers another great example of a quality wooden dog house. Offering three different sizes, it is big enough to fit dogs up to roughly 60 pounds (check specifications to compare with your individual dog). The slanted, shingled roof keeps water out effectively, and the raised floor added a little extra space between your pet and the ground. Beware that similar to other single-walled houses, it may not be sufficiently weather-proof to keep your pet warm in very cold temperatures without additional modifications.
Adjustable Legs
Not only do the legs serve the obvious purpose of keeping the house off the ground, but the ability to adjust them allows you to make up for uneven terrain to keep the house level.
Shingled Roof
Similar to the Petsfit outlined above, the Tangkula offers roof shingles as an added agent to fight off unwanted moisture. It also adds a nice visual effect to the design.
Cost and Value
The Tangkula holds a similar design and structure to the Arf Frame listed above, however overall it holds a lower price point without compromising quality.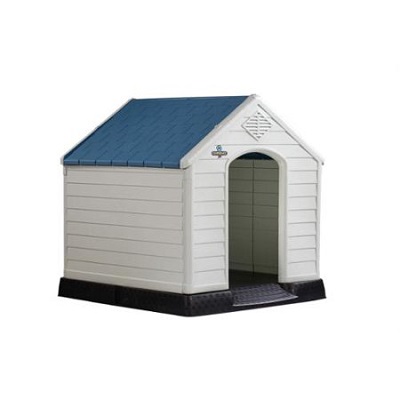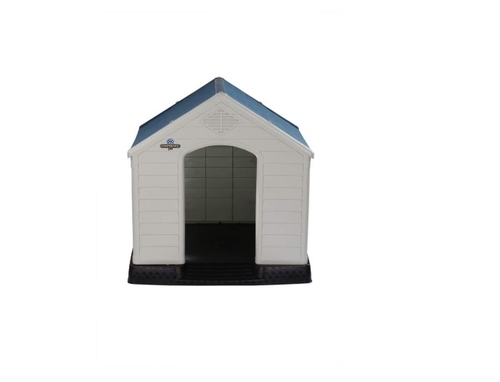 Easy to assemble
Open interior
Waterproof
Easy for one person to move
Slanted roof shucks off water nicely
Not big enough for large breeds
Thinner plastic doesn't hold warmth well in very cold temps
If you're getting overwhelmed by all this talk about fancy designs with all the frills, then the Confidence Pet may be for you. This offers protection for your dog against the elements through a waterproof design and roomy interior while omitting any additional features that some may find unnecessary depending on your dog. Keep in mind that if you live in a particularly cold region, you may want to look elsewhere, and the Confidence Pet has thinner plastic than other similar models and does not hold heat as effectively.
Simple Design
For those looking for something without any extra frills to keep their dog sheltered from the elements, the Confidence Pet offers easy setup with a large opening/inside to get the job done without any fancy additions.
Waterproof
The slanted opening in the door, in combination with the durable plastic and slanted roof, will keep your pet dry through the storms. Buy an additional vinyl door flap for added protection against wind and rain.
Cost and Value
Compared to similar products, the Confidence Pet is slightly more expensive, however, it still competes with a durable design and ease of setup and maintenance.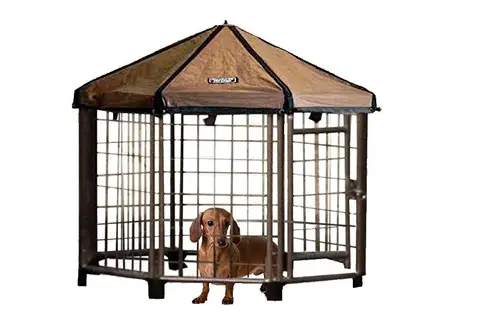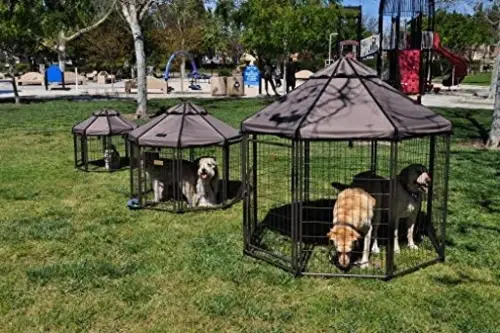 Easy to work with
Sturdy, durable and portable
Comes in an octagon shape
Has reversible cover for all weather conditions
Different sizes can be confusing to choose from
Cover not as durable
When it comes to having an outdoor dog house, many of us may only consider wood or plastic ones. But what most don't contemplate is having something different such as the Advantek Pet Gazebo. Featuring an octagon shape that measures either 3ft, 4ft, 5ft, and 8ft depending on the size of your pet, this gazebo was created with your pet in mind.
Reversible Cover
Whether you have your pet outside during the summer or in the fall, your pet will come into contact with some sort of element. In order to prevent that from happening the brand has come with an ingenious form of protecting your pet from natural elements, by incorporating a reversible cover. The reversible cover is designed for most if not all weather conditions by incorporating two sides, one that is designed to keep the heat out and the other is best for cooler weather. Having this feature is a win-win for you and your pet as you can travel and feel comfortable.
Travel-worthy
Due to having a unique shape and feature, you have the ability to travel with this gazebo. Whether you decide to go to the park, the beach, or stay at home its completely up to you. Keep in mind, this is quite versatile and lightweight. Having this lightweight feature enables you to take it anywhere with you without having to worry about it being heavy or difficult to put together. With this one, it's quite the opposite.
Cost and Value
As for the cost and value of this product, the price will change depending on the size of your pet. The larger your dog the larger the gazebo you will need to be, which means the more expensive it will be. Likewise, if you have a small dog you will be paying a little bit less. Furthermore, you are getting an excellent, durable product that you can travel with effortlessly.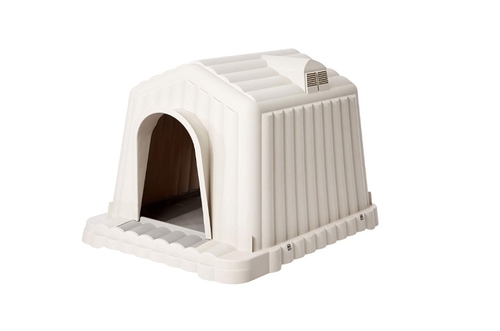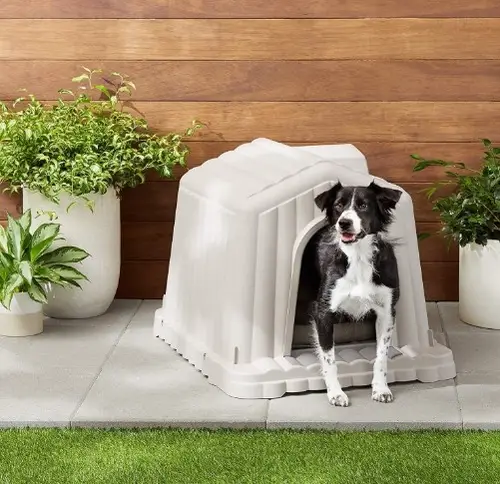 Durable
Easy to work with
Easy to clean
Can be used inside and outside
Insulated
Not large enough for bigger pets
This one tends to work best for those that have a smaller dog
When it comes to purchasing a comfortable space for your pet to sleep in you want to consider how much warmth your pet is actually getting. You want one that is versatile enough to work indoors and outdoors, you want to consider a model like the AmazonBasics. Measuring 35.5 x 27.2 x 24.8 inches and weighing 14.6 pounds overall, this house was intended to be easy to work with while still being sleek and comfort for your pet. Its all about giving your pet the nap they deserve.
Extensive Protection
In order to provide the best quality possible, this comes with extensive protection for your pet. Made out of quality PP plastic this house is extremely easy to work with and install, there is essentially no setup that needs to have. It is insulated, so it keeps the inside cool when it's extremely hot outside likewise maintaining the inside hot when it's cool outside. Having this feature enables you to place this inside and outside of your home. Due to its plastic exterior, it can also be rinsed out quickly and easily.
Inside/Outside
As stated above, it can be used inside and outside. Though this is mainly due to the protection it provides, it is also due to the style of house it is, personally. You are getting a model that gives your dog an added dose of comfort whether it's placed inside or outside. Consider it the perfect blend between what works only for the outside and what works in both areas.
Cost and Value
When it comes to the cost and value, you can say you are getting quite the bargain. Due to its versatility, the house is well worth the price point that is listed. Additionally, you are getting a durable product that gets the job done every time.
Criteria Used for Evaluation

Durability
The durability is vital! Low-quality materials can easily break, deteriorate, and not last the test of time. With that, a user ends up spending even more money, which can be a waste. Most importantly and we hope it never occurs, the quality of the doghouse, if poor, can even harm the dog while the dog is inside. Quality was detrimental and we determined it to be the most important. But, what exactly determines quality? Well, this and many questions in the area of quality are crucial to picking out the right one.
For example, quality is subjective. However, what made the process easier when picking out the best quality was the individual reviews from many consumers. It is synonymous that many of the options we shared today are in fact made of quality materials that can withstand the test of time. With that, certain materials are better for certain weather environments than others.

Size
Now we cannot emphasize how important this next criterion was. The size is crucial for a dog. The reason being is that the wrong size can lead the dog to a lot of discomforts, and they can suffer from many pains and aches. Therefore, we had to take a close look to ensure that many of the brands above offered different dog house sizes.
One of the most important elements when taking the size of the house into consideration was whether or not a bed could fit inside of it. This is important because this adds an extra level of comfort that the dog would not have otherwise. Of course, individuals are able to match the size of the dog bed to the indoor size. However, the real question is, is the space big enough for the dog to be comfortable? What we can say about our list is that all of them allow for the maximum comfort and ease of the dog.

Weather Resistance
Now, this next criterion may be one of the most important. The reason being is that durability against the elements is crucial for an outdoor dog house. Since it is considered an outdoor version, individuals need to rest assure that they can withstand hot temperatures, low temperatures, rain, snow, hail, and other various elements. With that, we carefully picked out ones that were designed for many weather elements.
Some are made of wood, which can withstand years in the sun or rain. However, they may rot if sitting in the rain for too long. While others are made from extremely strong plastic, but if not careful, they may crack. Therefore, it is vital to see which material is best suited for your environment.

Materials
Without the right material, an outdoor dog house can be shy of a true outdoor option. In fact, these are made from different quality materials that at times are coated for endurance, can be corrosion-proof, and are designed for maximum strength and performance. When picking out the best products, material design was crucial. For example, as a dog owner, you never want to leave your dog in a flimsy house with thin plastic, because in the cold weather months, the house will not be able to retain any warmth.

Value
It is not common for us to not take cost and value into consideration. In fact, we thrive on finding the best products for individuals that want a variety of features and prices. The reality is, that a product with little to no value is not worth spending your hard-earned dollars. We can say that cost to value is extremely important and when we evaluate that, we take certain aspects into consideration. To evaluate cost and value we tend to evaluate the price of the product compared to the competition that is offering the same benefits or style. With that said, all of the options we have included have gone through a rigorous inspection to ensure that our readers are getting the best for their buck and the best for their dog named Buck.
Expert Interviews & Opinions
Most Important Criteria
(According to our experts opinion)
Experts Opinion
Editors Opinion
Users Opinion
By Default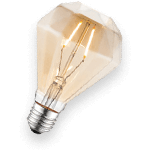 Consider The Climate
If you live in a fairly pleasant climate year-round, it may not be as important to have a waterproof build, and you may be most concerned with your pet's comfort level. If you live in an area that receives extreme heat, having a material that will not warp or fade in the hot sun is something to keep your eye out for. For those who live in a climate that receives a lot of rain or extreme cold, having attributes such as a raised floor, optional door cover, insulated walls, and wind/water-resistant roof, walls, and material are important.
The Right House For Your Dog
Your dog's temperament plays an important role in deciding what may be best for you. If your dog is particularly rambunctious and likes chewing, thicker material will serve them well. If your pet has a hard time being in confined spaces, you should keep on the lookout for houses that provide an open feeling on the inside, or maybe has a window/large opening for your pet to keep an eye outside.
Get Your Dog Used To The New Home
Most often, you will have to train your pet to use their house, as some dogs get scared at the concept of crawling into new, confined spaces. If you plan to purchase and use a door flap, this will likely require additional training as well, however, it is a very important feature to keep your pet dry and protected.
Other Factors to Consider

Style
The last thing a pet owner wants is an eye-sore in their beautiful backyard. Therefore, one of the criteria's we took into consideration was the design and aesthetic appeal. For example, the design and aesthetics will really create a feeling of home for both the dog and the owner. With that said, the design and aesthetics may complement the surrounding around the home.
When taking design into consideration, there were many different small aspects to take into consideration. For example, did they have colors that would fade over time? Was the wood treated with polish? Was it a two-piece design or one? With questions like these, we had to take many different models into consideration, and the ones above fit many of the important design elements that we believed, as dog lovers are very important.

Ease of Use
Nothing is better than easy assembly, are we right? We think so! One of the most important aspects was we wanted to ensure that our readers would need minimal time having to assemble any of these. So, an easy assembly was crucial and we noticed that many different brands and companies, will in fact already have them assembled, or make it extremely easy to do so. With many different brands out there, it seems they are all competing to see who can make the process easier and we are not complaining.

Features
Another criterion you may want to consider would be the features. This includes whether or not the house was easy to clean. We think we can all admit that dogs are not the easiest of creatures to keep up with. They are messy, they love mud, to roll around, get dirty, chase things, and bring them back. With that said, you never know just what you will find inside. Therefore cleaning ease was important.
With that in mind, many on the list are made from a strong and durable plastic material that allows individuals to easily spray them down with a hose. As far as cleaning the inside, some have a detachable top or the dog entry door is big enough to get in there and clean it out. Other features to look for include:
Ventilation
Ventilation is important. Without good ventilation, these will become dangerous during the hot weather, as well as hot and stuffy. Lack of ventilation during winter may lead to moisture buildup that creates an environment for mold and mildew. The entryway of the dog house provides some ventilation; however, additional vent holes are necessary for times when it is closed. As hot air rises, you want vent holes that are near the roof. Also, the vent holes should not be too large as to prevent excessive heat loss during the winter months.
The Roof
The roof should be slanted to let snow, rain, and debris naturally runoff. It should also be insulated. Keep in mind, gables, and dormers can result in leaks.
Frequently Asked Questions
q:

Is it weatherproof?

a:

Many different dog houses are weatherproof depending on the material. For example, some wood outdoor dog houses are coated with a rot-resistant material that ensures they can withstand the test of time. For a better idea, it is always best to look at the design elements of the house. If it is weatherproof, it should be designed in a way that can withstand the harsh cold temperatures, snow, and lots of rain. With that said, individuals should read the reviews to see what other people are saying. When looking at the design you want to make sure that somewhere in the listing of what it features that there is something that says waterproof. If there is, then there is a huge percentage that the dog house is waterproof and can sit outside in multiple weather conditions. If it isn't then you want to look elsewhere for that.
q:

Is the roof sealed?

a:

This all is dependant on the manufacturer and where the doghouse is best suited for. Therefore, keep an eye out for the different material qualities of the doghouse and inspect all of the information about the roof. From our experience, if the roof is sealed they will say something along the lines of the roof including a weather lining of sorts. With that said, the design of the roof, if it is one piece, it may be considered sealed.
q:

How can I make my dog more comfortable?

a:

This question is really determined by the dog and the owner. Many users asked this question; however, the answer appears in a better light once the owner sees the dog inside the house. With that, they are able to tell much easier and better if the dog has space for a comfortable bed or at least a blanket. With that said, different dog houses are designed to suit various dog sizes, always pick larger than needed.
q:

Can it be used for cats?

a:

This is another question that many users ask frequently and with experience reviewing and testing the products, we can say only a certain amount of them were best suited for cats. For example, the Merry product ladder two-floor dog house is a really great outdoor cat house as well. It all depends on the nature of the cat. With that said, if the cat happens to be an outdoor cat then almost any of these will do.
q:

What is better: raised or not raised?

a:

This is a really tricky question that many consumers ask and in truth, it all depends on the environment that an individual will be placing the dog house. For example, an outdoor dog house on a top porch is okay if it is not raised, because chances of it being drenched in water and mud are very slim. However, if it happens to be on grass, or on the side of the house where water and snow collects, then it is better to have it raised to ensure the longevity of the dog house. With this in mind, we can say that many dog houses have a raised step or some type of raised material, which is designed for better safety.
q:

Can portable outdoor dog houses be used on a regular basis?

a:

The majority of portable models can withstand heavy use. They are not, however, designed to provide much comfort for your dog, so they are not recommended for regular use.
q:

How often should I clean mine?

a:

It is recommended to clean the dog house at least one time per month. When the weather is hot and humid you may want to clean it more often.
q:

What should I do if my dog does not like their new house?

a:

If you are purchasing the dog house at a brick and mortar store, have your dog accompany you. If purchasing online, be sure you have the option to return in the event your dog does not like it.
q:

Are outdoor dog houses safe?

a:

Dog houses are constructed in compliance with the safety requirements for your dog.
Subscribe to our Newsletter