Best Cat Collars Reviewed & Rated for Quality and Design
In a Hurry? Editors choice: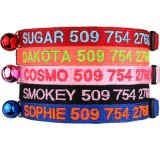 Test Winner: GoTags Cat Collars

The cat collar, a chance to make sure your cat is distinctive and to make sure you can find your cat if it accidentally gets outdoors and a chance to allow other people to help in the search for your little feline pal if they show up unannounced on a neighbors doorstep.

To collar or not to collar your cat? This question is a very different one than dog owners ask because cats have very different needs. But what kind of collar do you want to get your cat? There is a wide variety of options out there and you don't want to get one that you'll regret spending money on. No worries, we've done the research for you and compiled a list of some of the favorites from cat owners all over.
Standout Picks
Criteria Used for Evaluation
Size
What good is a collar if you get one that doesn't fit? Likely not very good. The last thing you want to happen is your cat losing the fancy collar you just bought them shortly after putting it on. That is not only a waste of money but a waste of effort and a cause for much irritation.
In order to know that you have the right fit you want to ensure that your cat's collar fits securely, but you don't want it to be overly snug. To get the right size, you want to measure around your cat's neck and add two inches. Once the collar is on your cat, you should be able to comfortably fit two fingers in between it and your cat's neck.
Every collar varies in what size it will fit. Most fit somewhere in the range of 7.5-13 inches. The width will vary largely depending on style and brand. Typically, the smaller in length the collar is the smaller it will be in width. This is not the case if you are getting a fancier designer or leather collar, but is with most standard varieties. If you have a kitten, you are definitely well served to have a thinner one as that sweet little kitty is just so small. Plus, they will be growing quickly and likely outgrow the first collar you buy for them.
Style
The sky is the limit as far as style and design go on your cat's collar. Most come in a wide selection of colors or patterns as well. This is great for customization. You will be able to get a collar that truly fits your needs and lifestyle, whatever those may be. Do you like function or fashion? Or maybe a combination of both? There are cat collars that will fill all of those needs and wants.
Functional styles are more the types that are thin, plain nylon with not a lot of frills. These collars tend to be simple and straightforward but provide a place to put a bell to be heard by you or potential prey and/or an ID tag so that your cat can easily be traced back to you. They get the job done and typically cost very little or come in packs so that you can always be sure to have a backup. No frills, no fuss, but also very little fashion.
A step up from the most basic and functional cat collars are ones that include a reflective strip. These cat collars are still very basic but do have the added benefit of being able to see your kitty if it is crossing the road at night – or whatever other situation they may find themselves in when a reflective strip would come in handy. They also have the added benefit of making the collar at least two tone which adds a nice flavor element to a somewhat standard cat collar.
Slowly working our way up the fashion scale, the next level of fashionable cat collars are those with simple geometric patterns or embroidery right in the collar. The options here are wide and varied. Different companies have different styles and patterns and some even have the option of embroidering in a name and phone number. These also tend to run relatively cheap but really allow you to dress your cat up a bit without going over the top.
Finally, you have the option to get big and flashy collars. If you are one who loves to dress yourself or your kids up, you will also likely appreciate the ability to dress your pet up as well. There are absolutely adorable option out there – from blingly clasps to big, fancy bows. There are different patterns and will make your cat incredibly cute as if they weren't already.
As mentioned earlier, the sky is the limit and you can literally choose whatever it is that you'd like!
Safety Hazards
A big concern that should be in every pet owners mind is safety. Ultimately, the reason to buy a collar (besides fashion) is safety. You want people to be able to call you and track your cat back to you if for some reason they get out. It is so helpful to be able to put an ID tag on your cat. It is also nice to be able to have a bell to keep any potential prey safe as cats really can be big hunters. Your bunny will be safe and know to run away when they hear that little jingling.
But what about the clasp? Cats can definitely be sneaky creative creatures and often times that means they get themselves into somewhat sticky situations. You don't want your precious kitty to climb a tree and get its collar stuck with no way for you to find or save them. You also don't want your tough tomcat to get in a fight and have his opponent win simply because he got ahold of the collar you so lovingly installed. You also don't want your cat to be trying to pry their collar off and have their paw get stuck in the small space available and cause panic, among other things. So what can the loving pet owner do?
There are a couple different options available. The most popular safety feature that is included on a cat collar is the breakaway clasp feature. This allows the clasp to come undone when a certain amount of pressure is applied which allows your cat to safely get themselves out of whatever they happened to get themselves into. It will ensure that the tree branch or fence post doesn't get the best of your cat. Indeed, your curious cat will inevitably come home without a collar at some point and it'll likely be found in one of those places. Breakaway collars are safe for your cats and will ensure that they survive to tell the tale of getting themselves out off of that tall tree – or whatever else it may be.
Another option is an elastic insert. This is far less popular but is an alternative option if you can't handle your cat's breakaway collar breaking apart at the slightest pressure. This style allows their collar to stretch a bit when it gets caught on something and the idea is that it stretches enough for your cat to get out of it. It will stay attached longer and won't fall apart as easily but also doesn't come off nearly as easily.
If your cat is an indoor cat, it may not be quite as important to have a collar that is easy to escape from. Your cat is a lot less likely to get stuck in the top of a tall tree or get caught up in a brawl with the neighborhood tomcat. Any standard collar will work wonderfully for you.
There are pros and cons to every style, so weigh them wisely. Ultimately, though, the most important thing is that you have a collar with an ID on your kitty so that they can easily be traced back to you and they won't be lost. That is the most important safety feature you should be going for.
10 BEST CAT COLLARS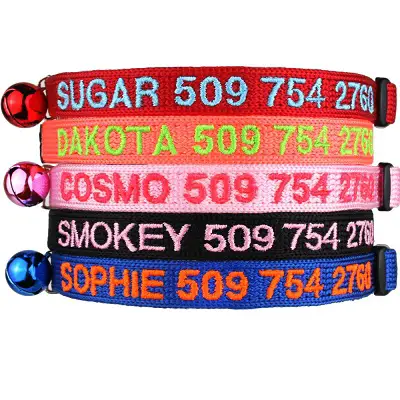 Yep, this is the one you need. It's cheap and it does exactly what you need it to do. It lets people know your cat's particulars in a way that is right out there. Add some bright colors and not only will this help strangers identify your pet, but it might also make your kitty easier to spot if it decides to go on an unintended walkabout.
Multiple Threads and Options
So there are 5 different collar colors and 15 different embroidery colors. This allows you to customize the collar to your heart's desire. Go for bright or go for the colors of your favorite teams or just colors you like. It's a neat little add-on to an already cool product.

Breakaway Collar
The no-snag nylon material is made to pop open if your kitty gets tangled in a branch the collar should come right off so your cat won't hurt themselves. The collar itself is just wide enough to clearly see the name and number and the handy bell will also help locate your little critter.
Cost and Value
Towards the high end as these things go but truth be told a cat collar is never going to break the bank and it might very well save the life of your kitty.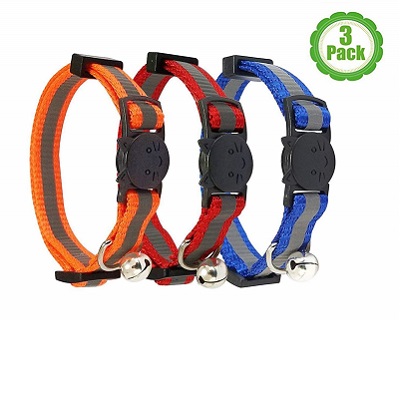 You will love this reflective cat collar. Make that cat collars - they come in a 3 pack. They are cute, easy to put on and take off, and are breakaway collars should your kitty get into any sticky situations. They are adjustable from 7 inches up to 11 inches and also come with a bell attached.
3 Pack
This set of cat collars is a three pack. That is great if you have a cat who has a tendency to lose them. This will have you buying new ones way less than you currently are. It also allows you to change your colors up if you choose. Not feeling red, that's cool. Go for the blue one today. Included colors are red, blue, and orange.
Cute Buckle
It's the little things that count when buying a cat collar. Afterall, there really isn't all that much to a cat collar right? Bemix paid close attention to the details here and the buckle is the shape of a cat head. It is very cute and will ensure you don't get this collar confused with your Great Dane's collar.
Cost and Value
You are getting a great deal for your dollar when you purchase this pack of cat collars. It comes in a three pack but is really no more expensive than a single collar typically runs. They are good collars that are the perfect solution if you're looking for a little variety or have a cat who is constantly losing collars.

3

. ExPawlorer Red Velvet Cat Collar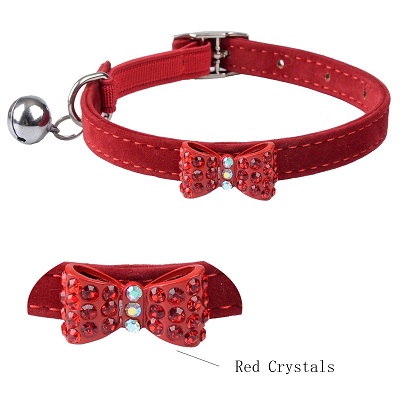 Now this little number will spruce up your cat in the same way that Ruby slippers spruced up Dorothy. This is just a fun little whimsical collar that will make your cat look their best. Plus the included bell lets everyone know the Queen, or King of the household is on the way.
Adjustable
This little collar easily adjusts from 8 to 10 inches in length. And it's also a nice 3/8th inches wide. Perfect for almost any kitty. Plus, let's not forget the ruby bow, which just puts this one over the top.

High Quality Construction
This collar is made with velvet leather, a tough alloy buckle with small inset crystal stones. It's really just the cat's meow, and yes we did just write that, and yes we do apologize. It just had to happen.
Cost and Value
Best buy on the list. This is little more than a simple collar with a bell but it gets the job done plus honestly it's a collar that's not to be missed. And it's also a collar that will help make your cat distinction if it ever gets out of the house, or turns up lost.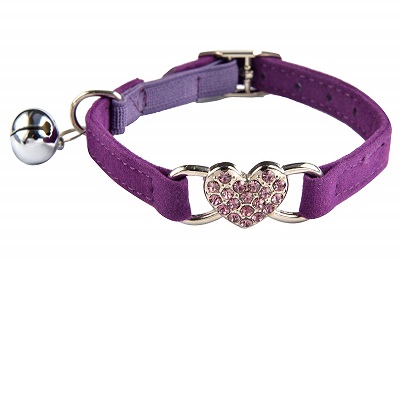 Are you looking for a cat collar with a little bit more bling but aren't up to a big flashy bow? What about a blingy crystal heart charm clasp with a velvet collar? That is what you'll get here. It comes in a variety of colors and will dress your cat up just enough without being overbearing. It is made to fit sizes 8-11 inches.
Elastic Safety Collar
This cat collar is not a breakaway collar - that would take away from the cute charm clasp that holds it together. Instead, it includes 30 cm of elastic. This allows your cat to still be safe in sticky situations but still allows them to have an adorable collar.
Includes a Bell
This heart bling cat collar comes with a bell attached. The bell will allow you to hear your cat from far away or anywhere in the house. While it may seem a little loud at first, ultimately it will help you whenever you need to locate your cat. However; it is fairly easily removed if you so choose.
Cost and Value
You will be spending very little when you buy this blingy collar. It is a great buy for the price it comes at. It is a great way to add character, color, and shine to you and your cat's everyday life. If that is what you're looking for, there will not be one tinge of regret when you purchase this cat collar.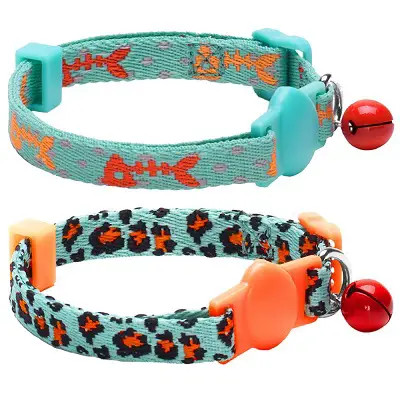 These are Blueberry cat collars will give a little style to your kitty without asking for too much attention. They have fun geometric designs on the polyester fabric that are cute and intriguing. They fit necks from 9 inches to 13 inches and come with a nice loud bell
Good Breakaway
You either love breakaway collars or you hate them. They definitely serve a great purpose - but it is hard to find a clasp that actually holds when you want it to, but readily comes apart when you need it to. This one fits that bill and you can rest assured knowing that your cat will keep this collar on unless they get themselves into a situation that it needs to come off immediately.
Varied Designs
This cat collar comes in a variety of designs. They are all geometric and simple but offer a little bit more fun and variety than you find in a typical cat collar. There are also holiday-themed designs and they change throughout the year so you can always get ones to match your moods or the season.
Cost and Value
These cat collars actually come in a two pack, which is a good start at being a great value. Their price is still quite inexpensive especially considering the fact that you get two. That way you can have a little variety or a backup if needed. They are decent quality and have a great breakaway clasp. Ultimately, you'll be satisfied with this purchase but if you aren't, it wasn't a big purchase that you will regret.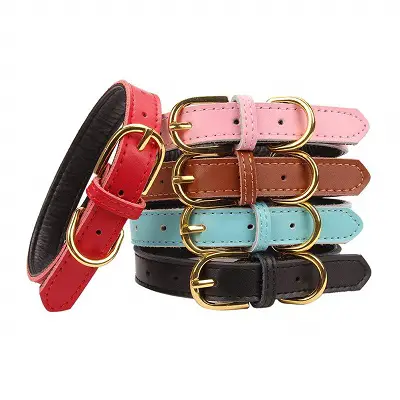 These are classic, beautiful cat collars. They are made of leather and alloy and come in a variety of colors and sizes. There are no frill, no fuss, and no crazy designs here. Just straightforward leather that you and your cat are sure to love.
Leather Collar
These cat collars are made of leather. The leather is classic and beautiful and is something everyone will love. They look good and you can't go wrong here. The leather comes in a variety of colors so you can be sure to get the one that suits you and your cat best.

Sizing
While most cat collars are adjustable, this one actually comes in sizes. While that is both good and bad, once you take the time to actually measure your cat's neck getting a size that is specific to it will absolutely pay off in the long run. You know that it will fit well and that will mean less fiddling and trying to make it work. There are several holes on each size as well so that you can be sure to get exactly the fit that you want for your cat.
Cost and Value
For a genuine leather collar, this comes at a great price. It isn't any more expensive than other collars on this list and offers a look and style that is hard to beat. Leather is a quality material that is almost the gold standard in any sort of collar, handbag, or shoe, so you can rest easy knowing that your collar will last for a while.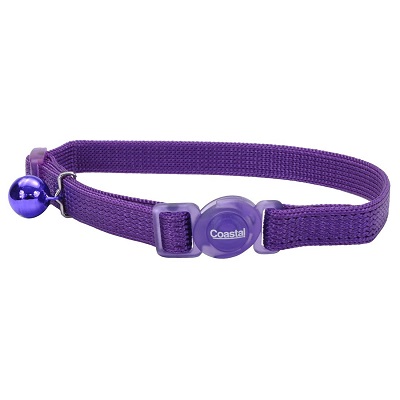 This cat collar is very simple and straightforward. Like the leather one above, there are no frill or fuss here. It is a thin nylon collar with a breakaway clasp and bell attached. It is adjustable from 7.5 inches up to 11.5 inches. It is quality made and durable and will not have to be replaced as often as others.
No Snag Nylon
Coastal Pet makes their Safe Cat Adjustable cat collar from no snag nylon. That means it won't be fraying anytime soon or when your cat catches a claw on it. It also comes in several different colors so that you can match it either to your cat or simply choose your favorite.
Adjustable
A very nice thing about this cat collar is that it is easily adjustable. It can fit necks from 7.5-11.5 inches which offers a great range. Not only that but because it is simply one color no design collar you won't be messing with any designs or words when you do adjust it. Just fit it to where you want it to be and move on with your life.
Cost and Value
This cat collar is very inexpensive. You will barely feel it's purchase. It is quality and durable enough to far outlast the price that you pay for it. Coastal Pet takes into account your cat's safety as well as your tolerance for continually replacing them and combines it in a way that produces a solid cat collar that doesn't need replacing as often and comes at a great price.

8

. DYEOF Flea Tick Collar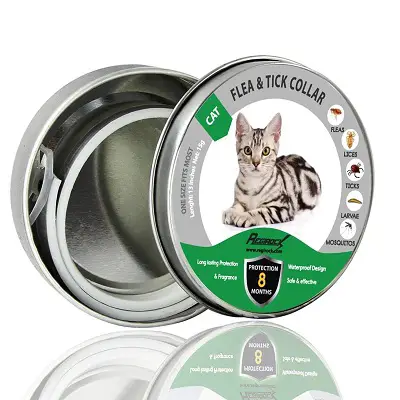 Perhaps the most important collar your cat will wear is a flea collar. Nobody wants fleas or ticks, least of all you or your cat. While not the only way, getting a flea and tick collar for your cat can really help in keeping those pesky bugs at bay. It is really a great option for your pet's health as well as the health of you and your family. Obviously, take matters up with your vet if you have any questions.
Safe for You and Your Pet

This flea and tick cat collar is safe for your whole family. Many are made with at least semi-toxic materials that you need to avoid touching and make an effort to keep your distance. That is not the case here. It is made of all natural essential oils. They cause no harm and only put off a natural, not terrible, smell. There is no harm to anyone involved.
Long Lasting Protection
This particular flea and tick cat collar will last for up to 8 months. It is recommended that you change it out after 6 months, which is the case with most flea and tick collars for cats or dogs. It will repel all stages of flea and also repels ticks.
Cost and Value
This is definitely among the most expensive on our list, if not the most expensive. Considering the role that it plays in the health of your family as well as your pet, it is absolutely worth the cost. Depending on where you live and whether you have an indoor or outdoor cat will influence your real need of this, but everyone would be wise to at least consider this as a safety measure for everyone involved.

9

. GoTags Personalized Breakaway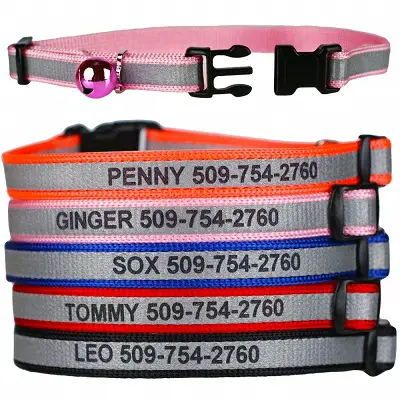 Do you have a cat who refuses to wear tags? Or maybe you just really don't like the jingle as they walk down the hall? This cat collar is your answer. It comes embroidered and removes the need for a collar. It is designed as a breakaway collar so your cat won't get into a sticky situation. It is smooth and comfortable nylon and can be anywhere from 8 inches to 12 inches long.
Custom Embroidered
One of the very neat features in this collar is that you can get personalized embroidery. Whether you want to put your cat's name or simply "Indoor Cat" and phone number you can rest easy knowing that your cat will never truly be lost. Anyone who stumbles upon them will know how to reach you to bring your precious kitty home.
Nylon Webbing
The smooth nylon webbing found in this cat collar is sure to not bother your cat. It has smoothed, tapered edges so there is no excess irritation to your cat's neck. It will fit all sizes of cat - male or female, big or small.
Cost and Value
This is not an expensive cat collar, but it is among some of the more expensive you can find. The reason being that this is custom embroidered. You aren't just buying some bulk produced collar that you can find anywhere. You are specifically telling the seller what you want your collar to say, after which they personalize the collar specifically to your desires. That kind of personalization takes time, and thus money. It is quite cheap considering that, actually. It is definitely worth your money and will serve you well.

10

. Pets First Sports Team Collar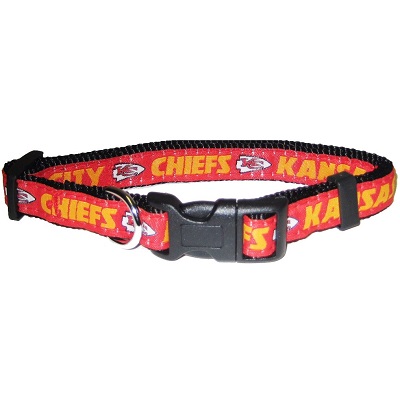 Yep, it's football season, or soccer season, or baseball season or in this case Hockey season. Whichever season it is, you can get a collar that will show off your loyalties, and your pets, because of course they're the same. If they're not, well I'm not sure how they'll let you know but we leave that up to you.
Licensed by Sports Team
These are official, if collars can be official. That means that the company is free to use the actual team logos so you can rest assured these aren't some silly knockoffs. With these your cat is part of the team. Now if only they'd go refill the chip bowl while you're watching.
Available in Different Sizes
They come in small medium and large. Granted this is going to be most important if you're buying these for you canine pal, but truth be told if you happen to have a corpulent cat, having the option of a larger size might be useful.
Cost and Value
They're actually a bit on the high end when it comes to collars. But who can gauge the cost of being able to adorn your cat in your home team's colors. So if you're as devoted to your sports as we are, a few extra bucks is nothing when it means your cat is letting the colors fly.

Subscribe to our Newsletter