Best Cat Beds Reviewed & Rated for Quality and Comfort
In a Hurry? Editors choice: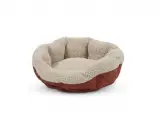 Test Winner: Aspen Self-Warming

The best cat beds are made differently, but they all have some things in common, which are the comfort and your cat's best interest. So, if you have a sun-dweller on your hands, a pal that likes heights, or a little one that wants to keep cuddled up on the ground in a warm, plush pillow, then you will find what you are looking for in this guide for sure. Sure, your feline friend might be able to plop down and fall asleep anywhere. So, without further chatter, let's get right to it. In this guide, you will find the top 10 best cat beds we found out there. Time to treat your precious kitty.
Standout Picks
Criteria Used for Evaluation
Comfort
Criteria Used in Choosing the Best Cat Bed
Perhaps you have a cat who thinks the best place to sleep is right on your chest? Maybe if you're lucky they enjoy sleeping at the foot of your bed or somewhere else in your home. Still, having a cat bed as an option for your cuddly cat may not be such a bad idea. Your cat laying on top of you is cute and all for a little while, but let's be honest, we all need our own space. A cat on top of you really puts a damper on any plans you have to sleep. If you are looking to establish a space of your own and a space of their own, then investing in a cat bed is a great option. They make so many different types. Say goodbye to the standard old boring cat bed (if you want to) because there are new features out to play.
These days your cat can enjoy a fluffy bed, with plenty of comfortable cushions. Your furry friend can rest in a cat bed that sits on the ground or one that attaches to a sunny window spot that rests up high. Do you live somewhere that is cold? No problem. They make cat beds that are made to keep your kitty nice and warm all day and night.
Now we've talked about lots of good options as far as cat beds go and the odds are good that you have a pretty good idea of which one you want. Do keep in mind though that there are a few things you should consider before making your final purchase. You want to be sure that the bed you get for your favorite feline is one that both you and your cat will be happy with for a long time coming. Here are some of the things you need to consider before making your purchase:
Style of Bed
There are several different styles to choose from. Some are more popular than others, though all of them have their place and satisfy a certain type or temperament of a cat. You cat will largely be the one who decides if they like the fancy bed you purchased for them or not, but you can do your best to choose something that you think your kitty will love.
Let's start with the most simple type of bed available. This is basically just a mat. They are relatively flat and can come with a pretty simple cover that doesn't involve much fur, to faux lambswool, to longer faux fur. They don't typically have much padding but can come with ortho conscious padding if you want. They are easily transportable and can be moved all throughout your house, car, or your cat's crate.
A popular type of cat bed is one with raised sides. This can be anything from simply a bolster surrounding a mat like bed mentioned above too much more elaborate side walls. Some are circular, others are square. Either way, you look at it though, if your cat likes to feel enclosed or snuggled up to something it will almost be essential that you get a bed with some sort of wall or pillow.
Another style, completely different from the above-mentioned ones, is a window seat. This is the perfect answer for those whose cat's could stare out the window all day. In fact, this allows them a comfortable perch in which to do so. They can come simply as cots with no added cushion, or have faux lambswool or fur coverings. Some attach through adhesive or more permanently with screws and mounting material and others with suction cups. They are typically very sturdy and absolutely satisfy that niche of cats and their owners.
The last style of bed included on this list is one that serves as a type of cave for your cat. It can be one that holds it structure well and stands up or one that is a bit more collapsible and folds around your cat. This takes the need to feel snuggled to a whole new level and can really be a necessary thing for comfort for your cat.
Ultimately, your cat is the one with the final say here. Just do your best to match your personality. Odds are good that you know your cat at least well enough to get a good idea if they'd like one style better than another.
Temperature of Bed
The next thing to consider is the temperature of your bed. Is your cat one who is drawn to heat? Do you live in a climate where you really need a heater to get the temperature just right for sleeping? Or does your cat like it to be cool, or at least no warmer than room temperature?
By and large, most cat beds have no additional heating element. They are simply a cushion of some sort with a varying degree of stiffness or fluff. They are typically very comfortable to lay one and can have fur or faux lambswool in order to ensure the most comfort.
A popular trend with cat beds is a "self-heated" style. What this means is that it includes a mylar layer – or something similar. Mylar is what is used to line space suits and does an excellent job at reflecting back your body heat. That allows the cat bed to warm up by reflecting your cat's body heat while laying on it. This will help to keep your kitty warm and comfortable without requiring any additional equipment. There are no heaters or plugs or any sort of electricity here, simply your cat and their bed. Of note, this mylar layer can be noisy when your cat moves around on their bed so do be aware of that.
However; if your cat really likes it warm or you live in a climate that really requires a little bit of help to warm things up at some points of the year, then perhaps a cat bed with a heater is a better option for you. They are very small heaters and won't make the cat bed roasty toasty, but will heat it up 10-15 degrees above room temperature. Many cats love this added warmth and will be loathed to leave their cat bed once you have it out of the box and warmed up so do be aware of that element. However; it does require a plug and will inevitably go out after so much use – usually years.
One or More Cats
Another thing to take into consideration when buying your cat – or cats – a bed is do you have one cat or more than that? If you have only one cat then you will be totally fine to get just about any bed on this list as long as it fits your cat's personality. All of them are big enough and sturdy enough to fit at least one average sized cat, with most being able to accommodate even the biggest kitties.
However; if you have multiple cats you will need to keep that in mind when purchasing a cat bed – or beds – to keep them all happy and satisfied. Many cats like to share their beds with each other, likely something that goes back to the snuggle or warmth factor, or both. This means that you will need to get a bigger bed. You'll want both to fit comfortably. Most beds come in various sizes and you would do well to get the bigger option. If it doesn't come in a size big enough for both of your fur babies at the same time, you may want to reconsider.
On the other side of the fence, some cats like to compete with each other and stake their claim to whatever property they perceive as their own. If this is the case, you'll likely want to purchase multiple. Cats can be fickle creatures and will probably end up switching back and forth at least a little bit, but you'll definitely want to have enough beds to accommodate them all. This shouldn't be too big of a problem as most of the beds on this list are quite cheap and can be reasonably bought in duplicate or bulk.
Top 10 Picks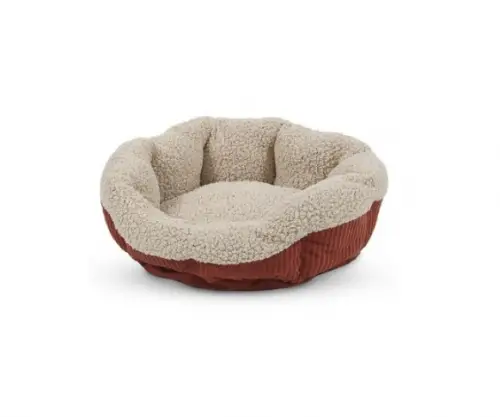 When you get a bed for your precious cat, you want it to be something that is both comfortable and warm. The Aspen Pet Self Warming Cat Bed does just that. It reflects the body heat of your cat and provides a warm and cozy spot for them to call home. It also features a non-skid bottom so it won't be sliding all over your hard floors.
Self Warming
This cat bed features the same heat-reflecting technology that is used in space blankets. This extra Mylar layer makes it so that the bed reflects your cat's body heat and makes their bed warm and toasty. It is a safe and efficient way to give your kitty a heated bed. No electricity required.
Extra Comfy
This cat bed is extra cozy. It is made of faux lambswool plush which makes it nice and comfortable. Your kitty will love snuggling up inside of it and appreciate the soft, fuzziness of the bed. It is covered with wide wale corduroy fabric that offers an extra layer of comfort and warmth.
Cost and Value
This cat bed is very inexpensive. Your kitty will be nice and warm and all comfort measure will have been taken care of when you purchase this bed and it will all happen at a very minimal expense to you. The best part is that you can get it on Amazon Prime and have it here in a couple days. Easy peasy.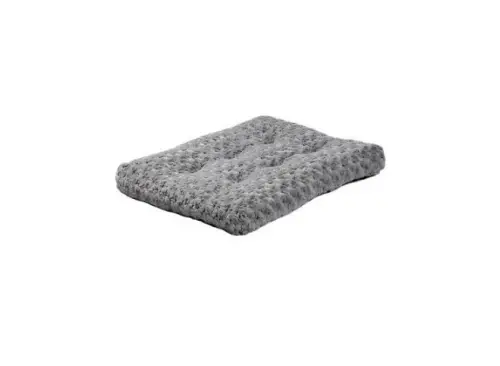 This cat bed from MidWest offers your favorite feline friend a lot of comforts. It works great as a stand-alone bed or as a bed in the crate. It has a nice swirl pattern that will both get your cats attention and add a nice textural element to your home's decor. It is easy maintenance and comes with a 1-year manufacturers warranty.
Quality Fabric
This cat bed is made of tufted, plush polyester that won't pill up the way fleece does. That being said, it still offers as much as, if not more, comfort than a fleece blanket. It will hold up to years of use and is ultra soft to ensure that your cat loves it.
Easy Maintenance
Do you wish you could just throw your whole cat bed in the washer? Do you hate messing with the pesky cover and fighting to get it off just to clean it. Fret not, MidWest has addressed this issue in their cat be. You can, in fact, throw the whole thing in the washer and even better, the dryer. It is made to last a long time and a big part of that includes easy maintenance. Simply throw it in the washer, dry it in the dryer and be done with it.
Cost and Value
This cat bed is very inexpensive. All you have to do is trade in your fancy latte in the morning one time and this bed is yours. It's hard to beat a bed that is made to last for years, comfortable for your cat to love it and costs so little. You will be very satisfied with this purchase, and if you're not then its cheap enough you won't be mad you spend the money here.

3

. AmazonBasics Padded Bolster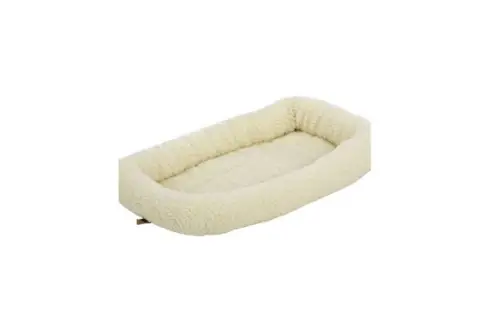 This cat bed made by Amazon is very simple and straightforward. It is hearty and durable and will survive through many washes. It is thin but offers a headrest, and easily fits inside your cat's (or dog's) crate. It is made of fleece and comfortable and soft all year long.
Comfortable Rim
AmazonBasics includes a rim around this cat bed. It is absolutely perfect for cats who like to rest their head on something. It serves almost like an armrest and will keep your cat nice and cozy whenever they are sleeping on it. Both the bed and rim are filled with a soft polyester that offers gentle support that is extra soothing for stiff or achy joints.
Made for a Crate
This cat bed is made for use in a crate, although it can be used outside of one. It is the perfect size to fit into 22' crates. It will make your favorite feline's home just that extra step of cozy without taking up too much space or looking or feeling too bulky. It is lightweight and easy to move around if needed.
Cost and Value
This cat bed comes at a great price to the consumer. So much so in fact, it is only offered as an add-on item from Amazon. That position is reserved for only some of the least expensive items. You can rest assured though that Amazon makes a quality product and will back it up if needed. Overall, it is a great buy for the price and will serve you well for as long as you need it too.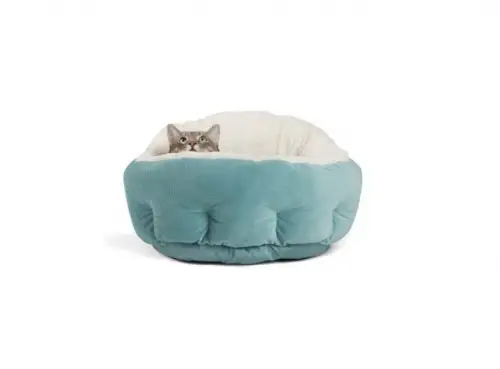 This cat bed is ultra comfortable, self-warming, and will keep even the cuddliest cat happy. It is very much a bowl shape with a 12 inch back and 9-inch front. It comes in a variety of colors to match the decor of your home and even offers a waterproof bottom so that your floors are protected from any mishaps that may occur while your cat is sleeping. In addition, it is easy to wash and maintain.
AirLOFT Fibers
Somewhat unique to this cat bed is the fact that it is made with virgin AirLoft Fibers. This means that your cat's bed will keep its loft for 3 times longer than the run of the mill pet bed. There is no second-hand material here and all the material is very pet safe. You will love the fact that it stays fluffy, tall, and the deep dish bed that it is advertised as well as the fact that it is completely safe and non-toxic.
Supports Better Sleep
This cat bed is all about comfort for your favorite feline friend. The high walls offer a sense of security and the faux fur lining help them to feel like they're cuddling up to mom or another cat. They are flexible and allow your cat to sleep in any position and offer orthopedic support while doing so.
Cost and Value
This is the most expensive bed on our list thus far, but for good reason. It is much more quality made and offers a lot more than the others do. It has deep side walls that will maintain their loft for a good long time. Your cat will love this bed and you will love the fact that you decided to splurge a little and get them something extra comfortable.

5

. Aeromark International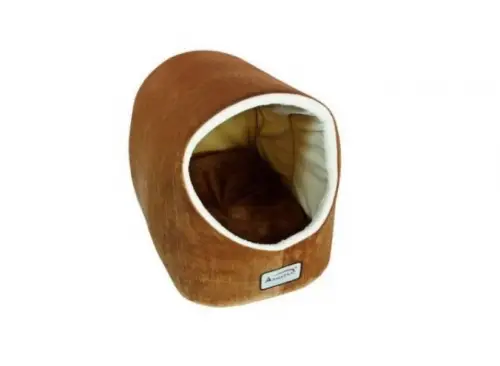 This cat bed is shaped like a cave and will maintain that shape. It is cozy and comfortable for kitties who love to feel surrounded and secure. The base is waterproof and skid proof. In addition, it is quite easy to wash - simply throw it in the washer and allow to air dry. Aeromark's customer service is as good as their pet beds so you will have no trouble getting any questions you may have answered.
Quality Material and Construction
Aeromark uses only the best materials in the construction of their cat beds and other various pet products. They are always pet and owner friendly and non-toxic. You can rest assured that your cat's bed was solidly constructed, is durable, and well designed.
Removable Pillow
This cat bed comes with a sturdy removable pillow inside. This is great for a couple reasons. First off, it allows you to remove the pillow for washing and cleaning - both the pillow and the bed. Secondly, if you have a very large cat the pillow could be removed to make more room inside the bed.
Cost and Value
This cat bed is very reasonably priced. It is not the cheapest on the list, but it is also not the most expensive. You are getting good value for not a lot of money here. It is solidly constructed and will hold it's shape - not something all cat beds can boast, even pricier ones. Overall, you will be happy with this purchase, as will your cat.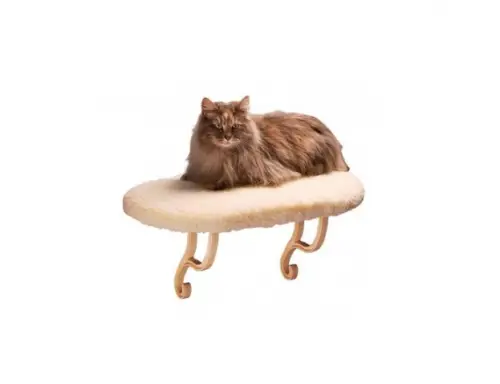 This cat bed is unique in that it is actually meant to go in a window. Do you have one of the many cats who love to spend their time watching all the things that are going on outside? This is the perfect option for you. It comes in heated and non-heated varieties and will hold up to 40 pounds.
No Tools Required
This kitty sill cat bed is very easy to install and requires no tools to install. This makes it the perfect solution for rental living and you can literally hear it click into place so that you know it will be secure. For those looking for more permanent solutions, it also comes with screws to attach it to your sill if you wish.
Built for Comfort
This cat bed is built for comfort. It has an orthopedic bed so your kitty will be well supported while gazing out the window or snoozing in the sun. The orthopedic foam is covered with a comfy faux lambskin that is removable and machine washable.
Cost and Value
This cat bed falls mid to high on our list price wise. It is a little fancier and more than just a bed you can throw into any corner of your house so it makes sense that it is more on the expensive end of things. If your cat is a window looker though, you won't hesitate for one second at the price when purchasing this cat bed. It will absolutely be money well spent.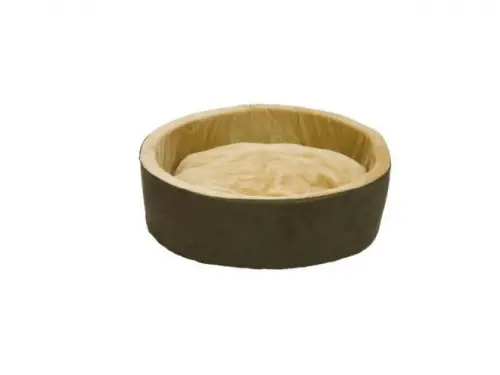 This cat bed is another one produced by K&H Pet Products, only this time it is heated bed. Your cat is sure to love the extra warm comfort offered here with its ortho foam pillow and 6 inch high walls. It is cozy and offers the warmth and closeness cats love and often crave.
4 Watt Heater
This cat bed comes equipped with a dual thermostat 4-watt heater. It will heat your cat's bed up to near their body temperature, or 10-15 degrees above the ambient room temperature. This added warmth is perfect if you live somewhere that gets cold in the winter or at night any time of year. It will make sure your kitty is always warm and snug. However; the heater is easily removed if its warm out.
Easy To Clean
K&H made this cat bed in such a way that it is quite easy to clean. All you need to do is remove the cover by taking the heater out the sleeping surface pillow and also make sure that you remove the foam walls by taking them out of a zipper on the bottom of the bed. Then you simply throw it in the washer using a mild detergent and air dry. It'll last you a good long time and be clean through its duration.
Cost and Value
This is definitely one of the priciest cat beds on our list. It includes a heater so that price hike is only logical. Not only does it have a heater, it also has a comfy pillow and sturdy foam walls that will hold their shape over time. All in all, this cat bed is worth its cost if you are looking for a heated bed.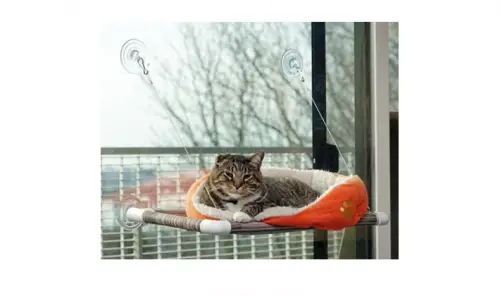 The Original Kitty Cot is one of the most loved cat beds that attaches to a window you can find. It will securely and easily fasten into your window and keep your cat comfortable, entertained, and happy for hours and years, really. Best of all, it is easy to clean and can be used both indoors and outdoors.
Giant Suction Cups
This cat bed attaches to your window using patented Giant Suction Cups. Each suction cup is rated for 15 pounds and together they can safely and securely hold any cat up to 25 pounds. They can go on any window inside or out and are installed with no tools and no messy adhesive.
Durable Construction
Unlike other cat beds on this list, this one is not meant to be a cushy, comfortable bed. It is simply a cot, that has to include durable material in order to safely be secured to a window and hold your cat. Some of that material includes ¾ inch PVC plastic pipes and ⅛ inch stainless steel cables to ensure long-lasting use.
Cost and Value
This cat bed is one of the most expensive on our list. It is built a little differently than the others and includes absolutely no fluff. All materials used are quality, durable, and long-lasting to ensure that your cat bed will hang safely in the window for as long as you want it to. Everything in this bed serves a critical function, and as such you will be paying a little more for it. It is absolutely worth every penny though and your cat-staring window will appreciate your purchase for years to come.

9

. Pet Magasin Self-Heated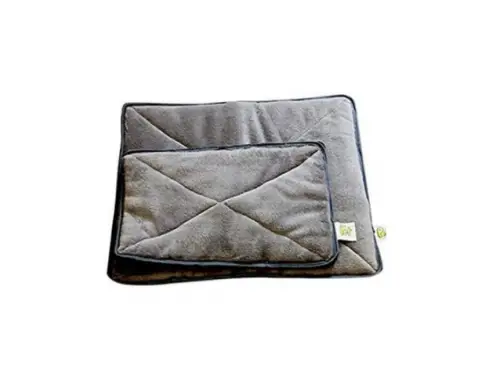 This cat bed is simple and comfy. It is a mat rather than a circular bed or box. It comes in a two pack and is easily moved around at will. Inside this bed, you will find a mylar layer, which is the same material that lines space suits, that will radiate your cats heat back to them which helps to keep them just a little warmer than they would be otherwise.
Rubberized Underside
The bottom of this cat bed is coated with rubber. This serves several purposes. The first is that it serves as a safety feature. You won't go sliding across the floor if and when you happen to step on it. It also helps to keep the cold from the floor on the floor and doesn't allow it to also make the bed cold.
Velvety Top Cover
On top of the rubber bottom on this cat bed is a velvety soft cover. It is super comfy and will leave your cat very happy. It is padded with a thick and soft hypoallergenic foam that will maintain it's spring for a long time coming. In addition, it is very easy to remove pet hair from - simply wipe it off with a damp cloth!
Cost and Value
This set of cat beds is very inexpensive. You read that right - set. It only comes in packs of two. They are different sizes so they are easily moved around or switched out depending on your needs. That being said, the two pack is not much more expensive than even the cheapest single beds on this list. You are essentially getting two beds for the price of one inexpensive bed. You can't go wrong here.

10

. MidWest Deluxe Bolster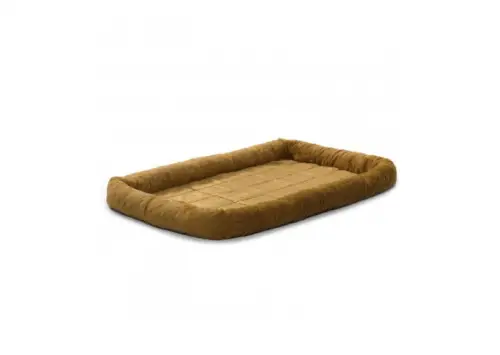 This is a comfortable, bolstered, cat bed that both you and your cat will love. It comes in a variety of colors and sizes so that you can customize it to you and your cat. It is comfortably padded and features an ultra soft synthetic fur.
Bolster
There is a bolster on this cat bed which means that there is a raised liner surrounding the bed. It is very similar to the arm on your couch and essentially serves the same purpose. It provides a raised, cushy pillow that your cat will be able to rest his or her head on and snooze away the day or sleep all night. They will be extra comfortable thanks to this added feature.
Built for a Crate
This is the perfect bed to further your cat's ability to create their own space. This can be in a corner, on the couch, or even in their crate. It fits perfectly and will make it just a little homier. The bolster will ensure that they aren't resting their head on wires and the bed itself is thin enough that is easy to remove or simply leave in when folding the crate down.
Cost and Value
This is one of the most loved cat beds you will be able to find. It is simple, straightforward, and gets the job done. A large part of why it is likely so popular is that it also comes at a very small price. You'll be able to get this with basically no sweat off your back and will be very thankful that you did when your cat is able to have their own space within your home.

Subscribe to our Newsletter