Best Natural Cleaners Reviewed & Rated for Quality
In a Hurry? Editors choice: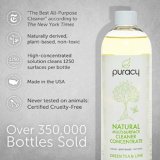 Test Winner: Puracy All Purpose Concentrate

We all know
bacteria and germs are dangerous
. That's why the Household Cleaning Products Industry is a multi-billion dollar enterprise. But did you know that some of the products you can purchase to clean your home are comprised of chemicals and compounds that are even more dangerous to you and your family's health than the germs they are intended to kill? That's majorly concerning--especially if you have babies crawling on the floor or kids who like to put, well, everything in their mouths.
Luckily, there are some amazing companies out there who are committed to bringing you and your family truly safe cleaning products for all areas of your home. Their products are researched, plant-based, natural cleansers that actually work so you can feel good about using them anywhere and everywhere.
We've done the work and read the reviews. Here's our Ten Best.
Standout Picks
Criteria Used for Evaluation
Materials
The whole purpose of purchasing products that are natural is to be able to welcome products into your home that you know are safe, and this all starts with the ingredient list. Not only are we looking to feature products that are made from all natural plants and minerals, but we're also looking for cleaners without some key ingredients as well. We love products without added synthetic fragrances, preservatives, or dyes. We also love featuring products that are free of gluten and any animal products. Plus, we make sure that the products on our list are biodegradable and that they weren't tested on animals.
But that's not all. We also make sure that the products on our list are responsibly packaged. That's why so many of these cleaners come in concentrated form to save on plastic and generate more cleans per bottle. Many of the companies we feature also make a true effort to use only recycled plastics in their packaging process and even work to package their cleaners in facilities where only green products are made so no cross-contamination takes place allowing harmful substances sneak their way into your home.
Effectiveness
A natural cleaner is useless if it doesn't actually clean. That's why we feature products that are green and effective. We poured over thousands of reviews to get the real skinny on whether a clean product could cut the mustard against heavy duty (and every day) messes that families drum up. While there aren't many claims of natural products cleaning better, we wanted to be sure that they could clean as well (as the "better" part comes with not leaving harmful toxins behind after they clean).
While some reviews that we read ended in customers wanting to return to their heavy duty chemical cleaners, most of our reviewers rave about how wonderful the cleaners on our list are and how relieved they were to finally find a product that worked for them.
Application
When a product claims to be an all-purpose cleaner, we want to ensure that this is actually the case. So the products that we love really do function all over the home and really can stand up to the day's messes. We are especially crazy about products that tackle hard surface messes as well as stains on clothing and upholstered fabrics. Not only does this eliminate under-the-cabinet clutter, but it also simplifies cleaning time and nothing beats having more time to spend on what matters.
Safety Hazards
For this list, safely is king. Families with pets and curious little ones know there's no telling what might end up in and around the mouth. That's why we wanted to include only the safest products on our list. While we're not telling you that this is a good idea, we wanted to include products that would allow you to eat off the floor after using them. There's even a cleaner on our list the won't poison you to death if swallowed. Try finding that assurance on any chemical, non-natural cleaner on the market.
Value
As always, we want to make sure your cleaning dollar is stretched as far as it can go. That's why we love the products on this list. Most of these cleaners are concentrated and deliver months worth of cleaning power in a small bottle. That's a price that's hard to beat. Not to mention the fact that cleaning time is cut down when the same product can be used all over the house and when you don't have to clean up behind your cleaner. And the price tag on more family time is actually priceless.
10 Best Natural Cleaners
1

. Puracy All Purpose Concentrate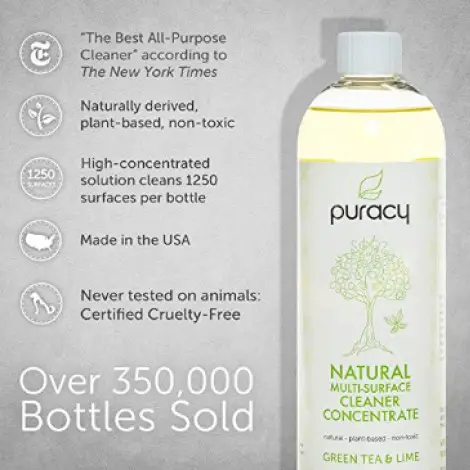 Puracy brings the first product on our list--and for good reason. Not only are they committed to providing a cleaner, purer space for you and those around you to enjoy, but they are also bound by a mission to lower their use of plastics, prevent harmful chemicals from seeping into our earth, and making sure that all of their products are certified cruelty free. They also donate to charitable organizations on every purchase, spreading the love.
Their All Purpose Cleaner Concentrate reduces 90% of their plastic packaging as their 16-ounce bottle can make a gallon of cleaner, and we love the idea of purchasing a glass squirt bottle to mix your Puracy cleaner in.
Crafted by Doctors
The Puracy All Purpose Cleaner formula was crafted by a group of PhDs whos mission it was to harness the power of plants for a deep, natural clean. Made right here in the U.S.A and using only purified water and plant-based cleansers (Alcohol Ethoxylate, Decyl Glucoside, Tetrasodium Glutamate Diacetate, Benzisothiazolinone, Sodium Citrate, and Citric Acid) with no synthetic fragrances, Puracy's All Purpose Cleaner is hypoallergenic, non-toxic, free of gluten, and biodegradable. And if that weren't enough, it is also certified by PETA to be vegan and cruelty-free, meaning they never test their products on animals. That means it's safe for the whole family--human babies and fur babies alike.
Cleans Any Surface that Can Get Wet
So Puracy has an impressive resume but does it actually work. You get it does! It's extremely concentrated formula means less packaging and more power. Puracy suggests a 1:7 ratio of All Purpose Cleaner to water (best if purified or filtered). You can use this solution on literally any surface in your house that can get wet. That means counters, bathrooms, floors, cabinets, pretty much any hard surface that isn't made of fabric. And it will remove even the toughest of life's messes from lipstick to pet oopsies--all without leaving streaks behind.
Cost and Value
The Puracy All Purpose Cleaner is an incredible value because it is such a powerful, versatile, and responsible product. As it comes in a concentrate, it won't fill up your storage space and it won't break the bank. It is one of the more expensive items on our list, but it still has an insanely low cost per use, especially considering how safe it is for you and your family.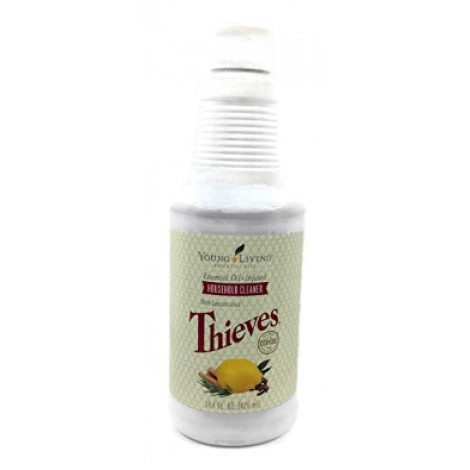 Young Living has been making and selling essential oils that are therapeutic grade quality for over 20 years. Their mission is to help you on your way to creating a natural and healthy lifestyle.
Their Thieves Household Cleaner is used in doctor's offices and home alike and is made using Young Living's proprietary blend of essential oils.
Made with Essential Oils
The Thieves Household Cleaner is comprised of Young Living's proprietary blend of essential oils. The legend of Thieves essential oil claims that thieves would treat themselves with this oil to protect their health while robbing plague victims. Whether this is true or not, the oils in Thieves definitely have anti-microbial and anti-bacterial properties that you can feel good about. Comprised of Rosemary, Cinnamon, Eucalyptus, Lemon, and Clove, Thieves has a wonderful aroma and endless uses--medicinal and household alike (the oil by itself can be consumer--not the cleaner!). The Young Living Household Cleaner combines surfactants that are proven to be safe wetting agents and Thieves essential oil to deliver a killer clean to almost any area of your home.
The back of the bottle includes suggested dilutions for different surfaces and purposes. Remember to shake before using for best results.
Works Almost Anywhere
With different dilution suggestions for almost every surface in your home, you can be sure that you're getting a tested clean. It even works incredibly on windows, leaving them streak free. Before using to clean fabrics, do a spot test on a rarely seen area to ensure that the fabric isn't damaged by the Thieves Cleaner.
Cost and Value
Because Thieves Household Cleaner is comprised of essential oils which are expensive to produce (especially at this quality), Young Living's cleaner is the priciest on our list. That being said, it's super concentrated and the tiny 14-ounce bottle can be used for months and months of daily cleaning around the house--not to mention, it can replace almost every cleaner that you have in your house currently--so it has some amazing value.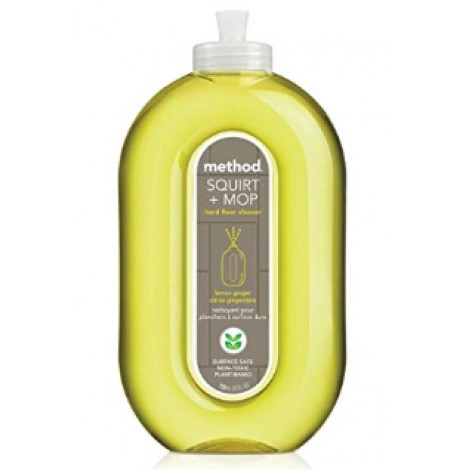 Method products are crafted with 2 things in mind: cleanliness and respect. Clean homes, water, and air, and respect for the earth and all of her living creatures. While Method makes tons of natural cleaners and soaps, today we're featuring their Hardwood and Floor Cleaner. Not only is it safe (you could literally eat off these floors), but it also makes cleaning your floors an absolute breeze.
Comes in 4 Available Scents
The Method Squirt + Mop Hardwood Floor Cleaner comes available in 4 amazing scents: almond, ginger yuzu, lemon ginger, and spearmint sage. It is plant based and non-toxic and is totally biodegradable without any waxy buildup when you're done. Plus, it's packaged in recyclable plastic and is never, ever, ever tested on animals.
Intuitive Shower Nozzle Makes for Easy Application
Forget about pulling out that bulky mop bucket and spending your whole day on a multi-step clean--using Method's Hardwood and Floor Cleaner will revolutionize the way you mop. First, sweep. This product can be used on hardwood floors that have been sealed or on laminates, linoleum, vinyl, and tiles. With theintuitively designed shower nozzle cap that sprays out over the floor to prevent puddling up in one place, you can easily apply the cleanser to your floors without having to dilute the solution in a mop bucket. So spray and mop and then you're done! No need to go back over the floors for a water rinse once you're done. That means cleaner, safer floors and more time for the things that really matter.
Cost and Value
The Method Squirt + Mop Hardwood Floor Cleaner rings up at the low end of our price range and is absolutely loaded with value. Not only is this product safe and clean, but it is also easy to use and cuts down cleaning time almost in half, and more time for your family is hard to put a price tag on.

4

. Mrs. Meyer's Clean Day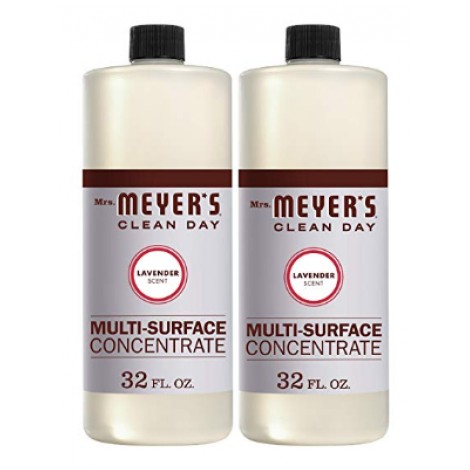 Mrs. Meyer's is inspired by plants and flowers from the garden that sooth as well as clean. The company is also committed to being good stewards in their community as well as to the earth, which is why they focus on community outreach and work to produce products that are made from renewable and responsibly sourced components.
The Clean Day Multi-Surface Concentrate can be used to freshen and clean every room of the house.
Combines Aromatherapy with Cleaning Power
Mrs. Meyer's cleaners deliver a powerful clean while leaving behind a pleasantly fresh and soothing scent to enjoy, all inspired by and derived from the garden. Choose between lavender, basil, lemon verbena, geranium, and honeysuckle scents. This Multi-Surface Concentrate delivers a strong, yet gentle clean that won't eat away at more delicate surfaces. It is biodegradable and made free from phthalates and parabens. Plus, it's vegan and 100% cruelty-free as well. We also love that it's concentrated, so it has a small footprint in your cabinet and so you can adjust the potency for the job at hand.
Use on All Non-Porous Surfaces
Mrs. Meyer's Multi-Surface Concentrate can be used indoors and outdoors. So long as the surface is non-porous, you can use Mrs. Meyer's in the bathroom, kitchen, and bedroom on any of their walls, countertops, and floors.
Cost and Value
We absolutely love Mrs. Meyer's Multi-Surface Concentrate because it can replace almost every cleaner in your cabinet and its concentrated formula means that you can adjust it to your specific needs. Plus, the cost per use is just pennies and it saves space under your sink. And to top it off, the aromatic properties almost make cleaning your home therapeutic.

5

. Better Life All-Purpose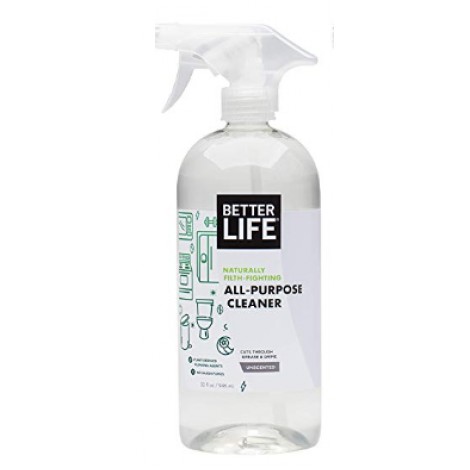 Better Life is a company started by 2 dads committed to spending less time on cleaning and more time on fun. By using products that are 100% plant based and safe, you can use the same product all over the house without having to think twice. And because these cleaners are so powerful, you won't waste your afternoon scrubbing at the same stain. What will you do with all of that extra time?
Made Using 100% Plant Based Cleansers
While this is a list of natural cleaners, some of the products on this list still contain elements that are safe but that aren't 100% plant-based. Well, not with Better Life's products. Their cleansers are made 100% from plants are never include parabens, sulfates, dyes, synthetic fragrances, ethers, or alcohols--and boy do we love when the not included list is longer than the ingredients list! This All-Purpose Cleaner is biodegradable and breaks down faster than most other natural cleaners on the market. It is vegan and not tested on animals, and is packaged using solar energy and recycled plastics. In terms of natural products, Better Life is the real deal.
Use On Any Surface that Can Take Water--Including Fabrics
Not only were these dads seeking safety, but also simplicity. And what's easier than only having one cleanser in the cabinet. This baby works literally all over the house and can bust through the toughest kitchen grease while also getting coffee out of your favorite puffy chair and stubborn scuffs off of the wall. Seriously. All you have to do is spray it and then wipe those nasties away.
Cost and Value
After reading all of that, you may be thinking that it comes attached to a hefty price tag--but you'd be wrong. It rings up at the low end of our price range and at the high end of everything else. Not only are we smitten with the ethical production of and 100% plant-based ingredients in this product, but we are also in love with the simplicity that comes attached to it.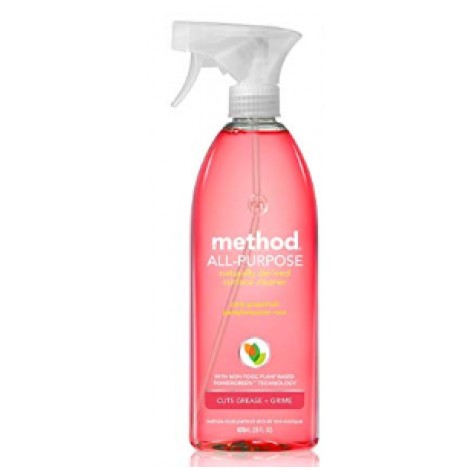 The second Method product to make our list is their All-Purpose Natural Surface Cleaner. Because it's a Method product, you know you're getting a cleanser that is totally comprised of natural components that can tear up messes without leaving harmful residues behind.
3 Delightful Natural Scents to Choose From
You can snag the Method All-purpose Natural Surface Cleaner in 3 amazing natural scents: pink grapefruit, cucumber, and clementine. All of the ingredients in this cleanser are natural and non-toxic as well as biodegradable. Plus, it is cruelty-free and vegan and packaged using 100% recycled plastics.
Even Works on Glass
The Method All-purpose Natural Surface Cleaner works on any surface that is non-porous. We're talking floors, countertops, bathroom surfaces, and even windows. And because there aren't any harmful substances in the mix, no nasty residues or streaks will be left behind.
Cost and Value
This Method product rings up in the middle of our price range and we love its value because it's a compact cleaner that is tough on dirt all over the house.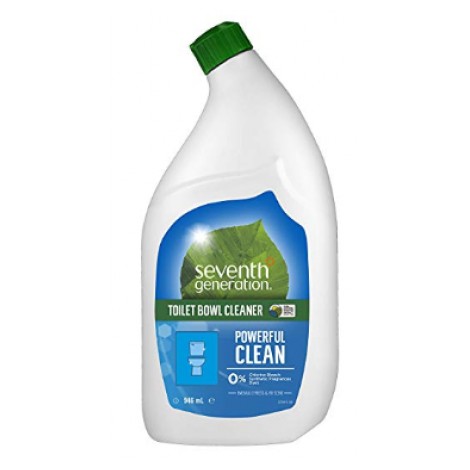 Seventh Generation has been making conscious consumer products for the past 30 years with two main concerns in mind--responsibility to the people and to the planet they live on. That means you get a product that is researched to be safe and to work, all without poisoning the environment or adding to plastic waste.
This product was made specifically for toilets and is an incredible evolution from the standard super toxic non-natural cleaners on the market.
Made Without Chlorine and Ammonia
The USDA has evaluated this product and determined that it is a 97% Biobased formula made from plant-based and biodegradable ingredients. This Toilet Bowl Cleaner is also vegan and cruelty-free as certified by the Leaping Bunny Organization. It doesn't contain any dyes, synthetic fragrances, chlorine, or ammonia making it about a billion times less caustic than your toilet bowl cleaners of old. But just because it has no harsh smell doesn't mean it's not tough on toilet grime. It is naturally fragranced with essential oils.
Safe for Use in Septic Tanks
To use this wonderful product, simply squirt to apply to the rim on your toilet bowl. Don't worry if you get some of this solution on your hands, as it won't burn your skin like the toilet bowl cleaner your mom used to use. Allow the cleaner to run down, scrub with a toilet brush, and then flush all that grime away. And don't worry! If you're using a septic tank, this stuff is totally safe.
Cost and Value
The Seventh Generation Emerald Cypress and Fir Scent Toilet Bowl Cleaner rings up towards the top of our price range but it truly is some high powered stuff and can comfortably compete with other caustic, synthetic cleaners on the market. Though it is designed for toilet use only, it will cut your scrubbing time down.

8

. Green Works Multi-Surface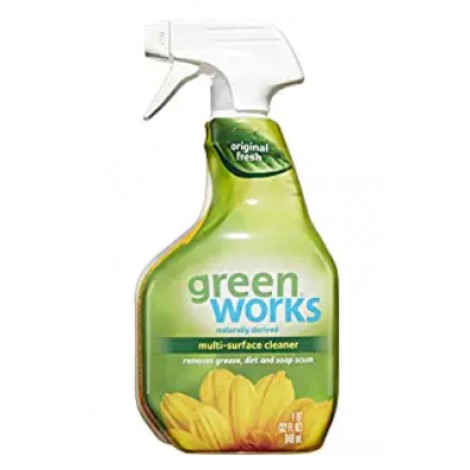 Green Works was created in 2008 by a Maria Ochomogo, a scientist working for Clorox. She was inspired to create the company by her environmental biologist daughter and has worked tirelessly to develop an entire line of cleaning products that are both great on grime and also super green as well. Plus, this branch of the Clorox company works closely with AAUM and STEM programs to empower and encourage girls and women to seek carriers and experiences in the sciences.
This specific Multi-Surface Cleaner is tried and tested to tackle tough messes all over the house.
Meets a 95% Natural Industry Standard
The Green Works Multi-Surface Cleaner harnesses the natural powers of plants and minerals to create a 95% naturally based green cleaner that can tackle dirt, grease, and stuck on stains. Because it's natural and biodegradable, there are no toxic scents or residues left behind after cleaning. These Green Works products are never tested on animals and are also packaged from recycled plastic whenever possible.
Great On Appliances and Household Surfaces
Simply spray and use this product on all sorts of surfaces around the house including stainless steel appliances, granite, and even chrome. You can basically replace all of your kitchen and bathroom cleaners with this bad boy and call it a day.
Cost and Value
The Green Works Multi-Surface Cleaner rings up at the very bottom of our price range and we love its value because of the emphasis it places on women in science, because it safe, and most of all because it works.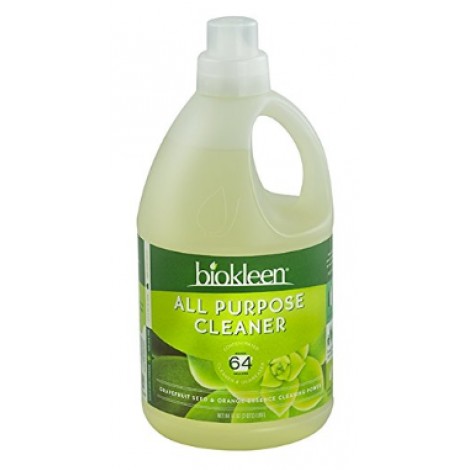 Biokleen is a family owned and operated company that has been producing green products of the highest quality since 1989. Now the second generation has taken leadership and they continue to consciously manufacture green cleaners from conception to completion.
This Biokleen All Purpose Cleaner delivers a safe and strong clean that you can count on for use all over your home.
Insanely Concentrated - ½ Gallon Makes 64 Gallons of Cleaner
This super concentrated formula is made using essence of orange and grapefruit seeds to harness all of nature's mightly cleaning powers. There are no added artificial colors, fragrances, or preservatives in this cleaner, and each bottle is made right here in the USA in manufacturing plants that only handle clean, green products so absolutely no harmful substances find their way into your home. And you obviously know you should keep cleaners out of reach of children, but if one were to drink this, simply pound water to dilute the cleaner. That's not something you can say about most cleaning products.
Great for Use Indoors as well as on RVs and Boats
Biokleen's All Purpose Cleaner can be used indoors and outdoors alike, and is even tough enough to handle messes on boats and in RVs. Plus, this cleaner is even designed to treat stains in clothing and on upholstery, so it really earns its name as an all-purpose cleaner.
Cost and Value
We absolutely love the value packed into this product. A ½ gallon of the stuff can make 64 gallons of cleaner, and all at a super low cost. Plus, this family-owned business does things right from start to finish and that's something we feel really good about.

10

. TriNova Multi Surface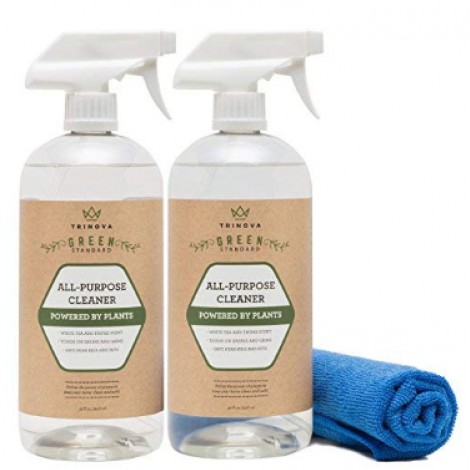 If you're tired of buying natural cleaners that don't work--look no further. TriNova not only puts an emphasis on green cleaners but also an emphasis on powerful cleaners as well. In short, this is the strong arm of the clean law that you need to tackle messes all over your home.
Unique Thyme and White Tea Scent
This natural cleaner has an ingredient list that is short and concise and you won't find any artificial scents in this special formula--just a light and fresh smell that will brighten up your whole home. Seriously, people love the way this product smells.
Comes with a Micro-Fiber Towel
To use this product, simply spray, let sit (for up to 2 minutes on especially sticky, stuck on messes), and then wipe away with the micro-fiber towel that they so graciously provide with their cleaners or another terry cloth towel of your own. TriNova asks to refrain from using paper towels and other wipes that are intended for single use only. While this product will clean your stainless steel surfaces, it is a little streaky, so TriNova suggests following their instructions for reflective surfaces or purchasing their cleaner designed specifically for stainless steel.
Cost and Value
We love the honesty and commitment of TriNova, and we love all of their products because they are backed by a 100% customer satisfaction guarantee and hassle free returns if you aren't 100% satisfied with their products.

Subscribe to our Newsletter