Best Noise Cancelling Headphones Reviewed & Rated for Quality
In a Hurry? Editors choice: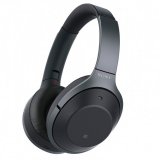 Test Winner: Sony WH1000XM2

Noise-canceling headphones are designed to kill outside noise. It makes listening to music or podcasts a more enjoyable experience, even in noisy spaces. It will help drown out the sounds of the outside world, but it will also help you better hear what you are listening to. There are many brands t. They all bring something a little different to the table. It can take a lot of time to find the right set for you. There are price ranges, levels of portability, and quality of sound to think about. Collected here are the best that you can find on the market in all of those categories.
Standout Picks
Criteria Used for Evaluation
Sound Quality
The sound quality on your headphones is the chief thing to worry about when going out and buying a pair. All of the entries on this list are going to give you a great listening experience, but the ones higher up will give you the most even one. When a company makes a set of headphones they often have to decide what kind of audio experience they want to give to the user. The choice they make almost becomes a bit of signature sound of theirs. The classic example are any of the headphones from Beats by Dre. Beats headphones are known for their high level of bass. If you are unsure what kind of listening experience you want, try to find a headphone that balances its highs, mids, and lows. Highs are for higher pitched sounds, mids are mostly for the instruments and vocals, and lows are for the bass. Take this knowledge with you when trying to find a set of headphones for yourself. Another important element in finding a good pair good sounding headphones is to find out if the sound quality gets changed by turning on the noise cancelling of the headphones. Sometimes headphones will lose quality when the noise cancelling is turned on, and will only sound their best with it off.
Effectiveness
The effectiveness of the noise cancelling is the other most important thing to look for with a set of noise cancelling headphones. There are many things to look for when trying to find the best headphones at nullifying noise. All of the headphones on this list do a good job of getting rid of all of the ambient noise, but there are nuances to that. Some headphones will give you the option of different kinds of cancelling. This can be useful depending on the type of journey you are on, whether it be a flight, an office, or somewhere noisier, like a busy street. Another important element of finding a good set of noise cancelling headphones is the ease with which it can slide from noise cancelling mode to being free of noise cancelling mode. Sometimes when turning the noise cancellation off and on, there will be popping or static sounds. This can be very disruptive.
Portability
If there isn't a bag or pouch to put your headphones in after you are done with them, then it is good to worry about the portability of your headphones. Many of the headphones on this list can be folded inwards to make them have a smaller profile. It's useful to be able to tuck away your headphones when you are done with them. Even more portable than having folding earphones is having some in-ear buds that can be easily tucked away in a pocket. Of course, there are not very many headphones that do that, while also being able to cancel noise. When purchasing a set of headphones for yourself, it is best to try to find a set that can be easily tucked away for when you're done with them. Another thing to keep in mind is that many headphones are different sizes as well. Some headphones will rest on your ears, while others will entirely envelop your ears. The enveloping headphones will often be bulkier than the ones that rest on top of your ears so this is another thing to keep in mind..
Comfort
Sometimes you will have to wear your headphones for very long periods of time. With this in mind, it is always a good idea to find a pair of headphones that feel like a good fit. This is especially important with noise cancelling headphones due to the fact that they are usually of the over-ear variety. Earbuds are usually more than comfortable enough, but in their case, it is useful to make sure that they aren't too large or too small inside your ear. With over-ear headphones, try to check the amount of cushioning on the band. Most importantly, try to find headphones that feel good on your ears. All the headphones on this list will be reasonably comfortable, but there are specific factors to think about as well. Try to look for headphones that have some kind of venting to let the air out from where your ear is inside the headphone. This can reduce the uncomfortable heating that can happen from wearing your headphones for too long. The level of cushion on those headphones is important as well. The other thing to look at is the amount of stiffness in the band. Some headphones will hold your head a little too tightly.
Battery Life
Many of the headphones on this list are wireless. This is much more convenient to transporting your headphones, but also means that they will sometimes run out of batteries. This is an important factor to consider if you often go on long trips with your headphones. All the headphones on this list have a battery life of around twenty to thirty hours. This should be more than long enough for any reasonable journey. It is good to know that your headphones will last an entire work day, if that is what is needed. There are some factors to remember when considering the battery life of your almost headphones. When noise cancelling is engaged, the battery will be drained quicker than usual. Noise cancelling does take some extra effort to accomplish. Other things that will reduce the battery quicker are using your headphones for talking. Some headphones on this list can also be wired, as well as wireless. This means that you don't have to worry about your headphones dying as long as you bring the cord along. One last thing to check with the headphones you plan on purchasing is how long it takes to charge the headphones. Some headphones on this list are designed with a quick charge feature that will give you a few extra hours of listening with only ten minutes of charging.
10 Best Noise Canceling Headphones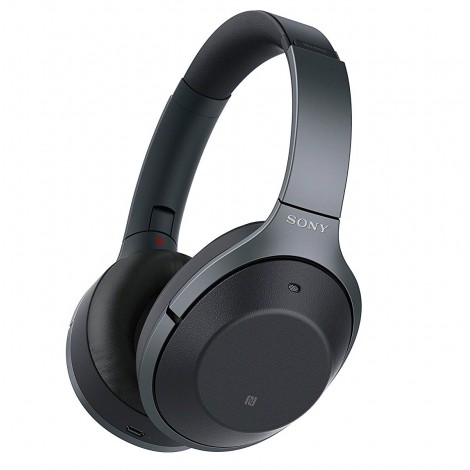 The WH1000XM2 is a set of noise canceling headphones that have been designed to take care of anything you can think. Sony has thought of every helpful feature there is to maximize your convenience while wearing these headphones.
Convenient Features
Getting a set of WH1000XM2 will give you access to a ton of convenient features. They are a smart set of headphones, so they can connect to your phone wirelessly for some easy to use features. These include things like being able to connect you to any incoming phone calls. They also will detect the sort of activity you are engaging in and set the noise cancelling to reflect that.
Touch Control
The WH1000XM2 is also great because of the easy to use touch features on the side of the headphones. It can do many things without having to go into your pocket to change settings with your phone. This includes easy movement like swiping up and down to change the volume of your music, putting one hand over the headphones to temporarily nullify the noise cancelling features for if you need to listen to something, and also being able to switch songs.
Cost and Value
The WH1000XM2 is a bit more of an investment when you think of buying a set of headphones, but they are definitely worth it. The many features that Sony has thought of when designing this set of headphones will astonish you. You will be using these headphones all the time and everywhere you go.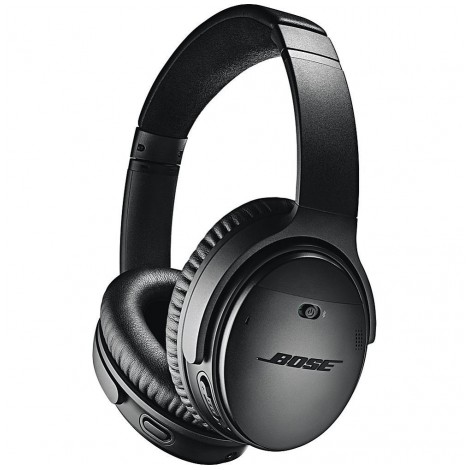 The Bose QuietComfort has been Sony's close competitor in the field of noise cancelling headphones for the last few years. They share many of the same great features, with only a few differences.
Smart Control
The Bose QuietComfort comes with an app that allows you to control many things with your headphones. Things like being able to control the level of noise cancellation can be changed throughn the use of the app. The QuietComfort has also been designed with Alexa in mind so that this set of headphones can be voice activated and can answer questions about music or things like the weather.
Noise Cancelling
The Bose QuietComfort have very seamless noise cancellation that does a great job allowing for your peace and quiet. There are three different levels of noise cancellation depending on the amount of quiet you want. The noise cancellation is also top of the line. You won't hear any white noise or popping like with some other models of noise cancelling headphones.
Cost and Value
The Bose QuietComfort are at the same price level as the Sony headphones. This set is a very good choice as well, and you won't have to worry about missing out on any of the features you want out of your headphones.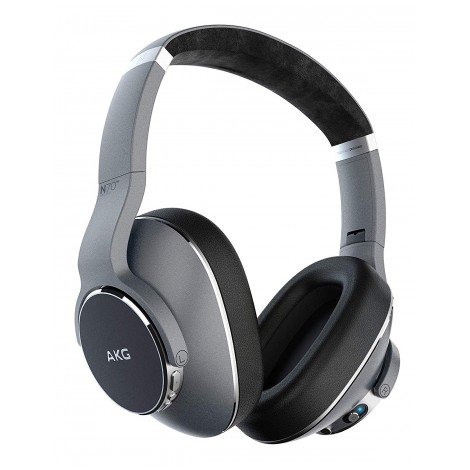 AKG's set of headphones are a great sounding pair of cans. They have many features that will keep your commute or errands convenient, while offering quality, custom sound.
High Quality Sound
AKG is a company that focuses exclusively on bringing high quality sound to your listening experience. These headphones do not emphasize the bass, but try to give a more balanced sound when you listen to them. These headphones come with an equalizer as well so you can choose the type of listening experience you would like.
Full Set of Features
The noise cancelling on the AKG headphones are great and can be set for whatever volume level you would like. Sometimes it is better to let a little bit of sound in so you have better situational awareness. On the other hand, sometimes you don't want to hear anything at all, like when that baby starts crying on your long flight. AKG allows for both scenarios with multiple levels of noise cancelling.
Cost and Value
The AKG N700NC is also at the same price as the other sets of headphones. These headphones put an emphasis on the sound quality of the headphones themselves so these are a good choice if you are an avid music listener or want to choose your listening experience.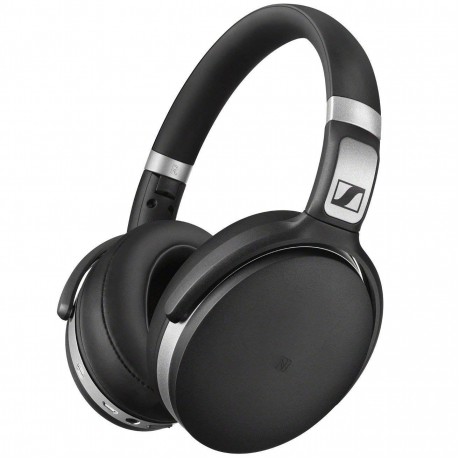 Sennheiser has always specialized in creating great headphones and this set of is no different. These are a little cheaper, but do not feel like it.
Bluetooth Connected
The Sennheiser HDs are connected through Bluetooth, rather than an app. This means they have a few less features than the other headphones on this list, but are also much simpler. Just make your phone discoverable and connect. This makes it easy and hassle-free to listen to music on these headphones.
Sound Quality
Senneiser has been making active noise cancelling headphones for over thirty years and it shows. The Sennheiser HDs cut out any unwanted ambient noise while keeping high quality sound pouring into your ears. Their NoiseGard technology is effective and unnoticeable, compared to many other set of noise cancelling headphones.
Cost and Value
These Sennheisers bring great sound quality and effective noise cancelling at a much cheaper price point than the previous entries on this list. To get this, you do have to give up the smart technology that has been applied to many of the new entrants in the field, but these headphones will not disappoint you.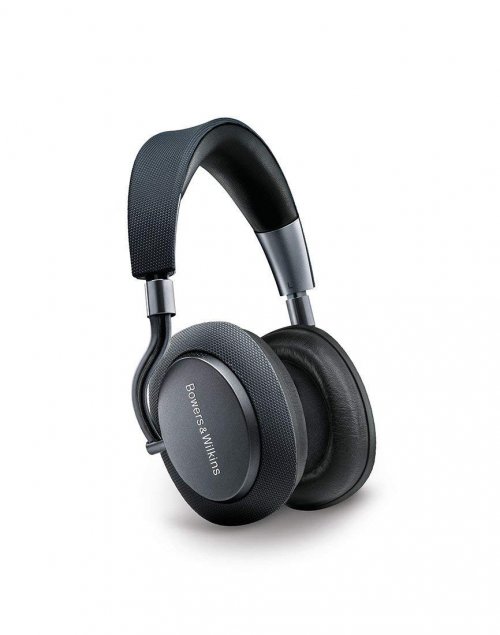 The Bowers & Wilkins PX noise cancelling headphones are a great set of over ears that are adaptive in many ways, which makes using them a painless and convenient experience.
Adaptive Technology
The Bowers & Wilkins do a great job of reacting to your movements and actions in a natural way. If someone is trying to talk to you, just lift one of the earphones and the noise cancelling will deactivate. When you are done with your earphones, just put them down, and the Bowers & Wilkins will automatically switch to power saving sleep mode. All you have to do to turn them back on is pick them up.
Smart Control
The app that you can download to go along with your Bowers & Wilkins will make it easier to control your set of headphones. The app allows you to download updates for your headphones so that they stay current with newer technology. You can also control the level of noise cancellation from the app.
Cost and Value
This set of headphones is comparable in price to the other headphones that are connected through smart devices. The Bowers & Wilkins is a set that are committed to giving you high quality sound for music. Being able to download updates also allows this set of phones to future proof itself somewhat.

6

. Plantronics BackBeat Pro 2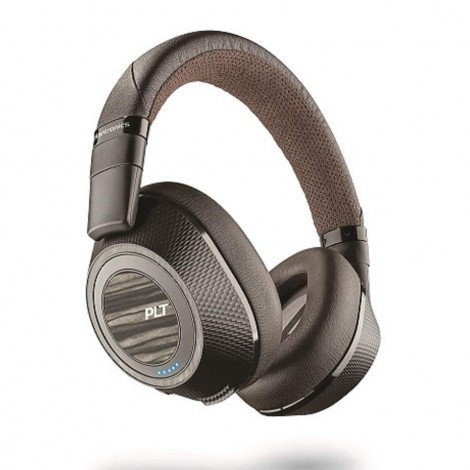 The Plantronics is a convenient to use set of wireless headphones that come at a reasonable price with a good level of sound quality.
Wireless Headphones
Plantronics set of headphones has a great level of sound quality while being conveniently wireless. The battery life on these headphones will last for a round twenty-four hours before needing to be charged. When they do need to be charged you can just plug the cord in and keep listening to your music. These headphones are truly wireless because you can walk them up to one hundred meters away from your music player with no disruptions.
Convenient Features
The Plantronics is easy to use and it has convenient features to help with that. These headphones are designed with reactive technology that will turn the audio on and off when you put down the headphones. Their noise-cancelling feature is quite rudimentary, but that can be helpful because it is easy to turn it on and off.
Cost and Value
These are a bit cheaper than many others on this list. Their price comes at the sacrifice of the noise canceling technology. It works, but you cannot choose the level of noise canceling you would like. The Plantronics Back Beat Pro 2 has great sound quality, and you won't be disappointed at the price.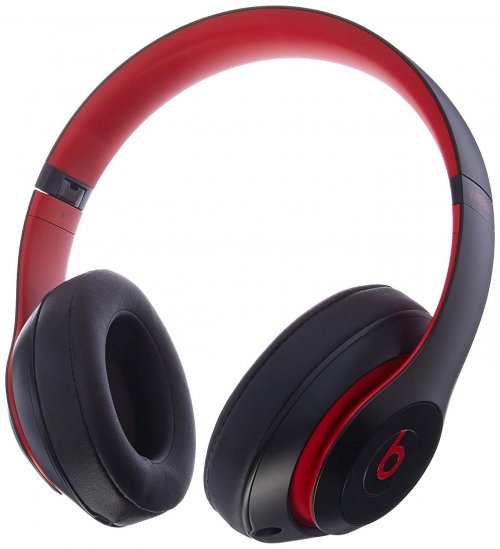 The ever popular Beats by Dre have a great set of noise cancelling headphones if you want some stylish, and effective listening.
Noise Cancellation
The Beats Studio3 does a great job of isolating all external noise so you can focus on your listening. Besides its effective active noise cancelling technology, the Beats Studio3 also has extra cushy over ear phones that isolate your ear from the outside world as well as bring you a high level of comfort.
Fast Charging
The battery life of the Studio3s is around twenty-two hours. This is long enough for any kind of trip or long studio session, but if it is not, then it only takes ten minutes of charging to get an extra three hours of play out of these headphones. This is incredibly useful when you don't have much time before leaving the house for your commute.
Cost and Value
These headphones are a little cheaper than the top of its class, but they do a great job at anything you may want out of a set of headphones. The noise cancelling is absolute, the sound quality is bassy, and the comfort is unmatched.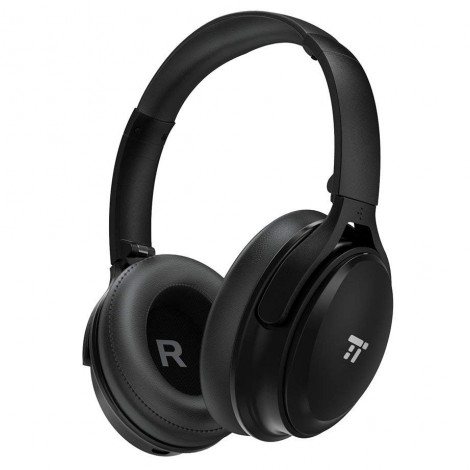 TaoTronics is the truly budget choice if you are looking for a set of noise cancelling headphones. High quality audio and active noise cancelling for a fraction of the price.
Great For Sound
The TaoTronics does a more than serviceable job cutting out any outside noise. It is a bit more simple than other entries on this list, but it does a great job giving you some peace and quiet. The TaoTronics is also great for eliminating sound when you get a phone call as well. It has a built in microphone for hands free conversations when out and about. On the music side, TaoTronics puts an emphasis on the bass to give you a strong and memorable music experience.
Long Lasting Use
The TaoTronics has an extra long battery life that will last you for over a day in most cases. This makes these a great pair for when you need to go on a long trip somewhere, such as an overseas flight. Something that helps with this is the extra ergonomic phones that are exceptionally comfortable for long bouts of use.
Cost and Value
These are the cheapest ,headphones that you will find on this list. They are great value for the price. If you get the TaoTronics then be aware that these are a bit simpler than some of the other entries on the list, but has good noise cancelling, and good audio quality at a price that is hard to beat.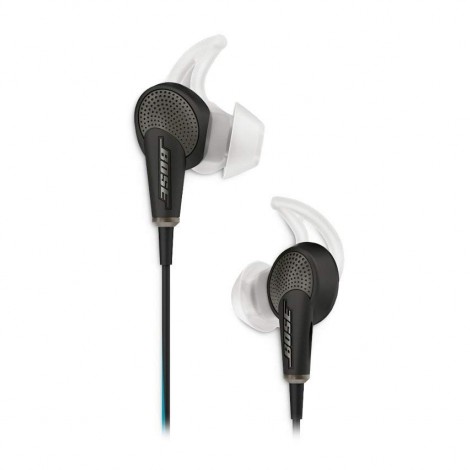 These are the only in-ear noise cancelling headphones you will find on this list. It is difficult to make in-ear noise cancelling headphones that are still effective, but Bose has done a good job of doing just that.
In-ear Advantages
Having in-ear headphones to use in daily life is a great advantage for many reasons. They are much less bulky than over-ear headphones, which makes transport much simpler. They can be easily stored somewhere without having to bring a carrying case. They will also fit in your ears much more snugly than a pair of over ear headphones will, which makes it harder for them to fall out of your ears.
Noise Cancelling
Despite their smaller profile, the QuietComfort 20 still retains the features of many other entries on this list. These earbuds have an active mode for when you do need to hear the outside world, which can be activated with a single press of a button. They can also be used to answer phone calls, and they have a microphone attached to the wire.
Cost and Value
These earbuds do cost a bit more than even the most expensive headphones on this list. This is because it takes a lot of extra effort to make noise cancelling headphones in this shape. They do as great a job as the other entries on this list, while staying in a much smaller package.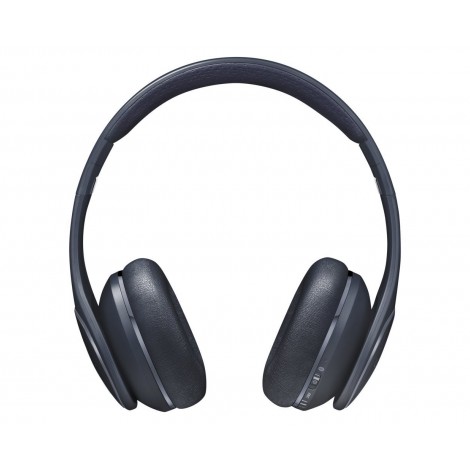 The Samsung Level On are a solid pair of noise cancelling headphones at a more than reasonable price. They don't have too many bells and whistles, but they will effectively get the job done.
Comfort and Portability
These headphones are designed to be ergonomic on your ears and extra comfortable. They will vent away some of the heat caused by the closed space on the inside of the headphone. They are also portable and can be folded up when not in use.
Touch Controls and Wireless
The Level On uses touch controls on the side of the headphone for easy access to the most commonly used functions. You can change songs, switch up the volume, or pause the music. The Level On can also be used with a wire if you don't want to run out of batteries, or wirelessly through Bluetooth.
Cost and Value
These headphones are quite a bit cheaper than the other headphones that share its features. This is a good choice if you are looking for a cheaper set of headphones.

Subscribe to our Newsletter