Best Smart Locks Reviewed & Rated for Quality
In a Hurry? Editors choice: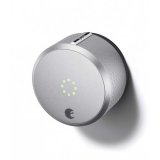 Test Winner: August

Living in the age of smart appliances can be overwhelming. Almost every piece of equipment in your home can be replaced with a smart version that is much more convenient and useful. Smart locks can improve security by letting you know when someone comes up to your door. They give you access to your door's lock even when you aren't home so you can let people in from the other side of town. They also lighten your pockets by replacing your keys with an app on your phone or with a fob. You won't realize how much time you save by having a smart lock until you try one out. Have a look around and find the one you like.
Standout Picks
Criteria Used for Evaluation
Battery Life
The battery life of your smart lock may seem like an afterthought, but in a way it is the most important aspect of your door. How long the batteries last determines how long before you can get locked out of your house. Most batteries will last for around a year. Having to replace the batteries once a year is not that bad.
There are some helpful features to look out for that will help make replacing your batteries as painless as possible. Some smart locks can have their batteries replaced easier than with others. Some smart locks will need a screwdriver, while others will just pop off. Another helpful features of some smart locks is a low battery indicator. It might be a light, or it might be a sound. Some smart locks have a back up set of batteries so that your smart lock will last twice as long, which gives you twice the time to replace them. Finally, some of the smart locks have rechargeable batteries or can be recharged on the fly, which is very handy.
Connectivity
These smart locks vary a bit in how effective they are at sensing your smart phone as you approach. This is important for many reasons. Some locks will unlock as you approach. Other locks will lock the door if they cannot sense your phone near the house. The better the connectivity of your smart lock, the more reliable it will be. Seeing as the biggest selling point of a smart lock is their convenience, having good connectivity will mean having a convenient smart lock. Smart locks have many ways to connect to your phone or fob or card. Some use Bluetooth, which is good for short range communication. Others will use WiFi, which is good for remote locking and unlocking from anywhere around the world. Some smart locks that use HomeKit or Alexa will need to use a smart hub, such as an Alexa tower, or an Apple TV.
Ease of Use
The smart locks on this list are all easy to use. That is probably the reason you are in the market for one. The best smart locks have the simplest types of use. The most convenient type of smart lock is the one that senses your presence on your way to the door. This is also the most prone to a mishap, because the app usually has seconds to notice that you are there and unlock the door for you. The next best thing is the locks that are built for voice control. Being able to tell your door to open beats having to go through your pockets or put in a keypad. Despite that, it is always nice to have a few ways to get into your house just in case the most convenient ways to get don't work. That's why many of the locks on this list have multiple ways to be unlocked.
Protection
Smart locks have to work in the same way that normal lock works to be effective. You won't have to worry about any of these locks not keeping your house secure. It is the ways that smart locks can improve the security of your home that makes these new locks special. There are the new methods of unlocking your door like fingerprint scanning that make it so that only the people you want will be entering your house. Smart locks are great for allowing you to be able to build a curated guest list for your home. The more you can control that guest list by giving out temporary keys, or by being able to remotely lock and unlock your door, the better the smart lock is. Of course, the best smart locks will also allow you to shut the house off from everyone when you just want some privacy.
Style
Most smart locks will be used on the outside of your house. This means that you want to look for a lock that looks good and hopefully complements the outside of your home. Some smart locks can become a little over encumbered with unlocking methods. This is great for having different methods of entering your house, but it might be at odds with your home's aesthetic. Some of the highest rated smart locks on this list have a very simple design that supports one or two methods of entry. The best smart locks look even better than a simple lock and key.
10 Best Smart Locks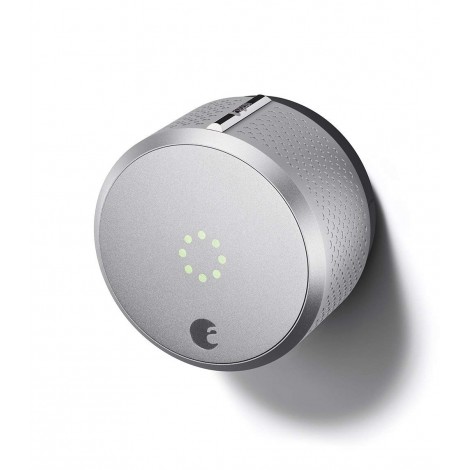 The August Smart Lock is the premier option that supports many other apps. This means it can work from your other apps, like HomeKit or Alexa.
Utmost Convenience
The time that the August Smart Lock saves will add up quickly. It will actually unlock automatically as you approach your door, and then lock once you are on the other side of the door. It means you won't have to dig around in your pockets or purse every time you come home.
Easy Installation
The August Smart Lock is designed to be compatible with any standard deadbolt. This is great because it means you won't have to go back and forth from the store trying to find the right parts to fix up your door. Installation with August is simple enough that you can do it yourself without having to replace anything.
Cost and Value
This smart lock costs about the same as all the other smart locks of its quality. This is a great choice because of its compatibility with other apps. This gives it an element of future proofing as you can keep using this lock with your other apps as you fill your house with more and more smart technology.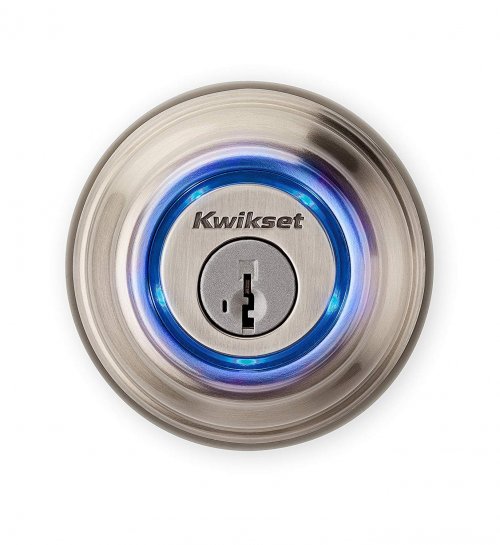 The Kwikset Electronic Lock is a smart lock used through the Kevo app. It can be used through Alexa with the purchase of a hub network. The connection of this smart lock can also be done through Bluetooth.
Send Those You Trust E-Keys
The Kwikset is a useful electronic lock because it allows you to send E-keys to people who need them through e-mail. This means you can keep track of who is let into your house, or even allow people one time access. This is convenient for things like letting deliverymen into your home, or letting some friends in while you aren't at home.
Sensing if You're Inside or Outside
Kwikset has been designed to know which side of the door you are on. This gives you an extra level of security for when you are inside your house with the door locked. If someone comes knocking with their own E-key while you're inside your house the Kwikset won't unlock for the guest unless you allow it. This helps maintain your security and privacy.
Cost and Value
The Kwikset will cost about the same as the August, and will also need some extra appliances, such as a smart hub, to unlock features like remote locking and unlocking. Besides this, the Kwikset has good value because it comes with its own physical keys as well. Many smart locks have some issues of reliability so the Kwikset is good to have for its dual functionality.

3

. Schlage Sense Smart Deadbolt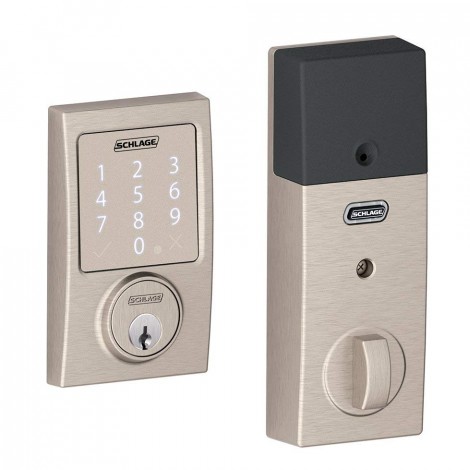 The Schlage Sense Smart Deadbolt is the first entry on this list to also introduce an illuminated touch pad for another way to make entering your home more convenient.
Options for Entry
Schlage's Smart Deadbolt prioritizes the number of methods that you have to enter your home. Like the Kwikset, it comes with a standard key, but the Schlage also has an illuminated touch screen that helps you avoid having to rifle through your pockets.
Additional Support
The keypad can be a helpful, albeit simple, option for entering your home. However, once you connect the Schlage to Homekit from Apple by buying the Schlage WiFi adapter and an Alexa smart hub is when your options really open up. Once connected to those devices, the Schlage becomes voice activated for even easier access to your home. You will also gain the ability to unlock your door from anywhere in the world, which is convenient for having control over access to your home from anywhere.
Cost and Value
The Schlage Smart Deadbolt comes at an equivalent price to the previous entries on this list. The advantage to buying this smart lock is that it has so many ways for you to enter your home. There's voice control, traditional keys, a touch pad, or remote access through your phone. As with the other entries on this list, the true price is how set up for a smart home you already are. If you are an Apple user, setting up the Schlage with HomeKit is inexpensive. If you are not, Schlage's WiFi adapter will increase the price by a little bit.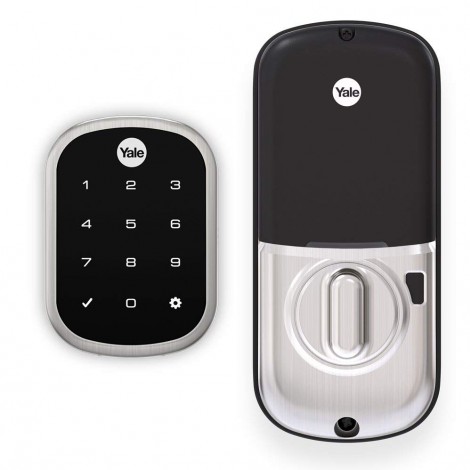 The Yale Assure Lock commits to only using a touch pad so that you don't have to worry about carrying your keys around with you. This means that this lock is less bulky, and a bit more stylish than other locks on this list. The Yale Assure lock is compatible with Z-Wave smart home technologies.
Smart Home Set Up
The Yale Assure is a touch screen lock, but it has a versatile set of functions when paired with the appropriate software. When connected to SmartThings from Samsung, or a Google Home device, the Yale Assure Lock can unlock automatically when you approach it, or be used with voice commands, or send out up to 250 passwords to people you trust to enter your home. It can also be set to privacy mode so that none of those passwords work for when you would like some privacy.
Battery Life
One of the most worrisome things about installing a smart lock is that one day, your batteries will run out. You don't have to worry about that with the Yale Assure Lock. When the batteries in this smart lock die, just use a nine volt battery to charge it from the bottom. If you leave one in your car or on your front step you'll never have to worry about being locked out of your house.
Cost and Value
This smart lock can be had for the same price as all the other smart locks on this list. It is really a matter of what you are looking for. The Yale is sleek, simple, and effective. All of these locks have also been designed with a specific smart technology company in mind. The Yale is best used with SmartThings, but can be used with Google Home or Amazon's Alexa with some finagling.

5

. Weiser Premis Touchscreen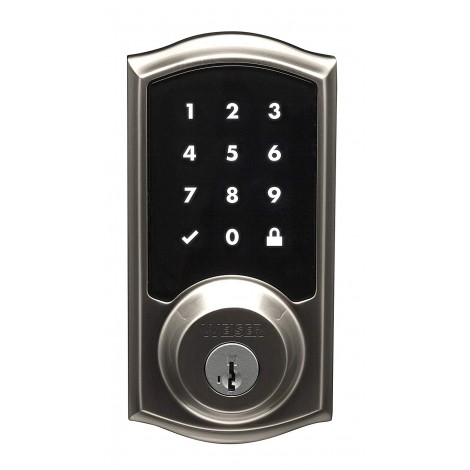 The Weiser is a Smart Lock that uses both a key and touch screen to complement its smart technologies. It is only compatible with Apple's HomeKit.
Smart Key
Weiser is just getting into the Smart Lock field, but they have some interesting features to offer for traditional locks as well. The lock with this door is special because it can be reconfigured to the keys that you already use for your house. Weiser's re-key technology means that you won't have to go create a new set of keys every time you change the lock on your door.
Apple's HomeKit
Having HomeKit in your home opens up the extra features you can use with your Weiser lock. You can unlock and lock your door remotely from your phone or your Apple TV. HomeKit also means that you can use Siri to control the locks of your house.
Cost and Value
One of the nice advantages of the Weiser is that is less expensive than the other smart lock on this list by a wide margin. It is still an investment, because smart locks are quite expensive in general, but this is much cheaper. This is a good lock to get if you are already someone who has invested into Apple's line of products. This means that you will only have to get the lock with nothing else.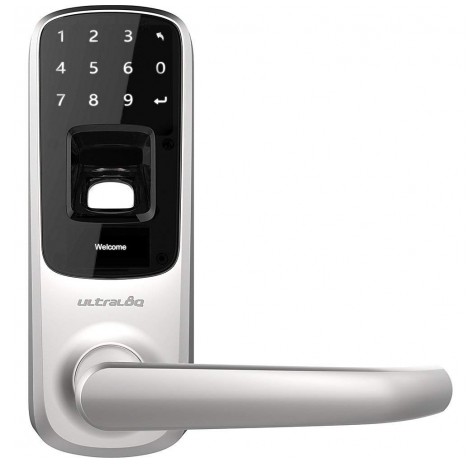 The Ultraloq uses many of the technologies found on this list, but it also has the ability to use fingerprinting to unlock your door. It is Bluetooth enabled for speedier unlocking at short distances.
Fingerprint Technology
The Ultraloq can store the fingerprints of up to 95 people. This is the most secure way to lock and unlock a door because fingerprints can't be faked. Besides fingerprinting, the Ultraloq can also be used with a touchscreen code, a key, or your smartphone. This means that if any of the other methods of entry are compromised then you will still be able to get inside.
Bluetooth Technology
The Ultraloq uses wireless Bluetooth technology for its smart devices. Bluetooth is the simplest form of wireless technology because the lock just needs to connect to the phone and you can get in wirelessly. This means you won't need any apps or smart hubs, unlike other entries on this list.
Cost and Value
The Ultraloq is a little bit cheaper than the other entries on this list, other than the Weiser. It also saves you some money because it doesn't need any other pieces of technology to access all of its features. This is a more simple lock for someone who just wants to simplify their entry to their home.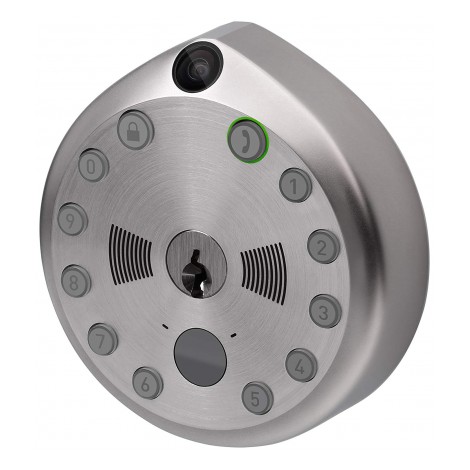 Gate Labs' GSLK101 is a camera and motion detector equipped smart lock that is very reliable. Of course, this all comes at a price.
Advanced Security
The Gate smart lock is great for an added sense of security because of some of its more advanced features. The lock is equipped with a motion control that will turn on the camera any time it senses movement. This makes it easy to know what is happening at your home when you're not there.
Remote Access
The Gate smart lock has a few features that make it easy to use when you are not at home as well. The lock has a doorbell function that will call you when someone pushes it. The lock also comes with its own free app that allows you to remotely access the door. When coupled with the camera, the Gate gives you a good view, and good control, over what is happening at your home when you are not there.
Cost and Value
The Gate Labs GSLK101 is very expensive. It is almost double the price of the other locks on this list. It does make sense, given all the extra features that this lock has. The extra security that this locks provides makes this a good choice for those with the money to spend and with things they want to protect.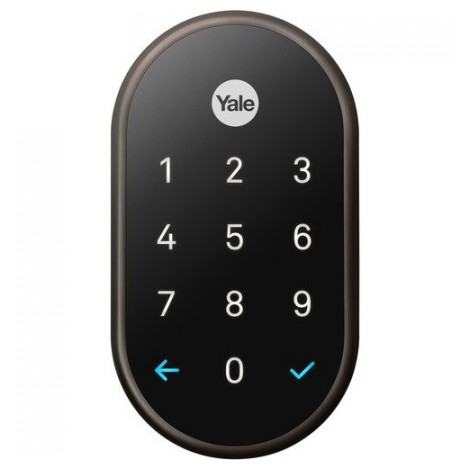 This partnership between Yale locks and the Nest hub means you get both of these items together for a bit cheaper than they would come individually.
Nest
Nest is a company in the smart technology field with a wide array of products. By partnering with Yale, the company has now entered the smart lock field. This means that you can connect your Yale smart lock to other Nest products you may own, such as Nest's alarm system, which will automatically disengage when you unlock your door.
The Yale Lock
Yale's smart lock is just a simple touch pad that is quite self explanatory. It is designed with ease of use in mind. This lock will unlock with the touch pad, or by use of the Nest App. To lock it, simply touch the back of the lock once you have entered the house. Other useful features include things like remote locking and unlocking for other people trying to enter your house, and a log of everyone who has come and gone.
Cost and Value
The Yale x Nest smart lock is good value because it comes with both the Yale lock, and the Nest smart hub. This is a good place to start if you are planning on continuing along the Nest line of products.

9

. Turbolock TL-99 Bluetooth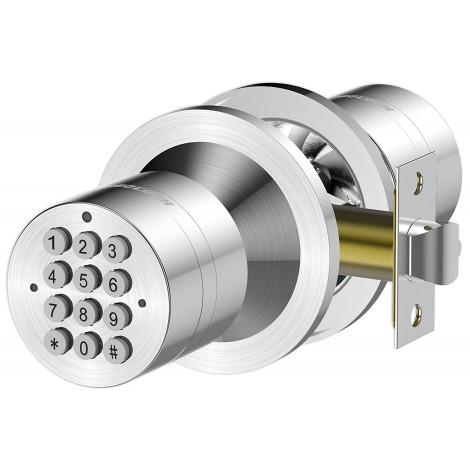 The Turbolock is a Bluetooth-enabled smart lock that is cheap enough to be purchasable by everyone. Being Bluetooth-enabled makes this an easy lock to use.
The Everyman's Lock
This is a good choice of lock for those wanting to purchase a keyless locking system, but without the apps and smart hubs that are needed for the more expansive smart locks on this list. It has many of the features of those other smart locks, but a bit simpler. It cans end out E-keys so that guests can come in and out. It also has an app that can be accessed for real time updates.
Quality of Life Features
This lock has some extra features that are very useful, and not often thought of. The Turbolock has a passive mode that makes it able to be unlocked by a single button press for when many people are coming in and out of the house. It also locks automatically after a set amount of time has passed so that you don't have to worry about your house being unlocked if you have forgotten to lock it yourself.
Cost and Value
The Turbolock is quite cheap when compared to its competition. It should cost within the double digits, which is much cheaper than other entries on this list. This is a good choice for those looking for a simple smart lock system.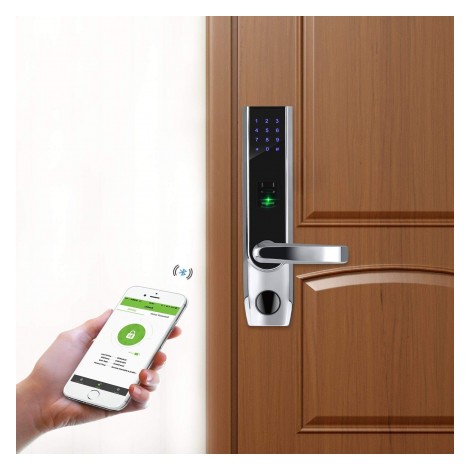 The ZKTeco is a smart lock that utilizes five different methods of entry: fingerprint, smart phone, key, ID card, and touch screen. It is specifically for indoor use.
Indoor Use
The ZKTeco is unique on this list because it is designed for indoor use. This is a good choice for those who want security for their office or maybe a room in their house where valuables are stored. Because of this, the ZKTeco isn't waterproof and is not designed for colder weather.
Versatile Methods to Let Others In
There are many ways you can share access with the ZKTeco. It uses ID cards that you can share among employees or family members. It also allows for multiple passcodes so you can know who is opening the door and when.
Cost and Value
This lock costs a little less than the average smart lock. This lock is designed with a very specific purpose. It is an indoor lock that is meant to be used by multiple people. This is a good lock for business owners who have multiple employees that need access to storage rooms or conference rooms.

Subscribe to our Newsletter