The 10 Best Alarm Clocks Reviewed and Tested
last updated:
Mar 20, 2019
The clock has gone through many transitions in its lifetime, but the fundamental purpose has not, and will not alter. Clocks come in a variety of forms with huge differences in features and add-ons that can make buying the simple must-have mind-boggling. Whether you like a soft get up with a gentle soothing tone; or need a cathedral bell sound to get you up, this review of the best ten should help you to decide the way forward and give you a good overview of some of the many clocks available today.
The top three have individual characteristics that give them an edge over some of the others on the market as a whole and have been placed as such. The remaining seven in the best ten all have unique qualities that are listed to enable you to peruse over a wider variety of clocks.
In a Hurry? The test winner after 19 hrs of research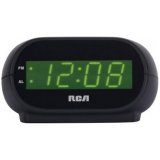 RCA Digital
Why is it better?
Functional Features
Night-light
Easy to use
Compact and tidy
Great value for money
In a
Hurry? Editors choice: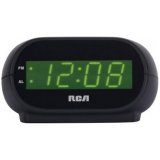 Test Winner: RCA Digital

5
Researched Sources
19
Hours Researching
10
Products Evaluated
Features
Size
Power Source
Sound Quality
Value
By Default
Top 10 Picks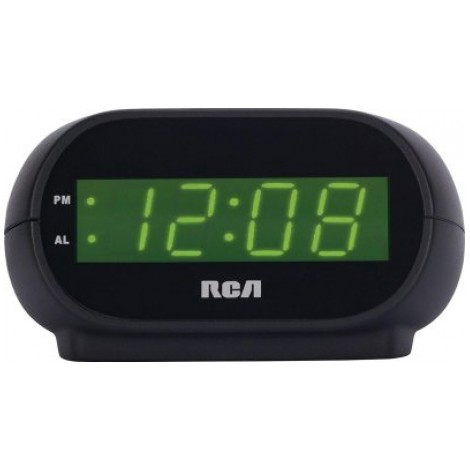 Functional Features
Night-light
Easy to use
Compact and tidy
Great value for money
Very loud
Digits are too bright
This digital device if available in three sizes and two LED color display options; both in green or red seven-inch digits. The neat and compact shape allows it to be placed in even the most limited spaces, and has the benefit of an integral night light that has an independent on and off button that won't mess with the hours or alert settings. It has clear letter indicators on the front; so it is easy to check when the alert is set.
Functional Features
The simplistic set up is complimented with a snooze feature that is easy to find with a full-length button, and it has added versatility by doubling up as a soothing and soft night-light to give a little comfort in the dark.
Practical Back-up
The power is backed up with the provisional space to put batteries into the device; so it won't fail even if there are surges in power or electrical, this gives peace of mind and provides assurances that any important hour-keeping will not be missed.
Cost and Value
The RCA Digital is well balanced when considering cost and value, the compact size and the simplistic ease of use combined with the battery back-up and functional button sizes, overall makes this an excellent purchase for the cost.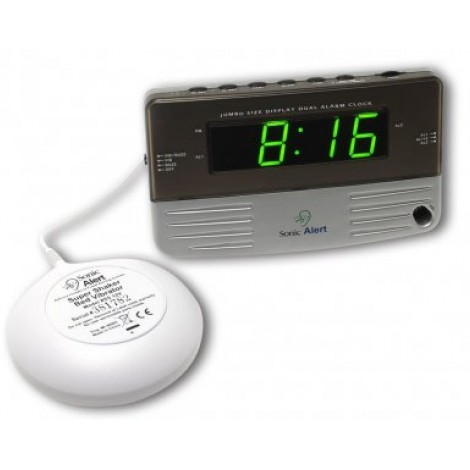 Compact and stylish
Substantial extension cord
Extra loud alert
Adjustable tone
Great value
Not durable or long-lasting
Tricky to set up
This is presented as an extra loud alert that comes complete with a bed vibrator and a substantial fifteen-foot extension cord. The one-hundred thirteen decibel volume makes getting up a breeze even for the heaviest of sleepers, and for those not such a heavy sleeper – it also has a useful volume control and a fully adjustable tone feature. The neat design is compact and small enough to fit most spaces without compromising the display.
Practical Features
The Sonic Alert has a simple to use dual alert setup and a practical battery back-up for when there are power supply interruptions. It also has the option of either a twelve-hour device or a twenty-four-hour device.
Tidy and Compact
The well-designed machine only measures 7x6x5 inches and weighs in a mere one point two pounds so makes it versatile and useful most spaces and also makes it suitable for traveling.
Cost and Value
The extra loud alert offered by Sonic with this model adds to its overall functionality and the great features including the bed vibrator and compact size ensures this model is excellent value for money.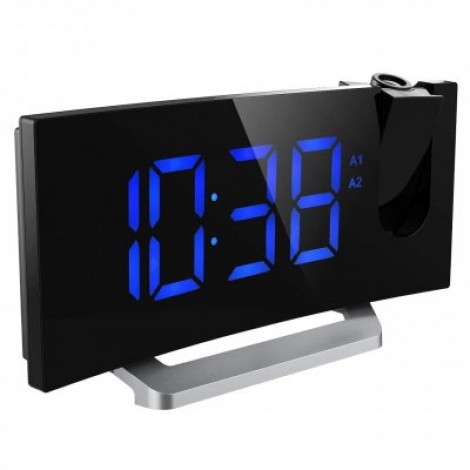 White or blue LED display
Back-up battery
FM radio antenna
Programmable dual alert setup
Excellent value for money
Display doesn't last
Tricky tp set up
Mpow offer this model with a choice of either blue or white five-inch LED display complete with dimmer and is projectable onto a suitable wall or ceiling for convenience. It has a stylish curved design and has dual capabilities with a handy USB port for charging compatible devices and reduces the requirement for extra power sources. It also comes with two different noises and a useful snooze button that can be set to between five and sixty minutes of extra occasion to wake up leisurely.
Functional Features
The brightness is adjustable in three setup ways; off, dim and bright so is functional as seasons change and light alters. The Mpow Projection comes complete with battery back-up so there is less chance of over-sleeping if power surges or outages occur in the night.
Sound Practicalities
The starts off as a low buzz and increases gradually so as not to cause a shock awakening, and as a bonus – it has a thirty-three-inch antenna for FM radio and it has the capability to store up to fifteen favorite channels.
Cost and Value
The great functionality and practical features that this product offers include the battery back-up, the sound functions and the programmable radio setup, ensure that this is well balanced when considering both cost and value.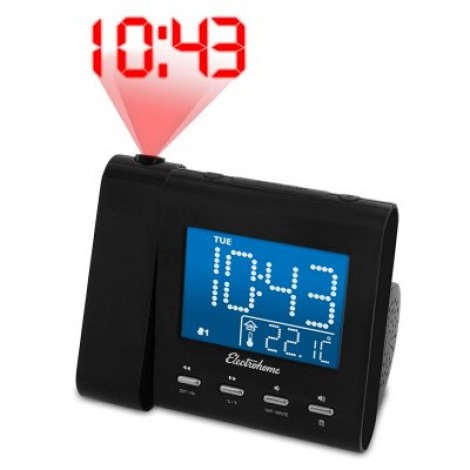 Clear sized display
Versatile setting choices
Fully adjustable
Advanced self-set
Great value for money
Inconsistent timings
Lower quality
Electrhome EAAC601 offer this practical and useful device has a three-point six-inch blue display to enable easy reading no matter what the brightness is in the room. The brightness is fully adjustable; so it can be dimmed for personal preference, and it has the unique capability to project hours or temperature onto any suitable wall or ceiling so it will always be visible. It has an automatic feature that enables it to adjust automatically to daylight saving hours and also has a pre-programmable daily alert.
Versatile and Practical
The device allows a variety of gadgets to be linked with the inclusion of an AUX input that enables a favorite playlist to do the waking. The digital tuning means a greater choice of crisp and clear tunes to start the day.
Great Features
The device resets itself even after an unexpected power surge or break so that alert settings will not be lost, this is enabled with the built-in Lithium battery that gets to work when the electricity is interrupted giving greater peace of mind and increases ease of use.
Cost and Value
When considering the overall cost and value, it is represented well in terms of the functional and practical features it offers; including the battery back-up and pre-programmable alert settings. Its practical design is compact and easy to use.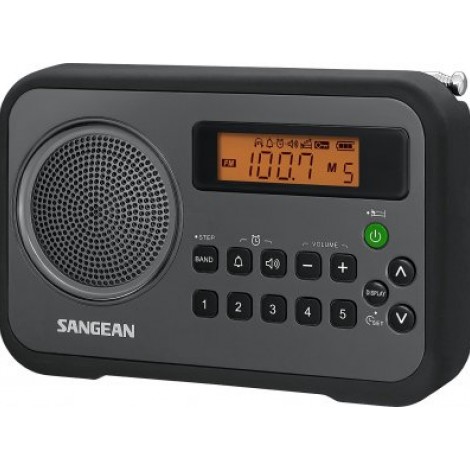 AM/FM radio
Dual alert setup
Practical bumper
Fully portable
Good value
Adapter is not included
Has an audio hiss
This product is offered as an AM and FM as well, that is capable of storing up to ten radio programmes for ultra convenience. It is a stylish black and grey design that has the bonus of having a protective bumper around it for those unfortunate mishaps in the early hours. It has a two-phase alert device that allows two separate occasions to be set for better functionality in a busy household. It has a clear set up and is easy to pre-set up and programme.
Useful Features
Sangean provide a backlight with this display and makes it easier to read in any light conditions, the display also shows all pre-sets, radio station, and a battery life bar. The front of the device is styled so that all features are easy to define and operate.
Practical Extras
This model has a very useful bumper that will protect it and ensure it lasts longer, it has a unique humane wake system that alerts gently and without the shock factor. As a bonus, it is also offered in two colors; black with a grey bumper and black with a red bumper.
Cost and Value
When considering the balance between both cost and value, it is easily justified to recognise the balance; the features that are offered with this one like the unique bumper and easy to use and read display, ensure great value for money.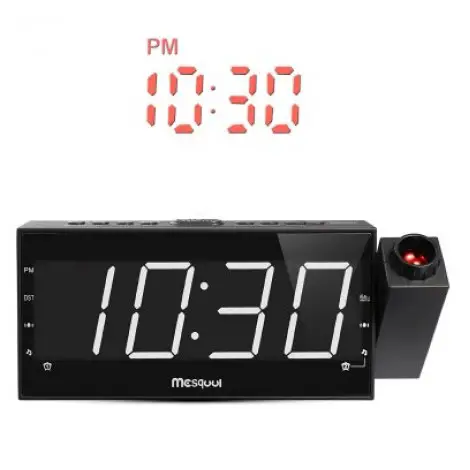 USB charging port
Battery back-up
Programmable radio setup
Versatile for a range of uses
Great value for money
Hard to set up
Ill placed function buttons
This versatile digital model is stylishly designed and is practical enough to be used in a variety of places and even boasts being suitable for travelling. It offers both FM and AM radio setup and is capable of storing twenty different radio stations to suit any mood. The device allows projection onto any suitable wall or ceiling; so it can be seen clearly and brightly at practically any angle with its one-hundred eighty degree capability.
Practical Functions
The Mesqool seven-inch model is adjustable with three brightness setup to make it as functional and individual as each person requires. The dual setup enables two different occasion setup for when there is more than one required.
Handy Features
The handy device has a useful USB charging port for extra convenience and less requirements for an extra power supply. It also benefits from a battery back-up so will still perform its duty even if the power cuts overnight.
Cost and Value
The value offered with this Mesqool model balances and remains well represented when considering the features that it has including the projection, the AM and FM, and the battery back-up.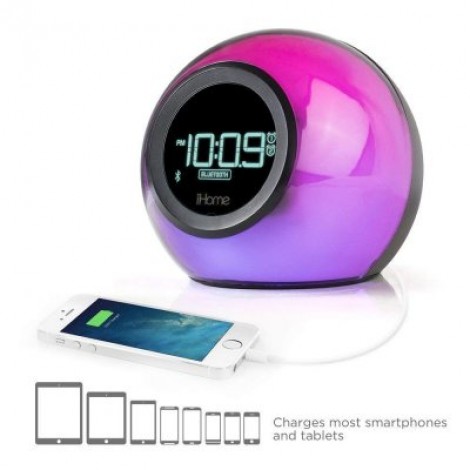 Color changing
USB port
Bluetooth enabled
Fully adjustable
Compact and practical
Unclear button signs
Not robust or long-lasting
This unique color changing Bluetooth option doubles up as an FM radio, it features a handy USB port for convenient charging and a speakerphone. The versatility it offers allows the choice of either a buzzing wake up an alert; or by tuning into a favorite radio channel. This model also enables music streaming from compatible Bluetooth devices, and the color changing feature is optimized with the translucent casing, and the touch giving a quick on and off function.
Color Modes
The model has five color changing settings and the wake-up color settings offer six to choose from, the crisp and bright display is easy to read and clearly shows all set programmes including alert signals, Bluetooth and AM/PM.
Compact Functionality
The compact size of this device means it is suitable for practically any space and the colors will brighten up any corner in the small hours. And there is a setting to allow different alerts and sounds from a wide range of sources.
Cost and Value
Overall the relative balance between cost and value is equally well represented, the practical features it offers allow individual settings for a favored wake-up routine. The compact and appealing design makes it a great addition to any space.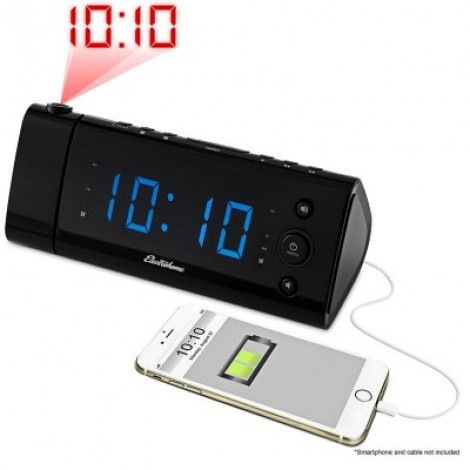 USB charging
Pre-programmable
Blue display
Battery back-up
Great value
Display is too bright
Fiddly to use in the dark
This digital device is available with a USB port for simplistic charging of compatible devices without the requirement for an additional power socket or supply. It boasts a one-point two-inch blue LED display that is designed to be easy on the eye and is clear to read in any light. The model is fully backed up with a Lithium battery so that even during a power surge or all out failure; the model comes into its own and resets both occasion and any alerts that are set – automatically.
Multiple Features
The model features a loop tuning setup that can find and save twenty stations of choice to save hour setup the radio for your wake-up call. It offers a pre-programmable dual alert setup that allow for different days and occasions to be pre-set to a favorite show.
Smart Tech
The design is smart and practical and the easy to use functions add to its versatility, it can also be used as a projector – and allows hours and temperature setup to be viewed with a one-hundred eighty variable on most walls or ceilings.
Cost and Value
The full functionality and practical features enhance this Electrohome USB model; and ensure that the balance between cost and value is equal and overall it is a good quality product for the money.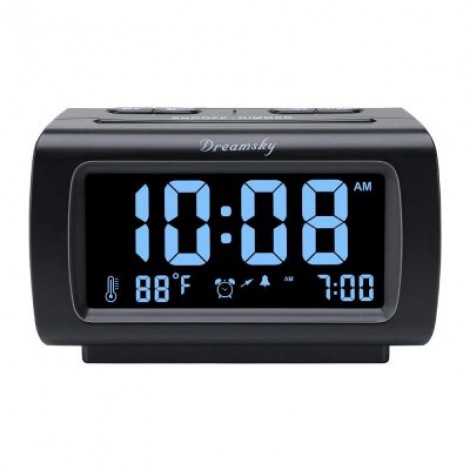 Sound and easy adjustable
USB port
Pre-set function
Indoor temperature
Great value for money
Very small and flimsy
Doesn't hold hours consistently
This digital device has a functional four-inch LED display, and the blue color gives a clear and bright reading. This is complemented with a fully adjustable brightness option; from off, low or bright for complete personalization. The device is also enabled to allow for either twenty-four-hour or twelve-hour model and a bonus feature of giving the indoor temperature in either Celsius or Fahrenheit. For greater choice, there is also a radio alert or a traditional sound for preference.
Functional Features
The DreamSky Decent has an adjustable volume from zero right up to fifteen so reduces the 'shock' that other alerts give when waking. The radio can be pre-set for between ten and one-hundred twenty minutes allowing it to be used to get to sleep with without leaving it playing all night.
Practical Additions
The addition of a USB port improves this device's functionality further by providing a cell-phone charging port so it can do two jobs at once, and the snooze setting gives a progressive and gentle wake-up phase.
Cost and Value
The DreamSky Decent is full of functional features and practical adjustability, this ensures that the overall balance between both cost and value is well represented and this makes it great value for the money.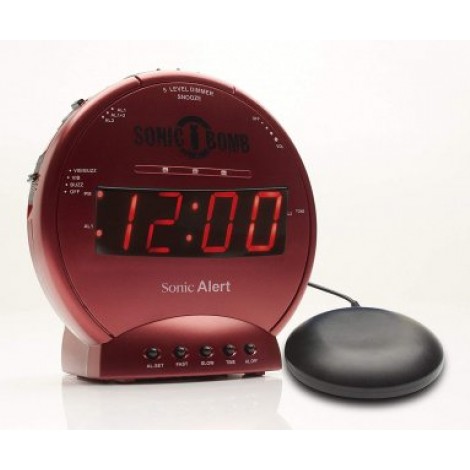 Choice of colors
Extra loud
Vibrating feature
Battery back-up
Compact and tidy
This tidy and compact device is available in six stylish colors; red, blue, pink, camouflage, black and turquoise. It is offered as an extra loud one-hundred thirteen decibel vibrating alert suitable for even for the heaviest sleepers out there, and for those who sleep lighter – the tone is fully adjustable; and it has versatile volume control. The device comes complete with an additional bed vibrator that when placed underneath the mattress – also makes the bed shake when the alert goes off.
Functional Features
This model features a twelve-hour and twenty-four-hour mode choice and has built-in flashing red lights that work with the alert set up for a visual aid as well as the sound. It has a useful battery back-up so reduces missing the alert due to power outages.
Stylish and Compact
This model is stylishly designed and is compact enough to fit into almost any space. The front is adorned with clear and easy to read buttons and setup. It benefits from a handy five level dimmer switch for a personalized comfortable display.
Cost and Value
The overall cost and value of the Sonic Bomb is well balanced and represented with the features including the vibrating attachment, extra loud alert setup, and the neat design; this is a good piece for the price.
Criteria Used for Evaluation

Style
Types
A device is a device; right? In an ideal world that would be true, but the technological advancement in recent years means that a once simple device can be as personalized and unique to you as you may desire. A traditional analog device is probably what some of us think about, a circular face with a second hand and an alert hand for navigating up our right get-up occasion, and a glorious bell on the top to get us up from our slumber. This may be a little harsh for some, and the sound cannot be altered or personalized, but it does just what it's meant to do.
A digital device is far more commonplace contemporarily, the soft glowing digits with adjustable brightness are easy to read in the dark, and we can set them in an entirely personal way with a choice of sound or even our favorite radio station to get us up. And there are many added features that are included to give us a more reliable get up; including the snooze feature!

Power Source
Sources of Power
There are three main types of power source used in modern devices and all have their own advantages and disadvantages. A battery-operated device is an ideal choice especially if you are short on power sockets or are using your alert signal outdoors, as long as you always have a spare set to replace spent batteries; and try to make sure you buy good quality, long lasting batteries for improved cost efficiency.
A traditional wind-up device is probably the best when it comes to power sources; as long as it is regularly wound up it should last a long time. This power source is an ideal way to go if you have a lot on your plate and may forget to have spare batteries and will be reliable even during power outages or fluctuations that can trip a system and cause it to flick off.
A plug-in device has the downside as mentioned above and can be susceptible to power surges; however – some modern electric devices have additional battery options; so you can be sure of getting up even when the electricity is down or interrupted. The upside to this, of course, is that you can plug it in and forget about it.

Features
Features
The digits on a digital device come in a variety of sizes and colors; enabling you to choose a size that is easy to read and suits your own needs and requirements. Some offer glow in the dark features but generally, these will be beneficial on lower wattage digits or even traditional dial devices that may not be as easy to read at night. Some modern devices have a bonus addition of a USB port; so you can charge your cell phone over-night without having to worry about extra power sockets.
A snooze setup is a great feature because you can set it to suit your personal sleeping and waking habits and allows you a little spare time to get up as you want to little by little. The displays on digital devices can carry a varied number of useful data, including the date, the temperature, days when the is set, radio setup and adjustable sounds for personalization.
Bluetooth connectivity is another modern advantage that you may find on a new device, this gives you the added bonus of being able to connect your cell phone and play your own favorite tunes when you're waking. The ability to set your device to get you up with either your own tunes or your favorite radio channel increases the versatility and allows you to completely personalize your own waking routine.
Along with these great features you may come across, are the devices that give you a weather forecast and show temperature both inside your home and outside to give you a heads up on what you need to wear for a comfortable day. You can also find them with a soft or loud sound option, and some are even light alerts so on those dark winter mornings – you get the advantage of a soft to get up light to compliment your chosen sound and its volume.

Size
Size and Weight
This may not sound like a consideration for you to think about, but there are a few good reasons why you would want to. For example; if you have a small and limited space for your device you may want to consider a lighter wall fitting design that won't encroach on your valuable space. And on the flip side, if you have an abundance of room you don't want a two-inch device that you need a magnifying glass to read.
If you travel frequently or take a device with you when you go on holiday, then a smaller portable design would be beneficial. That way you can easily take and pack/store your alert without it bogging you down; for the same reason – a battery-powered model or a wind-up model would be ideal because you won't find yourself hunting for a power source when you arrive at your destination.
This guide has hopefully given you something to think about whilst you are choosing your best wake up buddy; giving yourself a little time to think on what features you want in a good alert – gives you better scope for narrowing down your search. Whether you like a short sharp shock to wake you, or a gentle violin concerto; there is a model in the following reviews that should tick your boxes and allow you the perfect get up call to start your busy day. From low end through to mid-range and above, there should be a model that fixes you getting up and ensures you won't be late for work or that important date ever again.
Expert Interviews & Opinions
Most Important Criteria
(According to our experts opinion)
Experts Opinion
Editors Opinion
Users Opinion
By Default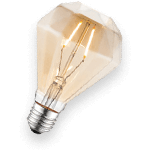 Fun Fact about Alarm Clocks
In America during the late nineteenth century, Seth E. Thomas made the device for everyday users and was one of the first to produce it for the masses. It was deemed to be as important during the industrial growth period as turning up for work – now the hours you got there was to be more stringently observed and the market flourished and boomed. This humble beginning is now so widely available in various base forms; that seems odd not to think of a decent model as an essential part of our busy lives.
Frequently Asked Questions
q:

Can I use rechargeable batteries?

a:

It is advisable not to use rechargeable batteries because they can cause your device to malfunction or even stop it from working altogether. A good alkaline battery is the better choice because they are suited to low-drain devices such as devices, it is also a good idea to avoid lithium batteries as these can also be potentially damaging.
q:

Will my alkaline batteries have a lifespan; or can I leave them until they expire until changing?

a:

It is probably better to change your batteries at least once a year; they do tend to degrade after a time, especially if they are not in use and can leak battery acid onto internal contacts that can cause the device to stop working.
q:

I'm a very heavy sleeper; are there devices that are suitable?

a:

Yes, there are devices that are designed specifically for heavy sleepers, they tend to be louder and offer a sharper sound that is more likely to wake a heavy sleeper. Look out for specifics in the items individual information so you can determine the best for you.
q:

Are these models easy to set up?

a:

Gene, really they are relatively simple to set up and get the alert going at the right time, each product will list instructions to enable a fast set up.
q:

Is an electric model better than a battery powered one?

a:

That is purely a personal choice, there are no hard and fast answers to this because it can depend on a few different factors. For instance, if you live where there are power fluctuations or prone to storms; you may well be better to choose a battery-powered device. Both are reliable sources of alerts and even if you are not sure about the power outage rate where you live, you can buy devices that are electric but enabled with a battery back-up for unexpected power cuts.
q:

I've heard that these models are beneficial even if you don't need to be up at a specific time. Is this true?

a:

t can be beneficial, getting up at a regular time every day and going to bed in a similar fashion can help to set a normal sleeping pattern that can be beneficial health-wise, both physically and mentally. Another bonus you may find useful with an alert device – is the increased organizational skills it enables. If you have a hectic lifestyle or have specific things to do in a day; then a routine plan with the held device that can help with time management and functionality. Alerts are used in a wide variety of situations, fire alerts, house alerts, car alerts, and even school alerts and there is a school of thought that suggests that the sound can be motivational; it makes us listen and we come to recognize actions that are required when hearing them.
q:

Will my alarm clock reset if the power goes out?

a:

If your clock has a battery back up it will keep the time. If your clock has the radio controlled feature it will automatically reset itself.
Subscribe to our Newsletter