Best Outdoor Bluetooth Speakers Rated and Reviewed for Quality
In a Hurry? Editors choice: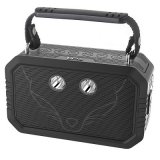 Test Winner: DOSS

What goes well with
your picnic
, or your outdoor dinner party or
your pool party
or just about anything outside? Music, that's what! Music makes everything better and we happen to think that one of the greatest things about the
advancements in Bluetooth
technology is the fact that you never have to be very far away from your music. It goes where you go. And if it has a good beat you can literally spend your day moving through town to your own personal soundtrack. We think this is a net positive for humanity and for all of us as music (except for Mahler, and death metal in general) makes you feel better about life. So we've decided to look into the best ways to ensure that the music never stops. So here is our list of the best outdoor Bluetooth speakers. Rock on!
Standout Picks
Criteria Used for Evaluation
Sound Quality
If you are investing in speakers, then the main thing you want them to do is to sound good. With these type of speakers you have to take into account that you will most likely be using them outdoors, which means that they'll be competing with other people, cars, wind, and any other sounds you may hear while out there.
If possible, try the speakers out before buying them and see how they sound with the volume up since you will need to drown out all the other noises. Is it clear? Are the bass and treble working as they should? It would be wise to also check out reviews and see what others have said about the sound as well!
Versatility
Some of the speakers are used in the shower, others for backyard or camping use, and others are meant for hiking with. The shower products usually come with either a clip or a suction cup in order to keep the product at eye/ear level for optimal sound.
When they are meant for the backyard or camping are usually a little larger in size and sometimes come with a mounting socket. The mounting socket comes includes sometimes so that the product can be put on a wall or on a tripod for optimal sound. These speakers are great for additional speakers and creating a surround sound environment.
Those meant for hiking usually are smaller in size and are lighter. They are typically clipped onto a belt or bag so that the product can be used while in motion. If not purchasing based on the activity the product may end up being useless so it's important to purchase based on the need.
Materials
Materials used will indicate the life and durability of the product. You want to make sure that the products are made of strong plastics or metals. It also helps to have a silicone outer casing to help from both drops and shock vibration. These are traveled with so having a strong body will help with drops. Some of the products have a D-clip in order to attach to a belt or bag. The clip needs to be strong in order to handle movement. Some also come with suction cups, they need to be made of strong rubber to keep the suction strong.
Battery Life
The battery life ranges depending on the product. Typically price and size indicate battery quality. The battery should always be rechargeable. A good sound system cannot run well on replaceable batteries. You see in the better quality products lithium-ion batteries which are a more advanced type of battery.
Battery life typically ranges anywhere from 10 to 30 hours depending on the product. How long it takes to charge the battery is also important because if this is being used for an event then being able to charge quickly may be important. Battery life will be one of the most important things to consider when purchasing these types of products.
Advanced Features
Because these are Bluetooth-capable, having an updated and newer version of Bluetooth updates is important. You typically see 4.1 and 4.2 versions. You don't want to purchase anything under a 4.1 to ensure that the product you're using is easy to use. An updated system offers easier connection, the ability to connect multiple devices at a time, it will help stretch the range of which the product can be away from the device it is connected to and it also offers better sound quality. Having an updated and reliable system is going to improve the overall experience and reliability of the product. If the Bluetooth doesn't work then it is going to cause frustration.
10 Best Outdoor Bluetooth Speakers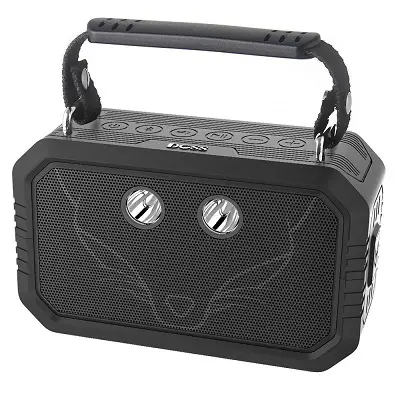 This product is a 20-watt, waterproof option with several light modules and is Alexa compatible. It has a long battery life and has a really interesting design.
20-hour battery life
This product has an extra-long battery life ideal for areas where power sources are readily available.
Incredibly durable
This product is waterproof, drop-proof and "life proof". It is ideal for rougher environments like camping and at the beach. It is also dust resistant so no worries about dust eventually blocking the speakers.
Cost and Value
The majority of the products in this article are mid-range in price. This one is slightly above the majority in this article. It is incredibly resilient, can be dropped in water and is well designed. For these reasons, the product is worth the cost.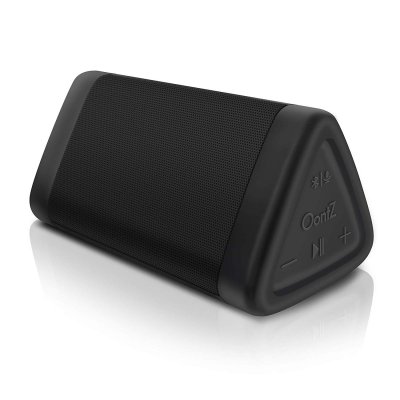 Not only does the Oontz look modern and cool but also it just works really well. Manufactured by Cambridge Soundworks you're getting a clear, solid sound that's not too tinny and not too bassy, just pure clean sound that will make all your favorite music sound great wherever you are. We also like that the Bluetooth receiver has an incredible range so you can put the speaker wherever you want it and not worry about glitching out.
Water Resistant
This speaker is splashproof and rainproof (you can use it in the shower! Really!). But please don't test this, don't drop it in the pool, or the fishbowl because if you do then not only will it stop working but you'll also be out of luck if you try and get your money back.
Long Battery Life
We love this element of this big old speaker, it has a battery life of up to 14 hours, as long as you keep it at 2/3rd volume. This is important to the campers out there who might find themselves away from a power source for days at a time.
Cost and Value
Not too bad, this isn't going to break the bank by any means, and it does live up to the hype. You can keep it by the pool without worrying about it getting a bit wet, and you can bring it on your next camping trip and with a bit of care it should run without a recharge for about 14 hours.



This product is considered a shower speaker. It is small in size and also has a D-ring to hang on belts and bars. It has is 5-watts, is, of course, waterproof and like all the rest in this article is wireless.
Built in mike and sound system
This speaker is ideal for hands-free use. While out in the yard or in the shower you can answer your phone with it as it also has a built-in mike.
Small in size
This one is quite small in size. It has a hook as well making it ideal for traveling with. It won't take up much room.
Cost and Value
This product is quite inexpensive. It is easy to haul around, comes in over 5 colors and has a 12-month warranty. There should be no doubt whatsoever in purchasing this product.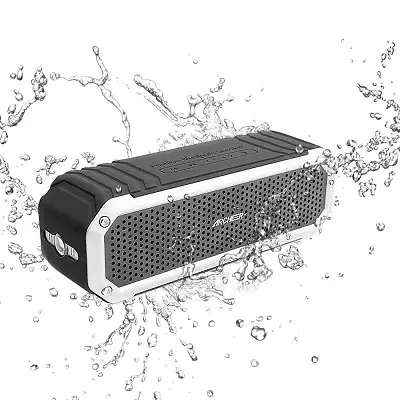 Here is an option that is both dust and waterproof. It is 10-watts and comes in 2 different colors. It is rectangular in shape and also includes a side flashlight. It is both wireless and waterproof.
Modern design
Now comes one that is attractive in design. It is modern and clean looking for those who like attractive looking technology.
Great sound
This option has a strong and clear sound to it even with the size of it.
Cost and Value
This speaker is reasonably priced. It is attractive in design, has a clear sound and comes with an 18-month hassle-free warranty. For these reasons, the product is worth the price.

5

. Dikaou LED Bluetooth Speakers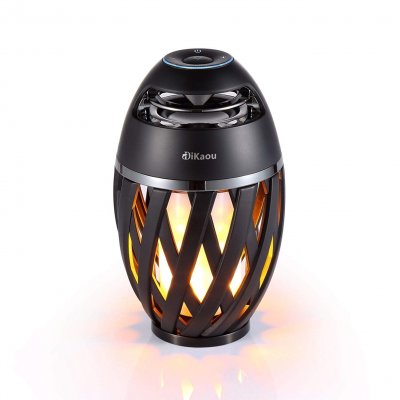 This is a pretty unique speaker not only because of its unique catching fire look, and unique design but also because of its performance. It sounds great and the bonus is that it looks great while sounding great. It doesn't have quite the range of some of the other speakers on our list but if you're looking for a simple great speaker that will keep your music going in your dorm room or small party this is a great speaker.
Cool LED Flame Effect
This speaker comes with 96 LED's that make it look like it's a flickering flame that will add a romantic glow to your room while streaming your favorite tunes. This is a neat effect because the LED really mimics flickering flames incredibly well.
Compact Size
We like the fact that this speaker comes small and can sit in a little nook area of a room and take up any space. But don't worry because the sound you're going to get out of this small speaker will easily fill up a room.
Cost and Value
This is a bit more pricey than some of the other options on our list. But if you're looking for a speaker that will not only fill up a room with music but also fill up a room with warmth, then this is the speaker for you.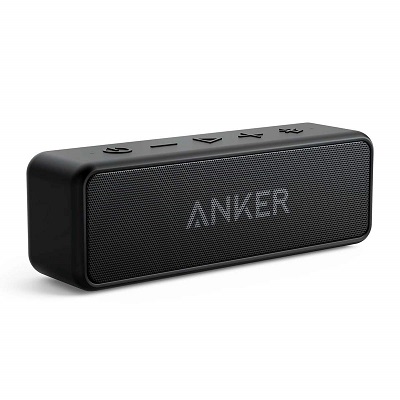 This product is an updated version of the SoundCore by Anker. Anker updated the bass and sound quality on this one. It has a higher wattage than most of the other comparable products on the market as well as the bass. It is rectangular in sound and is both wireless and waterproof.
Higher wattage
Pushing out 12 watts of sound provides the unit with plenty to brag about. This is one of the highest available for products within this price range and with wireless capabilities.
Better bass
This product has an amplified bass, many reviewers were surprised by the depth of the sound and bass emanating from this little speaker.
Cost and Value
A little higher in price than the rest of the products in this article but still pretty inexpensive considering the sound quality. This product also comes with an 18-month warranty. For these reasons, this product is worth the cost.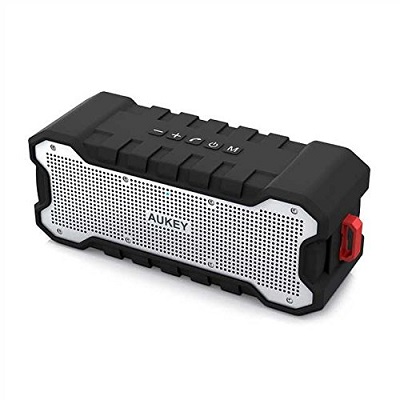 Coming in a little bit larger than the majority of products in this article. It has a tough appearance and is surrounded by silicone so you know that it will not only absorb vibrations but also be protected from drops. It has a 10-watt system and has 30 hours of listening time.
Updated Bluetooth system
With an updated 4.2 Bluetooth system that allows the user to go up to 33 feet before experiencing an interruption of service. It also offers a quicker and easier connection.
Mounting socket
Coming complete with a little mounting socket on its base so that you can mount it onto a stand if required. If purchasing additional models and mounting them as well you can create a surround sound environment.
Cost and Value
Landing roughly around mid-range in price. It is attached to a 24-month warranty and is both powerful and lightweight. Because of these reasons, this product is worth the cost.



This has a smooth ergonomic design. It has a soft silicone body and is easy to move around with. It also has a fun light show that moves with the music you are playing. It has a 33-foot range and is lightweight.
LED light-up feature
As an added bonus you get a fun LED light feature. It will give a light show that moves with the music when using it. Making it ideal for parties and when out with friends.
6-way connection
With the potential to connect to up to 6 others of its kind allowing the user to offer a full, surround sound experience when in use.
Cost and Value
This option is inexpensive in price and is ideal for all your party needs. Because it can connect to 6 other of its kind and the fun LED effects this product is perfect for all your party needs.

9

. Bugani Waterproof Speaker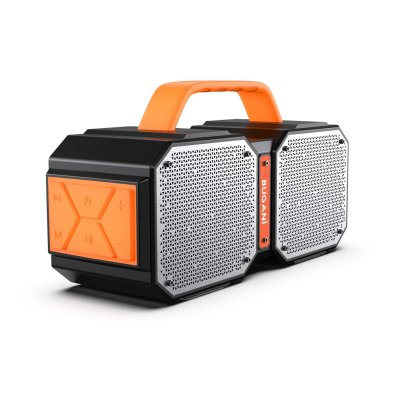 The reason we liked the Bugani was not only because it puts out a great sound and it's waterproof. We liked the Bugani because it looks like an old school boom box with a handle and two big speakers and we love that.
Shock Absorbing Shell
This is a great addition because from time to time your speaker is going to run into some trouble and fall off its perch and this shell will keep it running no matter the kinds of bumps and bruises inflicted on it.
Waterproof
The Bugani is waterproof and also can stand up to dust, snow mud, pretty much any liquid messiness that it gets put through. We'd also like to add that we've got better promises, a good 40 hours of life so it'll keep working wherever you go.
Cost And Value
This baby is expensive, at least more expensive than a lot of the other options on our list, but you're getting a lot with this speaker, it's big sound and long battery life and the fact that it's waterproof make it a good choice.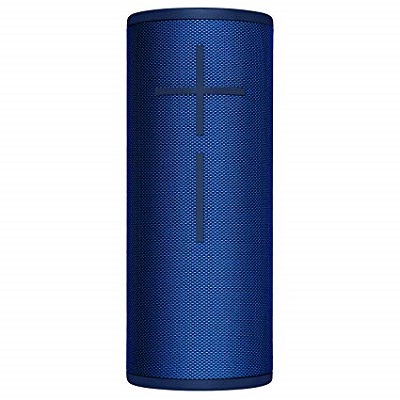 This speaker from Ultimate Ears was not only designed to be easily portable, but it can blast music 360 degrees so everyone around can enjoy. Made from high-quality materials, it is shockproof and waterproof and can be submerged in 1 meter of water for up to 30 minutes.
Voice Command
With the new upgrades, you are now able to control your speakers with your words. It features Google Now and Siri voice integration so you can call for your favorite tunes without the need of a phone.
Party Up
With this special feature, you are able to connect with up to 50 UE speakers wirelessly, allowing you to listen to your favorite songs no matter where you go.
Cost and Value
This will cost a little more than some of the other speakers on this list, but it is well worth it. Not only is it made to last, but the sound quality is amazing and provides 360 degrees of loud and clear bass and treble.

Subscribe to our Newsletter