Best Kayak Paddles Reviewed & Rated for Quality
In a Hurry? Editors choice: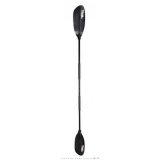 Test Winner: SeaSense X-Treme II

Kayak paddles come in different sizes, shapes, and price ranges. Purchasing one should not be difficult. For casual padding, any paddle will do as long as it's durable. For a seasoned kayaker, a durable
paddle
can make or break a kayaking experience. It is pretty much the most valuable piece of equipment you need - aside from the kayak itself. A good paddle can make a difference between a relaxing day in the water or a struggle through the rapids. Choosing the right size is more of an art rather than a science. When deciding on the right paddle, you'll not only want to decide on the appropriate length, but what category of paddle fits your lifestyle, and what ferrule and blade shape is right for you. We created this guide on what to look for when choosing a kayak paddle and evaluated our top picks.
Standout Picks
Criteria Used for Evaluation
Versatility
The reason most kayakers choose a straight shaft paddle is familiarity. Most have used one at some point. Other benefits you will get is a lighter-weight paddle that is less expensive. If a paddler can hold a looser grip to the paddle or if a good technique is used, focusing on the grip of the shaft is a benefit from this type of paddle.
The benefits of a curved shaft kayak pedal is for the kayaker who developed some pains and aches in their wrists and hands. This choice is best for people who has a firmer grip to their paddle. In keeping the wrists ergonomically correct, less pressure lies on the ligaments and tendons. This avoids any necessary pain. Even though you have to invest more, it can make a difference when you are in the water for a longer time. This choice alone allows a smoother transition from an older paddle. The only change you will see is your wrists will remain straight when you are paddling.
Size
Size and diameter are common factors and will depend on your body size. People that have smaller hands and bodies should look for a shaft that is smaller in diameter. This will accommodate a smaller or medium size blade and will allow a more relaxed grip on the paddle. The result is less strain on the body as a whole.
People that have larger hands and bodies should look for a standard diameter shaft. This will accommodate a medium or full-size blade and will allow a wider group, even though it will not guarantee more power. This will depend primarily on your fitness level.
If your hand size is 7 inches or larger from the base of the palm to your fingertip, choose a standard shaft. If your hand is smaller than 6.5 inches from the base to your fingertips, choose a small shaft. You can go either way if the measurements are in between.
Accuracy
Selecting the right size of a paddle is another common factor for the best paddling performance. For a wider boat, you need a longer paddle. Your height is another factor. This is particularly important if you have a narrower boat. Tall people will also require longer paddles. It is recommended that you check the website of the brand you are considering because there might be slight differences of requirements for each.
Materials
Paddles are constructed for high or low-angle kayaking. For a paddler who raises their blade higher than the shaft, lighter weight materials often result in less fatigue. A blade's material will also differ in how you paddle. Plastic is the word commonly used in describing the material of a blade. In specs, you will often see variations like "polypropylene" or "polymer" or blends of plastic that are infused with fiberglass or nylon. "Composites" is another term for fiberglass or carbon-fiber. Each one produces a modest gain in their performance on the water.
Nylon/Plastic Blades
Plastic is most commonly chosen by recreational paddlers. The side effect? It will eventually crack when left out in the sun. Depending on its flexibility, it will not snap in two. The catch? The flexibility of plastic in the water can sacrifice efficiency when paddling.
Fiberglass Blades
Fiberglass blades offer better durability and performance. It is more lightweight than plastic, which might risk the chances of chipping. However, it will not crack all the way through. The upside is that fiberglass blades are more efficient in the water.
Carbon-Fiber Blades
Carbon-fiber blades are ultralight. They are also efficient and ultra-stiff and delivers the best performance in the water
Take into consideration high-visibility blades. Colors such as yellow and orange are best for touring. Green and blue colors blend into water - which is more ideal for fishing. Specific angler paddles feature a notch in the blade. This helps with rescuing a fishing line that may accidentally get entangled in a tree without the risk of falling in the water to reach it.
Ease of Use
Paddle blades are matched or feathered. Matched blades are designed to be aligned identically with each other. Feathered blades are not identically aligned. They are designed to be slanted. This reduces resistance in windy conditions.
Nearly all shafts can be rotated to be feathered or matched. They also can be adjusted to how much feathering you want (usually in 15-degree increments). Some blades allow you to adjust them to any angle.
Left and right-handed control mean whichever hand rotates the shaft during a feathered stroke. You can set that up either way.
10 Best Kayak Paddles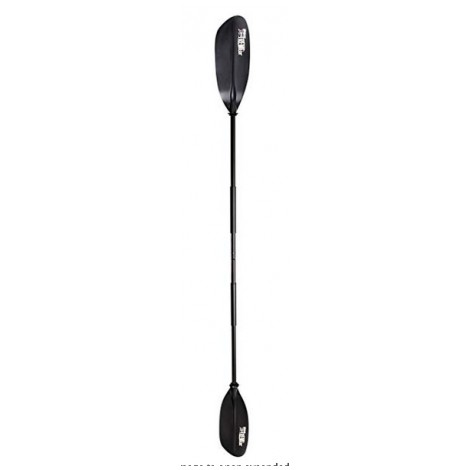 SeaSense is a company that is known for its competitive pricing and innovative products. Whether you choose to be a weekend boater or a knowledgeable buyer, consumer needs are the focus for everything they do. The SeaSense X-Treme II provides a seamless experience for fishing or for recreational paddling.
Feathered Blade
The concept of a feathered blade is fairly simple. This means that one blade is connected to the shaft at a different angle than the other. A perfect example would be an airplane propeller. Feathering is most beneficial when paddling into high winds. The higher the angle of the blade, the less resistance you will encounter while paddling. Many kayak paddlers find a feathered blade easier on their wrists on those long days of fishing, especially for paddlers whose strokes require more of a vertical paddling shaft.
Two Piece Construction
The majority of kayakers find they can comfortably store away a two-piece paddle or sit it inside their kayak. This two-piece construction comes apart, which makes it much easier to assemble and store. The fewer joints a paddle has, it is less likely to break. In addition, you will feel less 'quiver' as you paddle.
Cost and Value
SeaSense designated their products to be free of any manufacturer defects. They offer a limited warranty on their products. Any returned product must have a written description of the defect and a copy of the original purchase receipt. It must list the date of purchase, model number, name and address of the purchaser, and the authorized dealer. It must also list the price paid for by the purchaser.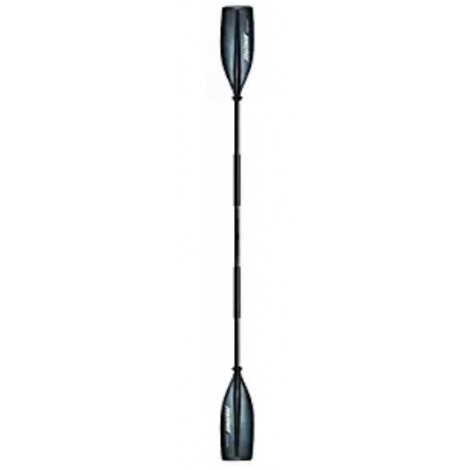 The SeaSense X-1 is a lightweight kayak paddle. It comes with a two-piece aluminum construction measuring a total length of 84". It also comes with ergonomic foam hand grips and the drip rings are adjustable.
Plastic Blades
The blades are made up of lightweight, molded plastic. When combined with the aluminum shaft, you are carrying a lot of weight. If you are a newbie to kayaking, this factor would be something to take into consideration. If you decide to purchase this model, do not take it out kayaking on the first day or you will quickly become fatigued.
Designed For Taller People
Torso length is a major component in selecting a kayak paddle. This model of the paddle measures 84". The length is ideal for a person who is 5'6" and over. Always verify to see that the paddle length is accurate for the width of your kayak or canoe.
Cost and Value
The SeaSense X-1 kayak paddle offers a good value for the person who is either looking to get started for the first time or for someone who is looking for an extra spare paddle. SeaSense offers a limited warranty. Any return on a product must have a written description regarding the cause of defect and a copy of the original price receipt. It must include the model number, date of purchase, name and the address of the purchaser, the price paid by the purchaser, and the authorized dealer.

3

. SeaSense X-Treme II Mix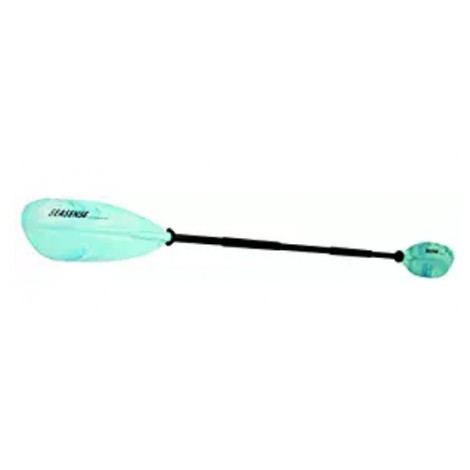 The SeaSense X-Treme II Mix comes with a feathered blade construction in a choice of vibrant colors. The two-piece design of the paddle comes apart. This makes it very easy to put away and makes it easier to assemble.
3 Different Locking Positions
This paddle comes with two hand grips which makes for comfortable paddling and has three different locking positions. Another added bonus is that it will not sink in the water if accidentally dropped.
Added Support Ridge
The shaft features a ridge that gives added support. This is what gives it added value you may not find in other compatible kayak paddles. The added strength ensures longevity through several uses.
Cost and Value
The SeaSense X-Treme II Mix Kayak Paddle is a great entry level paddle for any beginner. As compared to several inexpensive paddles, it has a smaller shaft size than some, adjustable, comes with foam grips, and it is lightweight. Because of all the features you get, this model a great value!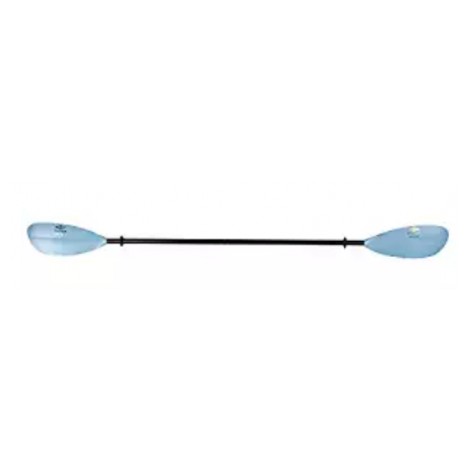 The Carlisle Magic Plus kayak paddle is designed to provide recreational paddlers a unique paddling experience and performance. This paddle is extremely flexible. Its is designed with asymmetrical blades that reduces torque and minimizes fatigue of the wrist.
Durable
Based on how it was constructed, this paddle was manufactured with professionals in mind. We were not able to leave this factor out from the review. Its shaft is made from fiberglass. It is both lightweight, yet durable. You are able to paddle for long hours without any feeling of fatigue or discomfort. The blades are designed with high impact, glass filled polypropylene. Like fiberglass, the paddle is lightweight, but it is also durable. You do not want the blades to split in case you hit anything by accident.
Solid strokes
The performance of a kayak paddle is predicated on a few factors. Your body's strength is one of them. The blade design and construction is just as important. This model features asymmetrical blades which are designed at a high angle. This results in a solid paddling stroke. It measures 7 inches in width and 18 inches in length. You will have to hold the paddle accordingly. The short sides of the blade faces the bottom. The longer sides of the blades faces up. Regarding its spooned design, the concave side of each blade faces you. It is recommended to make the adjustment before you use this paddle.
Cost and Value
It is a no-brainer to tell what makes this kayak paddle such a good seller. It is designed for general uses, but it also comes in different sizes and with professional features. The paddle is efficient for what it has to offer. It will make a practical choice for the professional kayaker.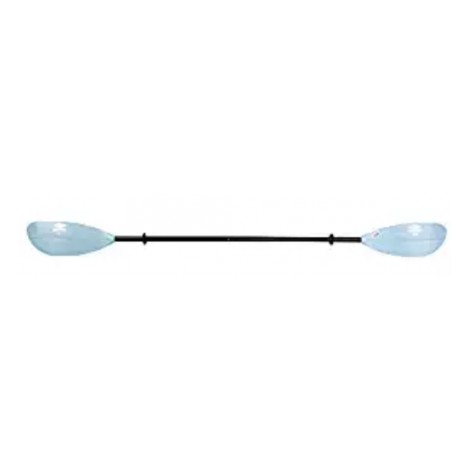 Carlisle offers outstanding recreational kayak paddles in a variety of designs and materials. Each model suits the conditions and specific needs of individual paddlers. Each one is built for durability. Whether you're a hardcore river rat or a beginner, Carlisle designs their paddles that's just right for you. With a fiberglass reinforced polyurethane blades and aluminum shaft, the Carlisle Magic Mystic Poly kayak paddle can be the ideal gift for the beginner. Its blades are manufactured to provide efficiency, offering oppressive power when paddling.
Kinked Design
The paddle features a 'kinked' design that is made to be forgiving for paddlers that has 'less than perfect' paddling techniques versus designs with a straighter paddle shaft. The slight bend helps to relieve stress on the wrists and hands for those who tend to hold the paddle with a firmer grip. The material is made of lightweight aluminum.
Durable, Cupped Shape Blade
The paddle is designed with a cupped shape. This provides the paddler with a powerful, strong paddling bite. With its durability, you do not have to worry about hitting a stray rock in the shallow river bend. Made of nylon resin, the fiberglass reinforced polyurethane paddle blades are as hard as steel. The aluminum black shaft is more resistant to 'wear and tear' while maintaining a comfortable, lightweight hold.
Cost and Value
Carlisle paddles are ready to deliver you years of worry-free performance. They provide exceptional reliability and strength at an awesome value. It comes in a cloud color with a one-year warranty and measures 90.5 inches.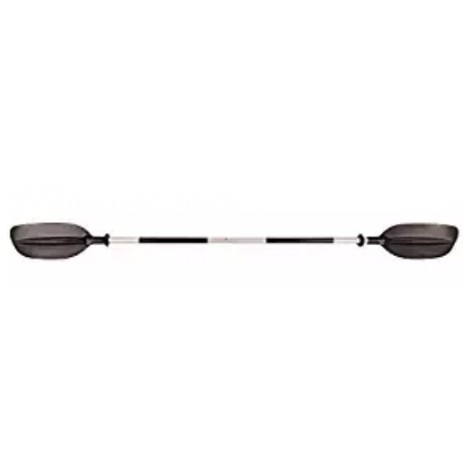 The Carlisle aluminum paddle is manufactured with a two-part construction for easier transportation on the water. The sides of the paddle lock via a "push-button" mechanism that enables boaters to arrange the blades at either a slant or in line for left and right-handed control. Paddles measures 220 cm in length - which is more ideal for taller people.
Aluminum Paddle Shafts
The paddle is reactive to conductivity and heat fluctuations in the water than its other models. That is how metal reacts. These paddles comes with an insulated area where you can warm your hands. In spite of its tape-thin appearance, the layer keeps the temperature of the paddle noticeably warmer than the unprotected areas of the shaft.
Drip Guards
The paddle features drip guards where each paddle blade connects with the shaft. This feature may seem like a small factor to consider. However, when the water is cold, anything that keeps cold hands warm can be a great thing!
Cost and Value
Between the value of the paddle and the features that promises warmer hands, there's much to benefit from if you are venturing into kayaking. It is likely that you will find competitive products that can keep your hands from getting cold. However, if you are unsatisfied with the paddle and its features, Carlisle's hassle-free 30-Day Money-Back Guarantee can give you peace of mind!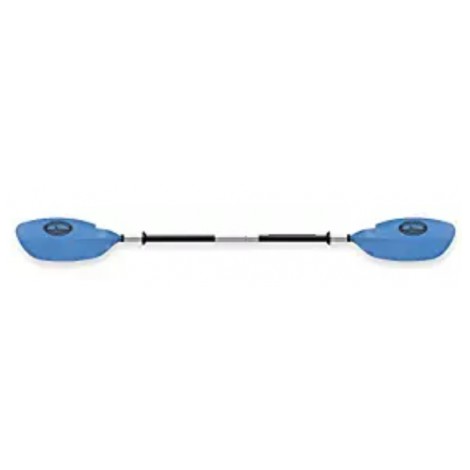 TRAC has its own company warehouse and office that's designed to serve its customers better. They are motivated to make kayaking activities more enjoyable and less work for customers. As a result, they design products to fill a specific need better than other alternatives. Their aim is to create solutions that no one else has addressed. Their company mission is delivering products with more features and greater value to fishermen and boaters.
Two Sizes to Choose From
You will notice that the paddle comes in two different sizes. The measurements are 7' and 8'8 ft. This is a practical solution to height users. As a result, kayaking becomes more enjoyable. Better comfort always results in a better paddling experience.
Sturdy
A strong paddle is a practical choice for kayaking. Thanks to TRAC's modern designing, you can benefit from a curved kayak paddle that's strong and lightweight at the same time. The anodized aluminum, lightweight shaft is made with reinforced polypropylene fiberglass blades for higher durability. It also features a 3-position, push-button settings.
Cost and Value
The TRAC curved paddle comes with a limited two-year warranty. A product's warranty starts from the date of purchase. It is non-transferable. Products are replaced or refunded at TRAC's discretion. Purchaser is required to provide proof of purchase. This rule applies to replacements, refunds, or warranty repair. Shipping charges will be paid back to the consumer for all warranties or repairs. You can contact their support team at 615-462-6224.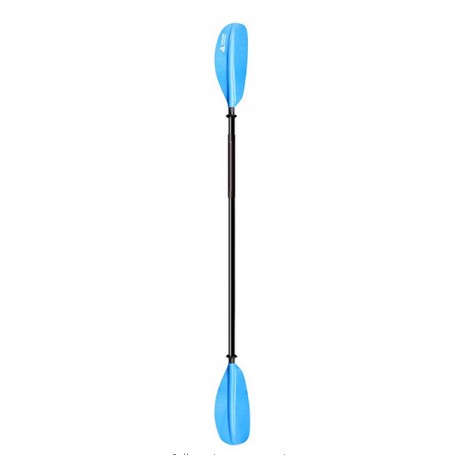 Aiming at kayak enthusiasts, Leader Accessories manufacture a variety of kayak products. With lasting durability and superior quality, their mission is that every customer receives exactly what they paid for and to strive for better customer satisfaction with their products. They guarantee competitive pricing, swift shipping, a ultimate buying experience, and high quality customer service.
Choice of Colors
With two different size options available to choose from, the Marine aluminum kayak paddles features an aluminum shaft. Their lightweight paddles comes in a choice of five colors: yellow, white, orange, black, and blue.
Unique Design
The Marine kayak paddle has an enforced push-button mechanism along with three locking positions. Regarding the blades, they are feathered-designed with plastic materials. The blades are recommended for use in light to medium waters for the best performance. While there is not much flexibility in the blade itself, they may not perform best at handling rough waters.
Cost and Value
This paddle is a great value for one who is looking for a middle-of-the-road kayak for an adventure. It will serve you very well. It will be a great paddle to start with. Since the company promises lasting durability and superior quality with this product, customers will receive competitive pricing, quality customer service, and swift shipping. Otherwise, you can contact the company via their website or their customer service number for a refund or exchange.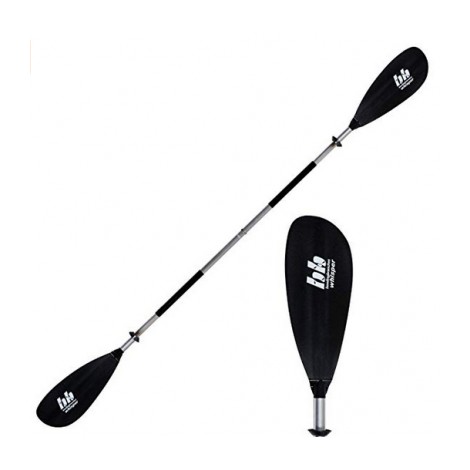 As one of the world's largest producers of quality kayak paddles, Bending Branches is a privately owned company located in Northwestern Wisconsin. Their personnel consists of paddling enthusiasts themselves. Each product is spent on testing, prototyping, and perfecting to make them lighter, more durable, and even more beautiful. When that is done, the company is always striving to make their products better than before. Customers have reported long-term use of these models for kayaking.
Plastic Ferrule
A ferrule is a connector that is used to join two pieces of a shaft. The basic ferrule unit is a male insert on one side of the shaft connecting to the female insert on the other end. The two ends are butted firmly into one whole shaft. The whole shaft is secured by a typical spring lock with a button insert. The button is pushed to release the lock for breaking down the paddle. These features is what you get in this model. Unlike a nylon ferrule that has a tight fit with easy breakdown, Bending Branches paddles are made with a plastic ferrule that will not seize up in salt water or sand.
Injection Molded Blade
The blades are molded asymmetrically. This prevents blade flutter when kayaking. First, the material used to create the mold is fed into a hot barrel. The mold is formed into a molded cavity where it cools and hardens. These molds are injected into metal (aluminum or steel) by an industrial designer and are precisioned to form the main components of the Bending Branches blade.
Cost and Value
If there is an issue with your paddle or replacing a part, you can submit an email with your name, mailing address, and a photo of your paddle. They will need a detailed description regarding the defect to see whether or not a replacement is needed.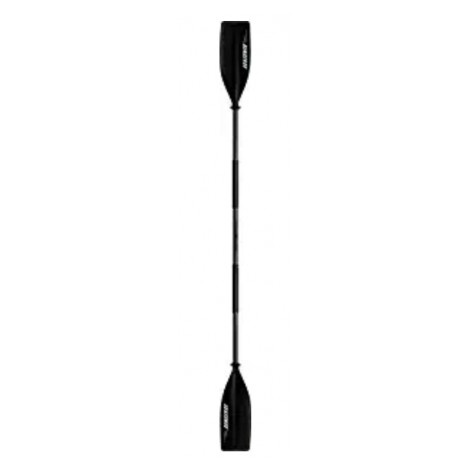 The SeaSense 8690 X-1 Unified paddle is quite similar to the X-1 kayak paddle. Like its predecessor, it features the same aluminum construction. It has a stable structure and has durability. It does not feel flimsy unlike competitive paddles. The blades are also constructed using molded black plastic.
Efficiency
Paddlers state that it cuts through the water effectively. It is constructed with the same straight shaft. Just like the X-1, the shaft features foam rubber grips and drip guards. With paddling, you will get a convenient grip to maneuver the paddle itself with no problem.
Will not Sink
With floatable capacity, you do not have to worry about losing your paddle forever. The bottom line is, it is nearly an identical paddle to the X-1 in every possible way. The only difference is in the size. The SeaSense 8690 measures 96-inches in length. The paddle is the perfect option for taller kayakers.
Cost and Value
Currently, SeaSense does not offer a money-back guarantee for its paddles. They do offer a limited warranty on their products. Any returned product must have a written description of the defect and a copy of the original purchase receipt. It must list the date of purchase, model number, name and address of the purchaser, and the authorized dealer. It must list the price paid for by the purchaser.

Subscribe to our Newsletter