Best Kayak Paddles Reviewed & Rated for Quality
In a
Hurry? Editors choice: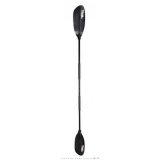 Test Winner: SeaSense X-Treme II

Kayak paddles come in different sizes, shapes, and price ranges. Purchasing one should not be difficult. For casual padding, any paddle will do as long as it's durable. For a seasoned kayaker, a durable
paddle
can make or break a kayaking experience. It is pretty much the most valuable piece of equipment you need - aside from the kayak itself. A good paddle can make a difference between a relaxing day in the water or a struggle through the rapids. Choosing the right size is more of an art rather than a science. When deciding on the right paddle, you'll not only want to decide on the appropriate length, but what category of paddle fits your lifestyle, and what ferrule and blade shape is right for you. We created this guide on what to look for when choosing a kayak paddle and evaluated our top picks.
Standout Picks
Criteria Used for Evaluation
Versatility
The reason most kayakers choose a straight shaft paddle is familiarity. Most have used one at some point. Other benefits you will get is a lighter-weight paddle that is less expensive. If a paddler can hold a looser grip to the paddle or if a good technique is used, focusing on the grip of the shaft is a benefit from this type of paddle.
The benefits of a curved shaft kayak pedal is for the kayaker who developed some pains and aches in their wrists and hands. This choice is best for people who has a firmer grip to their paddle. In keeping the wrists ergonomically correct, less pressure lies on the ligaments and tendons. This avoids any necessary pain. Even though you have to invest more, it can make a difference when you are in the water for a longer time. This choice alone allows a smoother transition from an older paddle. The only change you will see is your wrists will remain straight when you are paddling.
Size
Size and diameter are common factors and will depend on your body size. People that have smaller hands and bodies should look for a shaft that is smaller in diameter. This will accommodate a smaller or medium size blade and will allow a more relaxed grip on the paddle. The result is less strain on the body as a whole.
People that have larger hands and bodies should look for a standard diameter shaft. This will accommodate a medium or full-size blade and will allow a wider group, even though it will not guarantee more power. This will depend primarily on your fitness level.
If your hand size is 7 inches or larger from the base of the palm to your fingertip, choose a standard shaft. If your hand is smaller than 6.5 inches from the base to your fingertips, choose a small shaft. You can go either way if the measurements are in between.
Accuracy
Selecting the right size of a paddle is another common factor for the best paddling performance. For a wider boat, you need a longer paddle. Your height is another factor. This is particularly important if you have a narrower boat. Tall people will also require longer paddles. It is recommended that you check the website of the brand you are considering because there might be slight differences of requirements for each.
Materials
Paddles are constructed for high or low-angle kayaking. For a paddler who raises their blade higher than the shaft, lighter weight materials often result in less fatigue. A blade's material will also differ in how you paddle. Plastic is the word commonly used in describing the material of a blade. In specs, you will often see variations like "polypropylene" or "polymer" or blends of plastic that are infused with fiberglass or nylon. "Composites" is another term for fiberglass or carbon-fiber. Each one produces a modest gain in their performance on the water.
Nylon/Plastic Blades
Plastic is most commonly chosen by recreational paddlers. The side effect? It will eventually crack when left out in the sun. Depending on its flexibility, it will not snap in two. The catch? The flexibility of plastic in the water can sacrifice efficiency when paddling.
Fiberglass Blades
Fiberglass blades offer better durability and performance. It is more lightweight than plastic, which might risk the chances of chipping. However, it will not crack all the way through. The upside is that fiberglass blades are more efficient in the water.
Carbon-Fiber Blades
Carbon-fiber blades are ultralight. They are also efficient and ultra-stiff and delivers the best performance in the water
Take into consideration high-visibility blades. Colors such as yellow and orange are best for touring. Green and blue colors blend into water - which is more ideal for fishing. Specific angler paddles feature a notch in the blade. This helps with rescuing a fishing line that may accidentally get entangled in a tree without the risk of falling in the water to reach it.
Ease of Use
Paddle blades are matched or feathered. Matched blades are designed to be aligned identically with each other. Feathered blades are not identically aligned. They are designed to be slanted. This reduces resistance in windy conditions.
Nearly all shafts can be rotated to be feathered or matched. They also can be adjusted to how much feathering you want (usually in 15-degree increments). Some blades allow you to adjust them to any angle.
Left and right-handed control mean whichever hand rotates the shaft during a feathered stroke. You can set that up either way.
Subscribe to our Newsletter