Best Hands-Free Leashes Reviewed & Rated for Quality
In a Hurry? Editors choice: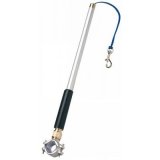 Test Winner: Walky Dog Plus

If you love to run, hike, or even just take your dog for a walk at the same time you get the baby out for some fresh air, then trying to hold the leash and push the stroller or even answer your phone can be difficult. You need not to turn your back on taking your dog on these things, because there are hands-free leashes that make walking your pet a breeze. There are many different options on the market today. Of course, you will need to consider the size and weight of your dog in order to find the leash that best fits your needs. In this review, we will check out the best 10 hands-free leashes, then review and rate them for quality, so that you will have a firm head start when you head out to find the best hands-free leash for your canine pal.
Standout Picks
Criteria Used for Evaluation
Value
Hands-free leashes can vary widely when it comes to price. The value of a well-constructed leash is priceless, so leashes were considered that provided the most value for your buck. Since many dogs have a habit of pulling against the leash or even chewing through it when they can, the list contains leashes that can withstand even the worst behaved pooch.
Materials
Whether you are running, walking, or hiking with your dog, a hands-free leash will work to keep you both in step and going together. Most leashes come with an adjustable waist belt that can be attached to the leash with either a D ring or a gliding loop that allows for flexibility when you are on the move. The materials should be sturdily made and this list took into account reviews of just how durable the materials these leashes were made out of are. Many of these leashes come with a short traffic handle for better control when in traffic with your dog as well.
Effectiveness
All hands-free leashes come with more than a few of the bells and whistles available in any product on the market today. However, all of those features do you little good if they don't work the way they should when you are walking, running, or hiking with your dog. To find the best leashes for you, this list concentrated on whether the leash was durable, had reflective stitching for low light visibility and whether reviews showed the leash functioned the way it was put out there too.
Support
Another important factor to consider when searching for the right hands-free dog leash is the amount of shock absorption the leash has. The leashes on this list offer the best amount of shock absorption for reducing back and arm strain on you and preventing joint problems with your canine pal should they decide to chase a squirrel or jerk away during your morning run.
Features
The features provided with the different hands-free leashes were judged as well. Many leashes can be used in different configurations, making it easier for you to walk with your pup when you are ready. For example, some leashes can be converted into a hands-on leash or even a tether to keep your dog from running off when you are taking a break from your run. Many leashes also come with an accessory pack that can hold your Smartphone, treats for your pup, or even your water bottle.
Style
One of the biggest things that pet-owners everywhere look for in a hands-free dog leash is the type of designs that they can get. You want to get a leash that will match your pet's collar after all. Most hands-free leashes come in a variety of colors, which makes it easy to match your dog's collar or even those cute little outfits that you can't help but put them in on occasion. 
Comfort
Comfort for Your Canine Pal
While it's extremely important for the waist belt to be comfortable for you, it's just as important for the leash itself to be comfortable for your pup. Make sure that you accurately know the weight of your pet before ordering a lease, as you don't want it to be too tight or too loose for him. Your dog will never get used to the hands-free leash if it is not comfortable for them. Most top-quality hands-free leashes are designed for comfort for the pet-owner and the pet as well.
Safety Hazards
Any time you are out walking, running or hiking with your dog, you need to be mindful of the safety of you both. Hands-free leashes usually come with reflective stitching to ensure that you and your pet can be seen in low lighting or when you are taking a walk after dark. Many of the top-quality leashes also come with a short traffic handle to give you more control and the ability to keep your pet safe when you are walking in traffic. Pets can become easily distracted and pull away as well, so most of these leashes come with superior shock absorbency to help prevent back and arm strain for the pet owner. Always remember to check for safety features on any hands-free leash you are considering purchasing.
Durability
While, there are, of course, different prices for the hands-free leashes on this list, that doesn't mean that one should be any less durable than the other. How durable the leash is, is one of the most important considerations to consider. The last thing you want is your leash breaking when you are walking or running alongside your canine pal. This could be dangerous to you and your pet. Most top-quality leashes are made of quality materials, three seam threads with reflective stitching, and easy to release clips so that you can get out of the waist belt quickly and safely if the need arises. Never skimp on the quality of a hands-free dog leash to spend less money. Remember, quality is the best way to ensure you and your pet stay safe on those walks you both have come to love.
10 Best Hands Free Leashes


The Walky Dog Plus hands-free leash allows you to ride your bike and walk your dog at the same time. With a 550-pound pull strength, the leash is also rot resistant and UV fade resistant, so you don't have to worry about the leash breaking and losing your dog during a bike ride. Made of high carbon stainless steel, the leash can be installed on your bike in under five minutes.
Leash is Adjustable
The leash can be let out 6.5 inches by just taking out two springs that are located within the steel wand. This allows for extra play in the leash itself.
Quick Lock and Release Capability
This hands-free leash can be installed on virtually any bike within five minutes. It also has a quick lock and release capability, that allows the leash to be moved from one bike to the other quickly.
Cost and Value
With the built-in shock absorbing system that allows the dog to pull without toppling your bike and the quick release capability, this hands-free leash is well-worth the cost and features number one on the list.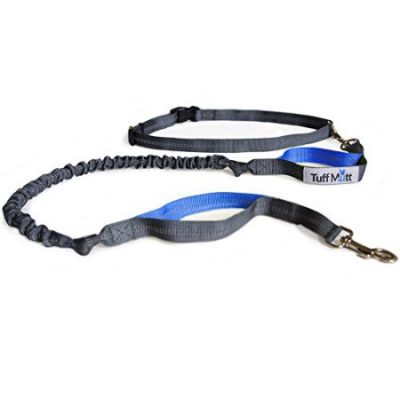 The Tuff Mutt hands-free dog leash is perfect for running, walking or even hiking with your canine pal. Made of high-quality material and three seams of reflective stitching, you are assured safety and the ability to be seen on those early evening or late night runs. The leash comes with a comfortable waist belt and features a shock absorbing bungee.
Shock Absorption
Anyone with a medium to large dog knows the jolt you get when your pup lunges forward or veers off the path. This hands-free leash absorbs unexpected lunges and helps you keep your footing. The bungee is placed so that it takes the tension off the dog when it's not needed and has an absorbed extension for strong pulling dogs.
Superior Running Room
With this 48-inch leash, your pup will have plenty of room to run alongside or in front of you. The leash is long enough to let you and your dog run comfortably, but short enough that it won't get in your way and have you tripping over it or your dog.
Cost and Value
With the quality of high-quality reflective stitching and easy glide belt attachment, it's easy to see how this hands-free leash made it onto the list. This combined with the dual control handles and quality bungee shock absorption makes it well worth the money to keep your pet safe during your runs.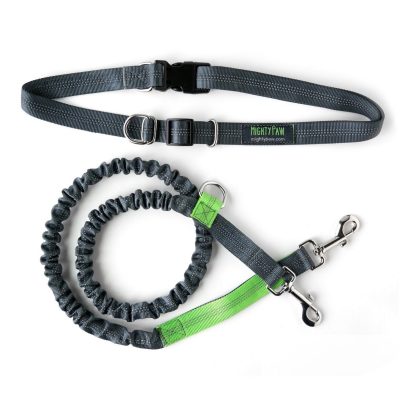 The Mighty Paws hands-free leash is a lightweight, reflective, bungee dog leash that comes in either 36 or 48-inch options. The leash is perfect for running, walking, hiking, or even training your dog. The leash features reflective stitching for those runs as the sun is going down. The leash is made of high-quality material that is weather resistant, so running in a light rain won't ruin your leash!
Lightweight Design
The leash features a belt that is intentionally made to be lightweight. Coupled with an easily adjustable connector, the belt is designed to fit waists up to 42 inches. The clasps and connectors are also made of lightweight material so that you aren't slowed down during your run.
Comfort
The bungee features a unique design that allows for greater flexibility and strength when walking your dog. Featuring 16 inches of spring and capable of extending to 56 inches, you can be sure that your walk will be relaxing. The leash is recommended for dogs who are 30 to 100 pounds.
Cost and Value
With the choice of two sizes and the unique combination of strength and flexibility, this hands-free leash is one that is well-worth the money spent. Coupled with the fact that the leash is weather resistant and has reflective threaded, this leash is a must-have for you and your dog.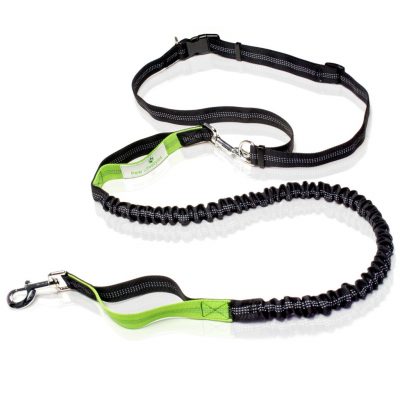 The Paw Lifestyles hands-free leash is perfect for taking any dog up to 150 pounds for a walk or run. The leash adds a new level of freedom, whether you are walking, running, or hiking with your dog. The leash features a belt that fits up to a 48-inch waist, reflective stitching, and expandable waist pouches that can easily hold your Smartphone.
Features
One of the best things about this hands-free leash is the features it has. From the dual zippered pouch that will hold your Smartphone with ease, to the other side where you can store your keys, treats for your pup or your cash, the up to 48-inch waist belt makes walking with your dog a breeze.
Gives You Total Control
The dual handles on the leash give you total control when handling your dog. It makes it easy to guide your pet through the park or neighborhood. In high traffic areas, it's simple to switch to the traffic handle to guide your pet through traffic safely.
Cost and Value
With the reflective stitching, dual expandable pouches and the D-ring that allows you to clip your pooper scooper or clicker to the belt, this is one of the more affordable leashes on the list and well-worth purchasing for your walks.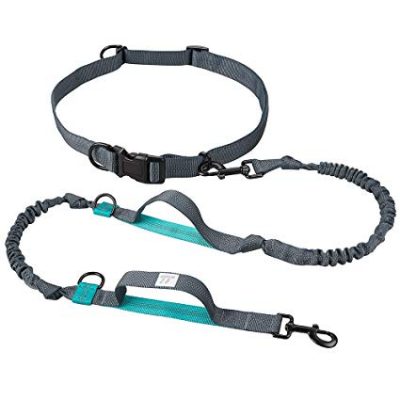 The Tao Tronics hands-free leash is made for keeping control when walking, running, or hiking with your dog. The leash is retractable and has dual bungees, making it easier to walk dogs up to 150 pounds. The built-in waist handle and bungee that absorbs the jolt if your dog should lunge forward, saving you injury or back strain.
Extra Safety at Night
Features reflective stitching for extra safety at night or in low light conditions. The leash provides extra visibility if you like to walk your dog after dark.
Reduced Risk of Injury
The hands-free leash has strong dual bungees that have a dual spring build that protects you from injury or back sprain when your dog suddenly lunges or jumps.
Cost and Value
With the extra handles for added control and the superior reflective stitching, this is a great value for the money. Couple that with the extra D rings for hooking on extras, such as poop bags, and this is a great bargain.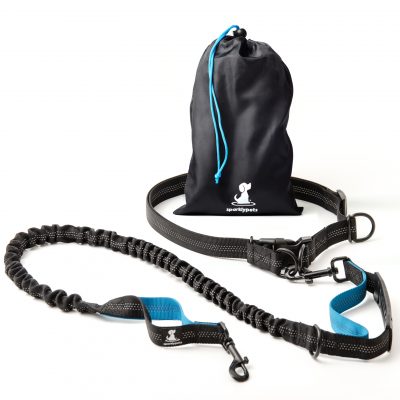 The Sparkly Pets hands-free leash is great for walking small and medium dogs. It's a professional harness that features reflective stitches and lets you train, hike, walk, jog, or even run with your pet, without having to keep your hand on the leash. The bungee on the leash can be extended to as much as 68 inches, leaving you and your dog plenty of room to travel.
Hands-Free or Hands On
There are sometimes when you need a more hands-on approach to walking your dog and times when having your hands free is better. This leash has you covered either way, as the leash comes with a rubber handle that makes it easy to switch from hands-free to hands-on in a matter of minutes.
Security Clips
This leash comes with a support mechanism that is equipped with two stainless steel clasps. These take all of the tension off of the plastic buckle and instead divides the pulling force to two different sides of the belt. You no longer have to worry about the belt coming unlatched and your pet running free.
Cost and Value
With the ability to make this leash hands free or hands-on, this hands free leash is one of the best priced on the list. It also features a storage bag for the leash that can be hung on the back of a door, which means no more searching for the leash ever again.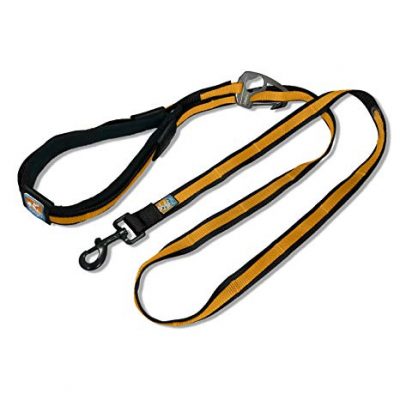 The Krugo 6 in 1 Quantum hands-free dog leash is six leashes in one. It includes adjustable features and has reflective trim since dogs often need to walked at night. It is the perfect running leash and made of high quality, strong nylon webbing. If you use different leashes depending on what you are doing with your pup, then this is the leash for you.
Six Leashes in One
The best thing about this leash is that it really six leashes in one. It features a courier style leash, hands-free around the waist leash, a 3-foot training leash, double dog leash, 6-foot leash, and a versatile tether so that you can latch it onto any tree, park bench or other object to keep your dog stationary and from wandering away.
Floating Paddle Handle
The floating paddle handle makes it possible to achieve comfort and support, no matter which leash you are using to walk or run with your dog.
Cost and Value
Just the fact that it's 6 leashes in one and the extra handle, make this hands free leash worth the price. Combine these features with the lifetime warranty and you have a winner for you and your dog for sure.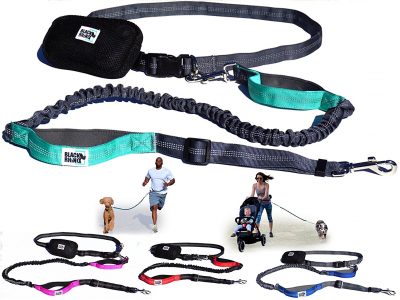 The Black Rhino Premium hands-free dog leash is not only perfect for running, walking or hiking with your dog, it is also parent-friendly. For medium to large dogs, the leash features neoprene dual padded handles and comes with a running pouch to hold items that you might need.
Parent-Friendly
Walking the dog and pushing your baby's stroller at the same time can be difficult, as it's hard to keep control of the dog and the stroller a the same time. This leash is parent-friendly, as the leash can be clipped to your belt so that both hands can stay on the stroller.
Neoprene Double Padded Handles
This leash as dual handles that are neoprene padded for ultra softness, yet extreme durability. You can also unattach the leash from your waist and use it as a standard leash. The short traffic handle is also a welcome bonus.
Cost and Value
With the dual neoprene padded handles and the adjustable length that reaches from 4.5' to 5'. It is also vet and physical therapist recommended for injury-free walking. All of these features combined make this hands free leash a good purchase to make.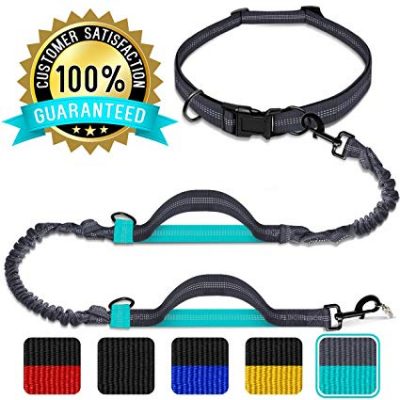 The Shine Hai hands-free dog leash is safe, strong and durable, making it perfect for everything from walking to running with your dog. The leash is designed for medium and large dogs and also with multiple dog owners in mind. The leash has five color options to choose from, an adjustable waist, and comes with a free ID tag for your dog.
Superior Safety and Control
The safety of you and your dog and the ability to control your pet should they get rowdy is important. This leash features two handles, one short, one long so that you can control your pet and keep them safe. You choose the level of control you want with the dual static and bungee resistance. The leash also features reflective stitching for low light visibility.
Ability to Walk Three Dogs
The best feature of this hands-free dog leash is the ability to walk three dogs at once. The belt features three D-rings so you can walk three of your pets at the same time.
Cost and Value
With its quality construction and the ability to walk multiple dogs at once, this hands-free leash is a good addition to any home with a dog. Combine that with the superior safety and control of having two handles, plus the free ID tag for your pooch and this leash is well-worth the money.



The Pet Dreamland hands-free leash features, not one, not two, but three heavy duty, extra long bungee leads to ensure the safety of your dog and to save you both from injury. The leash features reflective stitching on both sides of the leash and two neoprene padded handles to protect your hands. This leash is made to walk one to two medium to large dogs of up to 150 pounds.
3 Bungees
The best feature of this hands-free leash is the 3 bungee cords that come with it. You can use short, medium or long and in hands-free or hands-on mode and have the same results. Having 3 bungees guarantees your and your dog's safety from injury, joint and back sprains.
Reflective Stitching
The leash has reflective stitching on both sides of the leash so that it will be easier to spot you and your dog on those early morning or evening walks, where the light is dim or it is dark.
Cost and Value
With its 3 bungees and reflective stitching on both sides of the leash is more than worth the cost. Value is added with the two neoprene padded handles that not only protect your hands but help you keep better control of your dog at the same time.

Subscribe to our Newsletter