Best Portable Water Filters Reviewed and Rated
Portable water filters allow users to drink water that would potentially be unsafe to drink while outdoors. In many cases these systems are even used indoors for unpleasant tasting tap water. Keys to the best portable water filter are ease of use, few moving parts and low cost.
Our Top 3 Picks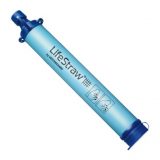 LifeStraw Filter

Our rating
No chemicals or batteries
Price: See Here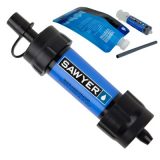 Sawyer Products Filter

Our rating
Includes 7 inch straw
Price: See Here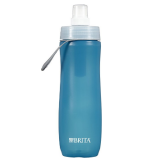 Brita Water Filter

Our rating
Dishwasher safe
Price: See Here
Best Brands
Brita and LifeStraw are the biggest names in portable water filters. The latter is an award winning organization that is used worldwide in several countries. They have both the regular straw and one that comes with a bottle, and are considered world leaders in the industry.
Maintenance and Cleaning Tips
It's vital to use the cleaning instructions and equipment provided with water filters. Not only do they prolong the life of the filter, but it also keeps the unit from clogging up. While some filters on the list come with an included syringe to clean the insides, others simply require rinsing or light blowing to get rid of the excess water.
Best Portable Water Filters Reviewed
Here below you will find the best portable water filters available on the market today. We reviewed in detail each item to help you choose the best one for your needs.
1. LifeStraw Personal Water Filter
You can't beat the award winning Lifestraw for ease of use, portability and longevity. Considered to be the best since 2005, it continues to help the world get fresh, clean water.


Expand to see more
Portability

You really can't beat the Lifestraw in terms of size, as it is lighter than a smartphone and can even fit in your pocket. With the sealed bag that it comes with, you'll have it ready to go anytime, anywhere.

Features and Specifications

Filters up to 1000 liters of water
Weighs only 2 ounces

Price/Value

Low priced and portable, you just can't deliver a better product than the LifeStraw. It's been used for years by millions worldwide and continues to be the best portable water filter available.

Decision Time

Picking up a couple of these and putting them in your backpack won't take up any room at all. LifeStraw stands alone at the top, and continues to be a great choice for getting the most out of bad water.
No chemicals or batteries used
Uses proven hollow fiber membrane filter
Does not filter out chemical toxins
2. Sawyer Products Mini Water Filtration System
Options for the customer is always a good thing, which is exactly what makes this Mini Water Filtration System so good. There is something for everyone with this package whether you're an individual or a group.


Expand to see more
Customization Options

Colors available are blue, black, green, pink and camo. There are also limited edition colors, and pack options for 1, 2, 4 and special gift packs.

Features and Specifications

Filters up to 100,000 gallons
Comes with 16 ounce reusable squeeze pouch

Price/Value

Depending on which package you decide to pick up, the price will either be low or high. You get more value from the gift packs, so keep that in mind when deciding on which to buy.

Decision Time

This is the best bulk deal on the list, with a lot of potential to work well for groups that go hiking. Compact and easy to use, you'll be able to enjoy several thousands of gallons of filtered water for years.
Includes 7 inch drinking straw
Also comes with cleaning plunger with instructions
Squeezable bag is low quality
3. Brita 20 Ounce Sport Water Bottle with 1 Filter
It doesn't get much better than this Brita water bottle, which has the same reliability as the rest of the Brita line. Buyers that have used the company's other water filtration products will be familiar with the award winning system.


Expand to see more
A Must Have

This is the lowest priced water bottle on the list by a mile. Customers that want to try water filtration out should consider this a safe purchase for getting started.

Features and Specifications

Dishwasher safe
Built in carrying loop

Price/Value

As the lowest priced water filter on the list and possibly the entire industry, buyers can't go wrong with a branded Brita product. The company has and will continue to stand the test of time.

Decision Time

A great variation of colors and quick on the go filtration are the main selling points of this model. No matter where you go, it will be ready to filter water in a few seconds.
Comes in blue, green, lilac, mint, mint spirals, mod columns and orange
Filter replaces up to 300 16.9 ounce water bottles
Design of the bottle prevents the last bit of water from being squeezed out
4. LifeStraw Go Water Bottle with Integrated 1,000 Liter LifeStraw Filter
The all in one construction of the Lifestraw Go is what will initially attract most people to it. Without having to pump water continuously until full, this turns into the most painless filter to use when on the go.


Expand to see more
No Moving Parts

No pumping, and no batteries needed. Simply dip it in water and suck from the straw and the water is automatically filtered. It doesn't get any better than that!

Features and Specifications

Filters 264 gallons of water
BPA-free and leak proof bottle

Price/Value

With the incredible amount of time that it lasts, the low price it is being offered at is fitting. There aren't a lot of water filters that are this easy to use and long lasting.

Decision Time

The limitations are very few with this bottle, and the company has gone out of its way to be helpful worldwide. For an easy pick up and go version of water filters, buying this will turn into your best purchase yet.
Available in blue, green, grey, pink and purple
Can be purchased in 1 stage or 2 stage filter models
May have a chemical aftertaste
5. Survivor Filter PRO-LE Upgraded 0.01 Micron Nanofiltration Water Purifier
Looking at the Survivor Filter Pro-LE as something different would be the correct choice, as its powerful filtration system works hard to make water fresh. It's small enough to go with you anywhere yet powerful enough to handle big tasks.


Expand to see more
Dual Membrane Filters

Replaceable and long lasting, you can reuse it until you pass 100,000 liters. The internal carbon filter is good for 2,000 liters, which is more than enough for the hardcore hiker.

Features and Specifications

Flow rate of 17 ounces a minute
Steel draw bar for reinforced pumping


Price/Value

There is a genuine interest in the price of this product since it is barely midrange. Considering how well developed it is, buyers will end up getting a great deal at the current price.

Decision Time

Buyers will always have a use for compact filtration systems that last a long time. As long as you keep the unit clean it will last you years of use before needing an actual replacement.
Durable construction inside and out
Exterior is made of military grade BPA-free ABS materials
Goes through filters faster than other products
6. Etekcity Portable 1500L Emergency Camping Water Filter
Compact and extremely useful, the Etekcity Portable 1500L is a must have companion for any hiker. It handles dirty water like a champ and turns it into fresh drinking water within minutes.


Expand to see more
Three Stage Advanced Filtration

It's surprising that one of the strongest filters on the list comes from the smallest item. Several contaminants are eliminated in the filtration process with the pre-filter, carbon filter and UF membrane inline filter.

Features and Specifications

1500 liters per filter
Includes extension straw, syringe for cleaning and water pouch

Price/Value

This is one of the lowest priced filters on the list, so is very customer friendly. With all of the extras thrown in with the original purchase, this may be the best filter to consider as a gift.

Decision Time

For such a small water filter to be this powerful is amazing, and it will definitely get the job done. You can count on this model to make your dirty water palatable without making you sick.
About the smallest on the go filter you can get
Syringe makes cleaning a breeze
Drawing water from it can be a chore
7. Katadyn Vario Water Filter
This is another one of the hand pump manual models that have become famous over the years. Don't let the traditional look fool you, as this is one of the most advanced water filters on the list.


Expand to see more
Multiple Pumping Modes

One mode is for slower pumping and pumps out one quart per minute, prolonging filter life. The other mode pumps out two quarts a minute but drains the filter.

Features and Specifications

Glass fiber filter
Replaceable Katadyn carbon core

Price/Value

At about the midrange price, most users will be more than happy to purchase it. With a full warranty included the unit will show its worth within a short time period.

Decision Time

Don't let the filter swap outs keep you from one of the better options on the list. It is a necessary evil for most users, and keeps the most harmful contaminants in water out.
1 year full warranty
Included cleanable ceramic disc
8. EveryDrop by Whirlpool Premium Water Filter by Whirlpool
When a leader in the appliance industry comes out with a water filter, everyone turns their heads. Whirlpool has come with an interesting solution to the water filter problem, and a lot of people like it.


Expand to see more
Two Replacement Filters Are Included

Having two filters included is a major deal, especially when you factor in the replacement cycle. The customer will save money upfront, and it also saves them a trip to the store.

Features and Specifications

Filters a gallon every 2 minutes
Each filter lasts 2 months or 60 gallons

Price/Value

For a really low price they are giving away six months of filters, so it is a really good deal. The filter is as portable as you want to make it.

Decision Time

There really hasn't been anything on the market like this, and if the filters lasted longer it would be higher up on the list. This is still one of Whirlpool's best, and a fine addition to the list.
Comes with 3 filters total
Also comes with a protective traveling case
9. Survival Water Filter BPA Free Portable Purifier
Keeping things simple, this portable water filter is a favorite among hardcore hikers. This is about as light a water filter that you can get without losing effectiveness.


Expand to see more
Simple Use

Fill a bottle with dirty water and attach the end to the filter, squeeze the bottle or suck on the straw at the end and you'll get clean water as a result. It can even be used on demand with a lake or river.

Features and Specifications

Removes 99.9% of waterborne protozoan parasites
Mirror, compass and tubing included

Price/Value

This is one of the lowest priced filters on the list, but also one of the hardest to use. The value of this model will come down to the experience level of the user.

Decision Time

All of the extras included with this filter are a real bonus, and extends the bells and whistles of the product. You'll find a use for this beyond its filtration abilities which are already top notch on their own.
A removable whistle is in the cap
Only have to replace the filter after 400 gallons or 5 years
Some customers will have a hard time using it
10. SR MiniWorks EX Microfilter
A little bit of manual labor goes a long way with the SR MiniWorks EX Microfilter. Its basic functions are all you'll ever need to get clean, fresh filtered water.


Expand to see more
Fast And Efficient

The AirSpring Accumulator allows the user to pump up to 1 liter a minute. That's pretty fast for manual filtering, and all without missing vital compounds in non-filtered water.

Features and Specifications

2000 liter cartridge life
Water bottle adapter included

Price/Value

For the amount of contaminants that are removed from the water, the midrange price seems about right. And with a long filter life the value doubles instantly.

Decision Time

With the high filter rate and minimal amount of work to get clean water, buyers will be pleased with this purchase. A lot of time will pass before you have to change the filter on this model.
Limited lifetime warranty
Indicator for when cartridge needs to be replaced
How To Make The Best Decision When Choosing A Portable Water Filter
Factoring in the cost of filters and how many liters/gallons they go through will help in making a good buying decision. If you spend more per year on filters than you want, then getting a product that offers higher capacity filtration would be the best idea. You should also consider if you want to manually pump the water, or if you'd prefer something less mechanical.
FAQ
Do Portable Water Filters Work With Sea Water?
No, most don't desalinate water so the salt will remain in it. You want a more heavy duty solution in this case.
Will The Water Still Taste Bad?
Some of the portable water filters on the list get rid of the chemicals in water that cause bad odor and taste, while some just get rid of the harmful chemicals that will wreak havoc on your system. Make sure to read the features if you are looking to make the water more palatable.
Are The Filter Lifespans Accurate?
Universally no, and they should be considered an estimate only. Filter life even with regular cleanings will depend strongly on the quality of the water being filter. So really bad water will shorten the life of the filter faster while decent water will bring it closer to the listed lifespan.
Subscribe to our Newsletter