Best Portable Water Filters Reviewed and Rated
If you've ever watched one of those survival shows, you'll notice that the expert always says that the first thing you need to do when out in the wilderness is to find a water source. This element is essential for living and the effects of dehydration are quick, damaging, and can even be fatal! Not drinking clean, safe water for even a day can cause exhaustion, cramps, confusion, joint aches, and can lead to heatstroke. And in order to survive, you need to have all your wits about you. Otherwise, you can be in some real trouble.
Of course, carrying a few gallons of water with you whenever you go camping, hunting, or enjoying other outdoor activities, is not practical. That is why finding a drinking source is so important. Next, you have to make sure that the water is safe to drink, if not, it can cause vomiting, cramps, diarrhea, and death. The best and most convenient way to ensure this is by always having a portable water filter with you.
A portable water filter is a self-contained device that allows you to purify water by removing parasites, bacteria and other contaminates. Lucky for you, the market is filled with affordable and very effective products that do just this. If you are planning an outdoor trip anytime soon, then getting one is a must. Don't stress if you are having problems figuring out which one you should get. We've compiled a list of the best portable water filers available and included information on some of their best features to help you get exactly what you need!
Featured Recommendations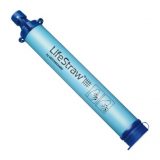 LifeStraw Filter

Our rating
No chemicals or batteries
Price:

See Here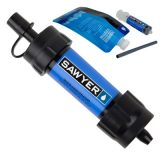 Sawyer Products Filter

Our rating
Includes 7 inch straw
Price:

See Here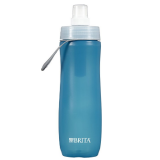 Brita Water Filter

Our rating
Dishwasher safe
Price:

See Here

Best Brands
Brita and LifeStraw are the biggest names in portable water filters. The latter is an award-winning organization that is used worldwide in several countries. They have both the regular straw and one that comes with a bottle and are considered world leaders in the industry.
Maintenance and Cleaning Tips
It's vital to use the cleaning instructions and equipment provided with water filters. Not only do they prolong the life of the filter, but it also keeps the unit from clogging up. While some filters on the list come with an included syringe to clean the insides, others simply require rinsing or light blow to get rid of the excess water.
10 Best Portable Water Filters
1. LifeStraw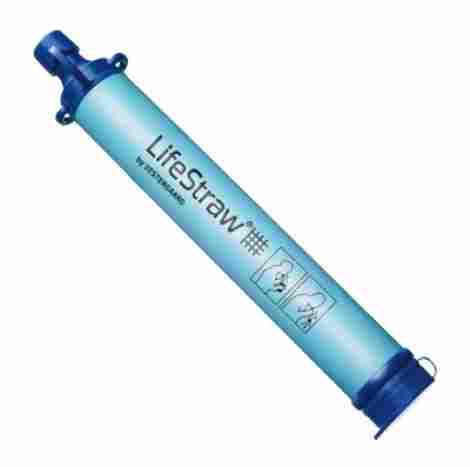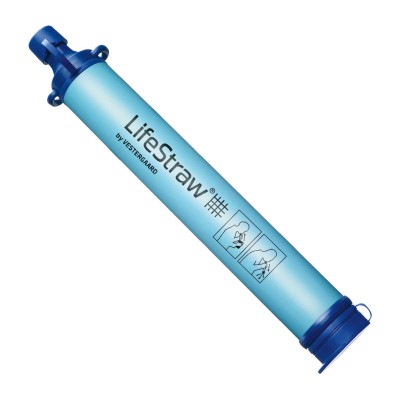 You can't beat the award-winning Lifestraw for ease of use, portability, and longevity. Considered to be the best since 2005, it continues to help the world get fresh, clean water.


Expand to see more
Portability

You really can't beat the Lifestraw in terms of size, as it is lighter than a smartphone and can even fit in your pocket. With the sealed bag that it comes with, you'll have it ready to go anytime, anywhere.

Features and Specifications

Filters up to 1000 liters of water
Weighs only 2 ounces

Price/Value

Low priced and portable, you just can't deliver a better product. It's been used for years by millions worldwide and continues to be the best portable water filter available.

Decision Time

Picking up a couple of these and putting them in your backpack won't take up any room at all. LifeStraw stands alone at the top and continues to be a great choice for getting the most out of the bad water.
No chemicals or batteries used
Uses proven hollow fiber membrane filter
Does not filter out chemical toxins
2. Sawyer Products Mini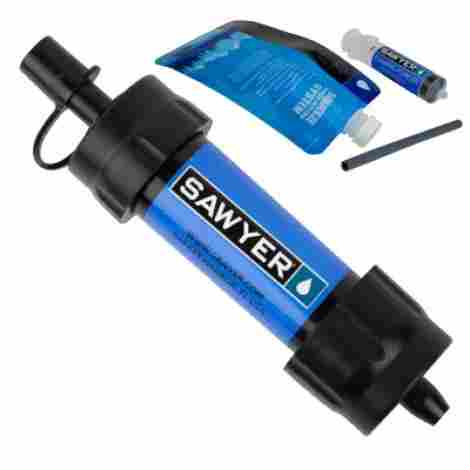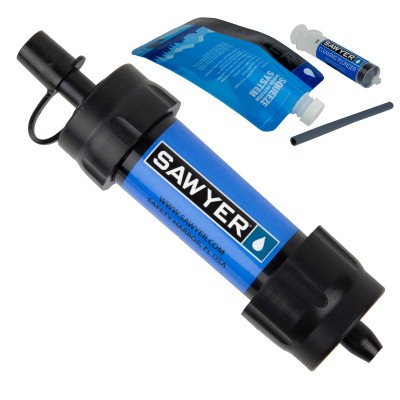 Options for the customer is always a good thing, which is exactly what makes this Mini Water Filtration System so good. There is something for everyone with this package whether you're an individual or a group.


Expand to see more
Customization Options
Colors available are blue, black, green, pink and
camo
. There are also limited edition colors, and pack options for 1, 2, 4 and special gift packs.
Features and Specifications
Filters up to 100,000 gallons
Comes with 16-ounce reusable squeeze pouch
Price/Value
Depending on which package you decide to pick up, the price will either be low or high. You get more value from the gift packs, so keep that in mind when deciding on which to buy.
Decision Time
This is the best bulk deal on the list, with a lot of potential to work well for groups that go hiking. Compact and easy to use, you'll be able to enjoy several thousands of gallons of filtered water for years.
Includes 7 inch drinking straw
Also comes with cleaning plunger with instructions
Squeezable bag is low quality
3. Brita Sport


It doesn't get much better than this Brita water bottle, which has the same reliability as the rest of the Brita line. Buyers that have used the company's other water filtration products will be familiar with the award-winning system.


Expand to see more
A Must Have
This is the lowest priced water bottle on the list by a mile. Customers that want to try water filtration out should consider this a safe purchase for getting started.
Features and Specifications
Dishwasher safe
Built-in carrying loop
Price/Value
As the lowest priced water filter, buyers can't go wrong with a branded Brita product. The company has and will continue to stand the test of time.
Decision Time
A great variation of colors and quick
on the go
filtration are the main selling points of this model. No matter where you go, it will be ready to filter water in a few seconds.
Comes in blue, green, lilac, mint, mint spirals, mod columns and orange
Filter replaces up to 300 16.9 ounce water bottles
Design of the bottle prevents the last bit of water from being squeezed out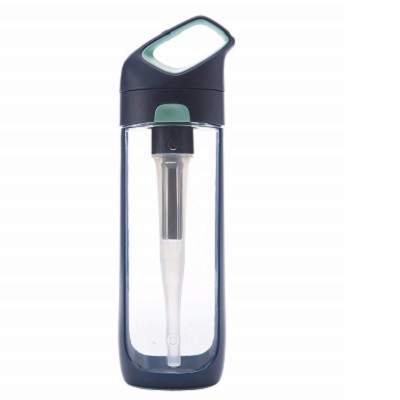 This beautifully designed canteen is constructed from FDA approved Eastman Triton polyester, which is not only BPA-free, but is also durable, clear and safe for your health. The unique design includes a silicon seal that prevents leakage, which makes it ideal for storing in a backpack, purse, tote, or gym bag.


Expand to see more
Easy Flow Technology

Unlike many other similar devices which requires tilting, squeezing, sucking, or biting, the KOR Nova features specially engineered easy flow technology and silicon mouthpiece which allows you to easily sip the liquid out.

Health-Safe Filter

The filter is carbon activated and made from 100% coconut shell to provide you with an all-natural health-safe product. It is also certified and meets NSF 42 standards to help eliminate chloramines, chlorine, bad odors and taste to give you fresh and satisfying refreshment.

Features and Specifications

Holds up to 22 ounces of liquid
Mouthpiece is made with FDA approved silicon
Includes one filtering straw and a starter filter

Decision Time

This is a very nice looking water filter, but it is not designed to filter non-potable water. So if you plan on spending some time outdoors and want to filter water from a stream or lake, this is not the product for you.

Made from BPA-free material
Lid seals to prevent leaks
Can hold 22 ounces of water
Designed for one hand use
Some reviewer found it laborious to use
Limited filter effectiveness
5. Survivor Filter PRO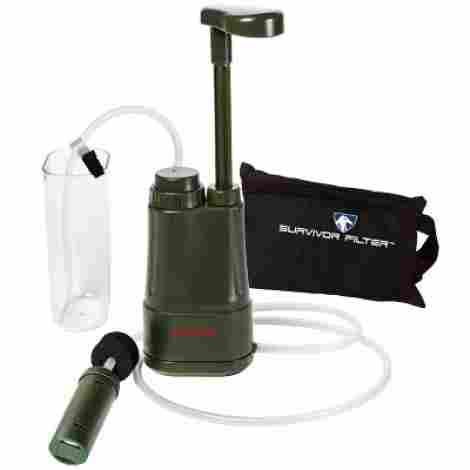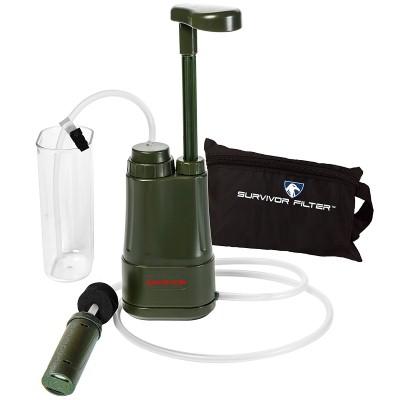 Looking at the Survivor Filter Pro-LE as something different would be the correct choice, as its powerful filtration system works hard to make water fresh. It's small enough to go with you anywhere yet powerful enough to handle big tasks.


Expand to see more
Dual Membrane Filters

Replaceable and long-lasting, you can reuse it until you pass 100,000 liters. The internal carbon filter is good for 2,000 liters, which is more than enough for the hardcore hiker.

Features and Specifications

A flow rate of 17 ounces a minute
Steel drawbar for reinforced pumping


Price/Value

There is a genuine interest in the price of this product since it is barely midrange. Considering how well developed it is, buyers will end up getting a great deal at the current price.

Decision Time

Buyers will always have a use for compact filtration systems that last a long time. As long as you keep the unit clean it will last you years of use before needing an actual replacement.
Durable construction inside and out
Exterior is made of military grade BPA-free ABS materials
Goes through filters faster than other products
6. Etekcity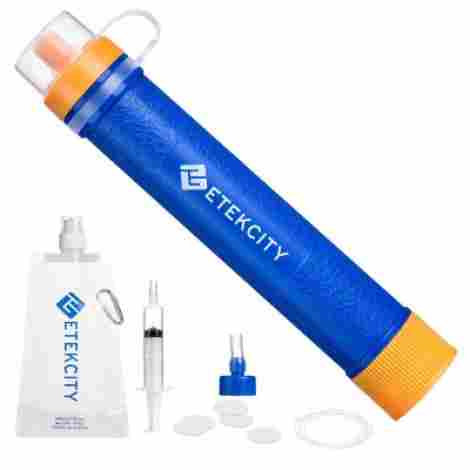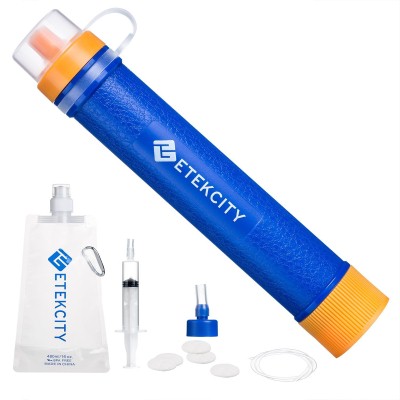 Compact and extremely useful, the Etekcity Portable is a must-have companion for any hiker. It handles dirty water like a champ and turns it into fresh drinking water within minutes.


Expand to see more
Three Stage Advanced Filtration
It's surprising that one of the strongest filters on the list comes from the smallest item. Several contaminants are eliminated in the filtration process with the pre-filter, carbon filter, and UF membrane inline filter.
Features and Specifications
1500 liters per filter
Includes extension straw, syringe for cleaning and water
pouch
Price/Value
This is one of the lowest priced filters on the list, so is very customer friendly. With all of the extras thrown in with the original purchase, this may be the best filter to consider as a gift.
Decision Time
For such a small water filter to be this powerful is amazing, and it will definitely get the job done. You can count on this model to make your dirty water palatable without making you sick.
About the smallest on the go filter you can get
Syringe makes cleaning a breeze
Drawing water from it can be a chore
7. Grayl Water Purifier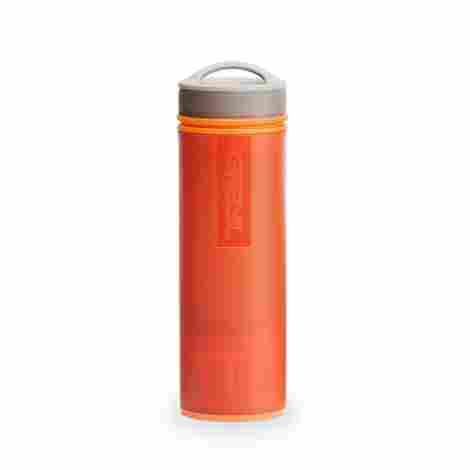 This was engineered and built for the outdoor adventurer in mind. It has an award winning two step design which allows you to purify fresh water from anywhere in the world in just 15 seconds. It's easy to use and protects against pathogens, chemicals, and heavy metals.


Expand to see more
Two Step Design

Grayl is known and trusted by outdoor adventurers around the world and is an industry leader when it comes to innovation and dependability. This canteen features the company's patented one step design in which your body weight is used to push the water through the filter to produce safe and clean drinking water. You simply, fill, press, and drink.

Extra Protection

This item has been tested and used on fresh water sources all around the world and goes beyond just removing protozoa and bacteria. The purifier cartridge uses three technologies to remove more than 99% of disease causing bacteria, viruses, and protozoan cysts.

Features and Specifications

Comes in four different colors
Purifier cartridge combines three different technologies

Decision Time

This is a great item for those outdoor adventurers looking to live of the land. It can also come in very handy during emergency situations when there is no potable water available. It's a good idea to have one at home just in case.

Eliminates the full spectrum of pathogens and chemicals
Built to handle harsh environments
Absorbs many chemicals, heavy metals, and bad odors and taste
Purifies water in 15 seconds
Some reviewers found it difficult to push down
Can only hold a small amount of water
8. Whirlpool EveryDrop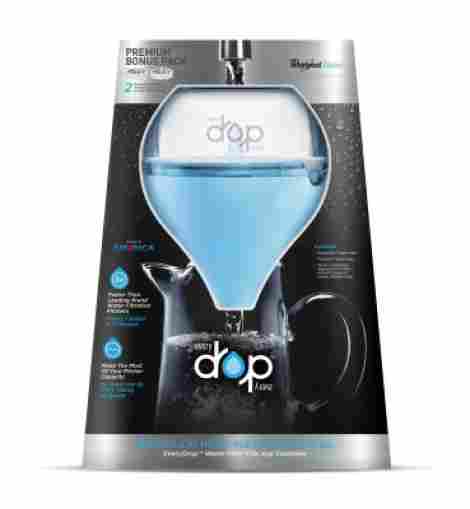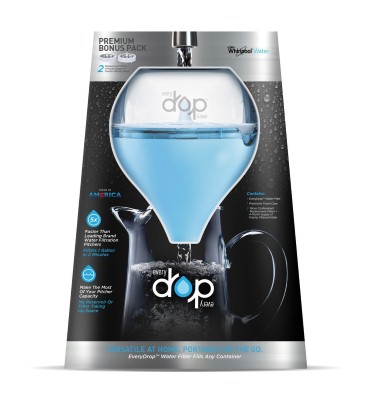 When a leader in the appliance industry comes out with a water filter, everyone turns their heads. Whirlpool has come with an interesting solution to the water filter problem, and a lot of people like it.


Expand to see more
Two Replacement Filters Are Included

Having two filters included is a major deal, especially when you factor in the replacement cycle. The customer will save money upfront, and it also saves them a trip to the store.

Features and Specifications

Filters a gallon every 2 minutes
Each filter lasts 2 months or 60 gallons

Price/Value

For a really low price they are giving away six months of filters, so it is a really good deal. The filter is as portable as you want to make it.

Decision Time

There really hasn't been anything on the market like this, and if the filters lasted longer it would be higher up on the list. This is still one of Whirlpool's best, and a fine addition to the list.
Comes with 3 filters total
Also comes with a protective traveling case
9. Survival BPA Free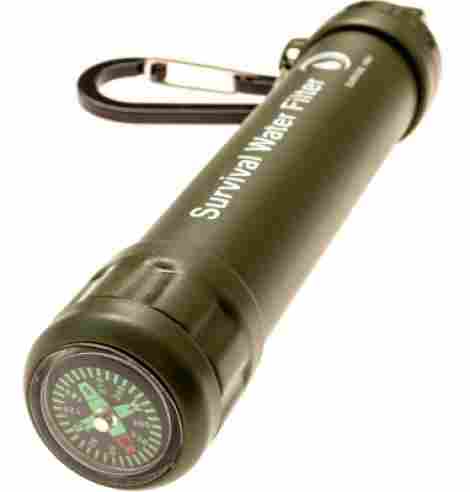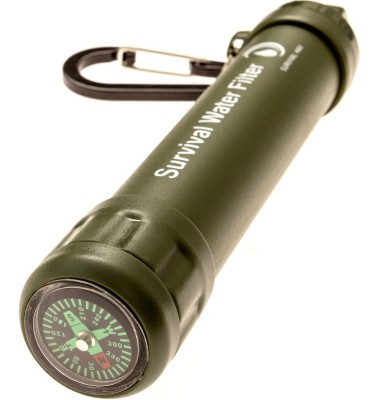 Keeping things simple, this portable water filter is a favorite among hardcore hikers. This is about as light a water filter that you can get without losing effectiveness.


Expand to see more
Simple Use

Fill a bottle with dirty water and attach the end to the filter, squeeze the bottle or suck on the straw at the end and you'll get clean water as a result. It can even be used on demand with a lake or river.

Features and Specifications

Removes 99.9% of waterborne protozoan parasites
Mirror, compass, and tubing included

Price/Value

This is one of the lowest priced filters on the list, but also one of the hardest to use. The value of this model will come down to the experience level of the user.

Decision Time

All of the extras included with this filter are a real bonus and extends the bells and whistles of the product. You'll find a use for this beyond its filtration abilities which are already top notch on their own.
A removable whistle is in the cap
Only have to replace the filter after 400 gallons or 5 years
Some customers will have a hard time using it
10. SR MiniWorks EX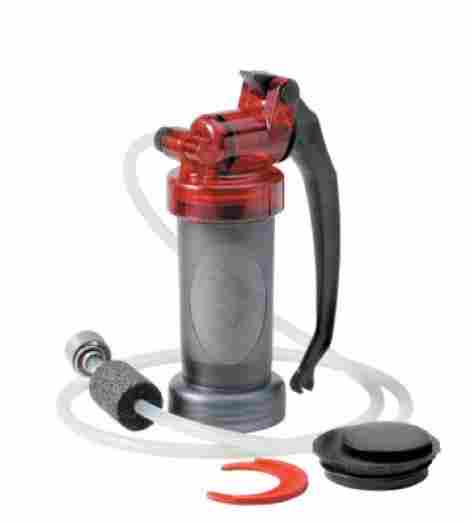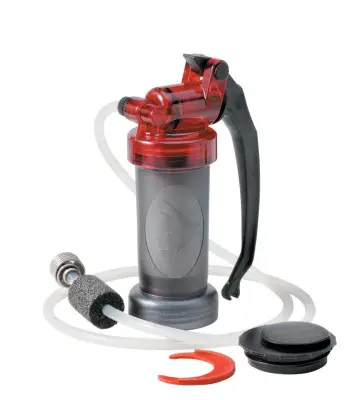 A little bit of manual labor goes a long way with the SR MiniWorks EX Microfilter. Its basic functions are all you'll ever need to get clean, fresh filtered water.


Expand to see more
Fast And Efficient

The AirSpring Accumulator allows the user to pump up to 1 liter a minute. That's pretty fast for manual filtering, and all without missing vital compounds in non-filtered water.

Features and Specifications

2000 liter cartridge life
Water bottle adapter included

Price/Value

For the number of contaminants that are removed from the water, the midrange price seems about right. And with a long filter life, the value doubles instantly.

Decision Time

With the high filter rate and a minimal amount of work to get clean water, buyers will be pleased with this purchase. A lot of time will pass before you have to change the filter on this model.
Limited lifetime warranty
Indicator for when the cartridge needs to be replaced
Criteria For Evaluation
Portable water filters have a lot of things associated with their features that can determine placement on the list. Filtration stages, portability, ease of use, speed of filtration and branding are all important things we looked at to figure out the best portable water filter for consumers. Branding was included since some companies have products that are complete home and outdoor solutions. It'sworth mentioning these since they are a great branching point when you're looking for established brands in the industry.
Filtration
Filtration is the top thing that we judged portable water filters by. Their filtration process is the most important thing to look at since they are mostly outdoor tools. That means they'll be dealing with much tougher water than what comes out of a faucet or other home area. In this area, we looked at how many stages there were in the filtration process while also looking at how many things the product removed from the water. Extra points were given if it did a good job on taste and odor, although that particular part was difficult since both are based on the source of water. More stages don't equal better filtration, so we looked at a quality over quantity method with the stages in the portable filter. Smaller products like the LifeStraw were quite incredible with their stages, even managing to outdo some of the larger choices on the list.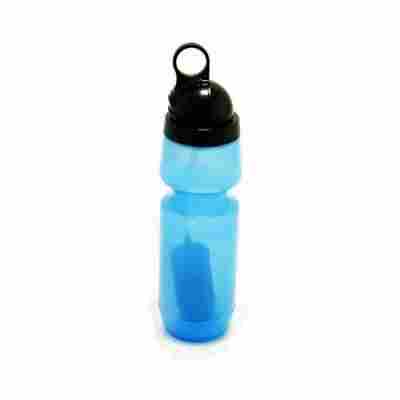 After looking at all of the stages, we paid attention to how much water was held with the product, and also looked at the lifespan of each individual filter. Without taking pricing into consideration, this was one of the most influential criteria on the list. Lifespan varied from 1500 liters to a couple of gallons, so there was a lot to take in with individual products. The only thing that was consistent across the board was how the size of the filter was closely related to how much it filtered. This isn't 100% accurate, but it was safe to assume that smaller products filtered less water than the larger portable options on the list. We put filters with the highest quality stages at the top, and then looked at how much water they filtered per stage. Most of the filters had similar lifespans, so only a few made a difference when ordering them by how soon they needed to be changed.
Portability
Portability was complex since all of the products on the list hit this criterion well. The standout in this category was the LifeStraw, which really had no equal when pairing its portability with the other criteria we selected. It could be placed in a regular pocket, a feature that we considered the ultimate in portability. Since it is separate from the other products in this regard, our true portability test took place with the #2-10 spots. We looked at the best possible way to order the list by size without putting too many restrictions on bigger products that provided better filtering. The end result is a nice balance of portability and features for the remaining nine spots on the list.
Ease of Use
Ease of use was also based on the remaining nine spots since the LifeStraw was the simplest to use. We looked at ease of use based on how an average user would handle the product for the first time. That means user-friendliness for absolute beginners was rated higher on the list. Using the product and changing filters was a big part of what made up ease of use. Products that jammed up or required too many steps were left off of the list. All of the remaining products caused little to no problems when being used, even in high volume situations. Products that had extra steps were rated high only if they included good instructions. We had no trouble ordering the list in this format since the majority of the portable filters on the list were made to keep things simple. Even options that required the user to manually pump the water was very well done in their design.
Filtration Speed
The speed at which the water goes through its stages of filtration popped up on our radar for a very good reason. When you're in a rush, the last thing that should hold you up is getting water filtered. Back when water filtration was first introduced, it used a slow drip method that would take upwards to a half an hour to get a justifiable amount of water. The products on the list that we reviewed are quicker, and more importantly, they give you more water in a shorter amount of time. Going by this criteria, pump-based portable water filters were pushed further down the list while the quicker methods were bumped up. Shorter waiting times are always encouraged with filtered water if it doesn't affect the quality.
Branding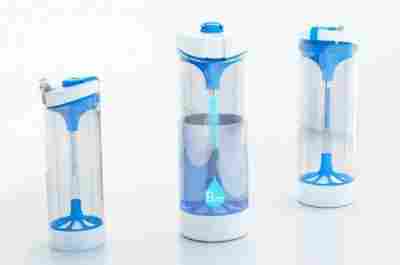 Branding was the last thing we looked at, and for a specific reason. One of the top three brands on the list was Brita, and it can be found in millions of homes everywhere. The same filters that Brita uses for its home products can be used with their portable water models. These universal filters are great if you have to buy a bunch and don't want to separate the purchase of specific products. Big brands like this received a lot of points in our criteria since they saved money, time and provided a much better customer service experience. The filters used for big brands like Brita also had a better stage filtering process out of the box. On the list, Brita is the biggest brand, but not the only one that has universal home products. So the same boost given to them was also applied to about four other products on the list, to a lesser extent. With all of the criteria listed for the water filters on our top ten, we were able to provide a range of great choices without looking solely at price.
When is a Portable Water Filter a Must?
Can you imagine a situation where you find yourself in a place with lots of water but you are unable to use it because drinking it could kill you? Well, many people who live in places with a reliable supply of fresh and clean water can easily take this precious resource for granted because it is always at their disposal. Ask anyone who has ever been stranded in a place with water that they could not drink and they will tell you how important a water filter is. In this article, we look at some of the times when a portable water filter is a must.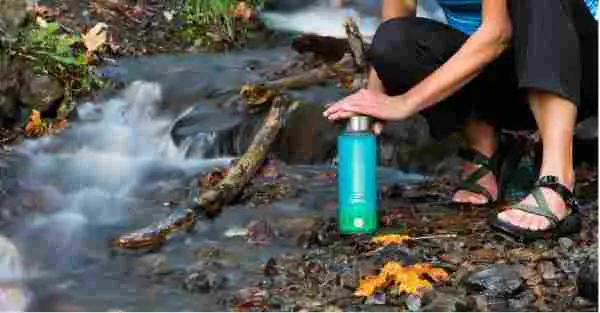 Using a water filter can remove both hazardous substances dissolved in the water and also some odors caused by particular kinds of bacteria. So when to use your portable water filter?
When You Are Not Sure
It is easy to look at a body of water and presume that it is clean just because it looks clear. You need a portable water filter if you do not know whether the water you are going to consume is safe or not, no matter how clean it looks to the eye.
If you drink water which you are not sure it's safe for consumption, you are taking a risk of drinking potentially hazardous water. Untreated water contains viruses, bacteria, and other parasites including roundworms and liver flukes.
Apart from your general biological contaminants, untreated water could also contain chemical pollutants such as heavy metals found on the ground. Pesticides used in farming and later contaminating water, and other synthetic materials that can come from products made from such materials as plastic.
When You Do Not Have Lots of Money to Spend
Even though the initial amount of money you will spend to buy the water filter will be more than the cost of a bottle of disposable water, you will find that in the long run, having a portable water filter works out cheaper. Consider the number of bottles of water you drink per day and multiply that by the amount you spend on each and you will see that you are spending a lot on your drinking water.
Apart from being cheaper in the long run, a portable water filter will also save the environment. What do you do with the plastic containers after you finish the water in them? The more responsible throw them into a bin near them yet many will just throw them anywhere that's convenient. Even when thrown into the bin, the containers still need to be managed through proper waste disposal. If used in the veld, the plastic can be left there and chewed by animals which could easily lead to death.
If Outdoor Is Your Life
Anyone who loves the outdoors whether for camping, hunting or just taking a day out to have a picnic should consider a portable water filter as an indispensable device. Hikers, fishers, and sporting enthusiasts should also consider the portable water filtration as a must.
When Traveling To Countries You Do Not Know
If you have any plan to travel to a country that you do not know very well, especially with regards to the quality of water, then you should consider a portable water filter a must.
Also, if you are traveling to a region that is engulfed in civil strife or war, you may discover that authorities are unable to control some parts of the country and are therefore unable to provide basic services such as the treatment of water.
Before traveling, you may want to check out the statistics of the place you are going to with regards to common diseases associated with contaminated water. If the numbers tell you that the people in the regions where you are going exhibit symptoms which include diarrhea, fever, nausea, and chills, you need to consider taking a portable water filtration device seriously. These devices can filter out the likes of E.coli, Giardia Lamblia, tapeworm, cholera and a host of other bacteria, viruses, and pathogens.
When You Don't Trust Your Local Authority
Of course, your local authority wants you to believe that the water coming out of your tap is clean; also, they may say that the water to be found in nature is safe. The truth is that the water coming out of your tap may not be as clean as it looks. This water travels through pipes where it picks up contaminants, runoff from industrial processes, and other chemicals. Even the chemicals used to disinfect the water can potentially contain disease-causing elements.
Whether you are at home or on that outdoor trip, a portable water filter will not only ensure that you drink clean water, it will also ensure that the water tastes better. You will just need to make sure that you buy the right portable water filter and maintain it according to the instructions of the manufacturer.
FAQs
Frequently Asked Questions
Q: Do Portable Water Filters Work With Sea Water?
A: No, most don't desalinate water so the salt will remain in it. You want a more heavy duty solution in this case.
Q: Will The Water Still Taste Bad?
A: Some of the portable water filters on the list get rid of the chemicals in water that causes bad odor and taste, while some just get rid of the harmful chemicals that will wreak havoc on your system. Make sure to read the features if you are looking to make the water more palatable.
Q: Are The Filter Lifespans Accurate?
A: Universally no, and they should be considered an estimate only. Filter life even with regular cleanings will depend strongly on the quality of the water being filtered. So really bad water will shorten the life of the filter faster while decent water will bring it closer to the listed lifespan.
Q: How Effective Are Small Filters?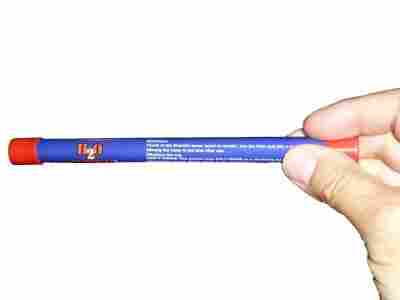 A: The size of the filter doesn't matter as much as the quality of it. A large filter of low quality can still leave a lot of harmful particles in the water you're supposed to be drinking. Always pay attention to the type of filter you're getting so that you know what to expect. They will tell you upfront in the features exactly what their filter gets rid of. Remember, there is no filter that gets rid of absolutely everything, so any product claiming to do so is false advertising. The only benefit to having a large filter is that it handles a bigger volume of water at one time.
Q: Is The Water Safe To Drink?
A: Portable water filters aren't just used by survivalists or campers, they're used by everyone. Vacationers that have rented a cabin use them for emergency backup. Some of the world's biggest health organizations give them to third world countries to help their citizens get back on their feet. Portable water filters are as safe as regular filters, doing a great job in their execution without skipping out on any of the filtering processes that would be seen as vital. If you enjoy the filtered water at home, then the portable varieties won't be any different in quality.
Q: Should They Only Be Used In Emergencies?
A: They're great in emergencies, but that isn't the only use for portable water filters. A good amount of the products on the market were made to be like everyday drinking bottles that you carry around. So going by design alone, portable water filters are for everyday consumption in a healthy lifestyle. Being able to use them for an emergency is just an added benefit to the long list of pros. It's quicker than boiling water and much tastier, and can also be safer with the right filter. So when the time is of the essence, your filter can really be the best lifesaver around.
Q: How Often Should You Change Equipment?
A: All water filters have a specific lifespan, or the product that is using the filter has a life cycle that needs attention. Since filters catch and destroy several harmful materials in water, there will come a time where they either need to be cleaned, or the filter inside of the product needs to be replaced. This can vary from 1 month to a year. Every product is different, and usage will also play a role in telling how long it is before you change the filter. Going too long without changing the filter based on the instructions can lead to damage and exposure to bad water.
Q: How Is Value Associated With Cost?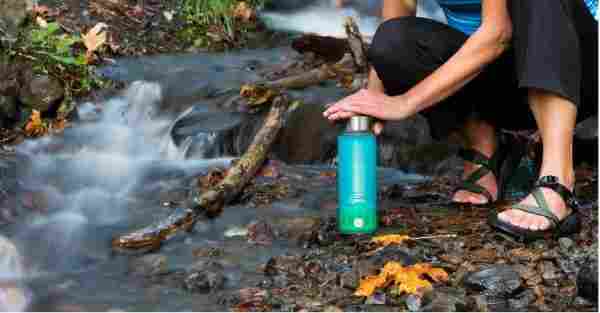 A: A lot of the purchases with portable water filters are in bulk. A lot of groups and organizations purchase them, so getting great value at a low cost is important. For the average consumer, things are a little different, but not by much. You have to factor in the upkeep of the product along with the original purchase price. So the value of the product is tied to the replacement filters, the original price of the unit and the frequency in which you have to change either one. Adding up the cost of all of these will give you the real value of the product you're buying.
Q: Are They Easy To Use?
A: There is nothing complicated about any portable water filter on the market. Despite their complicated filtering processes, all of the products use a very simplified set of instructions. The only thing you have to do is either pour water into it and wait or just drink directly from the product. Portable options like the LifeStraw are the best, and it's as simple as sucking from one end and letting the filtering work get done on the other end. The only semi-complicated part about a portable water filter may be changing out the filter. But for anyone that has changed a filter of any kind before, this too can be classified as simple.
Q: How Do You Clean A Portable Water Filter?
A: There is a bit of a misconception when it comes to cleaning water filters. Most portable water filters are self-cleaning and don't need additional steps to filter out excess materials. Portable water filters with specific housing, or with non-replaceable filters will have self-care instructions that differ from the normal brands. This is more likely to be found with pump-style filters and will involve putting a solution into the product and then pump it out. You then let it dry on its own until you're ready to use it again. But even modern day portable pump filters have begun to stray away from this, and instead, have opted for customer friendly solutions to self-cleaning their products. The only other type of cleaning you need to worry about with a portable water filter is when you change out the filter. This takes seconds of rinsing warm water on the inside and requires no special solution to finish the job.
Q: Can It Make River And Lake Water Palatable?
A: Making water safe to drink is not the same as making it palatable. Taste is going to be up to the individual drinking it and whatever source they decided to filter from. On the plus side, portable water filters get rid of a lot of the contaminants that leads to bad tasting water. It can even get rid of some of the contaminants that affect the smell of water. But the taste is going to be entirely subjective since that isn't considered a priority of the filtering process. Even boiled water doesn't guarantee great taste, so be aware of the limitations of filtering water while you're on the go.
Q: Should You Avoid Plastic Housing?
A: As long as the plastic is BPA free then there is no need to worry about using plastic-based portable water filters. Plastic housings can also be beneficial if they are squeezable. In a bottle format, this could let you get that last bit of water out without having to refill. Plastic also keeps the overall cost of the product down without taking a hit on quality. Any highly reviewed portable water filter will use high-quality BPA free plastic, so you'll be in good hands if you decide to go down that route.
Q: Is The Material Durable?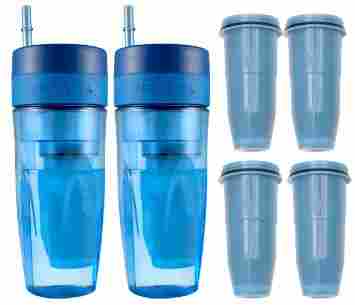 A: Both plastic and metal-based portable water filters are very durable against damage. They won't leak from repeated use or changing of the filters. Since they're used mostly outdoors, there is a good chance that it could be exposed to a lot of things that could damage it. Whether it is a long drop or sharp materials, something may damage your portable water filter. When it becomes compromised, then you should immediately stop using the product. When found, leaks of any kind should be addressed on the spot.
Q: What Brands Are Beginner Friendly?
A: If you aren't comfortable changing filters, then a beginner friendly design might be the best buy. The brands in this category that fit the bill are any without filter changing requirements. If you want to take it a step further, portable water filter brands that have filters that pop out with the push of a button have also become popular with beginners. The new filter then snaps right into place without any special configurations. The good news is that both of these examples apply to a lot of the popular products in the industry. So the bulk of the new portable water filters on the market come out as beginner friendly products.
Q: Can The Filters Remove Bad Smells?
A: When you have a bad smell in your water, it is usually Sulphur. It is not harmful to anyone that drinks it, with even the smallest amount leading to the bad smell. You can even witness the bad smell when bacteria is present that destroys Sulphur. It is also common when there is not enough oxygen in the water. All or some of these things can lead to smelly water, which can be somewhat of an unpleasant experience if the smell is a big deal to you. Portable water filters treat the smell of water like the taste; it's not a priority, but can still be something that is improved when the water is filtered. The top job of a water filter is making sure that the water you drink is as safe as possible.
How To Make The Best Decision
Factoring in the cost of filters and how many liters/gallons they go through will help in making a good buying decision. If you spend more per year on filters that you want, then getting a product that offers higher capacity filtration would be the best idea. You should also consider if you want to manually pump the water, or if you'd prefer something less mechanical.