Best Fixed Blade Knives Reviewed and Rated
Fixed blade knives need to have good balance, a comfortable handle and manageable power. They differ from switch blades in that they are made to take punishment the moment you take it out of the packaging. You can use a fixed blade for self-defense, hunting or even work tasks. Whatever you plan to use it for, the most important thing about purchasing one is finding out if it can take punishment. Read more to find out the best fixed blade knives in 2017.
Our Top 3 Picks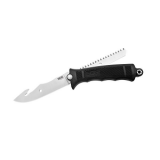 SOG FX20N-CP

Our rating
Satin finish
Price: See Here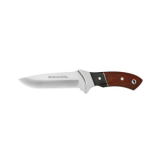 Winchester Blade

Our rating
Fine edge
Price: See Here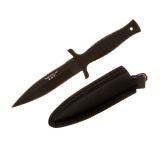 H.R.T. SWHRT9B

Our rating
Steel is 440c
Price: See Here
Best Brands
Smith & Wesson, Gerber, SOG, Winchester and Morakniv are the names people look to when they want a quality fixed blade knife. Because of the durability issues associated with a knife, it's important to stick to trusted names that honor their warranties. There will be names on the list that you might not recognize, but they are trustworthy and have a lot of reviews backing them. But for buyers that prefer to stick to the big names, there are still plenty of choices available.
Maintenance and Cleaning Tips
Keeping your fixed blade knife sharp, oiled and clean will keep it lasting for years. This is especially true for carbon steel, which is prone to corrode a lot faster if you don't look after it. Mild soap and water to remove dirt is the easiest way to start, with WD-40 to finish off the process and fight against water spots and oxidation. The best stainless steel in the world will rust if you don't keep up with it, so always make it a point to clean after daily use. And since it's fixed blades, taking them apart is quite easy.
Best Fixed Blade Knives Reviewed in 2017
Browse through our to 10 best fixed blade knives for 2017 and find your best match.
1. SOG Revolver Hunter Fixed Blade FX20N-CP
The best on the list goes to the SOG Revolver, which turns out to be the most functional fixed blade on the list. It manages to snag the top spot without going overboard with its innovation, providing users with just enough difference to make it worthy.


Expand to see more
Hunter or Seal?

Size choices matter when choosing a fixed blade knife, or any knife. In this case, they have it labeled as hunter or seal with another major difference: the seal is all black, and just looks amazing. It is like the Smith & Wesson model X10, and seems to be the preferred length when knife enthusiasts make a purchase.

Features and Specifications

Rotating double tooth saw and 4.75 inch straight edge knife
Gut hook
Handle is made of glass reinforced nylon
Black nylon sheath with belt loop
Satin finish
Price/Value

Everything about this knife is high value, minus the sheath. Buyers will find that getting 'two knives in one' is a much better deal than the others on the list. It's the same price, and you're getting double the product.

Decision Time

SOG took the Revolver to another level when they introduced the saw portion. Buyers can now use their best knife to the fullest extent without worrying about overusing the blade. This fixed knife was made for any task, and can take it on full force.
Grade 440A cutlery steel
Can cut bone and wood
Saw will keep you from dulling knife
One touch switch is intuitive and easy to use
2. Winchester Fixed Blade Knife
A knife list wouldn't be complete without a Winchester on it. This model is quality personified and managed to beat out the Smith & Wesson knife for a reason. Knife users of all types will appreciate the special work that went into creating this fine blade.


Expand to see more
Timeless Handle

With all of the rubber and plastic handles on the list, having a Pakka wood handle holding a blade together seems more appropriate. It feels and looks good, with surprisingly very little grip lost when transitioning to its wood handle from a rubber handled knife.

Features and Specifications

Stainless steel bolsters and blade
Ballistic nylon sheath
Fine edge blade
5 ¼ blade length
Full tang
Blade is 2/16 thick
Price/Value

Just for the handle alone buyers will be getting the value of a lifetime. Like all the others on the list, this low priced knife has a lot of upside. Between #10 on the list and this model it is hard to choose which has the better looking handle.

Decision Time

Winchester is a solid brand that really delivered with this long bladed knife with a Pakka wood handle. Fans of the brand will have no trouble picking up this fixed knife and using it immediately for their everyday tasks.
Pekka wood handle looks fantastic
Long blade with great thickness
Handle is a good fit for all hand sizes
Built to last with a limited lifetime warranty
3. Smith & Wesson H.R.T. SWHRT9B
The infamous gun makers Smith and Wesson have also done well over the years with their knife line, most notably with the H.R.T. model. It is professional, strong and seems to fit perfectly with the rest of their wares for sale. Buyers that like the brand will find this an appealing fixed blade knife.


Expand to see more
Looks as Good as It Performs

Using black 7Cr17 high carbon stainless steel combined with a black handle gives the knife a really sleep, cool look. Just like the other weapons in the Smith & Wesson handbook, the H.R.T. doesn't sacrifice good looks for performance.

Features and Specifications

Steel is 440c
Weighs 7.7 ounces
743 inch blade
Knife is 8.843 inches long
Leather sheath with a pocket clip included
Price/Value

The size of the handle is going to be based on the person using it, so is totally subjective. With such a low price, it's an incredible deal from one of the biggest companies in the world. Don't pass this one up even if you already own a fixed blade knife.

Decision Time

Smith & Wesson know how to make a great weapon, and the H.R.T. is at the top of the list. Buyers will be very pleased with how this fixed blade turns out over the years, with a good chance it will become one of their most used items.


Great to look at and use
Heavy, dominant and powerful doing multiple tasks
Steel is duel edged spear point blade with blood groove
Full tang blade
4. Morakniv Craftline Pro S All Round Fixed Utility Knife
The Craftline series has provided several knife lovers with some of the best options available for fixed blade knives. This particular Craftline model makes the list by bringing together the best parts of the previous models and improving on the design.


Expand to see more
The Best Blade Out Of The Craftline Series

While the other Craftline models are made with carbon steel blades, this one uses a stainless steel blade that gets rid of a lot of problems like quick rusting and tarnishing. Buyers can count on the blade to be the last thing on the knife to break, even after years of use.

Features and Specifications

Full stainless steel blade
Blade thickness of 0.08 inches
6 inch blade with moisture and dirt resistance
90 degree spine
Price/Value

At some point you will have to decide between this model and the others in the Craftline series if you're a Morakniv fan. The other models are the same low price as this model, so consider the Pro S a worthy competitor.

Decision Time

When it comes down to it, you're deciding between carbon steel and stainless steel. The Craftline Pro S has a lot of solid pros, so if it fits the tasks you want then it is money well spent.
Best knife in the Craftline series
Steel is easier to sharpen than carbon steel
One of the most durable knives on the list
No rattle in the sheath with high retention
5. Morakniv Craftline Basic 511 Fixed Utility Knife
Sometimes smaller is better when it comes to fixed blade knives, and there is no better company to express that than Morakniv. They make another appearance on the list, and at this point the company makes fixed blade knife making look easy. This is truly one of their best, with a lot of supporters standing by the quality.


Expand to see more
Efficient From The Start

Concealing this blade is pretty easy since it is so small, but the best feature has to go to the handle. When you are using a knife you want it to be effortless, and that is possible with this model due to the TPE rubber handle. Grip is at its optimum level no matter the chore assign to the blade.

Features and Specifications

Blade thickness of 0.08 inches
6 inch carbon steel blade
Impact resistant handle
Total knife length of 8.25 inches
Price/Value

There really is nothing bad to say about the low price of this fixed knife. Users that tend to abuse their knives a lot may find it tempting and would get a pretty good deal out of it all.

Decision Time

The Craftline Basic 511 is a great knife to have around for some quick work if you don't want to lug around a bigger option. And for concealment, the size is perfect for staying hidden away until you need it.
Easy to conceal
Comes with Morakniv Combi-Sheath technology
Comes sharp right out of the box
Great balance when using to handle multiple tasks
6. Morakniv Craftline Pro C All round Fixed Utility Knife
Morakniv makes some pretty impressive knives when they want to. When the Craftline Pro C came out people complimented both the design and the overall ruggedness. The best thing about this knife is not how it handles, but the look you get from other people when you take it out of the sheath.


Expand to see more
A Very Strong Blade

Don't take the carbon steel blade of this knife lightly. It holds up well against even the best on the list, with a long lasting edge that remains sharp for long periods of use. There are no serious weak points in the design, and it was made to take pain and punishment.

Features and Specifications

Blade thickness is 0.08 inches
Blade length is 3.6 inches with a total knife length of 8.5 inches
Knife weighs 4 ounces total
TPE rubber handle
Hard plastic Combi-Sheath
Price/Value

Carbon steel is a double edged sword since it is harder and more durable than regular steel, but is susceptible to tarnishing if not cared for. So Carbon steel is only as good as the owner that takes care of it. That shouldn't take away from the value of this low cost fixed blade, and it is still a bargain.

Decision Time

Don't let the high tarnish rate scare you away from one of the better blades on the list. It just needs a little care every now and then to make it the best knife you've ever purchased.
Reliable carbon steel blade built for wear and tear
Finger guard built in for additional safety
Combi-Sheath allows for attaching a second knife and sheath
Coil formed rounding gives a much better grip than normal handles
Lack of maintenance can kill the blade pretty quickly
7. Columbia River Knife and Tool
Small, sharp and durable, the Columbia River Knife and Tool is simple but effective. Hunters will find endless tasks for the first full tang knife on the list, and for such a compact knife it really sports an impressive design.


Expand to see more
Full Tang

It's the first feature any good knife connoisseur will notice, with a really good grip attached to the end for all the heavy work. This type of knife usually isn't the most comfortable to wield, but somehow they managed to make it easy to grip without being a pain on your hands.

Features and Specifications

Micarta handle
Dual edged design
8 inch blade
Leather sheath with attachment
Price/Value

Full tangs usually cost a little bit more money, but this particular knife is still low priced. That's a lot of value for a fixed blade that can really function as a multipurpose tool.

Decision Time

This is one of the better knives on the list with a really understated design. Small and effective, concealment will be no problem with this fixed blade.


Weighs only 4.3 ounces
Full tang with spear point dual razor edge blade
High quality leather sheath that compliments the blade well
8Cr13Mov with an HRC of 58-60
Sheath clip has sharp corners
8. Morakniv Allround Multi-Purpose Fixed Blade Knife
The Morakniv Allround is a very handy knife to have with a plethora of fun options. Buyers have often found this knife to be just as versatile as any on the list, with a strong preference for the long bladed version.


Expand to see more
Good Size Options

Available in 4 inch and 8.1 inch models, buyers will often purchase both and have them on hands whenever they're out. The 4 inch is great for concealment while the 8.1 inch is great for hunting.

Features and Specifications

Stainless steel blade
10 inch blade thickness
Cushioned rubber grips with finger guards
Plastic Sheath with belt clip
Price/Value

No matter which size you get, there is more than enough blade to be happy with the low price it is being offered at. For the best value, one of each size should be purchased.

Decision Time

With such a good grip and multiple length options, this is a fixed blade knife that everyone can get into. Just make sure to take good care of it and you'll have a great knife for years.
Solid limited lifetime warranty
Durable under a lot of stress
Handle has great grip
High quality stainless steel
9. Gerber LMF II Survival Knife
Gerber is a huge name in the hunting industry and is guaranteed to not let you down. The LMF II Survival Knife is quite the catch, and is exactly the type of fixed blade knife that people end up using for years. A decade down the line, this may still be your go to knife.


Expand to see more
Sharpening On The Go

The built in sharpener is exactly the little touch that makes this a worthwhile purchase. It keeps you from having to carry around extra materials, and it's handy enough for other hunting or survival applications.

Features and Specifications

Available in black, green and coyote colors
Safety knife is included with purchase
Built in knife sharpener
Handle is made of glass filled nylon with TPV overmold
Shearing is ballistic nylon with fire retardant coating
Price/Value

Buyers will be looking to spend around the mid-price range for this fixed blade knife. This is Gerber, so the value is always guaranteed. Other than not being full tang, it really doesn't have a lot of flaws.

Decision Time

Trusted by millions worldwide, the LMF II Survival Knife is a special knife that will get you through any situation. You can trust in Gerber, and you can definitely trust in their products.
Durable and built to last serrated blade
Nice clean look
Sharp right out of the package
Buttcap can pierce glass
10. Black Collector's Hunting Knife with Eagle Scabbard and Handle
Design can really change a buying decision, with the style over substance mentality still strong in some consumers. Whether you're a hobbyist or a professional, this collector's edition knife looks like a thing of beauty. Even in the 10th spot, there is only one other fixed blade knife that can compete with its incredible design.


Expand to see more
It's All About The Looks

There is no hiding how cool the eagle head design is not only on the scabbard, but also on the handle. They went through a very intricate process to ensure that everything was perfect, and it won't peel off anytime soon.

Features and Specifications

8 inch Acid etched stainless steel blade
75 inches overall length
440 stainless steel
Weighs 8.8 ounces
Price/Value

Collector's edition knives are always a good value since you're guaranteed to have a special knife that a lot of people won't have. Sometimes that alone is worth the purchase, and with such a low price for this knife, you have nothing to lose.

Decision Time

It's fabulous no matter what angle you're looking at, and not a lot of people have it. This knife is definitely worth the purchase, and is good enough to be useful for more than looks.
Beautiful design from top to bottom
Best looking sheath on the list
Good overall size for a fixed blade
More durable than it looks
How To Make The Best Decision When Choosing A Fixed Blade Knife
Don't take for granted the type of steel you'll be using. No matter what type, it will always require upkeep. Stainless steel blades will be more durable and can handle heavier tasks. Carbon steel blades have the best sharpness and hold their edge longer. But there is very poor rust protection on Carbon steel blades, and if you don't take care of it then it can rust within the first week. Your buying decision with a fixed blade knife should be based on which of these two types fit your style the closest. For daily heavy tasks that require force, choose a stainless steel blade. For various light-medium tasks that depend on sharpness, choose a carbon steel blade.
FAQ
Is Carbon Steel Better Than Stainless Steel?
There are pros and cons to each, with the edge going to carbon steel for sharpness but the edge going to stainless steel for toughness. Both are really good for fixed blade knife owners, and it is preferable to own both.
Why Should I Be Interested In A Full Tang Knife?
Full tang is superior and runs the full length of the knife, giving you better balance, power and durability. When you're doing hard tasks, it's best to have a full tang knife since it is less likely to bend. Alternatives to full tang include a rat tail tang, which sacrifices some power but still gets the tough jobs done.
How Important Is The Handle?
Vital, a fixed blade knife is worthless without it. If you aren't comfortable with the grip of the handle, then doing tasks with a knife will be more of a chore than a pleasure. And keep in mind that on the other end of that uncomfortable handle is a very, very sharp blade.
Can A Knife Be Saved After It Shows Signs Of Rust?
Light rust can actually be removed through several methods including using steel wool, green scothbrite pads/oil and even naval jelly. There are countless other home remedies for removing rust from a fixed blade, but never forget that the best way to get rid of rust is normal prevention methods.
Subscribe to our Newsletter