Best Inflatable Stand Up Paddle Boards
last updated:
Mar 02, 2021
So, summer is upon us, and you want to commemorate this yearly occasion by getting into the hot new sport all the kids are talking about. Okay, not all kids are talking about it, but they should, because paddleboarding is one of the most fun sports you can do on the water. It's like surfing, only requiring fewer years of practice (though the practice is all the same, make no mistake) so more people can get into it. When choosing between paddle boards, you can either go for the solid core option or in this list's case, inflatable. You get three guesses as to which of those two this list is recommending.
Inflatable paddle boards are highly recommended over a solid core. While solid core is the more durable option, they're also cumbersome, impossible to transport without a headache, not to mention an incredibly expensive option. So we're counting down the top 10 best inflatable paddle boards here today. So strap yourself in, grab your favorite paddle, and prepare to catch some sick waves, because we're counting down.
In a Hurry? The test winner after 17 hrs of research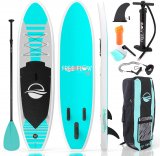 SereneLife Premium Boards
Why is it better?
Three fin design for speed, maneuverability, and stability
Great price options
Non-slip deck
In a
Hurry? Editors choice: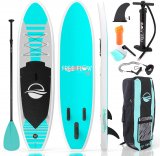 Test Winner: SereneLife Premium Boards

3
Researched Sources
17
Hours Researching
10
Products Evaluated
Stability
Durability
Ease of Use
Accessories
Materials
By Default
Our Top Inflatable Paddle Boards for 2021
1

. SereneLife Premium Boards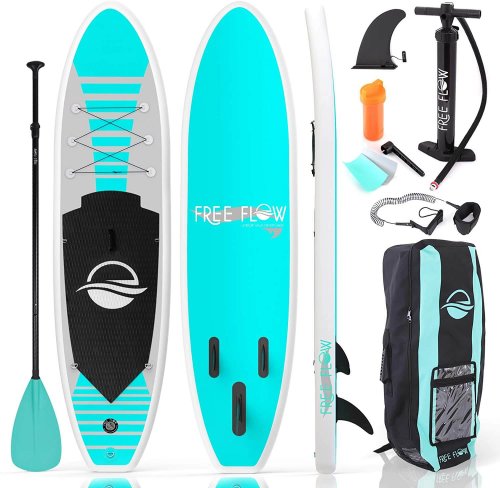 Three fin design for speed, maneuverability, and stability
Great price options
Non-slip deck
Paddle is below average quality
Kicking off our list is SereneLife - a board brand that offers multiple options for high quality paddle boards. From the entry level Free Flow model to the premium Rising Flow board package, SereneLife offers something for everyone. The SereneLife line of Inflatable Paddleboards is at the top of a lot of iSUP lists and it isn't hard to see why.
Superior stability
The three fin design combined with premium materials makes all SereneLife stand up paddleboards wonderfully stable in the water. So whether you find yourself in calm or choppy waters, these boards will keep you cutting forward.
Cost and value
The SereneLife line of inflatable paddle boards ranges from ~$295 up to $400, making them a great value for all levels of activity.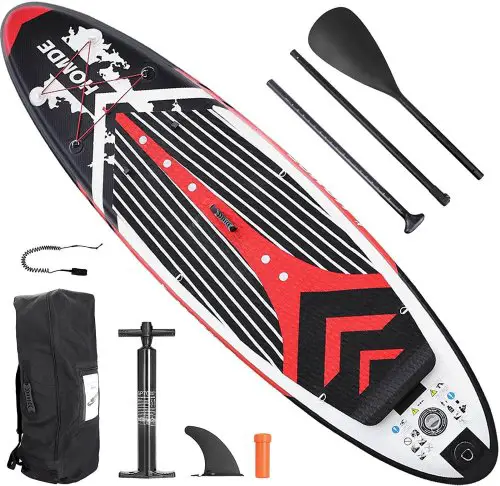 Super durability
Great for yoga and other activities
Affordable price range
Poor lateral stability with heavier riders
This paddle board by Homde takes the cake for durability. It was designed with double sidewalls and an internal baffle system which makes this board almost feel like a solid core paddle board. It's so strong that you can run it over with your car and not cause damage!
Great for yoga
The durability and stability of this board make it great for alternative uses such as yoga. Plus, it's nearly full-length nonslip EVA pad gives you plenty of room to stretch and still keep your footing.
Paddling Performance
This board paddles and moves very well through the water. You will be able to cruise and get some pretty decent speed if that's your thing. The one downside we noticed is that it doesn't handle lateral movement as well with heavier riders, so keep that in mind if you're larger and/or plan to use this where you may encounter larger side waves.
Cost and value
Clocking in at $399, this paddle board is a great bang for your buck. Nearly indestructible, the Homde inflatable paddle board is our most durable option at a reasonable price point.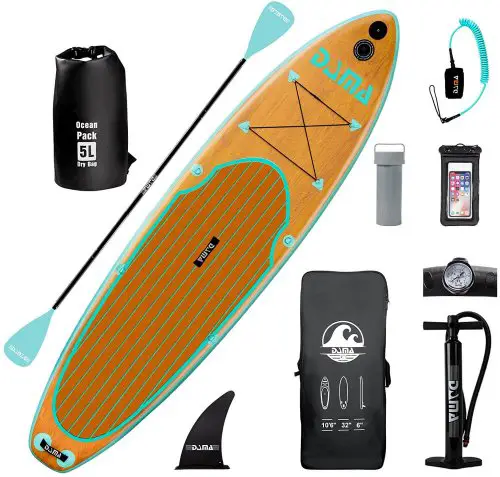 Beautiful design
Stable
User-friendly
Quality of the air pump is inconsistent
The leader in DAMA's line of inflatable paddle boards, the DAMA is available in multiple sizes, performs very well, and is a beautiful piece of design. Whereas the Homde was built to withstand, the DAMA Nature is built to appreciate.
Beautiful Aesthetic
The color scheme and EVA deck of this board just made us go "WOW." DAMA really did a great job in creating a realistic wood grain board surface which makes you feel like you're riding on a traditional solid core board. Named "Nature" to reflect it's natural colors and wood look, this board will look and feel at home in any body of water.
Stable
We can't stop at it's beauty - it's a strong board as well! Almost deceptively, the DAMA nature paddle board provided a really solid ride which satisfied all of our testers.
Cost and value
Ranging in cost between $299 and $339, this inflatable paddle board is one of our top value deals for 2021 and hands-down the best-looking board you can get.
4

. Bluefin Cruise Paddle Board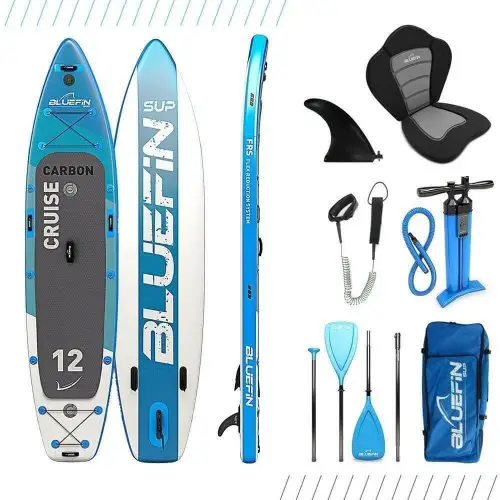 High performance board
Very durable and perfect for diverse activities
Great for both beginners and pros
Bluefin specializes in high-performance premium inflatable paddle boards. Their product lineup is the highest quality on our list, and also the highest cost.
Full-Range Performance
The Cruise product line is built to perform, regardless of your circumstances or use purposes. Yoga? It's super stable. Fishing? Just connect the seat and grab your gear. Paddling? It will cover any paddle trek, long or short.
Great for beginners and pros
Not all boards can be all things to all people but but the Bluefin is about the best you'll find amongst inflatable paddle boards.
Cost and value
The only drawback to the Bluefin line of paddleboards is their cost. Ranging from $799 to $1,799, these boards are positioned for the serious paddling enthusiast.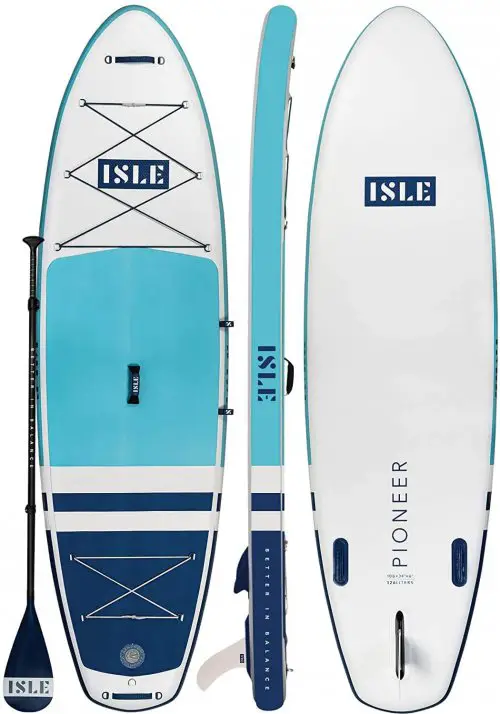 Stable
Well designed for longer journeys
Beautiful design
ISLE Paddle Boards designed for exploring the great outdoors. Designed with long paddle treks and adventures, each of their boards are built to handle well and include features for adventurers. We also feel compelled to mention that ISLE boards feature beautiful design aesthetics.
Stable in the water
Even if you get tired during a long run on the water, this board won't let you down. It's design provides excellent stability and the EVA foot pad gives your legs a break over long periods of exertion. Also, this board is built for people paddling with gear and can handle odd weight loads with ease.
Bring your Gear!
All of ISLE Brand's inflatable paddle boards feature plenty of loops and tie-downs so you can bring your gear along on your adventure.
Cost and value
Priced between $600 and $700, ISLE boards are a premium brand at a reasonable price. While they cost above average in price, they're a great alternative to Bluefin boards if those are out of your price range, or if you're more of a day-tripper on your board.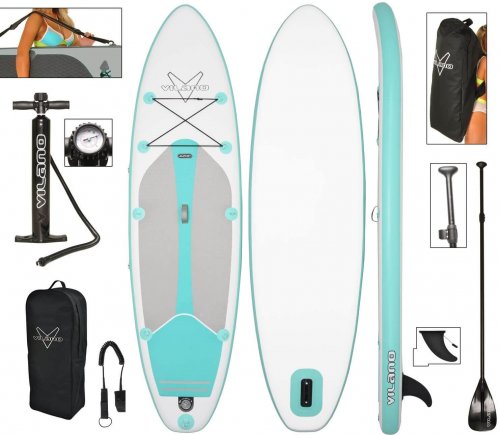 Affordable
Durable
Perfect for travelling
The Vilano Journey Inflatable Paddle Board is generally regarded as a great addition to your board collection for the all-around paddle boarder.
Durability
Nothing over the top here but Vilano has done a good job making this paddle board strong and durable while keeping it rather lightweight and portable.
Compact
We found this board to be one of the most compact inflatable paddle boards once deflated and rolled up. When you're collapsing and transporting with a 10-foot board, every inch counts!
Cost and value
We'd highly recommend the Vilano Journey as a go-to for casual paddlers or anyone looking to add a utility board to their collection for friends and family to share. At $299, it won't break the bank and should provide you plenty of paddle boarding enjoyment over many seasons.
7

. MaxKare Brand Paddle Boards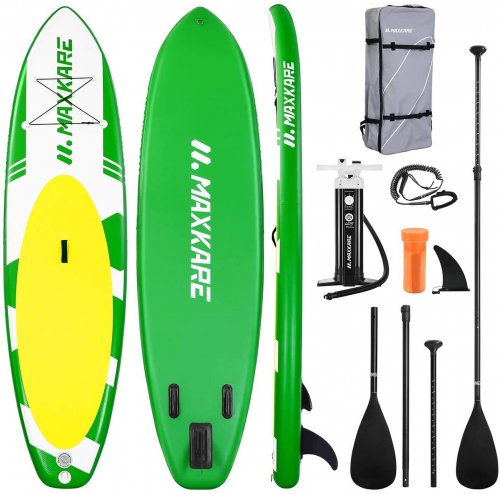 Compact, perfect for travel
Fairly versatile
Excellent for beginner and intermediate paddlers
The pump can be difficult to attach and use
MaxKare really hit the scene and became a name in 2020 when people were clamoring for summer outdoor gear during the pandemic. They offer a consistent line of over a half-dozen inflatable paddle boards for beginners, intermediates, and the all-around casual paddle boarder.
Dependable
MaxKare boards are solid, stable, and get the job done for beginners and intermediate boarders. While trekkers and speed-seekers may find these lacking, most of us will find that these fit the bill and serve our needs.
Portable
While all inflatable stand up paddle boards are deflatable, not all of them roll up for storage and transport as well as others. Similar to the Vilano Journey board, MaxKare boards rank on the high end for size and portability when deflated.
Cost and Value
As an owner of a MaxKare board (the green one shown!), I can attest to its all-around quality. I got it for my wife to use at our lake cabin and it does not disappoint. Plus, with prices ranging between $230 and $315, these inflatable paddle boards are the epitome of value.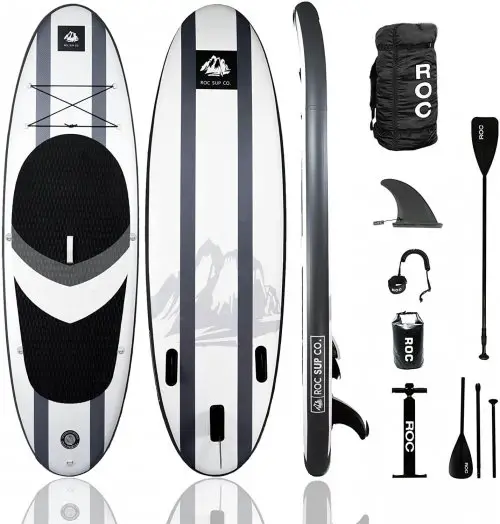 Wonderful Non Slip EVA Surface
High performer for mid-level price
Excellent all-around board
Reported inconsistencies with the seal around the pump valve
The ROC inflatable paddle board is one of the top class mid-level boards on the market. Offering 6 color options, ROC manufactures only this one board design. They're a brand with the philosophy of 'do it well the first time.'
Non Slip Board
The EVA decking on the ROC paddle board is the right mix of soft (but not deep & squishy) and grippy (but not hard on the feet).
All-Around Performance
We found the ROC board to perform on all criteria points just a bit above the main mid-level players like MaxKare and SereneLife. You'll find handling and steering a bit easier, whether turning or cutting long lines, and it holds up better against turbulence.
American Company!
ROC is a proud, US-based family company offering a 1-year warranty on all products.
Cost and Value
At $399, the ROC inflatable paddle board is ~$100 more than the mainstream midlevel players, however, our experience makes us believe that the extra investment is worth it if this is going to be your go-to board.
9

. TOWER Performance Board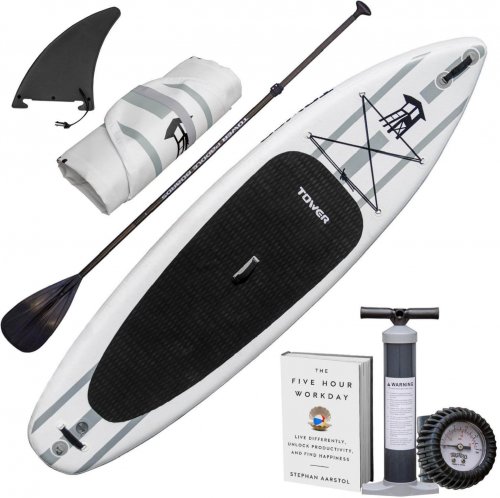 Excellent handling and steering
Design is great for heavier folks
High-performance board
Expensive
Some users have reported durability concerns
The Performance inflatable paddle board by TOWER is a performance board without the top-shelf price tag. We like the way it handles and is built to function like a solid board.
Handling
The TOWER brand builds its boards with a surfer's mindset. From the outset, their paddle boards have been designed for excellent maneuverability, steering, and stability.
Great for heavier people
TOWER was one of the first brands on the market with a 6" board thickness; most inflatable paddle boards were originally 4" thick. While most manufacturers have now adopted the 6" thickness design, TOWER remains ahead of many when it comes to stability. This makes the brand a great choice for bigger riders.
Cost and Value
The TOWER performance board is priced at $650 and is built for action. This board won't be for everyone, simply due to price, but for those looking to get out on choppier water or faster-moving rivers, this is an excellent choice.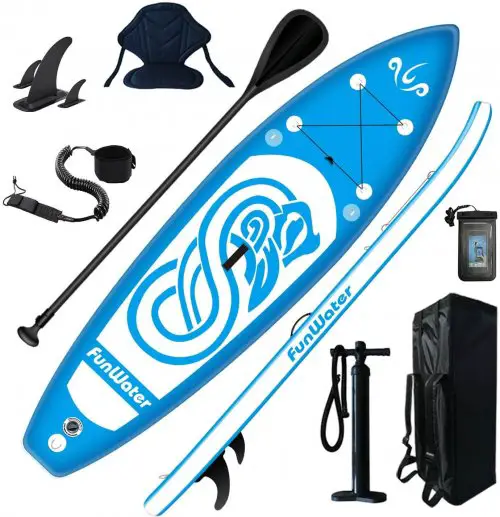 Lightweight yet durable
Smooth riding experience
Low cost
Poor quality on the accessories
Rounding out the list is the FunWater Inflatable Paddle Board. This is one of the best lightweight inflatable boards you can find on the market right now.
Durability
There's always a tendency to assume that lightweight boards sacrifice durability a the trade-off with their weight. With the FunWater paddle board, we don't believe this is the case.
Smooth experience
We found this board to feel very smooth through the water and to provide excellent stability. Its weight definitely had issues holding up against stronger wind but the ride was overall a satisfactory experience
Cost and value
At $259, this is our least expensive featured board. We found it to ride well and be an excellent choice for casual riders who want something light. Beware that the included accessories were of pretty low quality - something has to give at a low price point.
Criteria Used for Evaluation


Durability
For anyone new to the world of inflatable paddle boards, these things might just seem like flat balloons on the water. In reality today's inflatable paddle boards are built using military grade PVC that can be pumped up until it's as solid as a rock. The PVC exterior shell of an inflatable paddle board is often double-walled which helps to withstand bumps and dings against the shore or various in-water items, and many feature some kind of internal baffle design which adds stability and rigidity for the rider.


Size
Length Options
Longer boards are typically faster and create a more stable feel underfoot. They're also better for longer trips on the water (trekking). Conversely a shorter paddle board will give you better control of the board and make it easier to steer. Adults should typically choose from boards that are at least 10' in length. When selecting boards for children, you can go as short as 6' depending on the child's size.
Width Options
A board's width must be considered in combination with its length. Smaller paddle boarders need short, narrower boards, primarily because a board too wide will make it difficult to paddle straight. Otherwise, shorter but wider paddle boards will operate more like surf boards, offering excellent maneuverability. Longer boards will perform better for speed when combined with a narrow or moderate width, and will be good for trekking when combined with a wider girth.


Stability
Stability is key when selecting and using an inflatable paddle board. First, paddle boarding is an excellent core workout, allowing paddlers to improve their personal stability. Boards themselves should provide ample stability, especially on a lateral basis. Paddle boarders often find themselves up against a crosswind, and therefore, cross waves, making a board's stability an important factor. Cheaper paddle boards often sacrifice stability simply because they include less material or lower-quality materials. On the other hand, premium boards will often include more stability-increasing technologies to give you a really solid and smooth ride on the water.


Weight
Your paddle board's weight can impact all other performance factors. An adult sized inflatable paddle board can range in weight from 15lbs to as much as 30lbs. Weight is not always a bad thing - when properly distributed, it can bolster stability and actually support faster paddling. Most iSUPs will weigh in around 20lbs; when considering a board weighing more than this be sure to do some research on its design to make sure its engineered for performance.
Personally, I prefer a slightly heavier board. When paddling on lightweight and ultralightweight boards, its easier to lose control on windy days and get blown about on the surface of the water.
At the end of the day, whether your inflatable paddle board weighs 15, 20, or 30lbs, they are significantly more portable than solid core boards and should not pose a problem for users to haul in and out of the water.


Value
Today's inflatable paddle board market sees average prices around $400 for a good, all-around utility board. Our top paddle board list covers a handful of boards in this price range, as well as a few budget boards and a few premium boards. If you're buying an inflatable stand up paddle board, expect to spend at least $200. If you're looking to pay up for premium quality, you can find boards for $650 on up over $1,000.
It all depends on what you plan to use it for!
Expert Interviews & Opinions
Most Important Criteria
(According to our experts opinion)
Experts Opinion
Editors Opinion
Users Opinion
By Default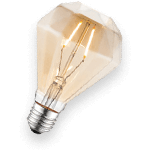 Make sure your board is durable
You want to make sure that your stand-up (SUP) paddleboard is durable and stable. If you are going to be out on open water, having a peaceful and fun paddling session, you want to make sure you are not wobbling all over and risking falling into the water. Not only will a durable board keep you safe, but also worry-free.
Frequently Asked Questions
q:

What are the various ways in which I can use an inflatable paddle board?

a:

There are a surprising multitude of ways in which an inflatable paddle board can be used. In fact, what you plan on doing with your paddle board should be a prerequisite for what kind of board you inevitably go with, because not all inflatable paddle boards are built to do everything that an inflatable paddle board can feasibly do. Some paddle boards excel at a single task, others are jacks of all trades, doing admirably well in all fields. Those fields include:

Yoga: This is a bit interesting, since while you can use dedicated paddle boards for this, really any kind of inflatable paddle board will do in most cases. Because when you're doing yoga, your paddle board is most likely deflated. Thus as long as it lays completely flat when deflated, any kind of paddle board will do. Still, there are paddle boards designed specifically with doing yoga atop them in mind.

All-around or flat water boards: Some paddle boards are meant more for flat waters than choppy. Nothing wrong with that, of course, since there are times where you don't want to go paddle boarding on the ocean, and instead want a gentle, quiet paddle boarding session on a pristine lake. It's also the preferred paddle board type for beginners and children since paddle boarding on a calm flat lake is perfect practice for the real thing in the ocean.

Racing paddleboards: This should only be pursued if you really take this sport seriously and want to put in the work to become a pro. Because it's going to be a full-time thing when it comes to practice. If you dream of getting the absolute most out of the speed of your paddleboard, then racing paddle boarding is the sport for you. Make no mistake, though, this is a professional sport, and you will have to bring your A material. If you chase after this, then you forfeit paddle boarding as a hobby.
q:

I want to get into paddle boarding, but I'm more familiar with surfing as a sport. Is there any way that those two can intersect with one another?

a:

ctually yes! Lots of surfers, in fact, use paddle boards when they surf. However, some caveats need to be met, as you, of course, can't just use any old paddle board you find lying around the surf shop. For one, it needs to be a shortboard. If you know anything about surfing, then you know that control and maneuverability are key components that cannot be ignored. Shorter paddle boards maneuver and control the best out of any other length of paddle board, so if you want to surf with a paddle board, you need to find one that is less than 10' in length. This way you can still turn on a dime while maintaining proper balance
q:

I've never been inflatable paddle board shopping before, do you have any tips for me?

a:

For one, a big difference between how SUPS and iSUPS are sold is that it's usually optional to get accessories with solid core paddle boards, but inflatable paddle boards are often a package deal, including many of the accessories that would otherwise be sold separately.

Make sure that you give a hard look at the weight limit, and make sure that you weigh yourself before shopping and write that weight down. Because how much you weigh will play a big part in what kind of paddle board you get.

Get a good solid idea on what you're going to be doing with your paddle board once you have it, and make sure that it's what you really want to do with it. Because these things are pricey, even in their cheaper renditions, so if you want something of quality, you'll have to pay the big bucks.

Once you know what you want from your paddle board, make sure to take note of the length and width of your paddle board. Different lengths and widths are suited for different tasks, so also be sure to look up online what lengths and widths are suited to what activity. Typically if the activity you've chosen, for instance, involves a lot of speed, then a shorter paddle board will be what you're looking for.
Subscribe to our Newsletter