Best Inflatable Paddle Boards (iSUP)
In a Hurry? Editors choice: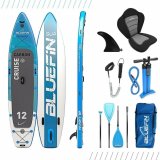 Test Winner: Bluefin Cruise

2021 is here and it'll be summer before we know it. The summer of 2020 saw a boom in the paddle board industry which has resulted in a strong field of options in the inflatable stand up paddleboard (aka "inflatable SUP" or "iSUP") market for us to review.
For the beginner, stand up paddle boarding is basically a cross between surfing and kayaking. It's a fun and easily-accessible sport for people of all ages and levels of fitness. For the adventurer, there's an iSUP for touring, trekking, and speed. For the
yoga
or nature enthusiast, there's an inflatable SUP designed for stability. For the casual or family boarder, there's an inflatable SUP board that will cover your basic needs and meet your budget.
So regardless of your experience or application, we have reviewed the best paddle boards so you can prepare to hit the water this summer.
Standout Picks
Criteria Used for Evaluation
Durability
For anyone new to the world of inflatable paddle boards, these things might just seem like flat balloons on the water. In reality today's inflatable paddle boards are built using military grade PVC that can be pumped up until it's as solid as a rock. The PVC exterior shell of an inflatable paddle board is often double-walled which helps to withstand bumps and dings against the shore or various in-water items, and many feature some kind of internal baffle design which adds stability and rigidity for the rider.
Size
Length Options
Longer boards are typically faster and create a more stable feel underfoot. They're also better for longer trips on the water (trekking). Conversely a shorter paddle board will give you better control of the board and make it easier to steer. Adults should typically choose from boards that are at least 10' in length. When selecting boards for children, you can go as short as 6' depending on the child's size.
Width Options
A board's width must be considered in combination with its length. Smaller paddle boarders need short, narrower boards, primarily because a board too wide will make it difficult to paddle straight. Otherwise, shorter but wider paddle boards will operate more like surf boards, offering excellent maneuverability. Longer boards will perform better for speed when combined with a narrow or moderate width, and will be good for trekking when combined with a wider girth.
Stability
Stability is key when selecting and using an inflatable paddle board. First, paddle boarding is an excellent core workout, allowing paddlers to improve their personal stability. Boards themselves should provide ample stability, especially on a lateral basis. Paddle boarders often find themselves up against a crosswind, and therefore, cross waves, making a board's stability an important factor. Cheaper paddle boards often sacrifice stability simply because they include less material or lower-quality materials. On the other hand, premium boards will often include more stability-increasing technologies to give you a really solid and smooth ride on the water.
Weight
Your paddle board's weight can impact all other performance factors. An adult sized inflatable paddle board can range in weight from 15lbs to as much as 30lbs. Weight is not always a bad thing - when properly distributed, it can bolster stability and actually support faster paddling. Most iSUPs will weigh in around 20lbs; when considering a board weighing more than this be sure to do some research on its design to make sure its engineered for performance.
Personally, I prefer a slightly heavier board. When paddling on lightweight and ultralightweight boards, its easier to lose control on windy days and get blown about on the surface of the water.
At the end of the day, whether your inflatable paddle board weighs 15, 20, or 30lbs, they are significantly more portable than solid core boards and should not pose a problem for users to haul in and out of the water.
Value
Today's inflatable paddle board market sees average prices around $400 for an entry-level, all-around utility board. This best paddle board list covers boards which we believe to be the best of the best so you'll find higher prices here. If you're on a tighter budget, we've reviewed the best cheap paddle boards on another page to get you started.
It all depends on what you plan to use it for!
Our Top Inflatable SUP Boards for 2021
High Performance + Best Value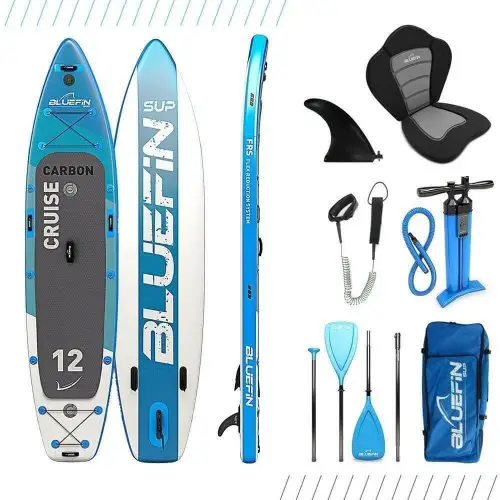 Excellent stability
Great traction
High-performance design and maneuverability
Extensive accessory package; kayak conversion kit included!
Bluefin has become a leader in the mid-market and high-end market for inflatable SUP boards with innovative manufacturing, forward design, and flawless execution.
Across the range of product reviews, roundups, and lists of best paddle boards, Bluefin SUP boards land at or near the top of many lists. We have great respect for Bluefin and their entire line of inflatable SUP, and think that the Cruise iSUP (either 10'8" or 12' depending on your size) is one of the best paddle boards for 2021. We highly recommend it for your next iSUP purchase.
Length: 10'8"
Width: 33"
Weight: 15lbs
Capacity: 330lbs
The Good:
Bluefin's Cruise iSUP line integrates most of the Bluefin iSUP technologies. This board features...
1) the Exo Surface Laminate Technology for an extra tough, durable, and UV-resistant exterior
2) 11,200 Dropstitch Density, allowing the board to fill to a crazy 28 PSI for extreme rigidity
3) Thermosealed Deck Pad ensures the optimum combination of density, durability, and traction.
The board inflates well ("easily" isn't the right term, given its high-PSI capacity) and features a good amount of externals. 5 grab handles give you plenty to hold on to while 6 D-rings allow for accessories and an ankle leash to clip on. A front bungee tie-down offers storage, and Bluefin has also added an action mount for a GoPro or similar model camera. In addition, Bluefin includes a kayak conversion kit so you can give your legs a break and still paddle on. Finally, we really like that all three fins are removable for storage and transport. Most iSUP boards only allow the center fin to be removed.
On the water, the Cruise offers excellent stability thanks to its construction. I'm a short guy (5'8") and the 10'8" Cruise felt on par with a hardboard. Bigger riders will want to opt for the 12' Cruise iSUP. When it came to paddling, speed, and maneuverability, the Cruise stands up notably to other performance boards. Its sharper nose and tapered tail allow it to cut through chop and track solid lines, while the deck pad and raised tail footbed offer more advanced riders excellent maneuverability. We think the Cruise will be able to handle almost anything an iSUP rider will want to throw at it.
The Bad:
It's hard to find anything wrong with the iSUP itself. If we had to be picky, we'd highlight the paddle as a bit lacking. We'd love to see a carbon fiber paddle included with the Cruise, but you need to upgrade to a higher level iSUP before Bluefin will toss in a carbon fiber paddle. Such is life. It would be a stretch to expect a high-end paddle with a $500 board.
Conclusion:
We really enjoy the Bluefin Cruise and think that, for an all-around, "beginner" board, this is a high performer and can hold its own against some of the top market boards. The Cruise iSUP is the epitome of a value buy! If you like the Cruise but want to up your game a bit more, give the Cruise Carbon a shot. You'll pay a bit more, but you'll get the full suite of Bluefin's technology along with their highest-end accessories.

Performance trekking and all-around board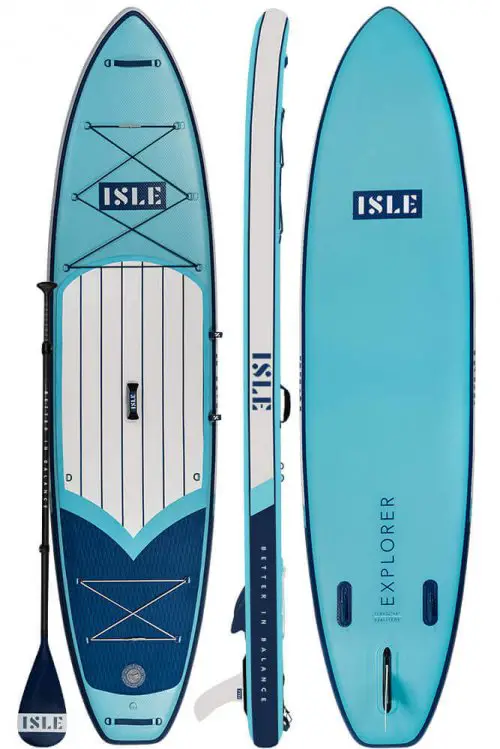 Fantastic design and color scheme
Front and rear bungees
Rigid durability for long treks
Length makes it great for accompanying gear, pets, or children.
ISLE Inflatable Paddle Boards are designed for exploring the great outdoors. Built for long paddle treks and adventures, the Explorer handle wells and includes features for adventurers. Icing on the cake: ISLE iSUP boards feature beautiful design aesthetics.
Length: 11'6"
Width: 32
Weight: 24lbs
Capacity: 300lbs
ISLE Surf and SUP has been around for a while but it seems they've only recently been making waves across the US over the last year or two. With 4 inflatable stand up paddle board models in their catalog, they keep things simple and focus on designing and building beautiful, high-performing iSUP boards.
The Good: Man oh man do I find this board attractive. Using muted nautical color palates and clean, strong lines, ISLE has set their boards apart from an endless sea of board design monotony. But even more important than looks is performance. The Explorer is ISLE's top performance board, built for long hauls and endless adventure. Even if you get tired during a long run on the water, this board won't let you down. It's design provides excellent stability and the EVA foot pad gives your legs a break over long periods of exertion. Also, if you're strapping in gear for a trek, the Explorer handles odd weight loads with ease.
The Bad: At 24lbs, this board weighs in as the second-heaviest iSUP on our list. Is that terrible? Not really. This board is made for enduring longer treks and has to be built a bit tougher. With quality manufacturing, toughness often adds a little weight. It's worth the tradeoff if you're buying it for trekking purposes.
Additionally, while we haven't had extensive time with an ISLE inflatable SUP, we have received commentary that their manufacturing quality can be inconsistent, most notably with the seams coming undone. We have yet to experience anything like this for ourselves, of course.
Conclusion: ISLE is a strong player and their boards rank in many lists of best paddle boards. We give them high marks for design and functionality on the Explorer and, being a US-based company, expect them to stand by their products in case things go wrong.

A Touring Inflatable SUP at a Reasonable Price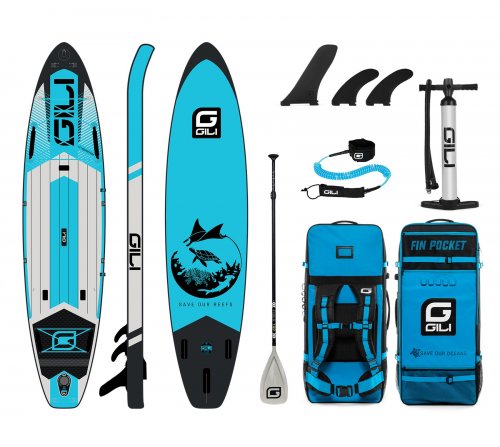 11' or 12' length options
Fast!
Great for touring and trekking
Best fit for intermediate or experienced riders
GILI Sports offers a full line of inflatable paddle boards, many of which rank highly against the other higher-end boards on this list. The Adventure iSUP is our top choice for touring and speed.
Length: 11' or 12'
Width: 32'
Weight: 19lbs
Capacity: 350lbs (for advanced riders)
Hailed as the fastest inflatable SUP in GILI's paddle board lineup, the Adventure lives up to its billing as a premium touring board.
The Good: Fast. Fast. Fast. It rides fast AND inflates fast. How you like them apples? But for real, we thought this might be a little touchier on the turns but it really tracked well for a longer speed board.
It's lateral stability proved excellent even thought the fins had a little wobble to them. Even with some wind and minor waves, the Adventure held its own and impressed.
Aesthetically, it's really sharp. The various color schemes GILI offers are kind of a combination of minimalist meets bold lines (if that makes sense). And, while the board is packed with D-rings and accessories, it doesn't obnoxiously seem to jump out and scream "clip something to me!"
The Bad: Honestly, not a lot to write here. Obviously, either model is on the long side so if you're a smaller person, the Adventure may not be for you. But even then, if you're an experienced rider, you'll know how to handle a long touring board.
Conclusion: Top marks for touring and speed for this inflatable SUP. The Adventure really does live up to its name. Just don't try to navigate too narrow of a river. Just saying. Hypothetically. Someone may have gotten stuck...

Premium Design & Manufacturing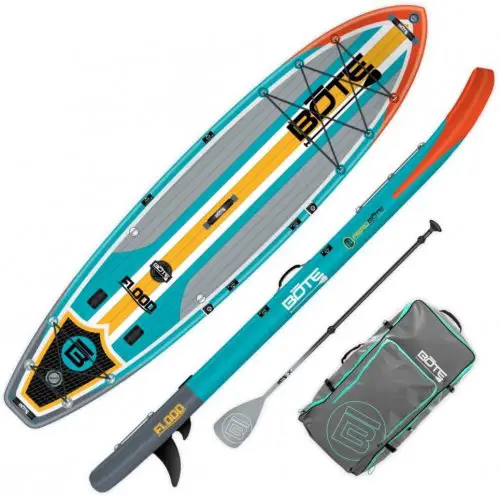 Incredible stability
Aerobote Technology construction
Full-length EVA footbed (optional but my favorite)
Compatible with every accessory you would ever want to add to an iSUP
The BOTE Flood inflatable SUP is a premium all-around use board designed and manufactured by BoteBoard in Destin, Florida. We have a lot of love and respect for BOTE's entire catalog and we would be fools to not tip our cap to the Flood Aero.
Length: 11'
Width: 32"
Weight: 28lbs
Capacity: 275lbs
The BOTE Flood Aero is a top-notch all-around iSUP which we found pleasing in all regards. Advertised as "sleek + sturdy", this board definitely covers it all.
The Good: This board really shines in the stability game. When fully inflated, this board was as solid as they come. BoteBoard attributes this to their "Aerobote" technology - their proprietary composite internal drop stitching process. Despite its rigidity, the footbed was comfortable to stand on -- just the right blend of traction and firmness -- without feeling too slushy or squishy.
Aesthetically, BOTE really kills it with this board (with all of their inflatable SUP boards, really). My personal favorite is the full-trax aqua.
Finally, BOTE has developed a full system of add-on gear they call the RAC system. So if you really want to make an adventure with your BOTE inflatable SUP, they offer attachments for fishing, transport, and even power!
The Bad: This board is heavy. At 28lbs its the beefiest on our list. Perhaps a bit over-engineered? Maybe. Do I get it? Definitely. With BOTE's quest to make the best paddle boards and best inflatable SUP boards, they've gone above and beyond where other manufacturers stop at 'good enough.'
Conclusion: While not for total beginners, the BOTE Flood Aero is our top choice for the best inflatable SUP experience on today's market.

5

. Nixy Newport Inflatable SUP
Ultra-Premium All-Around iSUP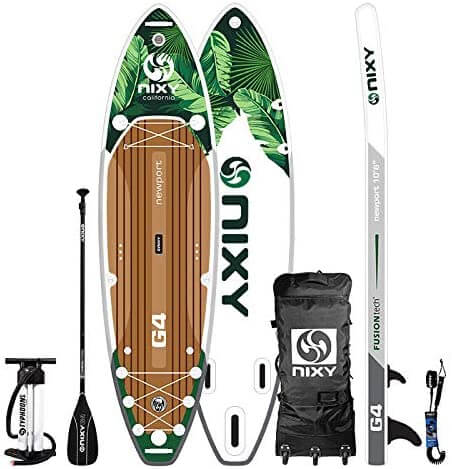 Premium drop-stitch construction
Extra-wide design
3 grab handles
Super-comfortable deck
Carbon side rails
Paddle holder!
Nixy Sports, based out of Irvine, CA, seeks to serve the most demanding of customers with high-end sporting and outdoor products. The Newport inflatable sup board is their entry in the all-around iSUP category and really impressed our team.
Length: 10'6"
Width: 33"
Weight: 21lbs
Capacity: 300lbs
The Newport is for the all-around paddle boarder who wants the best of the best. How does it live up to the advertising hype?
The Good: For a $900 board, I was expecting this board to be heavier. At only 21lbs, it actually felt even lighter in the water but solid enough to not blow around like a leaf in November. It handled very smoothly, especially in and through turns, and its lateral stability really showed through.
Nixy spares no expense on the footbed EVA foam either. It felt great throughout the ride and provided just the right amount of traction. While we only rode this once, it seems like it will stand up better than others over the long term.
Finally, this board is tricked out for just about every accessory you'd think to add: Front and rear bungees for all your gear, 16 D-rings for accessories, a Gopro camera mount, and (my favorite!) a paddle-holder for when you decide to kick back and relax to the feeling of the waves.
The Bad: Performance-wise, we didn't find anything to complain about with this board. Personally, I didn't care for the graphic design element - I would've thought they could come up with an aesthetic that's a little less just-like-everyone-else, but again, that's just me.
Conclusion: For those willing to pay a heftier price tag, and be rewarded with all of the bells and whistles, the Nixy Newport iSUP is your board.

Subscribe to our Newsletter