Best 2 Person Kayaks Reviewed & Rated for Quality
In a Hurry? Editors choice: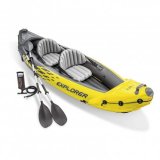 Test Winner: Intex Explorer K2

Kayaking is a sport enjoyed by many throughout the world. It's the sport of moving across bodies of water in a shallow, low boat in which
the rider sits
in a forward-facing position. The rider uses
a paddle specific to kayaking
and pulls in a backward-forward motion on each side in a rotation. Kayaking is not only a delightful activity for all ages, but it is an excellent workout for the arms and core. There are many different types of boats available,
depending on the kind of kayaking you'll be doing
. These can vary depending on the type of kayaking, but they generally come as closed-decks, sit-on-tops, or inflatable. Although single rider models are more common, tandem models have been growing in popularity. There are a few different variations of these types available on the market today, and we've researched the ten best ones.
Standout Picks
Criteria Used for Evaluation
Use
Where you decide to go kayaking will play an essential factor in the type of boat you will need to bring. These are not universal and are primarily dependent on the body of water you will be in. To stay safe and (mostly) dry, consider what type of kayaking you will be doing.
Lakes or still waters are great for recreational kayaking. If the weather is fair, then you can go with any sit-in model or sit-on-top model kayaks. These type of boats are best enjoyed in mild climates, as any tides or whitecaps can cause overtures for most recreational boats.
Coasts have more winds, currents, and tides, which make for more movement and requires more stability. You can opt for either a sit-in or sit-on-top boat. You want to look for kayaks with rudders or skegs (dropdown fins), which provide more stability and control of movement.
Rivers have two types- still water rivers and whitewater rivers. They both require stable, sturdy craft or hull that can turn quickly and be able to be maneuvered easily to prevent falls. Whitewater models will specify that they can be used in Class settings, whereas river models can be short, touring boats.
Style
Kayaks have many different categories, including sitting style, intended purpose, and their structure.
Sit-on-tops are primarily used for recreational lakes and natural flowing rivers. These are mainly seen on warm, coastal waters and typically have lots of storage in them for long trips. Getting on and off these types of kayaks is easy because the seats are not embedded inside the boat. This seat positioning makes these type great for recreational uses like fishing, swimming, and playing near the port. These usually come with scupper holes intended to be self-draining. So, there should be no need to drain the water yourself. (You will always get wet in these type of kayaks, and there will always be water.)
Sit-in boats are more traditional. They have the most space where most of your body have points of contact with the boat. The position you have within these type of models allow for greater control and upper body control. This is useful for maneuvering in strong currents and can be more fun to use. These boats usually come in recreational, day touring, and touring models. They can move fast and are more efficient in driving and maneuvering than the sit on tops.
Day touring boats (sit-ins) are designed to be narrower, sleeker, and more efficient than the traditional recreational boat. These are meant for stronger waters and often come at a higher price point than the recreational ones. They are usually shorter in length and offer more exceptional tracking and control in rough seas. These type of boats are often used in whitewater kayaking where you would need to have stability and ease of movement in turn.
Touring models (sit-ins) are longer and have a different purpose than a day visiting. These are long, heavy-duty, and robust and are meant to travel long distances. They have excellent tracking and usually have rudders and skegs to handle harsh winds and currents.
Inflatable kayaks have become quite popular because of their convenience and compactness. Not everyone has a storage space where they can store their hard-shell kayaks. Inflatable ones have become an excellent option for those who want a portable model they can conveniently take with them on trips. Most models now are very sturdy and versatile, and these are great for flowing rivers because they can bounce off objects and steer you in the right direction.
Sit on top fishing boats are great for those who like to take their boat out on the river and stay for long periods. Most of the ones designed for fishing should come with extra compartments and fishing rod holders for hands-free enjoyment.
Materials
Kayaks are usually made out of high-quality, sturdy material, but it largely depends on if the boat is hard-shell or inflatable. The hard-shell are typically made of some plastic. The three main ones are polyethylene plastic, ABS plastic, or a hybrid composite. Polyethylene is inexpensive and should be abrasion or scratch-resistant, but these are usually quite heavy and can destroy or degrade in quality after long periods in the sun. ABS plastic is slightly more expensive but lighter in weight and more comfortable to carry. This makes it easier to maneuver around in the water and offer UV protection. Composites are usually made of fiberglass and ultralight carbon-fiber and provide high performance compared to their counterparts but can get damaged in rugged conditions.
Size
This can vary based on the individual, but you want to consider these factors aligned with the paddler. Weight capacity is essential to find, especially if you're going on a tandem or three people model for long periods with gear and extra items. Look for the combination of weights and the max capacity that the model can allow for. If the boat is overloaded, it may sit too low limit the paddling efficiency, and can even cause sinking and water to get into the boat.
The length of the boat is essential in determining how you will be kayaking. Longer boats are more significant for touring and great for cruising for long periods, while shorter models are better at turning and maneuvering in currents and unstill waters.
If you are on the taller side, you may want to opt for kayaks with deeper hulls that allow for depth. These are better for more storage and a place for long legs to stay.
Accessories
Rudders and skegs provide stability for kayaks and help them track straighter in the wind. Similar to how a fish needs their fins to maneuver around, these accessories help in direction. A skeg is a drop-down fin on the boat that prevents the wind from gearing the boat off course, while a rudder allows for movement in direction with the boat's foot pedals.
Seats- You're going to be spending hours in that seat, and a comfortable position can make all the difference in what can be an enjoyable experience or an uncomfortable one. You want to opt for adjustable ones, ergonomically designed to keep your spine aligned, padded, and even waterproof.
Hatches or compartments are essential when you want to bring your belongings with you (like your camera or fishing equipment) and need a place to store them and protect them from getting wet.
10 Best 2 Person Kayaks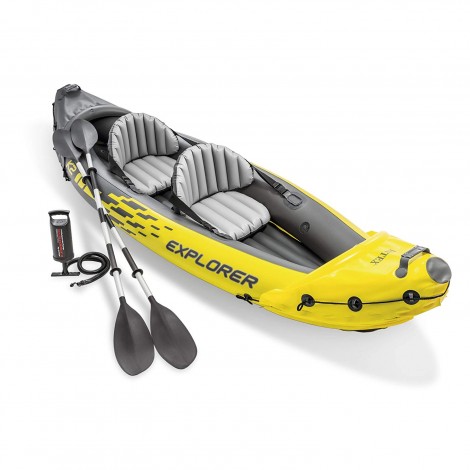 This streamlined, uniquely designed model is a very popular model that offers crucial features which every kayak should have. This sports two very comfortable and roomy seats, large dimensions, and is made from a very heavy-duty puncture-resistant material that is meant to last through rough conditions.
Lightweight and Compact
This is easily inflatable, making it easy to carry with you wherever you go. Once deflated, it's small enough to fit in your the trunk of your car with lots of room to spare. This is an inflatable kayak, so it's not meant for whitewater kayaking, but offers a very smooth ride in still waters
Accessories Included
It's a pain to go searching for separate accessories, and with this one, you won't have to! It comes with two 86 inch aluminum oars, perfect for each paddler. It also comes with an Intex high-output pump for easy inflation and deflation.
Cost and Value
Non-inflatable models and models meant for whitewater can be very costly- this is a great price point for a two-person kayak with equipment included. Customers claim to be very satisfied with this product for its ease of installation and convenience. Its use is meant for recreational fun, and it does just that.

2

. Airhead MONTANA Inflatable Kayak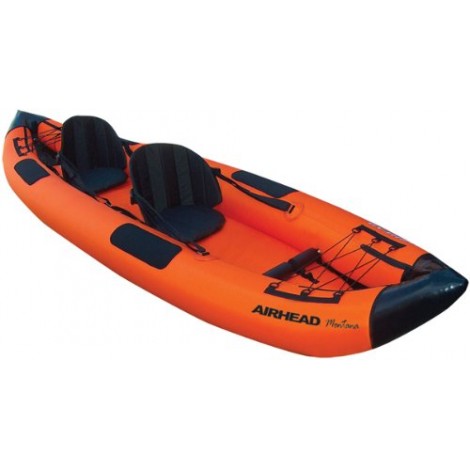 This is also another popular model that is designed to be used for lakes and moderate white water. This is a reasonably sizeable two-person kayak, extending up to 12 feet and an ability to hold up to 500 pounds.
High Quality Material
Even though this is inflatable, this model is made from highly durable material. Its made from a semi-rigid heavy gauge PVC construction, and stainless steel and nylon are covering so it won't destroy.
Great Tracking
A kayak that has great tracking is designed to stay on course when you're paddling with a crosswind. The low drag and four bottom fins ensure great tracking on your ride.
Cost and Value
This comes at a higher price point than other inflatable models. There is an additional expense if you don't already own a pair of oars and an inflator. However, customers state that it has remained damage free even through rocky waters, so this product is made from highly durable, quality material.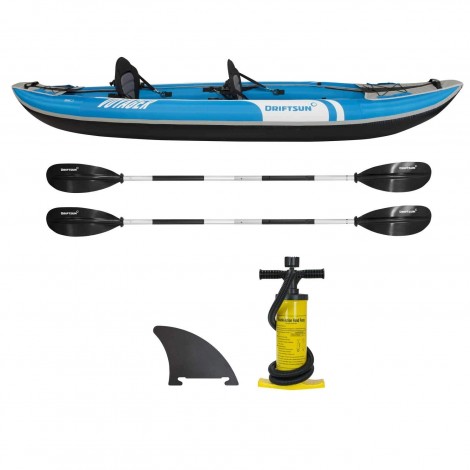 The Driftsun Voyager is one of its kind. With a unique, pointed nose bow, durable design, quick inflation, and accessories included, this model has everything you need to guarantee a good kayaking experience. This is the perfect model for those who are looking to cruise rivers and lakes in comfort.
Pointed Nose Entry (Bow)
This model has a uniquely designed pointed and curved entry at the front with a "V" shaped hull. The continuous rocker profile and a removable tracking fun allow for stellar performance in both calm and ragged waters.
Quick Inflation
The Driftsun Voyager inflates to its full size (10 ft by 35" by 16") in under 5 minutes with its included high double-flow action hand pump. You can go from unpacking from your garage or car to the water in just a few minutes!
Cost and Value
Prices for this high-quality boat can vary based on the seller, but considering this comes with all accessories included (kayak, two inflatable seats, aluminum paddles with ergonomic grips, hand pumps, rear tracking fin, repair kit, and travel bag) this package is a great bargain.

4

. Sevylor Coleman Colorado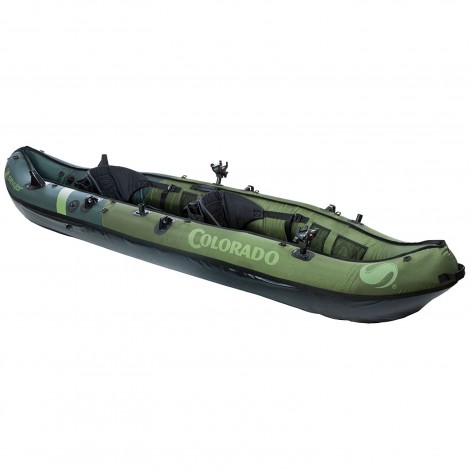 The Sevylor Coleman model is meant for taking with you on your fishing adventure. With its thick tarpaulin bottom and sturdy nylon cover, this will be protected from punctures and wounds. It also has added on accessories that are geared toward fishing.
Double Walled
This kayak is double-walled, with the inflatable portion being covered by a very thick resistant cover, making this ideal to for most conditions, and making this great for stable tracking.
Fishing Features
Because this is a model meant for fishing, it comes equipped with fishing rod holders and separate compartments where you can store your things. You can also place a Sevylor trolling motor and store your oars in the compartment holders, keeping your hands free for fishing activities.
Cost and Value
Some customers state that this is the strongest, most durable inflatable kayak they have ever used. Customers say that they even bought a second one for visiting family and friends. It does come at a higher price point, but you're paying for the high-quality stitching and material so that it may be worth it.

5

. Vibe Kayaks Skipjack 120T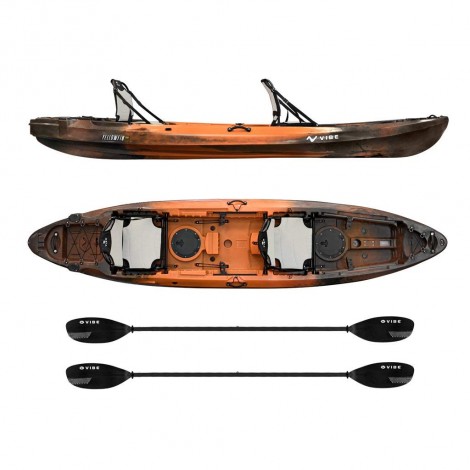 This is a different type of boat from the inflatable ones we have listed so far. This is a "Sit on Top" model, which sounds like exactly that. These are different from traditional kayaks in that there molded-in seats, which allows for more comfort and extra legroom for those with more significant body types or longer legs. This also is not inflatable and made of hard material.
Mountable Accessory Ports
This comes with a couple of mounts for rods with caps that will sit flush. An additional four mounting spots for all your rod holding needs. Which make this perfect for taking with you on your fishing adventures
Easy Transportation
Because sit-on-top boats are made from sturdier material and are non-inflatable and heavier to carry. This comes with handles which makes it easy to plop into and remove from the water.
Cost and Value
These type of boats are going to be much higher in price compare do their inflatable counterparts. Because of the difference in material, these are made to last long and uphold rough waters. Avid kayakers like to opt for these type of kayaks even with the high price point if they have the storage to do so.

6

. Vibe Kayaks Yellowfin 130T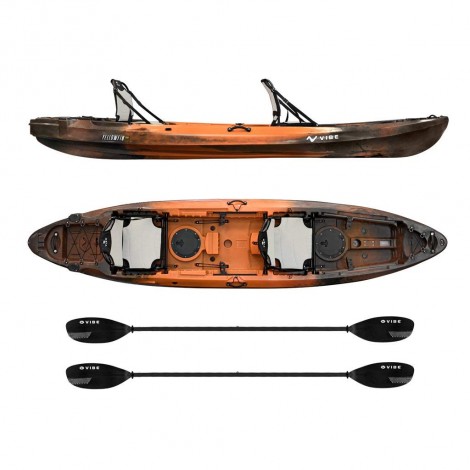 We're going to end this list with a bang with the product with the highest price point, but with the quality and design that is meant to last for years. This is designed for utmost stability, with extra room (can fit up to three people) so all your friends and family can enjoy the experience with you.
Adjustable Seats and Footrest
The seats in this can be adjusted to fit one person or moved to the center for the solo rider. Footrests can also be adjusted according to the size to provide the most stability and balance.
Multiple Storage Options
This comes with two sealed hatches with large bag inserts so you can carry all your gear and accessories with you. There is also a large bungee rear tank and bow cargo bungee system.
Cost and Value
This does come at a high price point but does come with two fishing rod holders and four Mounting points for all different type of fishing rod holders, which make this perfect for fishing. Customers say that although this is an investment, it is lower in cost compared to most at outdoor sporting goods stores.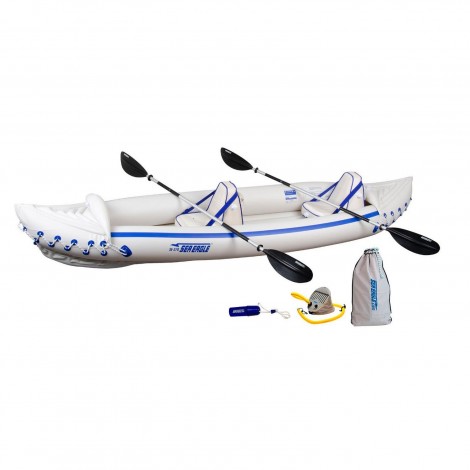 The Sea Eagle is an ultimate sport boat, making it suitable for Class III whitewater and two skegs on the bottom for superior tracking. With its extra-large size, it can hold up to three people and hold up to 650 pounds, but can also be used solo if you please. The durable material can even withstand animal claws, so you can even bring along your furry friend.
Rugged Polykrylar Hull
The Sea Eagle offers an extra tick 38-millimeter hull, with an I beam construction floor for extra stability and rigidity. If you have an active dog that you like to take adventures on with you, this model can withstand their paws so that this boat can be enjoyed by humans and animals alike.
All inclusive package
The Sea Eagle Sport Kayak comes with everything you need for a good kayaking experience. It comes with two paddles, two inflatable and removable seats, a foot pump to inflate the kayak, and a bag to store everything inside conveniently.
Cost and Value
The price of this package is comparable to one inflatable kayak alone, so this inclusive package is a bargain. Customers also state they have taken the Sea Eagle out to shore that has been riddled with sharp rocks and pebbles with no damage to the kayak. This is a quality package deal.

8

. Lifetime 10 Foot Tandem Sit-on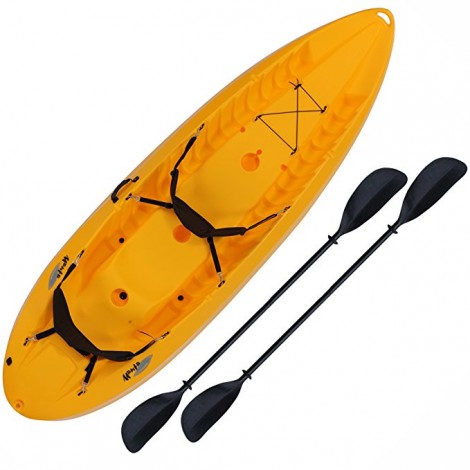 This model is a classic looking single or tandem sit on top model with great features that make for a great experience. With soft backrests, a stable hull, and lightweight design, this product is guaranteed to satisfy fun for all ages.
Lightweight Design
Given that this is not an inflatable model, it is considered to be very lightweight (at 60 pounds) and easy to transport. This makes it very easy and convenient to store or hang in your garage or shed.
Tunnel Hull Design
This product boasts about the unique tunnel hull design shape which makes it virtually impossible to tip over. Making this a very safe boat for kids of all ages to enjoy safely.
Cost and Value
Given that this is hard-shell isn't inflatable sit on top kayak, it does not come at a cheap price point. However, compared to other sit on top models out on the market today, it is considered to be lower in cost.

9

. Sun Dolphin Bali Tandem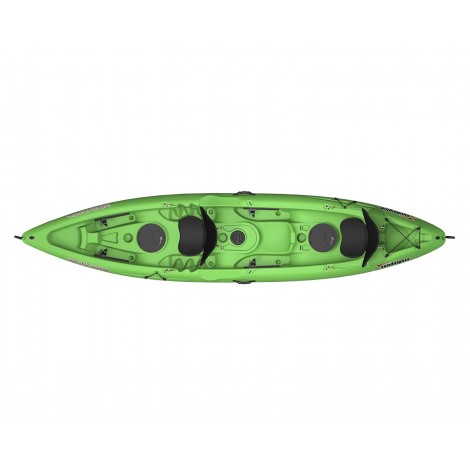 The Sundolphin boat comes at a massive 13.5 feet and is specifically designed to fit one, two, or three people. You can enjoy kayaking or whitewater kayaking in a group setting, as there are also deluxe adjustable seatings in this which make for a comfortable and fun ride.
Adjustable Seating
This model is versatile enough to fit up to three people or go solo. If a third person is desired, they can fit comfortably in the middle seat. For solo riders, move the padded rear seat to the center. The seats also have high back supports.
Storage Compartments
Take this one with you on all your water adventures- you can store your items in up to three covered storage compartments, and place your paddles on the convenient paddle holders and carry handles.
Cost and Value
Considering that this product can fit up to three people, it is well worth the price point. Customers state that for the size, it is straightforward to carry, and the sturdy material makes it very durable and long-lasting.

10

. Outdoor Tuff Stinger 4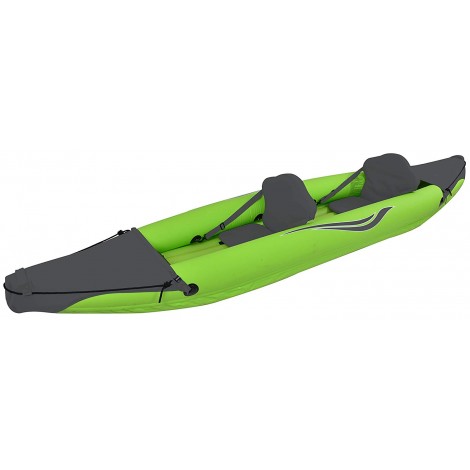 The Outdoor Tuff Stinger is a great way to explore the outdoors, hence the name. It is constructed of heavy-duty, puncture-resistant PVC material, with three high-quality air chambers that can be inflated or deflated in minutes. This model is the ultimate construction, designed to maximize your experience.
Triple Layers PVC
Some users are reluctant to inflatable models because they can be easily punctured. The Tuff Stinger is made from a highly durable PVC construction that is triple layers. So, it can withstand a lot of use.
Air Chambers
The multiple air chambers that are placed throughout this model give this product rigidity and firmness that is similar to most traditional hard-shell kayaks. This gives your boat an effortless buoyancy in the water.
Cost and Value
This product also comes with two oars included and a one year warranty- considering that this is an inflatable model, it is going to come at a lower price point. Customers say that for its price point, it is considered to be a very high-quality inflatable.

Subscribe to our Newsletter