Best Heated Toilet Seats Reviewed & Rated for Quality
In a
Hurry? Editors choice: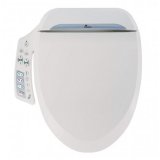 Test Winner: Bio Bidet Ultimate Advanced

There are few things in life that are worse when you sit down on a cold toilet seat. On the other hand, a seat that has been warmed by someone else is not much better. If this is a thought that has crossed your mind recently, then it might be about that time to buy yourself a heated toilet seat. Buying a heated toilet seat is a bit of a no brainer. It is incredibly easy to set them up, and they will quickly make your time on the toilet into a complete moment of comfort, rather than a cold shock , that is then followed by some comfort. No more trips to the washroom in the middle of the night that result in your being too awake to be able to go back to bed. The bathroom will become the comforting place that it is meant to be.
Standout Picks
Criteria Used for Evaluation
Adjustability
Not all bottoms want the same thing. That makes it especially useful that you can change the temperature of the heated toilet seat before you sit down on it. These toilet seats do a good job of making it easy on you to be able to pick the type of toilet seat heat that you want. For the most part, if the toilet seat is going to give you an option, then it will most likely let you pick between three different options. This category is a rating of how much you can swicth around the toilet to get it to your liking. Everyone wants their time on the toilet to be spent differently, so this category is a very important one to look into. There are also lots of other things that need adjusting, such as many of the extra features, such as the bidets that feature so prominently on this list.
Comfort
This is what you are probably here for. Th[is category is an indication of how comfortable you will be while you are sitting down and taking care of your business. The best way to know if the toilet seat is going to be comfortable is to see how warm it is going to be by the time that you get there. These toilet seats will all do a good job of warming themselves up before you have a chance to be shocked awake by the seat. There are other things, such as the size of the toilet seat, as well as the materials that the seat are made out of, that will affect how much enjoyment you get out of using your new toilet seat. The more comfortable that you feel on the toilet, the more likely it is that you will be able to enjoy the rest of your time during the day, as well.
Ease of Use
An important thing to think about when you buy your new heated toilet seat is that you are going to have to install it, as well. This means that it is important that it is as easy as possible to get the toilet seat all set and ready for you to sit upon it. All the seats on this list will do a good job of making your life as easy as is possible so that you can get straight to enjoying yourself. Another thing to think about is how easy it is for you to use the toilet's new features. Many of these toilet seats come with a keypad that lets you choose all the things that you want to do, but this can be a strain if it is attached awkwardly to the side of the toilet. If you want to have a comfortable experience of perusing your options, then think about picking up a heated toilet seat that comes with a remote control that you can hold in front of yourself.
Features
As you may have noticed while you were perusing this list, many of the options are for toilets that also include bidets. Honestly, many of these are bidets that include a heated toilet seat. If you are going to go part of the way and get yourself a heated toilet seat, it may be time to think about buying youraself a bidet, as well. They come in many varieties, and make it very easy to keep yourself clean without needing to do any extra work. The bidets on this list are all very well-designed, and do just as good a job as the toilet seats at keeping you nice and warm so that you don't feel uncomfortable on the toilet. Another great feature to look into might be to find a toilet seat that comes with a night light, which is great for not having to turn on the lights when you use the bathroom in the middle of the night.
Value
The prices for these heated toilet seats is spread quite a bit around. Heated toilet seats cost quite a bit more than many would think, and that is because they usually come with complex features, like bidets. The ones that do not come with a bidet do a good job of keeping themselves to a very reasonable price. The price goes up once you start adding features. The cheapest option on this list is the heated toilet seat that does nothing else. It is all about what you are looking for. A heated toilet seat is more than enough for most people, but maybe some of these other features have got you a little bit interested. This category is a rating for how much you can expect to get back for your dollar. All the options on this list are a good deal, but some pack more features into a cheaper price point, which is always a great touch.
10 Best Heated Toilet Seats
Subscribe to our Newsletter