Best Cheap TVs Reviewed & Rated for Quality
In a Hurry? Editors choice: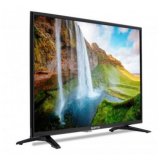 Test Winner: Sceptre 32-Inch X3282BV

Some of us have a friend or companion that is knowledgeable in
technology
and is able to give advice on which they would choose. However, for the majority that are lost in the television choosing world, there is a top reviewed list of televisions listed conveniently below. Sometimes your need doesn't call for the fanciest TV on the market but does call for a solid, functioning option that isn't going to cost you an arm and a leg. Luckily, there are plenty of products available on the market that are not only viable options for your television-watching needs but are
budget-friendly
as well. We have scoured the internet for the best options available for your
home
, that won't break the bank but also won't die out on you a week after you drop your hard earned cash on it.
Standout Picks
Criteria Used for Evaluation
Size
One element of a TV that can make it quite expensive is the size. The bigger a TV is, the more it costs, obviously. However, you don't just want to buy a tiny TV because you want to save some money. There are reasonably sized options on this list, as well as small ones. How do you determine which size is right for you?
A couple of things that we should go over first are how a TV is actually measured and why the resolution is also important here. You measure a TV diagonally, for example, the bottom left corner to the top right corner. If a TV claims to be 22 inches, that measurement will equal 22 inches. Resolution is important because the higher the definition, the closer you can actually sit to the TV before things start to get pixelated. That means you will want to sit farther away from your 720p TV than you do your 4K TV. That also means that you may need a bigger 720p TV than you would 4K TV to compensate for the added distance.
Now, back to the actual size that you want to get. Taking the above-mentioned factors into consideration, you also need to consider how big your room is. Do you want this TV to go in your living room that likely has a decent amount of space and big couches that are a ways away from the TV? You may want a bigger TV. A small one would be out of place and difficult to see any details on when you are sitting 10 feet away. What if you are buying a TV to put in your RV and your space is very limited? Here a tiny one would be perfect because you are closer to the TV itself and the space in which you have to put it is likely very small.
Model
There is a lot of lingoes involved when buying a TV so let's break it down a little bit. A TV is considered high def when it hits 720p. Now, this was a revelation in the early 2000s but at this point is considered a little bit outdated. The edition that came out after 720p was a 1080p and that is considered Full High Def. Even that is semi-outdated at this point. The latest and greatest currently is a 4K resolution which is typically considered Ultra High Def.
Obviously, the higher the resolution is, the higher the price is. As such, there is only one on our list that is 4K - and it is the most expensive one on the list. This is very likely something you will need to be willing to compromise on if you want to get a cheap TV. The good news here is that unless you have previously been the owner of  4K TV, you don't really know what you're missing out on. 1080p really is full high def and looks good with minimal pixelation. 720p is less so, but it still gives a quality picture with great coloring. If you're really looking for the cheapest quality TV available, you'll be looking at a 720p option.
Value
When choosing a cheap TV, it is important to know what your standards are and where you are willing to compromise. Ultimately, there is only one way to make a TV cheaper and that is by losing a feature or several features. You may have to compromise for a smaller TV or lose that Ultra High Def resolution you've been eyeing. But, unless you are willing to wait in line and fight over a Black Friday deal, this is the only true way to get a TV for a lot less than the standard these days.
Compromising to get a good price is not necessarily a bad thing though! If all you need is a functional TV and really don't want to spend a ton of money then you don't have to! You can absolutely find high-quality TVs with a small price tag that will likely meet or exceed your expectations.
10 Best Cheap TVs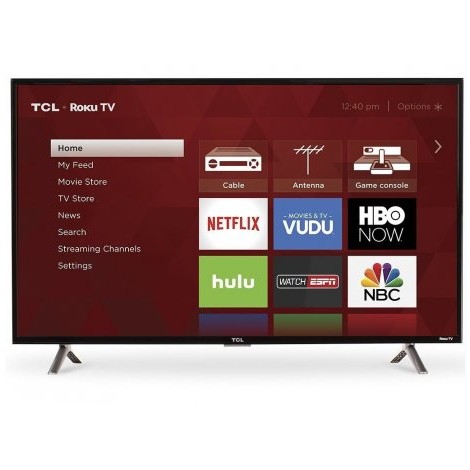 This TV has a lot of bells and whistles for not a lot of price. You get an LED Smart TV that also has a built-in Roku. Not only can you connect it to your cable, but it will also connect to your WiFi and enable you to watch Netflix, Hulu, or whatever Amazon movies and shows you want. It is small and light and will impress you with its high level of functionality.
Your options are not limited on remotes here. It comes with a simple, straightforward Roku remote that has only about twenty buttons. This is less than half of the typical buttons found on any given TV remote and makes it much easier to navigate. Not only that, but you also have the ability to download an app to your smartphone that will allow you to control the Roku end of the TV seamlessly. It allows for voice control and gives you the ability to use your headphones right in your phone to hear what is playing on the TV.
Smart TVs are all the rage and the good news is that this one comes to you at a nice price! It easily connects to wifi which allows quick and easy access to all of your show watching accounts in one place. This is all in addition to being able to connect to cable and an antenna.
This TV offers incredible bang for your buck. You get a lot of the functionality of a more expensive TV in a light, easy to manage, inexpensive package. As it is a Roku TV, you won't have to worry about that extra purchase either. This is a great TV that will save you hundreds of dollars and serve you well.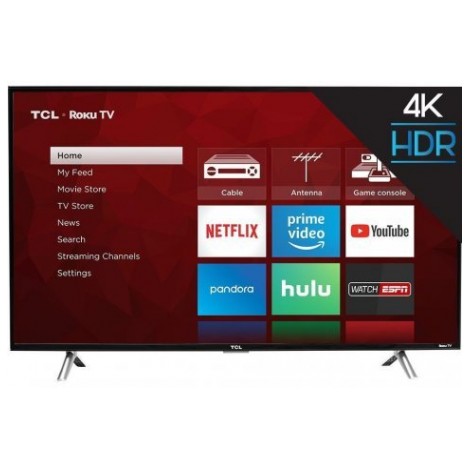 This TV is the slightly cooler version of the first one on this list. It is just a little bit bigger at 49 inches and boasts 4K Ultra High Def Resolution. It is still cheap enough to fit onto our cheap TV list and also includes Roku capabilities; as such it easily connects to wifi as well.
Maybe the most exciting feature on this TV is the 4K Ultra High Def that it features. This is a nearly standard feature of higher priced TV's and is a large factor in driving up their price. In fact, this is one of the only TVs at this price point that has such good resolution. You don't know what you are missing with high def once you experience it, and once you do there's no going back. So, if you are someone who knows what a 4K TV looks like, then this is a good option for you.
Something that gamers will appreciate is that this TV has very little lag time. You will be able to successfully play almost any video game without experiencing much delay and while it does state that picture quality does take a hit, it isn't really a noticeable hit.
The price of this unit is higher one of the highest prices on our list of cheap TVs. However; it does have several features that are typically only found on more expensive models - 4K resolution and the fact that it is 49 inches for starters. All things considered, you are getting a great price for everything included and it is still cheap enough to be high up on a list like this one.

3

. Sceptre 32-Inch X3282BV


Let's face it, if you want a cheap TV you know that you are going to be sacrificing something. Here that something comes in the form of resolution. This TV has 720p resolution, which was great a number of years ago. It is still a great 32 inch LED TV that you'll get a lot of viewing hours from.
One of the HDMI ports on this TV is also a shared MHL port. This will allow you to plug your tablet or phone right into the TV so that you can see whatever is on your screen there at a much bigger, higher definition. Because of the nature of how TVs are made, they will compensate for the lack of quality in photos or videos and make them a higher def before showing them. This is a really neat feature that you won't fully appreciate until you have used it.
This TV also boasts an energy star rating. This is great news for a number of reasons. First and foremost, it means that it uses energy efficiently. This is great for the environment but also your electric bill! Not only does this TV come to you at a cheap price, but it's like a gift that keeps on giving as it uses energy much better than older TVs do or did.
In most facets of life, the adage of you get what you pay for is true. That is also the case here. This is a smaller TV with fewer features than what is standard currently. That makes it very inexpensive and as long as you know what you are getting going into the purchase, you will be more than happy with the product.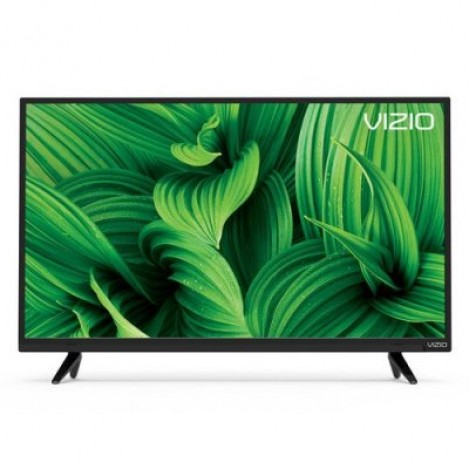 Vizio makes a quality TV, and this is an excellent example of that. It is a 32 inch tv and features 720p resolution. It has a brilliant LED backlight, 2 HDMI ports, a USB port, and is energy efficient.
The LED lighting on this TV is just about as fancy as it can get. The full array LED helps to distribute light across the entire TV which delivers consistent, uniform light and picture. This ensures that you get the best picture quality possible across the entire TV all the time.
Often the place where TVs - even expensive ones - fall short is the sound. Vizio compensates for that however and includes two speakers right on the TV. The speakers work together to give you high quality, even surround sound like quality, with no additional purchases or effort on your part.
This is a nice little TV made by a well known electronics company that will serve you well for a long time. It isn't the latest and greatest, but that is kind of the point of this list. It meets all of our requirements for a solid TV at a small price. When you set your expectations correctly, you will be a very satisfied buyer.

5

. LG Electronics 22-Inch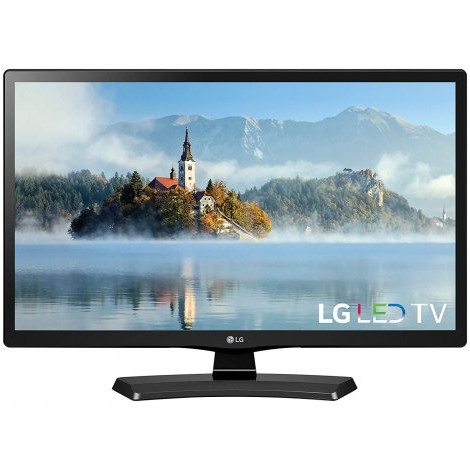 Sometimes you want a great TV for its small space and it is even better when that TV comes at a small price. This LG 22 inch 1080p TV is the one for you. It is smaller, can fit whatever small space you need it for, and it still offers full high-definition. Your images will be clear, the TV will work well, and it is easy to set up to boot.
It is quite hard to find a small TV that boasts full high def like is found here. You get 1080p, and to say that makes a difference is an understatement. The screen also has full array backlighting and features In-Plane-Switching Technology that all work together to give the best possible picture quality. Even better, it can be seen at nearly every angle.
The way in which this TV processes images, it ensures that you will get quality, crisp, and clear pictures every time. They will be full of contrast and natural colors which will make for lifelike scenes every time.
While this TV doesn't have the absolute latest technology available, it does come close. It is small, but it is powerful. Because of the size, and even better if you are looking for a small TV, you can get more cool features for a smaller price. You get 1080p, HDMI capable, and great picture and sound for a price that is even smaller than the TV.



As you can tell from this list, TCL really has the market in quality cheap TVs. This one takes cheap to an even greater extreme. It is a good flat screen, LED TV that works well and features 720p and 60 hz. This means that you will be able to see the picture very clearly and action scenes will go on like they are meant to with minimal blurriness.
This unit features 3 HDMI ports. That is at least one and even two more than others on this list in most cases. This allows you to plug in all your devices - Playstation, Roku, etc. to stream and watch or play as you please. While it is not a Smart TV, this does allow it to have some sort of smart functionality.
Another great feature of this TV is that it has a built in tuner included. No need to buy an antenna in order to get standard TV channels, as long as they are available this TV will pick them up! An added bonus is that it will display all of that standard TV in 720p, which can be a big upgrade at times.
This is one of the least expensive TVs on our list. It is 32 inches, which makes it a reasonable size and 720p, which is considered high def. You will get a lot of functionality out of this for not a lot of purchase price. Set your expectations accordingly and this TV will be a great purchase.

7

. LG Electronics 24-Inch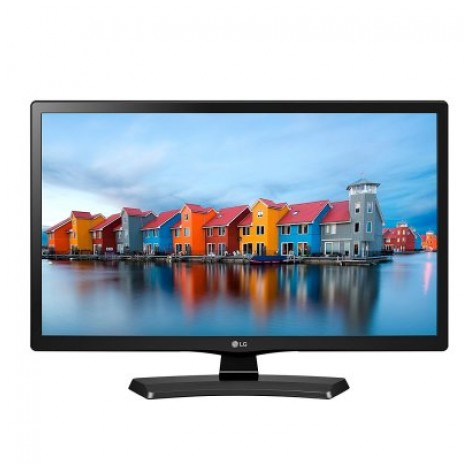 This is a great little TV from LG. It is only 24 inches, which may seem small but will also serve you very well if small is what you are after. It is LED lit, high def, can be viewed from virtually any angleHz and allows you to screen share with your favorite devices. In addition, it will directly connect to wifi itself.
You will be able to connect your devices to this TV in a number of various ways. First off, it is a smart TV and will connect to WiFi all on its own. It is also Bluetooth compatible for wireless connection of any Bluetooth device. Not only that, but it also offers Miracast connectivity. If corded is more your thing, you can also plug into the 2 available HDMI ports.
A big perk of getting a smaller TV is that you get a lot of high functionality without the high price. When you downsize, you can still get high resolution, brilliant and clear picture, smart TV capabilities, and great viewing angles all for a tenth of the price of the bigger, fancier equivalent. This is a great option if your space is conducive to a smaller TV.
You get a lot of bang for your buck when you purchase this TV. It is small, but can do so many more things than many others on this list can. It falls among the cheaper even on our cheap TV list and is made by a reputable technology brand, LG. You can be confident that it will work long and hard for you and that your money is well spent.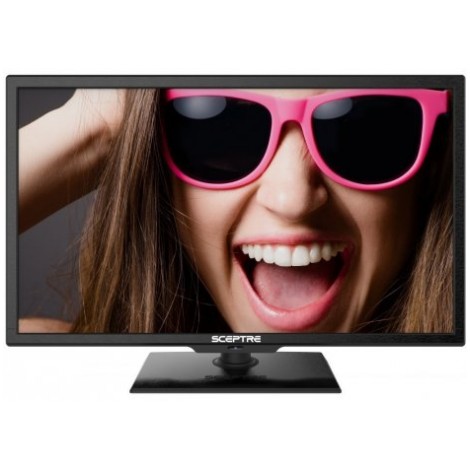 This TV may be small but it is mighty. It features high definition at 720p and quick speed so that all your action scenes can be seen as intended at 60 hz. It is small at 19 inches, but don't be dismayed by that because that only means it can fit pretty much wherever you want it to.
Are you looking for a small TV? Or, maybe you're looking or a big computer screen? This one fits both roles perfectly! With its high def resolution and quick refresh speeds it works great for games both on the TV or computer and is easily alternated between both if you desire.
Because it is so small, this unit is easily taken from one place to the next without much hassle. It weighs in at less than 5 pounds so it is barely any effort to pick it up and take it with you. It works great in an RV, in the bedroom, as a computer monitor, and even in the bathroom if that is your thing. Can't make up your mind? Just move it right along with you!
This is one of the cheapest TVs on our cheap TV list. It doesn't have a ton of extra features, but it works well and will serve you well if you are looking for a small, easily movable TV. There is no need to buy a bigger, fancier TV when a small inexpensive one fits the bill.

9

. Sceptre 32-Inch X322BV-SR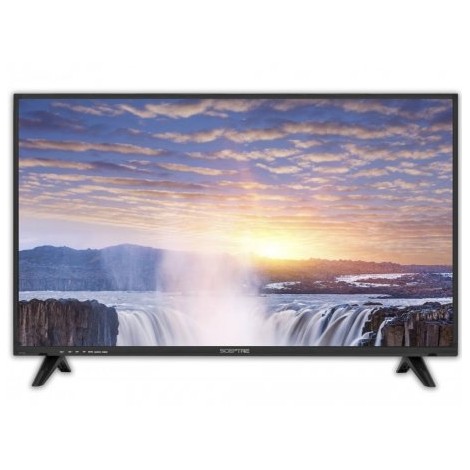 Similar to the last Sceptre we talked about above, this one has great quality at an even better price. It offers 720p resolution and is a good sized 32 inches. It is ready to mount on a wall and comes with 2 HDMI ports, one of which also functions as an MHL port.
The picture display is bright and vibrant on this TV. It is clear and beautiful. It is a 720p LED TV and claims to be "true black" which means that even in the darkest room the blacks will display completely pitch black with no grays or light tones at all.
You have several viewing options when you own this TV. It has two HDMI ports to plug in various devices and also comes with an analog antenna built right in for easy browsing of local channels. It may not be a smart TV, but it does offer options to make it the TV that you want and need it to be.
This TV really comes to you as a steal. It is incredibly cheap for a 32-inch flat screen TV of any resolution. It is lightweight and plastic, but that makes it easy to move around even for those not so strong or who don't have help and produces great images. You definitely get your money's worth when you buy this TV.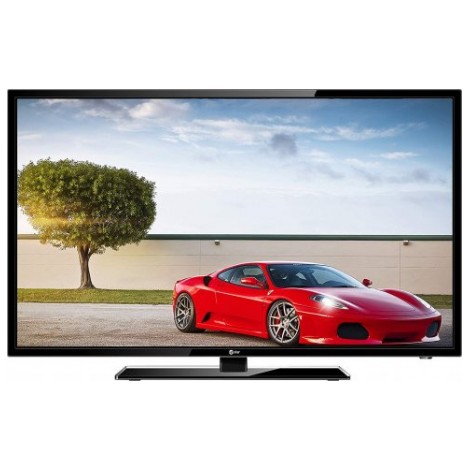 This is the final cheap TV on our list. Like the others, it offers a great TV considering the price that you will pay for it. It is small, but that's not necessarily a bad thing, and it does have 1080p resolution - which is actually a great thing for both a small TV and a cheap TV. It is LED and is edge lit. It features 1 USB port, 1 HDMI port, 1 Audio port, and a VGA port.
As a backlit LED TV, this Upstar model offers very vibrant colors and blacks that are truly black while the whites are brilliantly so. This high contrast allows you to have really high-quality visuals and it also processes quickly so that there is no blurriness or issues with action scenes thanks to the 60 hz refresh.
This TV is ultrathin, which also makes it very lightweight. It doesn't take up too much space, especially at 22 inches. It also features an Energy Star rating, meaning that it is energy efficient. Combine all of this with great picture and you have a pretty awesome TV.
This TV falls about middle of the line as far as cost goes. It also falls middle of the line as far as features. It is pretty small at 22 inches but does feature both LED lighting and 1080p high def. It also supports several different cords at once which also ups its value. Ultimately, like any TV on this list, you are getting a good deal when you make this purchase. As long as your expectations are where they should be, you will be more than satisfied.

Subscribe to our Newsletter