Best Patio Chair Covers Rated & Reviewed for Quality
Sitting outside in the sunshine is a lovely feeling. Being able to do this from the comfort of your own deck is even nicer. In the past 10 years, patio furniture has come a long way in regards to style, durability and the materials they are made out of. The new trend is creating an indoor living room outdoors. There are so many items on the market that are now weatherproof enough to be outside including ovens and couches. This is because being able to enjoy outdoors from the comfort of your living room is very enjoyable. This is especially true when living in countries that have fairly cold and long winters. It is important to enjoy what little summer weather we have. This is where patio furniture is the most important because this will define the level of comfort in that environment. It can also be fun to create a relaxing environment for the whole family to enjoy!
Featured Recommendations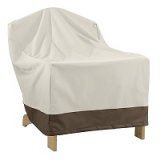 Amazon Basics Adirondack

Our rating
Click-Close Straps
Price:

See Here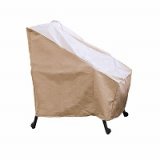 Hearth & Garden SF40221

Our rating
PVC Coating
Price:

See Here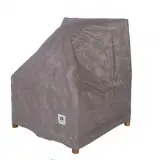 Duck Covers Elite Inflatable

Our rating
Inflatable
Price:

See Here

Patio furniture is quite expensive because of the kind of materials and extra work needed to make it waterproof and UV resistant. The issue is even if the furniture is waterproof and weatherproof, this doesn't mean that the furniture won't be damaged by environmental factors. Extended time in the heat, cold and in water will still eventually break down the weatherproofing overtime and will start to damage the furniture. UV rays from the sun can be the most damaging type of outdoor element. Think about how many other kinds of covers there are; boat, grill, car, motorcycle, tire and the list goes on! So, why would your expensive patio furniture be treated any different? This is why we need to ensure that we are taking care of the furniture as well. One thing you can do is buy additional waterproofing sprays which you can use to maintain that waterproofing on your furniture. Another thing you can do is put the furniture away when not in use (especially cushions). This will also help during wind storms as the cushions can be lifted and taken away by the wind. Another thing you can do is cover the furniture with covers specialized for this type of furniture.
This article looks at patio chair covers. These covers are quite a bit cheaper than the patio furniture themselves. They are waterproof and weatherproof in order to protect your beautiful patio furniture. These protectors are typically "one size fits all" and are intended to keep water, wind, and sun from damaging your furniture. Depending on the type of patio furniture cover you choose, you could use a waterproofing spray on them. It could extend the life of your cover as well. There are quite a few on the market today so we looked into the top available on the market. We looked at ratings and reviews from buyers of each product and found the pros and cons of each. We wanted to help sort through everything available on the market and give you the top 10 for 2018. Below we also included the criteria we used to evaluate each as well as some frequently asked questions for any information we may have missed. So without further ado, here are the top 10 patio chair covers on the market today.
10 Best Patio Chair Covers
1. Amazon Basics Adirondack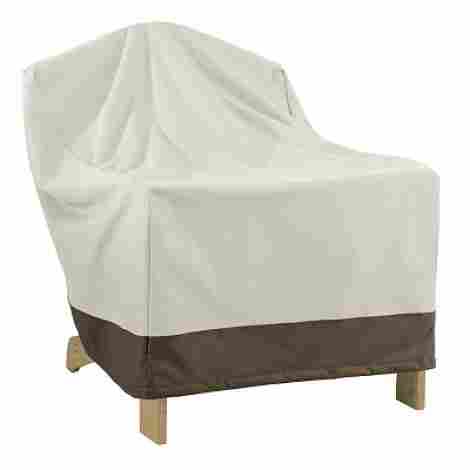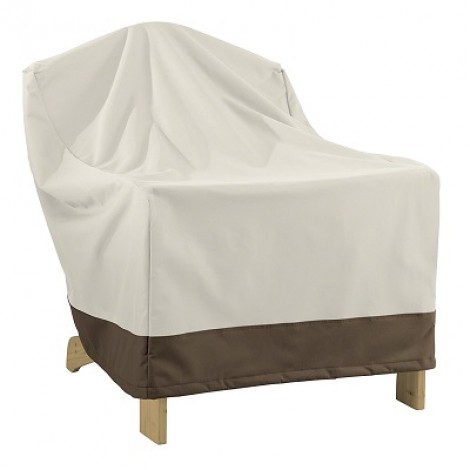 This is our top 3 product. This is made of 100% woven polyester. It has a waterproof undercoating that helps repel water and snow. It measures at 36 inches long by 34 inches wide by 32 inches high. It is one of the most highly rated products on the market and is competitively priced.
Expand to see more
Click Close Straps
This option has adjustable click-close straps for a better fit to the furniture. This way you can feel secure that the product will not blow off in windy climates.

Durable Interlocking Seams
This product has interlocking seams to provide more durable construction. You can rest assured that these covers won't rip when you stretch them over your chairs.

Cost and Value
This option sits middle of the price spectrum to comparable products. It comes with very handy click-close straps for both easy installation and release. It is also highly rated in comparison to other similar products.
Made of good quality materials
Can fit on top of multiple stackable chairs
Straps hold product in place well
Waterproofing works well
Leaves legs exposed (on taller chairs especially)
Not as attractive in design as comparable products
2. Hearth & Garden SF40221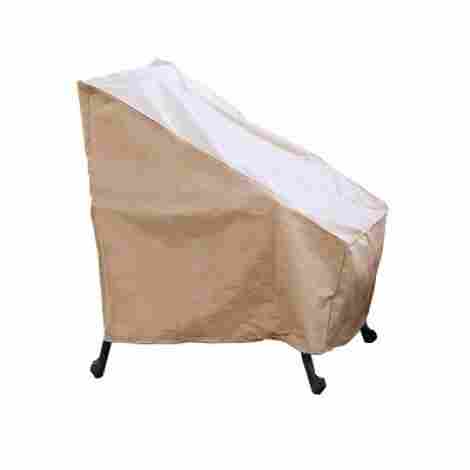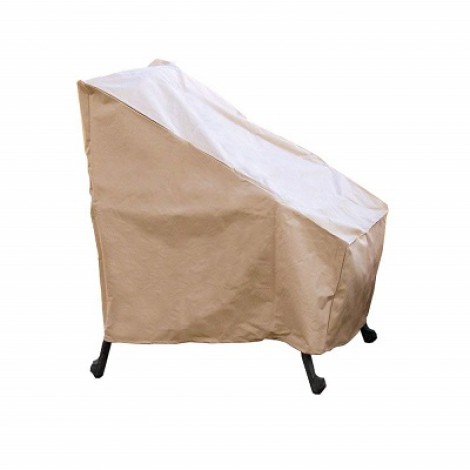 This is our best value product. This product comes from Hearth and Garden. It is heavier in weight, weighing in at 380 grams. It is made of a PVC coated polyester and is crack-, fade-, tear- and mold-resistant. It is neutral in color and is ideal for all your protection needs. It is also quite inexpensive in price hence it being our best value product.
Expand to see more
Vented For Better Airflow
This product is vented in order to increase airflow and help avoid any moisture between the cover and the furniture it is protecting.

PVC Coated Polyester
This type of fabric is a high-grade, tear-resistant type of polyester. It is coated in plastic in order to help water roll off of it making it ideal for outdoor conditions.

Cost and Value
This product is inexpensive in value as the title states. It is not only heavy but made of high-grade materials, this option is great bang for your buck and ideal for those on a budget.

A great value
Does a good job at keeping cushions dry
Made of good quality material
Sturdy and well-made
No warranty
Only comes with 2 Velcro fastening straps, would be better if there were 4
3. Duck Covers Elite Inflatable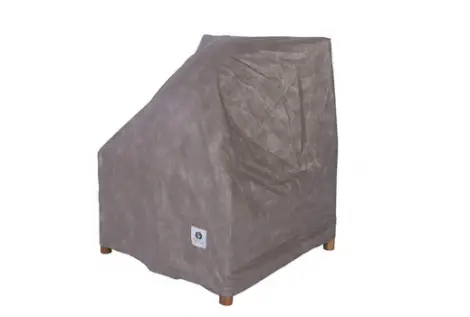 This is our Editors Choice product. It is 100% waterproof and UV treated to help repel sunlight. It is double-stitched and sits at 36 inches wide by 37 inches deep and 36 inches in back height. It also has a fuck dome of 36 inches by 36 inches. It can sit on a variety of different chairs and is unique in that it is one of the only products on the market with an inflatable component described further below.
Expand to see more
Inflatable Duck Dome Airbag
This option has an
inflatable
dome that rests against the inside of the bag and chair. It inflates in order to avoid having puddles form on top of the bag deteriorating the product faster.
Doubl Stitched Seams and Extra Large Tie-Down Straps
This product is very durable with its seams being double stitched to ensure they don't separate very easily and the extra large tie down straps to ensure that it fits nearly everything.
Cost and Value
This option sits in the middle of the price spectrum of comparable products. With its innovative inflatable airbag, this product is worth the cost.
Handles weather damage very well
Competitively priced
Fits fairly large furniture
Additional inflatable component very handy
Products material is very lightweight and can be blown off in extreme winds
Does not include pump (sold separately)
4. AmazonBasics Stackable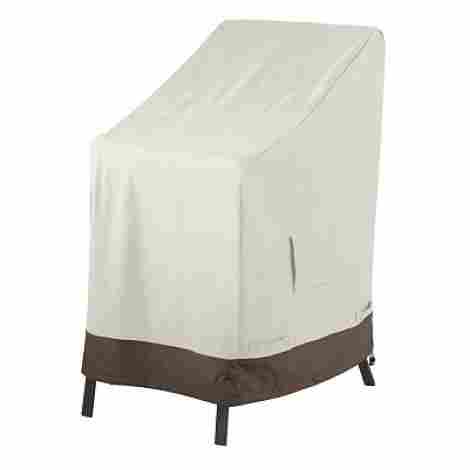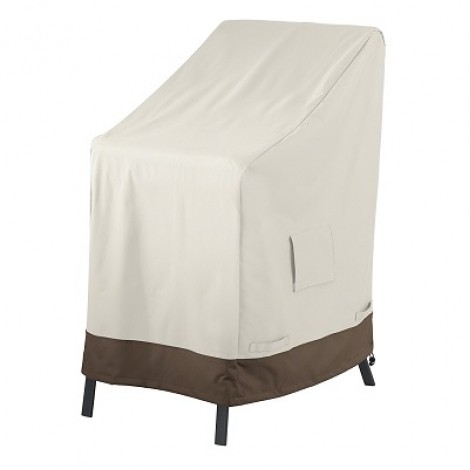 This option is specific to Amazon. It is highly rated and is made of 100% woven polyester which as mentioned before is an extremely strong and weatherproof material. It has the same click and close straps that hold the chair in place even in windier climates. It measures at 36 inches long by 28 inches wide and 47 inches tall.
Expand to see more
Stackable-Chair Protector
This product will cover multiple chairs. This option is ideal if you are wanting to cover more than one chair at a time, but not wanting to buy more than one cover.
Durable Interlocking Seams
This product has very tough seams that are interlocking. This ensures that the cover will provide an ultra tight seam to keep water from
seeping through
.
Cost and Value
This product is mid-range in price. It is meant to cover more than one chair, saving on additional cover costs. If you have stackable chairs and want to protect all of them with less cost, this product is the way to go.
Made of quality materials
It is quite large and can fit up to 6 chairs at once
Secure enforcement to keep it in place (even in wind)
Stitching is heavy-duty and durable
The additional drawback cord doesn't quite tighten as much as needed for some
It is quite tall if only needed for 2 or 3 chairs
5. Duck Covers Ultimate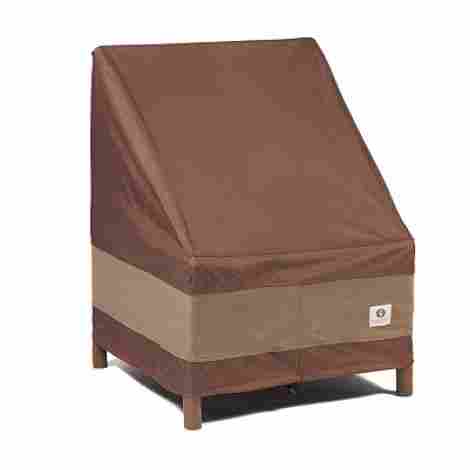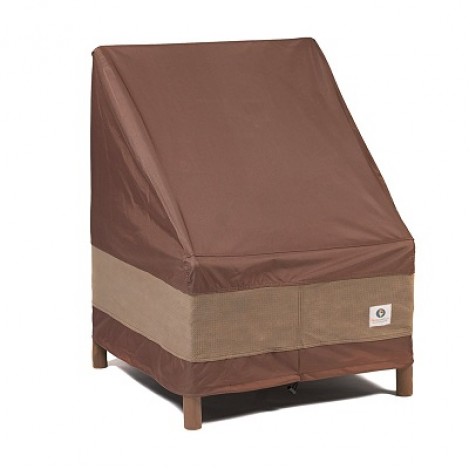 This product is from the very popular outdoor brand Duck. It is fairly large, measuring at 32 inches wide by 37 inches deep and 36 inches high. It is considered color coordinated with furniture for a more aesthetically pleasing solution and comes in 5 different sizes to ensure that it will fit whatever needs to be covered.
Expand to see more
Includes Both Nylon Straps and Buckles
This product both has nylon straps on the side of it as well as buckles at the legs for a more secure fit. This product is ideal for those living in windier climates.

UV Protection
This product also has UV protection to help protect it from sunlight damage. This is ideal for those living in particularly sunny climates as well.

Cost and Value
This product is a little higher in price. It isn't expensive but it is on the higher end of the covers in this article. This is probably due to its UV protection and its secure connection. The piece of mind alone is worth the price.
100% waterproof
Made of high-quality polyester
Can also be used with the 'duck dome airbag'
Made of high-quality materials
The cover has been reviewed as attracting squirrels
Though they do have the UV protection, they will fade in very high heat and weather conditions
6. Classic Accessories Deep Seat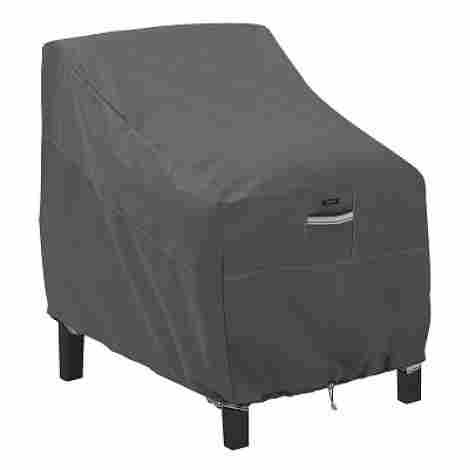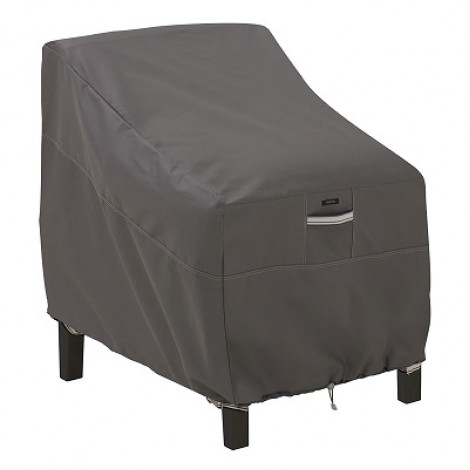 This product is one from Classic Accessories. It is considered a deep seat
lounge chair
cover and is 38 inches long by 40 inches deep and 31 inches high. It is also made of woven polyester and is water-resistant. It includes padded handles for easier installation and is meant for a fairly large chair.
Expand to see more
Structured Vents
This product has air vents throughout it to encourage airflow through the unit without letting damaging elements in. This is ideal for those concerned about mold and mildew.

Lifetime Warranty
This product has a lifetime warranty for peace of mind when buying.

Cost and Value
This product is on the higher end in price. This is probably due to all its additional features (like a padded handle and air vents) plus the lifetime warranty. For these reasons, this product is worth the cost.
Covers the entire chair (even legs or wheels)
Double-stitched seams
Made of quality materials
Includes both buckets and adjustable cord lock
A little expensive
Fits a little snug on very large items
7. Modern Leisure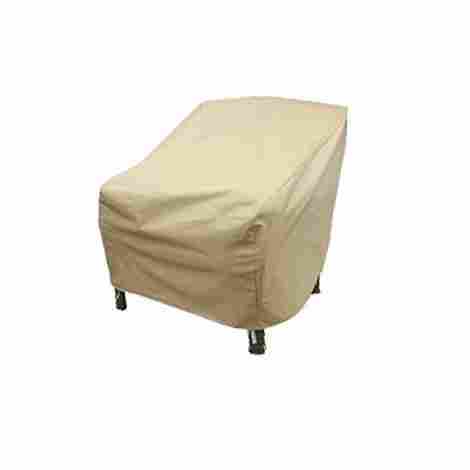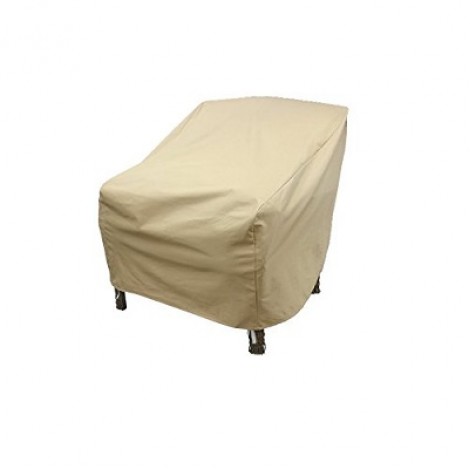 This product is from Modern Leisure. It's made of heavy-duty polyester fabric and is waterproof. It is quite simple in design and monochrome (is one solid color). It is highly rated and has numerous positive reviews from purchasers.
Expand to see more
Environmental-Proof
This product is both UV resistant and waterproof, ideal for hotter climates.

Simple Design
This product is very simple in design which may be ideal for those not looking for too much flare or not wanting to draw too much attention to their patio furniture.

Cost and Value
This product is quite inexpensive, it sits on the lower end of the price spectrum. It has both UV and waterproof features and is ideal for those on a budget that want something simple to protect their patio furniture.
Inexpensive
Made of quality materials
Quality waterproofing
Easy to clean
Tie down straps are too short
The material is quite stiff
8. Protective Covers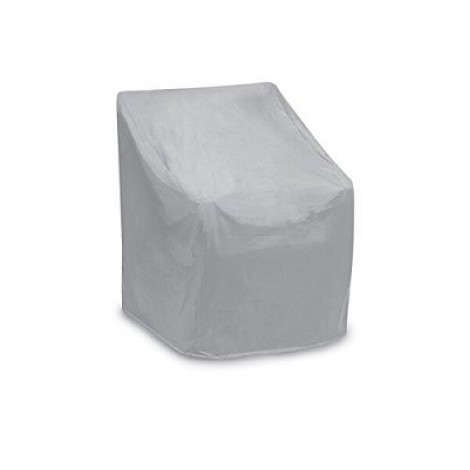 This product is unique in that it is made with vinyl for better water resistance. It has Velcro
draw strings
and has UV protection. It measures at 36 inches wide by 41 inches deep and 42 inches tall. It is both durable and waterproof.
Expand to see more
Vinyl Out Layer With a Fleece Inner Layer
This product will both protect from environmental factors and protect the chair from scratches that comparable products may cause.

3-Year Warranty
This product comes with a three year warranty which should add some peace of mind when buying.

Cost and Value
This product is about mid-range in price. It is unique in that it has a vinyl outer layer rather than polyester like the majority of its competitors, plus the inner fleece layer will help keep your furniture in the best possible shape. For this reason the product is worth the cost.
Quite thick
Ideal for snowy climates
Good for larger furniture
Ideal for wicker furniture
Over-sized and may blow around in the wind if not item underneath is particularly small
Also if there are dips as a result of being over-sized, puddles will form
9. Classic Accessories Chaise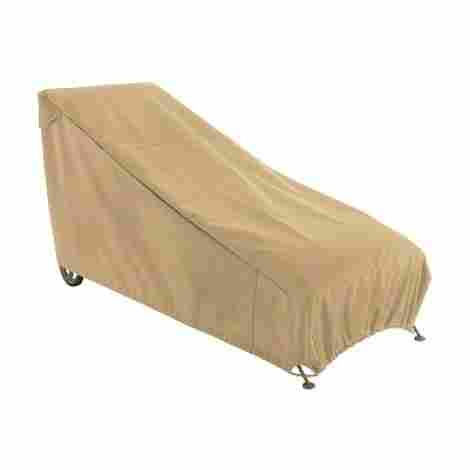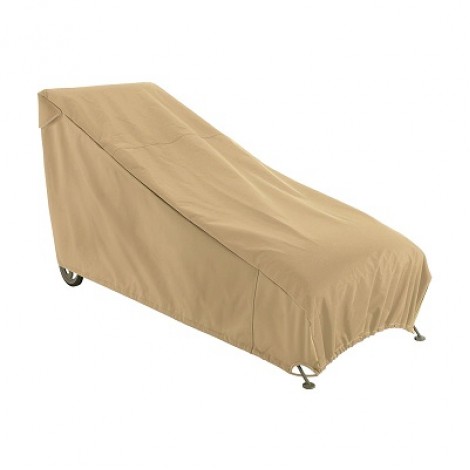 This is another product from Classic Accessories. It is made for a chaise lounge chair. It is made of woven polyester and has an elastic cord at the base to keep it in place. It also comes with a one-year warranty.
Expand to see more
Equipped With Air Vents
This product also has air vents making it ideal for more humid climates. The vents will keep the chair it is protecting dry so there is no fear of mold or mildew.

Secure Fit
This product has both elastic loops that fit over the legs but also has a continuous bungee hem for a better, more secure fit.

Cost and Value
This product is mid-range in price. It is specific to chaise lounge furniture and therefore is larger in size. It also comes with a one year warranty for peace of mind. For these reasons this product is worth the cost.
Good and secure fit
Easy application
Thick material
Durable
Not ideal for areas of lots of sunlight
Will only fit chaise lounge furniture and cannot be used on anything else due to its shape
10. Patio Armor XL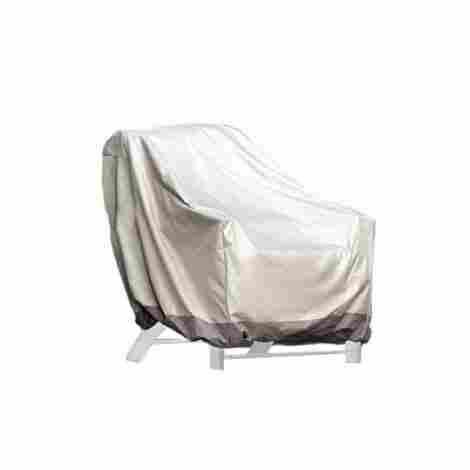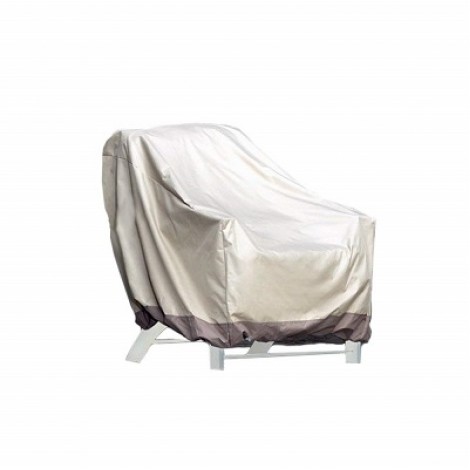 This product is large in size, making it a perfect option for those bigger patio chairs. It is made of 380 GM polyester and looks like canvas. It is crack-, fade- and tear-resistant.
Expand to see more
Coasted Underside
The coated underside helps to protect against
water damage
as nothing will seep through.
Vented
This product is vented for better airflow. This will help protect against mold and mildew.
Cost and Value
This product is a little more expensive. It sits on the higher end in price. It is ideal for those in humid temperatures and need the airflow as well as those with over-sized chairs.
Made of a heavier material
Durable
Reliable waterproofing
Fits larger chairs
Not attractive in design
Cannot be used on all chair (or water puddles will form)
In addition, ensuring that your patio furniture is protected is an important way of preserving your investment. Outdoor furniture is quite expensive especially when you start to get into the more indoor-looking products. This product will help prolong the life of your furniture so that it doesn't break down as easily. Environmental damage can slowly deteriorate the fabric, springs and moving joints of your furniture which will cause frustration down the road. You don't want to end up in a situation where a chair breaks down just as you are about to sit down on it. That could turn into a dangerous situation. It also keeps the product clean and dry so that you can maximize its enjoyment. Ensure that you are doing everything you can to protect the furniture by purchasing a quality cover that will fit securely around the product, has proper straps or cords to tighten around the base and that also won't get damaged if water starts to form on top of it. By taking this simple step, the furniture will stay safe and protected, and you can continue to enjoy the outdoors from the comfort of your own deck. We hope this article will be informative to you and help you in your buying process. Below is a list of criteria we used for evaluating each product as well as some frequently asked questions.
Criteria Used in Choosing the Best Patio Chair Covers
Materials Used
The materials used in the construction of the patio chair covers are probably the most important criteria because this will indicate the longevity of the product as well as its overall reliability. The material needs to be both durable and water resistant. Some products available today are also made of a mold-resistant material which will help with the life of the product as well. Mold will eventually break down the fabric and can start to deteriorate it from the inside which is not favorable as it would also affect the furniture itself. Having a product that is made of quality materials will not only help with the life of the product but with the overall satisfaction with it. Polyester is a common material type used because it is a strong fabric. Its fibers are quite long making it very durable. It is also resistant to most chemicals making it wrinkle and mold resistant. It is also hydrophobic which means that it is quick drying if it gets wet. Some polyesters are coated in PVC which is a type of plastic. This will help further protect the fabric making it both stronger and water resistant. It is also easier to clean which is handy. We looked mostly at products that were made of polyester, as well as some that were coated in PVC. The fabric used will inevitably define the longevity of the product and thereby defining its quality.
Construction
The construction of the product will also help determine the longevity of it. The construction is based on the stitching and design of the product. Typically you see single and double stitching. Double stitching will help reinforce the construction of the product and help keep the product together. We want to ensure that the stitching will hold together. If it doesn't, even the highest quality materials won't matter because water will seep through the cracks. You will sometimes also see sealed stitching which just adds an extra level of protection from leaks. The design of the product as well will indicate whether the product will live up to the task. The design should be done in a way that is ideal for the furniture being covered. You don't want something that will ultimately start collecting water in weird areas, this will break down the product over time. Some products fit snug while other provide an additional 'pillow' to help inflate the open area under the product. Finally, the reinforcements of the product are an important item to consider. Does the product tie down with a drawstring? Does it attach with Velcro? Is it an elastic base? This will particularly matter in climates with excessive, heavy winds. You want to ensure that the construction of the product is made well, stitched with good quality thread and that the design is ideal for your chair and won't accumulate moisture, water or debris so that your furniture is adequately protected.
Current Environment
The environment in which the product is being used should be considered as this may dictate whether one product will be better than another for you. For instance, in particularly hot and humid climates you want something with both UV protection as well as moisture/mildew/mold protection. This would be a very different requirement of those who are living in cold, dry climates. Cold and dry climates need a product that won't break down due to colder temperatures or even possibly snow. Environments that are windier will need different fasteners than those that are less windy. Spending money on something that has 8 different features but only 4 usable to you will be a waste of money. You want to find something that is going to be suitable for the environment you live in, otherwise, the product may end up useless.
Price Range
Quality usually means money. If you want something that is of quality you are going to have to put the money in to get something that will last. That said, these products are fairly inexpensive in general and all within a similar price range. If you find something over, let's say $100 you are probably paying too much. These products are usually under $50, even the highly rated ones. As mentioned above, you buy what you need in a product and try not to spend extra on things you don't need. All the bells and whistles are nice but if the product you are buying is ideal for the snow and you live in Arizona you are probably paying more for something that will not serve you. On the other side, if you are buying based on price alone you may end up with a cheap product. If the product fails, it will cost you in the long run because this may mean that all new patio furniture is required and you will have to essentially spend more money on another type of cover. It is wise with this particular type of product, to say within the price range set in this article. They are not overly expensive and you are getting highly rated products without having to stress about whether it will keep your quite expensive patio furniture safe.
Manufacturers Reputation/Experience
The reputation and experience of a company are important because this will ultimately dictate the quality of the product as well as the ease or difficulty in exchanging or returning the product. There are many manufacturers of this type of product on the market today. The issue is finding the company that is receiving the best feedback. Reviews are handy for things like this because you will (mostly) get reviews that will give you both the positive and the negative of the company. If the company has little experience they probably aren't quite making a superior product. A company needs to go through trials and tribulations of production before they make a product that is improved to the point where it won't fail on the buyer. A superior product means the company will more than likely stay around for a while. It is pretty hard to exchange or return a product or even take advantage of the warranty if it no longer exists. Buying with a company that has a solid reputation will go a long way when buying really anything and should always be taken into consideration before purchasing a product like this. This is why we, in constructing this list, have perused and analyzed reviews posted by actual consumers on sites such as Amazon. We specifically, and purposefully, chose those products that have not just the highest reviews but also the highest number of reviews. We also dug deep and read through individual reviews to gain a better understanding of the different experiences different people have had with the product.
FAQ
Frequently Asked Questions
Q: How do you maintain this type of product?
A: Chair covers are meant to maintain the life of your patio furniture and don't require much maintenance themselves. That said, moving your covers to a sheltered location when they are not needed is wise. Especially in situations where snow is present, the patio furniture will more than likely not be used until the summer so putting it away rather than keeping it out for those months is probably wise. You can also purchase spray waterproofing if the product starts to wear a bit and the waterproof starts to go. Waterproofing the product again, especially at the seams will help prolong the life of the product.
Q: Can this type of product be washed?
A: It can be but should probably be done by hand or by hose with a sprayer attached. The waterproofing will probably get wrecked by throwing it in a washing machine especially if done with harsh chemicals. It will help if you wash it either by hand in a sink with soap and water or alternative spraying it down with a hose and air drying it. These products typically aren't meant to be washed, they are meant to keep the item under it clean so washing would be done less frequently.
Q: Are these product necessary?
A: Though, yes, the items you are covering are meant to be weatherproof it doesn't mean that they don't need to be protected. Environmental factors do affect the furniture negatively even if they are weatherproof. Rain, wind, sleet, snow, and dust will eventually break down the waterproofing and then the product underneath. Additionally, the sun will cause the color of the furniture to fade over time. As mentioned numerous times in this article, patio furniture is quite expensive and protecting them is just one way to preserve the life of this type of product. Additionally, it will keep the product clean. You are meant to sit on the seats and your clothes will get dirty as a result of it. This will keep the cushions clean so that they don't have to be cleaned every time someone wants to use them. Finally, the covers will help with flying cushions due to the wind. The wind has been known to whip up cushions and carry them far away. This type of product will help to relieve unnecessary stress when you aren't home and a thunderstorm strikes. There will be a level of comfort knowing your very expensive furniture is safe and won't need to be replaced.
Q: How do I know if it will fit my chair? Do they need to be specific to my furniture?
A: No, usually one size fits all. You are able to see on each what the measurements of them are. It's smart to get the three dimensions of the product you are covering beforehand (length, width, and height). If you are wanting to cover more than one chair there are stackable options in this article so that you don't have to buy more than one. Ensure to take your dimensions and make sure they match before you order one.
Q: Is it normal for the feet to stick out on this type of product?
A: Yes, it's fairly common for the feet to still be exposed to the elements. The purpose of this type of product is to protect the cushions from the elements, less so the legs. It is therefore fairly common for the feet to be still exposed to the elements, unfortunately.
Q: Are they all waterproof?
A: In this article, yes they are all waterproof. If they are not waterproof you shouldn't buy them. It would be pointless to buy something that is meant to protect your furniture if it will just let water through. Ensure to read the label and confirm beforehand that the product you are purchasing is waterproof.
Q: Will they protect my patio furniture against mold and mildew?
A: Not all of them do. This is why it is ideal in more humid areas to make sure you are purchasing a product that has that ability (to resist mold or mildew). You don't want to purchase something that is meant to protect your furniture to not be able to protect against all the elements present. There are options on the market that either are made of a material that is mold or mildew proof and/or have vents in them to encourage more airflow. These alternatives should be considered if living in an area of high humidity.
Q: Are water resistant patio chair covers the same as waterproof?
A: No, water resistant means the material will only be able to resist the penetration of water. Waterproof means water won't get through the material. Waterproof material is essentially better.
Sources
Sattler, PVS-Coast Polyester Fabric
Whatispolyester, What is Polyester
PatioWorld, Does Patio Furniture Need to be Covered