Best Lace Up Boots Reviewed & Rated for Quality
In a
Hurry? Editors choice: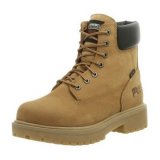 Test Winner: Timberland Soft-Toe

Your
feet
are one of the foundations of your body relies on constantly, and like any good foundation to a structure, your feet should be adequately stable, while maintaining balance to provide support for the weight your body puts on them. If your feet are not supported properly, not only will you feel pain, discomfort or both in them, but elsewhere in your body as well. Many problems with the lower area of the back, or knees, the neck, hips, and even shoulders have been linked back to ignored health issues with feet. To prevent these issues altogether,  you need to make it a priority to wear lace up
boots
with the right support for your feet. Choosing the right fitting boots is vital to your foot comfort. Here is our take on the best lace up boots on the market.
Standout Picks
Criteria Used for Evaluation
Protection
Most factory or construction jobs will require you to wear boots with toe protection. To prevent falling or hard objects from injuring your toes. You will find that safety boots have an entirely different feel from average everyday use boots. They can be more bulky on your feet and tend to be heavier than average boots.
There are three different types of materials used for toe protection in boots. Before we get into these materials, you should first check to see if there are any requirements for toe protection with your employer.
Steel
This is the most commonly used material in boots for toe protection. It does a very good job of keeping your toes protected. Just try to keep in mind that if you will be working outside, even in the cold, then this type of toe protection may not be good for you. Steel tends to change its temperature with the surrounding temperature. So if your out in cold weather your feet will most likely get cold as well.
Aluminum
Aluminum style toe protection is slightly thicker than the steel toe protection. Aluminum provides almost the same amount of integrity as the steel toe, but the aluminum will not change temperature with its surroundings. This makes them a little better for colder weather.
Composite
This type of toe protection is typically made from Kevlar, plastic, or carbon fiber. These materials can provide the same amount of strength as the steel toe protection. Composite toe protection serves well in both cold and warm weather, as it is not affected at all by temperature.
Model
Before choosing Which type of boot sole will suit your needs, you must first take into consideration what these boots will be used for. Your going to want to decide which type of tread and material soles will best suit the environment you will be in. For example, for someone who spends a lot of time outdoors, there are boot soles with a deeper tread. This will give you a better range of stability on any surface.
You will also want to take into consideration the type of material the soles are made from. There are a couple of options out there for you to choose from. The first, being rubber, every boot manufacturer uses a different type of rubber. Rubber boot soles work well for most factory jobs, you will have to decide which type of rubber best suits your feet. It is recommended that once you find which works best that you stick with them.
The second option you have is Thermo Polyurethane, more commonly known as TPU. This type of sole works well for rugged terrain as they offer you more grip. TPU soles are said to last longer and be more lightweight than a rubber sole.
Fit
No matter the reason you choose to wear boots it is not only beneficial to your foot health to choose the right fit. Boots that don't fit properly can lead to more serious health risks such as back pain, knee pain, or ankle pain. These are only a few things on the list for potential dangers when you wear boots that don't fit properly. There are a few steps you can follow to ensure you have the right fitting boots.
Always make sure you have the right type of socks for the boots you are trying on. This means that if you intend to be outdoors all year round, be sure to try your boots on with the thickest pair of socks you intend to wear. That makes it so that when you get to the colder time of year your boots won't feel snug because of thicker socks.
Be sure to try on both boots at the same time. Some people may have one foot larger than the other and not even know it. While the boots are on, try walking around a bit, does your heel come out or rub on the back? If so these are too big, your toes should have about an inch of wiggle room. This will help reduce the chances of irritation and will prevent blisters due to your toes rubbing. A couple of last things to consider for a proper fit, if the sides of your feet feel a lot of painful pressure then the boots are not for you. Also, you can give something a little kick test with your boots on, if your feet slide forward and your toes touch the tip, then the boots are not fit properly.
Midsole
The midsoles of most boots or shoes are made from one of two things. They can be made from either ethylene vinyl acetate or polyurethane. Ethylene vinyl acetate more commonly known as EVA is a type of foam, one good example of this is flip flops. EVA midsoles can be made in different densities, the less dense the midsole the softer it feels on your foot. However, the EVA midsoles that are less dense and more lightweight will tend to break down faster. Those EVA midsoles that are made denser tend to last longer while offering you more support.
Polyurethane midsoles are heavier than midsoles made from EVA. Polyurethane midsoles are commonly found in work boots or heavier duty hiking boots. These midsoles typically last longer than EVA but will require a longer break in time than the EVA midsoles. Polyurethane midsoles offer a good amount of support for those people who spend a good amount of time on their feet.
Upper
Boot uppers are the top portion of the boot, depending on the style of boot you choose the upper portion can come in a wide variety of choices. As stated earlier, choosing the right type of upper for your boot depends solely on what you plan to use these boots for. Some key factors for you to think about before choosing which type best suits your needs are, how breathable or durable you need them to be. As well as keeping in mind how light or heavy you want them. Lastly, whether or not you need them to be waterproof or at least water-resistant. If that is not the case, consider using waterproof socks
Full-Grain Leather
This type of upper gives you water and abrasion resistance as well as being durable. Full-grain leather will not be as light or breathable as some other materials on the market. You will also have to give this type of upper extra time to become broken in.
Split-Grain Leather
In this style of upper, the leather is split with either nylon or nylon mesh, this gives you a lighter more breathable boot. Split-grain leather is less water resistant, but lower in cost than full-grain leather.
Nubuck Leather
This style of boot is simply full-grain leather that has been buffed to look more like suede material. These will have slightly better flexibility than full-grain leather, but will still take some time to break them completely in. Nubuck leather still offers water resistance and durability comparable to that of the full-grain leather.
Synthetics
These are made from polyester, nylon, or other synthetic materials they are found in the newer style boots. Synthetic uppers cost a lot less than leather ones do. They are also known to dry faster and be lighter in weight than leather. Synthetic materials also take less time to break in but are known to wear sooner than leather due to the amount of stitching on the outside.
10 Best Lace Up Boots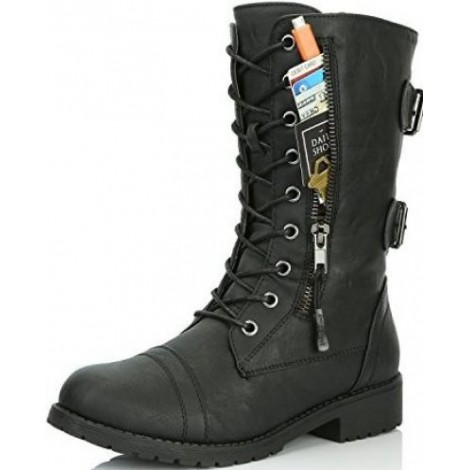 Boots are no longer just for work. A great pair of boots can be used for both work and play. Daily Shoes Military Ankle Boots look amazing and feel even more amazing. Wear these Daily Shoes Military Ankle Boots for every occasion or obstacle your day has in store for you.
Rugged Terrain
Daily Shoes Military Ankle Boots allow you to travel swiftly over any type of terrain. Their slip-resistant sole has a traction grip that will make crossing slippery floors and icy sidewalks a breeze. Perfect for work or play, Daily Shoes Military Ankle Boots are made from heavy-duty vegan leather to resist wear and tear.
Comfort Insoles
Do your feet ever ache after that long hike through the woods? Your boots are probably lacking the proper insole. Daily Shoes Military Ankle Boots padded insole will cushion each of your steps, just like your walking on clouds. Daily Shoes Military Ankle Boots lace-up front allows you to snug your boots to your comfort level making them perfect for day to day use.
Cost and Value
Daily Shoes Military Ankle Boots have so many amazing features to keep your feet happy and healthy. Even equipped with zippered storage allowing you to travel light while climbing those mountain trails. Daily Shoes Military Ankle Boots make a great pair of everyday life boots at an everyday cost to you.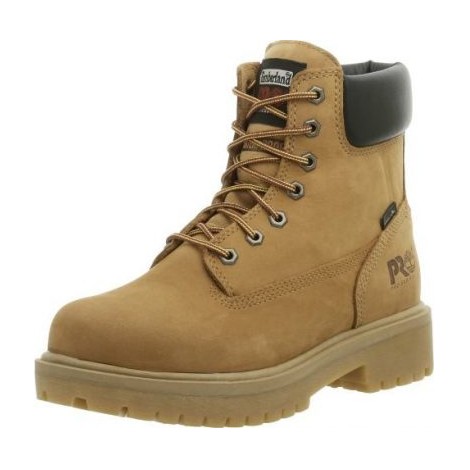 Developed for those who are on their feet for lengthy periods of time, Timberland Soft-Toe Boots have a special design for 24/7 comfort. Combined with a number of specific safety features Timberland Soft-Toe Boots make an extremely comfortable addition to your workday.
Comfort Suspension System
The Timberland comfort suspension system prevents foot fatigue while supporting your arches cushioning each and every step you make. Timberland Soft-Toe Boots have a contoured shock diffusion plate which supports and stabilizes your foot. Allowing these boots to aid in dispersing the pressure applied to your feet with every movement.
Safety Features
Timberland Soft-Toe Boots are equipped with both steel toe protection and electrical hazard protection. Their rubber soles offer durable traction, keeping you on your feet while you cross the workroom floor. Seam-sealed waterproof leather uppers make for a dry and durable boot type.
Cost and Value
Moving and shaking for a tremendous amount of time every day? Try doing it in a pair of Timberland Soft-Toe Boots, your feet will be sure to thank you for doing so. Putting safety and comfort at the top of their design list, Timberland Soft-Toe Boots have outdone themselves time and time again.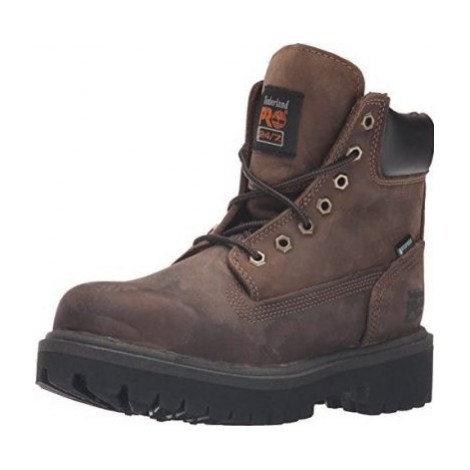 Timberland Waterproof Insulated Boots are made for working or tromping in the woods in the cool weather. As with many Timberland boots, Timberland Waterproof Insulated Boots are designed with the best interest of your feet in mind.
Insulated
Each pair of Timberland Waterproof Insulated Boots has 400 grams of insulation in them to help keep your feet warm. Now I know your thinking that isn't much insulation. just to break it down for you, on average 400-600 grams of insulation is perfect for warmth in boots. But only if your actively working, anymore grams of insulation can cause your feet to sweat, making them cold and wet. Now that makes for unhappy feet, so grab a pair of Timberland Waterproof Insulated Boots and keep those feet happy.
Antimicrobial
At the end of your long work day, I am willing to bet one of the first things you look forward to is getting those boots off. Man oh man, but sometimes the smell of those boots can clear the room. Timberland Waterproof Insulated Boots mesh and comfort foot bed have had an antimicrobial treatment. This helps them resist those working foot odors.
Cost and Value
Actively keeping your feet warm and dry on those cool days, Timberland Waterproof Insulated Boots will be a benefit to your feet whether your working in the cold or out doing your thing in the wild. As an extra feature Timberland Waterproof Insulated Boots are odor resistant, so you won't clear out the room when you take them off. Timberland Waterproof Insulated Boots will be of value to your feet and your checkbook.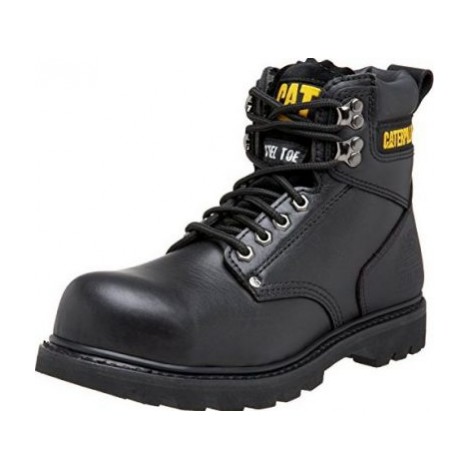 Caterpillar Steel Toe Boots will work just as hard, if not harder, as you throughout your day. Whether you're on your feet for the duration of the workday or out playing on the trails, Caterpillar Steel Toe Boots will absolutely have your back.
Durability
Caterpillar Steel Toe Boots have a full grain leather upper giving them the durability you're looking for in a work boot. The strength of Goodyear Welt Construction provides each pair of Caterpillar Steel Toe Boots flexibility in the forefront keeping your legs and feet comfortable. For those who don't know what Goodyear Welt construction is let me clarify that for you. This simply means that the upper and the sole are attached using a 3 step process. This process is known for making boots or shoes more durable.
Climasphere Insole
Caterpillar Steel Toe Boots has the comfort your feet seek with its Climasphere insole. This means that the insole was specially designed to support the worker's feet on any surface making any movement, providing extreme comfort, which is essential when working those long sometimes demanding shifts.
Cost and Value
Caterpillar Steel Toe Boots design will keep you moving comfortably throughout the day time and time again. Made for durability as well Caterpillar Steel Toe Boots will outlast many of their competitors. Making them great value at a minimal cost to you.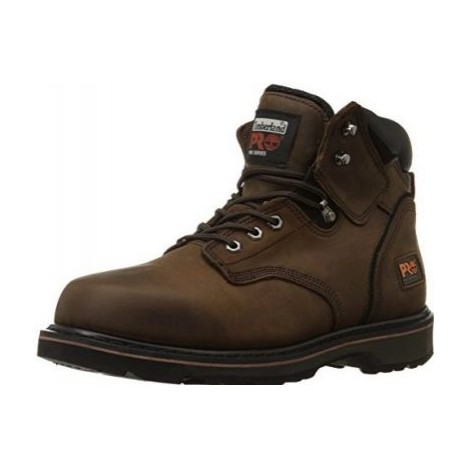 Timberland Pit Boss Soft Toe Boots are everything you expect from a work boot and more. Keeping the comfort and safety of your feet at the forefront of the design, Timberland Pit Boss Soft Toe Boots meet ANSI safety standards. Although Timberland Pit Boss Soft Toe Boots are sure to exceed your standards for boots.
Timberland Pro Rubber
Timberland Pit Boss Soft Toe Boots are made from a special rubber designed to resist heat and add durability. You won't have to worry so much about those slippery spots on the floor anymore, the rubber soles give you more traction than ever before.
Cambrelle FABRIC
A boot with added protection on the inside sounds absolutely amazing for feet everywhere. Timberland Pit Boss Soft Toe Boots have Cambrelle fabric lining, which by the way is good news for both your feet and boots. The fibers in Cambrelle fabric let the lining adapt to the motion of both the foot and footwear. This produces constant air pockets in the lining, causing better circulation and moisture wicking properties.
Cost and Value
Using some pretty advanced designing, Timberland Pit Boss Soft Toe Boots offer your feet the continual comfort and durability they deserve. Timberland Pit Boss Soft Toe Boots even thought to leave extra room in the front for your toes by widening the toe portion slightly. Keep your feet relaxed while you work or play in a pair of Timberland Pit Boss Soft Toe Boots.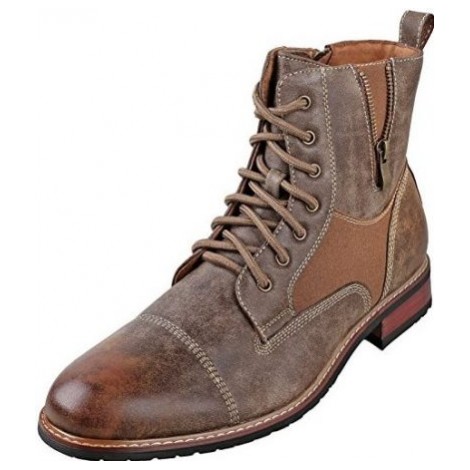 Mixing things up a bit we come to the Ferro Aldo Military Combat Boot. These boots are the perfect accent for your night out or for just working around your yard. Ferro Aldo Military Combat Boots do have a level of comfort but are not a typical work boot.
Color Choices
Great for giving you that casual look you might want to purchase more than one pair. Ferro Aldo Military Combat Boots come in three amazing colors so you can match them to any of your outfits.
Unique Design Features
Ferro Aldo Military Combat Boots accentuates the stitching of the seams on the upper. Giving them a unique patch worked design with a zipper as an accent piece on each boot. Ferro Aldo Military Combat Boots pair well with a skirt or add them to your motorcycle gear for your next spin.
Cost and Value
Ferro Aldo Military Combat Boots will surprise you with their style and the ways you will find to sneak them into an outfit. Want to turn heads with your feet for once? Ferro Aldo Military Combat Boots offer plenty of use at an affordable price.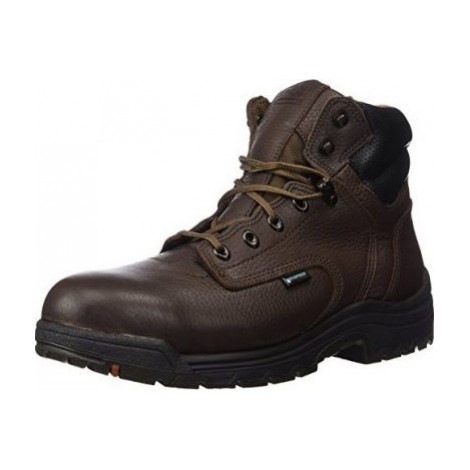 Timberland is a very popular boot manufacturer, their line of boots is large enough that even the person with the pickiest feet can find a pair that fit. Timberland Titan Work Boots have characteristics all their own in this design.
Powerfit Comfort System
Timberland Titan Work Boots will amaze you with the powerfit comfort system. Sore feet will be a thing of the past for you, these boots design support your feet in all the right places. Timberland Titan Work Boots deliver the comfort you need to be on your feet all day long.
Less Break in Time
Need that pair of new boots but dread the amount of time needed to break them in properly? Timberland Titan Work Boots will change that process for you. Made from a soft full grain leather these uppers will cut the amount of time it will take your feet to break them in properly.
Cost and Value
Changing times call for a more innovative boot design. Timberland Titan Work Boots are considered to be extremely innovative with there design and price range. Making your feet happy to take that shorter break-in time to get back on track.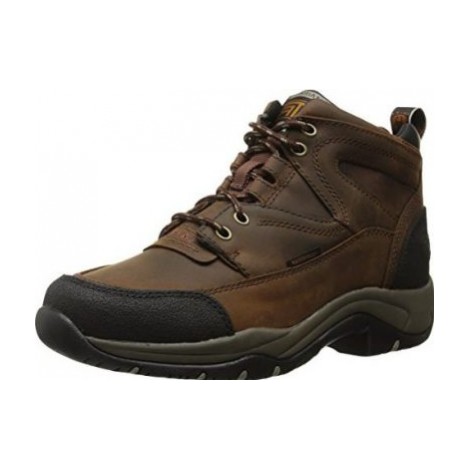 Searching for a great hiking boot can be just as difficult as finding a great work boot. Ariat Terrain Hiking Boot is perfect for your hiking needs, yet can still be used as a casual work boot.
Duratread
Hiking boots should have an exceptional amount of grip to keep you from slipping and sliding on those rough trails. Ariat Terrain Hiking Boots have Duratread outsoles for maximum grip and flex in all the right places.
ATS Foot Beds
Ariat Terrain Hiking Boots are also a great pair of boots for that casual warehouse or even greenhouse worker. Ariat Terrain Hiking Boot is designed with ATS footbeds to drastically reduce the amount of fatigue your feet feel from that long day.
Cost and Value
Ariat Terrain Hiking Boots are a durable and comfortable hiking boot that can also be used as a more casual work boot. Ariat Terrain Hiking Boots give you a maximum amount of comfort at a minimal cost.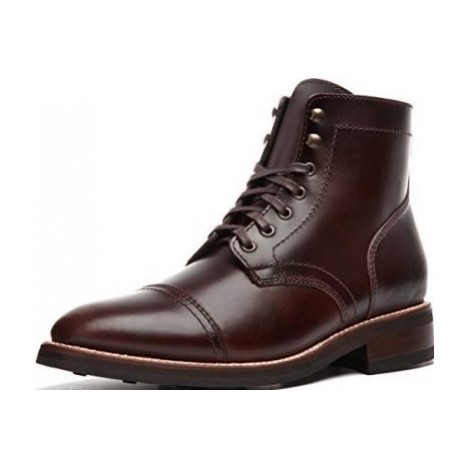 Adding another class of lace-up boots to this review is Thursday Boot Company Boots. Made specifically for class and style with a comforting twist in their design. These boots will give your feet an extra flair on the dance floor with each step.
Clean and Sophisticated Look
Thursday Boot Company Boots add class to your attire. The upper material, being made of high-quality leather provides beauty that's known to become more defined with age for these boots. Flat wax laces deliver the clean sophisticated look you love.
Extra Comfort
Dance the night away as if your barefoot, in a pair of Thursday Boot Company Boots. A Comfort strip in these boots forms to your feet for comfortability throughout the day or through the night. Full glove leather lining ensures that each time you step into a pair of Thursday Boot Company Boots you have the most comfortable fit possible.
Cost and Value
Dress boots are a class of their very own, that being said, Thursday Boot Company Boots come in at the top of their class for comfort and looks. Never hide your boots under baggy pants again.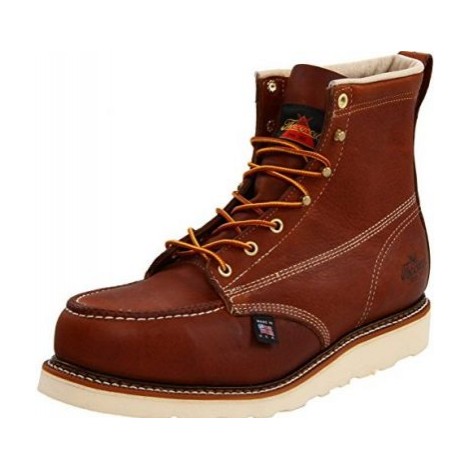 Plenty of features in Thorogood American Heritage Work Boots will have you considering a pair in no time. Comfort, style, and safety will come to mind when you hear the name Thorogood American Heritage Work Boot.
Dual Density Shock Absorption
Thorogood American Heritage Work Boots are constructed to handle your toughest days at work. Dual shock absorption will keep your feet happy and healthy the whole day through.
Cotton Lining
Thorogood American Heritage Work Boots provide maximum comfort on the inside as well. Sewn in is a cotton lining that provides that soft touch your feet tend to crave.
Cost and Value
Thorogood American Heritage Work Boots will end your chase for comfort and style with their unique design features. You can handle plenty of long days wearing a pair of Thorogood American Heritage Work Boots.

Subscribe to our Newsletter