Best Color Flashlights Reviewed & Rated For Quality
In a Hurry? Editors choice: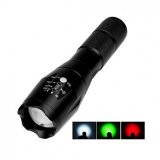 Test Winner: LingsFire

A flashlight with color. Who in the heck needs a color flashlight? Well, we're here to tell you that, you do and here's why: first because they're just a lot of fun. Second, and in a more practical vein if you're using a flashlight in the dark, then some of these colors, red in particular are going to do a great job of
illuminating what's around you
without killing your night vision. Blue lights are powerful signaling tools and green are good fishing tools so that's four good reasons there. Also, these
LED lights
are just so much more powerful than old incandescent lights so a much smaller light is going to be able to illuminate almost anything you need to see as long as it's not miles away. We've got a great list of our favorites so dive on in.
Standout Picks
Criteria Used for Evaluation
Durability
Being durable is a plus when your primary function involves providing light in the darkness. Drops, crashes and all kinds of bumps are expected. A high-quality exterior is one of the many things that helped flashlights in the durability criteria. Ability to withstand damage and keep providing a bright light put a lot of lesser-known models on the top portion of the list. Brands that suffered from power issues after being dropped a few times were too fragile to include in the top ten. Flashlights that had reinforced areas where the LED resided were also the gold standard for this criterion.
Model
Next up we looked at the available modes a flashlight offered. More modes led to a higher spot on the list. Since a lot of these modes were standard and copied across multiple products, we only gave points to flashlights that performed above average in this area. So having average brightness controls didn't hurt products, but it also didn't help them get higher on the list. Some of the more exceptional flashlights on the list found new ways to innovate old modes by either making it more user-accessible or by blending its use with other core features.
Color
That brings the next criteria up, which was RGB quality. A light with good colors is kind of pointless and makes it no better than a regular LED model. Points were given for the number of colors, color richness and the time it took to switch from one color to another. We looked for any degradation in the light quality when switching from the default white light to any color mode. Products that had cheap add-ons or cheap RGB effects were removed from the top ten.
Battery Life
Battery usage was a tricky criterion to check on since we had to look at rechargeable vs. standard battery usage. Winners with this criteria didn't automatically dim on low batteries. Any type of battery was used to its fullest potential, giving users the longest run time possible with each charge. When the brightness setting was cranked up it also revealed which flashlights used more power. We favored models that balanced out their power usage even when they were constantly on the highest settings possible. This showed that the mechanics were set up properly to handle heavy loads.
Water Resistance
Our next criteria were water resistance, a feature that was hit or miss with all models. When water resistance was mentioned as the main feature, it meant one of two things; the feature was implemented well and would allow the use of the flashlight in the rain, or it was implemented poorly and would cause damage on repeated use in wet areas. All of the flashlights that fell into the latter category were removed from the list. This was an important move since water damage could void a warranty, even if the product said it was water-resistant.
Best Color Flashlights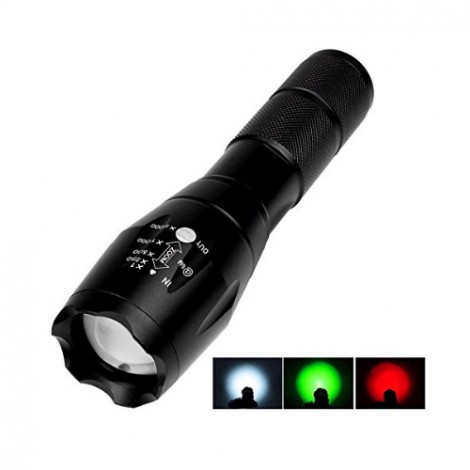 As the number one product on this list, this is a little-known color LED flashlight by the company LingsFire. This particular model packs some of the best features from other companies and puts it all into one neat package. With that said, users will love the high powered and advanced design alongside the many different stylistic options that they can choose from. With everything from five different light modes, to extremely long power life, we are eager to talk about the Lingsfire Portable Ultra Bright Handheld LED Flashlight, the next best flashlight for individuals wanting quality and value.
Long Lifespan
LED bulbs are known for their exceptional lifespan, with some flashlights taking it a step further. This model is particularly good in that area, sporting over 100,000 hours of life. Now, this level of quality is only due to the technology design and the material design of the flashlight, guaranteeing that the flashlight will not overheat and will function effortlessly. With that in mind, we can say that the lifespan is due to the powerful abilities of 3X AAA batteries and the resistant design that is enhanced for better quality.
Five Switch Modes
if you are an individual that not only wants quality but also wants range, you will love the five different switch mode options of this flashlight. For example, the flashlight comes with a high, middle, low, strobe, and SOS mode in the case of emergencies. This allows users to make this their everyday flashlight from hiking to everyday use and nighttime use. Alongside this, the modes are very bright and allow for enhanced use.
Cost And Value
As we take cost and value into consideration, we believe that this is one of the best-designed flashlights in the industry thanks to the quality design and the brand's history of excellence. With that in mind, it offers numerous features an extremely durable design that users will appreciate. Whether taking it out in nature or using it daily, this is worth every penny. As far as cost, users can expect to pay an incredibly reasonable price, considering the specs of the flashlight and what it can do, we highly recommend it.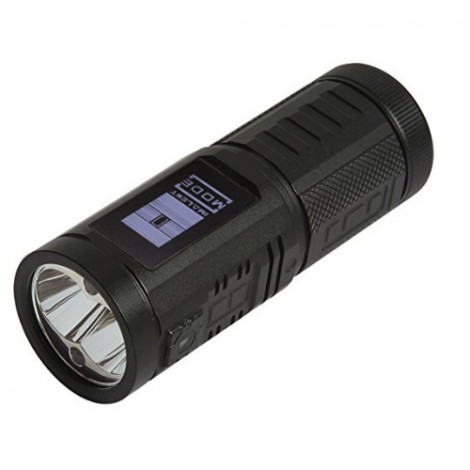 Many options await customers that want to buy into the latest from Sidiou Group. Their most popular model has a little something for everyone, covering a wide variety of buyers. With that in mind, we are eager to bring to our audience one of the best flashlights in the industry. Now, this is known as one of the best high beam flashlights for tactical, professional, and personal use, so users should expect it to be extremely durable and long-lasting. Let's talk about the Sidiou Group Imalent u4 LED Flashlight, one of the strongest flashlights available today.
Touch Screen Controlled Flashlight
Have you ever heard of a flashlight that is completely controlled by a touchscreen? Well, this is it, this may be the coolest flashlight available today with a touch-screen controlled multi-functional design that is extremely durable and high tech. With that, this flashlight utilizes 6 LEDs that offer an extremely wide range of illumination for ease of use. The touchscreen itself allows for power display options and more.
The Material Design
As we said, this may be one of the best flashlights available today due to construction and quality. For example, the strength of this flashlight is due to the military and tactical design that is only enhanced by an extremely durable and high-grade Type III hard and anodized, scratch-resistant aluminum body that can withstand years of wear and tear. With that, it is the perfect military style flashlight that allows for enhanced visibility like no other flashlight in the industry. With that, let's move onto the cost and the value.
Cost And Value
When we take cost and value into consideration, we can say that this is one of the best flashlights in the military-grade family of flashlights. With that said, it is designed for enhanced wear and tear and perfect for the military or tactical individual. However, the price will reflect the quality of the item. This one in particular ranges around the hundreds of dollar range. However, this brand offers a wide range of flashlights that are way cheaper in cost and better suited for individuals that are not in the military or tactical field. We highly recommend an individual to check out the wide range of flashlights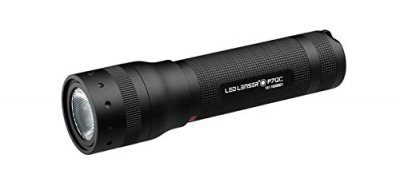 A nice little handful of a flashlight that comes in Red, Green Blue, and White. It gives off a solid 220 lumens and casts a beam that will illuminate things 60 meters away and has a decent battery life of about 3 hours. It also has three very cool light functions. To put it simply this light has just about everything you're looking for in a flashlight.
Smart Light Technology
What this means for you is that with the push of a button you can have this flashlight move from high power to low power that's going to last longer to a bright flashing defensive strobe that can confuse or disorient someone coming at you. And you can do it all with the simple click of a button so it's no-brainer tech, which is something we all need.
RGB +White lights
Red for night vision, blue for signaling, green for fishing and white for just seeing things far away in the dark. Pretty standard for color LED's but this flashlight makes it really simple to move between colors and put the kind of light you need onto your subject.
Cost and Value
A bit of an expensive light but if you're looking for a simple light that is going to give you solid LED output and going to allow you do a lot of different things with a light that easily fits in the palm of your hand than this is the light for you.

4

. Nitecore Revenger SRT7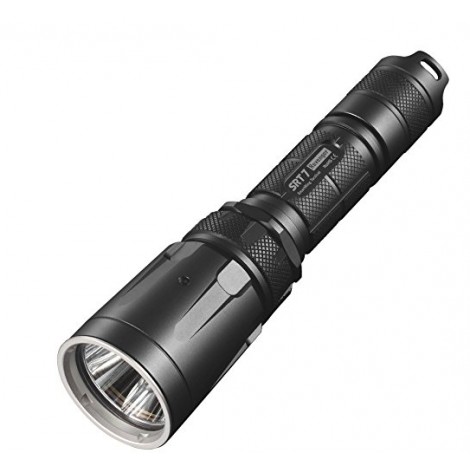 The SRT7 is underrated by a lot of people until they dive deep into its advanced features. Underneath its professional-looking exterior is a flashlight with a lot of upsides that users will appreciate. Everything from an LED durable design to multi-colored options that are tactical and great to use, we believe it is one of the best. As the last flashlight on this list, let's talk about the Nitecore SRT7 Revenger, the next best flashlight for users wanting tactical design and quality features.
Great Water Protection
Nitecore made this product waterproof and submersible up to 131 in deep water. That's a big achievement for consumers that need to use flashlights in bad conditions or want it for tactical use. This is all due to the high-quality military-grade materials. For example, the flashlight is made from a stainless-steel body that can withstand the test of time. Other than that, it offers high-quality stainless steel and titanium features that make it ideal for tactical and outdoor use.
Smart Technology and Design
One of the biggest benefits of this flashlight is the tactical design of the flashlight. For example, the flashlight is designed with smart technology that features a smart selector ring, which is the first line of flashlights with this unique feature. Other than that, the flashlight boasts a high powered tactical signaling light feature with red, green, and blue light colors for high powered use. We highly recommend it not only for the durable material design but the specs.
Cost and Value
At a high price and from an unknown brand, this flashlight will get passed over by a lot of interested parties. However, high waterproof protection is a valuable feature for consumers that deal with bad weather and need it for tactical or outdoor use. Other than that, this flashlight does often become unavailable, so the moment users see it back in stock, we recommend they jump on board with it. With that in mind, we can say it is one of the best flashlights on the list that includes a powerful smart technology and great build quality.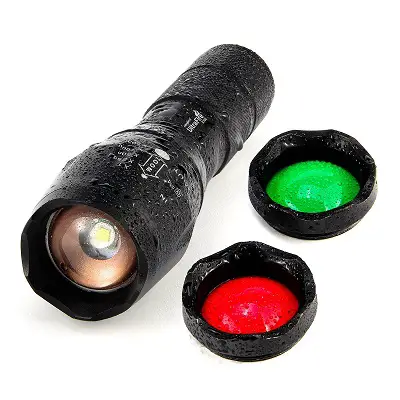 This flashlight is a good option for hunting, camping, and other outdoor activities, it is strong, dependable, and rain resistant. Unlike other flashlights which use a rotation cap to switch the colors, UltraFire Tactical uses simple lens covers. If you want to change the color, simply place the desired cover over the front of the flashlight. Each color is useful for different situations. For example, the red light is great for map reading and nighttime hunting.
5 Modes
The UltraFire Tactical flashlight features a high, medium, low, strobe, and SOS mode. The high mode is perfect for when you need to see really far and low is ideal if you are trying to go unnoticed. Also, if you get lost or are in danger, the SOS mode will make you visible to the rescuers.
Rain Resistant
This flashlight is constructed of aluminum alloy which makes it scratch-resistant and resistant to changing the weather, including rain. This is a big plus for anyone who spends a lot of time outdoors.
Cost and Value
Compared to its competition, this item comes at a very good price. It has a strong build and will work in a variety of different environments and weather conditions.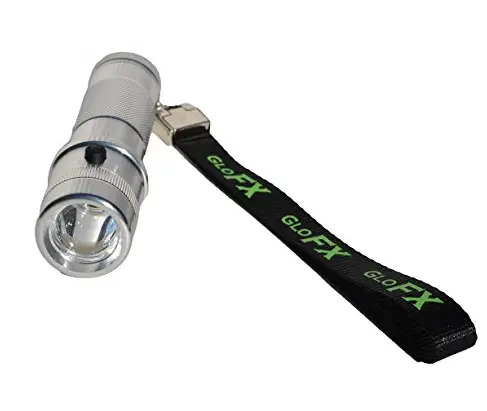 Smaller doesn't mean a loss of function, and this GloFX model proves that with its laundry list of features. As one of the most useful flashlights on the list, it proves its value before you even turn it on. The reason for this is because it is the second generation design, meaning it comes with enhanced features and a slew of cool options. With that said, let's talk about this particular compact flashlight and what users can expect as far as power and design.
The Most Modes
Buyers that want the most functionality out of a flashlight will spend hours playing with this particular flashlight, thanks to a slew of features. For example, this flashlight has over 13 display modes spread out over 34 different color choices. With that, individuals will enjoy colors ranging from green to yellow and white allowing for enhanced options and no lack of performance thanks to the high-quality LED bulbs that can last over 50,000 hours of use.
The Durable Body
When it comes to a flashlight, what is one of the most important aspects other than power and lighting? We think the body of the flashlight. Especially, if an individual plans to use the flashlight while hiking or being out in nature, the flashlight needs to be designed with durability in mind. This is why this flashlight offers one of the best durable bodies available today. For example, the body is designed for an extremely powerful aluminum alloy casing design that allows for maximum durability and a bit of water resistance, making it ideal for everyday use.
Cost And Value
The price is average for this flashlight considering the power and design, a surprising turn of events when you put it up against the competitors. There is plenty of value in its multiple modes, with many of them not being available in competitor flashlights. Other than that, this flashlight is also very durable and great and easy to use. The options are what really makes it one of the best, offering a slew of cool options for everyday use whether indoors or outdoors. We highly recommend it!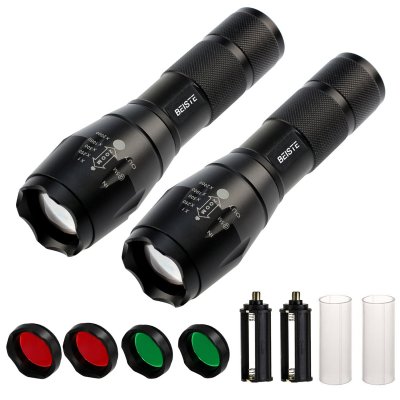 This light is really powerful and can shine with 1000 lumens, but the one thing is that if you want to get other colors you have to pop in the lens you want. This is a bit unwieldy but the power of the light really sells us on this little flashlight. We're also big fans of the price and of the zoom function so it's a trade-off between power and convenience. Still, it has made our list.
Magnetic Bottom
Just slap this against any metal surface and it'll stay right where you want it. That's the value of having a magnetic bottom, especially if you're working in a tight spot and need both your hands free, like say underneath a car or working around your fusebox when the power goes South. It's really convenient.
Really Bright
This baby burns at 1000 lumens, that's incredibly bright and should give you enough power to get a good look at whatever it is you're going after.
Cost and Value
Dang, this is a cheap light. And like we said earlier the only thing that gives us pause is the fact that to change the colors of the light you have to actually place new colored lenses on the face of the light. This is a bit annoying and it also means you have to carry lenses around with you. But the price and the brightness put it on our list.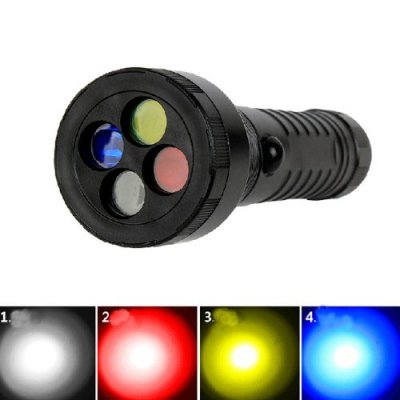 This is a really cool idea for a flashlight because the different lenses change easily and are on a floating head so you simply spin the head of the flashlight if you want to get a new color. It's a convenient and neat little feature. It's about 350 lumens, so not bad when it comes to illumination but it's a neat take on the classic flashlight.
Weatherproof
You'd be surprised but this isn't a guarantee on a flashlight considering how often you're going to be using one in less than ideal conditions. And we all know that once water gets in electronics it's game over so having a waterproof guarantee on the front end is a nice little bonus.
Aluminum Alloy Case
This goes along well with the waterproof guarantee. Basically this is a tough little light that's going to take a beating and keep on shining.
Cost and Value
A really affordable light. It's convenient, has some nice features and we really like the twisting head that allows you to change the light color. A nice new addition to our list.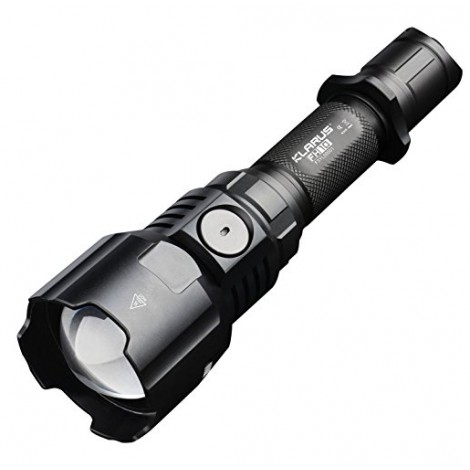 The Klarus just so happens to be the most unique flashlights due to the design and the specs of the flashlight itself. Made with a mix of durability and functions in mind, this small flashlight scored high on multiple lists and users love it for the quality and the design. With that in mind, we see it as one of the best flashlights in the industry if money is no concern for an individual. Let's look at two points that are very important when it comes to this quality flashlight.
Good Power Management
With the use of a single 18650 battery, this flashlight will last for hours without needing a charge. You can even use it for an extended amount of time when the juice is running low simply by placing it on the low setting. With that, the settings offer many different outputs and users can easily switch back and forth between each output for better power management. Other than that, the battery is designed very durably and for long-term range us alongside also being rechargeable.
The Head Design
When it comes to really well designed tactical flashlights, this one is one of the best for many reasons. For example, the flashlight itself has an adjustable head design, meaning an individual can easily switch the power brightness by adjusting the head of the flashlight. Other than that, an individual can switch between spotlight mode and floodlight mode for a better look and range. This can also be done with any of the color choices available.
Cost And Value
Currently sitting at a high price, this model gets attention for its gun compatibility and the quality design. For example, this flashlight is designed for tactical use and is extremely durable thanks to an interior spring design that is resistant towards gun recoil. With that in mind, there is value in that feature alone that makes it worth the price considering that it is designed for the tactical and high endurance field. Users will appreciate the quality design options and the many different functions of the flashlight.

10

. Nitecore Chameleon CI6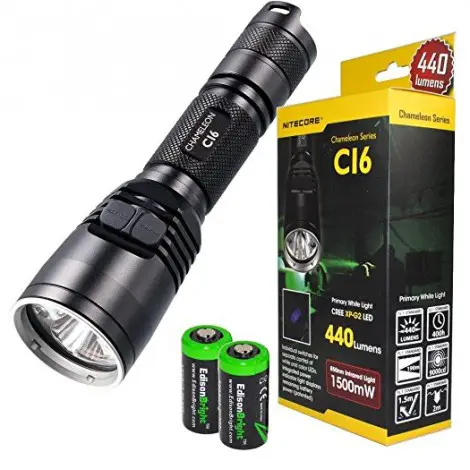 Nitecore makes this list twice, which is rare for us to include a brand twice. However, when we came across this high-quality flashlight, we knew we had to include it on the list for the quality design and slew of specs that make it a great product. With that in mind, let's talk about the Nitecore Chameleon CI6 flashlight, one of the best for individuals that want durability and value all in one package. Here are two important points to take into consideration.
Useful As A Hunting Accessory
The CI6 is marketed as a great accessory for long-range hunting, and the specifications back that claim up. The reason for this is the extremely powerful and tough battery that can withstand the test of time and is also rechargeable. Other than that, the flashlight has a night vision mode so individuals do not bother or wake the animals in the process of hunting. Which brings us to the next important point to take into consideration.
The Modes and Compatibility
So, we can easily say that this may be the first flashlight on the list that is specifically designed for individuals that want a powerful flashlight for long-range night vision and hunting. With that, it is compatible with many different night vision scopes for effective use. Other than that, users will appreciate the multi-colored signaling mode which allows for individuals to easily change between red, green, and blue.
Cost And Value
For a medium-priced outdoor flashlight, buyers are getting a lot for their money, considering the quality of the flashlight and the many different features this flashlight comes with. There is enough quality in all of the features to make it a winner in the long term for individuals that want a high-quality spec-filled hunting flashlight. With that in mind, we cannot compare it to other flashlights, other than the color modes are very bright and powerful.

Subscribe to our Newsletter