Best Color Flashlights Reviewed & Rated
Color flashlights can be used for a variety of tasks including hunting. Red, blue and green are the usual colors that manufacturers concentrate on. But there are brands that have even more colors available, even if it is just for aesthetic purposes. The handling of RGB flashlights is no different than a regular one, so with a little practice, you can get the hang of it just fine. They don't suck up any extra energy when using the different filters, and changing the modes is seamless on all models. With the introduction of water-resistant RGB flashlights to the market, consumers gained a big advantage in their purchasing decision.
Our Top 3 Picks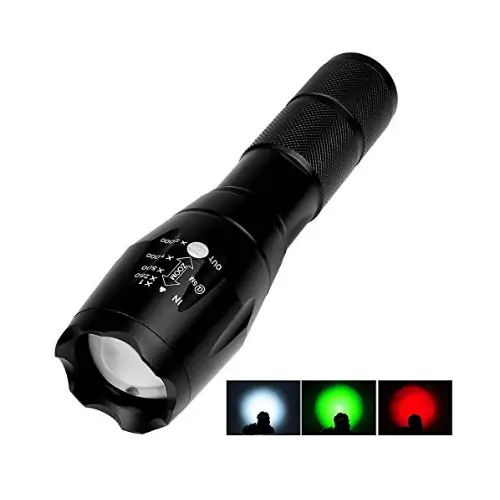 LingsFire

Our rating
Waterproof
Price:

See Here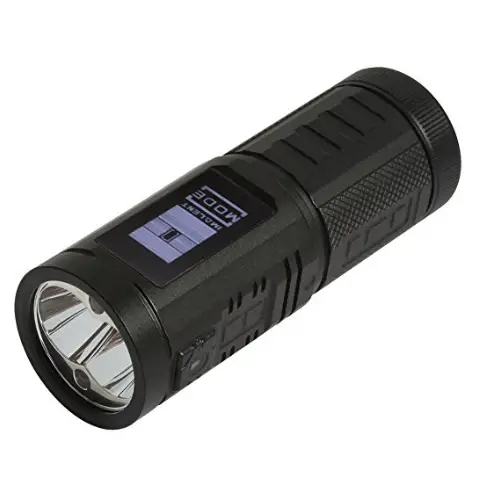 Sidiou Group

Our rating
Comfortable
Price:

See Here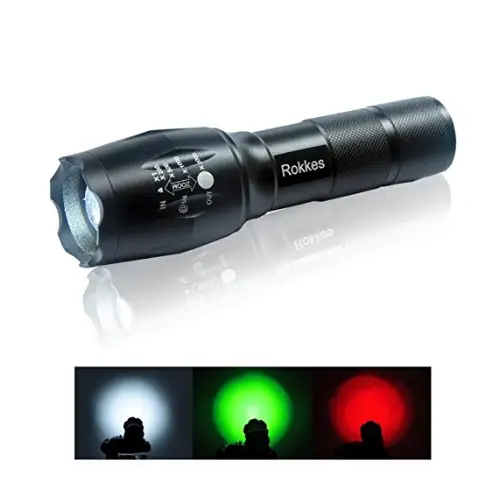 ROKKES LED

Our rating
Rechargable
Price:

See Here

Best Brands
There are a lot of single device brands and new companies that have made a splash in the industry. The most notable brand on the list is Browning, a popular company known for their great outdoor products. Including them on the list was a must, and they didn't disappoint. The top ten was still spread out evenly among brands that a lot of consumers aren't familiar with. Innovation was the key to a lot of the lesser known brands gaining an advantage. They looked beyond the core specs and RGB focus by providing a great flashlight experience with a lot of usable features.
Maintenance and Cleaning Tips
All of the products on the list are durable and made for outdoor use. Cleaning and maintenance don't get too complicated and involve nothing more than keeping the product free of dirt and debris. LED bulbs last a long time, so it's unlikely you'll have to change them in the lifespan of the product. If the casing breaks or gets cracked, the product will still perform to the highest standards. Cracked glass or battery leakage is the only time true maintenance by a professional is needed.
10 Best Color Flashlights
1. LingsFire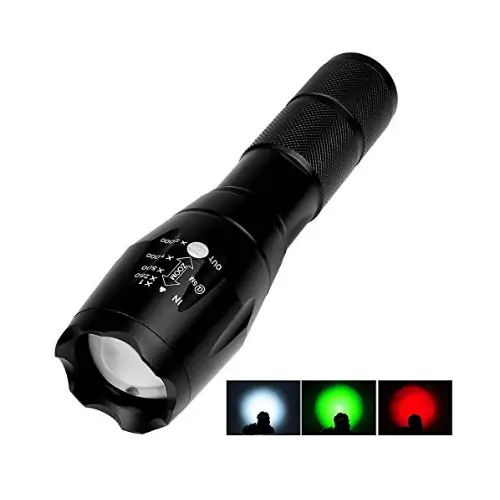 At #1 on the list is a little-known color LED flashlight by the company LingsFire. This particular model packs some of the best features from other companies and puts it all into one neat package.

Long Lifespan

LED bulbs are known for their exceptional lifespan, with some flashlights taking it a step further. This model is particularly good in that area, sporting over 100,000 hours of life.
Expand to see more
Features and Specifications

Cree XM-L T6 LED
5 light modes

Price/Value

No matter which version of this model you choose, the price is low. Buyers just need to decide which version gives them the best value.

Decision Time

It was close to being the best, and on a toss-up will still be the best choice for some people. LingsFire still wins by creating a top three color flashlight.
Water resistant
Max brightness of 2000 lumens
Batteries are only included in different versions
2. Sidiou Group Imalent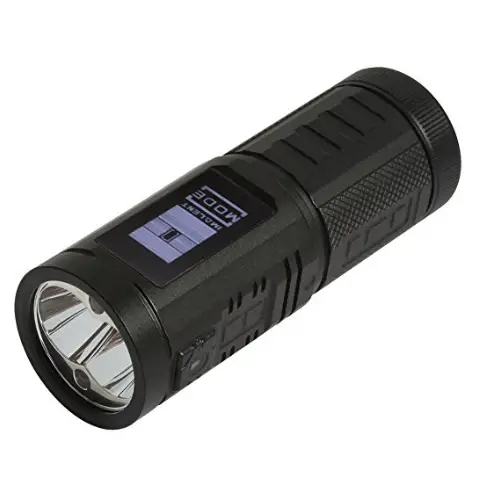 Many options await customers that want to buy into the latest from Sidiou Group. Their most popular model has a little something for everyone, covering a wide variety of buyers.

The Most Varied Setups

Buyers will have their choice of features, colors and even included accessories. There are 12 total options to go through, each providing their own strengths and weaknesses.
Expand to see more
Features and Specifications

Multifunctional LCD touch screen
1,000 lumens

Price/Value

Even at the current high price, this is a great modern value. No matter which setup you go with, you're getting a great flashlight that has blue, red and green colors.

Decision Time

Modern flashlights have a lot of bells and whistles that help them stand out. This model is no different, and one of the better choices on the list.
Range of 280 meters
Comfortable to hold for long periods of time
3. ROKKES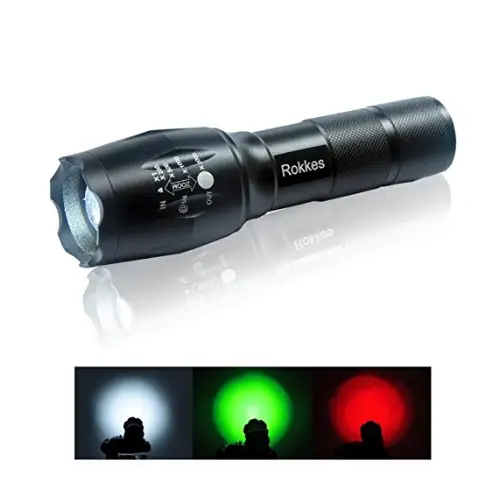 When Rokkes came out with their rechargeable model it immediately went head to head with the best in the industry. Priced well and one of the best on the list.

Great Brightness

For such a small flashlight the brightness can be staggering when you have it at the highest output. Three Cree LEDs are to thank for such a professional level of brightness, even when the battery is on its last legs.
Expand to see more
Features and Specifications

1500 lumens
Zoomable

Price/Value

The price is low, so low that it's hard to pass this deal up. Even with a bad manual, this flashlight is worth purchasing.

Decision Time

You're not going to get much lower than this in price when looking for a top-tier color flashlight. It provides everything you need out of the box and comes highly recommended.
Rechargeable battery lasts 6 hours
IP67 rated water resistance
Horrible instruction booklet
4. GloFX LED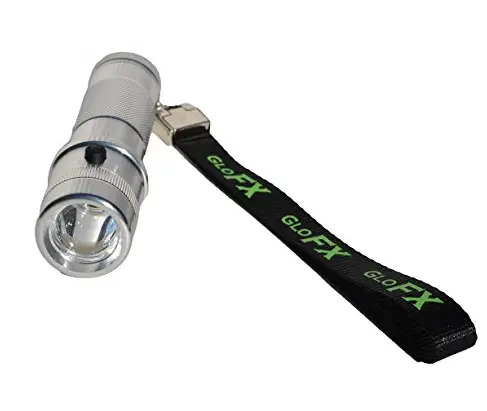 Smaller doesn't mean a loss of function, and this GloFX model proves that with its laundry list of features. As one of the most useful flashlights on the list, it proves its value before you even turn it on.

The Most Modes

Buyers that want the most functionality out of a flashlight will spend hours playing with this one. It has over 36 total modes spread out across 12 full spectrum colors.
Expand to see more
Features and Specifications

50,000 hours out of LED bulbs
Aluminum alloy casing

Price/Value

The price is average for this flashlight, a surprising turn of events when you put it up against the competitors. There is plenty of value in its multiple modes, with many of them not being available in competitor flashlights.

Decision Time

All of the extra modes in this flashlight are useful, or at the very least fun to play with. With its consumer-friendly price, GloFX will appeal to a lot of potential buyers.
Most modes available on the list
Improved sleep mode
5. Browning Pro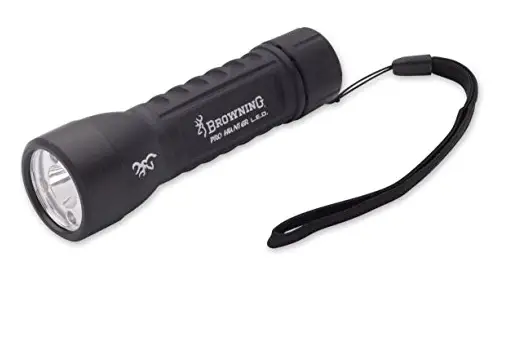 Right in the middle of the list is this Browning flashlight, a model that is great as the main device or a backup. Plenty of consumers swear by this specific version for light and heavy usage.

Small And Functional

This is one of the smallest flashlights on the list, weighing just under 4 ounces. It can fit comfortably in pants pockets without being a big bulge.
Expand to see more
Features and Specifications

Pro hunter RGB
Dimensions are 1.8x6x10.5 inches

Price/Value

The usages of AAA batteries will eat into the budget a bit, but this is a low priced flashlight, to begin with. Buyers will save money upfront and afterward if they stick with quality batteries.

Decision Time

Browning makes great outdoor gear and cameras at a value price. Add this as another one of their great values that is highly competitive with other flashlights.
Great durability
One of the smallest lights on the list
6. Nitecore Chameleon CI6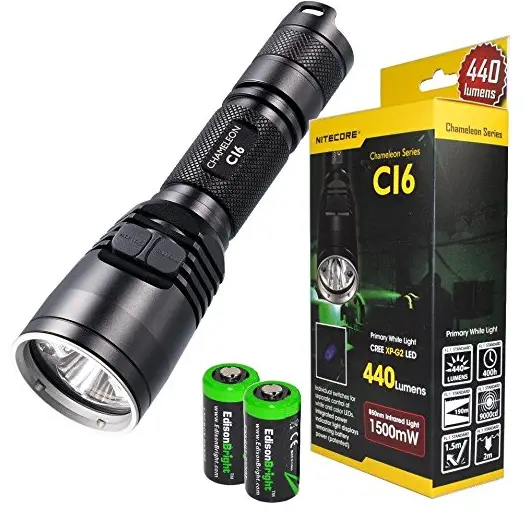 Nitecore makes this list twice, this first time with their CI6 model. It has some of the best features of their other products with some improvements of its own.

Useful As A Hunting Accessory

The CI6 is marketed as a great accessory for long range hunting, and the specifications back that claim up. It has powerful batteries, a tough exterior, and bright lights make it an attractive option.
Expand to see more
Features and Specifications

440 lumens
RGB signaling mode

Price/Value

For a medium priced outdoor flashlight buyers are getting a lot for their money. There is enough quality in all of the features to make it a winner in the long term.

Decision Time

With all of the tough flashlights on the list, this model stands out among the elite. That should put it in the buying crosshairs of a lot of potential buyers.

IR mode is a game changer
Hard anodized finish
7. Nitecore MH27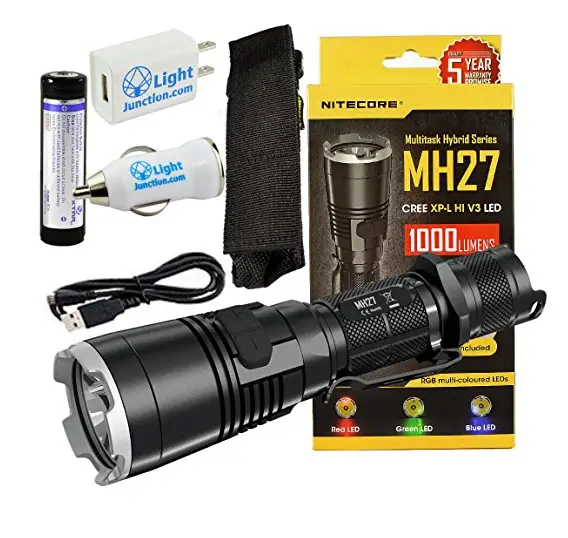 Nitecore maximized the potential of the MH27 by giving consumers more in one package. The end result is a flashlight that works in multiple situations.

Heavy Duty

From top to bottom this flashlight is built to take a beating and survive the elements. It has an IPX-8 standard waterproof housing and is made from top grade materials.
Expand to see more
Features and Specifications

462m beam distance
Can be charged with a standard micro USB cord

Price/Value

The pricing is high, and about the same as the other high priced flashlights on the list. Value is high due to the amount of punishment this flashlight can take.

Decision Time

When you're spending a lot of time outdoors and need a tough flashlight, this becomes one of the top choices. It has a buyer-friendly travel design and comes with all of the necessary accessories.
Comes with 18650 rechargeable battery
1000 lumens
Included USB cord is short
8. Klarus FH10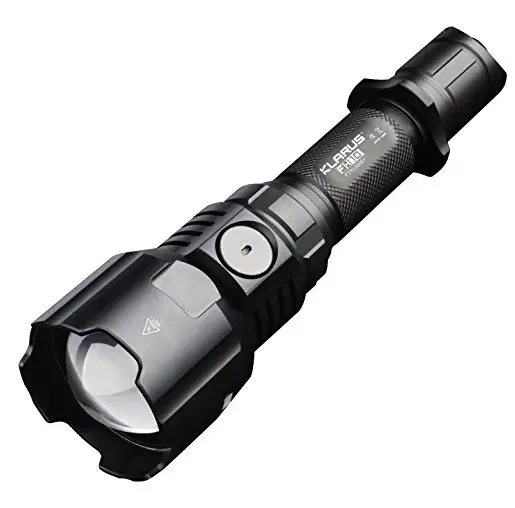 The Klarus just so happens to be the most unique. Made with a mix of durability and functions in mind, this small flashlight scored high on multiple lists.

Good Power Management

With the use of a single 18650 battery, this flashlight will last for hours without needing a charge. You can even use it for an extended amount of time when the juice is running low.
Expand to see more
Features and Specifications

Dual tactical tail switch
700 lumens

Price/Value

Currently sitting at a high price, this model gets attention for its gun compatibility. There is value in that feature alone that makes it worth the price.

Decision Time

Klarus is a well-known brand that delivers when needed, so their dominance comes as no surprise. Consumers that want the best can choose this flashlight and get the most for their money.
Fits standard gun mounts
Modes are easy to switch
9. Veeki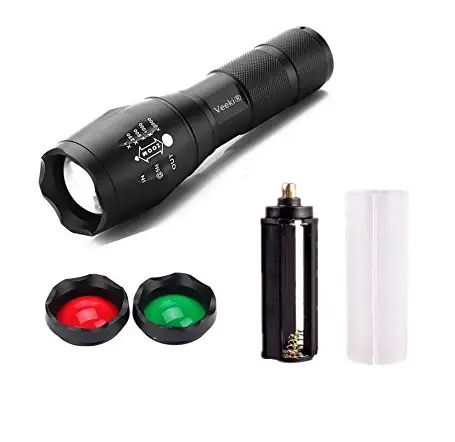 Next up is a Veeki flashlight that has gained popularity for its highly customizable features. It's a winner in the color flashlight category with very few flaws.

Magnetic Tail

Just for the convenience, having a magnetic tail helps out a ton when the lights suddenly go out. And in a limited storage situation, it will help out a lot with spacing.
Expand to see more
Features and Specifications

Comes in two different versions
XM-L T6 LED emitter

Price/Value

This is one of the lowest priced flashlights on the list for both available versions. It also has competent water resistance so should be suitable for professional use.

Decision Time

There are a lot of great things to praise about this flashlight, and the lamp light is at the top of that list. Veeki put a lot of effort into turning this into an all in one color flashlight that's easy to use.
Red and Green detachable lenses are a nice touch
100,000 lamp life
Original version doesn't come with a battery
10. Nitecore Revenger SRT7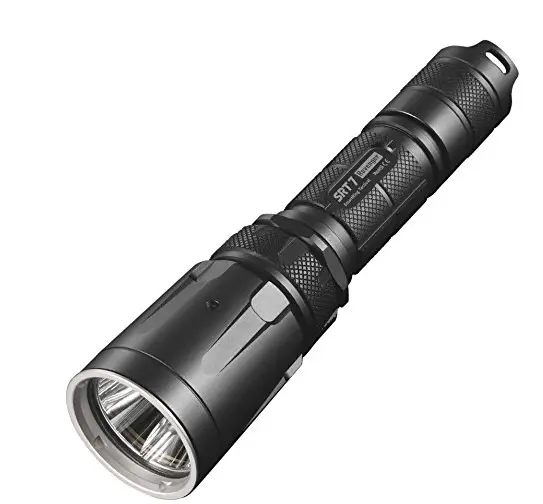 The SRT7 is underrated by a lot of people until they dive deep into its advanced features. Underneath its professional looking exterior is a flashlight with a lot of upsides.

Great Water Protection

Nitecore made this product waterproof and submersible up to 131 in deep water. That's a big achievement for consumers that need to use flashlights in bad conditions.
Expand to see more
Features and Specifications

Up to 960-lumen variable output
Overheat protection

Price/Value

At a high price and from an unknown brand, this flashlight will get passed over by a lot of interested parties. But the high waterproof protection is a valuable feature for consumers that deal with bad weather.

Decision Time

There are other options available in the industry that will provide better LED coverage, yet none of them will match the water protection of this model. For a durable RGB flashlight, this is going to be a top ten choice.
3x RGB LED emitters
Tailcap switch is easy to use
Area coverage could be better
Criteria For Evaluation
With a lot of the choices in our top ten being so similar, we had to rank them based on what they brought to the table. There are a lot of surprises throughout the list, with a lot of new or unknown companies making an appearance. We checked out a lot of key things, with price being one of the criteria we fully avoided.
Lumens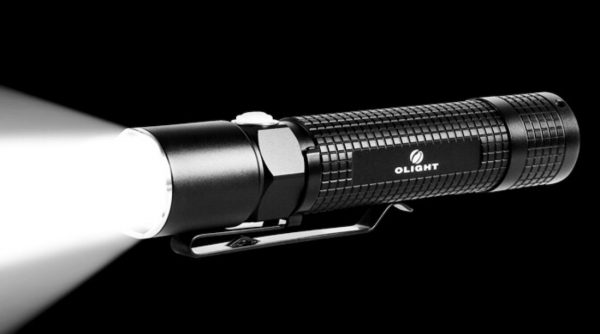 Lumens is where we turned our attention to first, with a lot of detailed graphs getting rid of the low performing products. Color flashlights on the list had to have at least 100 lumens to be included in the top ten. On top of that their brightness had to illuminate a wide enough area, at least a couple of feet ahead of the person using it. Extra points were given for flashlights that had a wide field of view and zooming features. Some of the standouts were so bright that they could illuminate entire areas on the high setting, even though the flashlight itself was smaller than the user's hand. These were the real winners and the ones that performed consistently high with the other criteria on the list.
Available Models
Next up we looked at the available modes a flashlight offered. More modes led to a higher spot on the list. Since a lot of these modes were standard and copied across multiple products, we only gave points to flashlights that performed above average in this area. So having average brightness controls didn't hurt products, but it also didn't help them get higher on the list. Some of the more exceptional flashlights on the list found new ways to innovate old modes by either making it more user accessible or by blending its use with other core features.
RGB Quality
That brings the next criteria up, which was RGB quality. A color flashlight without great colors is kind of pointless and makes it no better than a regular LED model. Points were given for the number of colors, color richness and the time it took to switch from one color to another. We looked for any degradation in the light quality when switching from the default white light to any color mode. Products that had cheap add-ons or cheap RGB effects were removed from the top ten.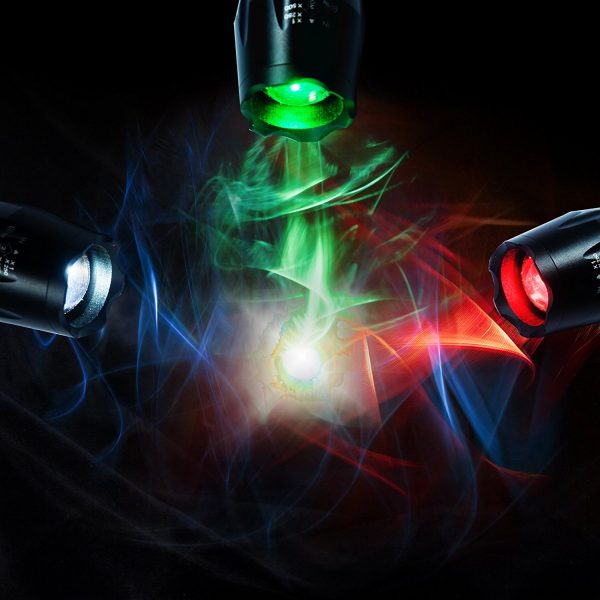 Durability
Being durable is a plus when your primary function involves providing light in the darkness. Drops, crashes and all kinds of bumps are expected. A high-quality exterior is one of the many things that helped flashlights in the durability criteria. Ability to withstand damage and keep providing a bright light put a lot of lesser known models on the top portion of the list. Brands that suffered from power issues after being dropped a few times were too fragile to include in the top ten. Flashlights that had reinforced areas where the LED resided were also the gold standard for this criteria.
Battery Usage
Battery usage was a tricky criteria to check on since we had to look at rechargeable vs. standard battery usage. Winners with this criteria didn't automatically dim on low batteries. Any type of battery was used to its fullest potential, giving users the longest run time possible with each charge. When the brightness setting was cranked up it also revealed which flashlights used more power. We favored models that balanced out their power usage even when they were constantly on the highest settings possible. This showed that the mechanics were set up properly to handle heavy loads.
Water Resistance
Our next criteria was water resistance, a feature that was hit or miss with all models. When water resistance was mentioned as the main feature with any of the color flashlights, it meant one of two things; the feature was implemented well and would allow the use of the flashlight in the rain, or it was implemented poorly and would cause damage on repeated use in wet areas. All of the flashlights that fell into the latter category were removed from the list. This was an important move since water damage could void a warranty, even if the product said it was water resistant.
Extras, Customer Service & Style
The last three things we checked for were extras, customer service, and style. Extras covered the things that were included in a package like lanyards, cases, and batteries. We took the extra step and also considered flashlights that had different sets of the same model for purchase. So even if the original came with just the base equipment, there was still a chance that the different styles would give it enough points to rank higher on the list. This was an important step for the value purchase and included a lot of the flashlights that came with batteries.
Customer service is a criteria that also covers ease of use, and how clear the instructions are. Buyers should be able to take out the flashlight out of the package and use it without thumbing through an entire manual. And if there is a problem with the product that should have a direct line to customer service without waiting an hour on hold. Remarkably, even the products that lacked phone customer service were quick with email support. Not a lot of products suffered from this criteria other than a select few. They excelled in other areas so were left on the list, but pushed towards the #10 ranking.
Our last criteria was also the easiest to gauge- style. The style was based on available colors and overall design aesthetics. Color flashlights that were considered uncomfortable to hold did not place well on the list and were eventually pushed out by better choices. We only kept models that were comfortable to use for hours at a time, even in wet situations. A few brands had a lot of color choices and ranked highly, scoring a lot of points with the style criteria. The Sidiou Group was king in this category by showing off a nice variety of colors.
FAQs
Frequently Asked Questions
Q: How Important Are Lumens?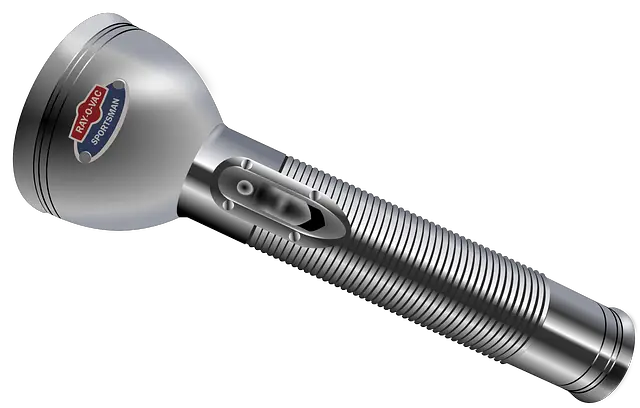 A: The importance of lumens in flashlights is no different than their requirements for color flashlights. Lumens is part of the formula that equals the true intensity of the light, and ultimately the brightness of the LED. Having low lumens doesn't necessarily mean the flashlight won't do the job, so at most, it should be used as a reference point when weighed among other specifications. At the very least, you want an LED flashlight to have a hundred lumens. Anything less than that will lead to poor performance even if the rest of the specifications are top notch. And with the addition of color options, having higher lumens helps with the richness of the resulting light while using the filters.
Q: Are the Smaller Flashlights Weak?
A: Absolutely not. LED technology allows for a lot of power to be packed into a smaller frame. The same power you get from a flashlight that is small will equal the throughput of a larger one. It becomes less about the size and more about the quality of the mechanics being used to create the flashlight. A good portion of the value in a color flashlight comes from its ability to fully utilize the built-in features. So the same pros and cons that plague larger flashlights will also be found in their smaller versions.
Q: Can The SOS Feature Be Seen From A Distance?
A: This entirely depends on what model you decide to buy. A weak SOS feature will barely make a dent in the area you have it flashing in if the device isn't strong enough to output the light. This is where a bright light is beneficial, and also (to an extent) wide-angle color flashlights. The coverage area of an SOS needs to be both wide and bright in order for it to be effective. A good chunk of the color flashlights on the market do this well, with only a few failing to satisfy the requirements due to low brightness. In an emergency situation where you need your flashlight to alert people that you need help, the last thing you need is for it to be underpowered.
Q: How Strong Is The Water Resistance?
A: None of the flashlights that made the list can be fully submersed in water. And even on the professional level water submersion is left for the high tier devices not available to consumers. The type of resistance available for consumer grade color flashlights will protect against rain. This extends its outdoor use and keeps it from short-circuiting when you need it the most. It also has important use hunters that need to stay in position even when there is heavy rainfall. When you're in the middle of nowhere and it is pouring down, it's easy to get lost if your only flashlight gives in to nature.
Q: Will The Flashlight Break In Under A Year?
A: Electronic items will break down eventually, even if they have high durability. If you tend to run through your flashlights faster than the average user, a good warranty will set you up for the early years of the product. Brands of all levels are fair with their warranties since a color flashlight is an outdoor product. It is made for higher level punishment than a regular electronic device, so as a result, the warranty covers more. Few brands offer a lifetime product warranty, which is a shame since the LEDs last for thousands of hours.
Q: Are They Comfortable To Hold For Long Periods Of Time?
A: Sweaty palms, arthritis, and even blisters shouldn't be a factor when carrying a color flashlight. They are light, and many of them can fit in your pocket without standing out. If the casing is rubberized, it's even more comfortable to hold. The type of case a color flashlight uses should be on the list of things to look for if you plan on using it for hours at a time. Look for features that are easy on the hand like soft material and one-handed operation. And any models that come with a carrying bag are more likely to be a primary buy for heavy use.
Q: What Are The Main Differences Between Low And High Priced Flashlights?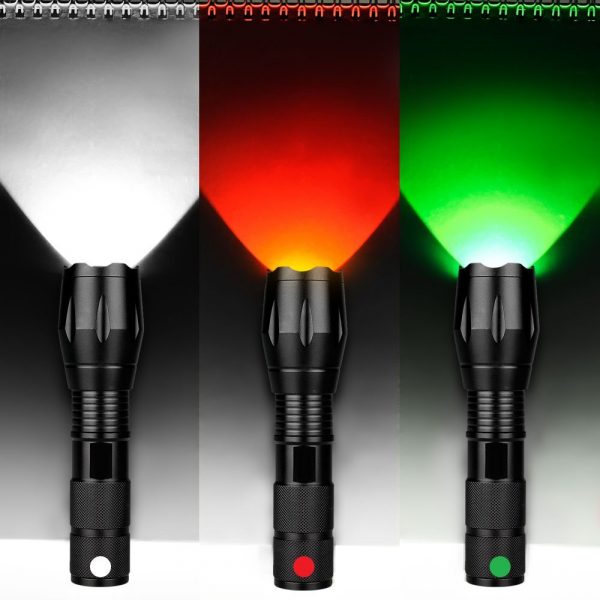 A: Both high and low priced color flashlights have the same features. If you're expecting to see an innovative feature in an expensive flashlight that is unique to that product, then you'll be disappointed. All tiers of color flashlights share the same core features with the same high grade LED bulbs. The only difference between the two is what features they include and how much they refine the LEDs. This isn't exclusive to price, although it can be argued that higher priced color flashlights have a longer shelf life. Your mileage will vary, and general recommendations always point to using products that meet your needs.
Q: Can Normal Flashlights Be Fitted With RGB Capabilities?
A: This is where the lines blur a bit when choosing color flashlights. Are they really as simple as putting a filter on a regular LED bulb? The answer is yes that it is that simple, and also a resounding yes to normal flashlights being capable of extended RGB capabilities. But the difference between a regular flashlight with an extension and an RGB flashlight is massive in terms of quality. There is no comparing the two, especially when you want a red light but end up with pink due to a cheap filter. Color flashlights are built from the ground up to perform at a high level with all of the colors they advertise.
A: The best answer will always end up with you calling in your warranty. Opening up a flashlight to fix a single part could damage the entire device. And if you're still within the warranty period, this will void it outright. A quick look at a top ten list will show some viable options in the color flashlight category that are low priced and worth a look. So on the off chance, you are outside of the warranty, it makes more sense to buy a new color flashlight-unless you have experience fixing flashlights yourself. But the number of options available at a low price make both the time and money spent on a fix not worth it.
Q: Will

Rechargeable

Battery Usage Fade Over Time?
A: Yes, usually with the battery losing its top capacity and going down a specific percentage. So a rechargeable battery that would usually charge to 100% will start to top out at 95%, continuing to decline the more it is recharged. This is the nature of rechargeable batteries and is something that takes place even in modern devices like smartphones. Some color flashlights come with their own set of rechargeable batteries that should hold off the user for the lifetime of the device. Even with significant battery percentage loss, only heavy users will notice a difference in their day to day usage.
Q: Are There Disadvantages To Low Beam Distance?
A: The whole point of having a flashlight is being able to see what is in front of you. Beam distance allows you to project the light at a much greater distance than normal. It is one of the most overlooked specifications when buying a color flashlight. Beam distance is measured in meters, so when you top out its limit the brightness of the light will begin to diminish the further out you concentrate the light on. Depending on what you're using the flashlight for, this can be a big problem if it doesn't reach the needed distance. Hunters will suffer the most from a low beam distance, with the limit now allowing them to focus on an object.
Q: Should Rechargeable Batteries Be Used Instead Of Regular Batteries?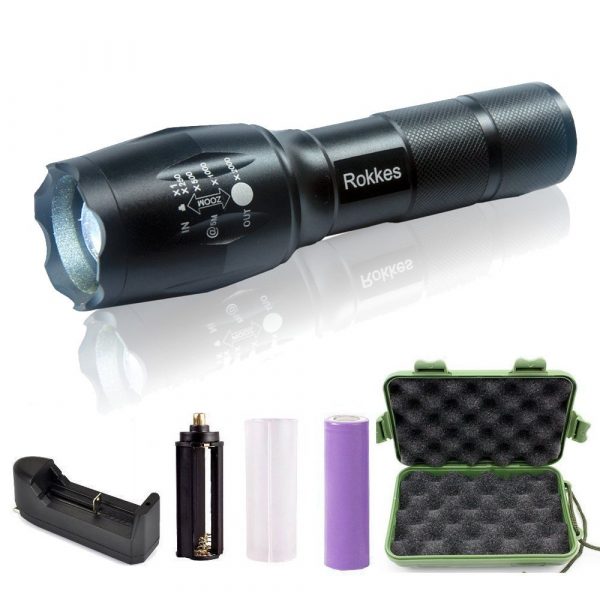 A: This is entirely up to your personal needs as a buyer. Some people prefer rechargeable batteries to save on costs. Others just like the convenience of not having to lug around a pack of spare batteries. Information that gets lost in the middle is the power you get from a rechargeable battery vs. a standard one. Standard batteries will hold a lot more juice by default, with the lithium batteries topping out great on power. But once they run out of juice that's it. Replacing batteries can get expensive after a few months, and in some cases, a single purchase will cost more than the flashlight itself. In short, rechargeable batteries are a great option for buyers that use their color flashlights on a consistent basis. Regular batteries are good for buyers that use their devices less, or for those that purchase flashlights that don't come with rechargeable batteries.
Q: Are Homemade RGB Flashlights Easy To Make?
A: Some consumers have completed home projects to make their own RGB flashlights. They use materials commonly found around the house to complete a makeshift color flashlight without the bells and whistles. The end result is a novelty RGB flashlight that is good for a personal project but not useful in a real-world situation. Homemade RGB flashlights lack the ruggedness or water resistance of the official models. They also lack advanced features like zoom or even SOS functions. Branded versions will always have the advantage in this area. If you opt for a low-cost product, you're barely coming out of pocket for a flashlight that will last you a lifetime.
Q: Can RGB Flashlights Be Mounted To Guns?
A: Not all color flashlights can be mounted to guns, and only one capable model in the top ten even has that feature. It's considered a rare but highly useful function for a color flashlight to be mountable. Based on your weapon loadout, this could be the top option that helps sway a buying decision. With the benefits, there are also a lot of drawbacks to the system, with low compatibility being one of them. Since a lot of the top brands don't include this feature by default, it hasn't been optimized for wide use. Non-technical users could end up frustrated if this is the case, as they have to go through the manual to find a solution. Mounted RGB flashlights are not yet ready for primetime, but it is still a primetime feature. It isn't out of the question that it may one day be the standard, just like the SOS mode.
Q: Are All Modes Created Equal?
A: A flashlight with great RGB modes may only have average SOS modes. One feature being great on a specific flashlight doesn't mean that the entire package will follow suit. That is why the top ten list is so varied, even when you get the best flashlight. Buyers that are looking for a particular mode to be great should single out flashlights that perform well in that area. So if a solid red light becomes a buying priority, it wouldn't make sense to purchase a product with a weak red filter. Most brands are good at identifying their own strengths and weaknesses, but it is still up to the buyer to make the correct decision.
Decision Time
There are three things to consider when choosing a color flashlight; the strength of the beam, battery usage and ease of use. A flashlight of any kind can't be great if it doesn't have a strong beam. Part of that has to do with lumens, the other part has to do with the quality of the product as a whole. While LED light bulbs are largely the same, some manufacturers implement the technology better than others. Battery usage will become an issue when you want to squeeze out that last bit of power before the flashlight dies. Some products go dead while there is still juice left, and others dim the light to preserve power. You have to decide which method fits into the power scheme that will benefit you the most. Buyers will also have to look at which products have the longest running time. Having a flashlight eat through batteries (even if it is rechargeable) is a pain. Ease of use covers a lot of important parts of the product's features and how accessible they are to a normal consumer. The basic functions should be usable without needing to consult with the user manual for specifics.