Best Heated Pants Reviewed & Rated for Quality
In a Hurry? Editors choice: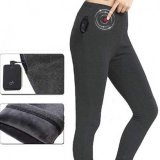 Test Winner: LvBo

You've been through some harsh winters before, but, like the rest of us, the winter of 2019 probably took you by surprise. As we struggle to scrape the ice off of our windshields, dig out our cars and
snowblow
or shovel our driveways and sidewalks, we are dealing with a potentially deadly situation when we battle such extreme conditions. The Polar Vortex alone has claimed the lives of at least 21 people so far this year.
Whether you are shoveling snow, hitting the slopes, going for a motorcycle ride or otherwise, the need to stay warm cannot be emphasized enough. One powerful tool that can help you maintain adequate body temperature at all times is by wearing a pair of heated pants. Powerful, effective, and a huge ally against the battle versus the elements, 10 of the most popular pairs of heated pants are reviewed here for your consideration.
Standout Picks
Criteria Used for Evaluation
Effectiveness
How well these garments are able to keep you warm is quite possibly the most important consideration of all. Do they work, and do they work well? Do they evenly distribute the heat down the length of your leg? Is good circulation promoted? How long does the charge last? How long does it take for the pants to charge? These are all questions that should be answered prior to purchase.
There are enough pairs on the market that you should not have to settle for anything less than maximum quality. You need to be able to rely on your garment to work properly, whether you're on your bike or you're shoveling snow. Otherwise, you are exposing yourself to dangerous, frigid temperatures, frostbite and hypothermia. You should be able to rely on your pants the way you rely on your motorcycle, or your snowblower, or whatever the case may be. Protecting yourself from the cold is essential to our basic survival. Therefore, effectiveness is everything.
Comfort
Comfort is paramount. If they are not breathable, cause itching, burning or chafing, then you are unlikely to wear them, thus rendering them essentially useless. Many options are composed of entirely synthetic materials. Such materials can irritate sensitive skin and be problematic for some.
One common misconception is that synthetic materials are not ventilated. To the contrary; many products are quite breathable and ventilated. This allows for greater comfort, as your skin is allowed to breathe. Additionally, many pairs have adjustable heating zones, so you can customize the settings to your liking. This allows you to completely refine the settings to meet your needs, allowing you to be comfortable, warm and happy for hours at a time.
Fit
Of course, when considering any type of clothing, the fit is important. With these garments, the majority are designed to fit snugly and securely. Often, this is because they are worn as liners underneath larger sets of pants.
That said, proper fit is essential. Many options run small, so it is a good idea to buy a pair a few sizes larger than what you would normally wear. Many sellers include sizing charts to help assist you with finding the proper fit. You want a pair that is snug, yes, but not too tight, and certainly not so tight that it puts pressure on your body and leaves indentations. You want a pair that conforms to your body but does not restrict it.
Insulation
Insulation is part of the magic. These garments come with an outer shell, and this is where the key insulation is found. The shell keeps the wind and cold out, preventing the frigid air from penetrating the inner layer of the liners.
The liners themselves are also insulated; with their heating units circulating warm heat up and down the length of the leg. Between proper insulation, a durable shell, and the heating component, your body will be warm and protected from the elements.
Style
Like any other piece of clothing, style is important. This is particularly true if the pants are to be worn as trousers or leggings, as opposed to being hidden underneath an outer pair of pants.
These garments can be stylish and flattering, like leggings, form-fitting and figure flattering. Trousers can look business casual or they can be worn comfortably around the house. They are inconspicuous; designed to look like regular pants. They can be quite fashion forward.
10 Best Heated Pants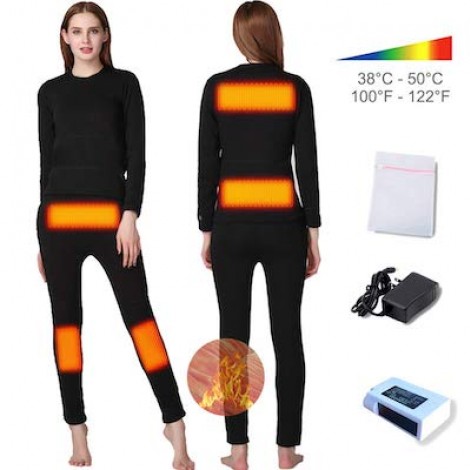 These particular Fernida heated pants are designed for women, though Fernida does offer options for men. They are adjustable and designed for a snug fit, conforming to the body's natural curves. The temperature can be increased as needed. The heat helps to increase blood circulation and decrease muscle stiffness. Overall, they are stylish and practical and will make you an unstoppable force against the frigid temperatures outside.
Slim Fit, Light Material
These are designed for a snug, slim fit. This serves a dual purpose. Not only are your legs adequately and evenly heated, but the actual design is quite attractive. The material is surprisingly thin, while still providing optimal insulation and great warmth. As previously mentioned, the heat also promotes healthy blood circulation, protecting you from hypothermia, frostbite, and general discomfort.
Three Modes
There are three distinct modes which you can choose to set these to: high, medium and low, depending on how much heat you are looking for and what setting makes you the most comfortable. The three modes are displayed with LED lighting, which also displays the temperature and time left within which they will stay charged. High mode lasts for two to three hours, medium lasts three to four, and low lasts from four to six hours.
Cost and Value
The Fernidas are sold at a competitive price and are a high-value item. They are stylish and attractive while being strong, effective, and a formidable opponent against the frigid temperatures outside. The slim, snug fit makes the Fernidas perfect to wear under another layer of clothing, such as snowpants or otherwise. Each charge lasts for several hours, and there are three different heat settings to choose from. All in all, they are a great value and a smart buy.

2

. TourMaster Synergy 2.0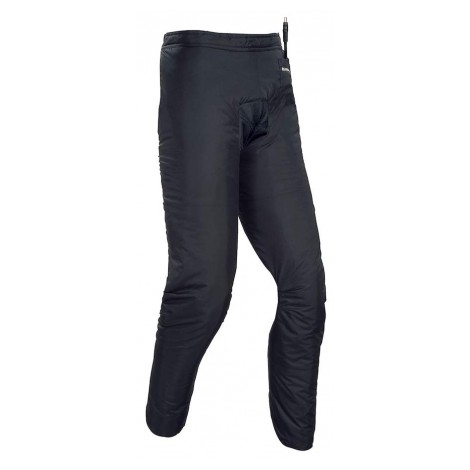 The TourMaster Synergy Electric Chap Liners (specifically available in sizes small and extra-small) are not specifically designated as being men's, women's or unisex. The small and extra small sizes could very well fit a woman's body, but that has not been specifically stated by the seller. What is clear is that these are chap liners; meant to keep motorcycle riders warm during long trips, as opposed to the kind one would seek out for a skiing trip or for extra warmth while digging out from underneath a blizzard.
Advanced Insulation
The chap liners are made with a Taslan outer shell. The liner is insulated by 80G PolyFill. This allows for maximum warmth and optimal heat insulation. However, the liners remain comfortable and breathable, thus preventing you from getting too hot while wearing them.
Temperature Sensor
The liners include a highly accurate temperature sensor. This keeps the temperature within the desired range that you specify. The temperature remains constant, with no sudden spikes or drops. You will enjoy a continuous, stable warm temperature for the duration of your ride.
Cost and Value
The chap liners are sold at a very competitive price. However, there are certain drawbacks. It is ambiguous whether the chaps are for men, women or are unisex. They also require additional component parts to function properly. Overall, the liners perform well, but, as previously mentioned, they require additional parts to work, which means additional purchases, and this is on top of the vagueness of the liners themselves. Therefore, the overall value is mediocre; they're an expensive gamble.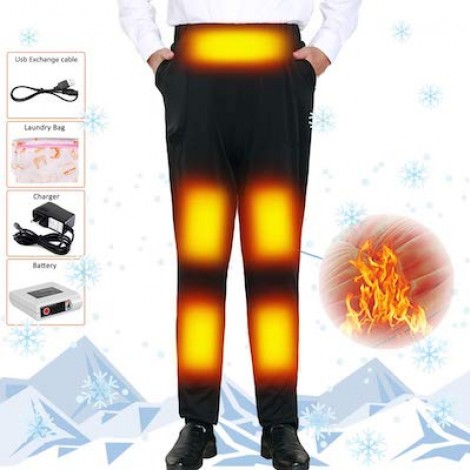 This option from Fernida is designed specifically with seniors in mind. They are available for both men and women. As we age, it becomes increasingly difficult to maintain body heat. These are machine washable and are the perfect solution. They will keep you warm and comfortable regardless of the frigid temperatures outside and will keep those pesky winter chills at bay.
Easy Maintenance and Use
The Fernidas are heated by battery power. A charger is included with purchase, and they heat rapidly. Also included is a laundry bag, allowing you to safely wash them in the machine. There is even a USB charger cable for added convenience, giving you several options for keeping them charged at all times.
Attractive Fit
These are trousers; not leggings and certainly not Long Johns. They are well-made and are carefully tailored to look completely unambiguous and are, in fact, quite attractive. They are flattering and would look great paired with a button-down shirt as part of a business-casual ensemble at the office, or, for a more casual look, they'd look great with a nice sweater or turtleneck. While the trousers are intended for seniors, any adult could wear them and look extremely fashionable while doing so.
Cost and Value
The Fernidas are an extremely high-value item. They are sold at a very reasonable price and offer a superior product. The fact that they are heated is completely hidden and discreet, and all anyone else will see is a stylish pair of bottoms. They are easy to take care of, machine washable and long-lasting. To reiterate, they are an item of exceptional value.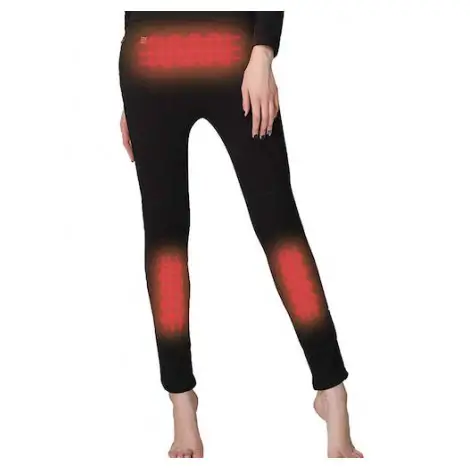 The Letsfree USB are essentially heated leggings for women. They are stylish, offer a snug fit, and heat up rapidly. They can be worn underneath outdoor bottoms or worn as is. They heat up rapidly and evenly, keeping you comfortable for hours. Whether you're looking for a pair of heated pants to wear underneath your winter bottoms or simply want a cute pair of heated leggings, Letsfree is the way to go.
Thick Yet Breathable
The leggings are made of a combination of synthetic materials. Overall, the material is heavy. However, the leggings are ventilated and breathable. You will not overheat or experience any itching or discomfort. The material is also durable, strong and resilient, and will not pull or tear.
Rapid Heating
The leggings heat up very quickly, and they can be charged with a USB port. The heat is distributed evenly and consistently, increasing your overall comfort. Each charge lasts for several hours, keeping you nice and warm for an extended period of time. So, whether you're on the slopes, shoveling snow, or just trying to stay extra warm on an extremely cold day, your leggings will keep you comfortable.
Cost and Value
The Letsfree leggings are competitively priced and offer a great product. They're both stylish and functional, easy to take care of, they charge quickly and they're strong. They last and can be worn underneath snow pants, or as is. Overall, they're a great value and a smart investment; not to mention the fact that they'd make a great gift.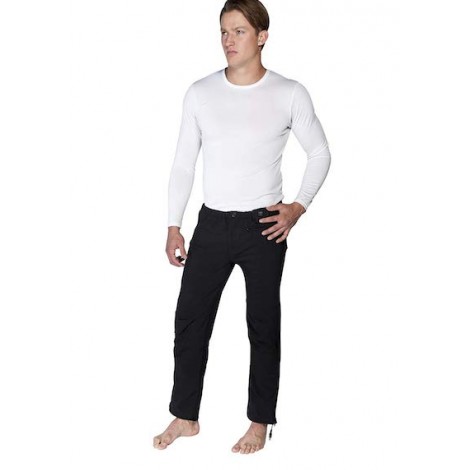 These liners are designed for men and are specifically made to be worn under chaps or other outer bottoms while riding a motorcycle. The liners keep you warm from your thigh to the bottom of your shin and maintain an even, consistent temperature. For long rides in cold temperatures, the liners will keep you comfortable, increasing circulation and allowing you to feel your feet inside your boots as you ride.
Wind Blocking
The outer shell is completely wind resistant. It keeps those frigid, blustery gusts of cold air from penetrating your clothing. Without this feature, riding on a cold day can be uncomfortable and downright dangerous. Thanks to the patented material which composes the outer shell, your legs will be completely insulated from wind gusts, and the heat generated by the liners will keep you comfortable and warm for the duration of your ride.
On Board Controller
The liners come with what's known as an on board controller; an easily accessible device that allows you to manage and adjust the temperature as you please. Like a remote control, you have total access to the heating settings in the palm of your hand. There is no need to pull over to reconfigure the settings, which is an added convenience.
Cost and Value
The Venture Heat liners are fairly priced, they perform well and overall, they are a good value. They fit comfortably and do a good job of evenly circulating heat throughout the legs. The outer shell completely blocks wind gusts, which is an added bonus. The liners stay charged for an extended period of time, making them a smart purchase for any rider who doesn't let the weather stop him.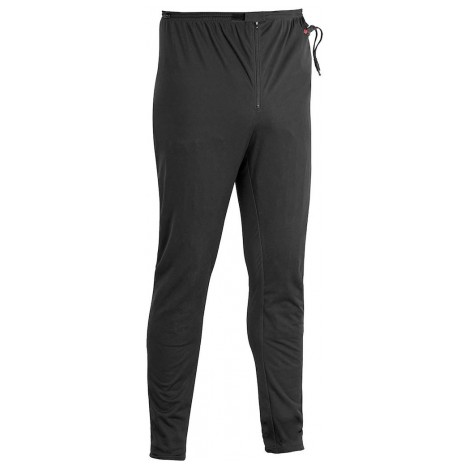 Firstgear has offered yet another option for those looking for liners to wear under their motorcycle chaps. The liners are designed for men, as they are not unisex and do not appear to have any options designed for women. They fit differently than the previously reviewed chap liners; they are not quite as snug. However, they do offer superior warmth and comfort.
Different Wattage
The liners are available in 65-watt and 90-watt options. Unsure which version to get? Check out the manufacturer's specifications and recommendations. If you plan on riding in extremely frigid, gusty conditions, the 90-watt option is probably best. The heating unit can be powered by plugging it into a battery source or DC power supply.
Zoned Heating
You can control which zones you want to be heated, and how warm you want them to be. This allows you to customize your heated liners to best meet your needs. This feature allows you to maintain optimal comfort at all times; you will never be too hot, and the heat can be distributed to your liking.
Cost and Value
The Firstgears are extremely expensive compared to the other liners on this list. Are they worth the extra cost? It truly depends on what you want. If the zoned heating is of serious importance to you, and you plan on taking frequent motorcycle rides in frigid, windy weather, then the liners might be worth the investment. Otherwise, for the average, occasional rider, the Firstgears are a nice product, but a bit overpriced, resulting in an okay value.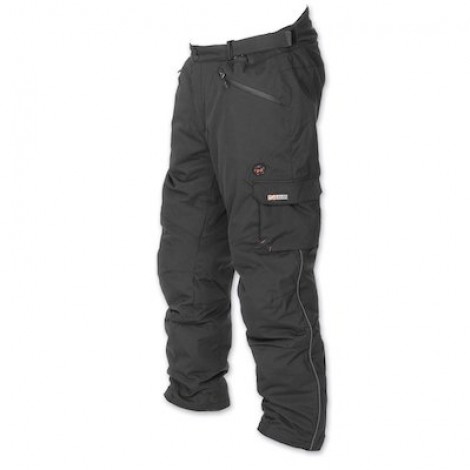 This option is extremely versatile. They are unisex in design and can be worn by virtually all adults. There are multiple ways to keep them charged, and the heating zones are fully customizable. They are comfortable, durable and tough. All in all, they are extremely impressive.
Multiple Charging Options
There are several ways to keep these charged. You can plug them into a battery pack, which is included with purchase. Or, you can plug them into a DC power source. They are also fully USB compatible, giving you yet another option. You can even plug your charger into your vehicle's power source. Charging is fast and easy, and there are lots of ways to do it.
Zoned Heating, Easily Managed
The heating is completely customizable. From the temperature to the areas where you want the heat to be concentrated, everything can be managed with an easy to use touch screen attached directly to the pants. Unobtrusive and easy to use, you will be pleasantly surprised at how easy it is to control and relegate the temperature of your pants, manage the zones, check the charge and even use a timing function.
Cost and Value
These are very expensive, admittedly. However, they have by far the most advanced features. They are easy to use, programmable and customizable. Is the high cost justified? Absolutely. From ease of use to general performance, these heated pants are fantastic.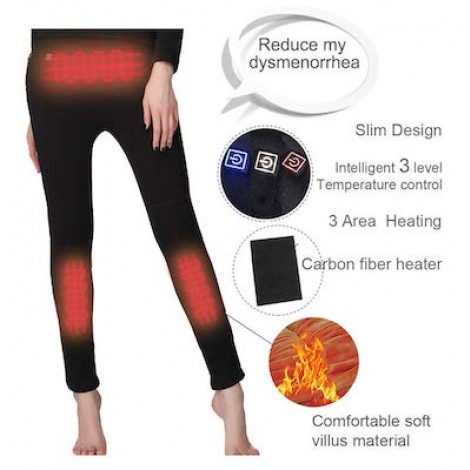 The Cocobla heated leggings for women have a lot of health benefits. They are ideal for cycling, skiing and other outdoor activities. They are available in sizes up to 3XL, making them accessible to virtually all women. They charge quickly, heat up efficiently, and each charge is long-lasting.
Reduces Menstrual Cramps
The heated leggings reduce dysmenorrhea or menstrual cramps. The heat is therapeutic and alleviates pain. This can make everyday activities easier, as the discomfort of menstrual cramps are gently eased. This is a pleasant alternative to painkillers, and allows for increased mobility and decreased bloating.
Three Heating Zones
The leggings feature three distinct heating zones. Each zone can be adjusted and managed through a control panel. This allows for optimal comfort and customization. Again, this aids with pain management, improves circulation and increases overall warmth.
Cost and Value
The Cocobla leggings are quite affordable. The overall performance is good. The leggings are comfortable, offering three distinct heating zones that can be adjusted. They also help to relieve menstrual discomfort with gentle heat. All in all, the leggings are an excellent value and a smart buy.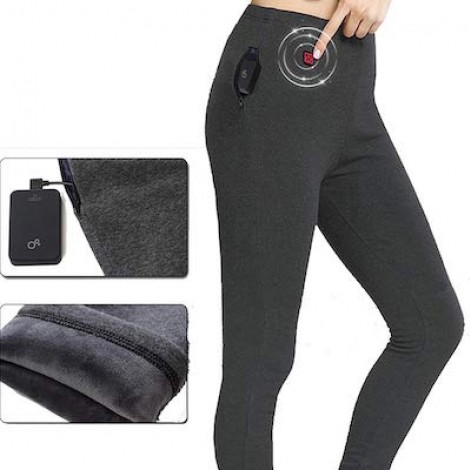 The LvBo are intended for men to wear underneath another pair of bottoms. They run small and it is recommended that you order a few sizes up. These bottoms heat quickly and stay charged for several hours. They are easy to maintain and take care of. They are durable, long-lasting, and heat nicely.
Easy to Care For
These are completely machine-washable (or, in the alternative, hand washed) and are easy to take care of. They are resilient and will not stretch or rip easily. They are also quite breathable and are very comfortable to wear underneath another pair of bottoms.
Rapid Heat
These heat up quickly and efficiently, leaving you comfortable and toasty in no time, no matter how frigid the temperature outside. They stay charged for several hours at a time. Additionally, there are three distinct heat zones, each of which can be adjusted to your liking.
Cost and Value
The LvBo are quite affordable. They do not have all the extra features that some of the latter models reviewed here have to offer, but all in all, they are a quality product available at a price that's more than fair. All in all, they are an above average value.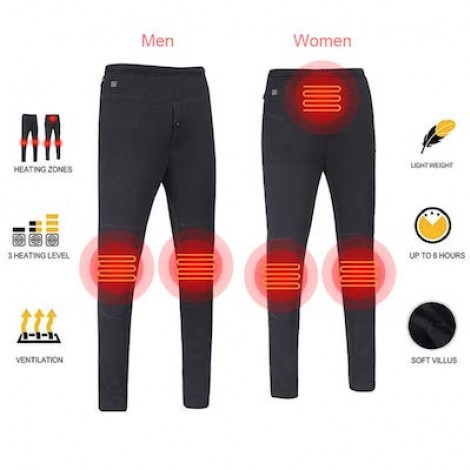 These Cocobla pants are designed for both men and women. They are form fitting, comfortable, warm and durable. They are also priced quite competitively; making them an attractive option for just about everyone. Lightweight yet strong, warm, effective and energy efficient, they are a nice choice.
Featherweight
The material the Cocoblas are made of is surprisingly lightweight. Despite being featherweight, they are strong, durable, and resistant to stretching, ripping and tearing. The featherweight material keeps the wind and cold out while keeping the warmth generated from the heating unit in. The material is breathable for optimal comfort.
Six Hours of Warmth
After being fully charged, the liners provide up to six hours of warmth, keeping you comfortable and protected from frigid temperatures. Additionally, the women's pants can alleviate pain in the lower abdominal region caused by menstrual cramps through gentle heat. Whether wearing the pants for comfort around the house or wearing them outside to combat the cold, the Cocoblas will have you feeling good.
Cost and Value
The Cocoblas are affordably priced and present a decent value. While customers are not raving with excitement in the reviews, they are still generally good, with most people being quite pleased with their purchase. Overall, considering the low price, the Cocoblas are an average value item.

Subscribe to our Newsletter