Best Heated Pants Reviewed & Rated for Quality
In a
Hurry? Editors choice: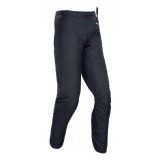 Test Winner: TourMaster Synergy 2.0

You've been through some harsh winters before, but, like the rest of us, the winter of 2019 probably took you by surprise. As we struggle to scrape the ice off of our windshields, dig out our cars and
snowblow
or shovel our driveways and sidewalks, we are dealing with a potentially deadly situation when we battle such extreme conditions. The Polar Vortex alone has claimed the lives of at least 21 people so far this year.
Whether you are shoveling snow, hitting the slopes, going for a motorcycle ride or otherwise, the need to stay warm cannot be emphasized enough. One powerful tool that can help you maintain adequate body temperature at all times is by wearing a pair of heated pants. Powerful, effective, and a huge ally against the battle versus the elements, 10 of the most popular pairs of heated pants are reviewed here for your consideration.
Standout Picks
Criteria Used for Evaluation
Effectiveness
How well these garments are able to keep you warm is quite possibly the most important consideration of all. Do they work, and do they work well? Do they evenly distribute the heat down the length of your leg? Is good circulation promoted? How long does the charge last? How long does it take for the pants to charge? These are all questions that should be answered prior to purchase.
There are enough pairs on the market that you should not have to settle for anything less than maximum quality. You need to be able to rely on your garment to work properly, whether you're on your bike or you're shoveling snow. Otherwise, you are exposing yourself to dangerous, frigid temperatures, frostbite and hypothermia. You should be able to rely on your pants the way you rely on your motorcycle, or your snowblower, or whatever the case may be. Protecting yourself from the cold is essential to our basic survival. Therefore, effectiveness is everything.
Comfort
Comfort is paramount. If they are not breathable, cause itching, burning or chafing, then you are unlikely to wear them, thus rendering them essentially useless. Many options are composed of entirely synthetic materials. Such materials can irritate sensitive skin and be problematic for some.
One common misconception is that synthetic materials are not ventilated. To the contrary; many products are quite breathable and ventilated. This allows for greater comfort, as your skin is allowed to breathe. Additionally, many pairs have adjustable heating zones, so you can customize the settings to your liking. This allows you to completely refine the settings to meet your needs, allowing you to be comfortable, warm and happy for hours at a time.
Fit
Of course, when considering any type of clothing, the fit is important. With these garments, the majority are designed to fit snugly and securely. Often, this is because they are worn as liners underneath larger sets of pants.
That said, proper fit is essential. Many options run small, so it is a good idea to buy a pair a few sizes larger than what you would normally wear. Many sellers include sizing charts to help assist you with finding the proper fit. You want a pair that is snug, yes, but not too tight, and certainly not so tight that it puts pressure on your body and leaves indentations. You want a pair that conforms to your body but does not restrict it.
Insulation
Insulation is part of the magic. These garments come with an outer shell, and this is where the key insulation is found. The shell keeps the wind and cold out, preventing the frigid air from penetrating the inner layer of the liners.
The liners themselves are also insulated; with their heating units circulating warm heat up and down the length of the leg. Between proper insulation, a durable shell, and the heating component, your body will be warm and protected from the elements.
Style
Like any other piece of clothing, style is important. This is particularly true if the pants are to be worn as trousers or leggings, as opposed to being hidden underneath an outer pair of pants.
These garments can be stylish and flattering, like leggings, form-fitting and figure flattering. Trousers can look business casual or they can be worn comfortably around the house. They are inconspicuous; designed to look like regular pants. They can be quite fashion forward.
Subscribe to our Newsletter