Best Compasses for Snowshoeing Reviewed
In a Hurry? Editors choice: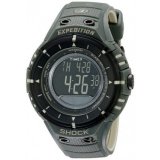 Test Winner: Timex Expedition Shock

Outdoor activities like snowshoeing through trails are a favorite winter past time for many people. People enjoy it because it lets them get out in the winter if they don't ski, and snowshoes allow them to go places that you otherwise wouldn't be able to go. While some people snowshoe for pure pleasure, other people enjoy it as an exercise. And for winter hunters snowshoes are a necessity. But no matter why you're out in the woods on snowshoes, the white wilderness can be disorienting, so if you're planning on heading out into the snow we suggest you bring a compass, and here's a list of some of our favorites.
Standout Picks
Criteria Used for Evaluation
Ease of Use
The first thing to take into consideration when buying a compass has to be the correct knowledge of how to use it properly. There's no use taking one out into the unknown if it becomes rendered useless through lack of information on the product. A baseplate compass is clear so a map can be viewed, housing holds the needle and the needle itself floats in liquid to enable freedom of movement. Lines and arrows are strategically placed to allow ease of aligning with map coordinates and eastings, they also have a scale to allow distance measuring on maps. They are usually equipped with both an index line, and a directional arrow so the user knows where to go. The knowledge needed for a navigational tool should be acquired prior to going on any trip or expedition when there is no GPS trackersor visible landmarks. The maps we have on our satnavs and mobile phones are of little use when out in isolated territory; therefore it has to be imperative to learn how to use a compass before it is needed. There are a variety of excellent academically trusted websites to access to gain this important information - to ensure a safe excursion and return; this should ideally be as mandatory in preparation as deciding what equipment needed.
Features
In determining the reason for the need for a compass will allow a better-informed choice to make the correct tool for the job. There are various types of compasses on the market designed for specific roles. A common compass used for land navigation is the magnetic variety as described above in materials. The design of these mainstream compasses is created for a product that is comfortable to hold and lightweight and usually comprises red and white marking for quick deciphering. They are also equipped with a dial for enabling precise measurements, which often incorporates luminosity for all light circumstances.
A mirror compass, on the other hand, is not as mainstream; and although it has the same basic features it also has a mirrored lid which incorporates a notch for sight navigation. The difference with this type of compass is that does not only use the magnetic field to find bearings; it also gives the ability to pinpoint objects further afield whilst the mirror cleverly reflects the bearings. This extra navigational tool is very useful not only for trekking but also on moving vehicles and floating vessels.
Style
The most common type of compass is the baseplate compass as mentioned previously, whilst this product is generally more affordable it does have limitations of use. It doesn't enable the user to be able to focus on any distant objects due to the absence of advanced sighting features.
A thumb compass is designed cleverly so it can be used in one hand - this type is especially useful for distance runners because it can be used at speed. A gyrocompass is generally used by large sea vessels; it uses gravity to enable north-south line analysis; providing a true north reading which magnetic compasses do not. Electronic compasses are increasingly more available, and benefit from having bearing storage to keep the user on track - of course; the downside is that these require a power source to keep working.
Materials
The obvious first thing to look for when choosing a decent compass will be the materials used in its manufacture. Not only the materials are important of course - the quality of the materials and the overall functionality of the product are also of paramount interest. Stainless steel is commonly used in a compass for the directional needle, and as it is an alloy made up primarily from iron ore and coke - it allows it to be magnetized for long periods and thus; creating longevity in the life if the product.
The casing is also an important aspect of the compass, inferior outers can be the downfall of many a lesser quality product. Ideally, the casing will be made from acrylic plastic; these are manufactured using a variety of acrylic acid compounds, (primarily methyl methacrylate). The formation of polymethyl methacrylate is highly favored as a part of this chemical process because it is known for its strength and transparency.
Advanced Features
Of course, not everybody wants to buy a compass for the same purpose. There would be little point buying a compass for example if you were simply going on a driving road trip, (although it may come in handy for signal abnormalities!). A baseline compass has most basic features required for local, smaller treks; however, for the different explorer, there are extra features to look out for to give added peace of mind.
For trail users and hikers a compass that has a declination adjustment will be beneficial to ensure the direction is maintained between magnetic and true north. For precise navigation, it would be beneficial to have a sighting mirror, as mentioned above this allows for traveling off the trail. If it's mountaineering and off-piste skiing the compass is for then a useful feature is a clinometer; this will aid in assessing danger such as avalanches.
And finally, for the intrepid global traveler - the global needle feature will balance zones to ensure navigation updates anywhere on the planet. Plainly it is not as straightforward shopping for a compass as first impressions suggest. The requirements and product knowledge are as vital as any emergency kit. There is a need to be specific about the functions of a compass for a particular activity. There are a great variety of compasses on the market, differing in cost, quality, and functionality - the guide and review here will hopefully give some direction on the right individual purchase.
Best Compasses for Snowshoeing
1

. A2S Protection K2-Peak


This is a great compass for snowshoeing because it can be worn as a bracelet. That helps prevent you from losing or dropping the compass in deep snow. The compass itself is waterproof which will allow it to continue to work even if it gets wet from melting snow or body sweat. It also has other important survival features such as a whistle and fire starter for emergencies.
Fire Starter
This tool comes with a fire starter and a fire scrapper. You can use the fire scrapper to make kindling and then light the fire using the flint based fire start. This tool can be lifesaving in an emergency.
Emergency Whistle
The compass also has an emergency whistle which you can use to signal people. It can create a noise up to 100DB so people should be able to hear you from a long distance.
Cost and Value
This compass has a very low cost when compared to other snowshoeing compasses. It is an excellent value because it combines a compass, whistle, and a fire starter into one wristband.

2

. Timex Expedition Shock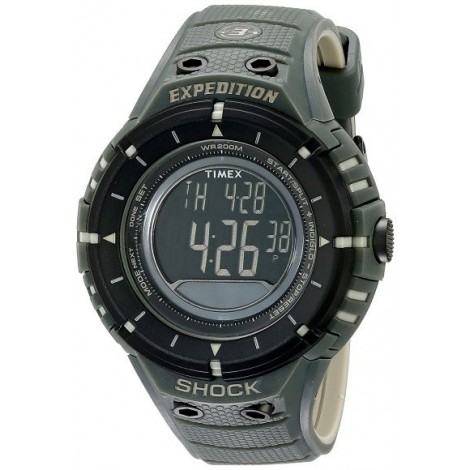 This is a digital watch that has a compass embedded in it. It's great for snowshoeing because it's highly resistant to water and shocks. Since the watch is worn around your wrist, you won't need to worry about losing your compass if you fall in the snow. The watch itself lights up which allows you to read it after dark. It will also provide you with the time of the day also.
Shock Resistant
This digital watch meets the I.S.O. standards for shock resistance. That means the watch will continue to work even if it is dropped or is impacted by you falling. This feature is ideal in the wild where the watch could get impacted.
Water Resistant
The watch can resist water up to 660 feet deep. That means it will easily withstand water formed by melting snow or sweat from your body. Its durability makes this a great compass for snowshoeing.
Cost and Value
You should expect to pay a high cost for this digital watch and compass. It gets its value from being a high-quality watch and compass. The product is highly resistant to shock and water meaning it is well suited for snowshoeing.

3

. Survival Spark Fire Starter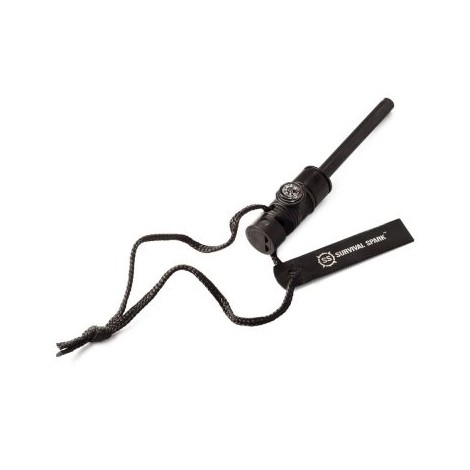 This is another survival device that you should consider purchasing if you are planning on doing serious snowshoeing. It has a waterproof compass which will continue to work even if you drop it in snow or water. It also has a fire starter so that you can get a fire going in cold weather. Finally, there is an attached whistle in case you are in an emergency.
Magnesium Fire Starter
There is a magnesium start stick which you use with the scraper to start a fire. You can strike it up to 15,000 times, which means it will last a lifetime. This is really useful in an emergency.
Compact
This compass survival tool is really small. It is only five and a half inches in length which makes it easy to pack it with your gear. You can even keep it in your pocket if needed.
Cost and Value
This item has an extremely low cost which helps make it into a must-have item for snowshoeing. It is an excellent value because it combines three tools into one item all of which can be used for survival.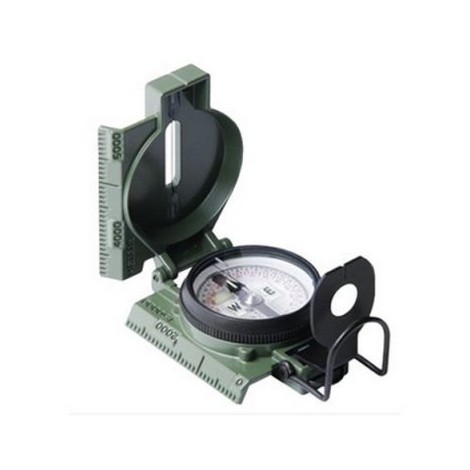 This is a military grade compass that is designed to function in the most extreme environments. It is rated to work in weather as cold as -50 degrees Fareinheight. The compass is easy to read thanks to its magnifying lens and provides its readings in both degrees and mils for accurate output and conversions. The housing is waterproof so it will work when dropped in snow or water.
Military Grade
This is basically the same compass that the company provides to the United States Military. The only difference is the housing which has phosphorescent paint instead of self-luminous tritium paint that the military compasses have.
Rated for extreme weather
The compass is designed to work in the most extreme weather. It can function in temperatures that are as cold as - 50-degree Fahrenheit. The compass is totally waterproof and will work even if it gets wet or dirty.
Cost and Value
This is a high-quality compass so expect to pay more for it. It is an excellent value thanks to the fact that it is a military grade compass. You can trust that this compass will work when it's needed.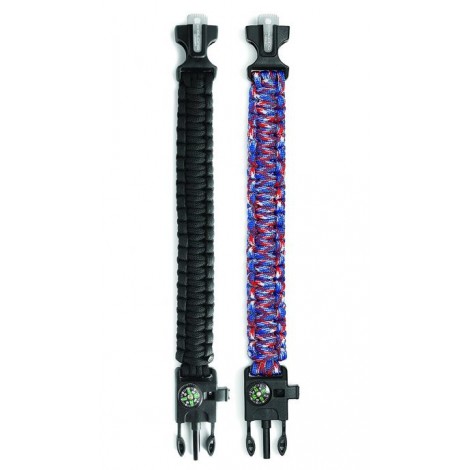 This is another four in one survival tool that has a compass, fire starter, and a whistle. It is an ideal product to own while snowshoeing thanks to its low cost, high functionality, and the fact that it is worn on your wrist. The compass is water resistant which means it will work even if it gets wet from snow or sweat. You can also use it to start a fire.
Four Tools in One
This tool features a snowshoeing compass, a knife, fire scrapper, a flint tool, and a whistle. It has everything you may need if you are stuck in an emergency and need to stay warm.
Buckle Bracelet
The tool is attached to your wrist with a buckle bracelet. This feature is critical to making sure that you always have the tool available to you if you end up in a bind since it locks securely on your wrist.
Cost and Value
This is a low-cost item and it has a lot of value for the money. It is a four in one tool that can be handy in an emergency. Its low cost makes it a great bargain.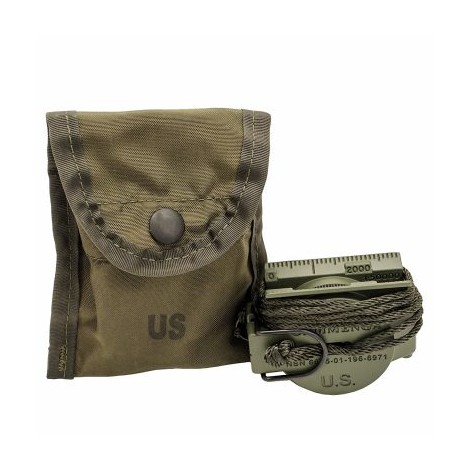 This is the official compass of the U.S. Military. It is a compass you can fully depend on for survival thanks to its durability and accuracy. The compass comes with a carrying pouch and clips onto your belt. This is a great feature that prevents you from losing the compass when you need it the most. The compass is durable enough for the most extreme conditions.
Carrying Pouch
This compass is solid a special pouch that you can use the carry the compass. The pouch has a belt clip so that you can attach it to your belt or throw it in with your gear.
Tritium Micro Light
There are seven tritium micro lights that are distributed around the compass. These lights make it possible to read the compass in both low light and dark conditions. You will not need a flashlight to read this compass at night.
Cost and Value
This is a very expensive compass but its durability alone justifies its price tag. The compass is built to last in the most extreme conditions which means it will be there when you need it.

7

. Eyeskey Aluminum Alloy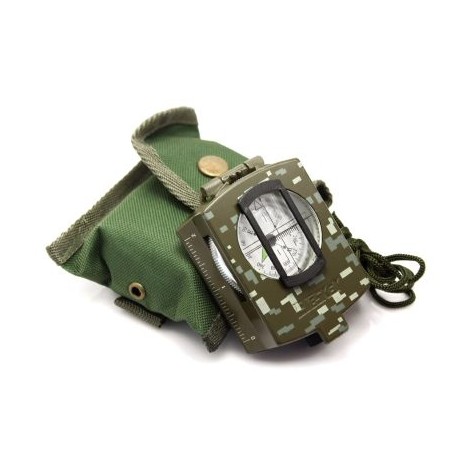 This is a professional grade compass that is perfect for snowshoeing. It has features such as a bubble level, conversion chart, and rotating bezel ring. The compass has a heavy duty construction which makes it sturdy and able to endure harsh wilderness conditions. It is made out of a heavy-duty aluminum alloy which keeps it lightweight yet durable. You can use this compass in evenextreme weather conditions.
Bubble Level
This compass features a bubble level. A level compass produces a more accurate reading so the level is really useful to help you first level the compass prior to taking a reading.
Tripod Screw Holes
The base of this compass has screw holes that allow you to attach a tripod to the compass. A tripod can be extremely useful when combined with the bubble level because you can easily level the compass.
Cost and Value
This compass has a below average price which turns it into a good buy. It has features that are useful for snowshoeing. For example, it is constructed out of heavy-duty aluminum and you can level it.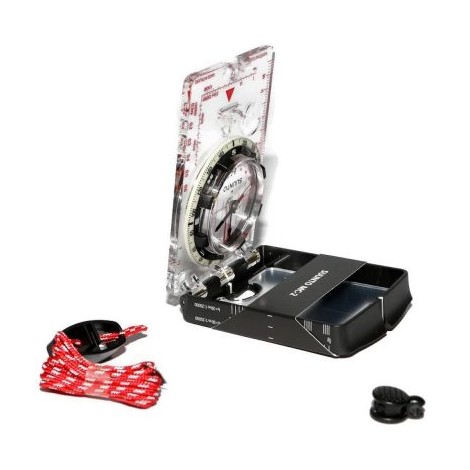 This is a high tech compass that you can use when snowshoeing in the extreme wilderness. It has a global needle that works in both the northern and southern hemispheres. There is also a feature that allows you to distinguish between true north and magnetic north. The outer ring lights up so that you can read the compass in low light or even dark conditions.
Global Needle
This compass works in both the northern and southern hemispheres. This can be an extremely useful feature for world travelers who snowshoe in both hemispheres since it's accurate worldwide.
Lightup Outer Ring
You can read this compass in both dark and low light conditions without an external light source. The outer ring of the compass lights up on its own so that you can use it in the dark.
Cost and Value
This compass has an above average cost. It is a great value because it works in both the north and southern hemispheres which helps make it extremely accurate. The body of the compass has tools that help you find true north.

9

. UEasy High Accuracy Waterproof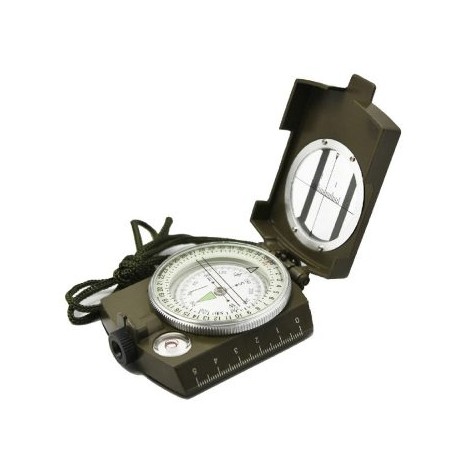 This is an excellent compass for snowshoeing because it is both waterproof and shake proof. The waterproofing is important because it's possible that water from melting snow could otherwise harm the compass. The shake proof feature also matters because it's possible the compass could get shook up from getting dropped or from you falling. The durability makes it an ideal choice for a snowshoeing compass.
Lightup Display
This compass has a luminous display which allows you to read the compass in low light or even dark conditions. There is no need to get out an external light source after dark to use this compass.
Waterproof
It is essential for snowshoeing compasses to be waterproof. There are plenty of ways that a compass can get exposed to liquid in the snow and the compass needs to work even when it's wet.
Cost and Value
The compass has a below average cost. It is an excellent value for when you need a reliable snow shoeing compass. The compass is built to be both durable and long-lasting, so it will be there when you need it.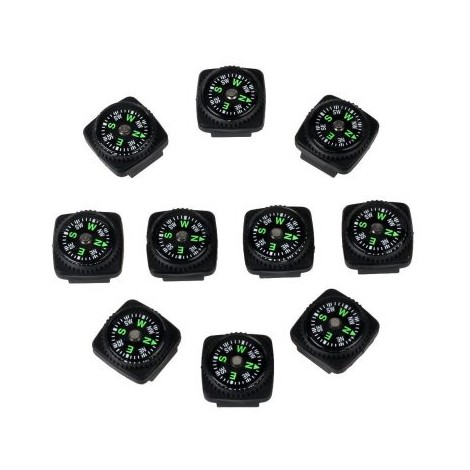 These compasses are designed to be embedded into your gear. For example, you can attach these compasses to the strap of your backpack or embed them into your gloves. They are great snowshoeing because they have a hard shell design which helps protect them against impact. The liquid inside of the compass is flammable which helps you to start a fire in an emergency.
Fire Starter
These compasses can be broken open and you can pour the liquid onto your kindling. It will act as a flame accelerant and help you start a fire easily in an emergency.
Embeddabble
The recommended uses for these compasses is to embed them into a bracelet, however, they can also be embedded into other items as well. Just remember that the interior liquid is flammable if the compass is cracked.
Cost and Value
These compasses are low cost and you get a set of ten when you purchase them. You can use them to make bracelets or other travel gear. They are a great value because of their low price.

Subscribe to our Newsletter