Top 10 Battery Heated Gloves Reviewed and Rated
In a Hurry? Editors choice: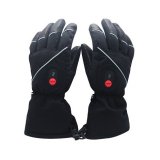 Test Winner: Savior

The most difficult parts of your body to keep warm are your hands and your feet. If the temperature is low enough, simple outdoor tasks can become a painful experience if you are not wearing gloves. Even outdoor athletes who might be sweating up a storm can find their fingers are still susceptible to
tissue-damaging cold injuries
. So we offer this list of battery warmed gloves designed to help you pick the best heated gloves possible.
Standout Picks
Criteria Used for Evaluation
Battery Life
Heated products on our list should last as long as you need to stay in the cold. This is one of the benefits that these items have over chemical hand warmers.
Depending on the type of battery you have in the glove and the temperature setting you have it on, the glove should stay heated consistently for hours. While glove designs may vary, the average time of these for that they remained warm are 2-3 hours in a high-temperature setting. Medium temperature settings are around 4-6 hours. Low settings averaged around 5-6.5 hours.
The activity level, duration of the cold, and the amount of windchill and humidity all play a part in how warm you will need the glove and therefore how long it will stay heated. Make sure you take these into account when purchasing heated gloves.
Materials
In this aspect, no product is created equally. The design of the glove you need is based largely on what you want them for. Are you planning a long cross-country type of motorcycle tour? Look for ones that are wind resistant. Inspired by the winter Olympics and are planning a ski trip? Get ones that are well insulated. Are you planning on wearing them casually to do some work around your house or have Raynaud's or similar medical conditions? Then a glove that is slimmer profiled will give you the dexterity you need.
A good winter glove of any kind, heated or not, will have multiple layers incorporated into the design. When you venture out in the cold you wear layers. There is the base layer, the mid-layer, and your outer shell. A lot of times people forget about the parts of the body that are the most vulnerable to the cold. Your hands and feet should also be covered in layers to help you retain your body's heat and prevent you from cold injuries.
Use
Benefits of Heated Gloves
Unlike insulated gloves, the majority of heated gloves are not so bulky.
Most of the heated gloves on the market extend heat to the location where they need heat most.
While traditional gloves are good for some occasions, heated gloves are much better. This is especially true when the temperatures drop down to single digits.
Your hands are never too cold or too hot when wearing heated gloves. This is because heat settings can be easily adjusted.
10 Best Battery Heated Gloves Reviews


Powered by a long-lasting 7.2V rechargeable battery. The Savior heated gloves for men live up to there name. You'll truly feel your hands are protected from the cold. The carbon fiber heating element will keep hands warm in temperatures as low as -25 degrees. And with three different heat settings, you can adjust to your environment as easily as pushing a button.
Designed for the Extremes
The Saviors are made with waterproof material on the outside and a moisture-wicking fabric on the inside. These features help keep your hands dry and comfortable inside the glove. The palm has a slip-resistant material and the fingers are designed with microfibers that give the wearer a greater sense of touch.
Long-Lasting
The powerful 7.2 Volt rechargeable batteries come included with the gloves that heat up. These batteries are capable of keeping the gloves running hot for 6 hours. Three temperature controls are accessible with the button on the back of the hand. The heating element is specially routed in the glove to target areas that are sensitive to the cold such as the fingertips, finger joints, and the wrist.
Cost and Value
The Savior heated battery powered gloves are priced at around the average range of what you could expect from high quality heated gloves. Some unique and practical design features place these gloves very high on the list of the best gloves available.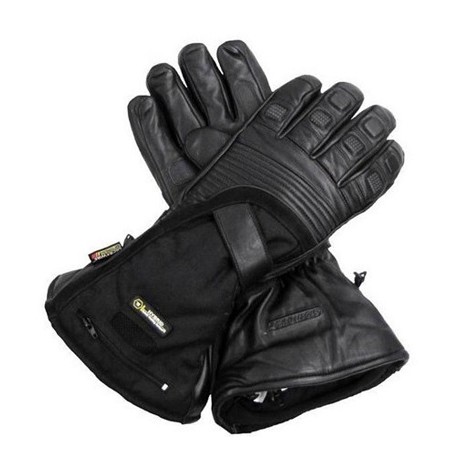 Coming in the number one spot is the Gerbing T5 Hybrid electric heated gloves. These are designed for the motorcycle rider that does not want to put his iron horse up for the winter. They can be connected to your bikes battery or run mobile with 12v batteries. These motorcycle-style products are heavy duty and feature reinforced finger joints.
Microwire System
Gerbing has a wide variety of heated clothing available. From heated pants to jackets they offer many different ways to stay warm. This wearable technology is made possible by using their microwire system. Basically, the liner of these is packed full of tiny heating elements that conduct heat into your hands.
Built to Ride
An excellent choice for any kind of arctic motorsports, the T5 Hybrids can run off of different sources of electricity. They are able to connect directly to the battery of your motorcycle, ATV, or snowmobile. They can also be attached to a rechargeable battery that is sold separately.
Cost and Value
The Gerbing T5's are a very affordable choice when it comes to battery operated gloves. Sitting at the lower end of an average price range they are a good option if you don't want to break the bank but are looking to get a dependable glove.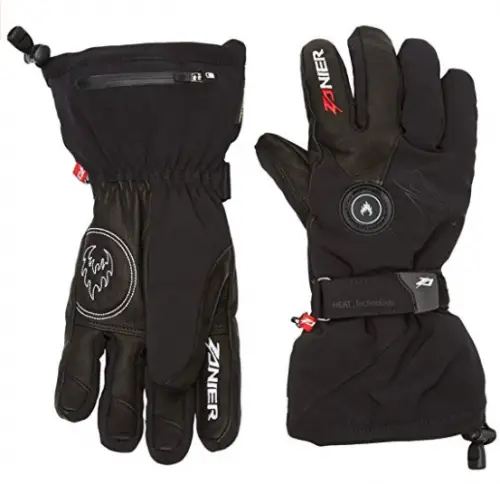 Zanier AVIATOR GTX are a pair of versatile gloves with a goatskin shell. Excellent movement and flexibility with a four-way stretch. Even at high altitudes, these gloves keep in the warmth with Primaloft insulation.
Touchscreen Compatible Fingertips
As a rare feature of heating gloves, the thumb, and index finger are touchscreen compatible. To prevent tearing, the edges of the fingers in these gloves are reinforced.
Long Heating Time
Heat lasts up to 10 hours, even with one battery pack used. Batteries for this glove are lithium-ion, shock resistant, and very light. Each glove has a pocket to hold extra batteries.
Cost and Value
While more expensive than most on the list, the features and high-quality materials and construction make these battery gloves one of the best. Known for making exceptional products, Zanier does not disappoint with these gloves.

4

. Outdoor Research Lucent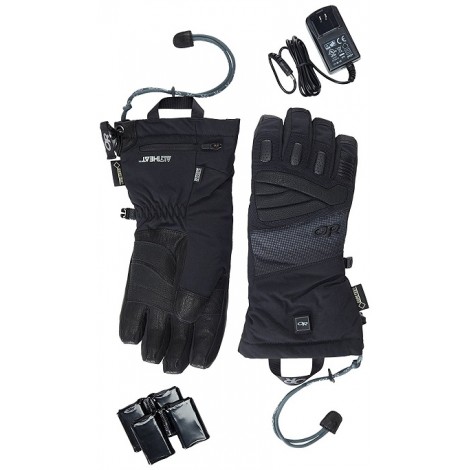 Outdoor Research is a brand that is well known for high-quality outdoor apparel. Professionals and recreationists alike use OR products and testify to their outstanding product designs and functionality. The Lucent gloves are one of several products in their heated glove line which includes mittens, and a lighter, sleeker, glove.
Warms the Whole Hand
Unlike other heated gloves which may only heat the fingers, the Lucent heating element runs all around the hand. The heat can be controlled by a button that is outside of the battery storage pouch. The gloves are also wind and water-resistant. This keeps cold air from robbing your hands of warmth.
Lithium-Ion Batteries
The gloves are powered by long-lasted (and slow to charge) lithium-ion batteries. OR states that the gloves will last up to around 8 hours on the lowest setting, 5 hours on the medium setting and about 2 hours on the highest.
Cost and Value
These gloves can be classified as more of an investment, or an expense, rather than a purchase. These gloves are designed for use by professionals and people with medical problems and are priced as such. Outdoor Research is known as "higher" end products and their prices usually reflect this.

5

. Global Vision Rechargeables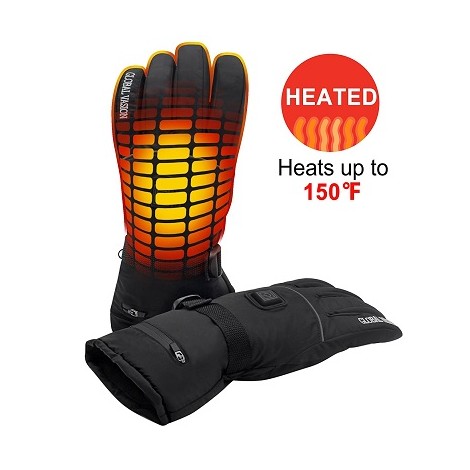 If you are looking for another great heated mitten option that won't leave you broke, consider Global Visions Rechargeables. These heated gloves have three layers of material to protect your hands from the elements as well as three heat settings. The rechargeable batteries are included and fit discreetly inside the storage pockets of the hand cover.
Three Layers of Protection
These gloves keep your hands comfortable and protected by offering three layers of material between your hands and the cold environment. First is the cotton lining, not only is cotton comfortable but it also absorbs moisture to help keep hands dry. Next is the waterproof material. This material helps to repel rain, ice, and melted snow. Then we have the breathable sponge layer. This layer helps your hands breathe and not feel trapped.
Versatile
This glove was the first to mention the advantages of wearing heated gloves if you work in freezers or similar environments. Conduction is the fastest way we lose heat from our bodies. Anytime your body comes in contact with an object that is cold heat is lost through conduction. Constantly grabbing and stocking cold items means you can lose heat quickly. They are also good for any kind of outdoor work or cold-weather sports.
Cost and Value
These gloves are incredibly useful and some of the most affordable gloves listed. If you are on a budget but need to keep your hands warm, the Global Vision battery powered heated gloves are a great choice.

6

. VentureHeat Carbon Fiber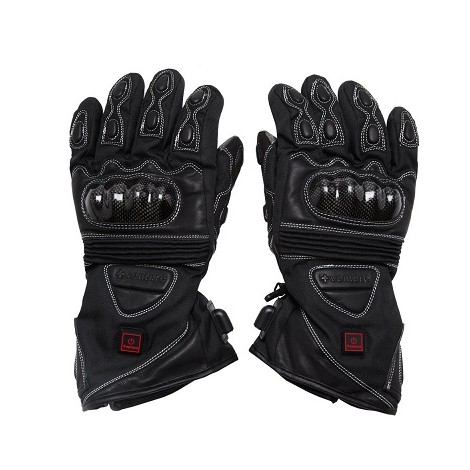 These offer protection from frigid temperatures as well as potential impact while participating in arctic motorsports, cross-country motorcycle trips, and skiing. Touch screen capabilities let you operate a mobile device without having to take them off and subject your hands to the cold environment.
Carbon Fiber Knuckles
Incorporated into the design are tough carbon fiber knuckles and reinforced finger joints. Like most others, these features help to protect you in the event of the unthinkable. Reinforced gloves are like armor for your hands and will help prevent abrasions or serious injury should you have an accident. Anytime you ride you should have some kind of protection from the asphalt, even if it is not cold out.
Modern Touch
Along with the reinforced features are touch screen compatible finger pads on the thumbs and forefingers. The palms are specially designed for grabbing handlebars. While some gloves will leave your hands slipping off, the VentureBeat Carbon Knuckle gloves will give you a firm safe grip.
Cost and Value
The VentureHeat Carbon Fiber Knuckle mitts tread the line between averagely priced and more expensive gloves. They definitely are not bargained, but you won't have to sell you're firstborn in order to buy them. If you are planning a cross-country ride, consider the VentureHeat Carbon Fiber Knuckle gloves.

7

. Hestra Power Heated Mitten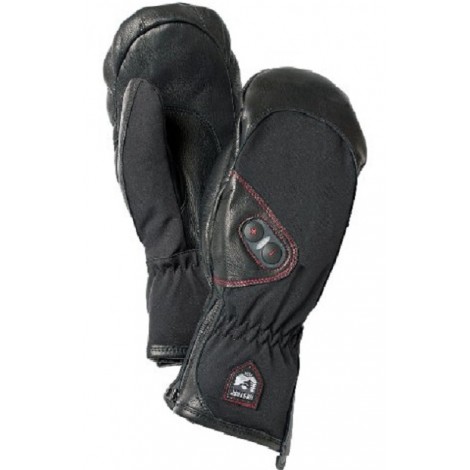 The second heated mitten option on the list comes from Hestra. Hestra has been long known for making very high-quality products. Mittens have some advantages over regular mitten. Typically, mittens keep hands, specifically fingers, warmer than a regular mitten. When your hands are inside mittens your fingers are not separated and therefore retain heat better. This does sacrifice a bit of dexterity but depending on what you need them for this may not be an issue.
Premium Materials
These mighty mittens are made from 70% synthetic material and 30% premium leather. Leather has long been a go-to material for producers of gloves due to some of its natural properties. The leather is water and wind-resistant. It is also durable and when textured offers a great grip. The Hestra mittens also have multiple layers of insulating materials that will keep hands incredibly warm even without the added electrical benefits.
Heat Settings
Keep the temperature just right with three heat settings. Of course, the duration of the battery is dependant upon what setting your on but it is reported that they will last up to three hours when fully charged on the highest setting. They also have heated thumbs which other heated gloves may not feature.
Cost and Value
The Hestra mittens have a price that may make you spit out your coffee. As some of the most expensive heated gloves listed they are definitely not budget-friendly. However, if you are looking for gloves made from premium material and plan on getting a lot of use out of them they might not be a bad option.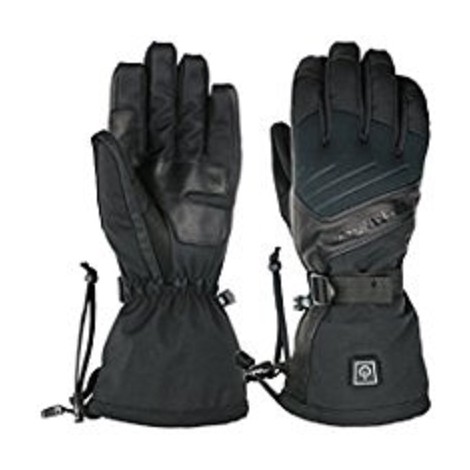 Mount Tec heated gloves use what is called Howard Heating technology. This technology designed by Howard Rubin, the owner of Glove Doctor, is the product of 15 years of cold weather research. The heating elements warm the hands and fingers and provide 3 settings so thermal control is at your fingertips.
Lasting Charge
The Mount Tec Explorers have three heat settings that are controlled by the button on the gauntlet of the gloves. The button lets you know what setting your on with a lighted color indicator. When the glove is at the lowest setting, blue, the glove will stay heated for 8 hours. At the medium setting, white, you'll have toasty hands for around 6 hours. The highest setting, red, lasts an incredible four hours. With proper recharging techniques, the batteries can be charged 500 times. After that, the batteries function at around 70%.
Waterproof
Explorer 3's feature waterproof material made by 3m incorporated into the design of the glove. These gloves are ideal for winter sports, outdoor work in frigid temperatures, people with medical conditions, or just wearing casually while outside. The battery pack fits snugly in the pouch in the cuff which cinches to provide you with a great fitting glove.
Cost and Value
The Mount Tec Explorer 3's are a great choice for a pair of heated gloves. They sit at a price that is slightly below the average price range for battery heated gloves. These gloves are reported to be incredibly well made and very durable. Sizing is based on a European system so pay attention to the size chart before selecting your pair.

9

. Rabbitroom Winter Electric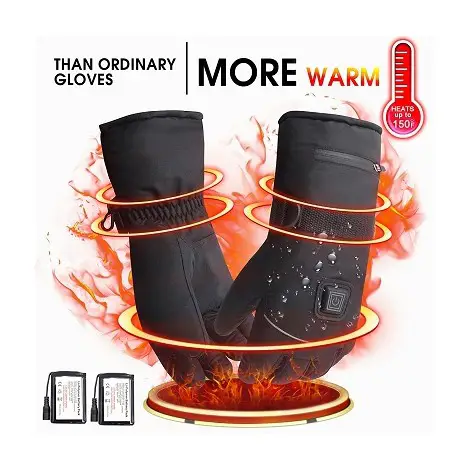 The Rabbitroom winter electric gloves have a lot of features that are seen on high end heated gloves. Such as enhanced non-slip grip, waterproof coated outer shell, carbon fiber infrared heating elements, and powerful rechargeable batteries. The main difference in these heated gloves and "high-end" gloves is the price. Rabbitroom gloves are a great option that is also very affordable.
Waterproof
Most of the gloves on this list are water-resistant. Which is almost a necessity if you are looking to get a glove that has electrical components. However, the Rabbitroom electric gloves are completely waterproof and even allow your hands to be immersed in water without totally ruining the gloves. They are also breathable so your hands will not become saturated with sweat or condensation.
Perfect Balance
These gloves have a cool look that treads the line between bulkier ski gloves and sleeker utility gloves. The best heated ski gloves are usually a tad bulky which sacrifices dexterity. Smaller utility gloves give you the dexterity but lose some insulating factors. These gloves are versatile and can be used for a number of different applications. These gloves also have three settings. On the highest setting, the glove will stay heated for around two hours. At the lowest, your hands will be warm for about 8 hours.
Cost and Value
As stated, these gloves are much more affordable than some others that are listed. They sit close to the cost of our best value gloves. Batteries are included in the purchase.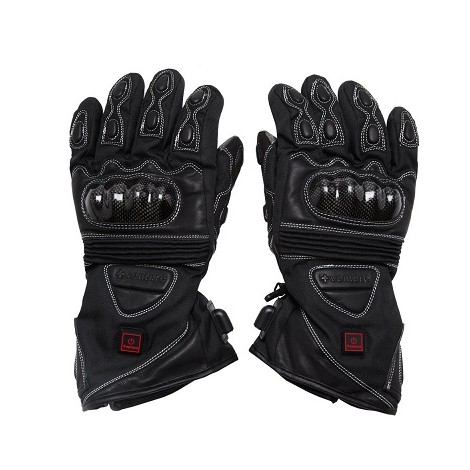 VentureHeat makes a couple of appearances on the list of Top Ten heated products. They are a company that makes a wide variety of heated products for outdoor use. Heated jackets, headbands, and stadium seats are some of the wonderful products they currently have available. Coming from their 2.0, the second generation, the heated product line is the heated mittens.
Touch Screen Friendly
Mittens have the advantage when it comes to keeping hands warm. When your fingers are together rather than separated in regular gloves, there is less surface area to lose heat. This, however, sacrifices dexterity. its hard enough to try to open a door let alone operate a phone. The VentureHeat mittens have material at the fingertips that allow you to operate a touchscreen device without having to take the mittens off and sacrificing stored heat.
Whole Hand Heating
One of the awesome features these mittens have is that the heating elements run all over the hand. A lot of heated gloves only have the heating elements in the palm or the dorsal side of the hand. The Venture 2.0 mittens are encased with the heating element that keeps your hands warm.
Cost and Value
Except for the X- Large size, the Venture 2.0 heated mittens run on the more expensive side of the price spectrum. They are priced at what typical higher end gloves might run.

Subscribe to our Newsletter