Best Yoga Pants Reviewed for Quality & Performance
In a Hurry? Editors choice: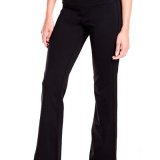 Test Winner: Yogipace Bootcut

Staying fit and healthy is vital for anyone who likes to enjoy outdoor activities. Wearing the right apparel while doing your activities and exercises will not only improve your performance, but ensures you're your body has the right protection against the cold, heat, wind, and moisture. One type of fitness wear that has become a must in every closet and can be used for a variety of different activities is the yoga pant. Thanks to their elasticity, they are also ideal for improved good blood circulation and allow you to breathe and stretch. Nowadays, you'll find them in a variety of different designs that make them more fashionable than ever. That's why without further hesitation, we are eager and excited to share with you the most comfortable, durable, and well-built yoga pants of today.
Standout Picks
Criteria Used for Evaluation
Style
At first glance, it can be incredibly overwhelming when you see how many different types of yoga pants are available for consumers to pick from. What is even more overwhelming is when you consider that this market is still expanding and growing – as more companies are creating a new pair of yoga pants each day. As a result, consumers, rather than taking the time to research and evaluate products based on features and value, simply purchase a pair of pants based on how they look. It has become acceptable for people to purchase a pair of yoga pants because they think they look "cute". However, as many people can acclaim, this is a grave mistake, leading to long conversations with customer service departments trying to claim a refund or a pair of yoga pants that broke in the middle of a stretch. So, what we realized is that there needed to be a handy guide that provided consumers, like you, with an in-depth review of only the best yoga pants on the market today.
So, we took the time to create this guide, offering individuals a wealth of information and tips on the very best yoga pants available today. Now, prior to just picking out any yoga pants, we needed a game plan and strategy to pick out brands. So, we created a list of standards, requirements, and criteria that each pair of yoga pants needed to meet. In doing so, we were able to highlight the very best yoga pants on the market, while also get glimpses of the very worst products out there. Our ultimate goal was to help you out, so you don't need to waste the hours of time doing research and evaluating. So, before you are quick to make a purchase for just any pair of yoga pants that look nice, take the time to evaluate FIRST. If you want to learn how we pick out our list, keep on reading!

Quality of Materials
The most important piece of criteria that must be at the forefront of any product decision is the quality of materials. The truth is, when you are purchasing yoga pants – it should not be about the design, colors, or anything like that. You want to make sure that you are purchasing a product that is made from the best materials. So, when we started to create our list, the first thing that we looked at, before colors or design, is the type of material that the manufacturer used. This speaks volumes about the product itself. From the type of material, we were able to decipher whether the pants were considered high or low quality. From there, we took the time to look at customer reviews to see how people viewed the quality of the materials. Sometimes, companies tend to butter-up their products more than they should.
Aesthetics
Another one of the most important pieces of criteria when evaluating yoga pants is the aesthetics of the pants. In truth, you should never buy a pair of yoga pants based on its design, first; however, it's something that should be taken into consideration. When purchasing a pair of pants for yoga, the rule of thumb should be features/value: first, and design: second. When we evaluated each product for our list, what we noticed was that the best companies on the market tend to offer a wide spectrum of designs and colors for consumers to pick from. Hence why, if you carefully look over our list, you might notice that each product comes carefully designed in some beautiful colors and designs.
Value
In our opinion, one of the most important characteristics that all consumers should take into account is the cost to value ratio. The reason being, this is the only in the certain way that you can ensure you are receiving your money's worth for a purchase. Without knowing the value in comparison to the cost – you are simply shelling away money without even knowing what you are getting in return! To figure out the cost to value ratio – start off by first writing down the cost of the product. Look at the rest of the competition and write down their price tags too. From there, you can create a good picture of what the market looks like – what products are considered cheap, and what products are considered expensive. Now, before you judge the physical products, you should look at the value of each individual product, in comparison to its value. The goal is to highlight products that over the BEST value at the BEST price. What we can say about our list is that we ensured that each product offered a balance between cost and value – so you are getting your money's worth, no matter the pair of yoga pants you like.
Overall Fit
Aside from the design and the materials of the yoga pants, it's incredibly important to make sure they fit perfectly. Now, this can be challenging as yoga pants fit differently than a regular pair of pants, which is why it's critical to look at the sizing chart offered by the manufacturer. When we created this list, it was our goal to ensure that any product that we offered – came with a comprehensive sizing chart and was touted in terms of it's fit. We would like to say that, before purchasing any pair of yoga pants – you should ALWAYS consult with previous customers who have worn the pants before. You never know what the sizing might be like before a yoga exercise, after, or even after it's first wash.
Durability
The last thing that any consumer wants when purchasing a pair of yoga pants is to find out that, during their favorite pose – their pants rip. That would be embarrassing, wouldn't it? So, as we created our list of the best yoga pants, we wanted to make sure that every single product was built to last for many years. To figure this out, we started off by looking at the many different pictures of the product – we wanted to see how the physical product was designed. From there, we looked at how the manufacturer approached durability and longevity in their product description. Since this an important concern to make customers – only the best companies tended to take the time to focus on this information. What you will find on our list are the very BEST yoga pants that can handle any yoga pose.
Comfort
If you are new to the market of yoga pants, one of the most important characteristics that you must take into consideration is the comfortability of the pants. We can attest that, after hours of research, there are many different yoga pants that "claim" to be comfortable; however, the product was made from cheap materials, and previous customers have debunked their marketing claims. So, we made it our priority to ensure that, before a product can be considered for our list – they must be high-quality and comfortable. In truth, yoga pants SHOULD be comfortable. What we did was first look at the materials that yoga pants were made from. Additionally, we looked to see what specific comforting features the manufacturer included. This may include, but not limited to, extra-stretch features, unique seams, and even comfortable cotton materials. From there, we verified the comfort claims with previous customers.
10 Best Yoga Pants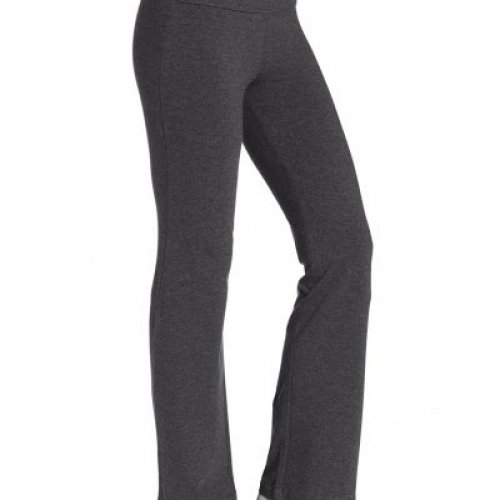 When we think about yoga, we think maximum flexibility. Now, this does not only pertain to the muscles of the body. The gear that an individual wears during yoga is as equally important as the stretches they perform. In fact, the gear is intended to enhance the yoga experience. With tight pants and non-stretchy fabric, an individual can hinder their ability to perform yoga stretches fully. With that in mind, we want to share with you the Spalding Women's Bootleg Yoga Pant.
Bootleg Cut
For women that are looking for comfortable yoga pants that are also stylish. The bootleg cut offers added flexibility and air flow. Unlike spandex style tight pants, these pants are tight at the top but looser on the bottom. Perfect for a day out by the park or a full yoga workout, these pants are stylish with their bootleg cut design.
Machine Wash
What at times can make a certain type of active gear or outfits a bit cumbersome is the special needs they require. For example, some certain type of materials requires that the clothes be dry clean only or hand wash. This is not the case with these yoga pants. In fact, the brand has designed a yoga pant that can be easily washed by machine for added benefit and use. Sometimes all a person wants to do is drop it in the washer and let the washer do its thing.
Cost and Value
Clothes can vary from individual to individual. Not only as a way to express oneself, all types of clothes have different purposes and benefits. With this, we can say that the value and benefits of these yoga pants easily surpass the price. In fact, the price is pretty standard for most normal yoga pants, making these a perfect choice for any woman looking for comfortable yoga pants that are stylish and simple.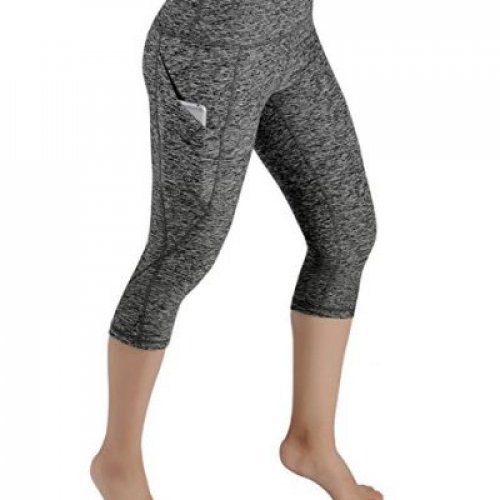 Moving onto the second product on this list, this brand is known for some of the best outdoor clothing in the industry. Appealing to women looking for a comfortable fit, stylish design, with plenty of functionality, these yoga pants offer maximum stretch with a design that helps control and hides tummy movement. An individual can run, hike, walk, work-out, or practice yoga in this pants without losing premiere comfort. Let's talk about the ODODOS High Waist Out Pocket Yoga Pants.
Material
The materials used for these particular yoga pants include a stretchy fabric that allows for maximum comfort while also providing a moisture minimizing benefit. The materials included are 87% polyester, alongside spandex, and nylon. Now the Power Flex Pants design includes a blend of high-quality fabrics to ensure that the individual does not feel itchy or uncomfortable while wearing these yoga pants.
Aesthetics
Unlike the first pair on this list, these yoga pants are designed for streamlined style and aesthetics. In fact, the pants contour the shape of an individual's body while also aiding in form-fitting the tummy area. The pants enhance the shape and figure of an individual but focusing on the areas that areas of your body that are more toned, giving a person a more structurally fit look. The pants themselves are comfortable, tight, come in a variety of colour choices to choose from.
Cost and Value
When taking the cost per value into account it is important to know what your purpose is with these pants. As yoga pants, they are great quality and can withstand the flexible movements need in yoga. As to running pants, they are form-fitting and comfortable to move around in. Therefore, it is important to know what you desire them for. In any case, the value of the pants is rooted in the design quality and materials, which raises the cost but not enough to disregard these pants completely.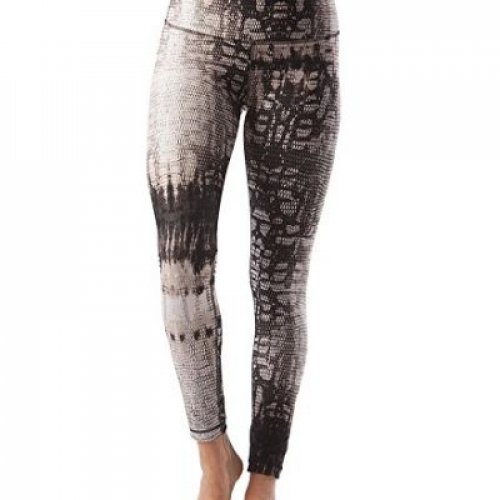 Ahh, the wonder of leggings! When leggings were first introduced to the scene, every woman went crazy for them. The comfort, the designs, the appeal made them the perfect everyday pants. With this said, this particular manufacturer has mastered the traditional legging comfort in a design that is flexible, appealing, and can be used for anything. Let's cover the 90 Degree By Reflex Performance Yoga Leggings, a blend of art and comfort.
Artistic
For the artist in every woman, this brand offers a wide selection of colour choices to choose from. Essentially, you can look as stylish and beautiful as you desire while also soaking up the comfort of yoga leggings. Whether you want a waterfall grey design or an aqua look, these yoga leggings are funky and urban and everyone is loving them. However, if you are more of a classic yoga legging lover, then the all black or midnight still looks as equally beautiful.
Gusset Inner Thigh
One feature that has made yoga leggings the chosen clothes for yoga or other workouts is the stretchy material. However, the stretchy material has to include some form of protection in certain areas to avoid the embarrassment of overstretching. Essentially, the gusset crotch allows for maximum stretching and mobility while ensuring an individual won't rip the yoga leggings.
Cost and Value
When considering the value of a product, can we really put a price on comfort? Of course not! However, the premier stitching and materials used can enhance the price of an item. For the well-built structure, these yoga leggings are considered fairly priced making them a perfect companion to any yoga event or outdoor workout. Highly recommended and touted for their many designs, these yoga pants are worth an individuals consideration.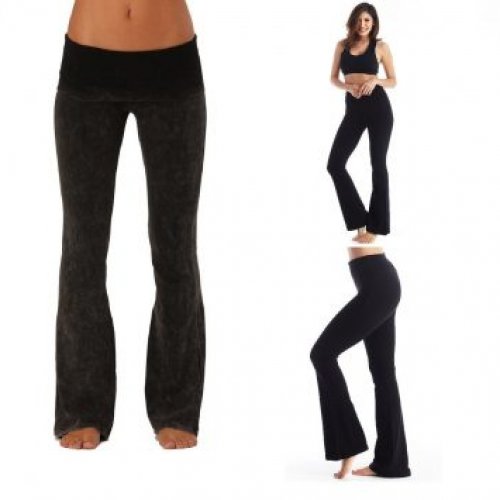 Another great addition to any woman's closet is the Viosi Women's Spandex Yoga Pants. These yoga pants offer legging style stretch with pajama style comfort. The pants themselves can be used for relaxing, yoga, working out, or more, offering plenty of stretches, stylish design elements, and comfort all in one simple package. With a redesigned style and detailed sizing chart, a woman can find the right fit in no time. Let's talk about what makes these yoga pants perfect for everyday wear and workouts.
Materials
We have seen yoga pants that are polyester and spandex, allowing for maximum mobility and use. However, this brand focuses on quality and functionality by offering a comfortable fit alongside premium material. In fact, the primary material used to style these pants is cotton, which not only feels soft to the touch, it gives off a premium look that is unmatched by many other yoga pants. The other material used is spandex for maximum stretch. A woman can run, hike, yoga, or relax in these thanks to the build quality.
Bell Bottom
If you look at the lower bottom of the legs of these pants you will notice a bell-like shape, known as the "bell bottom." This is a design element that adds extra comfort and usability. A person can either walk barefoot in comfort, wear shoes, or stretch while allowing the pants to move natural and contour to the shape of the individual's body.
Cost and Value
When evaluating cost per value, it is important to always take note of the materials used to create such yoga pants. These yoga pants in particular offer plenty of flexibility and design elements that make them really appealing to practically any individual, without the price of overly expensive designer yoga pants.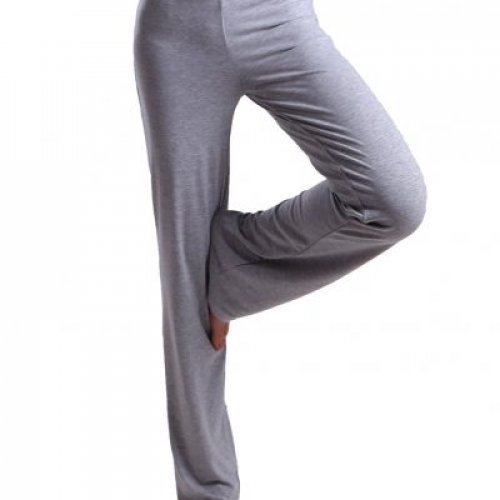 At times, there comes a design so simple but so innovative that it turns an industry upside down. This is exactly what we are talking about when it comes to the HDE Women's Flare Leg Pants, a blend of comfort and style all in one small package. What makes them more unique is the fold over feature at the top that allows for the waist fabric to be folded over. This allows for maximum tummy comfort, something that all women highly enjoy. Let's talk about two more cool features.
Stretch Knit
Yoga pants are universally known for being stretchy. How would a person be able to stretch fully and achieve maximum results without a stretchy material? Thanks to the spandex material knitted into the fabric of these yoga pants, a woman can ensure that their yoga workout will not be distracted by odd movement and discomfort. This material enhances the mobility of each workout.
Comfort
Now, the second thing that yoga pants are universally known for is the comfort. The comfort of yoga pants reigns supreme thanks to the cotton material and the loose feel. In fact, yoga pants can both be used as lounge pants or workout pants. The flare leg design makes the ankles will not feel tight, allowing for the feet to move freely and the legs to shape into whatever position is most comfortable for the individual.
Cost and Value
It seems that the trend for yoga pants is that they are all reasonably priced while also supplying universal benefits. This brand is no different except the design style is somewhat different. The flare leg is not as loose as bell bottom legs or bootcut style, but they offer advanced flexibility and comfort. With plenty of options and sizes, this brand of yoga pants is highly touted as one of the best and highly recommended for the price.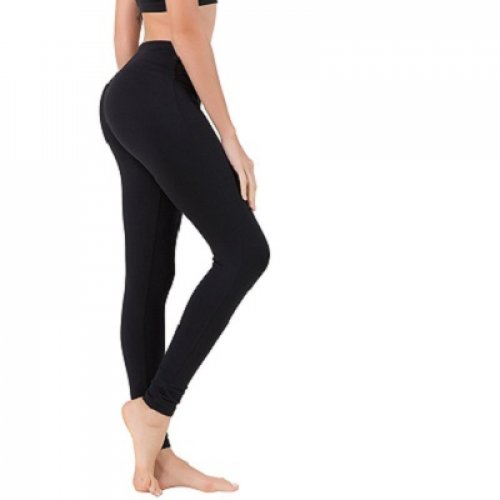 These yoga pants are perfect for those who want to have the best experience while wearing the best equipment. Even if you're not a yoga enthusiast, with 25 different colors to choose from, you can find a pair for any situation. They're made of 86% Nylon or Polyester and 14% Spandex, which allows them to feel soft against the skin and elastic for easy movement. This item is great for any exercise and ensures that your body stays dry.
Shapewear Design
The design of Queenieke High Waist is made to fit comfortably any type of body shape. The unique fabric material helps them conform to your body and the elastic waistband will provide the comfort you need for a great experience.
Soft Fabric
Manufactured of spandex and polyester or nylon, these pants are soft to touch. Therefore, you can forget about the times when your pants cause friction and irritation to your body!
Cost and Value
style and fit. They include a waistband pocket for storing your valuable and if you're not satisfied with them, you can return them in 30 days for a full refund.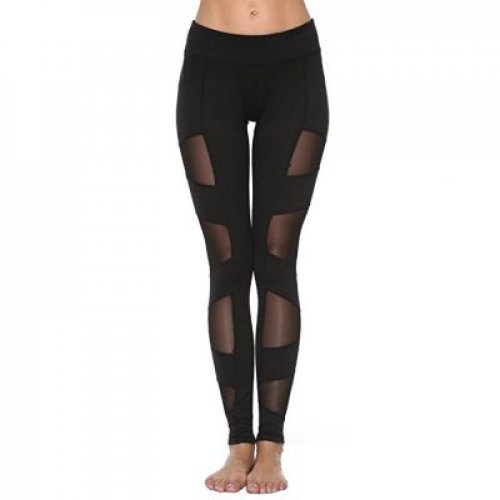 Let's add to this list a brand that has mastered the comfortable style of yoga pants with the stretchy fabric of leggings. These yoga pants are perfect for women who run, practice yoga, weight lift and more, supplying a comfortable design and feel that is only matched by superior quality. Let's talk about the FEIVO Yoga Pants, a blend of mobile comfort that feels like a second layer of skin.
Stretch
As we have discussed, yoga pants are universally known for being incredibly stretchy. Therefore, this brand found the perfect measurement of polyester and spandex, allowing for a moisture-wicking and stretchy combination of fabric that provides breathable movements alongside complete coverage. In short, an individual can stretch, run, and achieve more with these yoga pants.
Waistband
What can be somewhat irritating about yoga pants is when you want to run or go for a walk in them but have nowhere to put your keys or ID. These yoga pants were created with comfort and functionality in mind. Therefore, the waistband offers a hidden inner pocket so an individual can stash their keys, cell phone or any important essential when out and about. This added benefit makes it easy for anyone to take these pants anywhere.
Cost Per Value
It is time to evaluate cost per value as we do with each of our items. In order to share more with you about why each item is individually beneficial, we point out the solution that these items solve. This one, in particular, solves the problem of not having pockets when out and about. At times an individual has to carry their items by hand or in a pouch because the yoga pants do not have packets. Not anymore! Therefore, we can say that for the reasonably priced cost, these are worth every penny.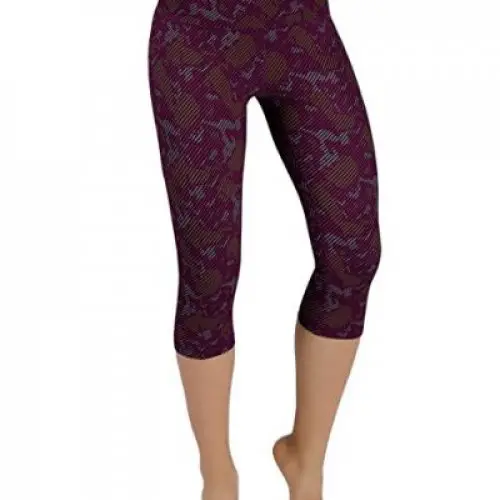 Another ideal blend of comfort and design is the Oalka Women's Yoga Workout Leggings. These leggings are precisely created and designed with a woman who works out in mind. With a comfortable form fitting style and a pretty look to match, any woman will feel comfortable with these shape-enhancing yoga pants. Let's cover important aspects that have made them a favourite on people's wish list.
Tummy Control
One particular aspect for women when working out that many feel uncomfortable about are the stomach region. This brand got to know women and how they feel and resolved that issue with the tummy control high-rise waistband design. This waistband design is created to help form-fit the tummy region and create an added level of comfort for women while working out.
Interlock Seams
As mentioned earlier, one of the most obstructive aspects of working out is chafing and feeling the discomfort of irritated skin. This alone is so uncomfortable that many women stop working out because of it. Don't spend your money on lotions and creams that will help! Instead, this particular yoga legging manufacturer has created interlocking seams, to ensure no loos threads ever lead to irritation or chafing ever again.
Cost Per Value
When evaluating cost per value, it is important to take into consideration the comfortable design of yoga leggings. In fact, these yoga leggings have been touted as the most comfortable in the industry, adding a level of confidence to the company when adding the new interlock seams design. This alone offers a level of premier quality that is worth every penny.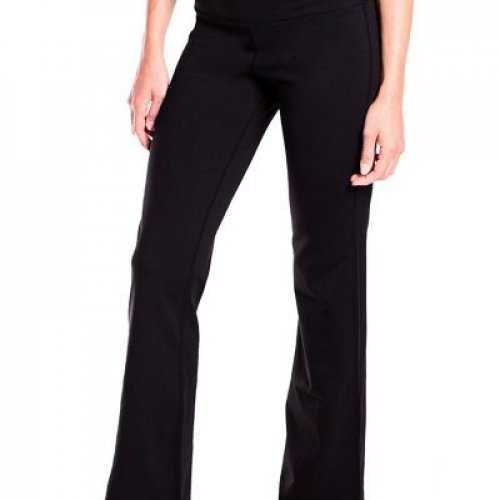 To match the first pair on this list, let's talk about another yoga pants manufacturer that has mastered the bootcut style that many women love and enjoy. With a focus on style and quality, the Yogipace Women's Bootcut Yoga Pant is the perfect yoga pants for any day. Whether relaxing at home or performing your favourite yoga pose over Zen music, these yoga pants are a great addition to any active gear closet.
Gusset
One of the most important aspects of yoga pants is mobility. Many manufacturers have enhanced this aspect by providing yoga pants in different materials, with different stitching qualities, and more. What makes this particular yoga pant manufacture different than others is the gusset double-layer stitching system. Essentially, an individual can perform the splits without worrying about tearing the pants in half. The supported inseam area means more mobility for better poses, more running, and overall, better comfort.
Spandex
Who does not love spandex? It is without a doubt that spandex is the preferred material for active wear companies when creating comfortable and mobile-friendly clothing. However, most brands use 8% spandex, which can reduce the mobility by a slight bit. This yoga pants manufacturer uses a whopping 13% spandex for added movement and relaxed fit. Never feel constrained again by your yoga pants.
Cost Per Value
When evaluating the benefits of yoga pants, it is important to take into consideration the reviews, the brand, and the materials. Made from the most flexible materials with an easy to wear design, the cost per value for yoga pants such as this goes unmatched. Meaning, the cost is considered in the mid-level range but the value is considered a top-tier product.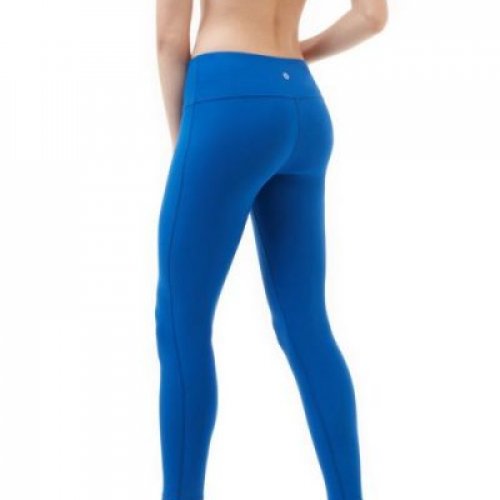 It is time to introduce the crème-de-la-crème of the yoga pant industry. Let's talk about Tesla Yoga Pants, a prestigious active gear company designed for sports lovers who want functional design alongside premier quality and beautiful aesthetics. These yoga pants are designed for strength, relaxation, and flexibility, allowing any and all woman to take their work out regime to the next level. Upgrade your workout routine, your yoga moves, and your yoga pants with these specialized yoga pants. Let's see why they are noted as one of the best.
Premium Mesh
Yoga pants are known and designed from some of the most comfortable, flexible, and durable materials out there. However, this active and sports gear manufacturer has introduced the premium-mesh design into yoga pants with an airflow construction seam on the sides of their yoga pants. Essentially, an individual can feel the cool air as they perform sweaty yoga moves. This designed allows for a comfortable and relaxed yoga experience.
Ultra-Stretch Fit
Now, we have covered yoga pant brands on this list that offers a flexible and stretchy fabric and we have covered brands that offer a tight-framed designed. This manufacture blends both to form a dance called the "ultra-stretch fit". This fit is designed for functionality and durability while also providing a form-fitting design and construction that feels like a thin layer of flexible clothing. This fit is perfect for women looking for yoga pants that enhance their body shape with the functionality of stretchy materials.
Cost Per Value
As the last product on the list, we can say that it is also one of the most reasonably priced. In fact, it is cost less than other products on the list while also providing an immense amount of value in such a simple product. These yoga pants are perfect for everyday wear or for exercise routines. Whether it forms the design or style, these pants are worth every woman's considerations. Once these become a part of your routine, it will be hard to take them off.

Subscribe to our Newsletter