Best Minimalist Running Shoes for Men & Women
In a Hurry? Editors choice: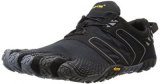 Test Winner: Vibram V

If you are venturing into the world of minimalist running shoes, it can seem a bit overwhelming. So, before the shopping begins, make sure that if you are an experienced runner and are used to traditional running shoes, transition into minimalist shoes gradually in order to avoid injury. Minimalist shoes are constructed to allow your foot to work more naturally than in a traditional running shoe and are said to help you run more efficiently. But if you think it's for you We're here to help.
Standout Picks
Criteria Used for Evaluation
Drop
When talking about minimalist running shoes, the "drop" refers to the thickness in the heel difference compared to the thickness of the toe. Many minimalist shoes offer a "zero drop", meaning that the sole of the shoe is uniform throughout. The less drop you have in your shoe, the more "natural" and minimalist the shoe is. The thinking behind having a zero drop in your minimalist running shoe is to make your entire foot closest to the ground as possible, thus making it almost like you aren't wearing a shoe at all. The more "stack height" a heel has, the more drop it will have.
However, not all minimalist running shoes have a zero drop, nor do they have to to be considered a minimalist shoe. True, the less there is between your foot and the ground means the more natural you foot might feel, but sometimes some cushion is necessary. For instance, some minimalist trail runners offer a small amount of cushion in the heel in order to combat impact from sharp objects while running on a trail. Road-running minimalist sneakers sometimes offer support in the heel as well which is a great option to have if you are transitioning from a higher drop traditional running shoe to a more minimalist one.
Ground Feel
Along with low to zero drop in minimalist running shoes comes the idea of barefoot technology. Running absolutely barefoot is something that has become more popular in the past decade or so but we don't suggest that you throw away your plain 'ol running kicks and pound the pavement in bare feet right away. Whether you are looking to eventually run with naked feet or if you just want a more natural feeling in your feet, minimalist shoes can help you out.
The idea behind the barefoot technology is simply to allow your foot to flex and move as naturally as possible while being protected from anything underfoot. Some barefoot technology shoes have a five finger design, basically looking like a solid glove for your feet. Other barefoot technology minimalist shoes look, well, minimal in design. In either case, a minimalist shoe will be manufactured to allow your toes to splay naturally and will most likely have little to no cushioning - just like your bare feet.
With that said, not all minimalist sneakers are geared toward helping you feel absolutely barefoot. Some have responsive soles to help your feet, and in turn, your brain, to better feel the ground beneath your shoe - all while having some support in the heel, arch, or sometimes slightly in the forefoot. It is widely believed that the future of running shoes will continue in the more minimalistic way of thinking: lighter is better.
Protection
Some people do run barefoot on the pavement, but we are betting that those are experienced, barefoot runners. If you are planning on trail running in minimalist shoes, you'll want something that will keep the rocks out of the sole of your foot. All minimalist trail shoes offer some sort of protection on the sole of the shoe, but some go a little farther with higher "lugs" (grips) and stickier soles. You'll have to consider your terrain before settling on your minimalist shoe of choice. In any case, you'll want to protect your feet from harm.
10 Best Minimalist Running Shoes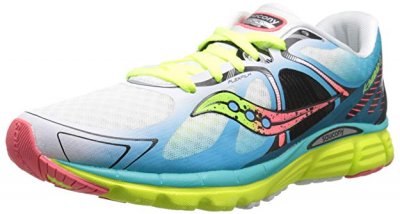 This lightweight minimal shoe offers zero-drop with a small amount of support. Saucony is known for providing great running shoes for almost any kind of run. These are an excellent option for someone looking to do some minimalist road-running but also looking for more arch support. Unlike many minimalist shoe models, this one offers more cushioning than most, yet offers a lightweight, zero-drop feel.
More Cushioning
Many minimalist running shoes offer zero-drop but no cushion. The Saucony Kinvara 6 offers the zero drop but with a little extra oomph in the cushioning department. These are a great treadmill or road running shoe because they are lightweight with some support in the heel and arch. The Grid technology in the sole provides more support than a regular minimalist shoe.
Durable Sole
One look at the Saucony Kinvara 6, and you'll notice the outsole. It is a more rugged look than many minimalist shoes; it looks more like a traditional sole. This is due to the cushioning and small amount of arch support. The sole is designed to protect your feet from impact while still giving you the lightweight zero drop that you may be looking for.
Cost and Value
These lightweight minimalist running shoes are pricier than some. They come with the well-known Saucony brand name and are constructed to give you a supportive and minimalist run. Although a little more expensive, they are an excellent choice if you want a little more support.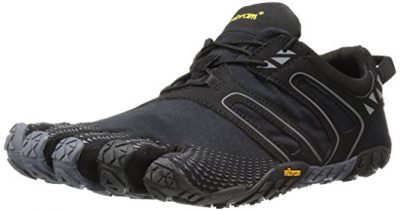 The Vibram V is a "five fingers" design made specifically for trail running. They offer both proprioception (foot sensory impact) and protection. These are a great option for someone looking for a more barefoot approach to trail running. Their "cocoon" molded sole wraps up over each toe to protect you on a trail run and is made with a polyester and spandex upper to mold to the foot.
Close to Barefoot
With their zero drop and low profile design, the Vibram V will give you an extremely natural minimalist trail run next to going barefoot. The outsole, with its multi-directional lugs, will offer the protection you need on the trails with the comfort and feel of a minimalist shoe.
Five-Fingered Toe Protection
Vibram's cocoon style outsole hugs the heel, wraps up the sides, and up around the toes, protecting you from rocks and ground debris on an off-road run. Traditional trail shoes offer this protection but this sneaker is designed to protect your feet without the bulkiness of a traditional trail running sneaker.
Cost and Value
As another highly specialized shoe, the Vibram V is a little pricier than some but compares in cost to many on this list. It's an excellent choice for the minimalist trail runner.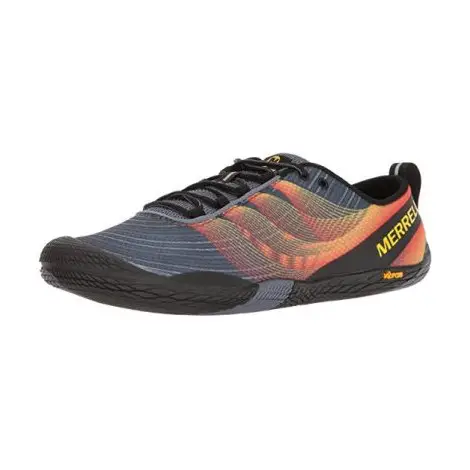 The Merrell Vapor Glove 3 is an excellent minimalist shoe with zero-drop. That means that this shoe will keep your foot as flush with the terrain as possible. Its Vibram outsole adorned with 2.00 mm lugs (a.k.a. cleats or grip) will protect your feet from sharp object injuries while its breathable mesh upper will keep your hard-working feet comfortable.
Breathable Upper
This sneaker is extremely airy with its mesh and TPU upper to help your feet breathe as you run. However, since it is virtually impossible to eliminate all sweat from your minimalist-running feet, the upper is also treated with M Select Fresh to reduce odor.
Protective Outsole
Minimalist shoes can be just that in their outsole - minimal. That's not as much the case with the Merrell Vapor Glove 2. Its Vibram outsole and lugs give you the right amount of protection against ground debris while also allowing for a low profile, making it a great choice for trail runners.
Cost and Value
Minimalist running shoes can run pretty deep into your wallet since they are such a specialized shoe. However, the Merrell Vapor Glove 3 has a pretty middle of the road price for this type of footwear. It's a great value for what you get.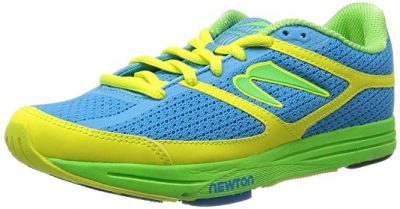 The Newton Energy NR is an excellent option for anyone looking to start off their minimalist running adventures. It offers more impact support than many other minimalist shoes so it's an excellent transition shoe. Its design includes a Bio-Mechanical Metatarsal Sensor Plate to have a better sense of the ground beneath your feet, making it more minimal than the traditional running shoe.
Impact Support
Newton's Action/Reaction technology in the midsole and heel absorbs impact more than most minimalist running shoes. This is a key aspect to look into for anyone transitioning to a minimalist shoe. Since it has a low profile and is constructed to feel as close to the road as possible and has the added impact support, it is a very unique shoe.
Responsive
The lugs on the outsole of the shoe are a part of Newton's P.O.P. 1 Platform Technology and are designed to move when pressure is applied. This makes this sneaker style one of the most responsive minimalist options out there.
Cost and Value
The Newton Energy NR is the most economical option on our list. Although Newton is known for being on the more expensive side, the company has put this shoe out there as an affordable option.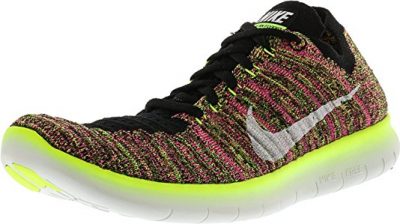 The Nike Free line of shoes was birthed from the knowledge that Stanford athletes were discovered to be training barefoot. From that discovery, Nike came up with a line of shoes that would be closest to being barefoot as possible. The flyknit upper is constructed to conform snugly to the foot and closely resembles a sock in how it fits. This shoe has a very low profile with only a .50" platform. Unlike many minimalist shoes, these offer more arch support than most.
Snug Fit
The Nike engineers spent years studying the foot and developed their Free line of shoes to fit as snugly as possible, making them virtually undetectable shoes to the wearer. The soft, comfortable FlyKnit upper conforms to the foot like a sock, making them super-snug.
Arch Support
Since most minimalist running shoes are designed to have as little between your foot and the ground as possible, they often offer minimal arch support. If you are looking for a low profile, a minimal running shoe that offers more arch support, then the Nike Free RN Flyknit is a great option.
Cost and Value
The Nike name and the supreme engineering that goes into these shoes makes them a higher priced option. They are a great hybrid between highly minimalist shoes and traditional supportive running shoes, all while being extremely comfortable.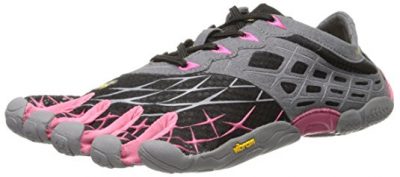 As another five-finger style, the Vibram KSO EVO is optimal for foot to ground feedback while allowing your feet to feel uncramped. They offer a 2mm EVA insole with antimicrobial properties to keep your natural feeling feet fresh. They can be worn off-road trail running and can even be worn traipsing through streams. They have a speed lacing system, making them super easy to get on and off.
Speed Lacing
The unique bungee speed-lacing system on these shoes is a big plus, especially for trail running. They are easy to put on and take off, even if you happened upon some muck on your run. The lacing system also gives the shoes a snug fit with no slip.
All Terrain
These are great trail runners but can also be used for the road if you are more experienced. These minimalist running shoes help your feet feel natural but also protect you from debris with their Trek outsole. They can withstand wet elements and are machine washable.
Cost and Value
These five-fingered shoes are right up there with many other minimalist options as far as cost goes. They are a specialized shoe so come with the higher price tag.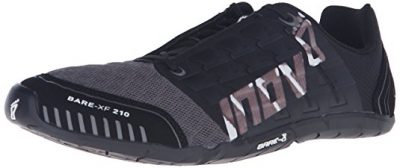 This is a great minimalist training shoe that boasts a unique "sticky" outsole that gives you lots of grip on rugged terrain. It has zero drop and protection from ground debris and sharp objects. It is also the only shoe on our list that offers a 360 grip for rope climbs if you are adding that to your off-road trek. They are an exceptional shoe for a more natural run.
Grip
The Inov-8 Bare-XF 210 offers an incredible amount of grip for the off-road minimalist runner. If you are looking to traverse trails with slippery conditions or that involve a great number of rocks to climb, then these may be the minimalist option for you. They even have 360 rope-tec to help you grip ropes if you are looking to do so.
Minimal
With their zero heel to toe drop and supreme low profile design, these minimalist shoes come close to being barefoot. They offer excellent protection while giving you that minimalist running experience you are looking for.
Cost and Value
These shoes aren't as pricey as some but are right around the price you'd expect to pay for a minimalist shoe. They are a good value for anyone looking to trail run safely while feeling almost barefoot.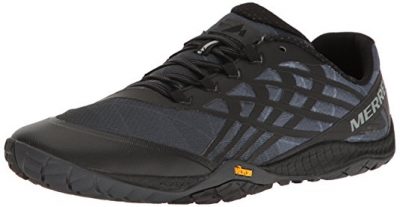 With its Barefoot technology, the Merrell Glove 4 is designed to help your feet feel like they are donned in nothing but socks. They offer a sock-like feel with a zero drop and snug fit yet also have some arch support. They have a Vibram outsole for maximum protection against underfoot elements and have a 3 mm lug depth. They are supportive, durable, and great for a minimalist trail run.
Vegan Friendly
If protecting the animals is something high on your priority list along with trying out a minimalist running shoe, then this is a great option for you. The mesh and TPU upper, along with the TrailProtect footbed, are all Vegan-friendly in construction.
Barefoot Technology
Barefoot technology is a hot keyword among minimalist runners. This means the design of this shoe was manufactured with keeping your feet as close to feeling barefoot as possible.
Cost and Value
The Merrell Glove 4 is a tad pricier than others but an excellent shoe for the off-road minimalist runner or walker.

9

. New Balance MT10V1 Minimus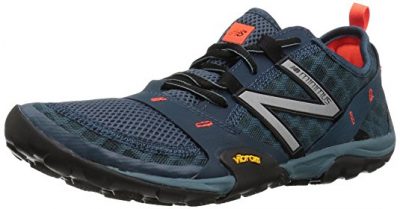 This style is specifically developed to be a minimalist trail running shoe and has more of a drop than many minimalist running shoes. It offers a Vibram outsole with flex grooves to give you the protection and flexibility you need on your trail run without the heavy feel of traditional trail running shoes. The MT10V1 also has a midfoot wrap to keep your foot from moving around inside the shoe.
Built for Trail Running
The traction and grip from the Vibram outsole will give you a great off-road run and will protect you from harsh underfoot conditions. The 4mm heel to toe drop will support your heels as you strike rocks and bumpy terrain. The midfoot wrap around the shoe will ensure snug-fitting safety with each step.
Flexible Sole
One thing about traditional trail running shoes is that they can be pretty bulky and stiff. Traction and grip are often piled high on the outsole to ensure safety but can make your feet feel heavy. These minimalist trail running shoes will give you the grip you need but will also allow for flexibility over rocky trails with its built-in flex grooves.
Cost and Value
These are an excellent value for what you get. They run a little pricey but if you are looking for a minimalist shoe that will give you a safe, comfortable, and protected trail run, these are an excellent choice.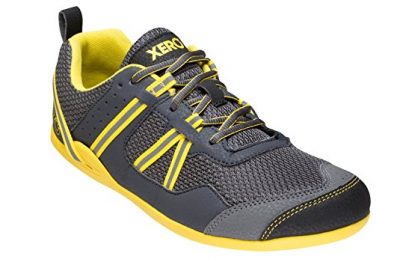 This minimalist shoes' claim to fame is that it is made for anything you do: trail running, road running, cross-training, crossfit, hiking or whatever! They are designed to be super flexible and can even be curled up into a ball for easy packing. The Barefoot-inspired TrueFeel sole allows for the perfect amount of feedback from the terrain to your feet, all while protecting you from anything that could hurt you. These shoes offer zero drop and a wide toe box so your toes can splay naturally as you run or walk.
Amazingly Flexible
Our feet are pretty flexible appendages considering the number of bones in them. The main purpose of a minimalist running shoe is to run more "naturally". This means the minimalist approach to running would be getting your feet as close to barefoot as possible. The flexible sole of these sneakers allows for a great amount of natural movement for your feet, making them feel pretty close to barefoot.
Optional Insole
For those looking for a little bit of support in their minimalist sneaks, the Xero Prio shoes have an optional 2mm insole that can be inserted. This may be a great way to start off, with these being such a low-profile sneaker. Then, once acclimated, you can remove them to get an even more minimalist feel.
Cost and Value
The Xero Prio is on the pricier side of things but since they can be worn for such a wide array of activities, you may get more bang for your buck with these.

Subscribe to our Newsletter