Best Heated Jackets Reviewed and Tested
Regular jackets keep you warm, but heated jackets take that extra step. When you're mountain climbing or in harsh conditions, a heated jacket can keep you from having to carry on more bulk than necessary to keep warm. And as an added benefit most of them can charge portable products.
Best Brands
DeWalt is going to be the biggest name on the list and the one you see the most of. The advantage to purchasing a heated jacket from the company will be based largely on whether you own other DeWalt tools. The jacket uses the same battery packs so it is a no brainer purchase for owners of their products.
Maintenance and Cleaning Tips
The obvious caution here is to never clean a heated jacket with the electronic components still in it. Following the care instructions included, remove all electronic components and clean as necessary. A bulk of the jackets are machine washable, and can be placed with other clothes.
Our Top 3 Picks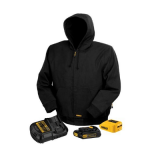 DEWALT DCHJ061C1-S

Our rating
Fast Preheating
Price:

See Here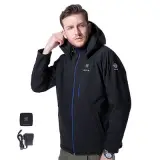 ORORO Heated Jacket

Our rating
Detachable Hood
Price:

See Here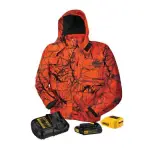 DEWALT DCHJ063C1-L

Our rating
Nice Heat Coverage
Price:

See Here


10 Best Heated Jackets
1. DEWALT DCHJ061C1-S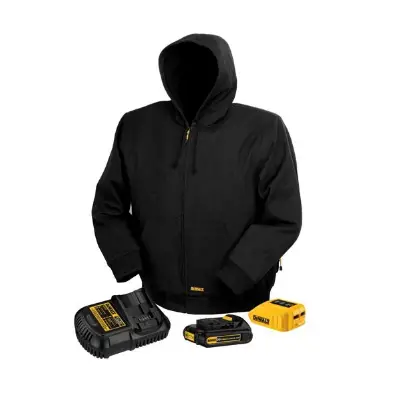 And of course at the top of the list is the DCHJ061C1-S, arguably the best jacket from DeWalt. Blending all of the best features of the other jackets into one, this is an all-around favorite of customers worldwide.


Expand to see more
Fastest Preheating On The List

It takes less than a minute to get to the highest temperature which is great when you're on the go. It's also handy if you need to quick go outside for short bursts of time.

Features and Specifications

Available in 6 different sizes
Water resistant twill outer shell

Price/Value

Based on size, the price floats from low to high. Buyers that want the best DeWalt has to offer will instantly get value from this purchase.

Decision Time

The best on the list shouldn't be a surprise to anyone that follows the industry closely. This is a jacket that won't let you down and is easy to operate.
Can use compatible DeWalt Battery packs
3 different temperature settings
2. ORORO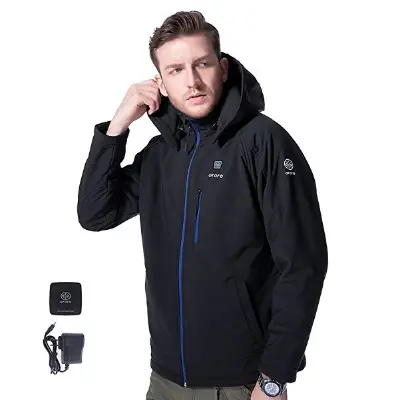 Rounding out the end of the list in the number 2 spot is a heated jacket from Ororo. A small detail is what rockets this so high on the list, and for many potential buyers that details makes a big difference.


Expand to see more
Detachable Hood

This makes the jacket, even though it seems like a small detail. Besides getting rid of unnecessary bulk when you don't need it, there is also the advantage of cleaning it separately.

Features and Specifications

4v 4400 mAh battery and charger
4 Temperature levels

Price/Value

The price is average across the board for all sizes, so no worries about one of the best being high priced. And with the detachable hood there is even incentive to purchase more than one for the cool mixing and matching styles.

Decision Time

With a really cool core feature there will be a lot of buyers lining up to purchase this for the cold weather. The price is right, and it introduces a new kind of heated jacket style.
Battery lasts eight hours
Great placement of separate chest warming zones
Zipper is on the left side
3. DEWALT DCHJ063C1-L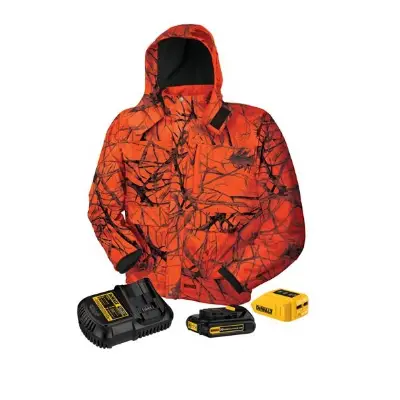 It's impossible to get rid of DeWalt as they once again gain a spot, and this time it gets really interesting. With some minor changes here and there, this heated jacket may be a huge value for budget conscious consumers.


Expand to see more
Nice Heat Coverage

With the four heating zones built into the jacket customers will have plenty of warmth coverage. The zones are well placed and cover the entire jacket.

Features and Specifications

Preheat function with 3 temperature settings
7 pockets total

Price/Value

The price starts low, and goes to high depending on the size. But from the sizes small to X-Large, this is the lowest priced DeWalt heating jacket on the list.

Decision Time

There is very little fault to find in anything from such a great company, as DeWalt proves again why it's an industry leader. Consumers will not regret this or any purchase from a brand of this quality.
Price
Water resistant outer shell
Charging ports are average
4. Knap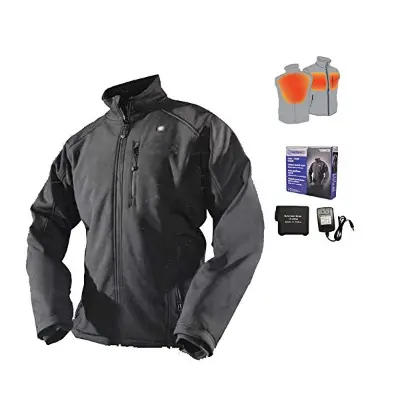 Some of the best features of this jacket has more to do with the safety precautions built in. Knap made all sizes balanced so that there is less guessing about which one fits best.


Expand to see more
Great Temperature Control

Very few jackets can regulate temperature better than this model, powered by a 4400 mAh 7.4v lithium battery. It heats up fast and is well insulated even in harsh weather.

Features and Specifications

Waterproof and windproof
Three heating zones including front and back

Price/Value

As one of the lowest priced heated jackets on the list, a lot of heads will be turned just on price alone. There is also a lot of value in the way they handled their sizing system, which is very customer friendly.

Decision Time

Seeing this jacket so close to the top of the list is no surprise thanks to some good features. Buyers will have a fun time using this in all weather conditions.
Easy to use temperature settings
Fits a good variety of sizes
Coat materials are average
5. DEWALT DCHJ062C1-XL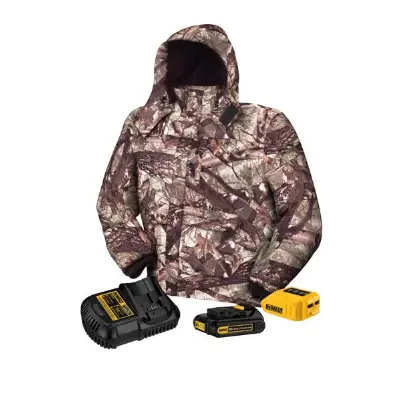 DeWalt makes the list again, this time for the DCHJ062C1-XL. It's one of the more formidable heated jackets in their lineup and lives up to expectations.


Expand to see more
Great Size Selection
Available sizes are 3x-Large, XX-Large, X-Large, Large, Medium and Small. They all fit reasonably well
regardless of gender
.
Features and Specifications
4 Heating zones
3 Temperature settings
Price/Value
Depending on which size you get, the price will be between average and high. Considering there are multiple ports for charging devices, this is a tremendous value.
Decision Time
There is a lot of power in this jacket, and more than enough to power itself and whatever portable devices you have. For a great pick that has a lot of juice, buyers will find this an appropriate option.
Preheat option available with the controls
Outer shell is water resistant
7 included pockets are not as deep as others
6. Milwaukee TV205494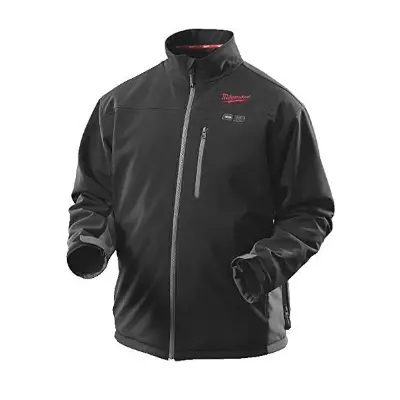 Milwaukee went the extra mile to ensure that their heated jacket had all the tools necessary to be one of the best. It started with a proprietary heating system and ended with a sleek sporty look.


Expand to see more
An Incredible Battery

Using their own in-house M12 red lithium battery, Milwaukee can measure its performance against some of the best on the list. It's long lasting and charges fast so you're not left without any juice.

Features and Specifications

Advanced 5 Carbon Fiber technology
Available in X-Large, Large and 2x-Large

Price/Value

This is one of the most expensive jackets on the list, if not the most expensive period. Buyers will get their money's worth with the battery alone, which is truly revolutionary.

Decision Time

This could easily be a top three item on the list, so don't take it lightly. Milwaukee put their best foot forward and came up with an unforgettable heated jacket.
Probably the best battery performance on the list
Distributes heat evenly across entire jacket
7. RIDGID 18-Volt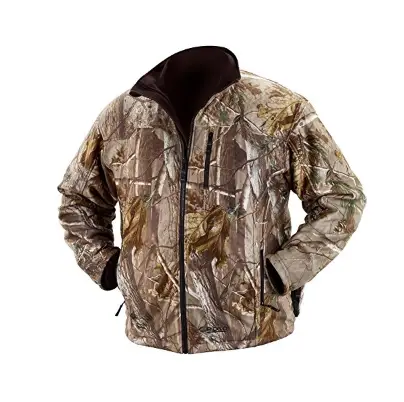 Built rugged, this is the heated jacket that a lot of seasoned outdoorsmen turn to when they need
protection
. There is some limited functionality here and there, but it's hard to find a jacket that is tougher.
Expand to see more
Will Last For Years
The weight is perfect, and with that balance comes a ruggedness that can be likened to a high end
camo jacket
. You won't have to worry about replacing this model anytime soon due to rips or tears.
Features and Specifications
Comes in extra large
1 year limited warranty
Price/Value
This is the first jacket on the list to come in at an average to high price. Determining the value is up to customers since there is only one size to judge it from.
Decision Time
Using a universal extra-large size isn't the most conventional thing to do with a heated jacket. But finding a jacket tougher than this one is hard, and that is what makes it special.
Tough against the elements and resistant to tears
Light and comfortable
Battery and charger not included
8. PROsmart HJ-27-50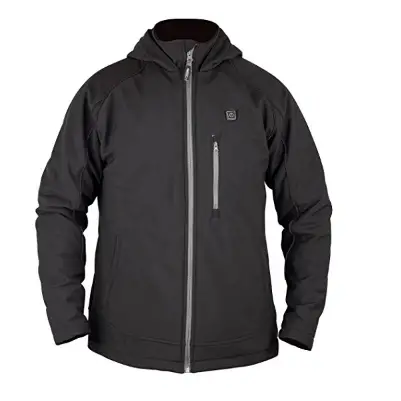 Portable and friendly, this PROsmart branded heated jacket is a nice alternative than the bigger brands. Using a smaller battery has its benefits, and will greatly affect how many people decide on this purchase.


Expand to see more
Use A Standard 12v Battery
The battery is a bit smaller than the others on the list and adds virtually no weight to the jacket. On top of that it charges quickly and lasts longer than expected.
Features and Specifications
Battery lasts 12 hours
Jacket is machine washable
Price/Value
The value is great for this low priced jacket that has an insane battery run time. Buyers on the go will find the long lasting battery a lifesaver on time sensitive trips.
Decision Time
It doesn't have the extra bells and whistles of the other jackets, but this PROsmart model gets the job done. You'll get everything needed to be
warm and safe
during extreme conditions.
One of the longest lasting heat times in the industry
Soft and comfortable jacket
9. Bosch PSJ120XXL-102-RT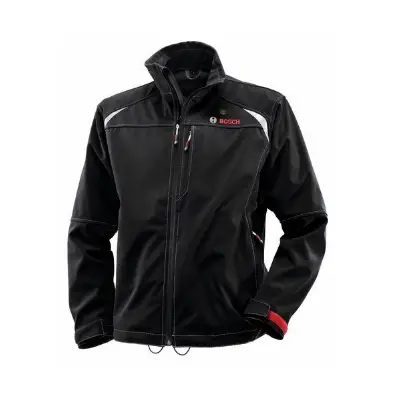 And following DeWalt is another big brand name in the tool industry, Bosch with their PSJ120XXL-102-RT. The same benefits of other heated jackets are in this one, with a little extra options thrown in to spice things up.


Expand to see more
More Concentrated Heating Zones
The usual three core heating zones are available in this jacket, but are better equipped to provide heat. You'll get maximum heat with no wasted energy for all sizes.
Features and Specifications
Adjustable heat levels
Reflective strips
Price/Value
Available for an average price, this is a very
comfortable choice
if you're looking for a heated jacket. There is good value if you don't need a jacket with a strong charging port.
Decision Time
Bosch hits the usual home run with their jacket, and it lands firmly on the list. Buyers won't be disappointed if this is their first choice.
Five roomy storage pockets
USB devices can be charged through the jacket
Will have trouble charging devices with high capacity batteries
10. DEWALT DCHJ064C1-L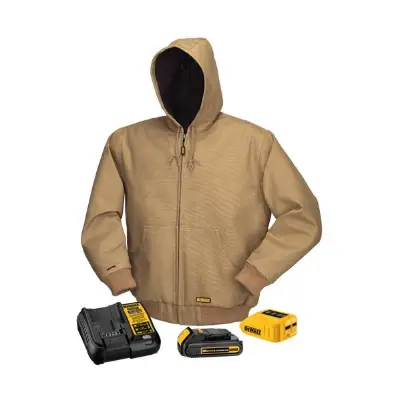 Anyone familiar with DeWalt tools will know just how big of a brand name they are. The DCHJ064C1-L is a prime example of quality at its finest, and will be a solid choice for most users.


Expand to see more
Battery Compatibility

If you already own DeWalt products then you can use the 12v or 20v battery packs to power this jacket. That saves a lot of money and pushes customers further into the comfort zone of DeWalt.

Features and Specifications

USB input for charging devices
Three temperature settings

Price/Value

All sizes run about average price when compared to the rest of the industry. The best value will be for owners of current DeWalt products.

Decision Time

One of the hottest names in the industry has created a great heated jacket. It'll keep you warm in cold areas and comfortable in others.
LED controller provides clear operation
3 Heating zones
How To Make The Best Decision When Choosing A Heated Jacket
Always check and make sure that the jacket comes with a battery and a way to charge it. Not all of the heated jackets on the list come with power already included, and may require a separate purchase. And make sure to pay attention to the size charts included, with the priority to always go bigger rather than smaller if given a choice between the two.
FAQ
Are The Batteries High Quality?
The heated jackets on this list use rechargeable batteries that are made to last hours. On top of that many of them can even charge up your portable devices while also heating up the jacket itself.
Is There A Danger Of Electrocution?
The jackets won't electrocute you because the companies take great care in how they are built. Even if you accidentally rip the jacket, there is very little chance it will pose any real danger.
Can It Charge My Tablet?
Yes and no. The heated jackets that can charge portable devices are not meant for high capacity devices. Think more along the lines of a cell phone, and even in that case, not the ones with high capacity batteries. They will provide some juice to high capacity batteries of those devices, but the resulting effort will drain the battery in the jacket.