Best Heated Jackets Reviewed & Rated for Quality and Use
Regular jackets keep you warm, but heated jackets take that extra step. When you're mountain climbing or in harsh conditions, a heated jacket can keep you from having to carry on more bulk than necessary to keep warm. And as an added benefit most of them can charge portable products. But you may be asking yourself: "do I really need one, because let's face it they're a bit pricey and depending on the product we're not talking about days worth of heat, we're talking about a few hours." You go you contrarian, we love you, so let's break it down.
Featured Recommendations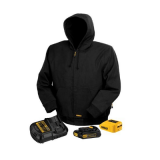 DEWALT DCHJ061C1-S

Our rating
Fast Preheating
Price:

See Here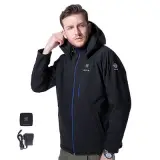 ORORO Heated Jacket

Our rating
Detachable Hood
Price:

See Here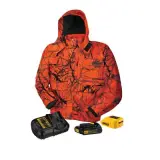 DEWALT DCHJ063C1-L

Our rating
Nice Heat Coverage
Price:

See Here

Yeah sure a really well made jacket is going to keep you plenty warm, but let's talk about energy conservation just for a second. No matter how great the jacket it's not providing any real warmth, it's just keeping your own body heat from disappearing into the cold. A heated jacket will give your body a break, and will stop you from having to divert blood to your core to maintain a basic body temperature. And anyone who has spent a lot of time outdoors knows how huge an energy suck it is to be stuck outside working in the cold, when… you're cold. Heated jackets let your body work on doing what it needs to do and let s the jacket work on maintaining a basic body temperature. This is a pretty big deal. Also, if you're working outdoors wearing the layers necessary to keep warm can make it hard to get work done, a heated jacket lets you lose at least one layer. This is also a huge body energy saver, as you don't have to move like you're in a space suit. And one other thing, if you're out in the wild and in trouble, in some cases you can use your battery pack to charge a device, and that could literally be a life saver.
The market is fairly saturated but when it comes to heated jackets DeWalt is going to be the biggest name on the list and the one you see the most of. The advantage to purchasing a heated jacket from the company will be based largely on whether you own other DeWalt tools. The jacket uses the same battery packs so it is a no-brainer purchase for owners of their products.
The obvious caution here is to never clean a heated jacket with the electronic components still in it. Following the care instructions included, remove all electronic components and clean as necessary. A bulk of the jackets are machine washable and can be placed with other clothes.
10 Best Heated Jackets
1. DEWALT DCHJ061C1-S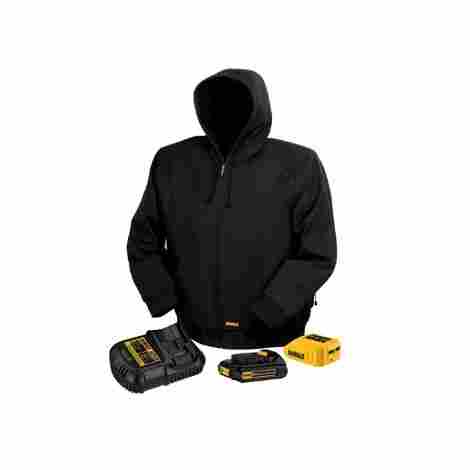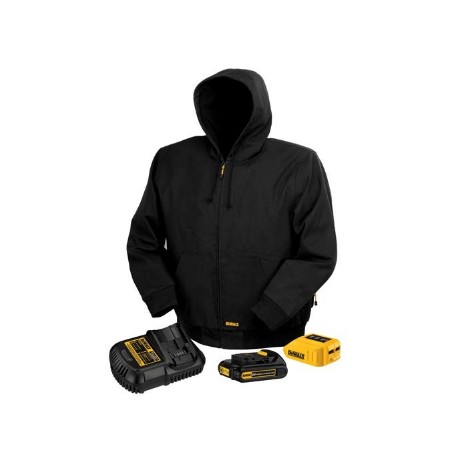 And of course at the top of the list is the DCHJ061C1-S, arguably the best jacket from DeWalt. Blending all of the best features of the other jackets into one, this is an all-around favorite of customers worldwide.


Expand to see more
Fastest Preheating On The List

It takes less than a minute to get to the highest temperature which is great when you're on the go. It's also handy if you need to quickly go outside for short bursts of time.

Features and Specifications

Available in 6 different sizes
Water resistant twill outer shell

Price/Value

Based on size, the price floats from low to high. Buyers that want the best DeWalt has to offer will instantly get value from this purchase.

Decision Time

The best on the list shouldn't be a surprise to anyone that follows the industry closely. This is a jacket that won't let you down and is easy to operate.
Can use compatible DeWalt Battery packs
3 different temperature settings
Can do a great job keeping you warm.
Offers great value and usability.
2. ORORO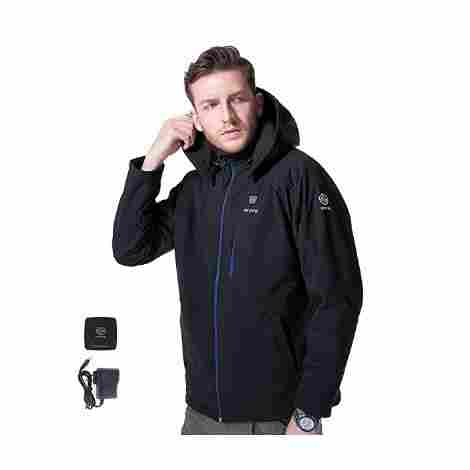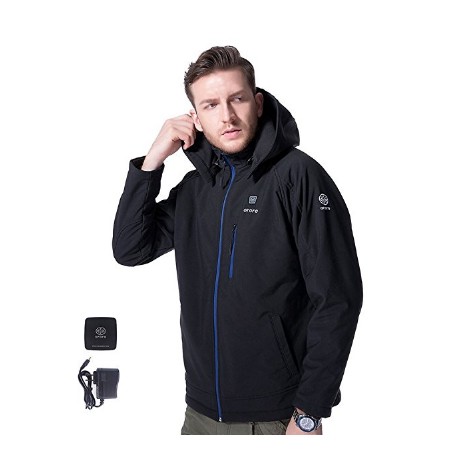 Rounding out the end of the list in the number 2 spot is a heated jacket from Ororo. A small detail is what rockets this so high on the list, and for many potential buyers that details make a big difference.


Expand to see more
Detachable Hood

This makes the jacket, even though it seems like a small detail. Besides getting rid of unnecessary bulk when you don't need it, there is also the advantage of cleaning it separately.

Features and Specifications

4v 4400 mAh battery and charger
4 Temperature levels

Price/Value

The price is average across the board for all sizes, so no worries about one of the best being high priced. And with the detachable hood, there is even incentive to purchase more than one for the cool mixing and matching styles.

Decision Time

With a really cool core feature, there will be a lot of buyers lining up to purchase this for the cold weather. The price is right, and it introduces a new kind of heated jacket style.
Battery lasts eight hours
Great placement of separate chest warming zones
The detachable hood is a great added feature.
Offers 4 different temperature levels.
The zipper is on the left side
3. DEWALT DCHJ063C1-L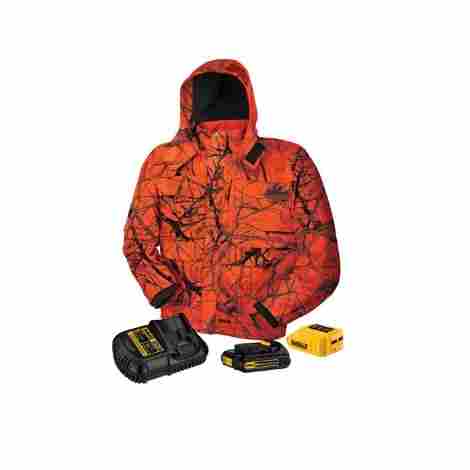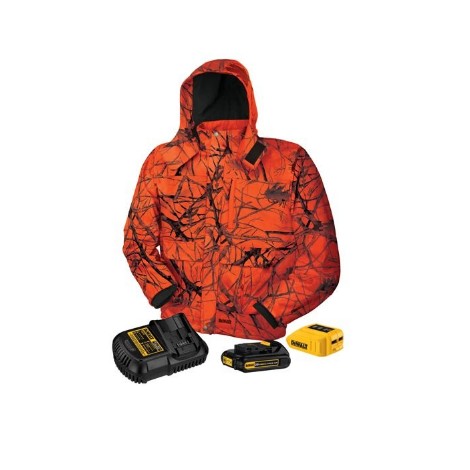 It's impossible to get rid of DeWalt as they once again gain a spot, and this time it gets really interesting. With some minor changes here and there, this heated jacket may be a huge value for budget-conscious consumers.


Expand to see more
Nice Heat Coverage

With the four heating zones built into the jacket, customers will have plenty of warmth coverage. The zones are well placed and cover the entire jacket.

Features and Specifications

Preheat function with 3 temperature settings
7 pockets total

Price/Value

The price starts low and goes to high depending on the size. But from the sizes small to X-Large, this is the lowest priced DeWalt heating jacket on the list.

Decision Time

There is a very little fault to find in anything from such a great company, as DeWalt proves again why it's an industry leader. Consumers will not regret this or any purchase from a brand of this quality.
Price
Water-resistant outer shell
Does a great job keeping consumers warm.
Offers over 7 different spacious pockets.
Charging ports are average
4. Knap Cordless Heated Jacket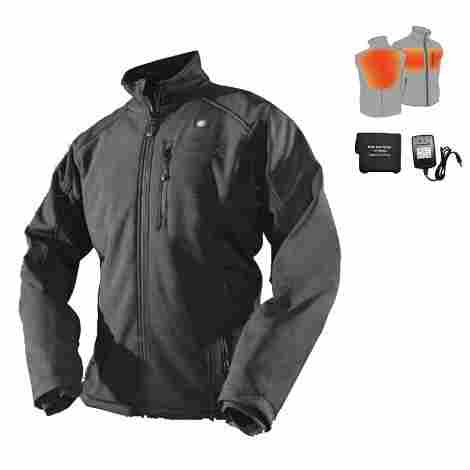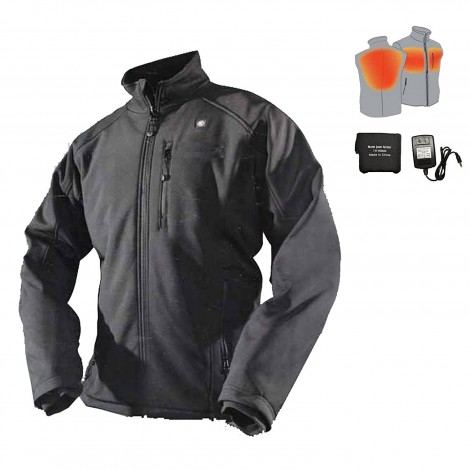 Some of the best features of this jacket have more to do with the safety precautions built in. Knap made all sizes balanced so that there is less guessing about which one fits best.


Expand to see more
Great Temperature Control

Very few jackets can regulate temperature better than this model, powered by a 4400 mAh 7.4v lithium battery. It heats up fast and is well insulated even in harsh weather.

Features and Specifications

Waterproof and windproof
Three heating zones including front and back

Price/Value

As one of the lowest priced heated jackets on the list, a lot of heads will be turned just on price alone. There is also a lot of value in the way they handled their sizing system, which is very customer friendly.

Decision Time

Seeing this jacket so close to the top of the list is no surprise thanks to some good features. Buyers will have a fun time using this in all weather conditions.
Easy to use temperature settings
Fits a good variety of sizes
Can help warm up a consumer very quickly.
Offers some of the best value on today's list.
Coat materials are average
5. DEWALT DCHJ062C1 20V/12V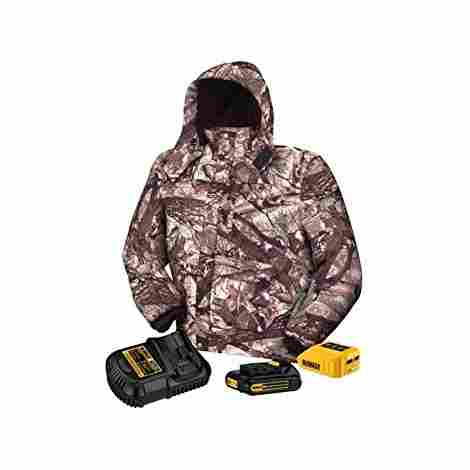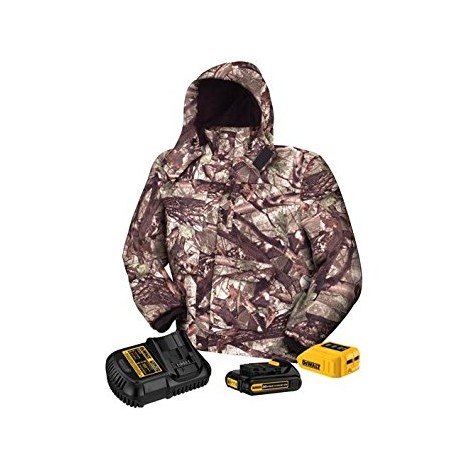 DeWalt makes the list again, this time for the DCHJ062C1-XL. It's one of the more formidable heated jackets in their lineup and lives up to expectations.


Expand to see more
Great Size Selection
Available sizes are 3x-Large, XX-Large, X-Large, Large, Medium and Small. They all fit reasonably well
regardless of gender
.
Features and Specifications
4 Heating Zones
3 Temperature settings
Price/Value
Depending on which size you get, the price will be between average and high. Considering there are multiple ports for charging devices, this is a tremendous value.
Decision Time
There is a lot of power in this jacket and more than enough to power itself and whatever portable devices you have. For a great pick that has a lot of juice, buyers will find this an appropriate option.
Preheat option available with the controls
Outer shell is water resistant
Large selection of sizes for all consumers.
Stylish design to match outdoor needs.
7 included pockets are not as deep as others
6. Milwaukee KIT M12 12V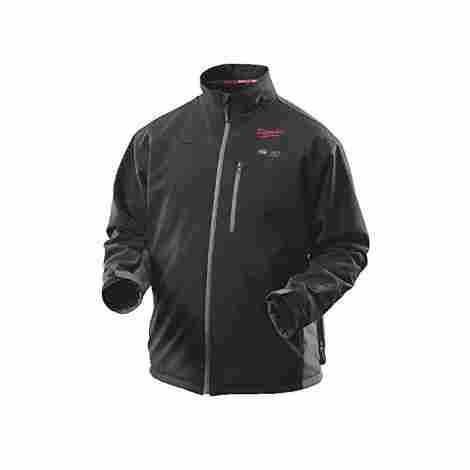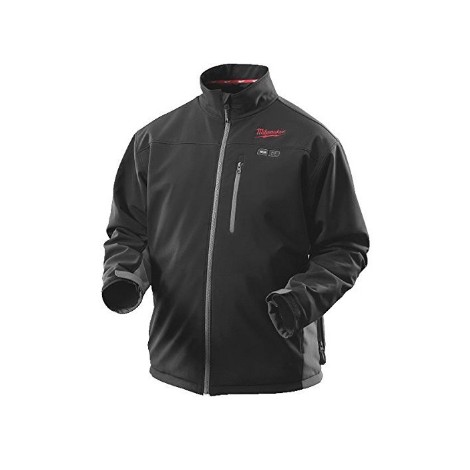 Milwaukee went the extra mile to ensure that their heated jacket had all the tools necessary to be one of the best. It started with a proprietary heating system and ended with a sleek sporty look.


Expand to see more
An Incredible Battery

Using their own in-house M12 red lithium battery, Milwaukee can measure its performance against some of the best on the list. It's long lasting and charges fast so you're not left without any juice.

Features and Specifications

Advanced 5 Carbon Fiber technology
Available in X-Large, Large and 2x-Large

Price/Value

This is one of the most expensive jackets on the list, if not the most expensive period. Buyers will get their money's worth with the battery alone, which is truly revolutionary.

Decision Time

This could easily be a top three item on the list, so don't take it lightly. Milwaukee put their best foot forward and came up with an unforgettable heated jacket.
Probably the best battery performance on the list
Distributes heat evenly across entire jacket
Stylish and fashionable design
Can help keep a consumer warm quickly.
7. Smarkey Heated Jacket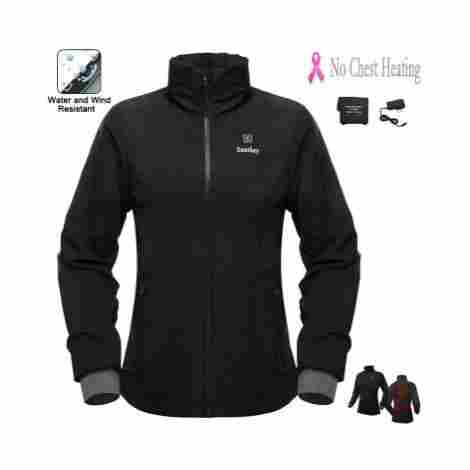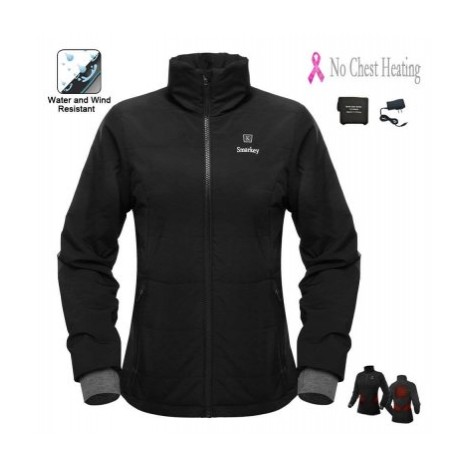 While we normally just put the best of the best on here without regard to gender we decided we needed to make an exception for this Smarkey jacket because it's designed specifically for women. What that means is that its designed to keep you warm everywhere but in the chest area. The heating areas are on the sides and the back. It's a nice thought, and it doesn't that it's designed with a slimmer fit for a woman's body.


Expand to see more
Slim Fir and Design
This jacket is deceiving it doesn't look bulky at all, it's really quite fetching, and the design means it's nearly impossible to tell that it's a heated jacket. That being said the jacket does run a bit small, so keep that in mind. Beyond that it's 100% polyester and completely waterproof, and washer safe.

Warming Zones
As we said this jackets warming zones are on the back and the waist not on the chest. For a woman this is a big deal. But that doesn't mean it won't keep you warm, it will.

Price/Value
This comes in at a good mid price. It's not cheap by any means but if style and comfort are what you're looking for this jacket is hard to bear.

Decision Time
This jacket looks great and keeps you plenty warm without and the warming zones on the back and waist ensure maximum comfort.
Tough against the elements and resistant to tears
Light and comfortable
Warming zones on back and waist
Great design for all outdoor needs.
8. PROsmart HJ-27-50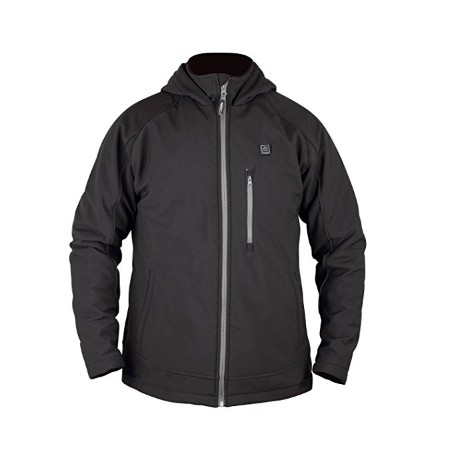 Portable and friendly, this PROsmart branded heated jacket is a nice alternative than the bigger brands. Using a smaller battery has its benefits, and will greatly affect how many people decide on this purchase.


Expand to see more
Use A Standard 12v Battery
The battery is a bit smaller than the others on the list and adds virtually no weight to the jacket. On top of that, it charges quickly and lasts longer than expected.
Features and Specifications
Battery lasts 12 hours
The jacket is machine washable
Price/Value
The value is great for this low priced jacket that has an insane battery run time. Buyers on the go will find the long-lasting battery a lifesaver on time-sensitive trips.
Decision Time
It doesn't have the extra bells and whistles of the other jackets, but this PROsmart model gets the job done. You'll get everything needed to be
warm and safe
during extreme conditions.
One of the longest lasting heat times in the industry
Soft and comfortable jacket
The jacket is made from lightweight materials.
Does a great job at helping consumers retain heat.
9. Bosch PSJ120XXL-102-RT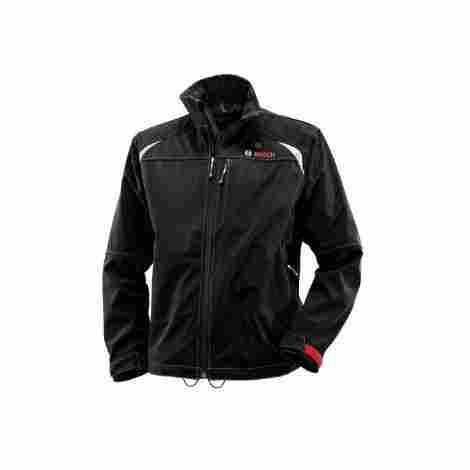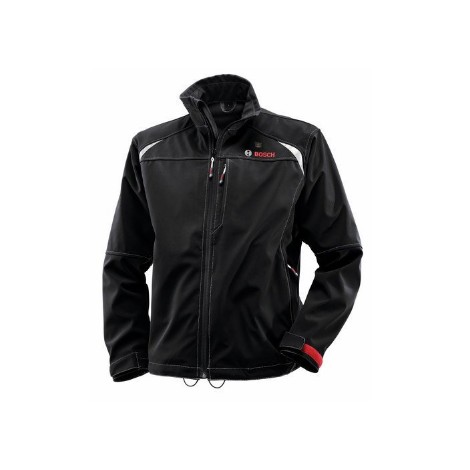 And following DeWalt is another big brand name in the tool industry, Bosch with their PSJ120XXL-102-RT. The same benefits of other heated jackets are in this one, with little extra options thrown in to spice things up.


Expand to see more
More Concentrated Heating Zones
The usual three core heating zones are available in this jacket but are better equipped to provide heat. You'll get maximum heat with no wasted energy for all sizes.
Features and Specifications
Adjustable heat levels
Reflective strips
Price/Value
Available for an average price, this is a very
comfortable choice
if you're looking for a heated jacket. There is good value if you don't need a jacket with a strong charging port.
Decision Time
Bosch hits the usual home run with their jacket, and it lands firmly on the list. Buyers won't be disappointed if this is their first choice.
Five roomy storage pockets
USB devices can be charged through the jacket
High-quality concentrated heating.
Comes built with reflective straps.
Will have trouble charging devices with high capacity batteries
10. VentureHeat Evolve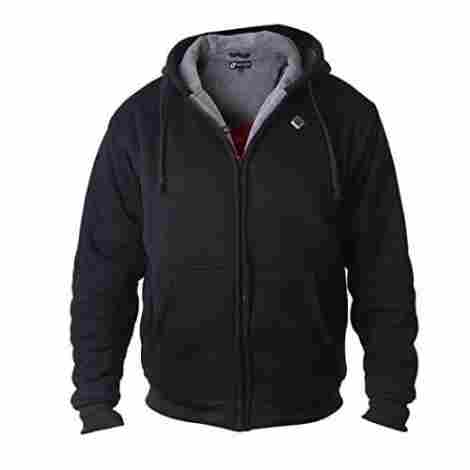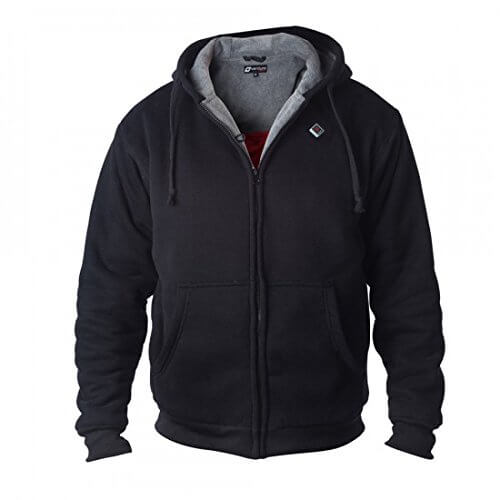 We've updated this list with the VentureHeat unisex hoodie even thought the batter pack is sold separately because we like the look of it and the fact that it works with all kinds of battery packs and we're not huge fans of proprietary technology. This has everything you want in a heated jacket and also looks cool.


Expand to see more
Battery Compatibility
This hoodie is meant to be compatible with most 2.1 amp power packs. No proprietary stuff here. Just plug and go outside and play.

Features and Specifications
Three heat settings, a cotton polyester shell and a fleece lining almost ensure toastiness, and like most of our other products it's fully machine washable.

Price/Value
The jacket itself is cheap, but it doesn't come with the power pack included. But you can but the pair and this jacket is still really quite reasonable. So don't let the fact the "batteries not included" thing deter you.

Decision Time
We like the VentureHeat jacket because it's got a cool urban hoodie look but does the job of keeping you warm with it's three heat settings and it's panels on the back and chest.
LED controller provides clear operation
3 Heating zones
This jacket can be used with different battery packs.
Can help keep consumers warm in any temperatures.
Battery Pack Not Included
Criteria Used to Evaluate Heated Jackets
How To Make The Best Decision When Choosing A Heated Jacket
Always check and make sure that the jacket comes with a battery and a way to charge it. Not all of the heated jackets on the list come with power already included and may require a separate purchase. And make sure to pay attention to the size charts included, with the priority to always go bigger rather than smaller if given a choice between the two.
Heat Source
For those times that you find yourself in a situation where your standard-issue winter jacket just won't cut it, a heated jacket becomes an ideal choice. Not to make things too easy though, heated jackets come with different methods of keeping you warm, depending on your needs. The two most common methods that you're going to come across are electric and chemical heat. Each has its own strengths and weaknesses, and these should be taken into account accordingly.
First, chemically heated jackets are going to be the most economical choice, as there is no hardware required. These jackets get their heat from thermal packs, much like the ones used as hand warmers, only larger. When agitated, these packs create a thermal reaction that then radiates heat throughout the jacket. These are ideal for shorter periods of exposure to the elements, as they do provide a significant amount of heat, but only for a limited time. Also, the coverage these packs provide isn't great. Most of the time, this type of heat is found with heavier coats as the second line of defense.
The next form is electric heating. This consists of a battery, either Lithium Ion or Nickel Cadmium, with a heating element attached to it to transfer the heat through the coat. These coats are quite more expensive, but provide greater amounts of controlled heat for as long as the battery holds out. These are perfect for prolonged exposure, and thanks to their effectiveness, can be used in lighter jackets that don't restrict movement as much. Despite their superior performance, many people still opt for chemical heat due to the fear of electrocution or fire. This is generally unfounded, as electric heating devices contain no live circuits.
Whatever method is chosen, the extra cost associated with heated jackets is more than made up for by the peace of mind they provide on the harshest winter conditions. The extra warmth created lets you spend more time outdoors doing whatever it is you want to do.
Price
Just like basic winter jackets vary in price depending on materials, so will heated jackets vary based on the methods and fabrics. As mentioned before, electric heat costs more but also does more. This extra cost is justified by the greater range of motion from the lighter, stretchier materials. Also, these materials tend to be very breathable, allowing some air circulation and preventing sweating. On the other hand, chemically heated coats are going to be bulkier and more constricting, but because the heat comes from thermal packs, no extra pieces are used, and the cost can be controlled a bit more. Keep in mind that you will likely need to purchase these packs at some point. However, they are generally pretty cheap, and very easy to come by.
Brand
Normally, I would never use the brand as a determining factor when choosing to clothe with the purpose of keeping you warm. I have also, however, also stated many times before that with clothing, you do usually get what you pay for. Because of this, I do consider the brand, leaning more toward a well-known, trusted company over a newer upstart. This can be tricky with heated jackets though, especially where electric heat is concerned since you're really looking at two products: the jacket and the heating element.
For chemically heated coats, you are pretty safe to go with almost any known brand, because there is no heating element. Just make sure to pick one that uses quality fabrics and take pride in solid construction, and you should be good to go.
Now, for electric heat, you are going to not only want to choose a very well built jacket, you also need to look at the brand of battery that they choose to incorporate into their product. Luckily, good quality batteries tend to go hand-in-hand with well-made coats, so if you find one, you should be set for the other. This is where I am the most discriminating. Going with an unknown brand could result in the coat not keeping you warm when needed, and that can be dangerous. Some of the most trusted brands here are Bosch, Dewalt, and Ororo. The first two are experienced battery makers, while Ororo is known as a solid all-around maker of winter gear.
Terminology
Thermal: Relating to heat, thermal as far as clothing goes refers to the method of retaining heat within a garment while keeping the cold air out.
Power bank: A power bank is a device that houses a Lithium Ion battery with a circuit to control power flow. They can be used as a recharge station. They store energy for an indefinite period of time until an electronic device is attached to it to be charged.
Stored heat: One method used in heated clothing. The process of retaining heat in the form of energy by not letting it transfer to other forms by way of insulation.
Chemical heated: A non-electric method of providing heat to a piece of clothing. In this case, heated jackets will contain several small pockets that allow the user to place self-heating packets in order to provide warmth for extended periods of time. The packets create heat through a chemical reaction that takes place once agitated.
Battery memory: An effect found in several types of batteries that cause them to hold a decreased charge. This usually takes place after constant recharging of the battery from a not fully depleted state.
Heating elements: A slender piece of wire usually comprised of Nichrome that transfers heat throughout its length. Nichrome is chosen because of its high resistance.
Heating zones: Specific spots found within a heated jacket where the heat is the most focused. These zones are centrally located to the rest of the body and are usually larger areas that are more prone to heat loss. In the case of jackets using chemical heat, these zones are where the pockets are located, while on electric heated jackets they are the site of the heating elements.
USB: Universal Serial Bus. An interface that allows personal electronic devices to be connected and recharged. For electrically heated clothing, this is the method of recharging the battery that provides heat. For those jackets that also contain a power bank, it is also the method by which devices are attached.
Radiant heat: A form of heating where the energy is transferred through infrared rays of heat and does not heat the surrounding air.
Heat controller: A way to control the amount of heat being radiated in order to conserve energy or prevent overheating. This is usually in the form of a dial or knob.
FAQ
Frequently Asked Questions
Q: Are The Batteries High Quality?
A: The heated jackets on this list use rechargeable batteries that are made to last hours. On top of that many of them can even charge up your portable devices while also heating up the jacket itself.
Q: Is There A Danger Of Electrocution?
A: The jackets won't electrocute you because the companies take great care in how they are built. Even if you accidentally rip the jacket, there is very little chance it will pose any real danger.
Q: Can It Charge My Tablet?
A: Yes and no. The heated jackets that can charge portable devices are not meant for high capacity devices. Think more along the lines of a cell phone, and even in that case, not the ones with high capacity batteries. They will provide some juice to high capacity batteries of those devices, but the resulting effort will drain the battery in the jacket.
Q: Where are the "heaters" located?

A: That depends on the type of heating device that is used. For chemically heated jackets, there are several pockets where the heat packs can be placed, generally covering larger areas of the torso. Electric heaters, however, consist of a battery pack, with a length of wire, known as the heating element, attached to it and running through the jacket. The battery is located in an easy to reach pocket, and may also have a heat control device located nearby.
Q: Do heated jackets need to be made from special fabrics?
A: In most cases, no. The heating elements are housed within the jacket and covered by protective materials that prevent them from doing any damage to the clothing.
Q: Can my heated jacket catch fire?
A: No. When designing heated jackets, a lot of care is put into ensuring that the garment will not catch fire. The heating elements are designed to not be conductive; no live current is present. Also, because it uses infrared heat and doesn't heat the air around it, the fabric is in no danger of igniting.
Q: Can I just add a heating element to my existing jacket?
A: In some cases yes, though it is best to use a jacket that was designated to be a heated garment. Adding a battery and heating element can cause a fire or shock hazard, while creating pockets for chemical heat packs can compromise the integrity of the coat, allowing in colder air as opposed to creating warmth.
Q: How long does the battery last?
A: Depending on the size of the battery, it can last for several hours before needing to be recharged. Some batteries will lose their capacity over time and repeated charging, so they will eventually have to be charged more frequently than a newer battery.
Q: Are heated jackets heavy?
A: A heating element added to a jacket won't inherently add much at all in the way of increased weight. The battery, heating element, and heat controller all are generally made from lightweight materials.
Q: Where is the battery kept?
A: The battery in a heated jacket is usually kept close by to allow for adjustments when needed. A common location for the battery is just inside the breast of the coat.
Q: Are heated jackets hard to wash?
A: A heated jacket is exactly as difficult to wash as a traditional winter coat: it all depends on the fabric. Heated jackets are made to have the heat source removed easily for maintenance and care.
Sources