Top 10 Khaki Pants Reviewed and Compared
In a
Hurry? Editors choice: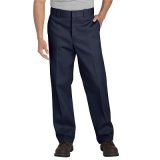 Test Winner: Dickies Original 874

The khaki pant. It's an immensely comfortable cotton twill set of trousers that for most people will become one of the indispensable parts of their wardrobe at some point in their life. These are the go-to pant for skaters, for blue-collar workers, to the office worker. There is no denying that a well-fitting pair is going to make you look good and make you feel good at the same time. But at this point the khaki has moved beyond the desert brown that defines them, instead, they are less about color and more about style and they've become basically a watchword for a comfortable set of cotton pants. Point is you need to get one of the best khakis for men from our list, that's why we've scoured the internet to get you the best of the best.
Standout Picks
Criteria Used for Evaluation
Fit
How pants fit will be the biggest issue when looking for ones that are right for you. This includes length and waist size. When looking at length, you want to make sure they fit on your ankles but do not have too much slack where they drag. In certain situations, the pants will have cuffs/ rolling. For taller people, this may make you look shorter. Although there are many different companies that make these, sizes may vary between them. This makes the fit expectancy an important factor. This entails how well customers expected them to fit with the company's guidelines.
While describing some of the selections in this buying guide, I touched on the difficulty in finding a pair that is true to fit. Regardless of how they are supposed to fit, they usually run either larger or small. This is largely dependent on where the pants are actually made. Every country has different sizing based on their predominant body shapes and sizes. A pair of medium pants made in North America is usually always going to be a lot larger than medium pants made in Asian countries.
Comfort
Comfort is another important factor, not just in the overall appeal of the pants, but much more specifically in fit as well. The trend over the past several years has been more form-fitting clothing, whereas, in the past, consumers tended to look for clothes that were looser and offered the wearer more mobility. The change to slimmer clothing does arguably look a lot more professional, accentuating body shape and looking much less sloppy and casual. One of the downsides to this, though, is that slim-fitting pants are a lot less forgiving when worn, and naturally favor more slender body styles. One way to get around this is to choose clothes made from stretchy materials, though since stretchy fabric tend to be synthetic, they aren't always very breathable. They can be quite unflattering as well.
Style
To maximize professionalism, another factor to look out for is the color. A golden wheat color is best for professional settings, but darker brown can be used in more casual settings. These days, khakis can have many colors including navy, grey, maroon, green, etc. Make sure the color matches the style you want to go for.
The style also includes the appearance. When I say appearance, I don't just mean how the pants look, I'm talking about how they make the wearer look. When people look at you, they are seeing past just how stylish your pants are. They are scrutinizing every aspect, from the fabric, stitching, and even the placement of pockets and buttons.
A bright side to the importance of appearance is that if a pair of pants is of uncompromised quality, and make the wearer look sharp when a brand becomes less important. This is very important because it gives more people access to higher-end clothing.
There are also many styles in which they can come in, including:
Relaxed Fit
This style has straight legs that are not very form-fitting. They are great for those with a busy lifestyle, going from one place to another with ease. The relaxed fit is adaptable to new places and situations and is a comfortable fit.
Pleated:
This style has an iron look without the actual work of ironing. Great for saving time.
Slimming
A style that has various slimming capabilities, such as a hidden expandable waist providing you with ease of fitting without straining or a wideband to assist in controlling your stomach.
Slim Fit Tapered
Relaxed fit and slim fit tapered are very similar to each other. However, the latter is a little more form-fitting.
Skinny:
Very form fitting style that compliments many body types.
Joggers
This style has an elastic waist and cuff. They also have somewhat tapered legs. People loved this style because they are casual, comfortable and match almost everything.
Bootcut
This style provides a somewhat more form fit than a pair in a relaxed style. But, they are not as tight as you would find in a skinny pant. The end of the pants has a slight flare with the upper portion of the leg are form-fitting.
Materials
The material of the pants is important because it affects a lot of other factors as well, including comfort and durability. Many are made from cotton, but unfortunately not all cotton is of the same quality. Some fabrics may also be made with a synthetic/cotton blend to add to its durability while making them more lightweight.
When looking at the material of the pants, you should also consider the quality of the zipper or button and also stitching. While rating in this category, we took all these factors into consideration and also included special features like stain-resistant, wrinkle-resistant, and rip-proof material.
Value
Let's face it, the price is going to number among the most important criteria on a pretty much any list. We live in a society that appreciates the value and needs to maximize that value in order to enjoy a comfortable lifestyle. In the case of khaki pants, the price is generally going to determine a specific cut or style of pants, and unfortunately, in some models, quality. None of the pants found in this guide sacrifice quality for cost, but there are so many different pairs out there that discretion is a critical element.
The more expensive and less cost-effective pair is going to be more formal or business-oriented choices. These are meant to hold up well for extended periods of time in both construction and appearance. They value elegance and class over comfort and versatility in order to give the impression of impeccable taste.
On the other side of the spectrum, the more affordable price pants are those meant for more casual affairs, though there are some high-end exceptions brand-wise. More and more, due to the versatility inherent in cost-effective, high-value clothing, pants suitable for work can also be found in this category. While made of lower-priced materials, these pants nonetheless need to be strong and functional enough to justify wearing them both to work and play.
In the end, though, the price is largely dictated by economics. Consumers are placing increasing importance on getting the most bang for the buck, do manufacturers need to evolve their products to meet all needs in order to secure an increasingly hard to come by sale.
10 Best Khaki Pants for Men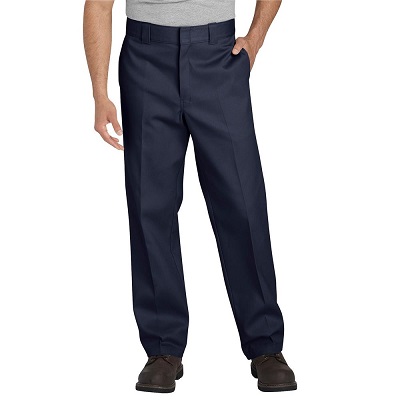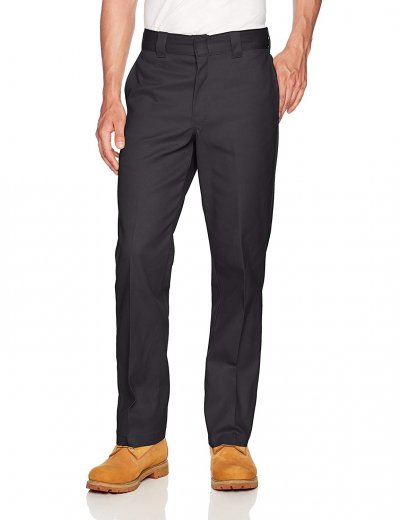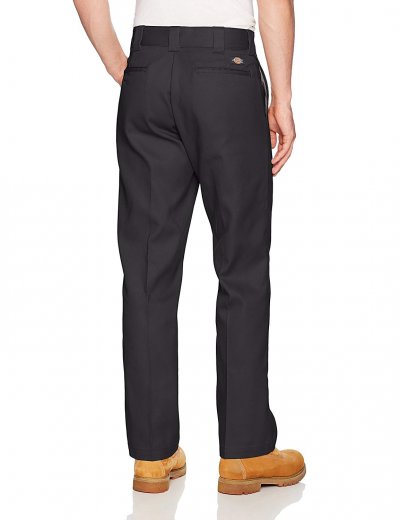 Dickies have been making pants for over 90 years and working pants for half of that time, so it's no wonder they made the top of our list. With a hook-eye closure, these pants were built to make buttoning easy and secure. The 874 work pant is a great fabric to help out everyday workers from scuffing or tearing their pants. Even though they are deemed "workers pants", the 874 is the classic style everyone looks for. That's the reason these are the best khaki work pants on our list.
Two-Piece Waistband
The two-piece waistband on the 874 Work Pant is great for that khaki high-rise look. Additionally, it provides exceptional support without a belt to fit well around your waist size.
Many Color Combinations
Dickies offer over 17 unique colors in the 874 style. From anywhere between the original khaki golden wheat color to a washed black, the 874 can accommodate any event both casual and business casual.
Cost and Value
Dickies offers an exceptional style at a low price. Without breaking a budget you can receive a comfortable, well fitted, classic work pant that fits well for any occasion.

2

. Calvin Klein Soft Wash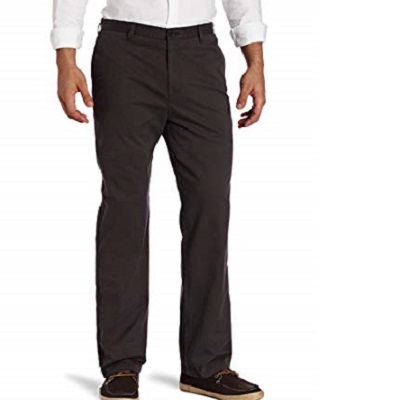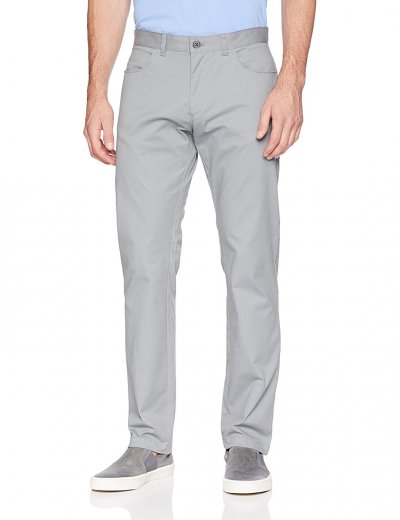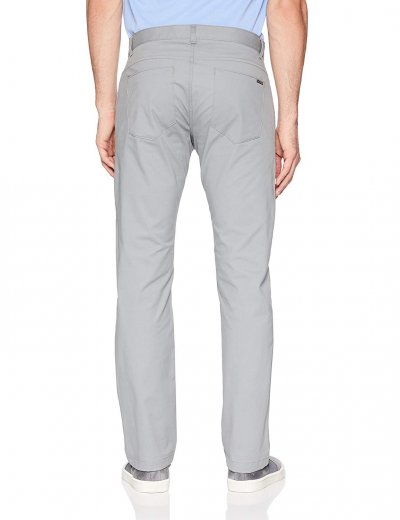 The Soft Wash Khaki by Calvin Klein offers a clean-cut look for business casual events. Pairing the pant with a polo and boating shoes can give you a stylish look outside the office as well. With colors ranging from dark to light (khaki, fatigue, black, and glacial tint), you can choose the right color for your next office event - making them the second best men's khakis.
Free Returns
Calvin Klein offers free returns on any size and color of the Soft Wash Khaki. Even though their fit expectancy is lower than we would like, their return policy makes it so you can get the right fit. This exceptional service secured them a spot on our top 15 list.
Imported 100% Cotton
Calvin Klein only uses the best material, so the Soft Wash Khaki's is no exception. With 100% cotton, they provide great long-lasting material that can best be used in the summertime.
Cost and Value
These are on the lower end of Calvin Klein products. Although it may vary with size, the Soft Wash Khaki's gives you a great long-lasting 100% cotton with a lifetime return policy.

3

. Dockers Classic Fit Signature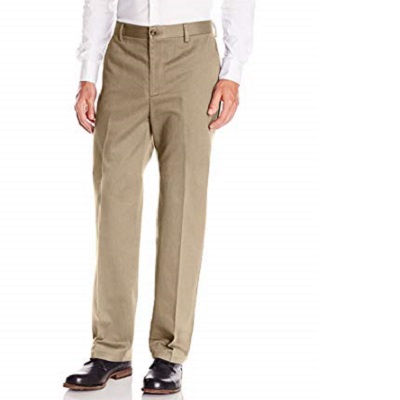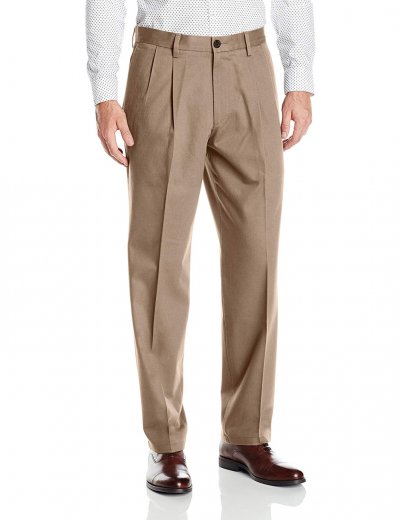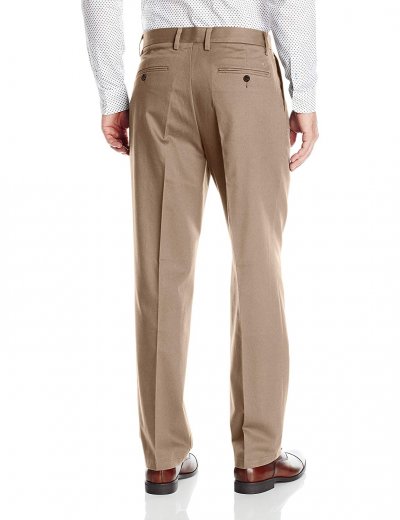 Dockers have been making best khaki pants for guys for many years and this is their best-in-class style. Designed for comfort, these pants are great for all-day casual wear. They give you a more dressy feel. They feature over 12 different unique color combinations for you to choose from.
Classic Stretch Fit
The Classic Fit Khakis by Dockers offers a design for easy hip and thigh fitting. These two features stretch to make you more comfortable throughout the day.
100% Cotton
While other brands may mix materials, Dockers pants give the classic 100% cotton material to their Classic Fit brand. This allows the pant to better control moisture while maintaining a durable fabric that can last you a long time.
Cost and Value
The Classic Fit Signature would be considered around the average price. Although they are about average, you gain exceptional value with its fabric and comfort found in the stretch fit while maintaining a sleek and classy look.

4

. Haggar Work To Weekend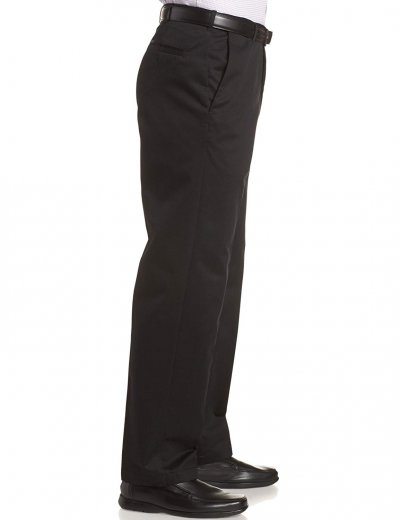 The Men's Work to Weekend by Haggar is a great choice for versatility. They were designed to give a polished and clean look for work while being a comfortable fit for the weekend. No matter the occasion, these can help span from casual to dressy attire. Haggar offers many different color combinations to fit your specific function and style.
Permanently Creased
Whether it has gone through the dryer, a long work week, or a holiday party, these pants are known to keep their creased shape for a classic and clean look. Because the pant is permanently creased, Haggar has also made them wrinkle-resistant giving you more time to get ready in the morning.
Hidden Waist Feature
These have an expandable waist feature that allows you to increase or decrease the waist size. This helps these pants fit better giving it a fit expectancy of around 80%. Additionally, this feature is hidden to the naked eye so that it can continue providing a classy look for you.
Cost and Value
Although this price may vary depending on size, a high-quality pant with a classy look is well worth the price. Not to mention its hidden waist feature and tons of colors to choose from, this design easily makes it on the top of our list.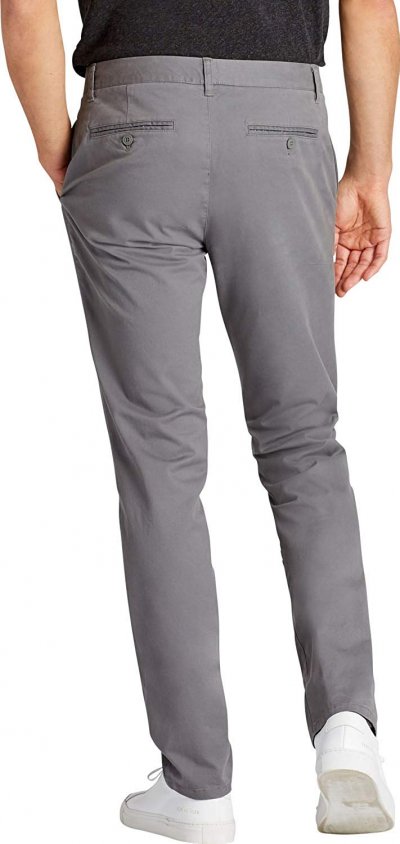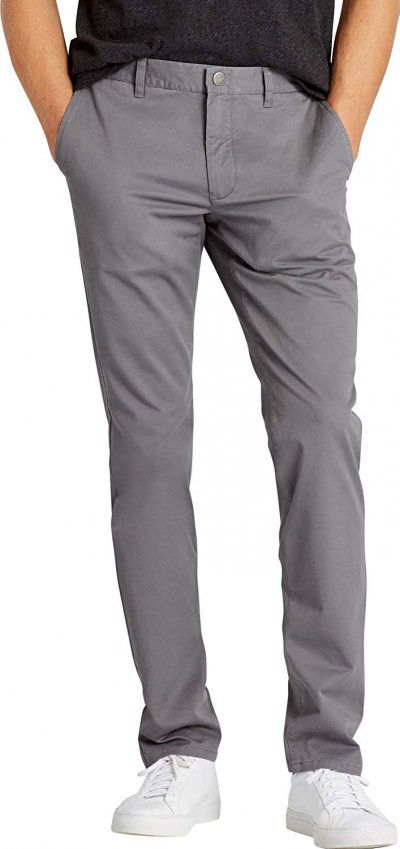 Bonobos are all about comfort and we respect that. These pants are made to be stretchy and comfortable but wearing them they conform to your hips and legs nicely so they look a lot tighter than they are but feel great. While these pants are almost all cotton, then they add a bit of elastane to make them springy and stretchy so you'll never feel uncomfortable when you're wearing them. Point is that Bonobos make comfortable khaki pants that look great but more importantly feel great.
Stretchy
These pants have a little bit of elastane sewn into them and that makes them look tight but feel great. Whether you spend the day on your feet or on your seat these pants will stretch just a bit to keep you feeling great and not too constricted in the knees or thighs or the rear end. Honestly, these pants feel a bit tight when you first put them on but they expand to fit and will quickly become the most comfortable pair of pants you own.
Easy Wash
When you've worn these for a day (or a week, no judgment) you can simply toss them in the washer and dryer and they're good to go. They're colorfast so they won't lose their color or their stretch and they won't wrinkle too much. It's cotton so make sure to shake them well and hang them up folded and when you need them they should be good to go.
Cost and Value
The price is what we like most about these pants. They're cheap they're comfortable they look great, they're machine washable. Honestly what's not to like. We predict that once you try a pair of these they'll slowly fill up your closet and become your first choice for work or business casual wear.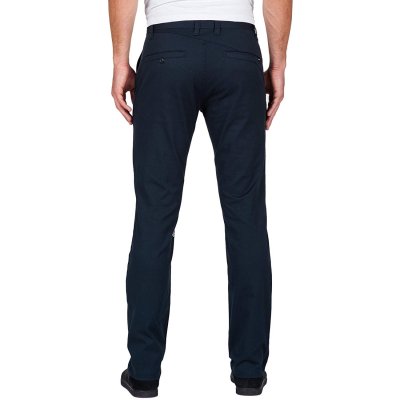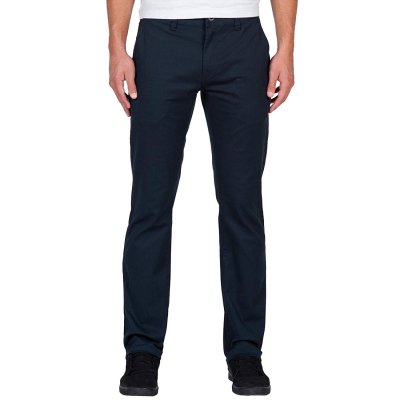 Another pair of pants that's big on functionality and big on ease of use and also big on comfort. This pair of pants is a cotton, polyester, elastane blend and that makes them less wrinkly than some of the pants on our list that have a lot more cotton in them but retains the comfort and look of cotton khakis. We love the way you can pull these out of the dryer and pop them on and go and look like a million bucks.
Cotton/Poly/Elastane Blend
We do like this mix of cotton and polyester and elastane for the same reasons we mentioned above. This is literally a wash/dry and go pair of pants. They will stand up to a number of washes and pop out of the dryer looking like new, and ready to wear. In this day and age that's a gift beyond measure.
Look Tight Feel Loose
We give the elastane all the credit for this unique element of these chinos. They hug your legs and body fetchingly but they don't feel tight. You'll never feel constricted by this pair of pants because they expand as you do. These pants make it easy to look good, and put together.
Cost and Value
Another great value on our list. We love that most comfortable khakis are also accessible and so easy to pay for and as always we predict that they'll begin to take up more and more space in your closet over time.

7

. Lee Total Freedom Relaxed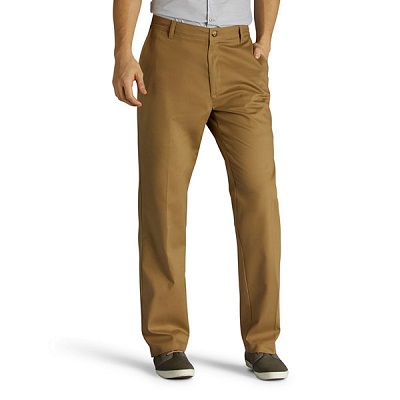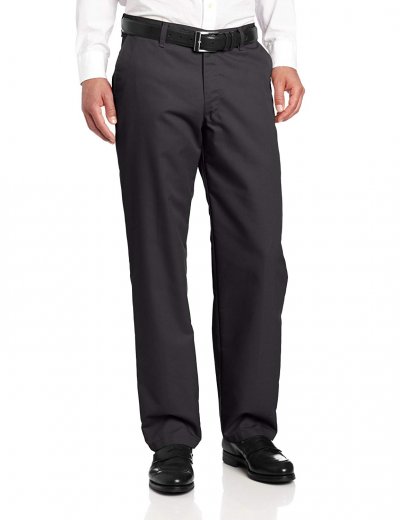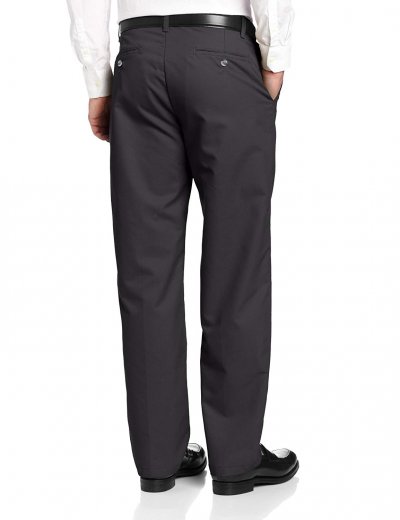 The Total Freedom Relaxed Classic Fit by Lee creates a perfect combination of both classy and comfortable. Their relaxed design was built with extra room around the thighs without being baggy. This makes it a great product for both work outings and casual events. Additionally, their products do not shrink in the wash helping keep their perfect hold for a long time.
Stain-Repellent
Made out of 75% Repreve Polyester, this design was made to be extremely stain-repellent. You do not have to continue worrying about messy work lunches or casual dinner party spills with this unique feature.
Flat-Iron Look
This unique model by Lee offers a flat iron front for a more casual design. Additionally, these khaki's comes with no ironing needed allowing you more time in the mornings.
Cost and Value
The Total Freedom Relaxed Classic Fit would be considered around the average price. Depending on the size, you still gain a flat iron, stain-repellent, comfortable and casual pant making it versatile for any event.

8

. Goodthreads 5-Pocket Chino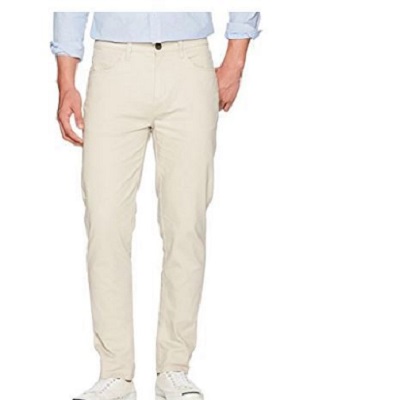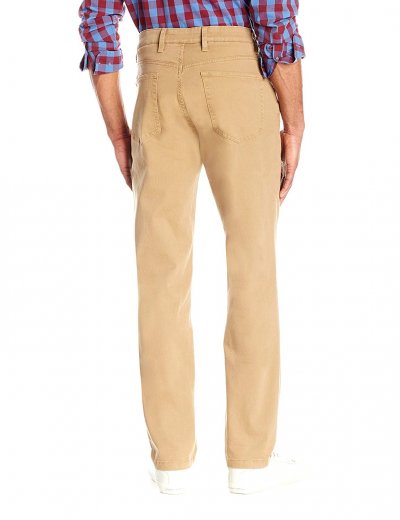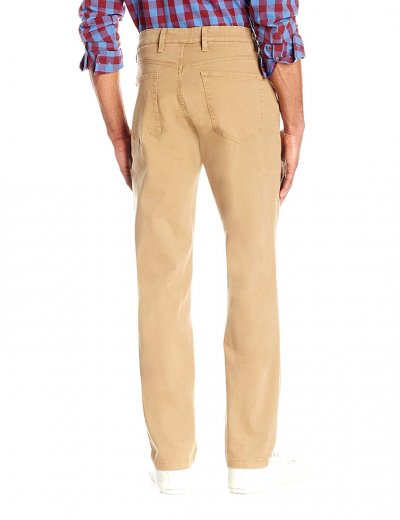 Good threads is a relatively new company that wants to make a name for themselves in a very crowded market. To do so, they design their clothes to the high standards of the most popular brands, yet price them very competitively. This blend of style and value will most certainly help catapult them to the top sooner than later.
Good fitting pants
Surprisingly, finding a pair of pants that fit is quite hard to find. Goodthreads are working to eliminate this issue by making pants that fit like they're supposed to.
Work or play
This is a nice, comfortable pair of pants that you could easily get away with wearing to work, or on a night out with friends on the weekend. It's this stylish versatility that separates them from the rest of the pack.
Cost and Value
These pants were created in the vein of more well-known brands such as J. Crew or the Banana Republic, and you would be hard-pressed to tell them apart given their high quality. For the price, you are getting a great pair of pants.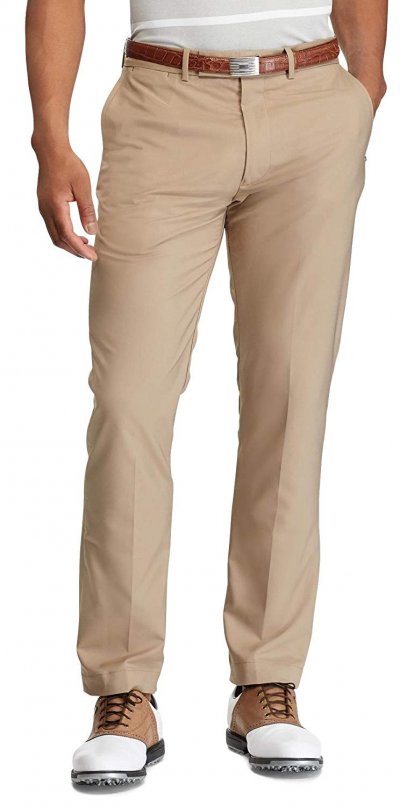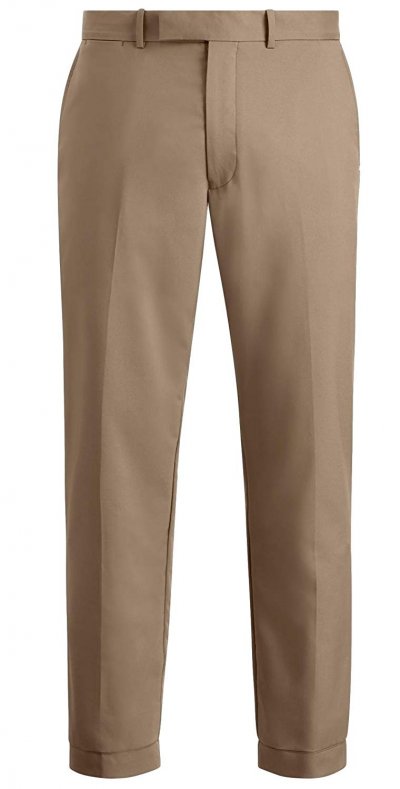 Now, this pair is a much more traditional style and look. It has the fold-over closure up top which gives these pants a bit more of a professional look. It's also a cotton blend so it will resist wrinkling and look much more like a traditional set.
Bottom Cuffs
Another element that adds to the classic look of these khakis the bottom cuffs are an element of khakis that you don't see as much anymore but we like the classic look.
French Fly
Makes room for a really nice belt, and maintains classic lines and looks. Again this is a pair of khakis for someone who works in a more traditional work environment that still requires formal office attire but is slowly loosening up.
Cost and Value
A bit more expensive because you're paying for the Polo brand but we were able to find some pairs of these pants for a great low price.

10

. Wrangler Authentic Classic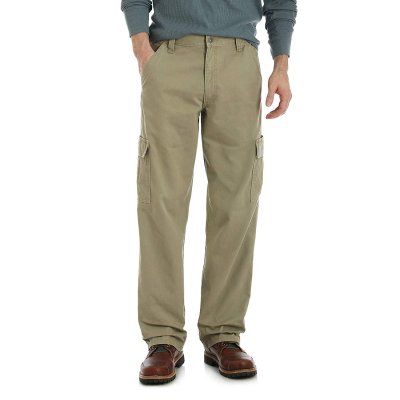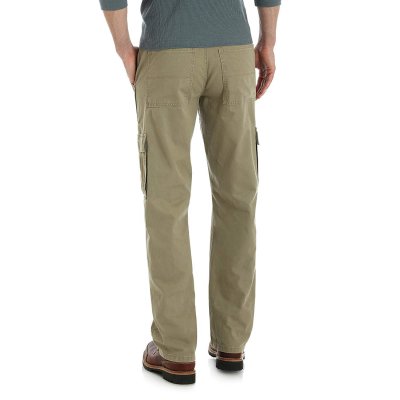 Wrangler has been creating fashion-forward denim jeans for over 70 years. With their previous knowledge, they have created a new, casual khaki for every-day use. Whether it's going out to the mall, a movie, or a quick dinner, these pants will provide exceptional comfort. it was designed with a relaxed side and contoured waistband to maximize comfort.
Extra Side Pockets
The Authentic Men's Classic Khaki by Wrangler offers a cargo style pant with two extra side pockets. This not only gives you more room for storage but contributes to the more casual design.
Relaxed Seat and Thighs
The relaxed seat and thighs was a design choice by Wrangler to give a more comfortable feel. The Authentic Men's Classic Khaki is a looser fit than other styles so it is not recommended for a business casual environment.
Cost and Value
The Authentic Men's Classic has a relatively low price. Although this varies with size, you still receive a great casual look with 100% cotton material and an exceptional fit.

Subscribe to our Newsletter