Best Waterproof Socks Reviewed & Rated for Performance
In a Hurry? Editors choice: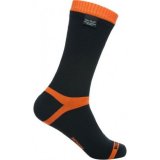 Test Winner: Dexshell Hytherm Pro

A force capable of leveling cities and carving out places like the Grand Canyon,
water
, is not an element to take lightly. And in no time at all, it can drastically and severely damage your feet. Aside from potential health risks to having feet that are wet and cold, it is extremely uncomfortable to walk around all day with damp feet. In an affront to nature, one of the best solutions to this troublesome but critically necessary element is a
waterproof
sock. From
fly fishing
to cold mountain
climbing
a good waterproof sock will keep your feet happy and dry during your outdoor escapades. Here's our list of the best.
Standout Picks
Criteria Used for Evaluation
Water Resistance
Aside from the obvious discomfort that comes from having wet and cold feet many health factors come into play from wet feet. Prolonged exposure to water can cause immersion foot which is tissue damage and if cold enough it can even cause hypothermia or frostbite in your extremities. Should you predict that you will come in contact with water for an extended period a waterproof sock would need to be able to keep your feet dry and do so the entire time you were using them. Additionally, they need to be comfortable and be able to breathe so that you didn't get a sense of swamp foot while using them. In order to pick waterproof socks that were able to protect you from water and cold weather, I chose those that were either hydrophobic or used a combination of layers and DWR coatings to resist the elements.
Many of us are in climates that aren't always ideal for the task we have to accomplish. Great waterproof socks will not only prevent the water from getting to your feet but will do it regardless of the temperature of the water. Socks that I selected used a variety of tactics to keep your feet warm from fabrics that retain heat to thermal linings and titanium adhesives. The most common area of concern when using any waterproof sock is the cuff. When water gets on your leg above the cuff of your sock it will slide down and end up in your sock. The porous layer then traps that water and nearly counteracts its intended purpose. This design flaw can occur on nearly any sock that doesn't actively combat it. While not every sock on this list has this feature, some of the socks use an elastic cuff that will work to keep water out of your sock.
Responsiveness
Time and time again I have purchased socks that would be waterproof for the first and maybe even second use but utterly falling by the wayside after that. Many of these socks used a combination of the three-layer system and a DWR coating that drastically reduces saturation on your socks. The DWR coating increases the contact angle and causes water to roll off the fabric. The lack of saturation and the porous membrane work in tandem to keep your socks waterproof for a substantial period of time.
To keep these socks as reliable as possible the most important step to take is proper maintenance. Many of these socks DWR coating can only withstand temperatures of up to 104 degrees Fahrenheit. Traditional dryers will exceed this temperature so air drying your socks is a must. Some washing machines with heated water can exceed this temperature as well and it is commonly recommended that you hand wash and air dry most waterproof socks. With the various number of different climates and personal weather preference, I tried to select waterproof socks that would be capable in cooler climates, warm climates or could do well in either. I selected both ankle and mid-calf designs so these socks could be worn with most outfits.
Breathability
It is very easy to end up with a pair of what seems like entirely rubberized socks that don't breathe and feel like something out of the Odyssey. These bulky nightmares generally don't fit and are more like rubber water shoes than a sock. In trying to prevent that from happening I selected products that used fabrics like nylon, elastane, and spandex that would stretch and conform to the shape of your feet without feeling constricting. While you could make a waterproof sock by simply throwing some repellent coating on a normal sock and technically it would be in the category, the best waterproof socks put comfort foremost. With comfort as the priority, many of the socks I selected used a cushioned sole that would let your feet sink into the padding and prevent any sliding or friction which can cause blisters and discomfort.
In researching the traits of many of these socks the same three-layer design was a reoccurring trait that seemed critical to the development of a truly waterproof sock. They were almost unilaterally comprised of a rugged or otherwise durable exterior layer, a porous interlining membrane, and a soft yet breathable inner lining that would be smooth to the touch. The exterior is meant to be capable of withstanding the impact from your movement on various different terrains and surfaces from urban to woodland. A porous membrane is almost always used in the interlining layer and this is where water droplets are stopped in their tracks. They are too large to pass through the billions of tiny porous holes however vapor and moisture from your feet can easily work its way through those holes and out of your sock. For user end comfort the inner lining fabric is generally very soft to the touch and in the better socks would use fabrics like Merino wool that adds warmth and heat retention. As this is nearly an industry standard I decided to choose to include a number of these three-layered waterproof socks.
Durability
A substantial amount of friction can be generated between your feet, shoes, and socks and many socks will struggle to withstand a day in and out grind of daily movement. With these waterproof socks the rugged exterior layer needed to be capable of enduring long-term use. With Materials like Nylon, and elastane which is used in many daily wear socks they are able to endure regular sliding and friction. With many of the socks intending to be used with demanding activities the socks I selected needed to be able to keep up with you. The use of materials like bamboo rayon, PTFE membranes and polyester are common amongst higher quality fabrics and are commonly more durable than other materials.
Features
No matter the product the small assurances that manufacturers make when producing a product go a long way in showing that they stand by the product they're producing. So if when any of the waterproof socks I select have a warranty or some type of replacement policy in place I consider giving them a higher ranking than other socks that don't feature a warranty.
Not specifically a requirement but any waterproof socks that included an additional item or carrying case or even second pair of socks was given some brownie points for even if slightly adding to the value of the purchase. This small gesture signals to me that the company took the time to consider the user when creating this product.
Best Waterproof Socks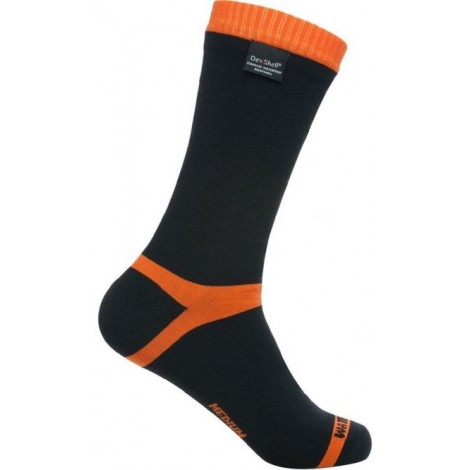 This remarkable product by Dexshell would be perfect for nearly any situation in which you would need a waterproof sock. This athletic mid-calf merino wool sock is the top choice for this list. This amazing sock is quite comfortable being nearly fully submerged and will keep your feet dry the entire time. The merino wool used in this sock has an astounding ability to react to your skin temperature and is able to maintain it for a substantial period of time. As a larger and thicker sock, this would be better suited for someone that was hiking through more challenging terrain than on an endurance run. The Dexshell Hytherm Pro uses a Porelle Membrane that will repel large water droplets but allow for the release of light moisture and vapor providing a waterproof sock that is breathable.
Porelle Membrane
The Porelle Membrane used in these socks is a microporous membrane that is based on polyurethane chemistry and formed with many interconnecting micropores. This membrane is hydrophobic and will prevent water from passing through it. The microstructure and polyurethane combination ensure that even after repeated washing or steam cleaning that these socks will remain as waterproof as the day they were purchased for some time to come.
Seamless Construction
With the constant walking day in and day out the smallest of grooves or even sock seams can cause blistering and extreme discomfort. This will surely lead to you walking much slower and spending much more time walking than you may have intended. The seamless design and cushioned bottom on these socks keep them comfortable and cause little to no discomfort.
Cost and Value
Getting down to the brass tax this waterproof sock by Dexshell does exactly what it was meant to do, keep your feet dry. The pore membrane, merino wool, and overall feel of quality craftsmanship place this solidly in the number one spot on this list. These socks will not only help to prevent an expensive doctors visit but save you the time of sitting around the fire drying your feet after a long days hike.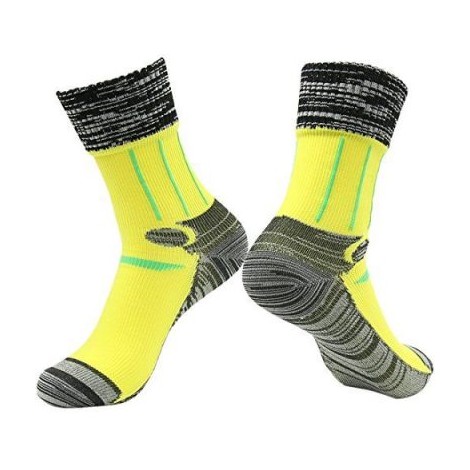 The Trekking sock by Randy Sun was a strong contender in this list and finished well in second. It is a smaller more forgiving waterproof sock that will conform to your foot and grabs onto your lower calf with a gentle but firm grasp. This pair of waterproof socks are perfect for walking, running, or even biking in areas where you may come across water more often. This pair of waterproof socks uses materials such as nylon, lycra, and elastane which breath freely and are comforting to the touch. The Trekking Sock uses the same three-layer design as other waterproof socks that prevent water from entering and moves sweat to the exterior layer.
Assorted Color Options
The way we dress can say a lot about us and everyone has their own unique style. The Trekking Socks by Randy Sun seemed to uniquely offer a much larger selection of color and pattern choices allowing you to find one that fits your unique style.
Slim Conforming Fit
Compared to most other waterproof socks Randy Sun doesn't disappoint when it comes to providing a slim fit that doesn't add any unnecessary weight or bulkiness to your foot. The elasticity is the perfect blend of compression and comfort.
Cost and Value
Not only will these socks keep your feet exceedingly dry but they will look good doing it. The ample color varieties and steadfast fit provide a feeling that will make this a sock you want to wear regularly. The antibacterial properties of the fabric used to make this sock are a wonderful added benefit that keeps your feet happy and healthy.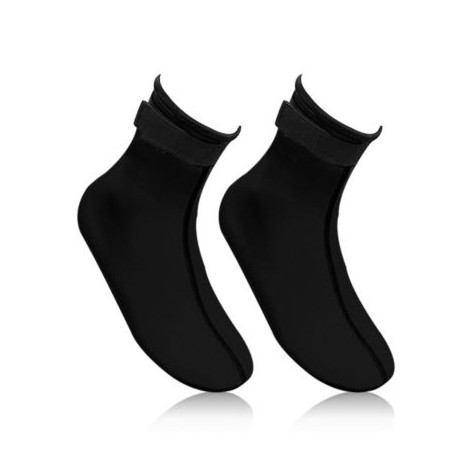 As the only non-waterproof sock on this list, it was meant to accept the water rather than prevent the water. Waterproof socks can feel swampy, and generally, require hand washing and air drying. This sock is intended more for extended incursions in the water where you may need a little extra grip and protection. It would make the perfect addition to any ocean or beach visit. These socks are made with a 3mm thick neoprene fabric and have straps that wrap around your ankle holding these socks firmly in place even under water.
Alternative Choice
This water sock is a refreshing and unique take on combating water on your foot. While much more suited to a beach setting many people use this as a stream hiking sock and are quite satisfied with the results. This sock is quick drying and can be machine washed.
Added Protection
Often times the horrors of the depths end up being nothing more than the debris littering the bottom of the water. This sock is perfect for walking in all kinds of water and will help to prevent any difficult to see sharp rocks or other objects from harming your feet.
Cost and Value
While failing one of the basic functions of this list it does so in a unique way that embraces the water rather than preventing it. As the cheapest sock on this list, it is definitely the most affordable. This sock is very limited to warmer or cooler temperatures but would be a good addition to a beach or summer outing.

4

. Dexshell Ultralite Bamboo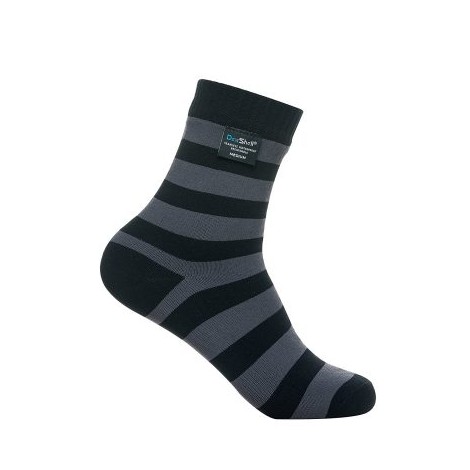 This sock is a great choice for nearly any activity and would easily accommodate you on a run or bike ride. With a name synonymous with the performance it should come as no surprise that Dexshell is behind this ankle-high waterproof socket. The use of bamboo rayon material on the interior of the sock provides a luxurious silk-like texture that allows the sock to slide on and off easily. Much like the Hytherm Pro, the Ultralite bamboo uses the same Porelle Membrane to keep water out and to pull moisture from your feet to the exterior layer.
Bamboo Rayon
Bamboo has been used for centuries for a great multitude of purposes and only recently has been processed in a way that allows it to be used in fabrics. The Fabric that is produced with bamboo is very durable and resistant to abrasion making socks made with this cellulosic fiber extremely resilient to wear and tear.
Windproof
With many of the activities that require a waterproof sock taking place in windy and colder areas, this is a welcome function to any pair of waterproof socks. The layering used in the design of these socks makes them naturally windproof and will keep your feet from a drafty cold wind feeling.
Cost and Value
As for the waterproof aspect, this sock is fully capable of preventing any water from entering your sock up to the top of the sock. If excessive water surrounds the area, naturally your feet will again be wet. This limits these socks to being used in more shallow areas of water. The use of bamboo rayon is a very unique addition to the fabric compositions that are generally featured in waterproof socks. This increases the durability and by extension the value of this pair of socks substantially.

5

. Showers Pass Crosspoint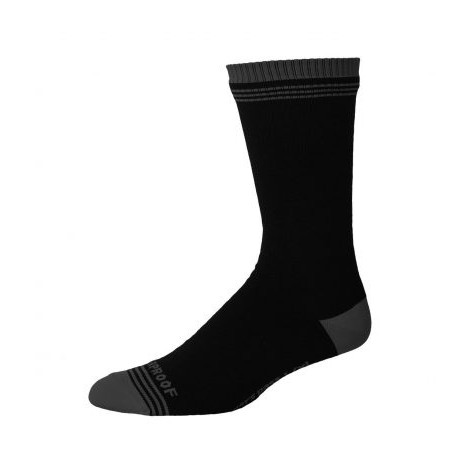 The Crosspoint waterproof sock by Showers Pass is a sure way to prevent wet feet from ruining your enjoyment outdoors. Much like many of the other waterproof socks to be featured, the Crosspoint uses the standard three-layer design. While these socks can be used for many activities it seems to be gifted in the biking, hiking and running related activities range. These socks use nylon, polyester, and spandex composite fabric and will adhere to the shape of your foot providing a snug fit that won't cause blistering. The three layers used are a knit exterior that is resistant to wear, an Artex waterproof interlining, and a CoolMax moisture wicking antibacterial interior.
Coolmax Interior Lining
Showers Pass uses an interior lining that is designed to wick moisture away from your feet and push them out towards the exterior lining. This helps to keep your feet dry even from to sweat that is produced by your feet. This interior lining is also antibacterial in nature this is generally done by adding silver nanoparticles to the fabric that kill bacteria associated with smelly feet.
DWR Coating
The exterior of the Crosspoint is coated in a DWR ( Durable Water Repellent) coating that is hydrophobic. This coating is very effective at preventing water saturation which is the first step in water seeping into your clothing. It does this by increasing the contact angle that is created when a water droplet touches the surface which causes it to bead and roll off rather than grasp the fabric and start to seep.
Cost and Value
With the use of the DWR coating water beads and rolls off of these socks and prevents most saturation. Should any saturation occur the interlining porous layer will prevent any water from passing. These socks are in the mid-price range on this list and considering the quality, it seems to be a better-valued buy.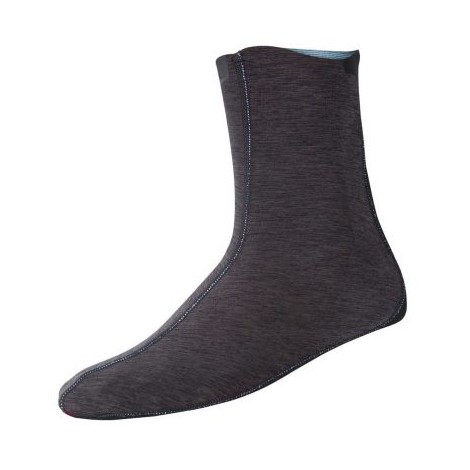 The Hydroskin sock is a strong contender and would be well suited for use on a boat or in many other situations. This sock, much like the Crosspoint, is treated with a DWR coating but is made with neoprene which makes these socks pliable. The Hydroskin uses a ThermalPlush interior lining that improves the insulation and helps to repel moisture.
Heat Retention
Generally, if the temperature is nice a little bit of water wouldn't be the end of the world, but when it's cold, that slight inconvenience becomes a major issue. Using a Titanium laminate adhesive in the production of these sucks provides the ability to retain your body heat even in colder temperatures.
ThermalPlush Lining
The interior lining used to make these socks is not only made to maintain your body temperature but is capable of drying very quickly. You will spend less time cleaning these socks than you will with other products.
Cost and Value
While these socks are waterproof they are only ankle high limiting them to being used in extremely shallow water. The heat retention and thermalplush lining is more of a unique set of features and are only offered in this pair of socks. In comparison to other socks on this list, these socks fall in the mid-price range but they don't quite compete with the others in that price area.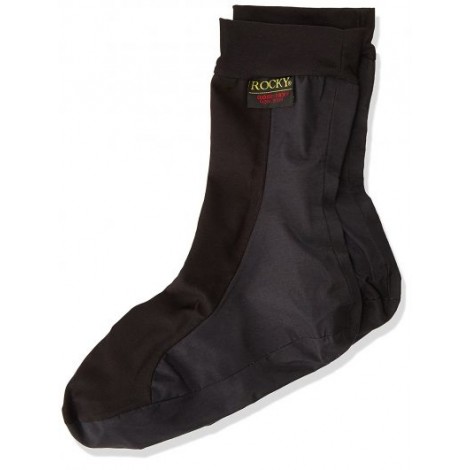 This two-tone and significantly larger waterproof sock uses a black and grey mix that can accompany nearly any outfit. They are lined with a GORE-tex interior lining that was developed to be breathable, lightweight, and waterproof. This lining is very similar to other three-layer designs where the interlining is a porous material to prevent any water from penetrating.
Abrasion Resistance
The exterior layer of these socks is made with a durable and abrasion resistant material that ensures you can use these socks for an extended period of time without worrying about fraying or ripping of the material.
Gore-Tex Lining
These socks by Rocky use a mixture of fabrics and waterproof components in their production. They use materials like nylon and PTFE ( polytetrafluoroethylene ) which is the porous layer that prevents water from passing but will allow sweat and moisture to escape.
Cost and Value
As a more basic requirement, the Gore-Tex socks by Rocky are undoubtedly waterproof. The tough outer lining and extreme resistance to abrasion do provide a sense of superior craftsmanship. When comparing them to other socks on this list they are quite a bit larger than most other pairs. This site doesn't seem to take from the comfort however and they could be worn throughout most of the day.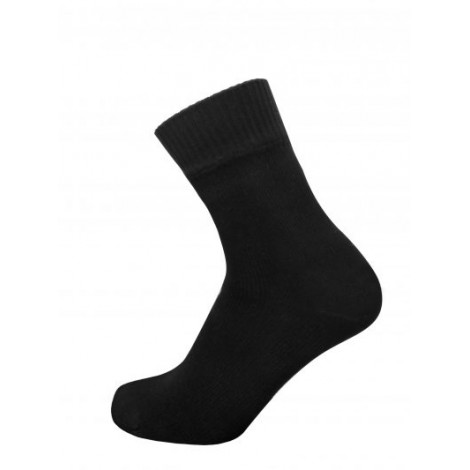 As a more athletically inclined waterproof sock the Always Outside waterproof sock would be ideal for nearly any strenuous activity and would be a great addition to any biking, hiking, boating, or walking adventure. These socks use a composition of Nylon, Lycra, Elastane, and Spandex that equates to a flexible, breathable, and waterproof solution to keep your feet dry and happy. The Always Outside sock uses nearly the same three-layered approach to ensuring your sock stays as dry as the day you bought it.
Activewear Design
This is one of a small selection of waterproof socks that are specifically geared toward use with strenuous physical activity like endurance running or triathlons. The breathable material and CoolMax inner lining will allow you to comfortably wear these socks all day and they won't feel much different than your standard daily sock.
Contoured Y Shaped Heel
This feature is usually added during the knitting of the sock and is a deeper heel pocket that makes the sock anatomically correct. This subtle addition helps to prevent your sock from riding down into your shoe or bunching up on the back of your heel.
Cost and Value
The way these socks sit on your feet make it very easy to forget you're even wearing a waterproof sock. The athletic design feels very natural during use and these socks aren't very rigid like many other waterproof socks tend to be. At a price point in the lower to mid range on this list compared to other socks, the value seems a little more on the bang for your buck side of things with these socks.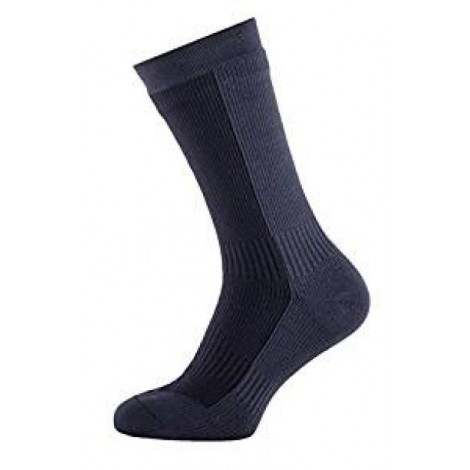 If you're a rugged live in the wilderness daily explorer type these socks will quickly become your most prized possession. Please note that no seals were harmed in the production of these socks. The outer layer of these socks is mostly nylon with a touch of elastane. The interlining material is a Hydrostop membrane that is waterproof and will keep your feet dry. The inner layer uses merino wool, polyester, elastane, nylon, and acrylic. When combined they create a fabric that can stretch easily but is durable and can withstand a good pull and the merino wool adds an unparalleled ability to retain heat.
Elastic Ankle Instep
With many socks, waterproof or not, the ankle area can often be too tight. This generally occurs as the fabric narrows slightly to conform around the natural shape of your ankle. These Sealskinz socks use an instep elastic band that gradually reduces and grabs your ankle and is quite comforting.
Fully Padded Bottom
Most other waterproof socks that I encountered while making this list were either partially cushioned or would only lightly cushion different areas of your heel. The Sealskinz waterproof sock cushions the entire bottom portion of the sock which prevents rubbing and blistering.
Cost and Value
As advertised the Sealskinz waterproof socks will keep your feet very dry throughout its use. It will do this on many occasions and is quite durable. These socks seem to be more aligned with regular and demanding usage and would be better suited to someone that needs them daily. The higher price point that was a key factor in its placement on this list as many other socks can perform the same task at a lower cost.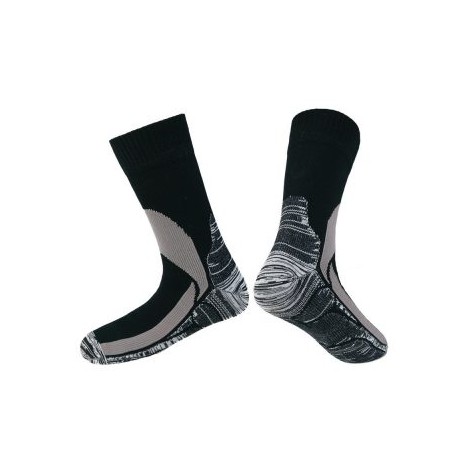 For any budget conscience person, these hiking socks are a great addition to your wardrobe without breaking your bank. These hiking socks are antibacterial, waterproof, windproof, absorb perspiration and breathable. As more of a boot sock with a higher cuff height, these socks are more suited toward colder and cooler climates and would be very effective against the snow. Like nearly all other waterproof and windproof socks on this list, Zealiyue uses the standard three-layer design to keep water away from your feet.
Moisture Wicking Fabric
Oftentimes waterproof socks do a wonderful job of keeping our socks free from outside water, but the material used can cause the moisture from your sweat to feel swampy and gross. These socks use fabric that wicks moisture from your feet and will keep them dry even from your own moisture.
Cold Weather Option
With countless activities taking place in very cold climates that will have frigid waters to contend there needed to be a sock that would rise to the task of enduring cold weather. Like many other socks on this list, these are mid-calf socks, however, unlike many other socks on this list, these socks are rather thick and would be ideal for a colder climate.
Cost and Value
-What is the utility of this product?
From skiing to snowboarding the thickness of these socks make them very well suited to colder or cool environments. The three-layer design is time-tested and proven to work and does so even against freezing waters. These socks are in the lower range when it comes to pricing and is easily affordable for nearly anyone.

Subscribe to our Newsletter