Best Mountain Biking Shoes Reviewed & Rated for Quality
In a Hurry? Editors choice: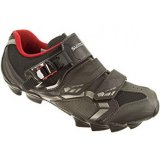 Test Winner: Shimano SH-M088

Some of us live for adrenaline. A pounding heart, burning veins, and racing mind are all we need to reach the pinnacle of excitement. Adrenaline junkies can always find their way to a thrill. Whether it is 
snowboarding
, rock climbing, whitewater rafting, cliff jumping or some other intense activity, they will find a way. However, there is one sport that stands out from the rest, and that is
mountain biking
. Riding alongside towering trees and off of makeshift jumps is sometimes the stuff of dreams. In order to enjoy this thrilling activity, however, you need the proper gear. And part of that is having the right footwear. Not only do they protect your feet, but they can enhance performance as well. In this guide, you will find a list of the top 10 mountain biking shoes that we found.
Standout Picks
Criteria Used for Evaluation
Durability
As you might have guessed it is crucial for athletic footwear to be durable. These styles are constantly put to the test out on the field. You may be able to get away with having casual designs that are only brought out for the occasional outing. However, when you're out on the trail, you need to know that your footwear will stand up to the challenge. There are a couple of different topics we took into account when thinking about durability. Of course, this is specific to these styles, so definitely keep these two pieces of criteria in mind when you're on the search!
Waterproofing
It is essential that moisture will not make your feet susceptible to blisters. On top of this, footwear that is not at least partially waterproofed will wear out quickly. When you're out riding across muddy terrain you'll be putting your cycling sneakers through the ultimate test. They're in serious danger of water damage if they can't hold up.
Craftsmanship
The overall make of the design is hugely important, as well. Manufacturers have different reputations for quality. Look for great reviews, as well as customer testimonials. You want to see people writing at least a paragraph about their experience, whether good or bad. Also, make sure you look at the materials used in creating the style. Some materials are definitely better than others! For more on materials, and which ones to watch out for, keep reading.
Materials
As we mentioned above, materials are a large part of what makes a style successful. The material will determine many factors, such as ease of usage. They also help decide breathability, and sustainability, among other important criteria.
Synthetic leather
This is probably one of the best materials to look for. Synthetic leather is fairly water-resistant and is a much more ethical choice for leather. Whether you're choosing it for its durability, or out of your love of animals, this is a contender in the test of "best of".
Suede
Unfortunately, suede looks better than it is. Sure, it adds a stylish twist on an otherwise stereotypical style that can be too rugged for some. But when it comes to usability suede is fairly bad at resisting damage. It scuffs easily, and it won't hold up against moisture.
Nylon
If you're on the market for a hardy, stiff material that is great on tough terrain, then this is it! Some soles are made of a nylon fiberglass blend which prevents excess bending. This means more support when you need it most. It's also a great choice for durability overall.
Mesh
Nobody wants to deal with a soggy sock. It's uncomfortable, weakens your skin, and creates a breeding ground for blisters and bacteria. Being stinky is especially a worry in athletic footwear because of the duration of wear as well as the intensity of activity. Mesh will allow your feet to breathe easy, and give you a more comfortable experience overall.
Comfort
Some pairs might pinch due to excessive tightness. You want to look for a style that won't be too narrow for your foot. Unfortunately, due to the nature of these styles, most of them do run a little narrow. We suggest trying a model that is crafted more like a sneaker since they're friendlier for wide feet.
On the other side of the coin, overall tightness means quite a bit to functionality. While a style that is too tight can cause pinching, a style that is too loose won't provide enough support. Having too much wiggle room can lead to rubbing, which can cause raw spots after a long day of cycling. Look to see whether a style runs small or large, and then work from there.
This is also important for a reason you may not have thought of: socks. If you're riding in cold weather you want a thicker, wool-based sock on your foot to protect you from the cold. If a style is too tight you'll have a hard time squeezing in with a thick pair.
Fit
Think about your feet, their shape, and which silhouette would be comfortable for you. There is such a wide variety of styles available that it should be a breeze to determine which fit is right for you. There are a number of things that go into figuring out the fit. We aren't just talking about how the style fits the curves of your feet, either. Some things to take into account while thinking about fit are as follows:
- Room in the toebox
- Heel-to-toe drop
- Cushioning
- Whether a material is stretchy
- Do you have wide feet or flat feet?
If you follow these steps and keep all of this information in mind you'll find the right style in no time. It just takes a little thought and a lot of patience.
10 Best Mountain Biking Shoes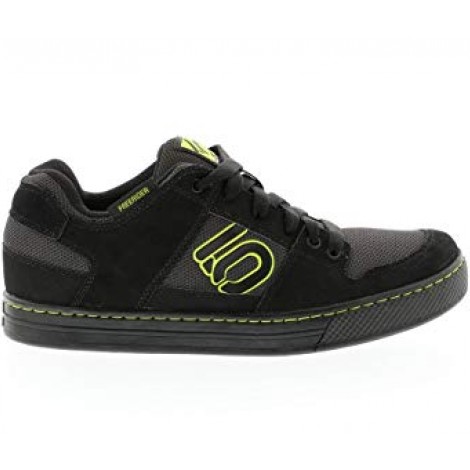 The Freerider by Five Ten is a design that can hardly be compared to anything else on the list. Its unprecedented style makes it invaluable to the bike community as a whole. It allows for new riders to more easily gain access to proper footwear. Some of the choices on the market can be fairly… zany. That is to say, they look super weird. This can be off-putting to those looking to switch from BMX, or who want to enter bike-related sports for the first time ever. Their classic style will blend seamlessly into any outfit of your choosing, whether pedaling up a rough trail or heading out on the town. We love the Freerider by Five Ten. We know you will, too.
BMX Inspired
If you've ever been a fan of BMX then you'll love the style this sneaker has to offer. While it is traditionally made for mountainous adventures it remains true to the "sister sport": motorbike racing. This is great for anybody who prefers a grittier, skater-inspired style that brings a fresh perspective to this sport. It also makes the transition from one sport to the other pretty easy, since they're stylistically so similar. There's nothing better than a product that appeals to wide audiences, and Five Ten understands that entirely. They brought a unique design to the table, and it has done exceptionally well on the open market.
The Ultimate In Style
Worried about spending a fortune on a design that is only appropriate for the sport itself? Then you've found the design for you. As we've already mentioned this is designed in the same vein as BMX products, as well as skater-inspired footwear. This means that you can strut your stuff in these bad boys almost anywhere. It is a decidedly casual sneaker that could be used with almost any outfit you have. It blends seamlessly into whatever clothing you pair it with, and nobody will ever know what it's actually for. This dual-purpose design is great for anybody who might not be able to afford dedicated cycling footwear.
Cost and Value
This pair made the top of our list for a reason. Between their sleek style, ease of wear, and casual nature, we give this sneaker a high rating for value. The dual-purpose design is a huge win since it means you can use this on a daily basis, as well as out in the thick of it. Often you'll find that styles in this category are fairly out there in terms of looks. It's nice that there is an option for absolutely anybody, which is what we always aim to bring to our product breakdowns. This design is a great balance of practicality and style that you just can't ignore. If you need a model that will never let you down, and you can wear anywhere, then this is the one for you.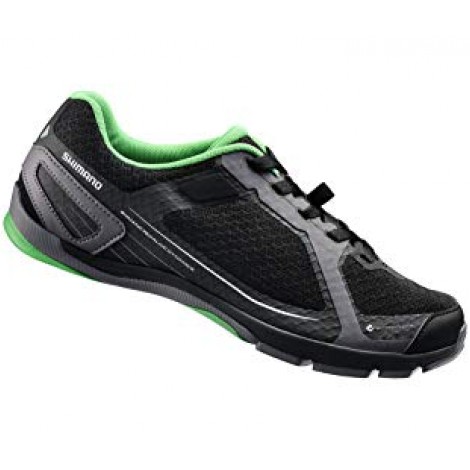 The Shimano company is a premiere brand known for its sleek designs and innovation in the industry. There are quite a few excellent pairs put out by Shimano so, as you can imagine, it was tough to pick between them. Out of all the products they had to offer for this sport, however, one model stood above the rest. In terms of value, it might not steal the show. However, for a more experienced cyclist, they provide the boost you might need. Between the endless comfort provided by their EVA foam midsoles and the inner shank plate, the Commuter model is not one to be overlooked. It's stolen our number two spot on the list for several reasons. Keep reading to find out why!
Go With Ease
Some of these styles can do a number on tired feet. Hours of peddling can leave you sore and sick at the thought of walking. Unfortunately, sometimes walking is a necessary evil when you come across parts of a trail you can't get across on a bike. Think of water crossings, for example. This means getting off and finding a way to safely navigate the slippery terrain. Of course, first, you have to investigate the area to find out if there's even a possible way to cross. Luckily these come with an EVA midsole that is shock-absorbing, giving your weary feet a rest.
A Stiffer Style
Shimano provides a hidden inner shank plate which provides extra stiffness and support. This works in perfect tandem with the EVA midsole. This match made in heaven means they're able to give you a more powerful boost of support while remaining comfortable. It's true that some models are seriously lacking in support, but this is not so with the Shimano Commuter line. Their effortless design is partially in thanks to the fact that these shank plates are a hidden addition. So, there you have it! You'll find the power you need to propel forward all day when you slip these on and hit the road.
Cost and Value
Although this model does provide plenty of features, it is also quite expensive. We definitely have more affordable designs on this list! If you don't want to spend a pretty penny then this is not the right fit for you. However, a more experienced biker who needs a better set, such as an advanced novice, will find a great deal here. The ability to stay comfortable all day is crucial to this sport, especially during more grueling rides. Shimano gives their customers an easier ride by providing the stiffness needed to transfer power between the pedal and you. So, if you are on the market for your first shoe, we recommend a different pair. Perhaps the next one on the list (our highest value sneaker).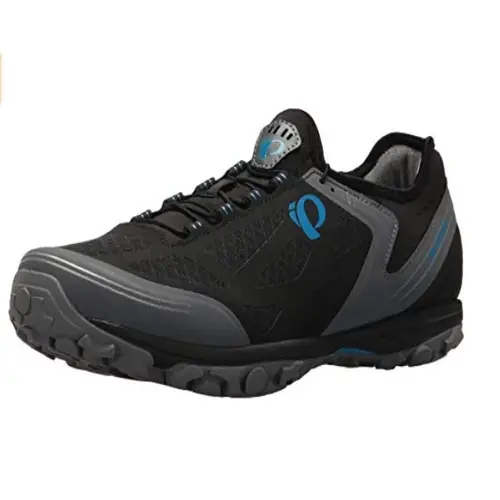 When it comes to mountain biking shoes finding something that is versatile, yet effective while still being comfortable is not the easiest to do. However, these Pearl Izumi biking shoes do just that while providing an aesthetically pleasing exterior. Constructed out of manmade material and fabric paired with rubber soles, these shoes get the job done effectively while still being easy to use for an extended period.
Comfort
Any active runner, jogger, or bicyclist will tell you having a comfortable shoe is the way to go. Not only is it necessary to have a good workout but it will ensure your foot is safe and secure the entire time. The shoes are so comfortable mainly due to having a bonded seamless upper that helps deliver all-day comfort, exceptional breathability, and great durability. Being able to deliver all these things at once will make sure you have a wearable shoe with just the right amount of necessities.
Lace-up System
By purchasing a shoe with a lace-up system you are removing the idea of having to continuously tight your shoes and lack security. These sneakers feature a unique and elaborate lace-up system that's quick and easy to use. By simply snapping it in place you will be secure until you remove the strap. Furthermore, having this system will ensure you are comfortable while riding around for hours.
Cost and Value
Featuring rubber soles that offer heavy traction, low top stable arch, quick lacing closure, breathable upper with excellent durability, these shoes are well-worth their price point. However, they are on the pricier end of the spectrum. The price point does vary depending on your shoe size. Thus, the bigger the shoe the more the cost will be.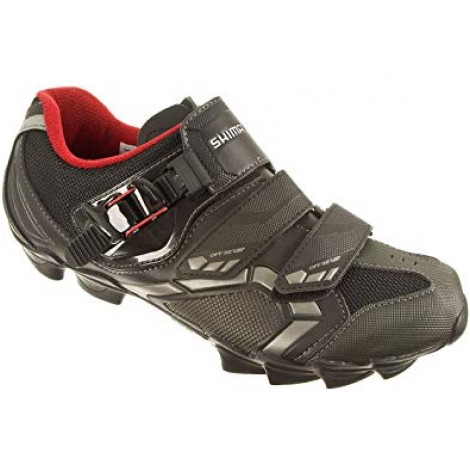 Shimano is a brand good enough to show up twice on this list. As we mentioned, they're a top brand that specializes in bringing your excellent, innovative design. The SH-M088 is no different! This model features some very intriguing perks. Although they are on the pricey side, they are incomparable with many other manufacturers. We recommend this product mostly to those who have some experience on the trail and want a fantastic fit for their foot. The synthetic leather used to craft them will mold to your curvature but is stretch-resistant so they don't wear out. They have a sleek black base color with red and silver accents that make them a treat for the eyes while packing in all of that good stuff Shimano is known for.
A Truly Customized Fit
Some of these models have a pretty set silhouette. They hug your foot tightly, leaving little wiggle room. Still, others have a stiff shape which doesn't allow for much flexibility. Shimano took care of these design flaws. They've truly created a sleek, effortlessly athletic model that will have you riding in style. You'll be able to find your perfect fit with the micro-adjust buckle, after firmly securing them with the velcro straps. There is also a wider toe box to accommodate your foot more comfortable. All of these features combine into a truly customizable fit that will hug every curve of your foot with ease.
Made Better With Leather
Tired of suede models that can't put up with exposure to moisture? We are, too! They're great, don't get us wrong, but sometimes you just need something a little more resistant to water. After all, water crossings happen and so does rain. Chances are that you're going to run into water sooner or later. Be prepared with Shimano! They've crafted this model out of synthetic leather that is durable, slick, and a much better choice for water exposure. This synthetic leather is also stretch-resistant, meaning it won't wear out before it's time.
Cost and Value
We cannot recommend this model as a great value, but it is a great product nonetheless. The value is absolutely inflated by the pure genius of this design. There are also quite a few satisfied customers that have left great feedback. Few models can compete with the compelling features Shimano has packed into this smart, little package. The mesh patches placed strategically across this design add-in breathability with a stylish flair. At the end of the day whether this purchase is worth it is up to our readers. While the product is unparalleled in design, we also recognize that price is a huge factor, and they lose major points in this category.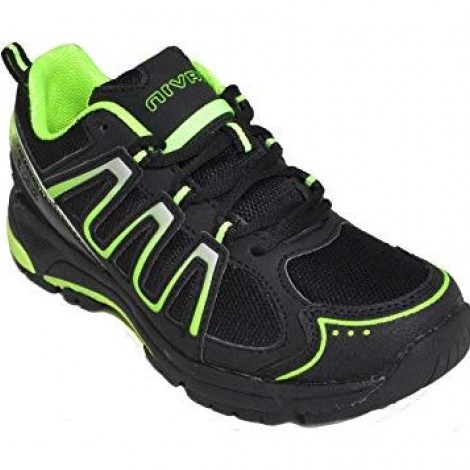 Another notorious brand in the industry, Gavin has absolutely made a name for themselves. This designer produces great footwear at very reasonable prices. This model is absolutely a fantastic option for those who are looking for their first pair. We also recommend this for those who might stop somewhere after their ride. Because of their chic style they can be used comfortably as a street shoe. They have a much more traditional silhouette which will fit like a sneaker. In fact, they really are just sneakers geared towards trail riding! This might be a letdown for some, but we're sure a lot of our readers will love their simple style.
A Sneaker With A Purpose
This is another dual-purpose sneaker on the list. It can easily go from a pedal to a restaurant if you're in the mood for some food. After all, this style of bike riding can definitely work up quite the appetite for you! They're also comfortable enough to be worn outside during the day for errands or even work. Whatever you need to do you can rest assured that they'll help you do it with a chic look you'll love. This really makes them a sneaker with a purpose! No matter what you're doing you can take the MTB sneaker along with you!
Built For Breathability
Gavin built this sneaker out of synthetic microfiber leather. It also features a breathable mesh which allows moisture to escape from your sneaker. It's no secret that sweating is a huge concern among people who ride long distances. You use far more muscles on mountainous terrain than you would on the street. This extra effort translates into some extra sweat, which leads to excess moisture. The build-up of sweat in your socks and shoe can provide an encouraging environment for blisters. Your skin weakens when it is exposed to close contact with water over a period of time. Combine this with the rubbing of thick socks from all the turning and lurching you'll do and you have a recipe for disaster. Or, even worse, big ol' blisters.
Cost and Value
This model was a top contender for the highest value. Not only does it have excellent reviews, but it also won't put a strain on your monthly budget. If you're a savvy shopper who isn't a fan of the BMX style models, then this might be the best choice for you. They're effortlessly stylish and look just like a normal sneaker. Even so, they make an excellent choice for navigating trails and keeping your feet comfortable while doing so. If you have a wide foot these might also be a good option since their fit is far more accommodating than a classically designed model. So, in terms of price and looks, the MTB sneaker really blew us away!



Another Gavin product! C'mon, now. We know you aren't surprised. After all, they are a great brand with flawless products that never cease to amaze. Each and everyone has different features which make them unique in their own way. This Off-Road Cycling model follows the same basic guidelines as the rest of their styles. It has a classic black midsole and upper, with a pop of color at the bottom. The red sole is mimicked in the inner lining, which makes this a rugged pair you'll love to wear. Gavin consistently creates great products which are known for their fantastic performance on the trail. Get yourself a pair today and see what we mean!
A True Cycling Shoe
So far we haven't really looked at any classic silhouettes. Well, we're finally here! The Gavin Off-Road Cycling model offers you the first taste of a true-to-sport design. It might look a little clunky, but this is because of the safety it provides. The bottom of the shoe is made out of a nylon fiberglass material that is stiff enough to resist undue flexing. This keeps you moving forward quickly and efficiently. The shoe is topped off with a black midsole and upper, along with red and silver highlights. These are fairly classic colors in this type of footwear.
Adjust WIth Ease
You won't always be riding in good weather! It is crucial that you find a model which can be easily adjusted depending on the socks you need to wear. Don't worry about having to squish your poor foot into a tight-fitting model that doesn't have as much ability to adjust. The velcro straps will give you control over how tight, or loose, you need your pair to be. Bitingly cold outside? Or even just a brisk, snappy morning? Slip into some wool socks and give yourself protection against the cold. Improper insulation can result in numb feet, which are useless to you out in the wilderness.
Cost and Value
These are another pair that are easily afforded by most people. There are a few features you lose because of the price range, but overall they provide excellent value. The ability to have complete control over their fit is a huge plus. On top of this, the sole is ultra-resistant to flexing which gives you better power transfer. They may have a clunky design, but it's the performance they provide that really counts. After all, you know what they say: Don't judge a book by its cover. Or, in this case, a Gavin design!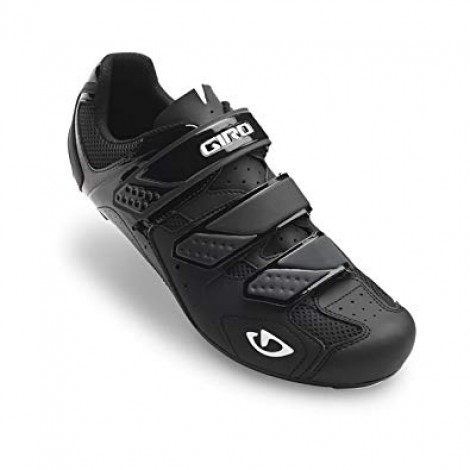 Boy, howdy, are we a fan of these! This might be one of our favorite designs on the entire list. While they can be quite expensive depending on the style, Giro really outdid themselves in the design. They're a sleek black synthetic design with velcro straps for a secure fit. These straps are also black, which blends into the shoe seamlessly. Add in the delicate, white detailing of their logo and brand name, and you have a recipe for success. This is a truly classic choice that will have you feeling like the belle of the ball. On top of this Giro has provided this design in two stylish, but entirely unique, colors choices.
Sleek And Unique
Giro really made sure to offer a style for all audiences. The Treble II is provided in two classic color choices. The black version is effortlessly chic and provides you with footwear to match your entire cycling wardrobe. On the other hand, if you're looking for extra pizazz, you can opt for the second style offered. This alternative choice is mostly neon yellow on the front half of the shoe and a black cap on the back. It will add a serious pop of color to anything you wear! Both are fantastic and equally as desirable. It's up to you which one fits your personality better!
Germaphobes Rejoice
This is a unique feature that we're fairly impressed by. Giro went through the process of adding an Aegis antimicrobial treatment. Essentially, they made sure these would be resistant to bacteria that can sometimes accrue in athletic footwear. This is important because of the fact that sometimes your chosen pair can become a breeding ground for bacteria. It's warm, dark, and damp with sweat. This is partially what causes your footwear to smell terrible! So, they stay fresher longer and are wonderfully stink resistant!
Cost and Value
Somewhat pricier, the Treble II still gets a solid spot on this list. We were blown away by the obvious care they take in their designs, and how much thought is put into the process. Few companies have the same taste for big, loud designs. After all, this style can be pretty hit or miss! They took a chance and they made it work. These are truly a fan favorite with rave reviews that show just how successful this model is. Between the snazzy color choices and high-quality build materials, Giro is presenting a strong face for the industry with this addition.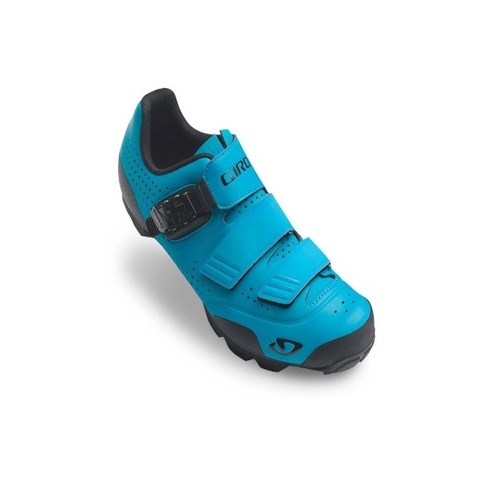 Specifically created to work exceptionally well on a bike and during any fitness routine, these Giro Privateer mountain biking shoes get the job done. Not only are you getting a shoe that allows you to cycle any time with security, but it ensures you can continue your workout without missing a beat. This is an excellent form of having a multipurpose shoe with an added dose of comfort.
Eva Footbed
To provide the highest level of comfort in a bike shoe possible, this shoe comes with a molded Eva footbed. Having such a feature will ensure you have medium arch support. By having medium arch support, you will be decreasing the pressure on the balls of your feet helping you bike ride for a longer period. Thus, ensuring you get a comfortable workout even when you are tired, and your feet might be hurting along the way.
Reinforced Toe Box
Everyone knows one of the most uncomfortable areas of a sneaker is the toe box. This is mainly due to most shoes not having enough support or room as part of their toe box. Featuring a toe guard made from rubber, paired with a microfiber upper, which has straps and a buckle, this shoe has the added cushion and comfort you need to enhance your stability and endurance.
Cost and Value
As for the cost and value of this product, the shoe is a bit pricey, but it gets the job done. This is mainly due to how high comfort is on the list. If you are seeking a comfortable shoe that gets the job done effectively while ensuring you get a comfortable fit along the way.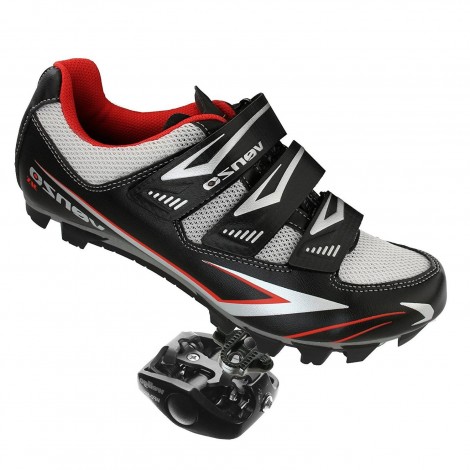 This is one of the more expensive models on the list. However, you might find it the most suitable. Venzo gave this model a rugged, masculine design that means business. There's no mistaking this pair for being feminine, or "chic", in the least. Even while they don't embody the same good looks that other styles might, this style by Venzo is still fantastic. It's especially great for those who aren't looking for an understated pair. Venzo provides matching pedals with this pair, as well, which makes them an even better choice for people across the board.
Includes Compatible Pedals
No pedals? No problem! Even if you don't have a pair of compatible pedals you can still order this model with confidence. Venzo went the extra mile so that you can, as well! They include a pair of compatible pedals in this package. This really makes them a steal! Truly, it's a helluva deal. On top of this, they have cleats included, as well. Venzo wants to make sure that their customers are thoroughly taken care of. This is evident in the design of their products, as well as the extra measures they take. The bonus pedals are just another example of how Venzo treats their customers.
A Rugged Twist
Tired of feminine, dainty models that just aren't you? Well, look no further, because we found a match. These have a rather loud pattern that will surely steal the show no matter where you go! They come in a red, black, and silver triad of colors that combine into a sleek pattern. Venzo appeals to an entirely different market with this design, and it's really working out for them. Men and women alike are a fan of this aggressive pair of cycling sneakers. If you need a pair that screams "ready for it" and "here I come", then... ding! Ding! Ding! We found you a winner.
Cost and Value
These are neither the most expensive, nor the best deal. Venzo definitely chose the middle ground for their design in this case. While they might not be top quality, they are certainly a step above the lower-priced models and provide a more professional experience. If you can afford to spend a little more you might be surprised at how much you end up liking this design. Many people have fallen in love with it, and with good reason! There are so many great features packed into a rugged package that just "in your face" enough.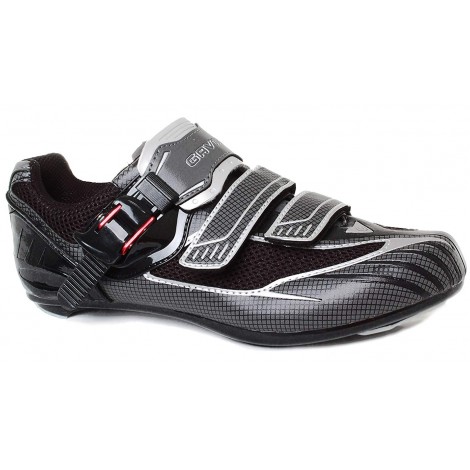 We're going to round off the list with yet another Gavin product. Normally we wouldn't feature three options by the same brand, but the masses have spoken! You wanted the top-rated products on the market, and that's what we're delivering. This Elite Road design by Gavin is a step in the right direction if you want a modern aesthetic in a flawlessly athletic package. Quite frankly it looks a little "steampunk" if you will. This is definitely not a bad thing by any means, however. Take one look at this stunning model and you'll understand why. On top of this, they used many fantastic elements in the design that put it at the top of the list for efficiency.
Air-flow Vents Included
This is a fairly unique feature that you won't find in many places. Gavin included vents in the sole for an extra level of breathability. This is crucial in any sport where you're going to sweat a lot. Designs made for extreme cycling need to be able to air out properly, especially while in use. Failure to do so can cause a host of problems. The most common are blisters, and nobody wants those! We go to pretty extreme lengths to avoid them, actually. Gavin makes doing so easy, as well as keeping your foot feeling fresh and comfortable.
Low Weight, High Performance
Bulky designs can weigh you down, and pile seconds onto your time. A lightweight, breathable model that fits perfectly to your foot is the best way to go. Gavin put forth this design with that in mind! They took a few chances, but those chances ended up paying off a great deal. You'll feel light as a feather, and comfortable to boot. The synthetic microfiber leather provides freedom from heavier materials, while the stiff sole keeps them sturdy and supportive. Add in the mesh panels on the upper and your feet are in for an absolute treat.
Cost and Value
We actually think these may be the pair that is worst for value on the list. Although the design is great in theory, it seems as though they've missed a few crucial steps. They have quite a few cult-like followers who swear by them, but many have also voiced complaints about their durability, and usability. Some report that the shoe does not release from the pedal easily, which can be a huge problem. They also are said to scuff easily, and so regular wear and tear will take a toll on them. Even so, they offer a unique twist on a classic design that some absolutely adore. This pair might be the last pair on the list, but they certainly still have a lot to offer!

Subscribe to our Newsletter