Best Ankle Weights Reviewed & Rated for Quality
Physical fitness is very important for anyone who wants to live a healthy life. However, achieving a given level of fitness is not easy without the help of reliable exercise equipment. Ankle weights are very popular among athletes looking to build their upper and lower body and tone their muscles. They also increase the number of exercises that can be performed to help spice up a workout routine. Perhaps many beginners and advanced athletes prefer ankle weights because they can increase resistance without changing the exercise technique. They make daily routine exercises more challenging and fulfilling by adding an extra layer of resistance to ordinary bodyweight exercises.
Featured Recommendations
Nordic Lifting

Our rating
Reflective Trim
Price:

See Here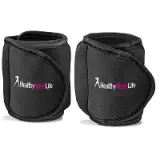 HEALTHYMODELLIFE

Our rating
Snug as a Bug
Price:

See Here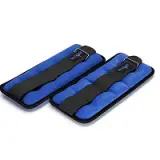 Yes4All Comfort Fit

Our rating
Comfort and Durability
Price:

See Here

Although many people exercise and would like to make their exercise programs more challenging to benefit them, they do not know much about the best exercise equipment that could help achieve their fitness goals faster. While all ankle weights are meant to provide more resistance to regular bodyweight exercises and challenge the muscles to enhance their tone, some have several other distinct features that give them an edge over the others. They are made of different material exterior for added durability and different weight sizes to offer different resistance levels. Below is a list of the best ankle weights reviewed for quality.
10 Best Ankle Weights
1. Nordic Lifting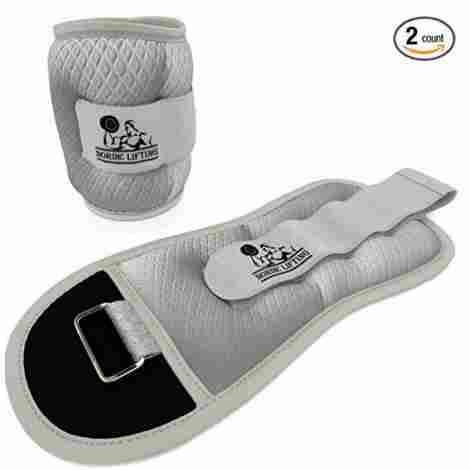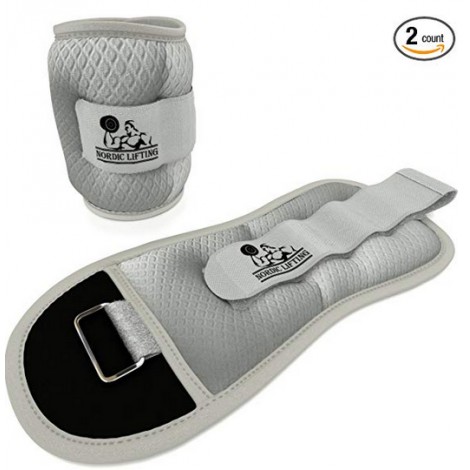 Nordic Ankle/ Wrist Weights are designed to boost performance during exercise and speed up muscle development. Engineered for both beginners and advanced athletes, the weights can be used for various exercises to offer the much-needed extra gravitational resistance to challenge the muscles. Improve your gym performance by wearing one of these weights on your wrist or ankle and deliver a splendid performance. This must-have exercise equipment is designed for jogging and home workouts.
Expand to see more
Ankle/Wrist Weight Functionality
These ankle/ wrist weights are designed to maximize performance when working out regardless of whether you are an amateur or a professional athlete. They will help you speed up your physical development and strengthen your core.

Reflective Trim
Nordic weights are specially designed with a unique reflective lining on the edges to reflect light at night. This makes your runs safer and you do not have to worry about jogging late in the evening.

Cost and Value
For a small price, you can get a pair of these ankle/ wrist weights to boost your performance and make your evening or early morning runs safer.

Improved muscle rehabilitation due to well-designed weights that hasten muscle recovery
Handy carry bag to take your weights with you wherever you go
Reflective trim to ensure late night and early morning runs are safer
Reinforced stitching for durability
Stitching may break open around the Velcro strap after extended use
May develop holes and leak sand when used intensely
2. HEALTHYMODELLIFE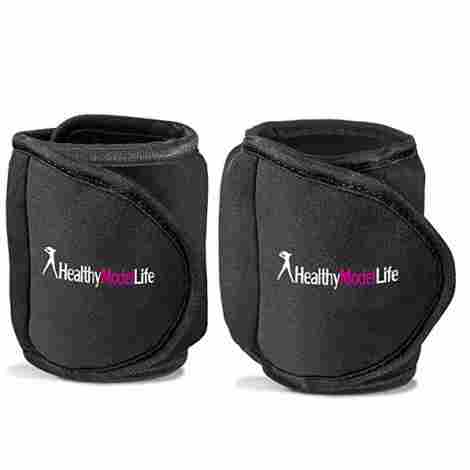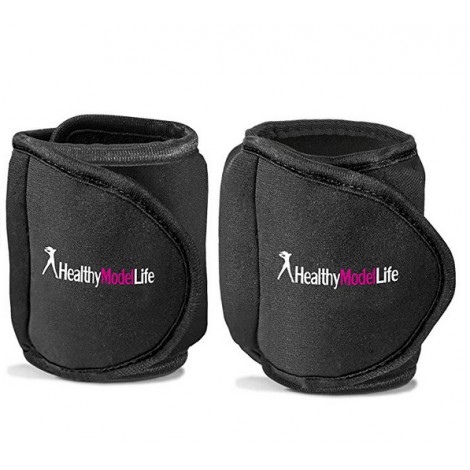 Healthy Model Life is fully committed to providing you with the means to achieve a fully toned body without bulking up unnecessarily. The ankle weights are extra padded to provide much comfort during workouts. They boast a double-stitching technique to make the material super durable. These remarkable cuffs are worn by supermodels and Victoria Secret angels. They are fully padded to keep these models focused on their form and toning their glutes to perfection.
Expand to see more
Designed for Victoria Secret Angels
These remarkable cuffs feature a thick padding that is way above the competition to help the models focus on their form and toning the glutes rather than worrying about ankle weights that do not fit properly.

Snug as a Bug
When wearing these comfort-fit ankle weights, you have to take thoughts of flipping off your mind, as the sure stay grip ensures the weights remain in a perfect position without worrying about having to constantly adjust them.

Cost and Value
These ankle weights are thick, padded to keep the athlete focused on form. The stay-grip keeps them in perfect position and do not require to be constantly adjusted in order to fit.

Thick, padded cuffs to keep you focused on maintaining your form
Increases resistance to enable you to take your training to the next level
Low chances of flipping because the weights fit perfectly well
Can be used for brisk jogging, Pilates, or any other exercise
Weight may be too light for a female adult's ankle
May be too tight
3. Yes4All Comfort Fit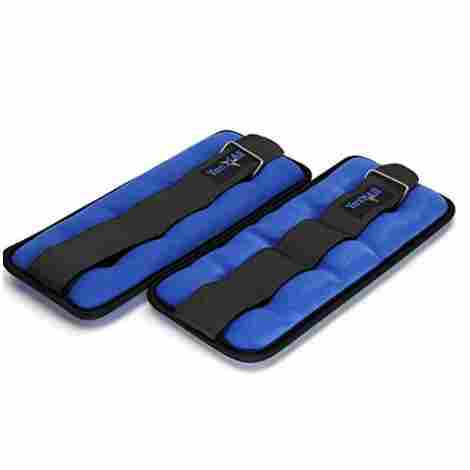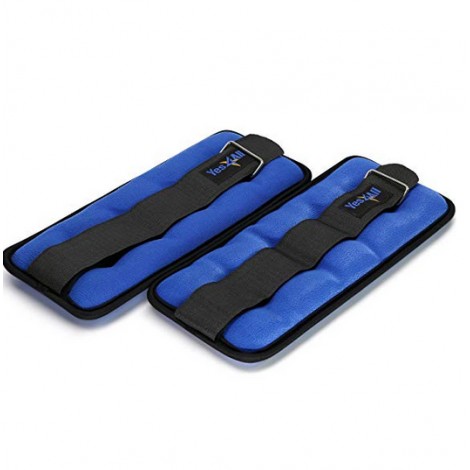 Yes4All provides two types of Ankle Weights: removable and non-removable ankle weights. The former is covered with Nylon fabric to provide athletes with comfort and durability and the latter is covered with soft expandable Neoprene fabric for absorbing moisture and providing comfort. The adjustable Velcro band in non-removable provides a comfortable fit and prevents bouncing. The removable weights feature a metal D-ring in addition to the Velcro band to provide a snug fit.
Expand to see more
Easy-Adjust Velcro Strap
A Velcro band and D-ring ensure the athlete has the perfect fit he or she needs to focus on the exercise and not on bouncing ankle weights.

Comfort and Durability
The Neoprene exterior of these ankle/ wrist weights provides the durability required to ensure the item lasts long enough to serve the exercise needs of the athlete.

Cost and Value
The item is made using a highly durable material for the exterior. Easy-adjust Velcro strap makes it easy to fit virtually any individual's wrist or ankle, and you can get it affordably.
Neoprene fabric is comfortable
Different color options
More padded than other options
Available in different weights
May need to be adjusted during workouts
4. Da Vinci Adjustable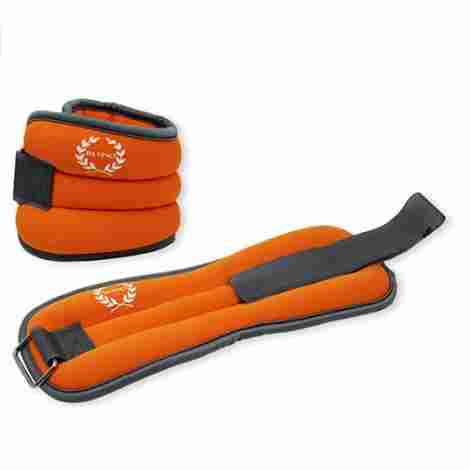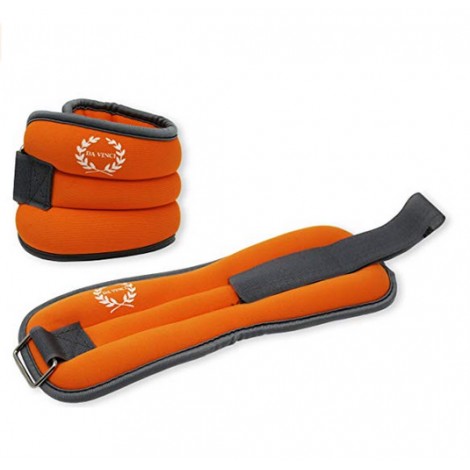 This is a part of exclusive Da Vinci imports that form part of Da Vinci Sports. These adjustable ankle weights are engineered with comfort and end-user in mind. The soft cloth exterior and Velcro tightening band ensure they are fully adjustable to fit comfortably around the wrist or ankle. They come in various sizes and absorb sweat and moisture. The stretchable soft material provides a comfortable grip to remain fixed while jogging, running or performing various exercises.
Expand to see more
Industrial Strength Velcro Straps
The product features industrial strength Velcro designed to provide comfort-fit around virtually any ankle or wrist. In addition, the wrist is easily adjustable to accommodate wrists and ankles of individuals of different sizes.

Moisture Absorbent
The cloth used to make the weights is soft and moisture absorbent. Its soft cloth interior will absorb moisture and leave your wrists and ankles dry, enabling you to focus less on the sweat and more on exercise.

Cost and Value
Da Vinci ankle weights feature soft, stretchable material for maximum comfort when exercising. The moisture-absorbant material allows you to focus on exercise and not on sweat. In addition, they are very affordable.

Made from durable industrial strength Velcro, these weights are comfort-fit for virtually any size of wrist or ankle
The easy-adjust straps will fit tightly around your wrist or ankle
The soft cloth interior of the equipment is designed to absorb moisture
Different weight sizes to suit athlete's needs
Material may wear and tear over time and leak tiny granules
May feel loose on the leg
5. REEHUT Durable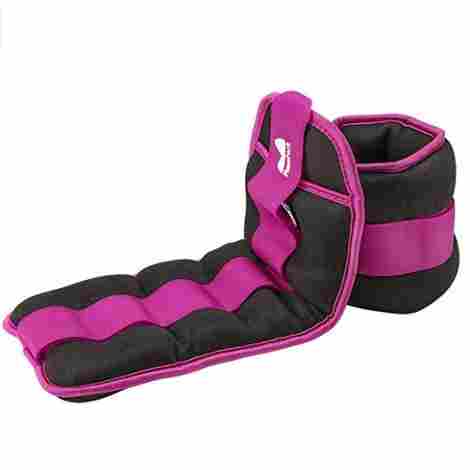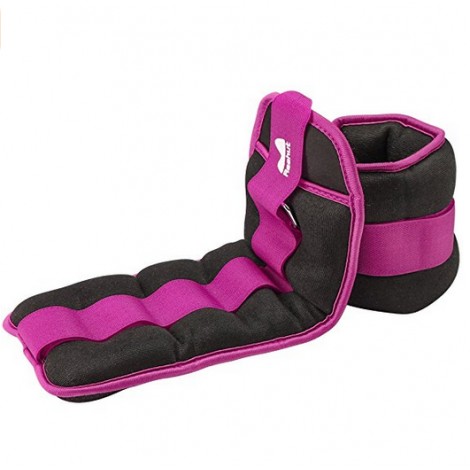 Reeehut training weights allow you to burn more calories when exercising and boost your workout efficiency. Add more resistance to your daily routine workouts including jogging, walking, and toning of muscles. You can use them on practically any physical exercise you intend to make more challenging. They deliver the resistance you need to receive a healthy workout session. Get a pair of these weights and boost your lower body exercises.
Expand to see more
Easily Adjustable Straps
Ankle weights have easy to adjust straps to make them fit and ensure you have an uninterrupted run. They will hold your ankle very well. In addition, they are non-slide and you do not have to keep readjusting when jogging.

Soft, Comfortable Material
They are designed using mercerized cotton to make them soft and comfortable. The material inside effectively absorbs sweat and moisture during workouts. They are also very convenient.

Cost and Value
Made of mercerized cotton, the ankle weights are soft enough to feel comfortable and absorb sweat and moisture during training. They also come with easily adjustable straps for a perfect fit, all for a few dollars.

Soft material absorbs sweat and any moisture when training
Easily attach and adjust to ankles using straps that are non-slide
Ideal for athletes who would like to tone their muscles
Strengthen muscles and enhance balance and coordination
May not offer the perfect fit for everyone
May have a strong petroleum smell
6. FITGIRL Resistance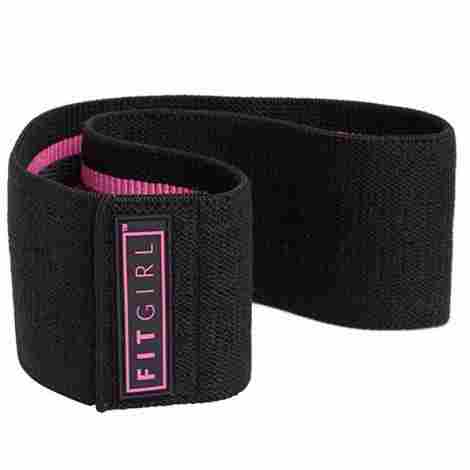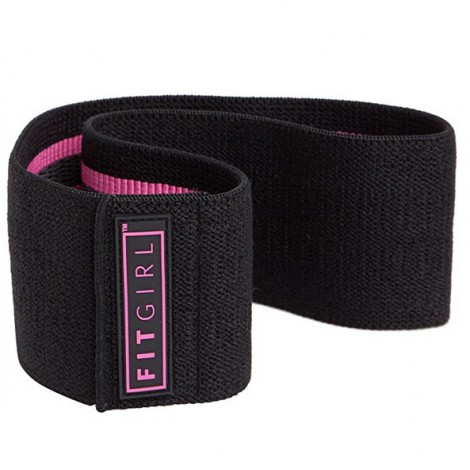 The FITGIRL resistance hip band gear has been subjected to countless testing sessions by FITGIRL's team of crazy crossfitters, gym junkies, avid athletes and fitness enthusiasts to ensure it matches the expectations of the end user. The community has tested the product several times to achieve the best product design that can serve the intended purpose. It has been manufactured using the highest quality material to guarantee durability.
Expand to see more
Made by Women for Women
FITGIRL workout accessories will achieve the desired result because they have been designed by women to meet women's needs. FITGIRL believes in offering women what they need or the workout necessities required to take their workout to a more advanced level. The hip band is perfect for warming up the legs and hips before a high-intensity a high intensity workout.

Muscle Toning Band
This hip band allows you to take your workout to a more advanced level while having fun in the process. There are various exercises to perform with the band, including hip band squats and hip band kickbacks.

Cost and Value
This is a perfect product for women because it is designed by women who have constantly used the band to perfect its design over time. It strengthens and tones the leg and hip muscles. It costs a few dollars.

Great for warming up the hip and thigh muscles prior to a workout session
Warming up using this band helps to prevent injury during workouts
Designed for fitness enthusiasts at all levels of fitness
Thick, soft and slip resistant. It is extremely supportive
Can be too small or super tight
May not be very elastic
7. Sportneer Adjustable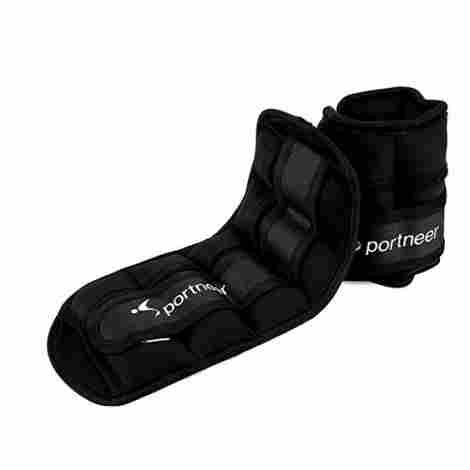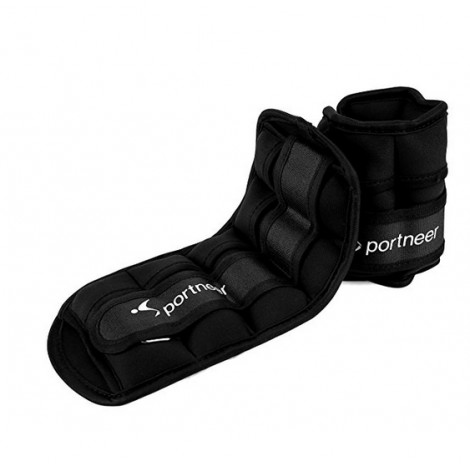 Strap these adjustable ankle weights to spice things up and make your workouts more interesting. By incorporating Sportneer ankle weights into your routine workout, you will be able to boost lower body strength and improve balance. It is great for both at-home workouts and for use at the gym and at work. The Velcro straps allow users to adjust the weights for a comfortable fit. They are built with both comfort and durability in mind.
Expand to see more
5 Adjustable Weight Bags
The Sportneer ankle weights come in a pair of 3.5 lbs each, with 5 adjustable bags of weight. Tallowcro straps allows for easy adjustment to provide a one-size-fits-all size to accommodate every individual's wrist or ankle size.

Quality and Comfort
The ankle weight boasts a neoprene exterior. Reinforced stitching also makes the product durable. The sturdy outer trim also enhances the product's durability while the soft cloth interior provides cushion and comfort.

Cost and Value
The weights provide sports enthusiasts with another way to take their exercise to another level and achieve their fitness goals. The neoprene exterior is high quality and ensures durability. In addition, the price is quite modest.

Can add or take away weight as necessary
Won't dig into your ankles
Durable stitching
Comfortable cuffs
May not fit every size ankle
8. Gaiam Fitness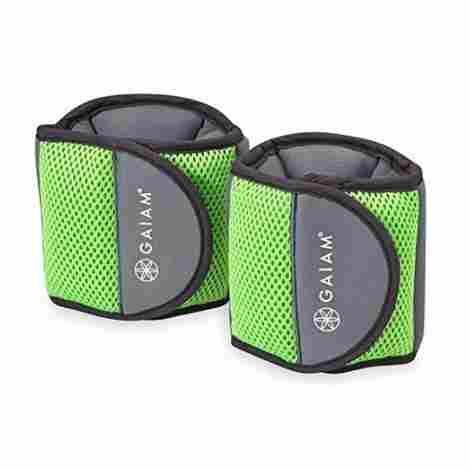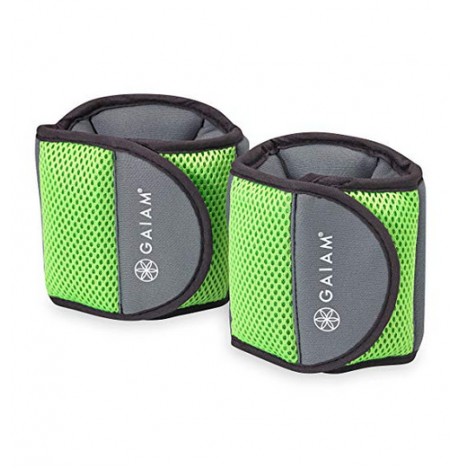 Gaiam is the ultimate fitness revolution with over 25 years of experience. Their products are designed with fitness needs in mind. Gaiam ankle weights are designed to strengthen the lower body step-by-step as you work out with them fitted around your ankles. These easy-adjust ankle weights feature comfort-fit. Whether you are a yoga enthusiast or a stretching maniac, these ankle weights will meet all your needs.
Expand to see more
Easy-Adjust Ankle Weights
The products are designed to be wrapped around the ankle and can be easily adjusted to fit your ankles. Strap these weights around your wrist and adjust them to wrap tightly.

Comfort-Fit
Take your routine lower body exercise program to the next level step-by-step by rocking one of Gaiam's comfort-fit ankle weights. They are guaranteed to feel comfortable around your wrist or ankle.

Cost and Value
They are very affordable and can be purchased from online stores. With a comfort-fit and easy-adjust design, you can escalate your routine training sessions to the next level a step at a time.

Designed to strengthen the lower body in a step-by-step fashion
Comfort-fit design to feel very comfortable around the wrist or ankle
Easy-adjust design to fit tightly
5lb set with two pairs of 2.5lb each
May be too small to fit around the wrist
The weight might not be heavy enough
9. TheraBand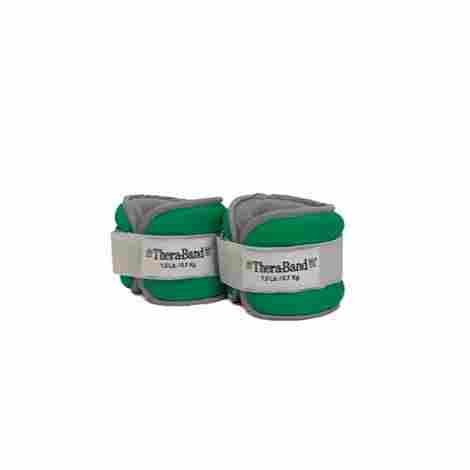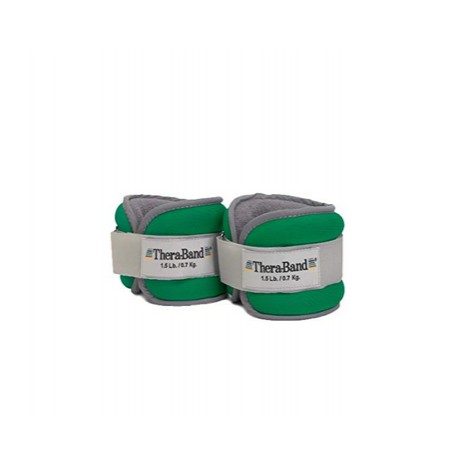 This product is suited for home-based exercise programs. It allows the athlete to add more weight during strength training without changing to another exercise technique. Those in a rehabilitation program can also use it to recover quickly from a muscle injury. It can be very effective in making upper and lower body exercises more challenging. You can use them for enhancing your stabilization exercises.
Expand to see more
Versatile Design
Wearing cuff weights has benefited numerous patients with various physical health conditions, as they are used to improve movement. Gymnasts use this item to tone their muscles and strengthen their core and muscles.

Adjustable, Comfortable Fit
The inside features a soft cloth liner for an extra layer of comfort. The buckle closure is to allow you to easily adjust the weight to fit your ankle or wrist regardless of the size.

Cost and Value
Many gymnasts have used the weight to boost their performance and recover from an injury. The item features a soft cloth liner for an added layer of comfort. In addition, the weighted ankle can be obtained for a very small price.

Can be easily adjusted to wrap around the wrist or ankle for comfortable fit
Allows you to increase weight for your rehabilitation program without altering the technique
Reflective trim for an extra layer of safety for late evening use
Soft abrasive cloth interior for moisture absorption
May not be long enough for big ankles
May be too heavy for skinny people
10. A2ZCARE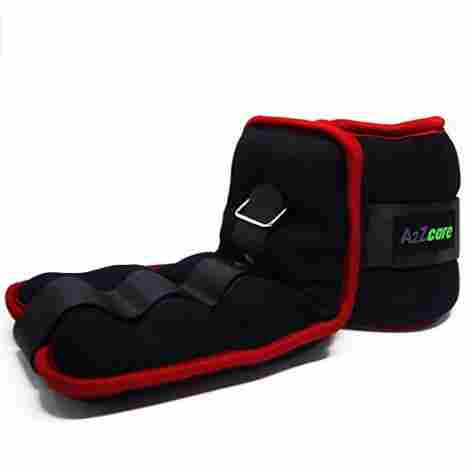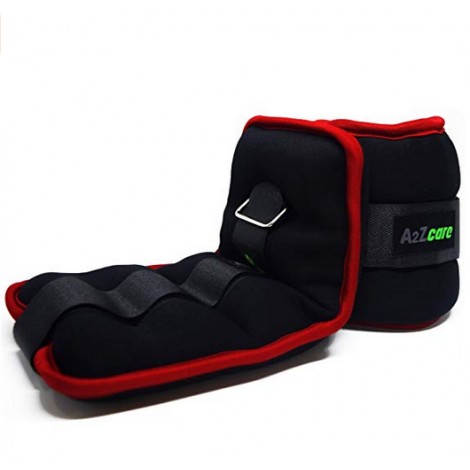 If you are looking to introduce some challenge to your routine workout regime, these ankle weights might just be the training partner you need to reap all the benefits of a good workout session. They help to improve your range of motion as well as flexibility. It is great for athletes looking to enhance their endurance and acquire stronger breathing muscles.
Expand to see more
Different Weight and Color Varieties
The ankle weights are available in several colors and weight categories. From orange to green and even black, each color represents a weight category from 1lb to 5lb.

Various Uses
You can place them on the wrist or ankle for hand and leg exercises because they add resistance to regular exercise movements. They have often been used for a range of upper and lower body workouts.

Cost and Value
If you are looking to improve your range of motion and endurance, you should consider these ankle weights. They are very affordable and will let you challenge yourself in a way that no bodyweight exercise can.

Absorbs sweat quickly
Available in a number of different colors and weight ranges
30 day warranty included
Can accommodate larger ankles
No instruction manual included
If you are looking to make your exercise routine more challenging, there is a plethora of options to choose from. Sometimes it gets confusing when it comes to selecting the best exercise equipment to use so that you can reach your fitness goals faster. Ankle weights are just one of the options available to help tone your muscles. Therefore, if you want to tone your thigh muscles and boost muscle performance, perhaps you should invest in a good pair of comfortable and durable ankle weights. Reliable ankle weights from reputable manufacturers can benefit you in so many ways that you will be thankful you bought them.
Criteria Used in Choosing the Best Ankle Weights
With several ankle weights selling on the market today, it can get very confusing when it comes to choosing the best one to serve your needs. You can choose to use fixed or adjustable ankle weights when exercising. With fixed ankle weights, the weights are permanently attached to the fabric. On the other hand, adjustable ankle weights allow the user to add or remove some weight from the fabric strapped to the ankles when working out to attain the desired level of challenge. Below are the criteria for selecting the best ankle weights for improved resistance exercise.
Material or Fabric
Each pair of ankle weights is made up of unique fabric, which greatly affects the durability of the item. Exercise equipment crafted from top quality material is sturdy enough to withstand the intense movement associated with jogging, jumping, kicking and leg raises. Reinforced stitching also allows the weights to be subjected to intense use over an extended period without showing signs of wear and tear. Some feature premium quality material such as mercerized cotton that absorbs sweat and moisture when you are working out. Moisture absorbant weights allow you to focus less on the discomfort created by sweat and more on the exercise technique itself. You also look for something soft and comfortable to wear, not just any ankle weights that will make you look forward to removing them because of constant irritation to skin.
The exterior material used in making ankle weights is as important as the interior. The exterior is often fitted with a reliable Velcro band to help adjust or tighten the weight to fit the ankle. When tightening, the material should be able to stretch for a tight yet comfortable grip around your ankles to prevent movement of weights during training. Well-fitted weights will help you strengthen your training while enhancing balance. In fact, physical therapists, athletic coaches, trainers, occupational therapists and even chiropractors highly recommend the use of ankle weights in rehabilitation exercises.
Fixed or Adjustable Weight
Most ankle weights today are designed with the end user in mind. Fixed ankle weights have a fixed amount of weight attached to the cloth or fabric, which is often soft, elastic Neoprene. This fabric provides great comfort to the skin despite carrying weight. The weights are permanently stitched inside the fabric and cannot be increased or reduced to match athlete's fitness needs. On the other hand, equipment with adjustable weight allows the user to adjust the weight to match fitness level. They have several pockets of small weights to slide weights in and out depending on the exercise to be performed. Therefore, it is upon you to decide whether you are comfortable working with fixed weight, which will not allow you to add or remove weights depending on your needs, or adjustable weights, which provide an option for you to add up to five weights as you grow stronger and gain more advanced training skills. Should you decide to pick fixed ankle weights, you can purchase heavier ones as you progress. For instance, you can move from 2.5 pound weights to 5 pound weights to add more resistance to your jogging routine after a while. Similarly, opting for adjustable weight means you can add small weights of up to 0.5 pounds each until you can be able to use the entire 2.5 pound ankle weight.
Comfort Fit
Adjustable Velcro closure provides the comfort fit you need to keep the ankle weights hugging your ankles. They should be easy to put on before your workout and take off after you are done for the day. Wearing comfortable ankle weights will also enable you to work out for longer without feeling like it is a burden too heavy to carry. While the wrap is often filled with numerous iron particles to add more resistance during workouts, the inner cloth in contact with your skin should feel soft and make you comfortable. Exercises that strengthen the leg muscles, burn excess calories and fat, and tone the thighs and lower body muscles often take time to complete within a typical exercise session. You are unlikely to last long if you have loose ankle weights around your ankles. Moreover, building the lower body is a step-by-step process that takes time, patience and proper form to accomplish, and having uncomfortable weights wrapped around your ankles is not going to make it any easier.
Reflective Trim
If you are an early morning or a later evening person, you are better off investing in ankle weights with a reflective trim to ensure you have safer workouts. This allows the equipment to reflect light as you run to enable motorists to see you more clearly. While this might seem like a minor feature to consider when shopping for your next ankle weights, it contributes greatly to ensuring you are safe from motorists and other road users during your early morning or late night runs. In fact, many people prefer to jog during the night, which makes it even more important for jogging enthusiasts to purchase ankle weights with a well-designed reflective trim for enhanced visibility at night and maximum safety. You do not have to invest in a reflector jacket when you have reflective trim ankle weights.
Handy Carry Bag
If you are planning on using your ankle weights wherever you go, it is important to consider how you will carry them around. Some ankle weights come with a carry bag to allow easy storage. Easily put them in their carry bag and you are good to go. The bag is very convenient for carrying them to the office, gym, or any other place you intend to use them when you are not exercising at home. While this might not be a very important feature to consider while shopping for a good pair of ankle weights, it can be very convenient when to have to move with your ankle weights to another location to exercises. A convenient carry bag can be great during transportation. A nylon carry pouch allows you to bring your ankle weights with you wherever you go.
FAQ
Frequently Asked Questions
Q: What are ankle weights?
A: They are weights of different sizes strapped around the ankle or wrist to add more resistance to ordinary bodyweight exercises. They can be used for jogging and for a range of other bodyweight exercises to advance your training level.
Q: What are the benefits associated with using ankle weights?
A: Correct use of ankle weights can boost the strength of various major leg muscles, tone your glutes and hamstrings, and increase endurance. Slow movements like leg lifts can greatly strengthen the leg muscles without causing damage or injury to the knees or other joints, such as hip joints.
Q: Can ankle weights build strong muscles?
A: Yes. Ankle weights can also be versatile because they can add more intensity to cardio and stationary workouts by adding resistance to help build muscles. Muscles grow because they have been challenged and have experienced resistance and therefore need to grow bigger to better handle the challenge thrown their way.
Q: Can I get injuries from using ankle weights?
A: While ankle weights can be very effective if used correctly, failing to practice proper form or using weight sizes that are too heavy for your muscles to handle could cause muscle strain. Many people have developed muscle pulls when using ankle weights. Therefore, you should practice using ankle weights correctly to avoid causing unnecessary injury to your knee and joints.
Q: What is the right weight for ankle weights?
A: Ankle weights are available in very different sizes. You should pay close attention to the product description page when purchasing ankle weights, as some may say "5 pounds" while the weights are actually a pair of 2.5 pounds each. A good pair of ankle weights should add enough resistance to challenge your muscles and force them to grow. Typically, a pair of 5 pounds each is ideal for beginners and even intermediate athletes to kick off their leg workouts and grow leg muscles. Using lesser weights might not add the resistance needed for the muscles to feel challenged enough to grow larger.
Q: Can ankle weights be used for jogging?
A: While using ankle weights for jogging increases risk of injury, using them correctly could have great benefits. They increase resistance and work out leg muscles in a way that bodyweight exercises cannot. For instance, they help you work out muscles more to burn more calories. They can also tone the legs and boost endurance. You can add extra challenge to virtually any bodyweight exercise using ankle weights.
Q: What are the types of ankle weights?
A: Ankle weights can be broadly categorized into fixed and adjustable weight. Fixed have ankle weights sewn into the fabric to make a specified weight size. On the other hand, adjustable allows up to five weights to be added to the fabric to achieve athlete's desired weight size.
Q: Where can I get good ankle weights?
A: You can get ankle weights from a retail store that specializes in providing sportswear. Most chain stores today also provide ankle weights. However, the most convenient place to get ankle weights is online, on e-commerce platforms and websites. You can order yours online at your own convenient time and have it delivered to your doorstep. Just ensure that you have gone through the product description page to ascertain that you are ordering the right product. Many people end up receiving the wrong size of weight because they were not keen enough when placing their order.
Q: What are the best ankle weights?
A: While there are several different types of ankle weights, they tend to have different features besides the traditional weights that add resistance to workouts. The best ankle weight should be comfortable to wear and have the right weight size to challenge your muscles without causing injury. They should also be made soft fabric on the inside to hug your ankles and sturdy material on the exterior for added durability. In addition, they should have a Velcro band to fit perfectly around your wrist to avoid moving as you exercise.
Q: How much do good ankle weights cost?
A: Most ankle weights today are highly affordable. You can get one for a few dollars. In fact, a hundred dollars can get you different pairs of ankles weights with various weight sizes to enable you to add more resistance to your training. For a modest price, you should be able to get ankle weights that offer the 'comfort fit' you need to stop worrying about loose weights and sweat and start focusing on the exercise you are doing to derive the most benefits from your workout routine.
Sources
Calorie Bee, How to Use Ankle and Wrist Weights Safely