Best Hunting Socks Reviewed and Rated
So, you've loaded up on gear. You've got a nice hat, a warm and insulating jacket, you've got gloves that handle anything rugged you throw at them, you've got snow pants that can take on anything, and boots that can trudge through whatever terrain you find yourself in.
The only thing left to make your hunting experience as warm and comfortable as possible is a pair of thick, durable socks. Even the most waterproof boots won't be able to keep your feet warm without the insulation of a good sock.
Our Top 3 Picks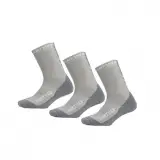 Thirty48 Hiking Socks

Our rating
Antibacterial
Price:

See Here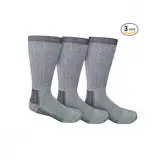 Sockbin Merino Wool Socks

Our rating
Waterproof
Price:

See Here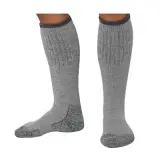 Heavy Work Boot Socks

Our rating
Warm design
Price:

See Here


What to Look For In Good, Outdoor Activity Socks
There are many people who don't think twice before they get the nearest pair of socks from the drawer and put them on whether they are going to a party at the weekend or that camping trip they have been looking forward to for months. They will argue that one pair of socks can be used for many different occasions. Well, we're about to debunk this myth and also offer some advice on the features you need to look for when you are buying a new pair of outdoor socks.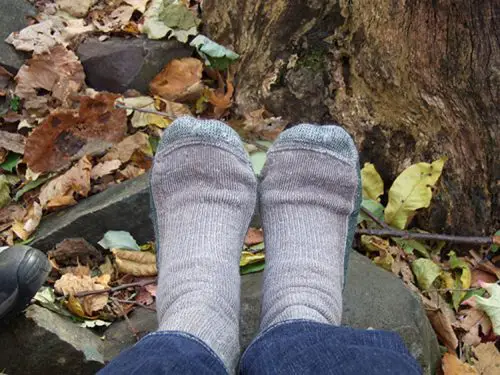 Nowadays, outdoor socks are not only made to be comfortable, they are also designed to be fashionable. These types of socks come in different types and styles. These different styles are informed by the activities that the socks are designed for, together with the weather conditions under which they will be used. Ensuring that you select the right ones will, in turn, ensure that your foot remains comfortable throughout the day while you also get the functionality you require.
Check the Fabric
Before looking at anything else, check the fabric a pair of socks is made from. This will be the difference between being comfortable and being uncomfortable when you are putting on your socks. For socks, the fabric that usually produces the best results is merino wool and synthetic. This type of fabric warrants that the moisture produced by your foot is removed. They also dry faster. Even when wet, the fabric still provides a certain level of insulation so that your feet remain warm.
One type of material you should steer clear of when looking for outdoor socks is cotton. It usually fails to stand the rigors of most outdoor activities. In such environments, this material can absorb water and retain it right next to the skin. This provides a good breeding ground for foot fungi. These are the types of microorganisms responsible for conditions like athletes foot. Also, this material does not have good insulation when wet.
Are They Made for the Activity You Want to do?
Your outdoor socks are made for different activates. Therefore, the first element you want to check when looking for outdoor socks is what they are made for. Some are made for walking and hiking, others for running, and some for mountaineering among others outdoor activities.
Look For Cushion in Walking Socks
When looking for walking socks, ensure that they provide enough cushion for your feet as wearing the wrong socks can lead to problems with your feet such as blistering.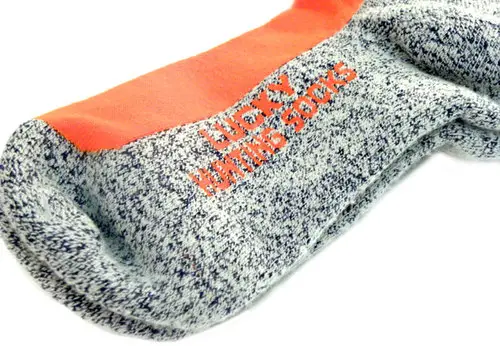 Check that the fabric from which your walking socks are made is capable of drawing water from the feet. This will ensure that you keep warm when it is cold. These socks are also manufactured from layered fabrics. The reason behind this is so that your feet receive maximum comfort.
For Running and Trailing Look for Flexibility and Lightweight
Other outdoor socks are for running and trailing. The manufacturing of these types of socks is informed by the fact that running can place a lot of pressure on your feet. Sometimes, you also run in areas where there is a lot of moisture. Running itself produces sweat.
An important feature to look at when selecting running socks is flexibility. So, they should stretch. Apart from being able to stretch, also make sure that the socks are made from cushioning fabric. Another thing to look out for is weight. Even though in the beggining this may look like a petty concern, after walking for miles, you will understand that the smallest weight can impede your progress.
In The Mountains Look for Softness, Thickness, and Insulation
If your idea of the outdoors is going up mountains, you will need mountaineering socks. These socks are usually designed to be used right across the year. The most important feature to look for in these socks is insulation. They should be able to keep your toes warm no matter how low the temperatures go.
Look at the fabric from which these socks are made. If it is not soft, you will not be comfortable when wearing them; look elsewhere. Apart from being soft, mountaineering socks should be thick.
Consider Your Shoes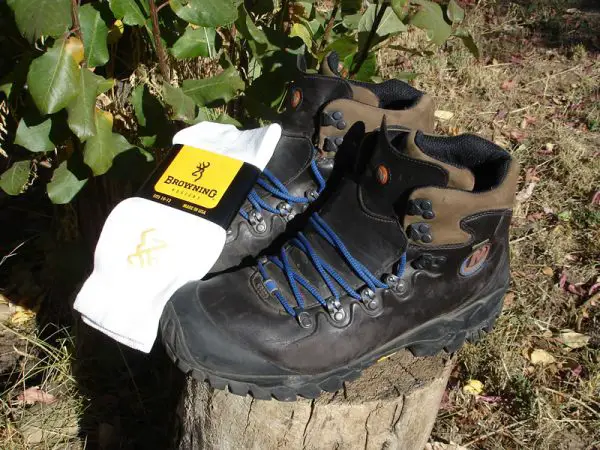 One of the most important considerations you need to focus on when buying outdoor socks is the shoes you will use with your pair of outdoor socks. For instance, you will discover that your mountaineering shoes are designed in such a way that they take socks which are thicker, while your running shoes are mostly designed to take slimmer lightweight socks.
Consider the Length
An important feature of outdoor socks which is often ignored is the length. The length of your socks will determine whether your skin will be protected from the elements or not. When looking at the length of your socks, it's also important to consider the activity you're going to use them for and the type of footwear that will go with them. If you know that the area where you are going has heavy grass and shrubs, then we will recommend you get yourself a pair that is much taller.
Whatever outdoor socks you end up selecting, ensure that they are durable. If the manufacturer is willing to give a certain guarantee, it may be an indication that they are confident of the pair they are selling you.
10 Best Hunting Socks
1. Thirty48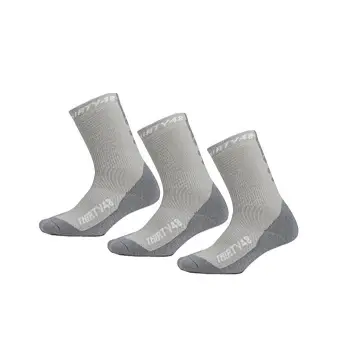 This has a lot going on for it when it comes to getting the most out of a sock meant for the outdoors. And there's a lot of extras in the fabric that can satisfy even the pickiest of customers. They're cushioned and breathable and create a comfortable and great sock for wearing in the winter months.


Expand to see more
Material

These feature both anti-bacterial fabric materials and vegan blends for those consciousness about their fabric needs. If you have sensitive skin or allergies, these make for a great and safe option.

Soft and Breathable

There's abrasion protection and some assistance for aching muscles but also the ability to get airflow going through so that your feet stay cool and dry if the air starts to turn warmer on you.

Features/Specifications

These feature 85% faux acrylic wool, 12% anti-bacterial wicking polyester, 2% spandex, and 1% nylon. They have elastic arch support and internal temperature regulation for the most comfort, wherever you are. The antibacterial components will also keep it from developing an odor.

Price/Value

These are more expensive than many of the other socks on this list but they also come with a ton of features and material specifications that the others do not. So, know what you're paying for and you won't be afraid of spending a little bit more.

Decision Time

If you want a great outdoorsing sock for all occasions, this is a great pick. There's support and comfort as well as warmth and some great antibacterial options for those with sensitivies.
Antibacterial
Nice blend of material
Ideal for all types of weather
Arch support
Can wear down with use
Tight fit
2. Sockbin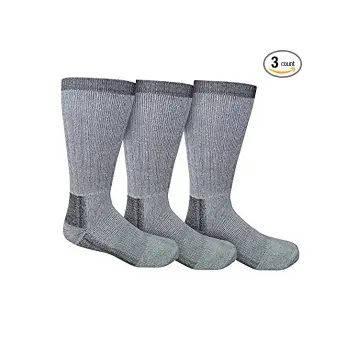 These socks are all about fighting the cold weather and keeping your feet toasty warm while out in the harsh weather of winter. They are ideal for the outdoorsing type of guy who needs a durable and warm boot sock to use while working outside, hiking, or camping.


Expand to see more
Waterproofing

These socks have an important component of being very waterproof against deep snow and rain while out hunting or hiking in the cold of winter. They're specially designed for wintertime outdoorsing so they come with a waterproof guarantee.

Nice Material Blend

The trick here lies in the blend of materials and these socks are rocking it when it comes to the blend of warmth, comfort, and fit. It boasts wool cotton, polyester, and spandex for the ultimate comfort and fit needs.

Features/Specifications

As far as the material breakdown goes, it's 30% wool, 40% cotton, 28% polyester, and 2% spandex. They also range in several sizes for men to allow for the most amount of options you could have,

Price/Value

These are low priced socks and you get a nice bit of warmth with them, plus there are bulk buying options. So the value and price here match up pretty well in your favor.

Decision Time

If you want a sock designed for warmth and winter use while not breaking the bank or dealing with paying for a lot of extras you don't need, these are the ones to go with.
Waterproof
Great material blend
Sizing options
Sizing on the length can be off
3. Heavy Work Boot Socks
This is an athletic sock that's also highly focused on comfort. There's also some impressive guarantees of waterproofing and a lifetime guarantee on the durability of these socks.


Expand to see more
Warmth
They designed to be used in some pretty cold conditions. It's made from ultra-soft yarn which creates a thick material for total warmth while wearing the sock. But you also don't have to worry about overheating or sweating your way through work. There's breathability ensured and waterproofing so you won't ruin the socks or your
boots
.
Durability
Despite the soft yarn, these socks are incredibly durable. They come with a lifetime guarantee and the thick material can stand up to pretty much anything. Another added bonus here is, if they do wear down, you can receive a replacement pair for free.
Features/Specifications
They're 5% spandex for the stretch fit and the rest is all soft yarn and wool for warmth with 86% acrylic and 9% nylon. They're suggested for skiing, ice skating, hiking, hunting, and hockey. They come in several sizes for men and women, both in the large and small variety.
Price/Value
These are priced mid-range which is great for what you get. There's no real ergonomics or physical therapy design, but they're very warm and very comfortable.
Decision Time
If you want a winter sock to use while hunting that will last you a long time, then this is the sock to go with. It's exceptionally warm and comfortable and is sized to fit nearly everyone. While you'll want to check the sizing of your own boots to ensure the sock will fit, it's still a great buy all around.
Warm design
Extra padding
Ideal for winter sports
Sizing options
Lifetime guarantee
They can run too think for some tighter boots
4. Men's Rabbit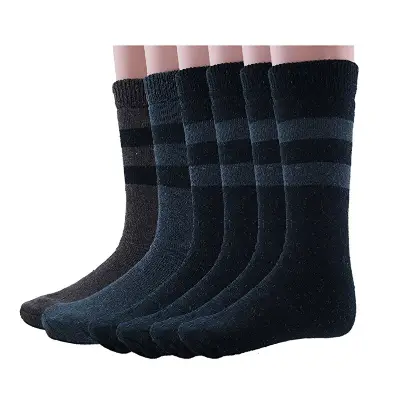 If you want to get into unique materials and the warmth they provide, these socks certainly fit the bill. They've got a very interesting blend of rabbit wool with some more elastic materials to create
warmth and breathability
in one sock. They also come in a nice pack of six of varying colors for the most options.
Expand to see more
Rabbit Wool

While wool itself is not an odd component to any warm apparel, rabbit wool is a unique inclusion in the material for this sock. It's a warm and close knit weaving to create as much warmth and comfort as possible. But it also blends in spandex and polyster for breathability and stretch fit.

Heat Tech

These are ideal for snow activities because they come with heat radiating properties that help in convection and retaining heat. This makes them incredibly ideal for any outings in the winter, particularly hiking through some deep snow.

Features/Specifications

These are 70% rabbit fur, 20% spandex, and 10% polyester. The kit comes with 4 black socks, 1 grey, and 1 brown, all thermal wool for the winter. They have a fit range of sizes 10-15 for men so you've got a full range of size options.

Price/Value

Considering you're getting six pairs of socks, these is a very nice buy for the price. You get a lot for your money and you get options, which is even better.

Decision Time

These socks are incredibly warm and with the amount you get in one pack, they'll last you all winter and several winters to come. They don't have arch support or any sort of therapeutic benefits, but they will keep you very warm in the winter months while out hunting.
Heat retaining properties
Warm blend of materials
Elastic stretch fit
Some bunching can occur at the toes
5. Sockspree Women's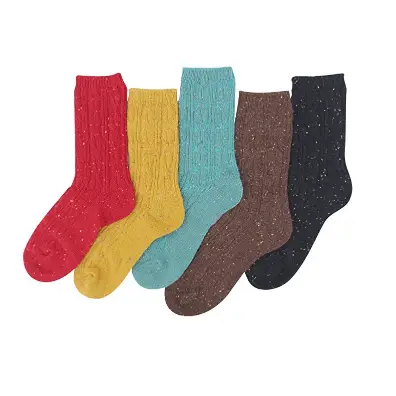 For any
lady hunters
out there who want a sock just for them, or any gentlemen looking to buy a sock for a lady hunter they know and love, these are a pretty great buy. They've got a nice a warm blend of materials, a good range in sizing options and a lot of color options out there for anyone focused on aesthetics.
Expand to see more
Blend of Materials

This has a crazy good blend of materials for any and all use. There's nylon, there's spandex, there's wool, and others to ensure the most flexibility of the product and warmth while wearing them.

Good for All Uses

These are great for any and all uses for a number of reasons. First of all, the come in any color you could want them for. Second, they're blend of materials makes them great for any climate or weather to keep you cool or warm as needed. And lastly, they've got a free range of sizes to allow for the most options.

Features/Specifications

The blend of materials here is a lot. It's 30% wool, 30% raylon, 20% nylon, 10% acrylic, 5% spandex, and 5% polyster for an impressive range of materials for any and all needs across the board. They fit women's sizes 5-9, so everyone can get in on the sock action.

Price/Value

These are a pretty good value if you're just looking to get a lady friend a nice sock to wear while hunting. They won't keep you exceptionally warm in extreme cold, but they'll do the trick so the value and price match up pretty well here.

Decision Time

If you're a lady in need of a sock or know one, these are a great buy to have a couple pairs handy. They shouldn't be your go to for any serious cold weather trekking, but they'll work for most outings.


Choices in size
Choices in look
Great blend of materials
Warmth
They don't have any extra padding
6. Thermal Compression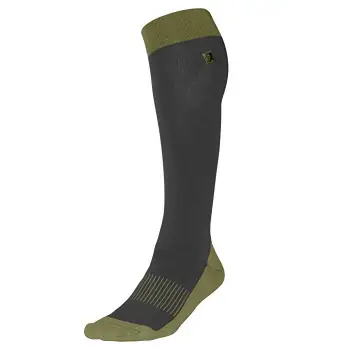 These are socks that want to create the best of both worlds. They've got a graduate compression for optimal blood flow but also have thermal capabilities for warmth while out in the cold of winter. There's also the added moisture wicking and some great arch support.


Expand to see more
Warmth
These are compression socks that also want to be your warm winter socks. They've got a blend of thermal materials to provide warmth, as well as muscle support for your foot and legs.
Maximum Support
In addition to the graduated compression, these socks actually come with some extra padding to help in arch support. The thermal material also helps to keep the alignment and shape of your walk comfortable and correct for the least amount of pain.
Features/Specifications
They have a 20-30mmHg graduated compression. The blend of thermal and moisture wicking functions make them great for all weather, cold or warm. They're optimal for activity and any long or strenuous cardio work.
Price/Value
These socks are a little more up there in price but you're getting a great amount of support and help as a result. In the long run, the built in arch support and thermal material will probably save you money on buying other accessories to help while wearing your socks and
boots
.
Decision Time
If you want a nice combination of warmth and therapeutic compression, these are great buy to get the most out of your sock while hunting.
Arch support
Blend of warm and cool materials
Extra padding
Compression can be on the tighter side
7. CompressionDR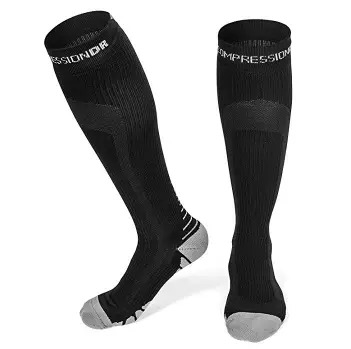 As far as compression socks go, these are very committed to working for you as the best compression socks out there. They deal with discomfort and pain and want to help alleviate that for you while wearing them. They do help to keep you active, but they're a little less concerned with athleticism over the medical benefits.


Expand to see more
Relief from Pain

These socks are designed to combat swollen and irritated muscle and other tissue. They seek to increase circulation flow in the leg and foot to help alleviate some stress built up there that may have been caused by prolonged sitting or pre-existing conditions.

Everyday Use

They do boast themselves a bit as a great athletic sock, even if that isn't their first priority. They work for this because of the blood flow help and the overall therapeutic effects of wearing them. They're meant to make strenuous activities a little bit easier, so in that regard, they're great for hiking in rough terrain.

Features/Specifications

These don't have an elastic band to hold them up but they are ergonomically designed to not slide down. They've got additional padding to reduce any adverse vibrations up the leg from walking. They have moisture wicking material to prevent blisters and bunching and have a 20-30 mmHg compression graduation.

Price/Value

They have a solid price for their physical function as a nice rehab tool for your lower body. They're about average in price when it comes to this type of item.

Decision Time

They are less hunting and hiking socks and more physical therapy socks but they will certainly get the job done and the added padding doesn't hurt at all. If you want a sock that will work to help out your legs, as well as keep you warm and comfortable, these are a great middle-of-the-road buy.
Great for blood flow
Very helpful for sore or irritated muscles
Good for athletic use
They work best for slimmer shaped legs
8. Ultra-Comfortable for Hiking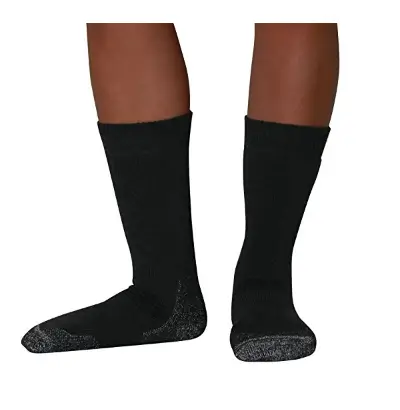 While some of these socks might be great for medical benefits and the like, these are socks that are designed for some good old outdoorsing. They're non-slip and designed to be utilized within a boot. They've got great wicking for breathability and some extra cushioning to bring in the comfort. If you want a sock designed for hunting, this one is it.


Expand to see more
Comfort
Comfort is key on these socks. They've got extra padding on the sole to provide the best comfort and have breathable and moisture wicking material to ensure you get the most out of wearing these while out moving around.
No-Slip
This feature is important for your mobility and safety needs. These socks are no-slip which makes them great to have in
boots
. There's also a non-elastic cuff at the top to hold them in place.
Features/Specifications
These are made from a special, ultra-soft yarn and features moisture wicking technology. They're 32% polyester, 32% vicose, 21% nylon, and 5% spandex for the ultimate comfort while in use. They range from size 5-11.5 in men's and 6-10.5 in women's. They're optimal foro hiking, hunting, and winter sports.
Price/Value
These have a great price for the type of sock they are. While, as an athletic sock, they don't provide the same amount of compression and circulation that comes with many others, they're a great buy for anyone just looking for a sock to wear while hunting without too many bells and whistles.
Decision Time
If you want a straightforward hunting sock that's comfortable to wear and will keep you warm, this is a great purchase choice for you. They're designed for winter athletics so you know you're getting a great buy for your needs.
Designed for winter athletics
Great blend of material
Non-slip
Extra padding at sole
9. FootMatters Compression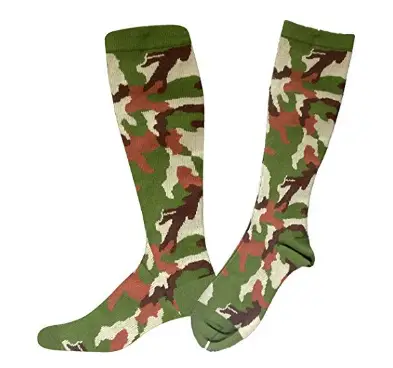 These are compression socks, which means they're going to get the blood flowing, and that's a good thing for a couple reasons. First, you'll have constantly activated legs for your treks through the wilderness. Second, you'll also have a built in warming mechanism if blood is constantly flowing in your foot and leg. And despite what it sounds like, this actually isn't a tight fit or an uncomfortable sock.


Expand to see more
Compression

A lot of people use compression socks for health reasons. But they can be great for maximizing workouts and hikes as well. And this is no different. While making your way through rough terrain, you have the comfort of knowing you won't put strain on your legs with this added help and if the air turns cold, you've got a way to keep yourself warm.

Non-Restrictive

Despite the fact that compression socks sound like they'd do the opposite, these don't cause irritation by restriction or tightness, which makes them an ideal item to have on under your boots and pants while out in nature.

Features and Specifications

These are knee high socks with a graduated compression at 15-20mmHG. There's a non-restrictive band at the top of the sock to avoid irritation. This, combined with the breathable material, makes them a very comfortable fit thanks to some great craftsmanship in creation.

Price/Value

These are an extremely low priced sock, which works out in your favor because you're getting a lot for that price. You've got an orthopedic sock that's great for hunting trips and your overall health for a low price.

Decision Time

If you want something that will protect the muscles in your leg, this is a great buy. While not every sock you get has to absolutely come with health benefits, this doesn't hurt, especially for the price. So if you want a sock that will keep you warm and help out circulation, this is the one to go for.
Compression for blood flow
Non-restrictive
Breathable material
Several inner seams can cause minor irritation
10. Grip Tread NonSkid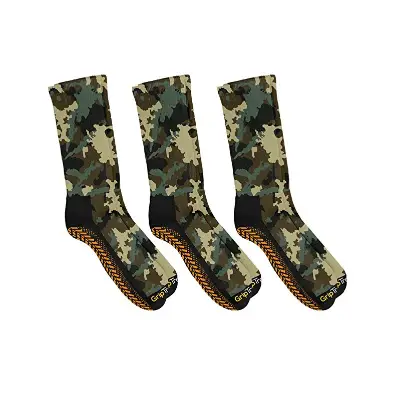 This sock, as the name suggests, has a lot of usages. It's designed to be used for intense recreation, rehab assistance, and general non-slip walking. It works as a hospital sock, yoga, but for your purposes, it functions well as a hiking sock. Which also makes it great as a hunting sock.


Expand to see more
Grip Safety

Probably the best feature on this sock is the tread on the bottom. It's got an intense grip on the bottom that makes it great for high intensity use. You won't have to worry about slipping around. Despite the fact that they'll be in a boot, that's actually pretty important.

Lots of Comfort

These socks also have the added benefit of being pretty incredibly comfortable. In addition to the nice grip, there's extra padding in the sole of the sock to combat some rough, hard surfaces. It's a nice added bit that you won't find in every sock.

Features and Specifications

They are a 90-10 polyester-spandex blend for breathability as well as comfort and warmth. They come in sizes 8-13 for women and 7-12 for mean. These socks are designed for safety and comfort in any situation from yoga to snowboarding to hiking.

Price/Value

As far as socks go, these are a little up there. But as far as orthopedic, sports socks go? They're not priced too bad. And you're getting a lot in these socks from safety tread to padding to comfort and warmth. These socks are the whole package with almost no downside.

Decision Time

If you want socks that put safety first, these are the way to go. They've got a solid rating on usage and grip. While the camo design may not work for someone looking for a pair of yoga socks, if you want a themed pair of good hunting socks, here you are.
Safety treads
Extra padding
Breathability
Range of sizes to choose from
No variety in aesthetic design
FAQs
Why do I specifically need hunting socks?
There is one thing that product researchers are always doing: finding the products that are best for different situations. This is the case with socks. There are different types of socks for different occasions. When you go out hunting, there is a possibility that your feet could get wet and soggy, which can ruin your whole hunting trip. Your hunting socks will protect you from this. However, in order to do so, they have to be made from the right material, have the right thickness and be of the right quality to be used as hunting socks. It is not just every pair that will be able to do this.
What elements do I need to consider before I buy a pair of hunting socks?
First thing first, the material from which your hunting socks are made is very important. The socks have to be soft while also being durable. The best material for ensuring this is merino wool. These wool fibers contain tiny little bubbles of air that insulate well. This helps to keep your feet warm in the winter and cool in the summer.
Consider the hunting conditions. If you are hunting during the wet season when the grass is high, you may want to consider a pair of socks that is much taller . You will notice that most of the hunting socks you will find in the market are tall since almost all hunting boots will also be tall. You can also select your pair of socks based on whether you are usually wearing a pair of long pants or shorts when you go out hunting.
What Features Should I look for?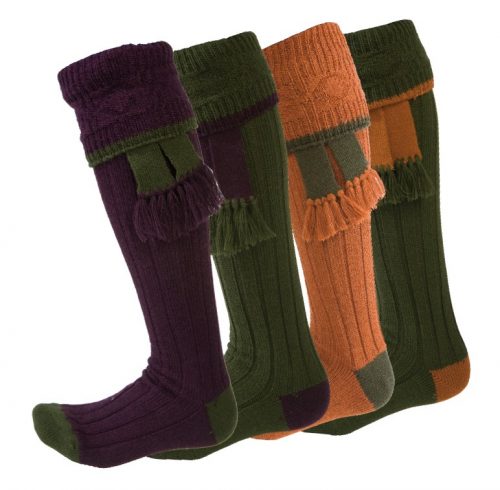 Buying a pair of hunting socks is not something you should do without putting a lot of thought into. Like anything else you buy, doing your research before buying will ensure that you buy the right product that will do the job for which you have selected. It also ensures that you get the best price.
When buying a pair of hunting socks, ensure that they give you the warmth you need on an outdoor trip. However, this does not mean that they should be bulky, they just need to be manufactured from the right material, like we have already indicated merino wool and other synthetic material.
Ensure that the socks are moisture wicking. Any socks that keep your feet wet can create great conditions for fungi to breed and cause your feet all sorts of problems.
Look for a pair that does not only support your feet, it should also be comfortable. Remember that a hunting trip can have you walking for long distances. If possible, ask for socks that have arch support. With regards to comfort, ensure that the socks are not too tight or itchy.
Why is Merino Wool always recommended as a material for making hunting socks?
Mostly the reason is that merino wool is warm. It's also antimicrobial. What this means is that it discourages the growth of the kind of microorganisms that are usually the reason behind most problems related to feet. The material ensures that your feet smell fresher for longer. Also, the material has great moisture wicking properties and allows air to circulate around the feet.
How can I keep my socks in the best comfortable condition?
Mostly, when you buy a pair of socks, they are contained inside a package, read the care instructions on the packaging.
How Should I wash my socks?
It is always advisable to wash your socks by hand even though some instructions will advise you to use warm machine wash. Use a mild detergent and then dry them in a line away from direct sunlight. If you are drying them in the machine, use the warm thimble dry setting to ensure that they do not shrink while getting dry. Bleaching is usually discouraged as it could damage the wool fiber from which the socks are made.
Wash the socks inside out. This is the best way to ensure that you get rid of the bacteria which causes odor. This also reduces the fluffing and pilling that happens as the socks rub against other clothes when being washed.
How should I store my winter hunting socks in summer?
Let's start by discouraging you from balling your socks when you store them, it compromises the shape. Rather lay the socks flat one on top of the other. You will also realize that when stored like this, they take less space than when you balled up.
Before putting your hunting socks away for extended periods of time, ensure that they are clean. There is nothing that attracts pests to your socks than dirty socks. A good idea is to keep your hunting socks in an airtight container. A plastic tub with a lid will do this job very well.