Best Waterproof Watches Reviewed for Durability & Quality
last updated:
Oct 22, 2019
This guide reviews 10 of the most popular watches available today and covers the features consumers value most for each. In conclusion, from the list covering the most popular waterproof watches, there are a few features that are important to consider. These include the degree to which the watch can be immersed in water and still function properly, stopwatch functionality, shock resistance, and alarm functions. When all of these factors are considered, the buyer can make the purchase that best fits their needs.
In a Hurry? The test winner after 14 hrs of research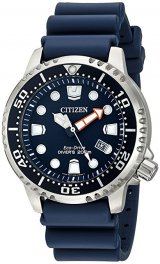 Citizen Men's Eco-Drive Promaster Diver Watch
Why is it better?
Good illumination and readability
Great design
High-quality materials
Solid build
In a
Hurry? Editors choice: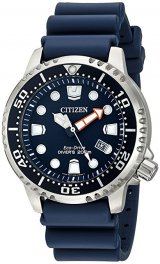 Test Winner: Citizen Men's Eco-Drive Promaster Diver Watch

18
Researched Sources
21
Reviews Considered
14
Hours Researching
44
Products Evaluated
Adjustability
Comfort
Overall Fit
Water Resistance
Watch Face
By Default
10 Waterproof Watches
1

. Citizen Men's Eco-Drive Promaster Diver Watch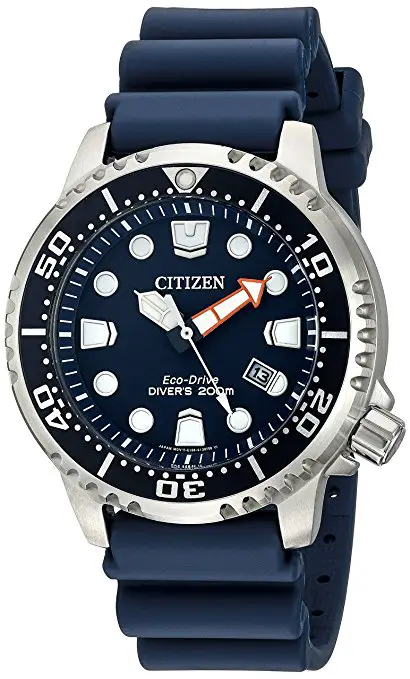 Good illumination and readability
Great design
High-quality materials
Solid build
The Citizen Eco-Drive Promaster Diver Watch is a great looking watch having impressive features. The piece has a water depth sensor that lets you know how deep you are in the water. It is rated for 200 meters.
The manufacturer paid a lot of attention to detail when designing the watch. It has an imposing stainless steel case that has a bold black one-way rotating elapsed time bezel and matching dial. The 53mm size comes close to being a wrist clock.
An anti-reflective mineral is used in making the crystal. The strap is made of polyurethane. The face has three thick functional hands that create a distinctive look. The date is displayed. The strap and dial have striking dark blue colors. Evenly spaced indentations surround the unidirectional bezel. The markings are scored for readability.
A rapid ascend warning alarm sounds if the wearer rises more than nine meters/minute. That speed is too fast. Two pushers are on the left side. The crown is at the traditional right at four o'clock. It has a power reserve indicator located on the left side.
Any light source powers the Eco-Drive. It takes about 36 hours of full sunlight to charge fully. Once charged, it runs for 11 months. The watch never needs a battery. There is no need for opening the case back and compromise a dive.
The Citizen watch is a budget-friendly timepiece. Fun and functional are adjectives to describe the Citizen ISO-compliant Promaster Diver. The watch has a solar battery and adapts to wet environments, making it ideal for diving. It is rated for a depth of 200 meters. The gorgeous watch is water resistant.
2

. Fanmis Military Multifunction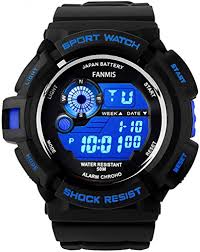 Multiple backlight color options
Shock resistant
Water-resistant to 164 feet
Bright, easy to read display
Comfortable strap
Short battery life
Large on the wrist
This watch is loaded with functions including a calendar that shows month, day, and date. Plus the display has a compass. It includes an alarm function, stopwatch, and a backlight option. This watch is shock resistant and water resistant.
By pressing and holding in the "light" button on the upper left part of the display, the backlight color can be changed to a variety of colors including blue, green, yellow, orange, red, purple, or light purple. The LED display is bright and adds an element of fun to telling time.
Multifunctional
Not only does this watch brightly display the time, but it also shows date, the day of the week, and a functioning compass. It has a stopwatch function, alarm, and seven colors backlit display
Very economical watch that is loaded with features typically only found on models that are triple the price, making this an exceptional value for the money.
3

. G-Shock Men's GD120MB Black Watch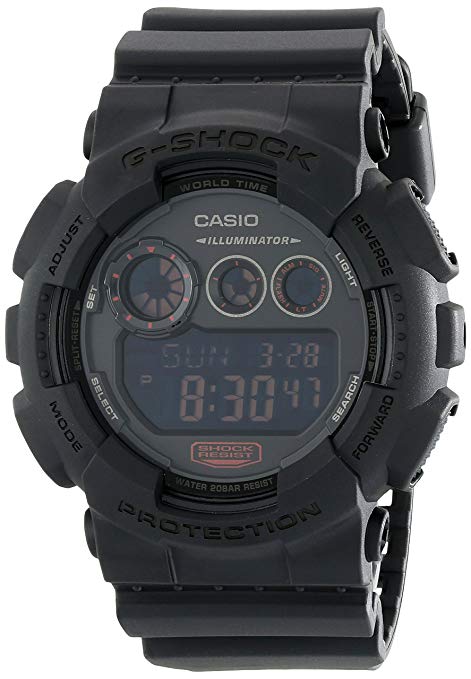 Many useful features
The protectors absorb scratches and shocks
Tough window and casing
Worth the price
There is no doubt that this watch was designed for the outdoors. Protective features render it durable as a tank. Unlike other G-Shock watches, the GD-400 has face protectors attractive to military personnel and people taking part in street sports.
The watch's protective design does not compromise on quality or quantity of its features. The face protector makes the watch strong and reliable. It can survive in harsh environments. The innovative design includes the GD-400 that serves as a steel protector for the display much like steel bars on cars.
An LED backlight offers strong illumination. Duration options of 1.5 to three seconds are available for the illumination span. Four different times can be saved on the GD-400. The watch has a buzzer and flash alert alarms.
Five daily alarms can be set. An hourly time signal is also an option. A calendar that is preprogrammed to 2099 is one of the features offered. The calendar has 12 and 24-hour formats. A warning sounds when the battery is low. The lifespan of the battery is as much as three years.
This is the watch for someone looking for something durable. It is not only tough but also contains advanced technology. For a watch that is strong and has many features, the GD-400 is among the best options. The quality is reflected in the price. This is a high-end watch.
Besides being able to take a beating, the watch has many useful features. The watch case is 50mm in diameter. The 20mm wide band is made of resin. It is water and shock-resistant. You can go an impressive 200 meters underwater.
4

. Casio Sport Analog Dive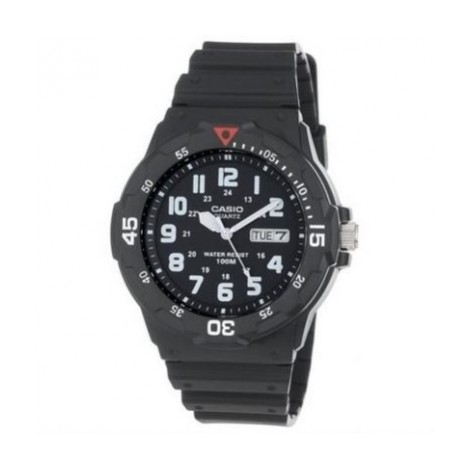 Easy to read
Accurate time
Includes day and date on the display
Inexpensive
No backlighting on display
The band can be uncomfortable
A great watch for those that prefer analog, with hour, minute, and second hand. With a black background and bright white numbers, it's easy to see what time it is. It also features 24-hour numbers for military time. The band is made of molded resin with buckle closure. Water resistant to 330 feet, making it a good overall watch for most outdoor water sports.
With a large face and black background with bright white numbers, this watch is very easy to read. The outer ring, or bezel, rotates so scuba divers can track their time easily in five-minute increments.
Aside from the ease of telling the time, this watch has a sharp overall appearance so it can be worn for work or play. It has a look of a much more expensive watch.
This watch is very inexpensive and loaded with features. This is a perfect watch for people on a budget, but don't want to give up on function and fashion.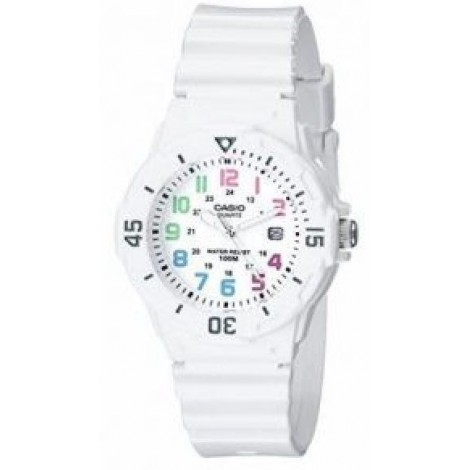 Pretty pastel numbers on the display
Small size is not obtrusive
Water resistant
Japanese quartz for accurate time
Short battery life
The attachment point on the band can be brittle
A small white watch that is both stylish and functional. The time displays in both 12 and 24-hour formats, with the 12-hour numbers appearing in pastel colors. The 24-hour format appears as smaller digits. This is a Japanese quartz with an analog display. The band is a white resin with a buckle closure. Water-resistant to 330 feet.
This is a small watch that is lightweight and comfortable. It's large enough so the time can be easily read but small enough so it doesn't interfere with what you're doing while wearing it.
Washing your hands while wearing this watch is no problem. It is also suitable for swimming and snorkeling, but not for scuba diving.
This watch is priced in the middle range of watches with comparable features. It is still a good value for the money because it is a quality watch, that offers reliable performance.
6

. Aposon Business Quartz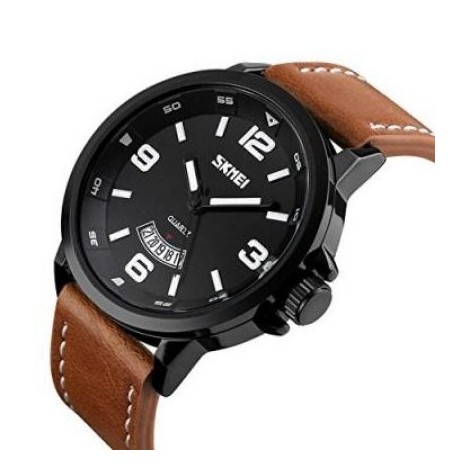 Waterproof for daily use
Stylish look
Easy to read display
Quartz precision for time accuracy
Setting the date can be tricky
The band may not last long
A distinguished looking business watch with a black face, bright white numbers, luminous hands, and a date display. The band is a high-quality brown leather with white stitching. The watch is shock and mildly water resistant.
This watch has a distinguished, stylish look. The leather band is the perfect complement to the black display and white numerical display. This watch is equally distinguished for business or play.
The contrast between the black background and white numbers and hands really makes the display pop. The numbers are oversized, and hands are luminous, making it easier to tell time in low light conditions.
This watch is priced on the higher side of the spectrum, but it's still a great value for the money because of the high-quality components.
7

. Findtime Megir Brown Leather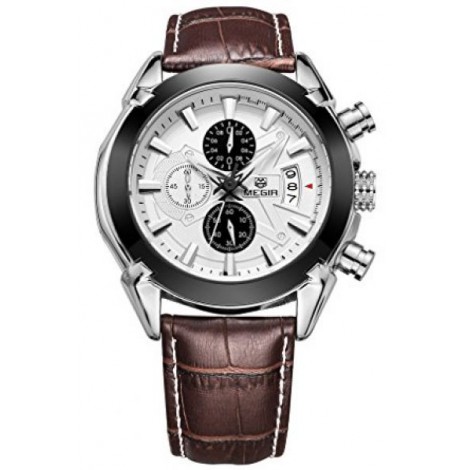 Attractive appearance
All analog
Water resistant to 30 meters
Fine leather band
The hands blend in with the watch face making it hard to tell time
No backlighting to tell time in the dark
This is a multifunctional analog watch. The display features three different analog stopwatch functions and the date. The band is made of brown leather.
All of the timekeeping functions of this watch are analog. It displays the time and has three separate stopwatch functions. It has a 60-second stopwatch, 60-minute stopwatch, and even a 10-second stopwatch.
This watch has a very distinctive look to it. The face has a nice crystal appearance, and there is a black circle that encompasses it. The brown leather band adds to the overall aesthetic of this beautiful watch.
This watch is on the upper end of the pricing spectrum, but still a bargain for the quality this watch boasts. The watch has some heft to it, suggesting a higher quality than many watches at this price point. This watch is a great value for the price.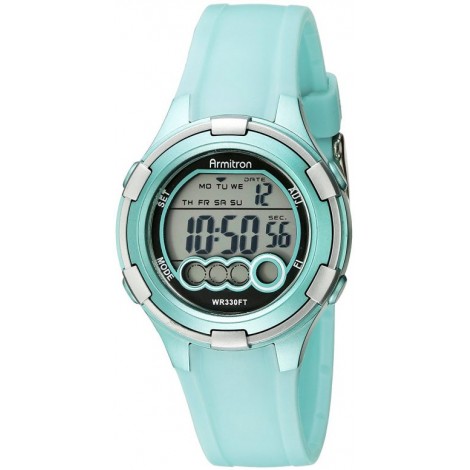 The watch has a resin strap that closes tight and secure with a stainless steel buckle.
You can set up to three different alarms with this watch so that you are never late.
It has a lap timer which you can use to track your sprints or laps while running.
There is a backlight function which lets you read the watch in low light conditions.
It can resist water up to 330 feet deep which makes it great for swimming.
Users have reported that the watch band gets dirty and scuffed and it cannot be cleaned.
Other users have reported that the directions for using the watch are hard to follow.
This waterproof sports watch is great for someone who is looking for a traditional digital watch. You can wear in just about any sort of damp or wet conditions as it is able to resist water up to 330 feet deep. The watch also includes features such as lap timers, multiple time zones, and alarms. This is perfect for anyone who is looking for a regular digital watch that they can rely on.
If you are someone who travels a lot or lives near a time zone border then you will find the support for dual time zones to be useful. This allows you to flip back and forth between different time zones without having to reset the watch.
The watch has a backlight which allows you to read the watch in low light or dark conditions. This makes it possible for you to use the watch at about any time of the day or if you are indoors.
You will see this watch sold at a price that is average for a waterproof watch. It gets its value by offering great waterproof protection and has plenty of built-in features that are easy to use without you having to go to a smartwatch
9

. Letscom Smart Wristband


You can track the quality of your sleep while you are wearing this smartwatch.
The watch will record stats such as distance walked, calories burned, steps, active minutes, and sleep.
You can use popular software such as calendars, messaging applications, take calls, and send SMS messages with this watch.
The watch is waterproof so that you can wear it while washing your hands, in the rain, or when you sweat.
You can charge this watch using a standard USB charger and use it for 7 days at a time.
Reviewers have reported that the screen goes dark after only 2 seconds making it hard to use the watch.
Other reviewers have reported that this watch does not measure distance accurately when they are jogging.
This is another brand of a high-end smartwatch that is fully waterproof and perfect for a workout. It has all of the functions that you would need for a run or jog and it will still work even if you sweat a lot or get rained on. The smartwatch is perfect for anyone who wants to wear it all of the time and track all of the data.
USB Charge
The watch uses a standard USB cable for charging. This allows you to use just about any smartphone charger or a USB charging block to power the watch. Once charged, the watch will last up to seven days.
Software
You can see your calls, messages, and social media app notifications while you are using the watch. It pairs with your smartphone so that you can use the watch while you keep your phone in your pocket making this watch perfect for sports.
You will see this watch sold at a price that is higher than the average price for watches. The extra price comes from the fact that the watch comes loaded with sensors and software which allows you to closely monitor body functions.
10

. Timsty Digital Sportswatch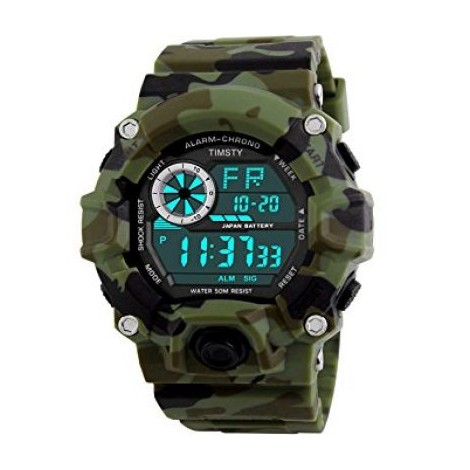 Attractive camouflage appearance
Easy to read display
Shock resistant
Water resistant
Backlit for easy nighttime viewing
The clasp is difficult to close
Doesn't always keep accurate time
A digital watch with camouflage casing and watchband. The display shows the day of the week, and date at the top of the display, and the time below that. It has backlighting to see the time at night much easier. Time can be viewed in 12 or 24-hour format. It features a chronograph, alarm function, and hourly chimes. It is shock and water resistant to stand up to the rigors of daily life.
The look of this watch is quite distinctive because of the camouflage case and band. The green and black colors give it a fun military look.
This watch can do it all. The time, date, and day of the week are prominently displayed, while all of the features are easily accessible by pressing the buttons surrounding the watch face. It has alarms, a chronograph, 12 or 24-hour time display, and day/date functions.
This watch is appropriately priced at the lower end of the spectrum but can do a lot for the money. The poly-carbonate casing makes it durable to stand up to life's bumps. It is both shock and water resistant, taking the risk out of wearing this watch all of the time.
Criteria Used for Evaluation

Water Resistance
In theory, you should not be able to find a waterproof watch in the United States. That's because, in the 1960s, the U.S. Federal Trade Commission (FTC) ruled that advertising a watch as waterproof was a form of misleading advertising.
As such, manufacturers are supposed to advertise their watches as water resistant and then state the level of water resistance for their product. So it is essential that when you are looking for a waterproof watch that there is no such thing as a watch that is truly waterproof.
Some watches resist water better than other watches, but all of them will fail underwater when they are exposed to abnormal conditions. It is for this reason that you take the time to understand how watches are rated regarding being water resistant.
The water-resistant rating of a watch is based on laboratory tests. These tests expose a watch to a similar amount of water pressure that a person would experience if they were swimming at a particular depth. In other words, if someone is swimming 50 meters below the surface, then a watch would feel water pressure for that depth.
On the other hand, someone who is swimming at only 10 meters below the surface of the water will experience less water pressure, and so the pressure tests used on the watch is updated to reflect the lower pressure.
It is for this reason that you can see water resistant watches that are rated for 300 meters below the surface. No human could swim at that depth, but a laboratory can create conditions that simulate swimming at that depth.
For this reason, you will see watches rated at either depth or ATM (atmosphere). The higher the number, the better the watch will resist water. So in other words, you may see a watch that is water resistant to 3 ATM or 30m/100FT.
You can wear such a watch for everyday activities such as washing your hands or light rain. It will even resist sweat if you are active while you are wearing a watch with this rating. However, you can't wear this watch if you are going to go swimming in it.
The next level of water resistance is 5 ATM (50m/165ft). Watches that are made to this specification can be worn in the bathtub or shower or even if you are going to go swimming. However, it isn't strong enough to last if you were to go diving.
If you plan on swimming underwater, then you should look for a watch that has at least a 10 ATM (100m/330ft) rating. This is getting to the level that most people would start to call waterproof for watches. It can be used for swimming underwater so its perfect for activities such as swimming or snorkeling.
If you are someone who participates in water sports such as wakeboarding or water skiing, then you should get a watch with a 20 ATM (200m/660ft) rating as this rating is meant for high impact water sports. The final score is the diver grade watch which is rated to 250-300m or 660-980 ft. Diver grade is intended for people who scuba dive because the watch can hold up to deep water swimming.
If you plan on exposing your watch to moisture or water on a regular basis, then you should keep in mind that it will not resist water forever. As the watch is exposed to pressure on a regular basis, its ability to withstand water starts to wear out over time.
Eventually, the watch will no longer be able to resist water at the same depths that it was designed to endure. You will want to keep this in mind because if you plan on diving or swimming with your watch a lot, then you will need to replace it sooner rather than later due to the wear and tear on the watch. The best way to make the watch last longer is to only wear it underwater when you need it otherwise, you should take it off so that it will last longer.
When you are purchasing a waterproof watch, you should keep in mind that there is no such thing as a truly waterproof watch. Watches are made to resist water at a certain depth according to laboratory tests.

Band
If you are looking for a wrist watch, then you will want to make sure that the watch band is comfortable, durable, and long-lasting. It should also buckle your wrist correctly so that it doesn't feel too loose or too tight.
The watch band is an integral part of the wristwatch, and if you are planning on exposing the band to water, then you will want to make sure that you purchase a watch that has a wristband that can be exposed to water.
Having a wristband on your watch that is best suited to your needs will help make sure that you get the absolute best value out of your purchase. After all, who wants to wear a watch that isn't comfortable or breaks down the first time it gets wet?
When you are trying on a watch for the first time, you should check that the wristband is made from a material that can get wet. You should look for wristbands that are made from materials such as rubber, plastic, or stainless steel as these materials will not retain water when they are wet.
You should always try and avoid materials that are made from natural materials or some cloth such as leather as these materials will soak up water and may break down when they are wet. They can also cause skin chafing or other kinds of skin irritation while they are wet which is another reason for you to avoid purchasing watches with such wristbands. Waterproof watches should be made from waterproof wristbands, or you will no doubt start to experience problems with the wristband after it gets wet a few times.
Once you have made sure that the wristband is made from the proper materials, the next thing you should check is if it is comfortable. You will want to make sure that the wristband fits on your wrist correctly and isn't too tight or too loose when you have it buckled.
It should also feel comfortable against your skin and should not cause any irritation or rashes while you are wearing the watch. The wristband should not pull against your arm hairs either as this can cause the wristband to feel uncomfortable.
When you are wearing a watch, you should not be able to tell that you have the watch on. If you feel the wristband digging into your wrist or irritating your body in some other way, then you should consider looking for a watch that has a better wristband for you.
If you plan on being active or spending a lot of time underwater, then it might be worth for you to look for a wristband that has ventilation. Materials such as plastic or rubber do not breathe naturally, so they will not allow any sweat on your wrists to evaporate.
Not being able to can lead to developing a sweaty band around your wrist which can be uncomfortable and hot. Some wristbands have holes cut throughout them to allow air to pass and ventilation to happen.
You may want to look for a watch that has such a wristband if you are wearing the watch in hot environments or you get the watch wet a lot as this will help moisture to evaporate from the wristband. Moisture-wicking is an essential part of comfort so you should make sure that your wristband doesn't trap too much moisture while you are wearing the watch.
Once you have checked that the wristband is comfortable, you should move on to make sure that it is durable. You should start by checking how well the wristband has been attached to the watch itself. The wristband should stay put while you have the watch on and it should not detach from the watch if you end up pulling on the wristband.
The mechanisms that are used to buckle the band on your wrist are also important. You will want to make sure that the wristband uses buckles that are durable. If the wristband has holes in it so that you can adjust it, then the holes should be strong enough to resist tearing while you have the watch on. You should also check that any hardware on the wristband used for buckling is strong enough to avoid breaking if the watch gets caught on a small object.

Style
As human technology changes and improves, there are more and more features have been packed into a watch. It used to be that you only got two kinds of watches which were either analog watches or digital watches. While those watches still exist, you also have new types of waterproof watches such as activity trackers and GPS watches.
It is best that you pick the proper kind of watch for your activities since that will let you allow you to have all of the features that you need from the watch when you need them. The better job you do at shopping for a watch, then happier you will be with your purchase after you have picked out a watch.
Analog watches are the most basic kind of watch and are best suited for when you are going to be swimming in deep water. It is easy to seal an analog watch, and they do not need as many buttons as a digital watch.
Analog watches are a tried and true technology, and many of them do not even need a power source to operate. You can still purchase analog watches that wind up rather than battery operated kinds so this makes these watches suitable for survival situations or other harsh conditions. If reliability is one of the most important things that you want out of your watch, then you should consider getting an analog watch.
Digital watches are the next step up on the technology ladder. These watches are entirely electronic, but they only consume a low amount of power and are long-lasting. The technology has been available for a long time, so digital watches have been refined and work reliably.
You can use a digital watch in almost any place where an analog watch is suitable. Digital watches can contain more features than analog watches can such as alarms, time zone support, lap timers, and calendars.
Those features allow you to get more value out of a digital watch because you can use such a watch in a broader range of applications. The main disadvantage of a digital watch is that they can be hard to read in low light conditions so you should always look for a digital watch that has a backlight when you are purchasing a digital watch. You should also test out the backlight and make sure that illuminates the display enough so that you can read it.
In addition to analog and digital watches, new watches are now available that allows manufacturers to pack more features into a wristwatch than what we previously available. There are now fitness trackers and GPS watches that are available.
Fitness trackers are sometimes called a smartwatch and come with lots of sensors that let you monitor your activity while you are wearing the watch. GPS watches are sometimes built into fitness trackers, but they can also be stand-alone watches as well. These watches have a GPS device that allows you to track where you have been throughout your day. Both watches are used for exercise and sports activities but are used in slightly different applications.
The activity tracker (or fitness tracker) is a wristwatch that includes sensors that monitor your heart rate and count the number of steps that you have taken during the day. Many of these watches can also track how long you have slept, and they can even tell you how long you have been active during the day.
These watches are designed to work with a smartphone, and they will display messages, notifications, and even call for information. In this way, they are an ideal companion to smartphones because they offer another user interface for your phone.
These trackers are meant for everyday use, but they should not be used in situations where they are going to be exposed to extreme weather such as lots of rain or extreme cold or hot weather. They are designed to be used as a consumer device, but if you are looking for something similar but is better suited for outdoors, then you should consider getting a GPS watch.
A GPS watch resembles a traditional digital watch, but it also has a GPS device built into the watch. These watches are geared towards hikers, runners, and cyclists and are meant to help you track how far you have gone while you are outdoors.
They are better sealed, so they are more resistant to severe weather such as heavy rain or changes in temperatures. Although GPS watches do not have as much software as a fitness tracker, many of them do have support for steps counter and heart rate monitor.
Those features make them ideal for situations where you are trying to track your day's workout. Many of these watches have the means to export the collected data to your computer when you are done using the watch.
Expert Interviews & Opinions
Most Important Criteria
(According to our experts opinion)
Experts Opinion
Editors Opinion
Users Opinion
By Default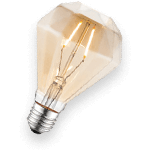 Water resistant means just that
The deeper the watch is designed to resist water, the more you can expose it to water. You should also keep in mind that the ratings are not very clear either. For example, a 100ft watch is only suitable for washing your hands, even though it is tested at a pressure of 100 ft below the surface. You should make sure that your watch can handle your intended activity so that you do not end up wrecking your watch the first time you expose it to the water.
Focus on your band
You should always make sure that your wristwatch has a band that will work for your situation. If you plan on getting the watch wet on a regular basis, then the wristband should be made from materials that do not absorb water.
It may also be a good idea to pick a band that has holes for ventilation so that your skin doesn't feel clammy while you have the wristwatch on. You should also take a look at the durability of the watch band and make sure that it is long lasting. The better job you do with inspecting the wristband, the happier you will be with your purchase.
Remember your needs
You should always try and find the right kind of watch for your needs to get the most satisfaction from your purchase. While it used to be that you could only get digital and analog watches, today there are many more kinds of watches sold on the market.
Two of the more popular ones are fitness trackers and GPS watches. Of course, there are still plenty of digital and analog watches that are still available as well. You should always try and look for a watch that best matches what you need out of a watch before purchasing it. All of these watches measure time, but some of them measure additional data such as heart rate, distance, lap time, and other metrics.
Other Factors to Consider

Features
It used to be that a watch was a tool that you used to measure time. That isn't the case anymore today as watches can not only measure the time, but they can measure all sorts of other things as well. Today's watches are capable of tracking how far you have walked or how fast your heart is beating.
They can measure how long you have slept and can tell the temperature. Some of these watches are advanced enough to say when you have crossed into a different time zone and will adjust themselves automatically.
Of course, many more features that could have only been dreamed about a few years ago are coming to watches. Some of the more advanced watches on the market have voice assistants that let you speak commands to the watch. It's only going to continue to get better as designers are always adding new features to watches to make their product more competitive.
You may not be interested in purchasing a watch with all kinds of features, but then again, you may be someone who wants everything that is available for a watch. The point is that when you are shopping for a wristwatch, you should look for a watch that has a feature set that is perfect for what you need.
The set of features will help you be more satisfied with your purchase because the watch will function properly for you. There are plenty of features that you can look for in a watch, but some of the more common features are heart rate monitor, step counter, GPS, sleep monitor. Each of one of these features is used for different purposes, so it can be helpful to become familiar with the various features that are available.
Many watches have a heart rate monitor that you use to track how fast your heart is beating. Exercise is the most common reason why people monitor their heart rates.
Many people attempt to rate a target heart rate zone while they are exercising because specific heart rate zones are used for different purposes.
If you are training for a marathon and need to strengthen your heart, then you will go for a higher target heart zone then if you are trying to lose weight.
However, the only way to know if you are in a specific heart rate zone is to measure your heart rate. Measure your heart rate while you are resting as well as measuring it while you are exercising. For this reason, many watches have a heart rate monitor, and they can even notify you when you have reached a particular heart rate.
The step counter is another feature that is commonly found in watches. People use this feature to track how far they have walked or run throughout the day.
You are naturally more active if you have walked more throughout your day. Some people like to set goals and then try to beat them each day. You can end up being healthier as you increase your activity, so a step counter is an excellent way for you to track and measure how far you have walked throughout the day.
Although you can get step counters as a separate device, you are far more likely to use the step counter if it is built into your watch. If you are someone who is attempting to improve the amount of activity that you have during the day, then getting a watch that has a step counter may be a worthwhile investment for you.
Some watches now have GPS chips built into them which allows you to track where you have gone throughout the day. Many runners, cyclists, and hikers enjoy this feature. These watches can produce a map on the screen of the watch, or they can even export the GPS data to an external device such as a smartphone or a computer.
GPS data allows you to see where you have gone and how far you went every time that you went out. It is also possible for you to use the GPS in case you need to retrace your steps, in case you lost something on the hiking trail and need to find it. You also find it interesting to see where you ended up biking if you were biking on a long trail or how far you went jogging. In these cases, a GPS will be a useful feature for you.
Watches can have many different features all of which serve a different use case. Some watches have features such as heart rate monitors, step counters, GPS devices and even more. There are more features available today than what there is space to cover, but the point is that you should look for the right set of features for your particular needs. When your watch has everything that you need, you are more likely to enjoy the watch and will be more satisfied with it overall.

Versatility
Whenever you are going to purchase a watch, you should make sure that it is well made and will last you a long time. You are much better off in the long run if you can spend a little more money on a watch that you only have to buy once rather than having to make multiple purchases of a lower quality watch.
When you are inspecting a watch for quality, you should start by looking at the construction of the watch. The first area to start is the wristband. You should make sure that the wristband is secured to the watch and that it won't break loose from minor tugging or pulling.
You should also be able to fasten the watch to your wrist, and it should hold its fit while you have the watch on. The wristband should not stretch or start to feel loose as you wear the watch. The buckle mechanism on the wristband should maintain its position and should not slip during the time that you are wearing the watch either. Finally, the wristband should be made from materials that are thick enough to prevent it from wearing out from tearing or abrasion.
If everything looks good on the wristband, then you should take a look at the watch itself. The first thing you should check is how scratch resistant the display portion of the watch is. If the cover gets scratched easily, then you will have a harder time reading the watch as it ages.
Likewise, you should make sure that the display does not discolor or start to fog up after a while either as both problems will make it hard for you to use the watch. After you have checked the display area on the watch, you should check as see how well it can resist impacts as it is conceivable that you will drop the watch or hit your wrist against something while you are wearing the watch. A high-quality watch should be able to handle getting dropped without a problem so if your watch can't handle getting dropped; then you should look for a different watch.
Some watches have buttons on the side of the watch that are used to interact with the watch. If this is the case, then you should check the buttons. The buttons should feel normal, and they should not stick or otherwise fail to work correctly.
Buttons that fail will make it hard for you to use the watch later on and can lead to problems such as setting alarms or adjusting the time. You should also make sure that the watch responds to any commands that are issued by the buttons.
In other words, if you press a button, you should expect the watch to do something. If the watch doesn't respond to you pushing a button, then it could be a sign that there is something wrong with the buttons of the watch.
Power consumption is also an issue that you should be concerned about since many watches are operated on a battery. The last thing that you want is a situation where you need to keep replacing your battery because your watch consumes too much power.
Some watches have rechargeable batteries in which case you should make sure that the watch can hold a charge whenever you have finished charging the watch. If you find that the watch consumes too much power, then you should start by checking for any settings that are draining power, such as backlights or display brightness.
If adjusting such settings still does not work, then you should try and replace the battery in the watch. If you are replacing the battery too often, then it may be a sign that something is wrong with the watch. If this is the case, then you should look at getting a different wristwatch.
The final area of concern is water resistance. Most watches should at least be able to function while you are sweating, but it is even better if you can wash your hands without having to take your watch off.
You should always take a look at well the watch can resist water since better water resistance means that the watch will last longer. You don't want to end up getting a watch that fails the first time it gets a little bit of rain or gets splashed as you wash your hands. Instead, you should look for a watch that can still work even if you jump into the water and forget to take the watch off.
The higher the quality of your watch, the better value you will be able to get from the watch. You should always be on the lookout for high-quality wrist watches. Better made watches will last longer and save you money in the long run.
When you are checking out the quality of your watch, you should take a look at the wristband, display, battery life, and water resistance. All of these components will make a difference in how long the watch will last you.
Frequently Asked Questions
q:

What does waterproof watch mean?

a:

Watches are not completely waterproof but they are made to different degrees of water resistance. Water-resistance is usually measured in depth below the surface of the water in feet or meters or in an atmosphere (ATM). The higher the number, the better the watch will resist water. If you are looking for a "waterproof" watch, then you should look for a higher number in the water resistance rating. In other words, 300m means the watch resists water better than a watch of only 50m.
q:

How can I reseal a waterproof watch?

a:

It is important to recognize that it may not be possible to reseal a watch. However, some watches are made to be fixed and in this case, you can reseal a watch by opening it up and cleaning it first. Then you should replace all of the seals and gaskets that you find on the watch. It may also be helpful to use some sort of a sealing product when you reassemble the case of the watch when you have finished working.
q:

How can I replace my watch battery?

a:

Modern watches may not have a replaceable battery but if you can replace the battery on the watch then the manufacturer will be able to provide you with directions on how to do this. Generally speaking, there will be a way to open up the back of the watch which will expose the battery. You may need small tools in order to access the battery on your watch. Once you have found the battery, you should remove the old battery and insert a new one.
q:

How can I clean my watch?

a:

Most watches can be cleaned with household supplies. You will want to look for mild soap and a lint-free cloth that will not scratch the surface of the watch. Then you should apply a little bit of soap to the watch and then work the soap into it. You should moisten the cloth and then wipe the watch clean and then repeat this process until all of the dirt has been removed from the watch.
q:

How can I charge a USB watch?

a:

USB watches are a fairly new invention but they have been designed to work with just about any smartphone charger. This makes them easy to charge because you will simply use the supplied cable that came with the watch and plug it into your computer, phone charger, or even a USB charging block. Most of these watches charge quickly and they will last for several days after you have finished charging them which makes them great to use.
Subscribe to our Newsletter